2021 Volkswagen ID.4 OVERVIEW
2021 Volkswagen ID.4 For Sale
"Beware - The ID.4 is unlike anything you've seen before." —vw.com
IQ.DRIVE (Advanced Driver Assistance Technologies)
250 miles Manufacturer Estimated Range
Discover Pro navigation with 10" display
60 miles in about 10 minutes DC Fast Charging

2021 Volkswagen ID.4 MODELS

Volkswagen ID.4 PERFORMANCE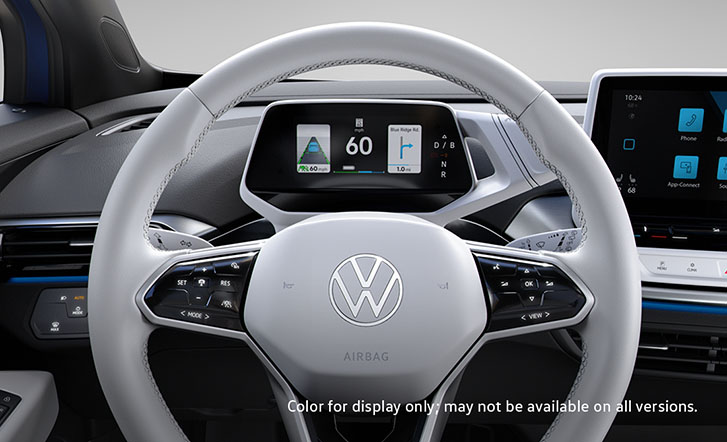 Range
The Volkswagen ID.4 electric vehicle can take you where you need to go with a manufacturer estimated 250 miles of range.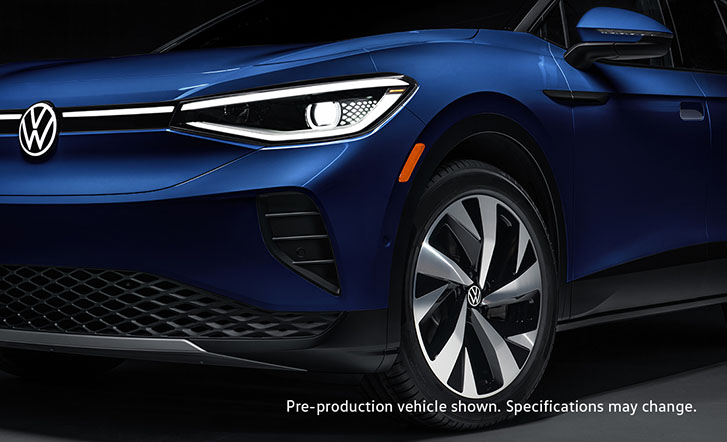 All-Wheel-Drive
The addition of all-wheel-drive in a typical SUV helps give the driver more traction. But the Volkswagen ID.4 electric vehicle is anything but typical.
Available all-wheel-drive means getting a second electric motor at the front wheels–giving you quicker acceleration and intelligent handling that distributes all that power where it's needed most.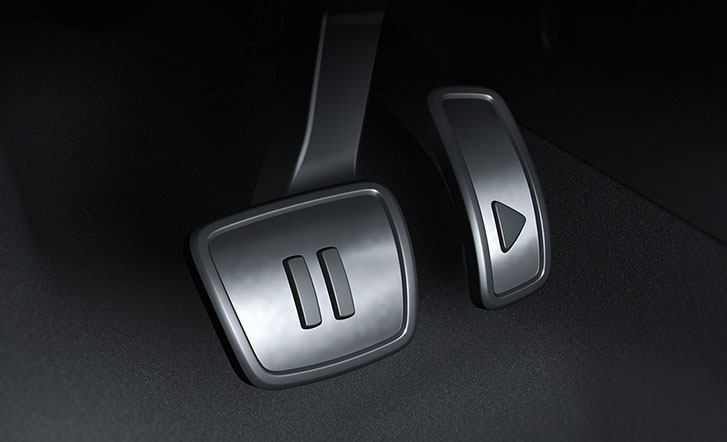 Instant Torque
Not to worry, rev-heads, the ID.4 delivers on exhilaration... and then some. From the moment you hit the pedal, you'll feel the instant torque. And while acceleration is much quieter than a combustion engine, we can't promise you won't break the silence with a few oohs and ahhs. This EV shatters expectations, even when it comes to fun.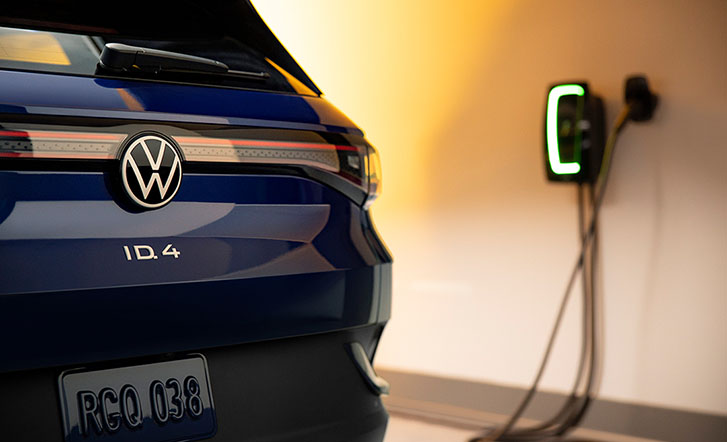 At-Home Charging
The ID.4 is capable of achieving 33 miles of range in about 1 hour of charging (at a home or public L2 charger)
The best way to charge your Volkswagen ID.4 electric vehicle at home is with a L2 wallbox charger. Your VW ID.4 will include a L1 charging cable but charging times will be longer than a L2 wallbox.
Electrify Home offers a home charging solution, purchase your charger and get assistance finding an installer via Qmerit at Electrify Home.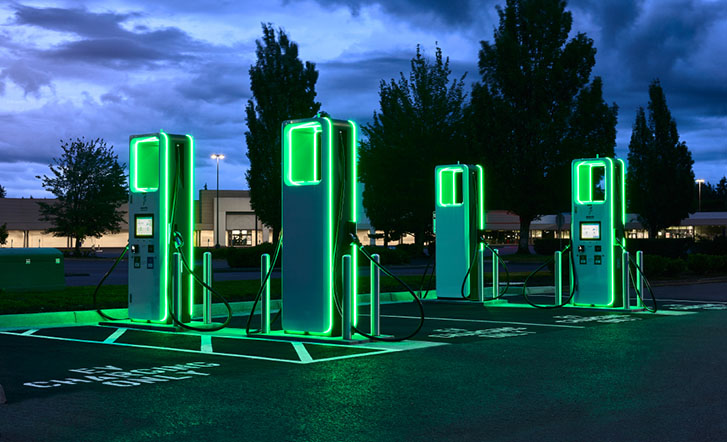 The Charger Infrastructure: 17,000+ chargers nationwide
Public charging is a great option when you're on-the-go, and with an ever-growing network of more than 17,000 chargers nationwide, it's a convenient one too.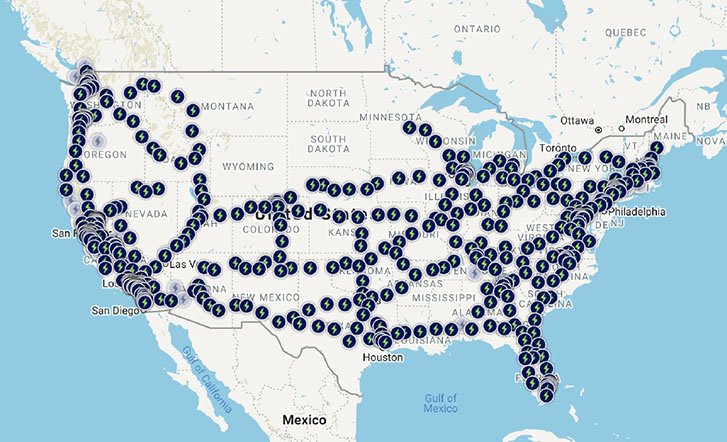 DC Fast Charging
The 2021 Volkswagen ID.4 comes with 3 years of unlimited charging at Electrify America DC Fast Chargers at no additional cost.23 Electrify America chargers can be found along most major highways.
60 miles in about 10 minutes.
5% to 80% charge in about 38 mins
(at a public DC fast charger)
2021 ID.4 APPEARANCE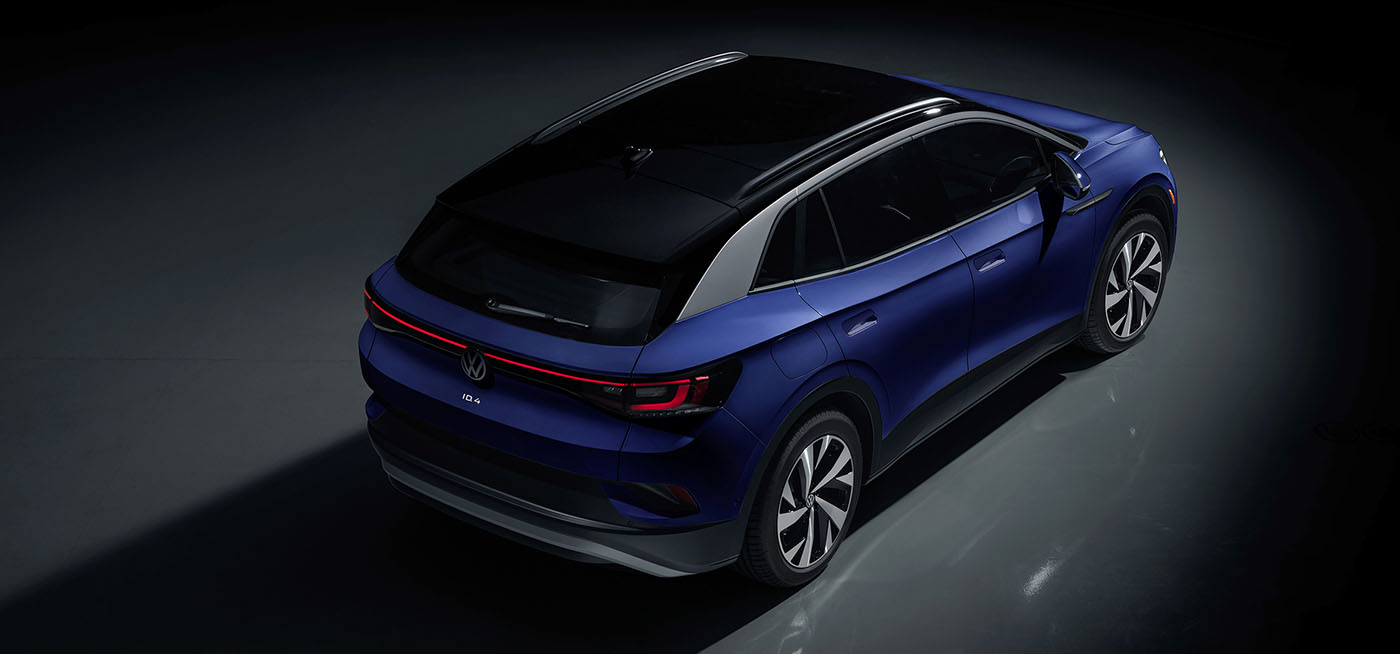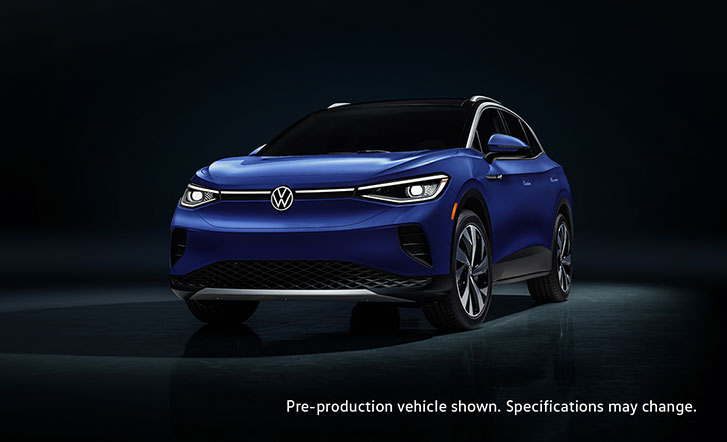 Styling
Clean lines and aerodynamic elements create a striking silhouette–it's an EV SUV that doesn't make you sacrifice form for function.
And with the optional Gradient package, a black roof, silver roof trim, silver accents and silver roof rails make quite the statement–with 20" wheels to complete the look.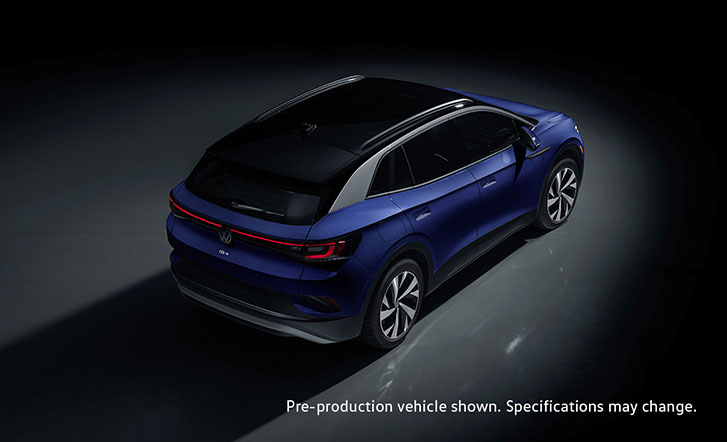 Glass Roof
This expansive panoramic fixed glass roof lets the light in, providing a sweeping view of the sky. It can help keep the light out too, thanks to an electric sunshade that's prompted with the touch of a button.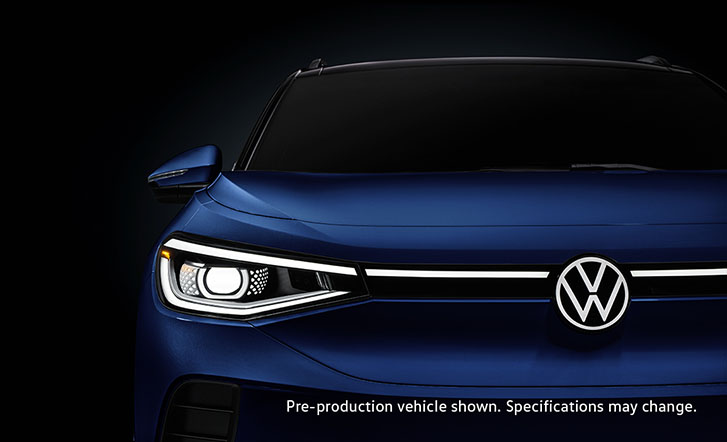 Lighting
Talk about a glow up–with LED taillights, and illuminated door handles, the ID.4 practically radiates. And with the Statement package, Premium LED projector headlights and a beautifully illuminated front Volkswagen logo and light line in grille adds a touch of style to its face.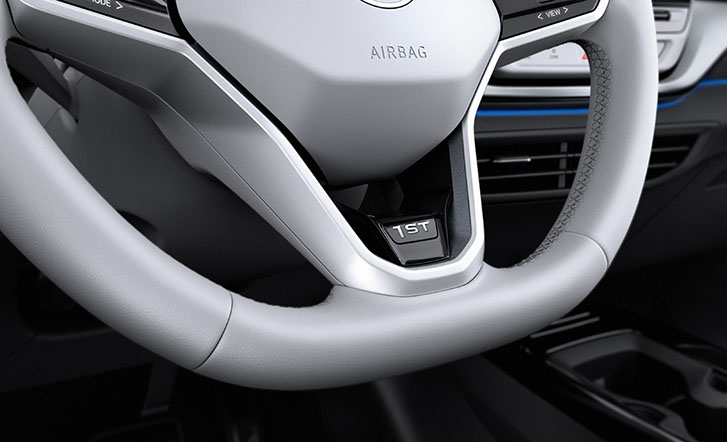 1st Edition Design
With exclusive 1st Edition badging, stunning white interior accents, contrasting black mirror caps and play/ pause pedals–it's no wonder the ID.4 1st Edition is sold out.
Volkswagen ID.4 COMFORT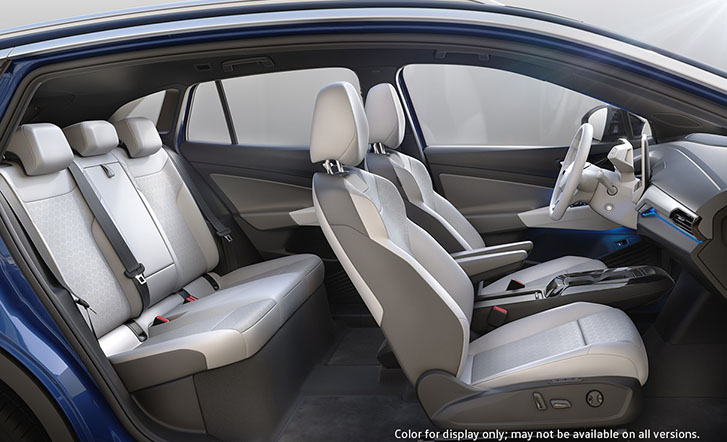 Space that's distinctly EV
The MEB platform (essentially the vehicle's underpinnings) has an elongated wheelbase and short overhangs. Plus, with the absence of a combustion engine, the interior cabin space is maximized even more.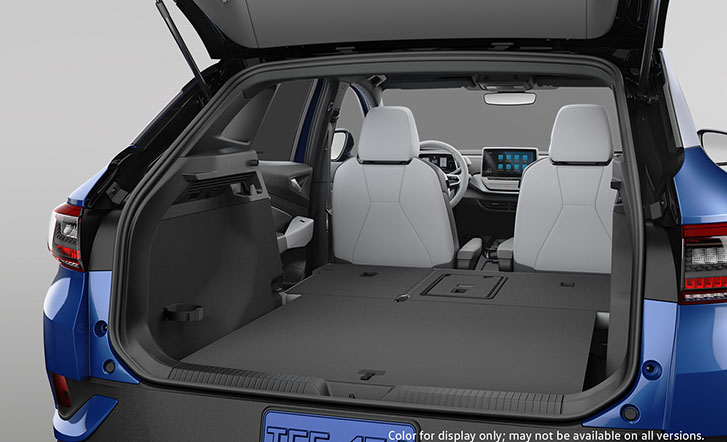 Go ahead, spread out
The ID.4 is designed with all passengers in mind, not just the driver, with over 3ft of leg room for four friends. And with 64.2 cu ft of cargo space with the rear seats folded down, you'll feel the difference the MEB platform makes.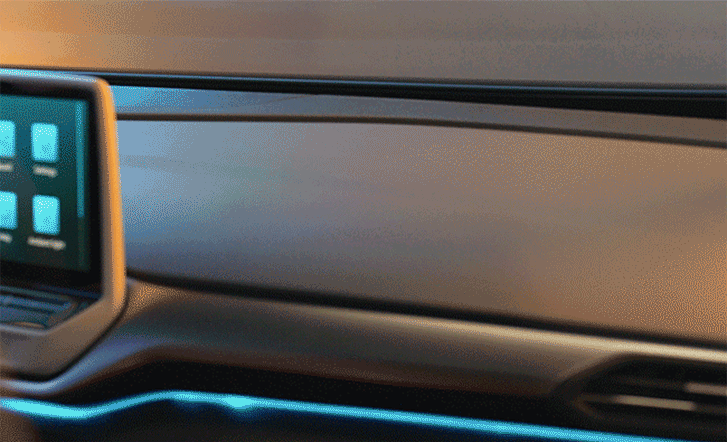 ID.Light
Think of the ID.Light as the way your ID.4 communicates with you. An intuitive light bar that runs across the dashboard, the ID.Light uses glowing visual and acoustic cues to telegraph incoming calls, brake warnings, charge status and more.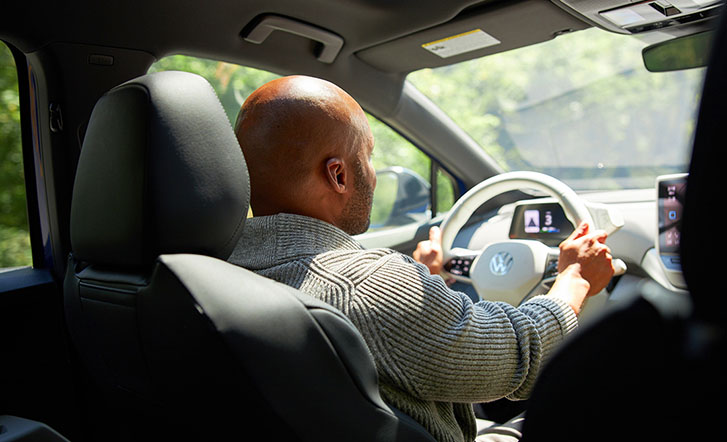 Ready to Drive
The ID.4 senses your presence and intuitively starts when you have your key fob and you touch the door handle, "waking up" automatically. Screens blink on, and the car is ready for the road.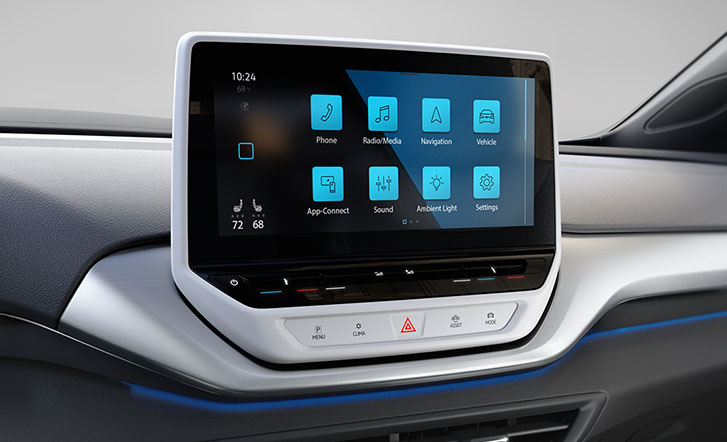 12" Touchscreen Display
Your central hub for your drive, this touchscreen with voice control is equipped with smart features like interactive navigation, climate control and more. So you can get where you're going, and stay comfortable along the way.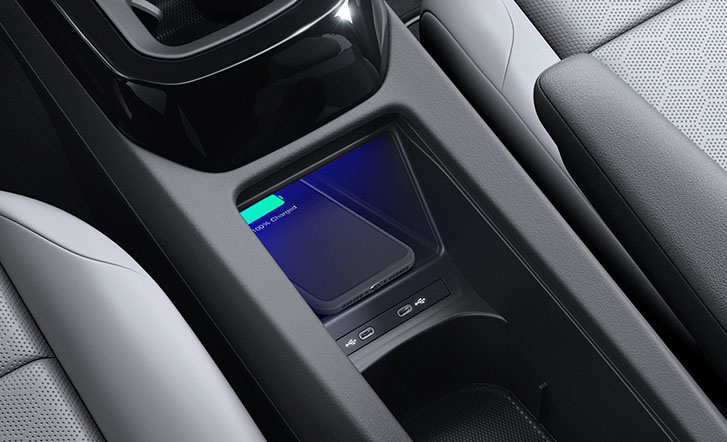 Wireless Connectivity
Say goodbye to tangled cords with wireless charging and App-Connect with wireless capabilities26 for compatible phones. Whether you need to charge your phone or connect music to your car, you can do it seamlessly with wireless connectivity.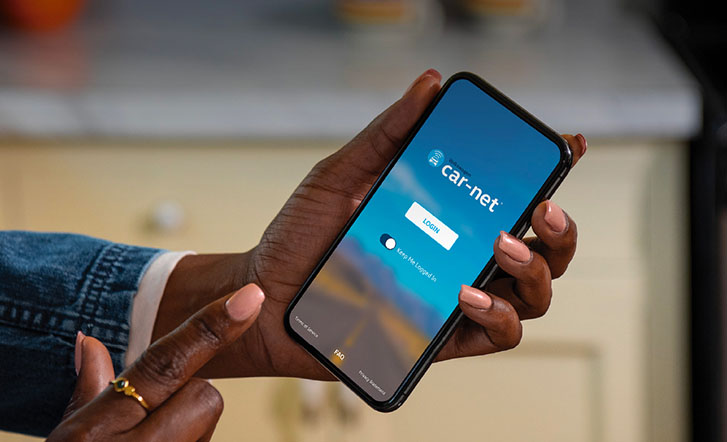 VW Car-Net®
Get the most out of your VW with Remote Access, Emergency Assistance, remote battery charge, Wi-Fi Hotspot29 and more. And with the ID.4, Car-Net makes going electric even easier when you can check your charge status remotely and find charging stations nearby or en route.
2021 Volkswagen ID.4 SAFETY & WARRANTY
4-Year/50,000-Mile Bumper-to-Bumper Limited Warranty
•

2-Years Complimentary Factory-Covered Maintenance

•

3-Year/36,000 miles of Roadside Assistance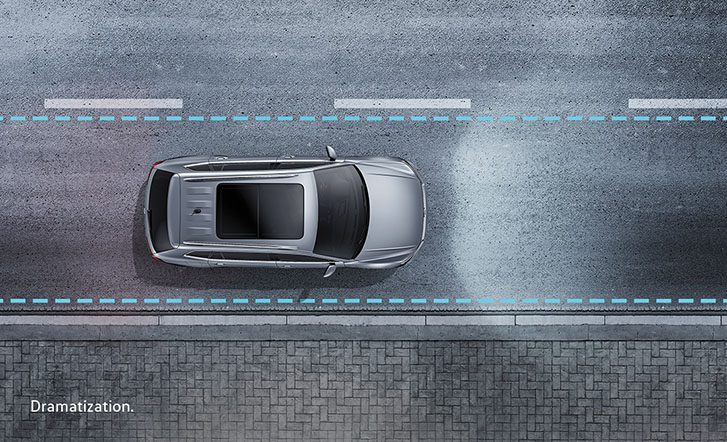 IQ.DRIVE®
The ID.4 EV comes equipped with easy to use, Advanced Drivers Assistance Technologies, including IQ.DRIVE, which offers hands-on semi-autonomous capability that transforms your driving experience.
Q.DRIVE features:
- Travel Assist
- Lane Assist
- Front Assist
- Adaptive Cruise Control
- Emergency Assist
- Blind Spot Monitor (Side Assist)
- Rear Traffic Alert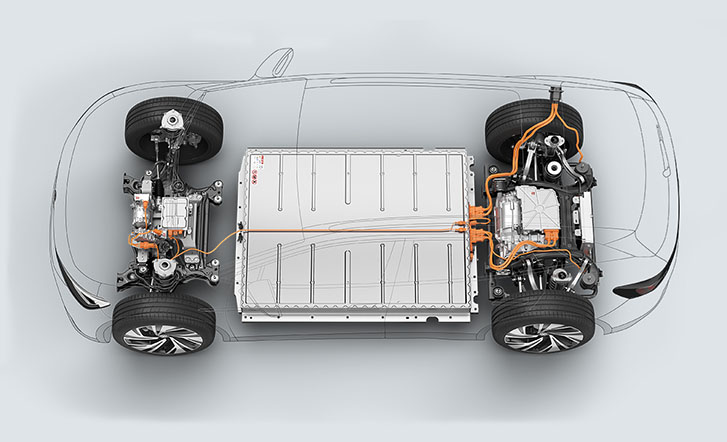 What you want in your electric warranty
The heart of the electric vehicle (EV) is the battery, so the biggest thing you'll want to look for in your EV warranty is battery coverage. The Volkswagen ID.4 electric vehicle has an eight-year/100,000 miles (whichever occurs first) warranty specific to the High Voltage Battery.