2021 Porsche Taycan Overview
2021 Porsche Taycan For Sale

Taycan Turbo Cross Turismo

Taycan Turbo S Cross Turismo
Porsche Taycan For Sale
2021 Porsche Taycan Performance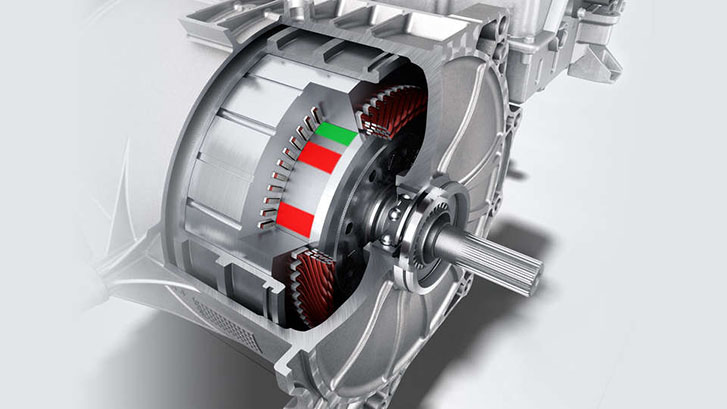 Permanent Magnet Synchronous Motors
Two Permanent Magnet Synchronous Motors are installed in the Taycan Turbo and Taycan Turbo S – one on each axle – and the 93.4 kWh performance battery plus is integrated deep into the underbody. The effect: superior driving dynamics and all-wheel drive that can be optimally adjusted to the fluctuation between efficiency and dynamics in the various driving modes.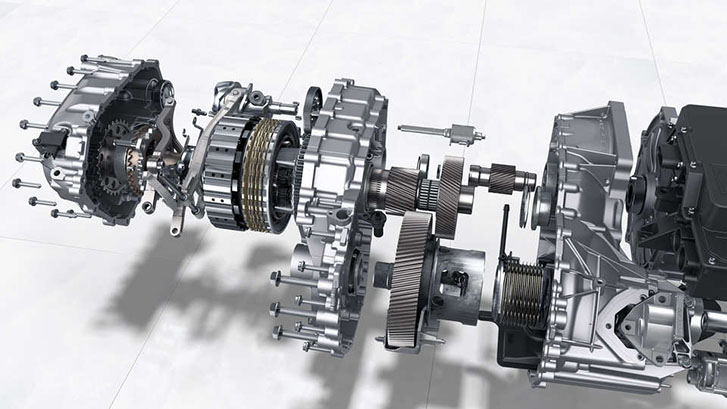 Two-speed transmission
The concept of the permanent magnet synchronous motor provides high power density, high continuous output and high efficiency in a compact design. A newly developed, automatically switching two-speed transmission on the rear axle ensures noticeably improved dynamics.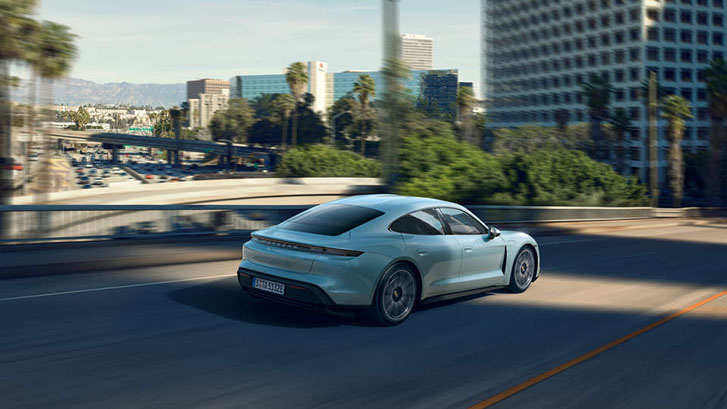 Overboost
The interaction of the drive components produces impressive performance figures, both technically and emotionally: with up to 560kW (750 HP) overboost is activated with Launch Control, both machines accelerate the Taycan Turbo S from a standstill to 60 mph in 2.6 seconds. And this can be repeatedly reproduced: consecutive acceleration is possible, up to a top track speed of 161 mph.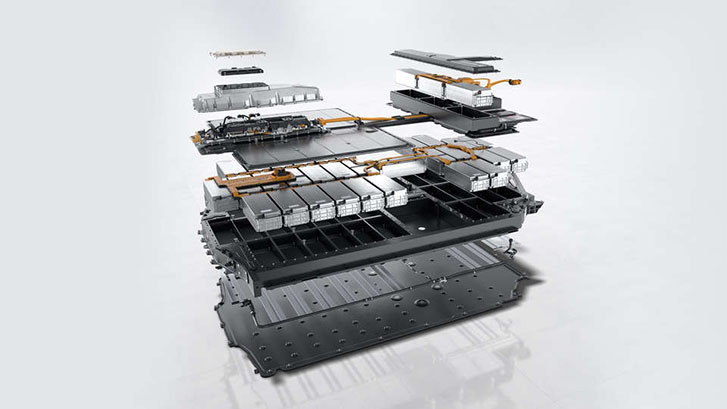 Performance battery
This is due to the performance battery, among other things, which is based on 800-volt technology instead of the usual 400 volts. The effect: improved charging and drive performance with smaller cable cross-sections, which has a positive impact on the overall weight.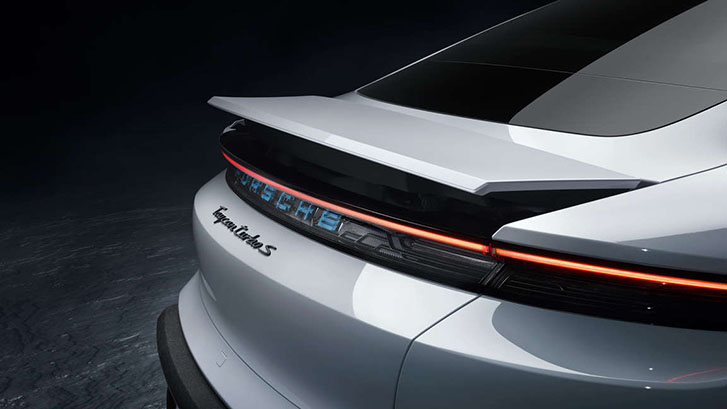 Porsche Active Aerodynamics
The Taycan is fitted with the Porsche Active Aerodynamics system, consisting of an adaptive rear spoiler and adjustable cool air intakes, specifically for dynamic driving. Depending on the situation, the rear spoiler extends in three stages: at 56 mph, 99 mph, and 124 mph, it demonstrates where an electric vehicle becomes a sports car and a sports car becomes a Porsche.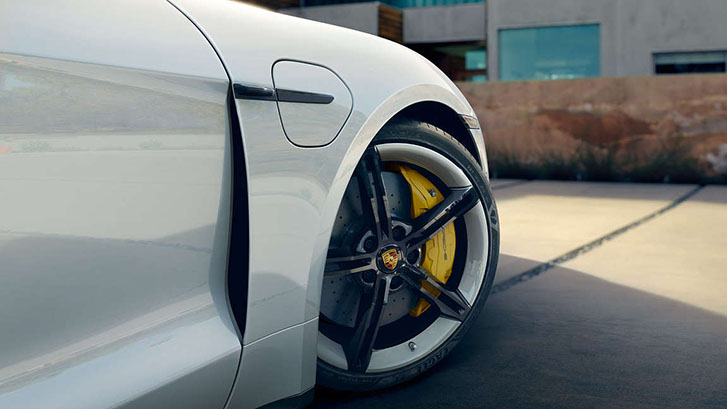 Brakes
Thanks to the Porsche Surface Coated Brakes (PSCB), your Taycan decelerates with optimized responsiveness. Or choose the extremely lightweight Porsche Ceramic Composite Brakes (PCCB) – standard on the Taycan Turbo S. Our high performance brakes has its origins in motorsport and enables short braking distances in even the toughest conditions.
Picture shows: Porsche Ceramic Composite Brakes (PCCB)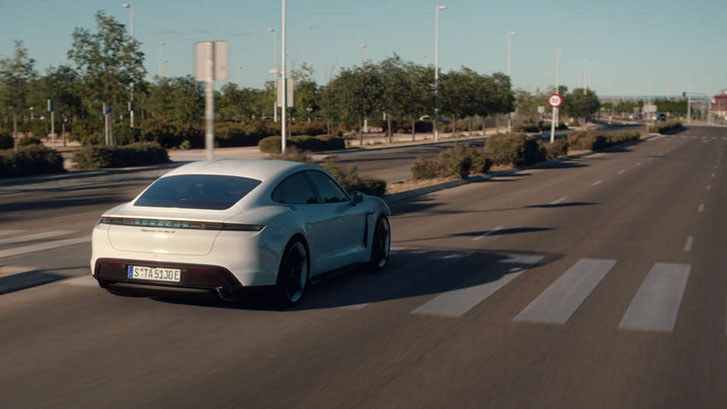 Recuperation
Porsche Recuperation Management (PRM) works innovatively and can regenerate up to 90% of braking energy. This means, during active braking, recuperation is enabled first and the mechanical brake is only engaged when stronger braking is required – intelligently controlled by a braking system that is capable of blending. With an outstanding recuperation output of up to 265kW, energy can be fed back into the battery in the Taycan. Or to be more precise: during sporty, everyday driving, for example, you will achieve up to a third of your range exclusively from recuperation. With recuperation braking from 124 mph to 0, electrical energy can be recovered for a range of up to 2.5 miles.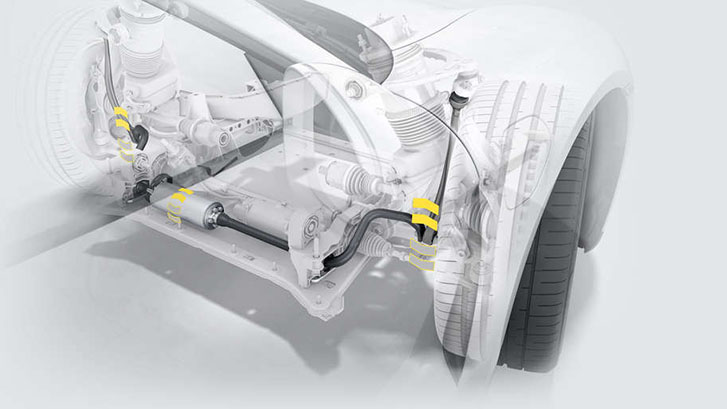 Chassis
Adaptive air suspension ensures a balance between comfort and performance, optimum aerodynamics and, last but not least, an improved drag coefficient: increased range with maximum performance. Rear-axle steering steers the rear wheels in the same or the opposite direction to the front wheels, depending on the speed. The roll stabilization of Porsche Dynamic Chassis Control Sport (PDCC Sport) also ensures sporty dynamics. Porsche Torque Vectoring Plus (PTV Plus) enhances driving dynamics and stability. Depending on the steering angle and driving speed, accelerator pedal position, yaw rate and speed, it improves the steering behaviour and accuracy by precisely and agilely applying brake pressure to the left or right rear wheel.
2021 Porsche Taycan Appearance


Air Curtains
Vertical air intakes ahead of the front wheels – so called Air Curtains – also improve the aerodynamics, by guiding incoming air over the wheels like a curtain, reducing turbulence.

Four-point LED headlights
Directly above these is the highlight of the front: four-point LED headlights with Matrix Design that combine all the light functions in a single component and appear to be floating.

Automatically extending door handles
The silhouette is characterized by a dynamic, flat flyline. Flush, automatically extending door handles open the vehicle interior with its deep, sporty seating position.

Panoramic fixed glass roof
There are two roof options: the contoured variant made of lightweight aluminum with an indentation in the middle creates a shape that is known to us from motorsport. Alternatively, a panoramic fixed glass roof provides an open, airy feeling.

Rear design
The rear design features a seamless light strip, as well as the 'Porsche' logo in glass look. Above this is the adaptive three stage rear spoiler, a fundamental component of Porsche Active Aerodynamics (PAA).

Cross Turismo Design
Front and rear fascias and side skirts have a distinctive design. The external appearance is perfectly complemented by wheel arch moldings and unique wheel designs. With 20 mm (0.78 in.) more ground clearance than the Taycan, the Taycan Cross Turismo shows that its versatility extends beyond everyday life even when stationary.

Cross Turismo Off-Road Design Package
The optional Off-Road Design Package also provides a further 10 mm (0.39 in.) of ground clearance at the 'middle' chassis level as well as integrated off-road design cladding for the lower front valence, sideskirts and rear diffuser.

Cross Turismo Rear
The profile reveals not only the iconic Porsche flyline, but also the rear in Cross Turismo design with a painted roof spoiler in High Gloss Black, large tailgate and flat rear windshield – providing more headroom for rear passengers. This is particularly worthwhile in view of the extra-large panoramic fixed glass roof embedded in the shape of the vehicle.
2021 Porsche Taycan Comfort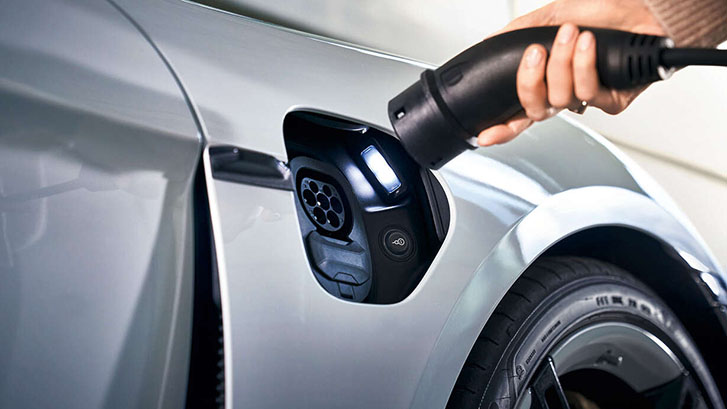 Top speed. Even when at a standstill.
In terms of charging time and range, the Taycan also demonstrates what makes a genuine Porsche. Because we believe that a sports car should be ready to set off at all times, we do our utmost to facilitate simple charging that is integrated into everyday life. Because the only thing you should think about is where to go next.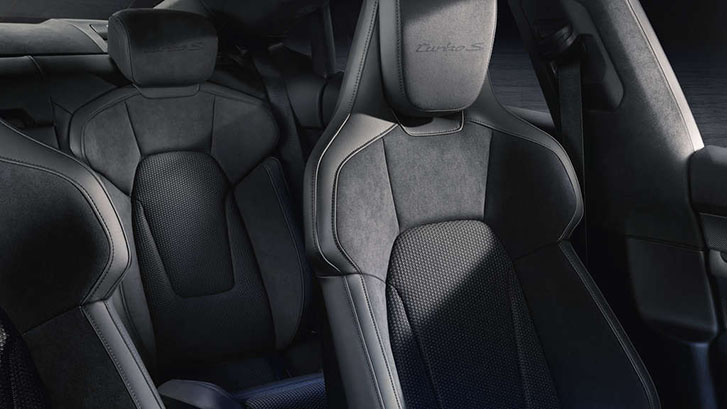 Seat
The ascending center console underlines the deep, sporty position of the driver's seat. This takes the form of a 14 or optionally 18-way adjustable seat with integrated headrests. Recesses in the design of the battery integrated into the underbody also ensure an adequate level of comfort for rear passengers.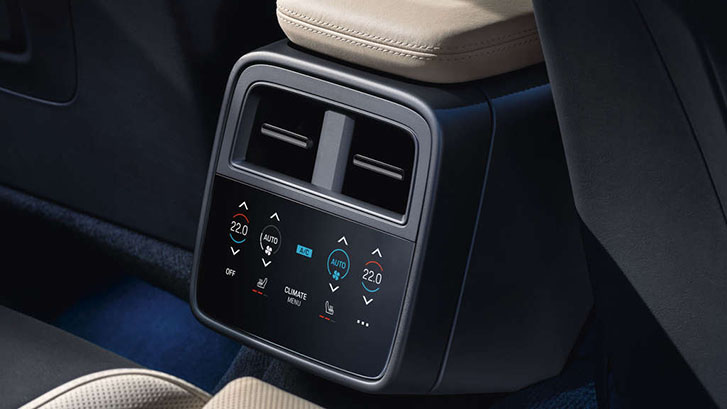 Advanced Climate Control
The innovative Advanced Climate Control air conditioning (dual or optional four-zone) may not be visible, but is certainly noticeable: slat-free vents enable precise airflow and distribution.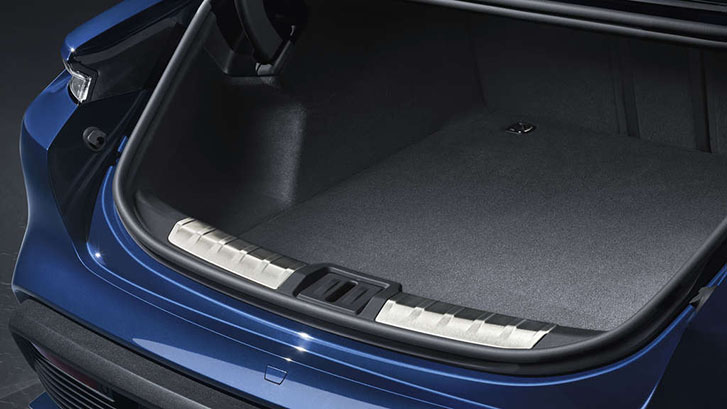 Luggage compartment
The front trunk is great for smaller items like briefcases and bookbags. While the rear trunk offers 12.9 cu.ft. of storage space that can be flexibly expanded, thanks to the individually folding rear seat backrests.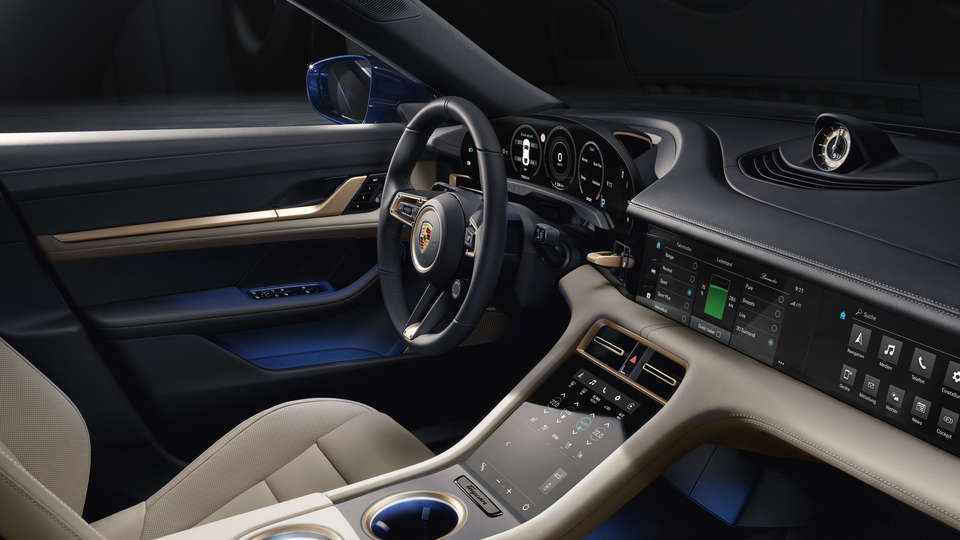 Cockpit
Physical buttons have been almost entirely replaced by digital ones. Making the interior look extremely tidy. The same principle of tidiness also applies to the displays, of which there are up to four – intuitive, distraction-free and easy to use.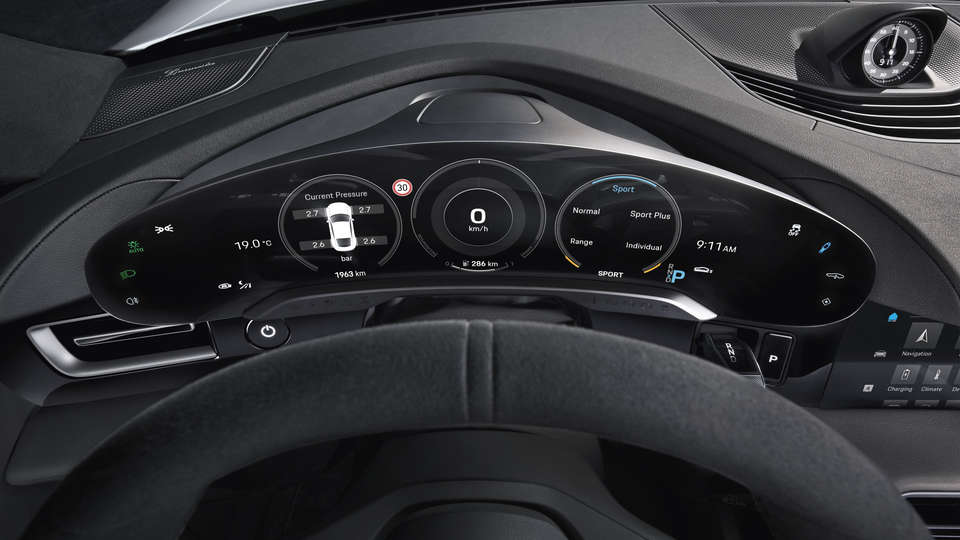 16.8-inch curved display
The arrangement is also driver-focused, as is typical of Porsche: the instrument cluster is the center of attention, consisting of a 16.8-inch curved display and surrounded by control panels with Direct Touch Control for selecting lighting and chassis functions.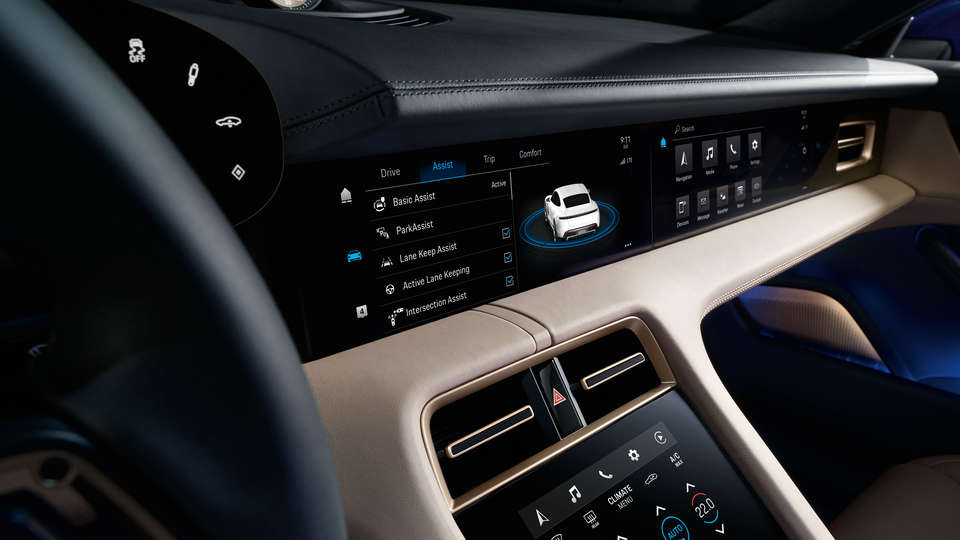 Communication Management
Your central control unit for audio, navigation and communication: redesigned Porsche Communication Management (PCM) including online navigation. The PCM display on the 10.9-inch central display on the dashboard can be individually configured, allowing direct access to the most important functions.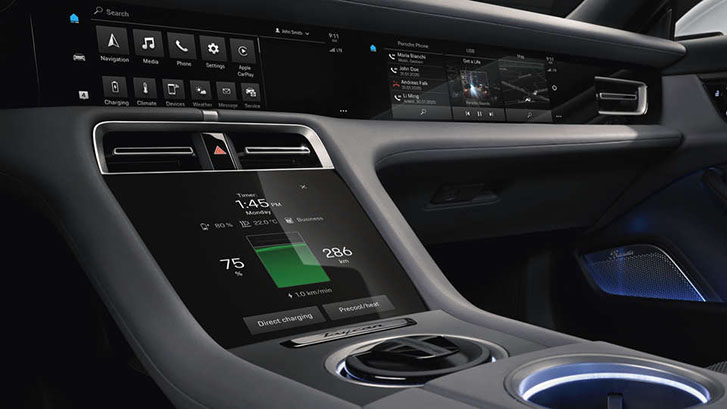 8.4-inch center console control panel
Another digital element is located in the center console, namely the 8.4-inch center console control panel. This provides access to navigation, media, telephone, settings and Apple CarPlay® via a menu bar which can be disabled. The trunks and charging port doors can also be opened and closed from here. The charging display and battery charge status can also be viewed.
2021 Porsche Taycan Safety & Warranty
New Car Limited Warranty & Porsche 24-Hour Roadside Assistance Program for 4-Years / 50,000 Miles (whichever occurs first)


Porsche InnoDrive including adaptive cruise control
As part of intelligent Porsche InnoDrive including adaptive cruise control, the system increases the prediction horizon to up to 1.8 miles. With the aid of navigation data and information supplied by the radar and video sensors, it determines speed limits and topographical road features long before you reach them and modifies the speed and gearshift strategy to suit the selected driving mode.

Active Lane Keep & Traffic Jam Assist
Active Lane Keep, which uses longitudinal and lateral control to help keep the Taycan in lane and regulate the distance from vehicles in front, is also an integral part of this system – as is Traffic Jam Assist, which helps keep the vehicle in the middle of the lane on congested roads, for greater comfort on longer journeys.

Lane Change Assist & Night Vision Assist
Lane Change Assist indicates whether a vehicle is in your blind spot as you move to change lanes – extremely practical when driving on the motorway. And at night, Night Vision Assist uses an infrared camera to provide support – pedestrians and wildlife are displayed as thermal images and also highlighted in color.

Surround View
Surround View ensures optimum care when parking and maneuvering using one hand. Making every inch in the Taycan a driving experience.
2021 Porsche Taycan Specification

Height: 54.3 in
Width (w/ mirrors folded): 77.5 in
Wheelbase: 114.2 in
Length: 195.4 in
Specs reflect base model unless otherwise noted.
| | |
| --- | --- |
| Power up to (kW) (Performance Battery) | 240 kW |
| Power up to (kW) (Performance Battery Plus) | 280 kW |
| Power up to (HP) (Performance Battery) | 321 hp |
| Power up to (HP) (Performance Battery Plus) | 375 hp |
| Overboost Power with Launch Control up to (kW) (Performance Battery) | 300 kW |
| Overboost Power with Launch Control up to (kW) (Performance Battery Plus) | 350 kW |
| Overboost Power with Launch Control up to (HP) (Performance Battery) | 402 hp |
| Overboost Power with Launch Control up to (HP) (Performance Battery Plus) | 469 hp |
| Max. torque with Launch Control (Performance Battery) | 254 lb-ft |
| Max. torque with Launch Control (Performance Battery Plus) | 263 lb-ft |
| | |
| --- | --- |
| Charging time for alternating current (AC) with 9.6kW (0 to up to 100%) | 9.5 hrs |
| Charging time for direct current (DC) with 50kW (5 to up to 80%) | 93.0 min |
| Charging time for direct current (DC) with maximum charging power (5 to up to 80%) | 22.5 min |
| | |
| --- | --- |
| Top track speed | 143 mph |
| 0 - 60 mph with Launch Control | 5.1 s |
| | |
| --- | --- |
| Length | 195.4 in |
| Width w/ mirrors folded | 77.5 in |
| Width | 84.5 in |
| Height | 54.9 in |
| Drag coefficient (Cd) | 0.22 |
| Wheelbase | 114.2 in |
| Front track | 67.4 in |
| Rear track | 66.7 in |
| Turning radius | 38.4 ft |
| Curb weight (Performance Battery) | 4,566 lb |
| Curb weight (Performance Battery Plus) | 4,742 lb |
| Gross Vehicle Weight Rating (GVWR) | 6,162 lb |
| Maximum load (Performance Battery) | 1,596 lb |
| Maximum load (Performance Battery Plus) | 1,420 lb |
| | |
| --- | --- |
| Front luggage compartment volume | 2.9 ft³ |
| Rear luggage compartment volume | 14.3 ft³ |
| | |
| --- | --- |
| EPA Disclaimer | EPA estimates not yet available. |
Standard features
AC Permanent Synchronous Motor (300 kW/402 hp)
Performance Battery (79.2 kWh)
8 year / 100,000 mile high voltage battery warranty
2-speed transmission on the rear axle
Porsche Traction Management (PTM)
Porsche Recuperation Management (PRM)
Steel spring suspension
Integrated Porsche 4D Chassis Control
19" Taycan Aero Wheels
Front: 9.0J x 19 ET50 wheels with 225/55 R19 tires
Rear: 10.0J x 19 ET47 wheels with 275/45 R19 tires
Tire Pressure Monitoring System (TPMS)
Wheel center caps with monochromatic Porsche Crest
Performance summer tires
Tire sealing compound with electric air compressor
Front: 6-piston aluminum monobloc fixed brake calipers with 360 mm internally vented brake discs
Rear: 4-piston aluminum monobloc fixed brake calipers with 358 mm internally vented brake discs
Brake calipers painted in Black
Sport Mode
Range Mode
Launch Control
Power Steering Plus
Fully galvanized steel-aluminum hybrid lightweight bodyshell
Hood, tailgate, door, side sections and front fenders in aluminum
Full-surface aerodynamic underbody paneling
Vertical air curtains on front fascia
Lower valance inlays in painted in Black
Recessed door handles
Side window trim in Black
Side skirts in Black
Exterior mirror lower trims and base in Black
Porsche Active Aerodynamics (PAA) with active air intake flaps and adaptive rear spoiler
Rear fascia with integrated rear diffuser and inlays in Black
"PORSCHE" logo integrated in rear light strip
"Taycan" logo on rear in High Gloss Silver
Auto-dimming interior and exterior mirrors
Electrically adjustable and heatable exterior mirrors
Front wiper system including rain sensor and washer jets
Heated rear windshield with "Auto-Off" function
LED Headlights
Four-point LED daytime running lights
Automatic headlight activation including "Welcome Home" lighting
LED Interior Lighting Concept: switch-off delay, interior lighting with reading spot lights (front), reading spot lights (rear left and right), footwell illumination (front and rear), luggage compartment lights (front and rear) and glove compartment light
Illuminated vanity mirrors for driver and front passenger
Interior ambient lighting
Advanced Climate Control (2-zone) with separate temperature settings and air volume control for driver and front passenger, extended footwell temperature control, automatic air recirculation mode including air quality sensor as well as comfortable control of the airflow via PCM
Parking pre-climatization including pre-conditioning of the battery
Thermally insulated glass all-round
Particle/pollen filter with active carbon filter
Windshield with grey top tint
Power Seats (8-way)
Seat heating (front)
Integrated headrests (front)
2+2 seating concept
Rear seats with folding center armrest and individually folding backrests (60:40)
4 doors with integrated Side Impact Protection
Bumpers comprising high-strength cross members and two deformation elements, each with two threaded fixture points for towing eye
Full size airbags for driver and front passenger
Knee airbags for driver and front passenger
Side airbags in front and rear
Curtain airbags along entire roof frame and side windows from the A-pillar to the C-pillar
Rollover detection for activation of curtain airbags and seat belt pretensioners
Three-point automatic seat belts with pretensioners (front and outer rear seats) and force limiters (front)
Seat belt warning system for driver, front passenger and rear seats
Immobilizer with remote central locking and alarm system with radar-based interior surveillance
Warn and Brake Assist*
*Warn and Brake Assist cannot prevent most collisions, although it may help to reduce their severity. In addition, Warn and Brake Assist may not detect every object in the road. The system may not operate if certain evasive maneuvers are performed by the driver.
Lane Keep Assist (LKA) including Traffic Sign Recognition
Cruise control
ParkAssist (front and rear) with reversing camera
Comfort Access
HomeLink® programmable garage door opener
16.8" curved display for driver including external touchscreen control panels for lighting and chassis functions
Center console with Direct Touch Control
Standard Interior
Door-sill guards in Black
Manual adjustment of seat belt height for driver and front passenger
"Taycan" badge on the center console
Interior accents in Black
Roof-lining in fabric
Multifunction Sport Steering Wheel in Leather
Center console armrest in front with integrated storage compartment
Floor mats
Sun visors for driver and front passenger
2 USB-C connectivity and charge ports in the storage compartment in the center console
2 USB-C Charge ports in the rear
Smartphone compartment with inductive charging
Porsche Communication Management (PCM)* including Online Navigation, FM radio, Bluetooth connection, audio inputs, mobile phone preparation with Bluetooth® interface for telephone and music is included, radio with RDS twin-tuner and diversity for optimum reception, control of vehicle and comfort functions such as charging timers and climate settings, central display of notifications from the vehicle and connected external devices, voice control with natural speech interaction, activation via "Hey Porsche" and multimodal map operation Online navigation with: maps for the United States and Canada, 3D map display and 3D navigation map supporting city and terrain models with satellite image overlay, dynamic route calculation with online real-time traffic and route monitor for a clear overview of charging stops and traffic conditions
Porsche Connect** with Apple® CarPlay includes: online navigation (see Porsche Communication Management), music streaming and online radio, Remote Services, E-mobility services including charge management, control of vehicle parking pre-climatization or range management, a wide range of other Porsche Connect services
Porsche Vehicle Tracking System (PVTS)*** includes: extended vehicle monitoring system, automatic theft detection with silent alarm connected to 24/7 security centre through vehicle, personal notification of customer to verify theft and secure vehicle in cooperation with local authorities
Sound Package Plus with 10 Speakers and a total Output of 150 Watts
SiriusXM® Satellite Radio (with 3-month trial) and HD Radio Receiver
*Requires Porsche Connect. For information on compatibility with the latest iPod® and iPhone® models, please contact your Porsche Dealer. Not available in all cities.
**The availability of Porsche Connect services is dependent on the availability of wireless network coverage which may not be available in all areas, and may be subject to eventual technology sunset or deactivation, thus nullifying services. The vehicle equipment necessary to use Porsche Connect is only available factory-installed, and cannot be retrofitted. Likewise, the vehicle equipment may not work with future mobile networks yet to be deployed. Some functions may require separate subscriptions, or data charges may apply.
**Porsche Connect includes a free subscription period of 36 months. The full range of Porsche Connect services or individual services thereof may not be available in some countries. An integrated LTE-enabled SIM card with data allowance for use of selected Porsche Connect services will be included in some countries. For use of the WiFi hotspot via the integrated, LTE-enabled SIM card, in some of these countries a data package is available to purchase from the Porsche Connect Store. For further information on free subscription periods, follow-on costs and availability of individual services in your country, please visit www.porsche.com/connect or consult your authorized Porsche dealer
***To use the PVTS, you need to purchase the Car Security Package from the Porsche Connect Store. For further information on follow on costs and availability in your country, please visit www.porsche.com/connect or consult your Porsche Dealer
Luggage compartment (front and rear)
Storage compartments: glove box, front center console, between outer rear seats, doors (front and rear), sides of rear luggage compartment
Four integrated cupholders (two front and two rear)
Clothes hook on B-Pillars on driver and passenger side
Charge port on driver (AC) and front passenger side (CCS-Combo)
On-board AC-charger with 9.6kW (AC)
On-Board DC-Charger with 50 kW/400V (DC)
120 Volt supply cable for Mobile Charger
240 Volt NEMA 14-50 supply cable for Mobile Charger
Heat pump