2021 Porsche Panamera Overview
2021 Porsche Panamera For Sale

Panamera 4S Sport Turismo

Panamera 4 E-Hybrid Executive

Panamera 4 E-Hybrid Sport Turismo

Panamera 4S E-Hybrid Executive

Panamera 4S E-Hybrid Sport Turismo

Panamera GTS Sport Turismo

Panamera Turbo S Executive

Panamera Turbo S Sport Turismo

Panamera Turbo S E-Hybrid

Panamera Turbo S E-Hybrid Executive

Panamera Turbo S E-Hybrid Sport Turismo
Porsche Panamera For Sale
2021 Porsche Panamera Performance

The chassis.
The chassis of the new Panamera models performs this balancing act between sport and comfort effortlessly – even more impressively than before. This is because the chassis systems have been completely redesigned and, together with the even more precisely adjusted steering and the new generation of tires, now offer more of both. More performance, but above all more comfort – especially on more demanding tracks. Upgraded, partly optional chassis technologies further enhance the driving characteristics. For example, the Adaptive Air Suspension with three-chamber technology, Porsche Dynamic Chassis Control Sport (PDCC Sport) and Rear-Axle Steering. The integrated Porsche 4D Chassis Control system, which centrally analyses the driving situation in all three spatial dimensions, e.g. pitch, roll and yaw, calculates optimum driving states from these data and synchronizes all chassis systems in real time: the fourth dimension. The objective is to optimize overall performance, and to make the middle ground between sporty driving and comfort as expansive as possible.

The Rear-Axle Steering.
The optional Rear-Axle Steering (standard in the Panamera 4S Executive, Panamera 4S E-Hybrid Executive and the Panamera Turbo S and Turbo S E-Hybrid models) increases both performance and suitability for everyday use. At low speeds, the system steers the rear wheels in the opposite direction to that of the front wheels. This leads to a virtual shortening of the wheelbase. The turning circle is reduced, agility is increased and parking becomes noticeably easier to manage. At high speeds, the system steers the rear wheels in the same direction as that of the front wheels. This virtual extension of the wheelbase increases driving stability. Rear-Axle Steering makes it clear that there is no contradiction between stability and agility or performance and suitability for everyday use. The result: greater maneuverability and driving safety in everyday use – and a significant increase in maximum driving performance.

The brakes.
For over 70 years, we've been working on being faster. Even when it comes to slowing down. That's why all models – with the exception of the Panamera Turbo S and Turbo S E-Hybrid models – are equipped with a brake system with six-piston aluminum monobloc fixed brake calipers at the front and four-piston aluminum monobloc fixed brake calipers at the rear. The single-piece brake calipers are enclosed. This makes them lighter yet highly resistant to deformation. The pedal travel is tight, the pressure point precise and the braking distance impressively short.
Proven in motorsport and installed as standard on the Panamera Turbo S and Turbo S E-Hybrid models, the Porsche Ceramic Composite Brakes (PCCB) is available as an option. The PCCB perforated ceramic brake discs have a diameter of 420 mm at the front or up to 410 mm at the rear depending on the model for even greater braking performance.

The Sport Chrono Package including mode switch.
Adrenaline at the push of a button: the Sport Chrono Package offers an even sportier tuning of the chassis, engine and transmission. With the mode switch on the steering wheel with Sport Response button, you can choose between four driving modes: 'Normal', 'Sport', 'Sport Plus' and 'Individual' – for an even more personalized driving style. In Sport mode alone, the Panamera delivers increased dynamics and more direct handling. While in Sport Plus mode, the engine becomes even more responsive. The rev limiter is adjusted to a harder setting. Porsche Active Suspension Management (PASM) and Porsche Dynamic Chassis Control Sport (PDCC Sport) are retuned for harder damping and more direct turn-in. The Adaptive Air Suspension drops to Low Level and firms the spring rate. The Rear-Axle Steering acts to provide even greater agility. Another function included in the package is Launch Control – for optimum acceleration from a standing start. Pressing the Sport Response button in the center of the mode switch primes the engine and transmission for the fastest possible unleashing of power (e.g. for overtaking). In other words, maximum responsiveness – for a period of approximately 20 seconds.
2021 Porsche Panamera Appearance


New generation of tires.
The newly tuned chassis and a new 20 and 21-inch tire generation perceptibly intensify the driving experience.

Panamera Bodywork.
Whether Panamera, Panamera Executive or Panamera Sport Turismo – the silhouette and proportions are unmistakably Porsche. Athletic, streamlined, with clear contours and powerful muscles. The long wheelbase, shorter overhang at the front and longer overhang at the rear already lend visual dynamism. The prominent sculpting of the side profile creates the customary Porsche waistline and sense of lightness.

Panamera Executive.
The Panamera Executive models combine sporty driving and comfortable working in the rear. The body has been lengthened by 0.59 in., which benefits the rear passengers in particular. Silver-colored elements above the side skirts are visual features of the Executive models. The air outlet trims in the front fenders are in High-Gloss Silver.

Panamera Sport Turismo.
The fact that four people can appreciate a sporty yet comfortable drive in the Panamera is already old news in the automotive luxury class. In the Sport Turismo, with the standard 4+1 seat concept, a fifth person can enjoy the Panamera driving experience. Although not designed as a full-size individual seat, the extra space does provide a neat solution for carrying an additional passenger on short to medium distance trips. The fact that stylish design and everyday practicality are not mutually exclusive is demonstrated by the large tailgate and the low loading edge, which makes it easier to integrate more than just everyday things into the Panamera Sport Turismo. Thanks, above all, to – for a sports car – an extraordinary capacity of up to 49.0 cu. ft..
2021 Porsche Panamera Comfort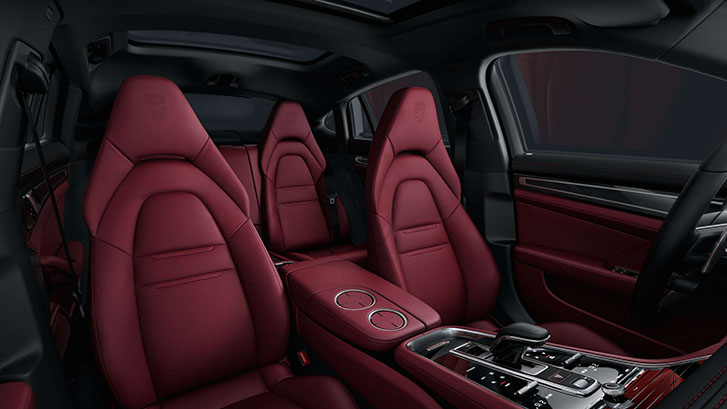 The front seats.
The front seats offer a high level of comfort and provide support in fast corners without restricting freedom of movement. The seat height, cushion and backrest angles and fore/aft position are electrically adjustable. The 14-way, electric Power Seats offer additional cushion length adjustment and four-way lumbar support for driver and front passenger. The memory function stores settings for seats, steering column, both exterior mirrors and other personalized in-car settings. The 18-way, electric Adaptive Sport Seats offer even better lateral support – thanks to raised side bolsters on the cushion and backrest. Electrically adjustable, they offer comfort on long journeys and made-to-measure lateral support in corners.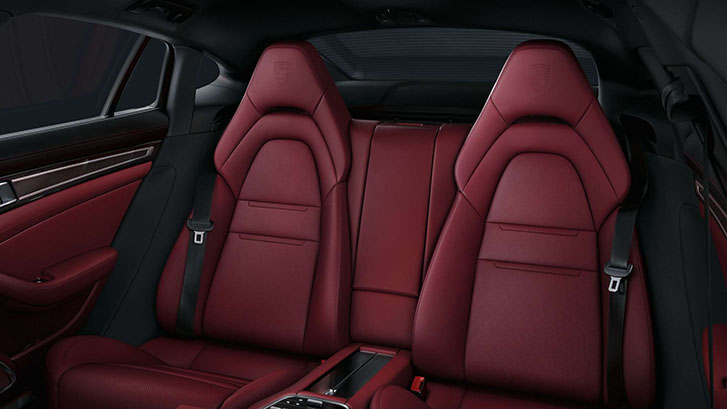 The rear seats.
Their main feature: there are two single ones. With plenty of leg and headroom and excellent lateral support during dynamic cornering without sacrificing comfort. On request, Power Seats with electric backrest adjustment, cushion length adjustment and lumbar support are also available for the rear seat. Depending on the equipment, the front passenger seat can also be adjusted from the rear. In conjunction with the Adaptive Sport Seats in front, the rear seats are also designed as Sport Seats – with raised side bolsters. Standard for the Sport Turismo models, optional for the other Panamera models: the 4+1 seating concept. In the rear, the system comprises two full-size individual seats outside left and right and one center seat in place of the storage compartment.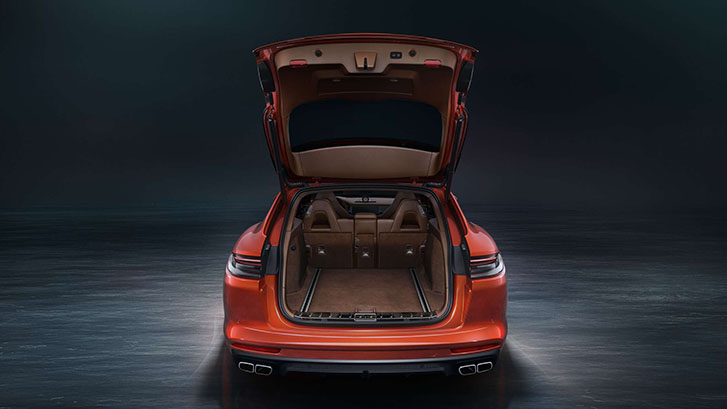 The luggage compartment.
The luggage compartment of the Panamera and Panamera Executive models offers you a volume of up to 17.6 cu. ft. liters depending on the model (E-Hybrid models up to 14.3 cu. ft.) and up to 18.3 cu. ft. in the Panamera Sport Turismo models. The large, automatic tailgate with individually adjustable opening height is standard in all models. It opens and closes conveniently at the push of a button.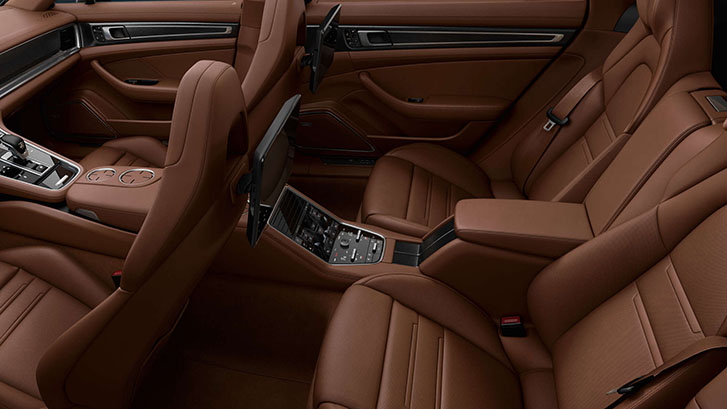 Panamera Executive Models.
At the rear, the Panamera Executive models are equipped as standard with electric power seats including heated seats and comfort headrests with contoured side bolsters. A large rear center console is optionally available for the Executive models, which offers additional storage space as well as a further smartphone compartment, additional USB interfaces and a 12 V and 230 V socket. In conjunction with the large center console, folding tables for the rear are available on request. When folded, they are concealed in the large center console. They are folded out mechanically – similar to an aeroplane – and their distance is adjustable.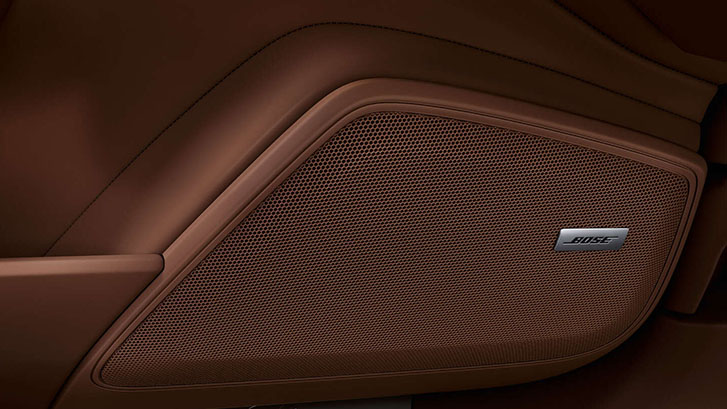 BOSE® Surround Sound System.
The BOSE® Surround Sound System features 14 amplifier channels. The total output: 710 watts. 14 loudspeakers including a separate subwoofer ensure a balanced, faithfully reproduced acoustic pattern. BOSE® SoundTrue® enhancement technology delivers even better audio quality and dynamics for compressed file formats such as MP3. The patented AudioPilot® noise compensation technology continuously measures the ambient noise inside the vehicle and automatically adapts music playback so that a consistent sound is maintained.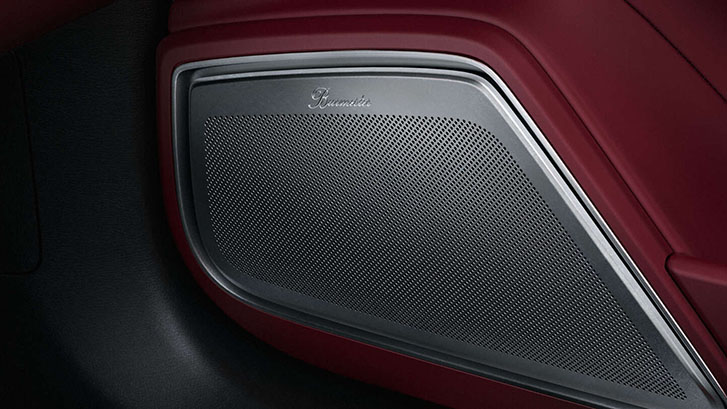 Burmester® 3D High-End Surround Sound System.
Quiet, please, as we introduce a total output of 1,455 watts. 21 individually controlled loudspeakers including an active subwoofer with 400-watt class D digital amplifier, two-way center system and a total diaphragm surface area of more than 2,500 cm². The special air motion ribbon tweeters ensure unmistakably fine, clear and undistorted high-frequency sound reproduction with excellent level stability.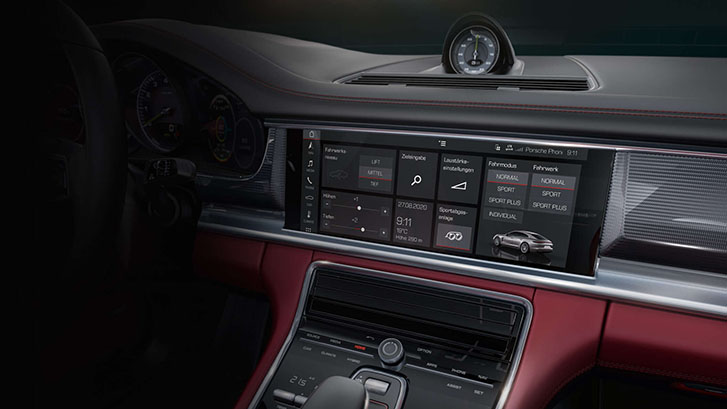 Porsche Connect. Your digital co-pilot.
How do you further improve performance? With the right attitude. And the help of Porsche Communication Management (PCM) including online navigation module and Porsche Connect. It puts you in the ideal starting position for any road trip – and any of your goals. With new services and the Porsche Car Connect app, you can synchronize destinations and calendars with your Porsche, plan trips with real-time traffic information and use music services on your smartphone. Be navigated, informed and entertained by your Porsche in real time. The navigation and infotainment package helps you to reach your destination faster, thanks to route calculation with up-to-date online maps. Using the voice recognition interface, you can easily search for information, such as the weather at your destination, or have current news on the economy, politics and sport read aloud to you.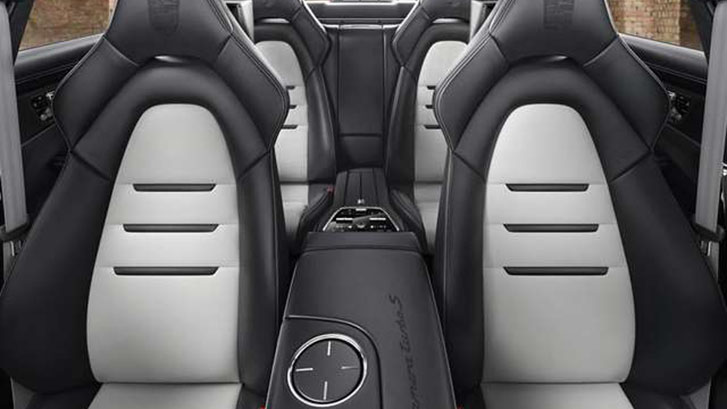 Personalization & finishing.
In the Porsche Exclusive Manufaktur we offer you a variety of personalization options for exterior and interior. For your completely personalized vehicle.
2021 Porsche Panamera Safety & Warranty
New Car Limited Warranty & Porsche 24-Hour Roadside Assistance Program for 4-Years / 50,000 Miles (whichever occurs first)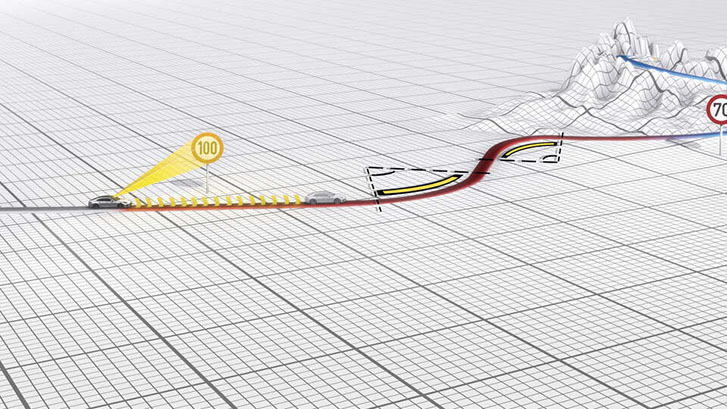 Porsche InnoDrive including Adaptive Cruise Control.*
Those who drive a Porsche want to drive. The more sporty, more comfortable, more efficient and more safe the drive the better. Porsche InnoDrive supports you when driving in a completely new way. The system enhances Adaptive Cruise Control with additional, innovative functions. It predictively optimizes your speed. With the aid of high-resolution navigation data and information supplied by the radar and video sensors, Porsche InnoDrive ascertains speed limits and topographical road features, such as gradients or corner radii, along your route even before you reach them – and modifies the gearshift strategy and speed of the Panamera accordingly. For intelligent driving and a clear efficiency advantage.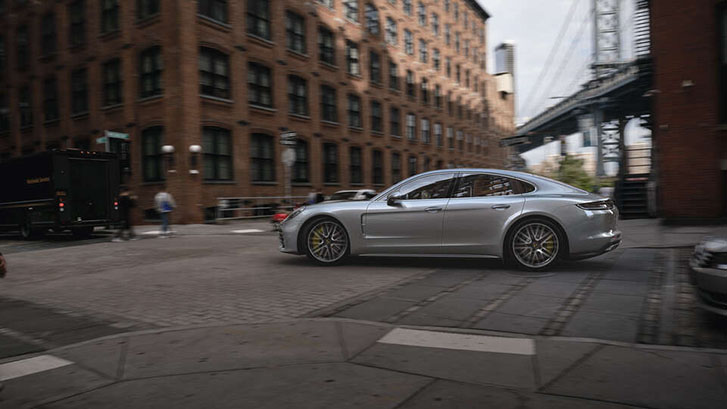 Traffic Jam Assist.
Another feature of Porsche InnoDrive including Adaptive Cruise Control is Traffic Jam Assist. It eases the burden on the driver when congestion is encountered on major inter-urban roads and motorways. At speeds of up to approximately 37 mph, the system uses gentle steering inputs to keep the vehicle in the middle of the lane, regulates the distance from vehicles in front and follows the queue ahead where system limitations allow. To do this, Traffic Jam Assist tracks highway markings and other vehicles on the carriageway. The benefit? Appreciable stress relief and greater comfort on long journeys.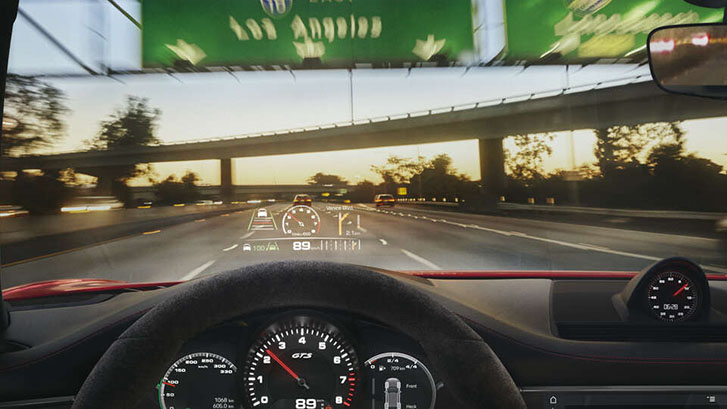 Head-Up Display.
The Head-Up Display is part of the standard equipment for the Panamera Turbo S and Turbo S E-Hybrid models and is available on request for all other Panamera models. It offers high-quality and full-color projection of relevant driving information into the driver's field of view. With projection technology, the information is perceived to appear 7.5 ft. in front of the driver. The display position can be adjusted to the driver's height and position in PCM. The driver is less distracted and can pay more attention to the road. Visualized information includes driving speed, engine speed, incoming calls and navigation. Road signs, hazard warnings and Sport Chrono information can also be displayed, depending on the vehicle specification. Displayed content can be individually customized.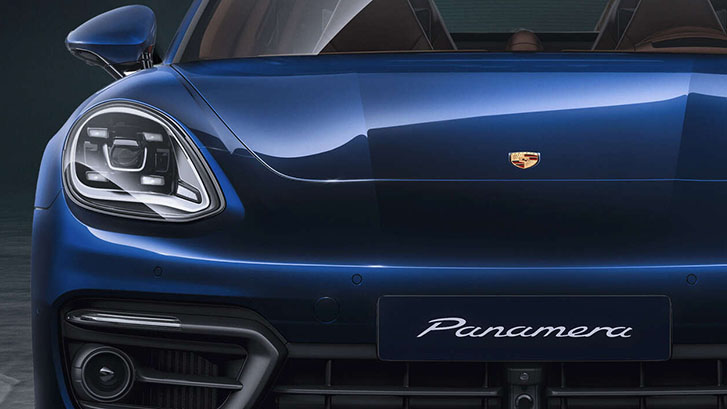 The LED headlights including Porsche Dynamic Light System (PDLS).
Fitted as standard in the new Panamera GTS, Turbo S and Turbo S E-Hybrid models, available on request for the other Panamera models: the LED headlights including Porsche Dynamic Light System (PDLS) with dynamic range control, dynamic cornering lights and speed-sensitive headlight range control. For enhanced near-field, lateral and far-field illumination – and added safety.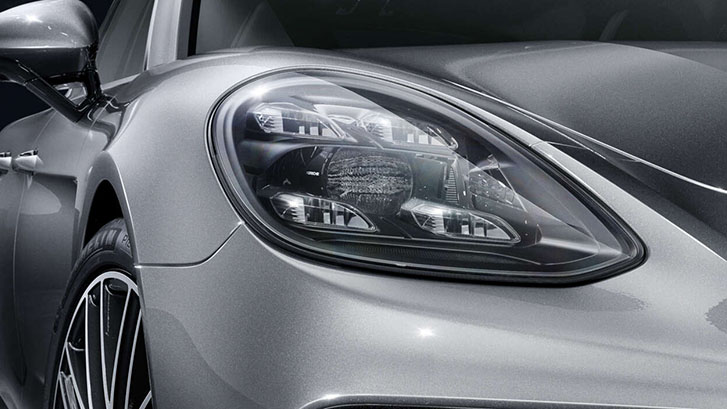 The LED headlights with Matrix Design including Porsche Dynamic Light System Plus (PDLS Plus).
Even greater foresight is achieved with LED headlights featuring Matrix Design technology. The main headlights with Matrix Design strategically deactivate specific segments of the permanent high-beam cone. 84 individually controlled LEDs adapt to the situation ahead by switching off or dimming accordingly. Vehicles in front of you or on the opposite side of the road are dimmed, while the areas in between and next to them are still fully illuminated. To optimize target fixation, not only are the lights selectively dimmed to fade out oncoming vehicles, the area to the right of the light void is lit more brightly for better guidance of the driver's visual attention. Segment-specific dimming of highly reflective traffic signs also acts to avoid driver dazzle. The LED headlights with Matrix Design including PDLS Plus: bright, homogeneous, safe.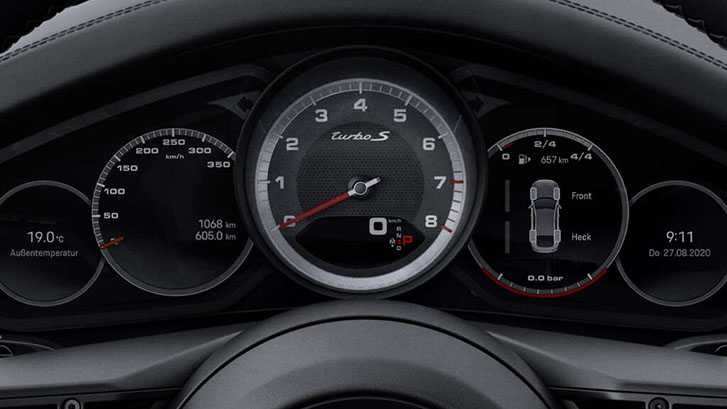 Assistance systems.*
A variety of assistance systems make it safer and more relaxing. And Porsche Connect links all Panamera models to the digital possibilities of today – and tomorrow.
2021 Porsche Panamera Specification

Height: 56.0 in
Width (w/ mirrors folded): 78.2 in
Wheelbase: 116.1 in
Length: 198.8 in
Specs reflect base model unless otherwise noted.
| | |
| --- | --- |
| Design and cylinders | Twin-turbocharged V6 |
| Bore | 84.5 mm |
| Stroke | 86.0 mm |
| Displacement | 2.9 l |
| Max. power | 325 hp |
| Max. power at rpm | 5,400 - 6,400 rpm |
| Max. engine speed | 6,800 rpm |
| Max. torque | 331 lb-ft |
| Max. torque at rpm | 1,800 - 5,000 rpm |
| Max. power per liter | 112.0 hp/l |
| | |
| --- | --- |
| Top track speed | 168 mph |
| 0 - 60 mph | 5.3 s |
| 0 - 60 mph with Sport Chrono Package | 5.1 s |
| | |
| --- | --- |
| Length | 198.8 in |
| Width w/ mirrors folded | 78.2 in |
| Width | 85.3 in |
| Wheelbase | 116.1 in |
| Front track | 65.8 in |
| Rear track | 65.0 in |
| Turning radius | 39.0 ft |
| Curb weight | 4,222 lb |
| Gross Vehicle Weight Rating (GVWR) | 5,545 lb |
| Maximum load | 1,323 lb |
| | |
| --- | --- |
| Rear luggage compartment volume | 17.6 cu. ft. |
| Rear luggage compartment volume (w/ seats folded) | 47.3 cu. ft. |
| Fuel tank | 23.7 gal |
| | |
| --- | --- |
| Limited vehicle warranty | 4 years/50,000 miles (whichever comes first) including 24-hour roadside assistance program |
| Main service interval | Porsche Cars North America offers service and maintenance packages in a variety of terms to match your intended usage. Please see your authorized Porsche Dealer for details and availability. |
| Limited paint warranty | 4 years/50,000 miles (whichever comes first) |
| Limited corrosion warranty | 12 years/unlimited miles |
| | |
| --- | --- |
| EPA Disclaimer | EPA estimates not yet available. |
Standard features
2.9-liter twin-turbocharged V6
325 hp / 331 lb-ft
Incl. first scheduled maintenance at 10,000 miles or 1 year
Water-cooling with thermal management
Turbocharger with twin-scroll turbines
Charge-air cooling
Direct fuel injection (DFI) with central injector position
VarioCam Plus
Active cooling air flap control
8-speed Porsche Doppelkupplung (PDK), with manual actuation and automatic mode
Auto Start-Stop function and coasting
Integrated Porsche 4D-Chassis Control
Steel spring suspension incl. Porsche Active Suspension Management (PASM)
19" Panamera wheels
Front: 9J x 19 ET64 wheels with 265/45 R19 tires
Rear: 10.5J x 19 ET62 wheels with 295/40 R19 tires
Performance summer tires
Tire sealing compound and electric air compressor
Tire Pressure Monitoring System (TPMS)
Front: 6-piston aluminum monobloc fixed calipers with 350 mm internally ventilated brake discs
Rear: 4-piston aluminum monobloc fixed calipers with 330 mm internally ventilated brake discs
Brake calipers in Black
Anti-lock Braking System (ABS)
Electric parking brake
Fully galvanized steel/aluminum hybrid lightweight bodyshell
Panoramic roof system
Hood, tailgate, doors, and side/front fenders in aluminum
Four doors with integrated side impact protection system
Stepless door stay hinge
Windshield washer system incl. rain sensor
Electrically adjustable, folding, and heatable exterior mirrors
Side window trim in Black
Side air outlets in High Gloss Black
Automatic rear hatch
"PORSCHE" logo and model designation on rear hatch in High Gloss Silver
Adaptive rear spoiler (two-way) in exterior color
Twin single-tube tailpipes, outside left and right, in brushed stainless steel
LED headlights
Four-point LED daytime running lights in each headlight
Front corner lights with LED position light and direction indicator
Courtesy lighting on mirror
Automatic headlight activation incl. "Welcome Home" lighting
Three-dimensional LED taillights with integral 4-point brake lights and light strip
Interior lighting: illumination of interior door openers, front center console storage compartment, front door storage compartments, reading lights and interior lights in front, reading lights rear left and right, orientation lighting front and rear, front footwell lights, Illuminated vanity mirrors for driver and passenger, luggage compartment lighting, glove compartment lighting
Two-zone climate control with separate temperature settings for driver and front passenger, automatic air recirculation mode incl. air quality sensor
Particle/pollen filter with active carbon filter
Tinted thermally-insulated glass all around with grey top-tint on windscreen
Partial leather seats in embossed leather
8-way comfort seats in front incl. electric adjustment of seat height, seat and backrest angle, and fore/aft position
Heated seats (front)
Integrated headrests (front and rear)
Four individual seats with continuous center console and armrest in rear
Rear seats with folding center armrest and individually folding backrests (60:40)
Porsche Side Impact Protection System (POSIP), comprising side impact protection elements in the doors, thorax airbags integrated into the side bolster of each front seat
Full-size airbags for driver and front passenger
Knee airbags for driver and front passenger
Front side airbags
Rear side airbags
Curtain airbags along entire roof frame and side windows from the A-pillar to the C-pillar left and right
Mounting points on rear seats for LATCH child seat mounting system
Engine immobilizer with remote central locking and alarm system with radar-based interior surveillance
ParkAssist (front and rear) with reversing camera
Lane Keep Assist (LKA) including Traffic Sign Recognition
Comfort Access
Cruise control
Keyless drive; vehicle ignition without active key usage
HomeLink® programmable garage door opener
Central analog tachometer with black dial face
Instrument cluster with two high-resolution displays
Interior equipment in standard color
Door armrest front center console with integrated storage compartment
Multifunction steering wheel with shift-paddles with rim in smooth-finish leather
Steering wheel with manual fore/aft and height adjustment
Automatically dimming interior and exterior mirrors
High Gloss Black interior trim
Door sill guards in brushed aluminum with model designation on front
Two USB charging ports in rear
12V plug socket in the front center console storage compartment
Two integrated cupholders in the front center armrest
Two integrated cupholders in rear compartment
Floor mats
Porsche Communication Management* (PCM) incl. Online Navigation Module, mobile phone preparation, audio interfaces including Bluetooth®, USB, and Aux-in
Connect Plus* incl. Online Navigation Module, telephone module, and wireless internet access, as well as Porsche Car Connect including Carfinder, Remote Vehicle Status, Remote Services, and Porsche Vehicle Tracking System (PVTS)
Hi-fi sound system with 10 speakers, total output of 150 watts
Wireless Apple® CarPlay®
Smartphone compartment including wireless charging
SiriusXM® Satellite Radio (with 3-month trial) and HD Radio Receiver
Voice Control
*The availability of Porsche Connect services is dependent on the availability of wireless network coverage which may not be available in all areas, and may be subject to eventual technology sunset or deactivation, thus nullifying services. The vehicle equipment necessary to use Porsche Connect is only available factory-installed, and cannot be retrofitted. Likewise, the vehicle equipment may not work with future mobile networks yet to be deployed. Some functions may require separate subscriptions, or data charges may apply.
Storage compartments in interior (depending on model and personalized specification): glove compartment, door storage compartments front and rear, storage bin in center console, small storage compartment in center console, storage compartment in rear center console, and storage compartment in rear central armrest
Fixed luggage compartment cover