2021 Porsche Macan Overview
2021 Porsche Macan For Sale


Porsche Macan For Sale
2021 Porsche Macan Performance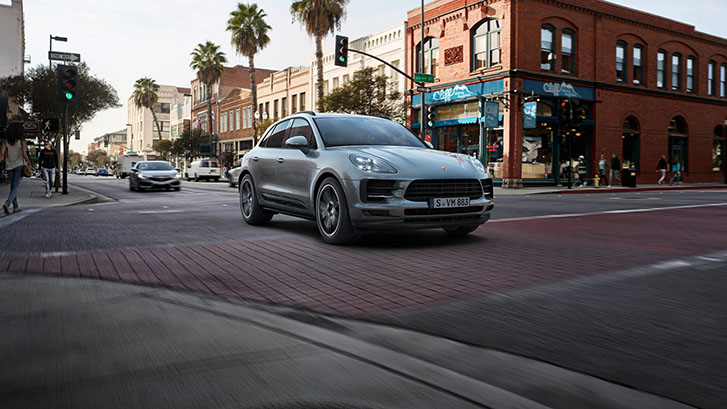 Performance and handling
It is no longer just about mobility. We do not simply drive in order to travel from A to B. Along the way, there is much to discover. And to experience. Every second, we want to feel that our life is dynamic. On the road. And in our sports car.
Always focusing on absolute performance. As we would expect of a genuine sports car.
But a Porsche delivers more than power alone. Such as the active all wheel drive system Porsche Traction Management (PTM), for example: traction, outstanding steering and exceptional handling – clear evidence of traditional Porsche engineering.
And what about comfort? Also in plentiful supply, of course, with all the sporty and control features. The optional air suspension guarantees a constant ride height – on any terrain. Porsche Active Suspension Management (PASM) also actively and continuously adjusts damping force. For each individual wheel. The result? Increased comfort and sportiness – in all seats.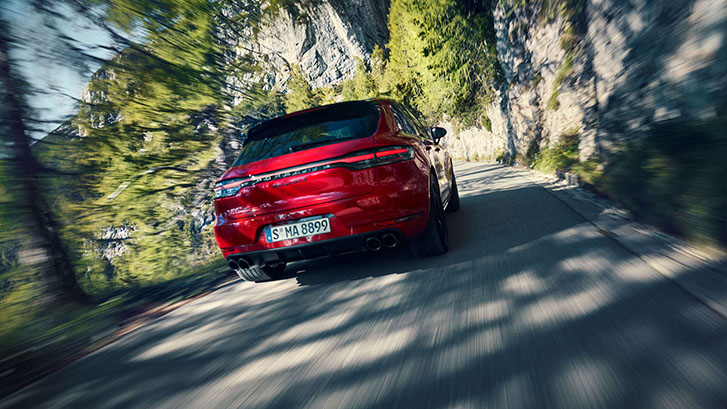 Macan GTS: Performance and handling
Drive
In the new Macan GTS, the love of adrenaline is ignited by a 2.9-liter twin-turbo V6 engine producing 375HP. That's 15HP more than the previous model. Two exhaust turbochargers in what is known as the central turbo layout ensure a instantaneous response. Maximum torque is 383 lb.-ft.
Porsche Traction Management (PTM) active all-wheel drive provides traction, safety, outstanding steering behavior and excellent handling.
Chassis
Close contact with the road? Mandatory. Standard air suspension including PASM with self-leveling function and ride-height adjustment, unite opposites together from optimum comfort and outstanding athleticism: lowering your new Macan GTS by 10mm and offering even sportier tuning.
Optional Porsche Torque Vectoring Plus (PTV Plus) improves driving dynamics and stability. Which also increases cornering fun by selectively applying brake pressure to the left or right rear wheel.
2021 Porsche Macan Appearance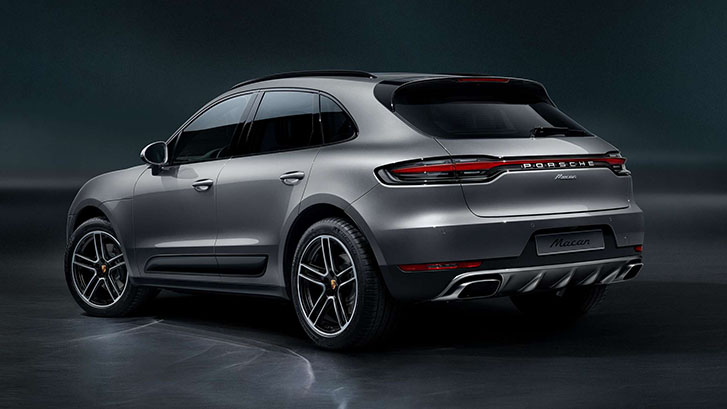 Exterior design
With its dynamic overall look, the Macan is unmistakably a sports car. Its redesigned rear appears extremely powerful. Like a bold line under its own signature, the new characteristic taillight strip emphasizes the Porsche logo, enhanced by the new four-point brake lights, both functionally and visually.
The broad shoulders above its rear wheels are reminiscent of the 911. And a further visual demonstration of the roadhugging nature of the new Macan.
Its flank is also typically Porsche. From this angle, every muscle appears to be energized – like a predator ready to pounce. Its roof line slopes to the rear just like a coupe, thereby creating a characteristic sports car contour with high aerodynamic quality. Our designers call this the Porsche flyline.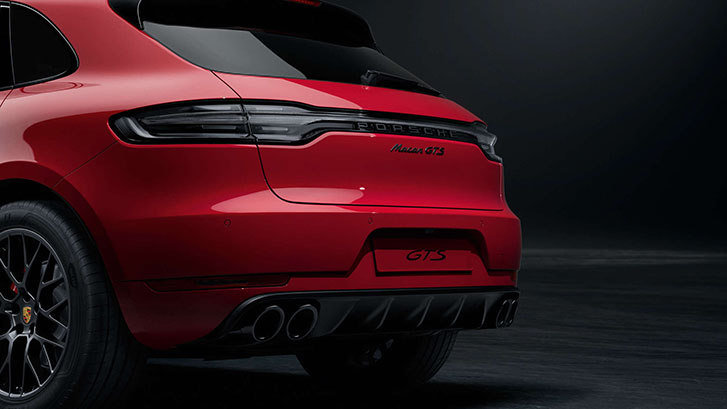 Macan GTS: Exterior design
First take a deep breath. This is also a design principle: the front fascia instantly catches your eye with its large cooling air intakes. The SportDesign package gives the air intake grilles and distinctive airblades a matte black finish. Overall, the front has a wide, sporty appearance that hugs the tarmac. The standard tinted LED headlights including Porsche Dynamic Light System (PDLS) optimally illuminate the road ahead and its corners.
The customary Macan sideblades are painted matte black and furnished with a high-gloss 'GTS' logo. 20-inch RS Spyder Design wheels in satin black are fitted as standard – ready for whatever you have planned.
If you're looking for braking performance with the same ferocity as your thirst for adventure: the surface of the optional Porsche Surface Coated Brake (PSCB) is made of tungsten carbide. For consistently high braking performance, even during continuous use.
Finally, the well-honed rear: with continuous taillight strip, tinted three-dimensional LED taillights with four-point brake lights, a sporty black rear fascia with diffuser – and Sport Tailpipes. Quiet? Not today.
2021 Porsche Macan Comfort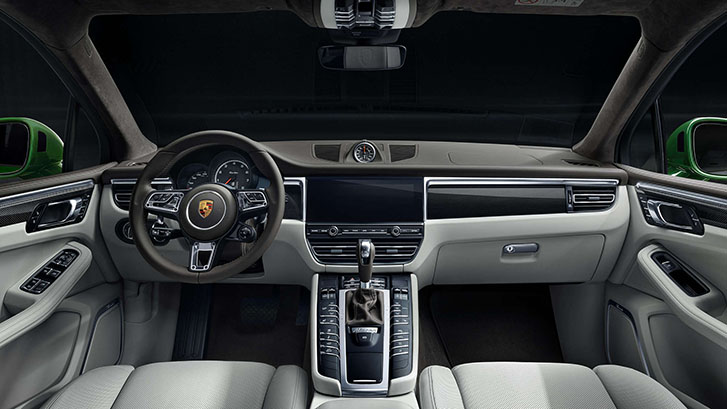 Interior design
You are seeking one experience after another. Of course, you want to maintain an overview. The sporty front seats convey a typical Macan feeling: you may sit high above the road, yet you are still closely connected to it.
As a sports car manufacturer, we understand that a car and its driver must form a single entity. So you do not simply sit in the Macan – but, thanks to its architecture, you are integrated into the vehicle.
The three-dimensional arrangement of the controls lends the interior a cockpit character. The distance between the standard multifunction steering wheel and the PDK (Porsche Doppelkupplung) gear selector, as well as the main vehicle functions, is extremely short – via the ascending center console, characteristic of sports cars. The ignition is on the left – as is typical of Porsche.
One highlight of which we are particularly proud: the new 10.9˝ touchscreen display in Porsche Communication Management (PCM). The new design boasts full-HD resolution and a personalized start screen. The new, intuitive menu provides even faster access to the main functions.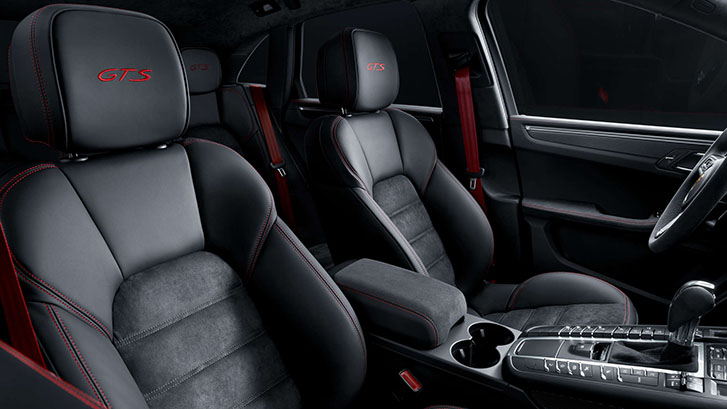 Macan GTS: Interior design
Some people are happy to drift. Others prefer to be actively involved. And where better than in the GTS Sport Seats, in which simply sitting still would exact maximum punishment?
Everything else in the interior – with its typical cockpit character – is also designed to tackle your next adventure in a manner that is both intense and controlled. The optional Multifunction GT Sport Steering Wheel in Alcantara® provides extremely sporty feedback. With its manageable size, its design is a reference to the Porsche motorsport genes. In conjunction with the optional Sport Chrono Package, the steering wheel also houses the mode switch: various driving modes allow you to adjust your driving pleasure to suit your requirements.
What about the materials? Sporty, elegant, non-slip: Alcantara® on the seat center, armrests and center console. The standard leather package is complemented by decorative elements in brushed Aluminum in black. Evidence of the fact that this model bears its own signature: the 'GTS' logo on the rev counter, door sill guards and headrests of the front and outer rear seats.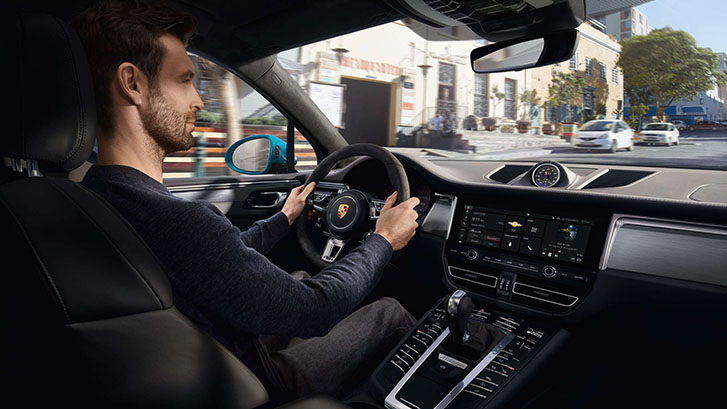 Comfort
For us, driving a sports car is an intense experience, involving all our senses. But endorphins are not just released by performance and adrenaline. The interior of the new Macan makes you feel happy as soon as you get in.
Thanks to the optionally available high-quality leather interior, for example. Or the ascending center console beside the optional heated Multifunction GT Sport Steering Wheel that contributes to the genuine sports car feeling.
Your ears are also in for a treat: the optional Sport Exhaust System makes the typical Porsche sound appear even more powerful. With regards to the audio experience: the BOSE® Surround Sound System and Burmester® High-End Surround Sound System are available as options for the Macan models.
To be able to breathe freely while enjoying the experience, three-zone automatic climate control is fitted as standard. The optional ionizer is a new addition – for improved air quality that enhances your well-being.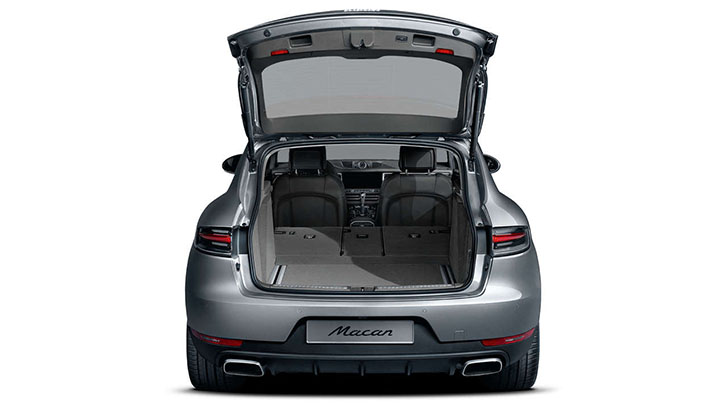 We never compromise. We always make our own decisions.
52.9 cubic foot rear luggage compartment volume (w/ seats folded).
2021 Porsche Macan Safety & Warranty
New Car Limited Warranty & Porsche 24-Hour Roadside Assistance Program for 4-Years / 50,000 Miles (whichever occurs first)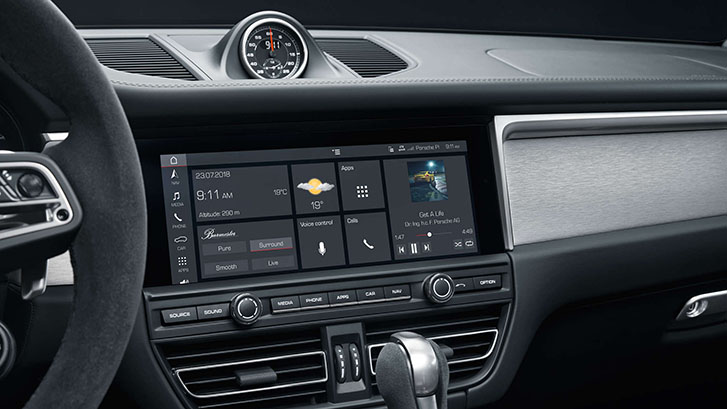 Porsche Connect
Our lives are eclectic – and thrilling. We are constantly on the move. And want to know what is happening around us. The new 10.9˝ touchscreen display with full-HD resolution provides even more interfaces with your next adventure. The personalized start screen is intuitive to use.
The standard online navigation system ensures that you arrive at your next adventure even more quickly. Connect Plus assists you with Real-time Traffic Information and online map updates. The Porsche Connect app allows you to determine your preferred destination and send it to your Macan.
What else do you need for your journey? Your own soundtrack, of course: with the music streaming function of the Porsche Connect app.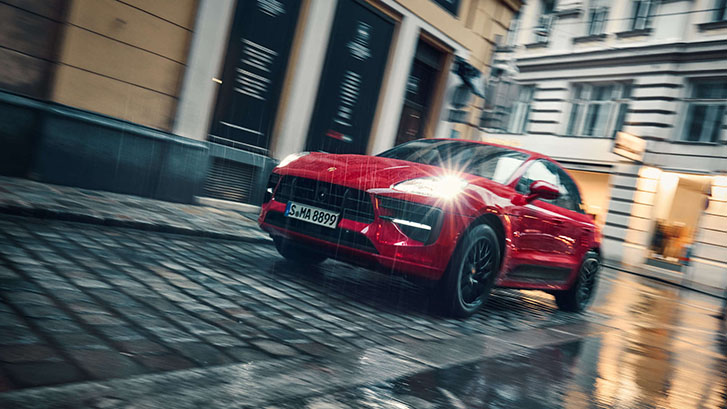 Headlights
The Macan and Macan S are fitted with LED headlights as standard. In addition, the 4-point daytime running lights in the LED headlights and the 4-point brake lights, also integrated into the LED technology of the taillight strip are all unmistakably Porsche.
Porsche Dynamic Light System (PDLS)
Standard on the Macan Turbo, PDLS adapts the light distribution to your speed. The dynamic cornering lights turn the headlights into the curve, depending on the steering angle and driving speed, while the static cornering lights activate auxiliary headlights to illuminate narrow curves or turns.
Porsche Dynamic Light System Plus (PDLS+)
Available as an option, LED headlights including PDLS+ boast an unmistakable look, with their stylistic 4-point LED spot lights. The brightness of these headlights ensures optimum illumination of the road ahead. Other features of PDLS+ include standard dynamic and static cornering lights, speed-sensitive headlight range control, and dynamic high-beam control.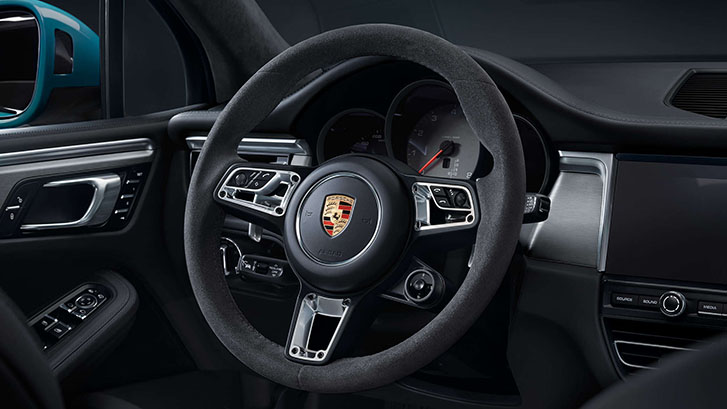 Assistance systems
Porsche assistance systems are aimed at active, sporty driving, allowing you to enjoy the experience you expect of a Porsche.
Assistance systems include: Lane Departure Warning (LDW), Adaptive Cruise Control (ACC), Lane Change Assist (LCA), Lane Keep Assist (LKA), ParkAssist (Front and Rear) with Reversing Camera, and Surround View.
2021 Porsche Macan Specification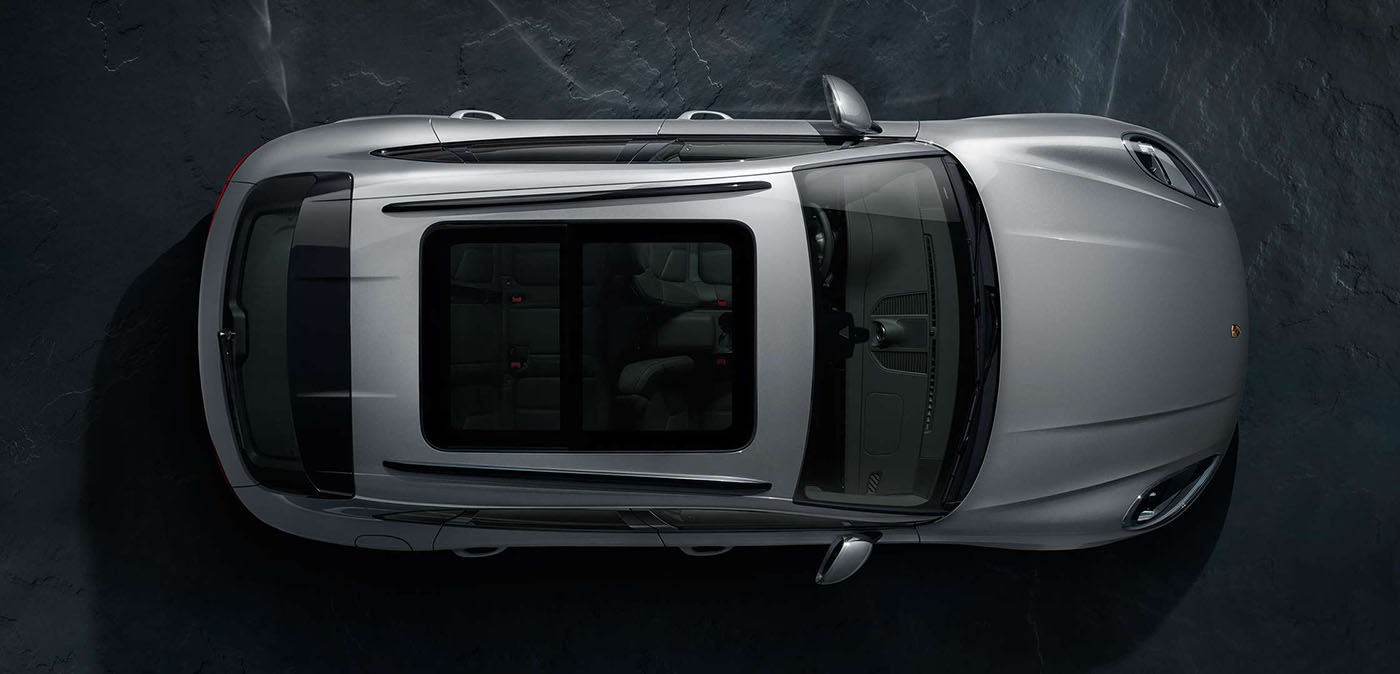 Specs reflect base model unless otherwise noted.
Motor
| | |
| --- | --- |
| Design and cylinders | Turbocharged inline 4 |
| Bore | 82.5 mm |
| Stroke | 92.8 mm |
| Displacement | 2.0 l |
| Max. power | 248 hp |
| | |
| --- | --- |
| Max. power at rpm | 5,000 - 6,750 rpm |
| Max. engine speed | 6,800 rpm |
| Max. torque | 273 lb-ft |
| Max. torque at rpm | 1,600 - 4,500 rpm |
| Max. power per liter | 124.0 hp/l |
Performance
| | |
| --- | --- |
| Top track speed | 141 mph |
| 0 - 60 mph | 6.3 s |
| | |
| --- | --- |
| 0 - 60 mph with Sport Chrono Package | 6.1 s |
Terrain Features
| | |
| --- | --- |
| Max. wading depth (steel suspension) | 11.8 in |
| Max. wading depth (air suspension, high level) | 13.3 in |
| Approach / departure angle (steel suspension) | 16.9 - 23.6 ° |
| Approach / departure angle (air suspension, high level) | 18.5 - 25.3 ° |
| Ramp break-over angle (steel suspension) | 16.9 ° |
| | |
| --- | --- |
| Ramp break-over angle (air suspension, high level) | 18.8 ° |
| Max. ground clearance (steel suspension) | 8.0 in |
| Max. ground clearance (air suspension, normal level) | 7.4 in |
| Max. ground clearance (air suspension, high level) | 9.0 in |
Body
| | |
| --- | --- |
| Length | 184.9 in |
| Width w/ mirrors folded | 76.2 in |
| Width | 82.6 in |
| Height | 64.0 in |
| Wheelbase | 110.5 in |
| Front track | 65.2 in |
| | |
| --- | --- |
| Rear track | 65.0 in |
| Turning radius | 39.3 ft |
| Curb weight | 4,099 lb |
| Gross Vehicle Weight Rating (GVWR) | 5,534 lb |
| Maximum load | 1,435 lb |
| Towing capacity | 4,409 lb |
Capacities
| | |
| --- | --- |
| Rear luggage compartment volume | 17.6 ft³ |
| Rear luggage compartment volume (w/ seats folded) | 52.9 ft³ |
Service and Warranty
| | |
| --- | --- |
| Limited vehicle warranty | 4 years/50,000 miles (whichever comes first) including 24-hour roadside assistance program |
| Main service interval | Porsche Cars North America offers service and maintenance packages in a variety of terms to match your intended usage. Please see your authorized Porsche Dealer for details and availability. |
| | |
| --- | --- |
| Limited paint warranty | 4 years/50,000 miles (whichever comes first) |
| Limited corrosion warranty | 12 years/unlimited miles |
Fuel Consumption
| | |
| --- | --- |
| EPA Disclaimer | EPA estimates not yet available. |