2021 Nissan GT-R OVERVIEW
2021 Nissan GT-R For Sale
"The legend continues" —nissanusa.com
Standard 3.8-liter DOHC 24-valve twin-turbocharged V6
Dual-clutch 6-Speed Transmission
ATTESA E-TS® All-Wheel Drive (AWD)
Standard Nissan/Brembo® braking system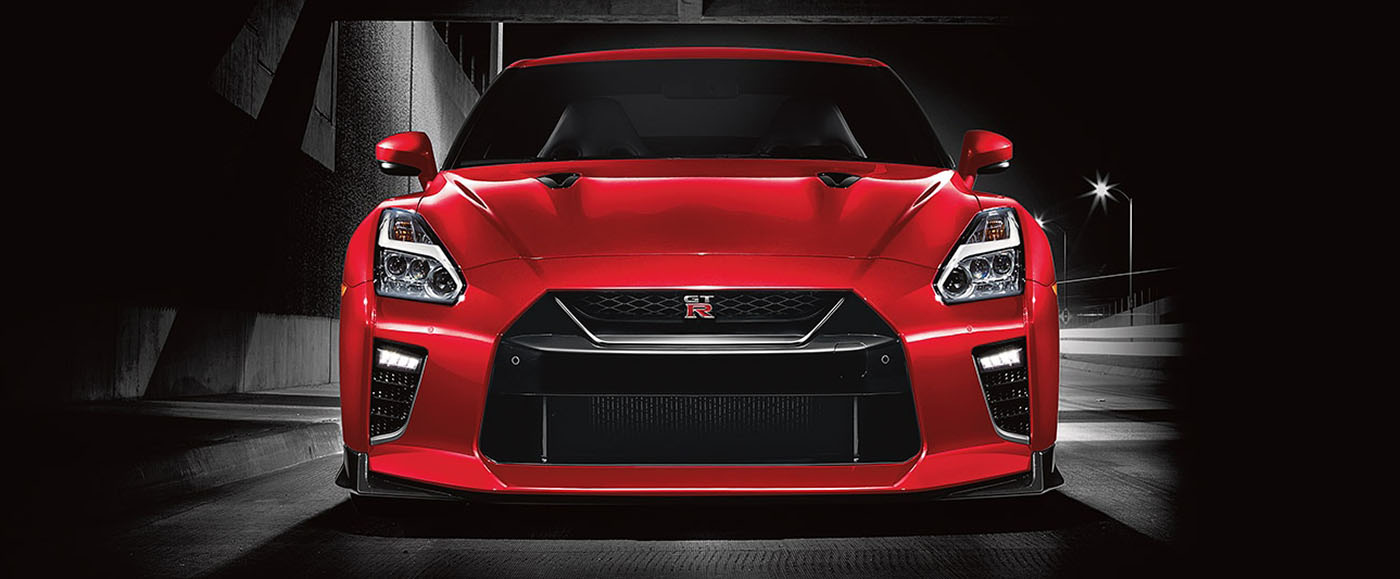 2021 Nissan GT-R MODELS

Nissan GT-R For Sale
Nissan PERFORMANCE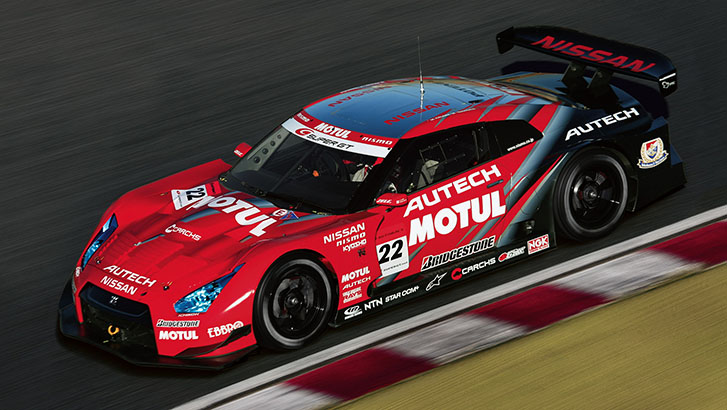 The heart of a legend
Nissan challenged convention at every point of the Nissan GT-R's development. Instead of a large, heavy engine thirsty for fuel, the Nissan GT-R is powered by an ideally sized, twin-turbocharged 3.8-L V6 that produces a prodigious 565 hp and equally immense 467 lb-ft of torque (600 hp and 481 lb-ft available on GT-R® NISMO® model). It's built with immense strength, from a closed-deck cylinder block to a ladder frame structure for added support. Just as important as the engineering is the actual assembly, which is done by hand by a single master craftsman, whose signature you'll find on a small but prominent plaque.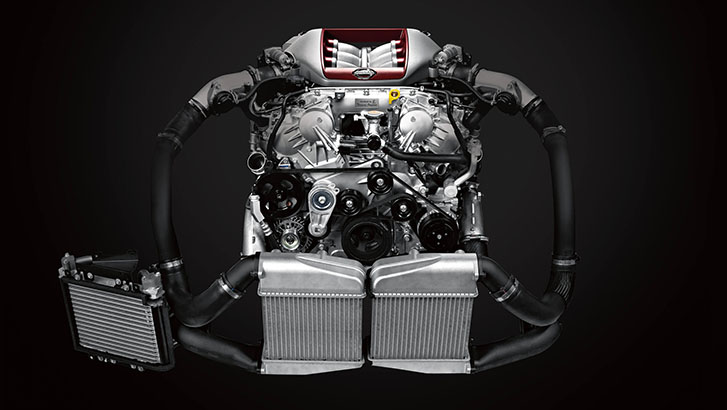 IHI turbocharger
An IHI turbocharger is mounted on each bank of the engine. The exhaust manifolds, inspired by racing technology, have optimized turbo flange attachment points, which allow for easier servicing and potential tuning, without touching the exhaust manifold. To ensure there is no turbo lag as torque rises, high-precision electronic controls are employed. An abradable seal housing derived from our GT3 racing program brings enhanced engine response at lower rpm.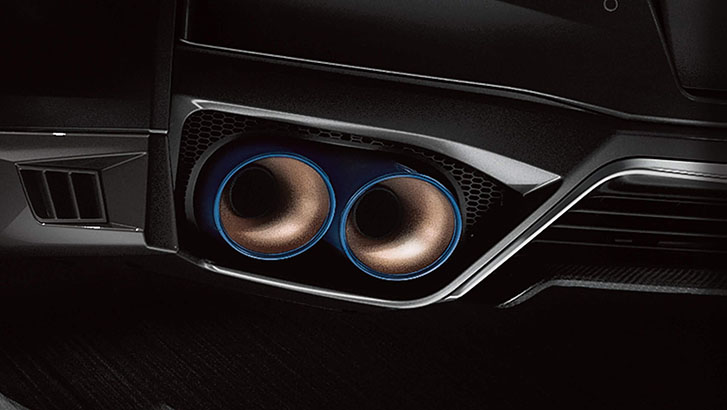 Handformed titanium exhaust
A titanium exhaust helps ensure proper cooling from the engine's massive output. Notoriously difficult to work with, each exhaust is hand-built by a master craftsman, and is specifically designed for an individual vehicle. A "burnished" finish to the exhaust tip gives the perfect look – of a high-performance vehicle that's been enjoyed to the fullest.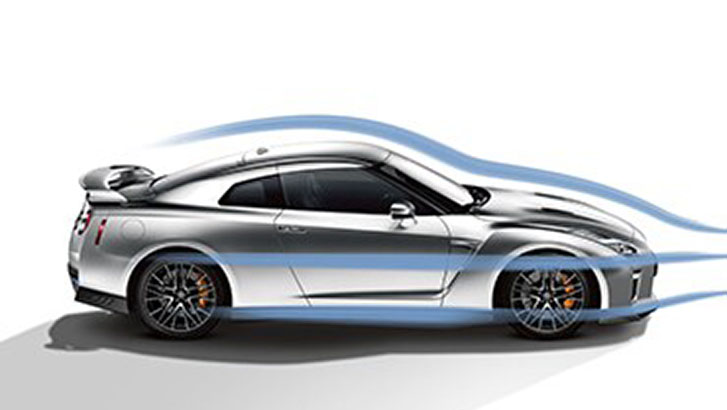 Pure alchemy: a supercar that sculpts the wind
Relentless tuning of the GT-R's aerodynamics creates an incredibly clean Coefficient of Drag of just 0.26 Cd. While you see a substantial, powerful supercar, to the wind, it punches through the air like a low-slung, mid-engine supercar. Pure aerodynamic alchemy.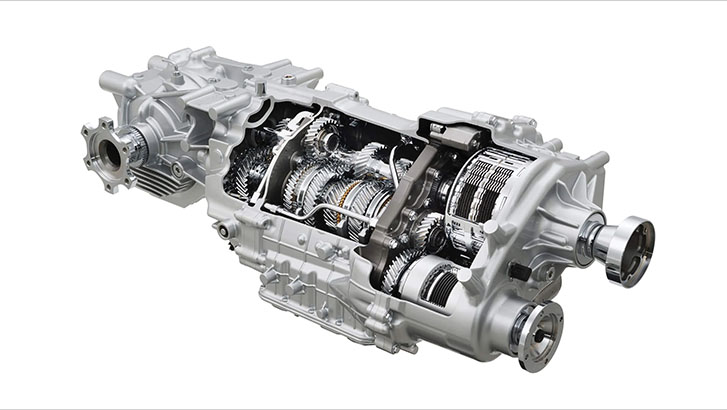 Shifting the world of transmissions
The longer a shift takes, the less time power is being put to the ground. The GT-R's sequential dual-clutch transmission can snap off lightning-quick gear changes when in R-Mode. To ensure stable lubrication for the transmission even when cornering at high Gs, a dry sump lubrication system is employed. The system sprays transmission oil directly onto the gears, reducing friction and increasing reliability.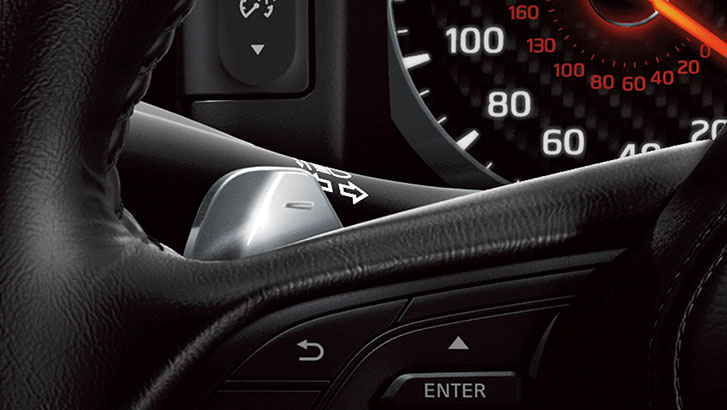 Two clutches, no clutch pedal
The Nissan GT-R's 6-speed dual-clutch transmission shifts incredibly quickly. How? Inside the transmission, there are separate clutches for the odd (1st, 3rd, 5th) and even (2nd, 4th, 6th) gears. When the car is in an odd-numbered gear, the adjacent even-numbered gear is "pre-selected" – ready to make the shift immediately. The transmission is so smart, it even "blips" the throttle on downshifts to match rpm.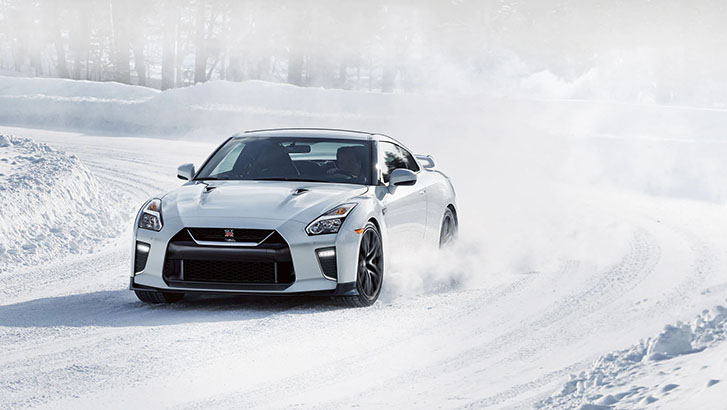 Dynamic handling for all seasons
When most supercars stay in the garage or make a hasty retreat, the Nissan GT-R powers through, with ATTESA ET-S®, one of the most advanced All-Wheel Drive and Vehicle Dynamic Control (VDC) systems ever used in a road car. Instead of the traditional 50/50 torque split between front and rear axles, the electronically controlled All-Wheel Drive system provides up to nearly 100% of available torque to the rear wheels, and can send up to 50% of torque to the front wheels. This provides the steering feel and response of a rear-wheel drive vehicle, while giving the added confidence that only AWD can offer. Additionally, VDC continuously monitors your steering and braking actions, senses any oversteer or understeer, and compensates by reducing engine speed and/or applying brake pressure to specific wheels.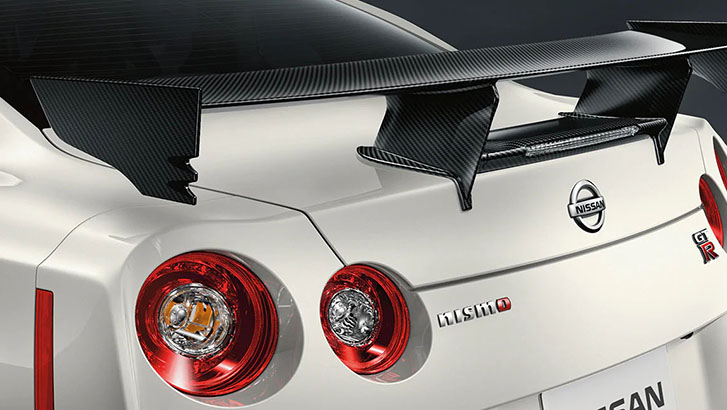 Going beyond ultimate
An incredible amount of engineering, testing, and manufacturing know-how is required before a vehicle is allowed to wear the NISMO badge. It is truly a badge of honor. The GT-R NISMO's fanatically tuned 600-horsepower engine is the purest expression of passion, performance, and technology. Carbon-fiber body panels reduce overall weight, and create additional downforce. The Bilstein® DampTronic® suspension is combined with a NISMO-tuned hollow stabilizer bar to increase the amount of cornering grip, while still providing a civil ride. The lighter weight of the Nissan/Brembo® carbon ceramic braking system also reduces unsprung weight, enhancing handling and steering response.
2021 GT-R APPEARANCE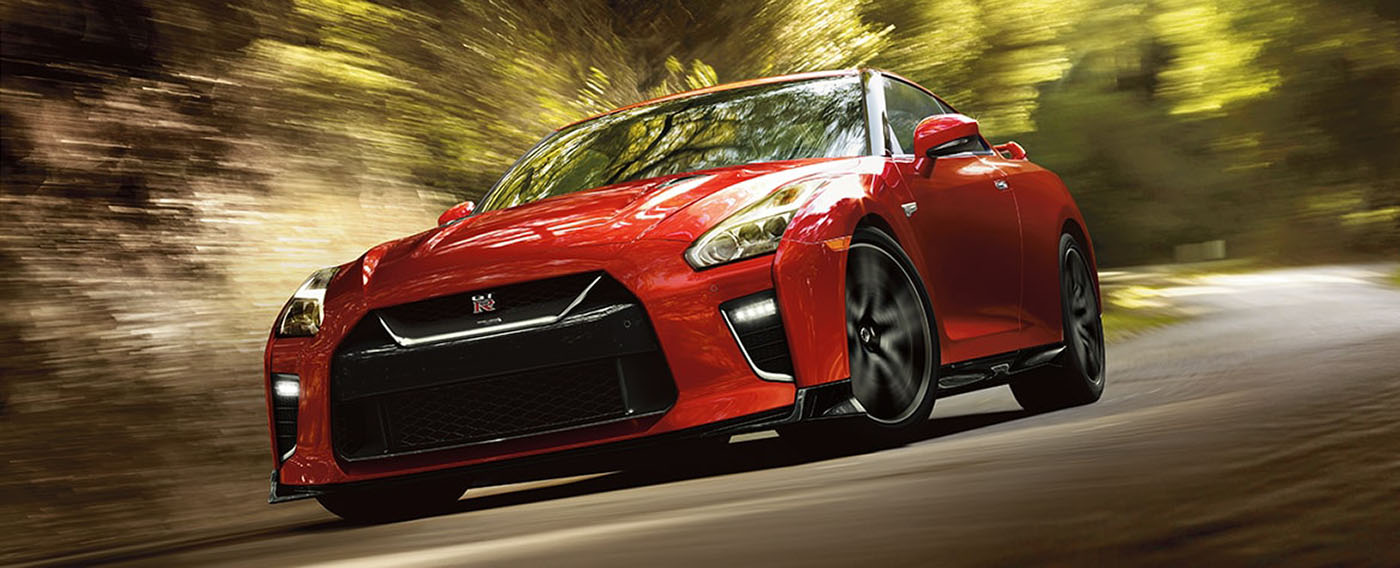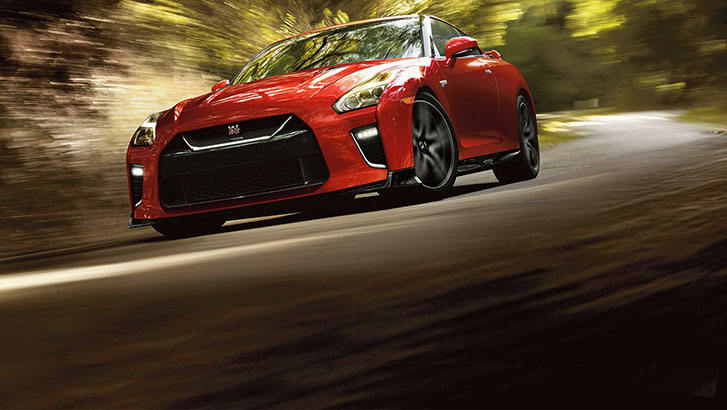 MULTI-LED HEADLIGHTS
The Nissan GT-R sports efficient, high-intensity, multi-LED headlights that create a distinctive "lightning" motif, generating a striking exterior visual signature.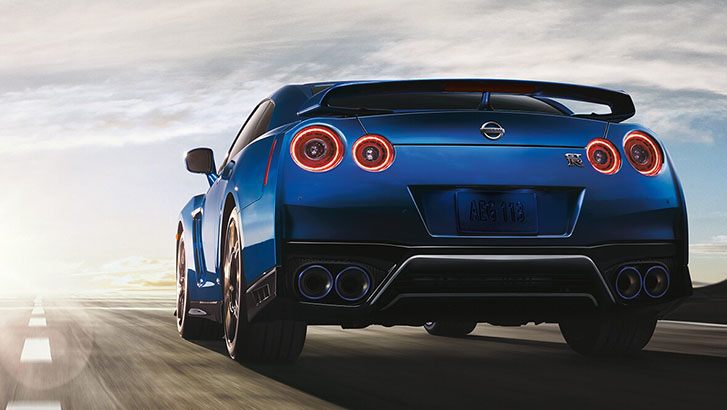 ICONIC TAILLIGHTS
The Nissan GT-R taillights have true iconic status. They are synonymous with Nissan GT-R, if only for the fact that people are used to seeing them as you leave them in the dust.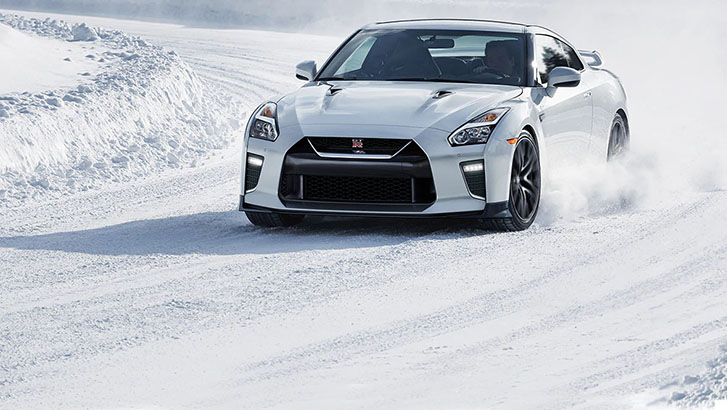 V-MOTION GRILLE
The GT-R's front end frames the V-motion grille, one of the signature features of Nissan's design language. Wearing a matte chrome finish and mesh pattern, it makes a strong first impression.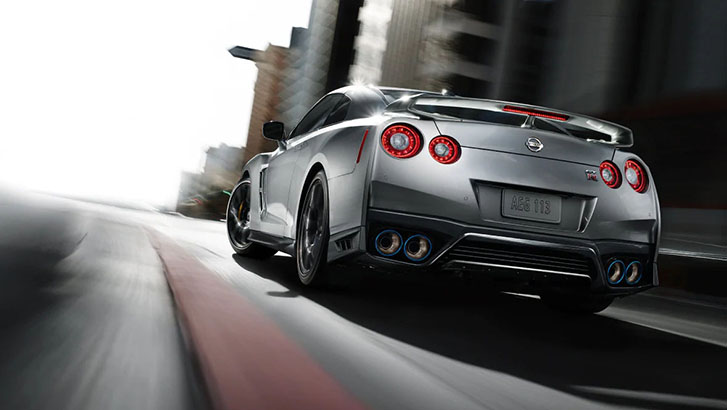 GT-R EXTENDED REAR FASCIA
The GT-R's rear fascia is extended at the side to accelerate air away from the back of the bumper, helping to pull hot gases away, cooling the exhaust.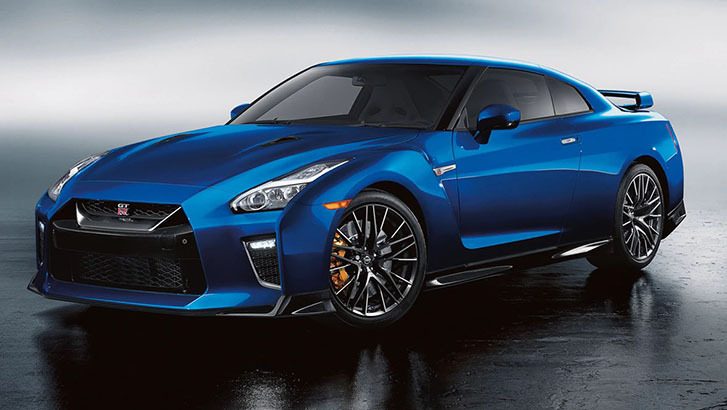 FORGED ALUMINUM WHEELS
Forged aluminum 20" wheels feature a machined finish, which provides a high-quality, high-performance look.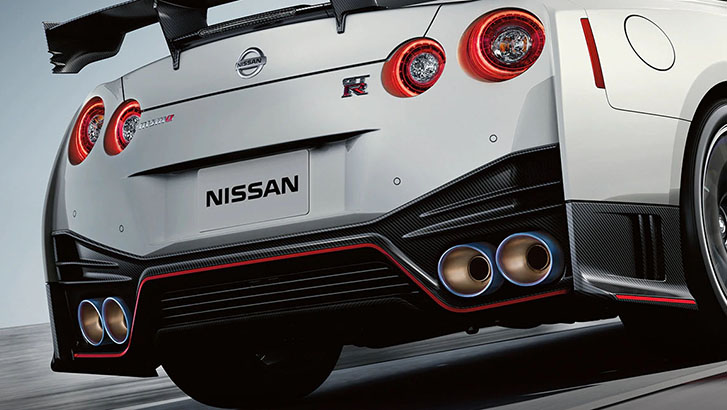 Pushing the envelope
The GT-R NISMO exterior pushes the envelope with carbon-fiber body parts. The GT-R NISMO has a carbon-fiber hood, carbon-fiber fenders with air outlets, carbon-fiber roof, carbon-fiber rear spoiler, carbon-fiber side sills, carbon-fiber rear fascia, and a carbon-fiber trunk lid.
Nissan GT-R COMFORT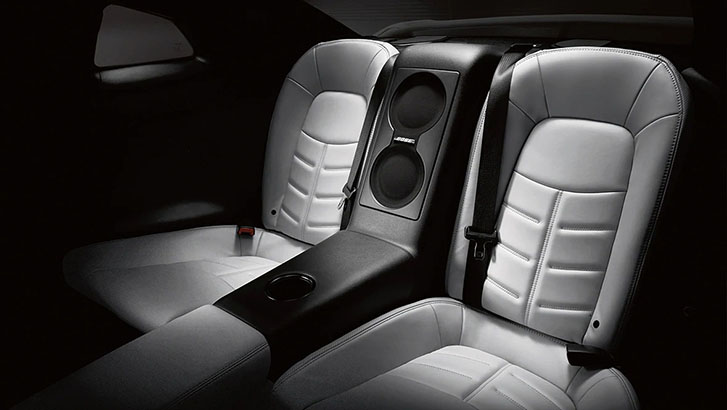 BOSE PREMIUM AUDIO SYSTEM
Designed exclusively for the GT-R, the 11-speaker Bose Premium Audio System's dual subwoofers sit between the rear seats, employing the trunk as a giant bass enclosure.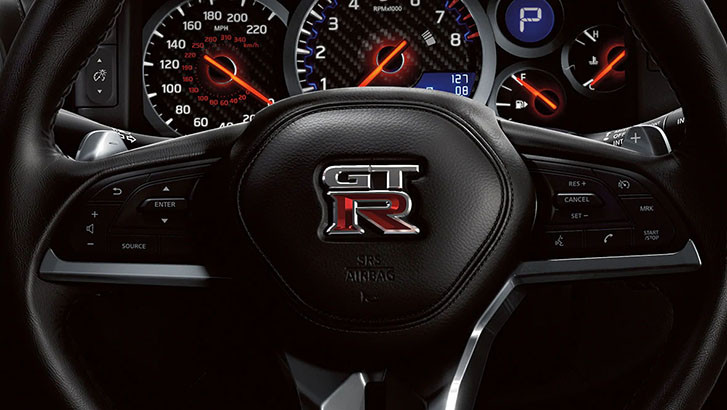 STEERING WHEEL-MOUNTED CONTROLS
GT-R's steering wheel puts everything at your fingertips – even a stopwatch/lap timer control – perfect for the track.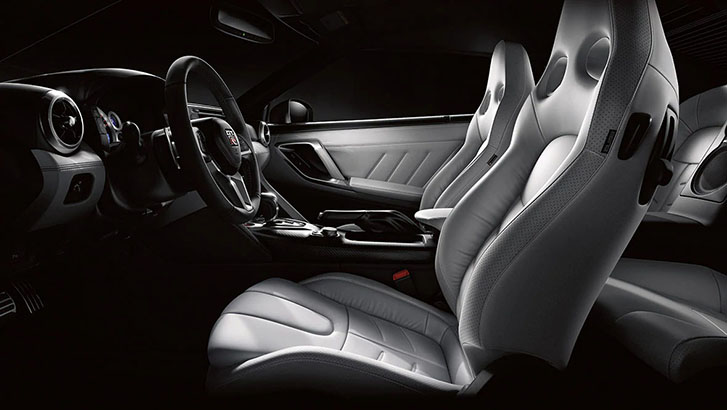 Holds on tight
The GT-R's Sport seats feature deep bolsters to help hold you in place, even during aggressive cornering. Supple leather appointments and 8-way adjustability mean great comfort on track or your daily commute.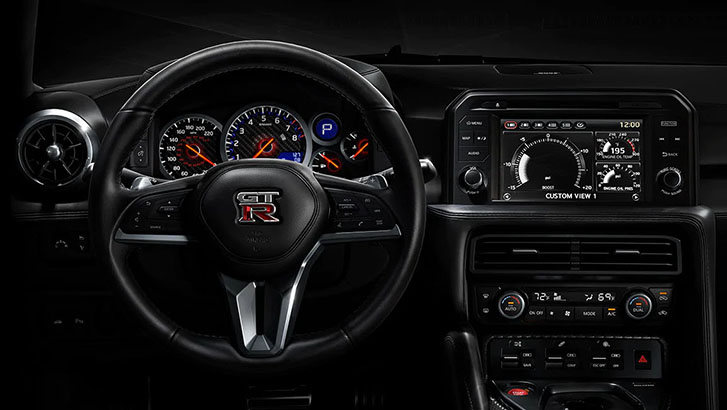 An exhilarating connection to your world
From advanced navigation to leading-edge connectivity, Nissan Intelligent Mobility™ offers a multitude of technologies as expertly crafted as your Nissan GT-R. Staying connected is easy – NissanConnect puts everything important to you on the 8" touch-screen display.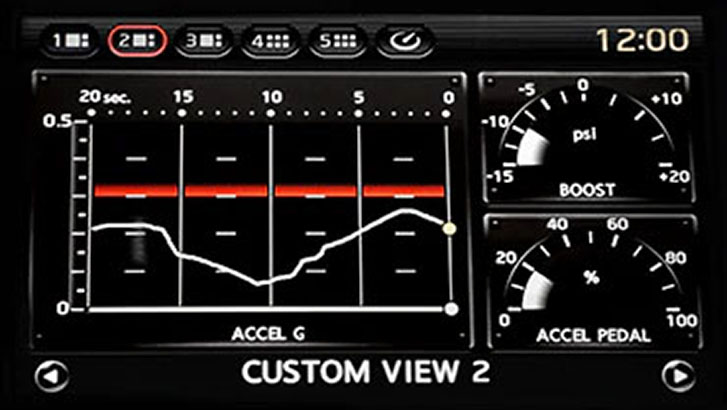 Traveling at the speed of GT-R
GT-R rethinks the way the driver receives information. Multiple, easily accessed screens – including five programmable and one factory preset – are an innovative way the driver can get immediate feedback to key performance parameters.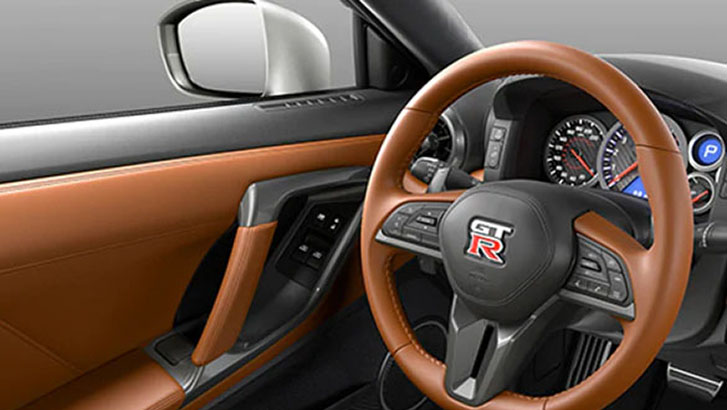 Lose the noise, not the soul
Advanced active and passive sound technology reduces unwanted noise and helps you enjoy the thrilling sound of GT-R's twin-turbocharged 3.8-L V6 singing through a handcrafted titanium exhaust.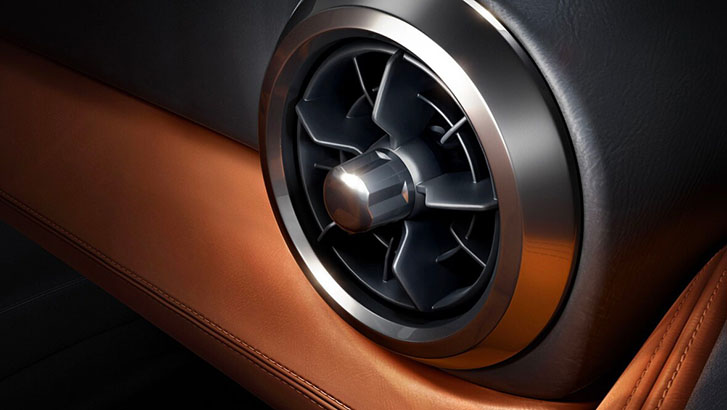 PRECISION-TOUCH VENTS
The GT-R's air vent was studied, designed, and developed by a quality expert to have a feeling of precision every time you use it.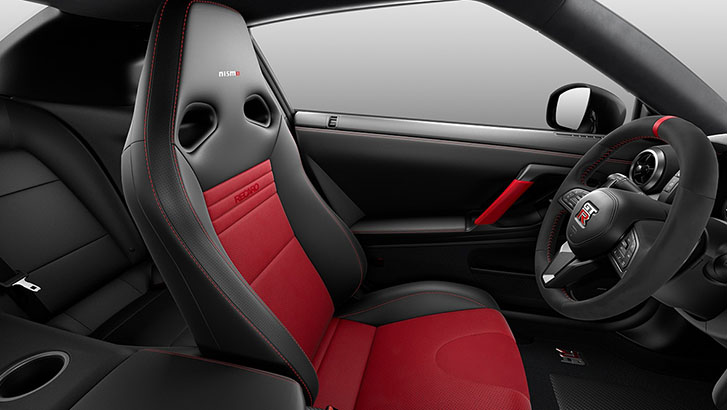 Focused purely on the driver
The GT-R NISMO interior features GT-R NISMO Recaro® front seats, GT-R NISMO shifter, GT-R NISMO combi-meter, and a GT-R NISMO Alcantara®-covered steering wheel.
2021 Nissan GT-R SAFETY & WARRANTY
New Vehicle Limited Warranties.
Protection for your new Nissan includes 3-year/36,000-mile (whichever occurs first) basic coverage and 5-year/60,000-mile (whichever occurs first) powertrain coverage. Terms, conditions and exclusions apply. See Warranty Information Booklet for complete details.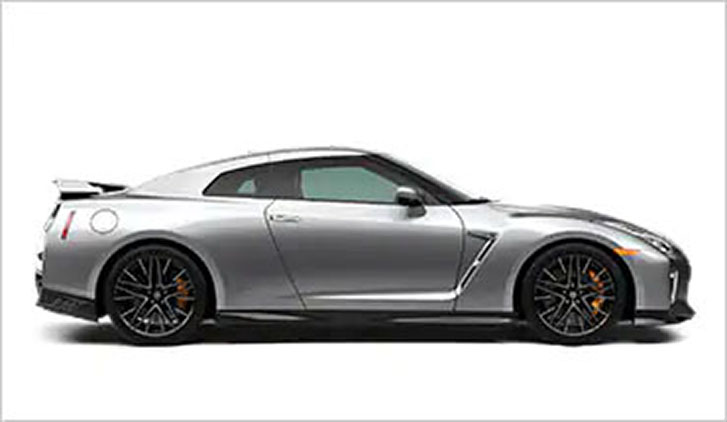 Zone Body Construction
This advanced body construction combines impact-absorbing structures with a high-strength cabin, which helps provide protection for you and your passengers.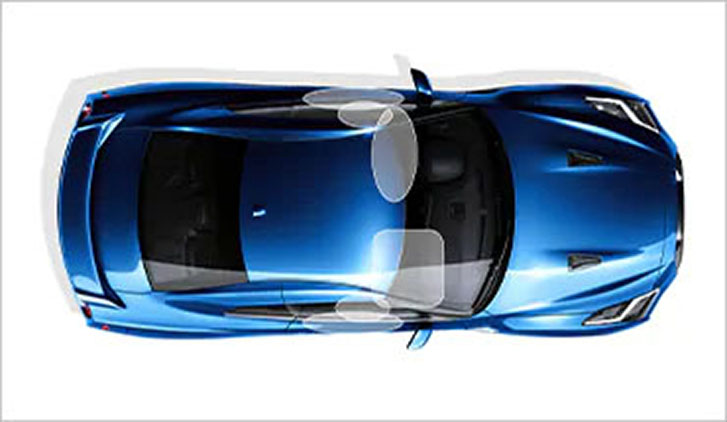 6 air bags
Nissan Advanced Air Bag System includes dual-stage supplemental front air bags with seat-belt sensors and an occupant-classification sensor. The inflation rate of these dual-stage air bags adjusts depending on crash severity and seat belt usage.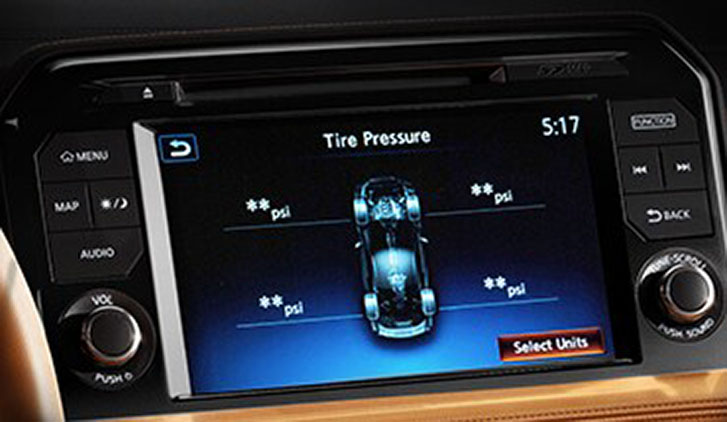 Tire Pressure Monitoring System
When it comes to being in the know, the Tire Pressure Monitoring System (TPMS) takes away the guesswork, by giving you real-time tire pressure information.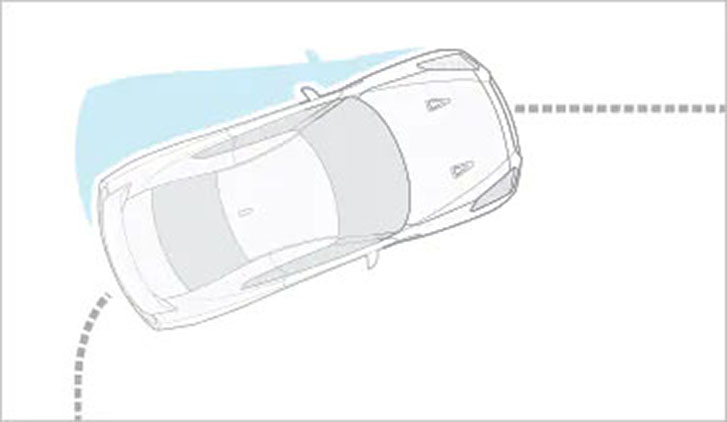 Nissan Intelligent Mobility™
Available features include:
Hill Start Assist
Cruise control
RearView Monitor
Front and Rear Sonar System
Vehicle Dynamic Control (VDC) with three driver-selectable modes
Traction Control System (TCS)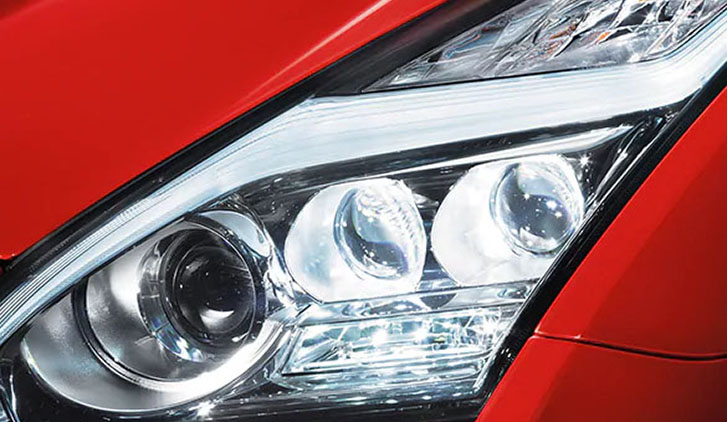 Multi-LED headlights
To enhance visibility, the super-wide beam expands illumination toward the sides of the car. The headlights feature four LED units to create an extremely natural light, replicating daylight.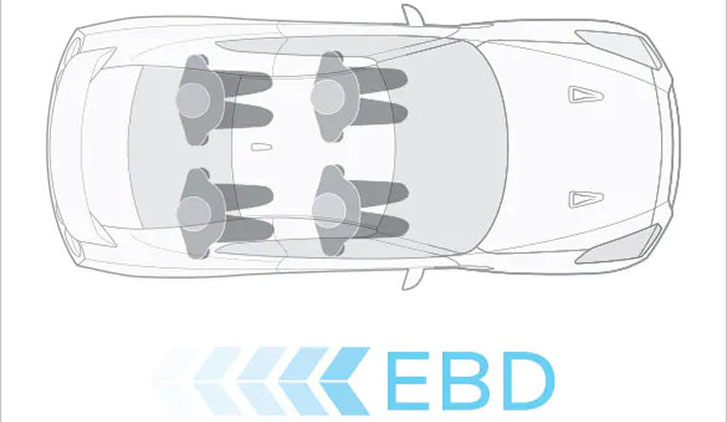 Electronic Brake Force Distribution
Electronic Brake Force Distribution (EBD) monitors weight distribution and adjusts rear brake force to compensate for added weight from passengers or cargo.