2021 Mercedes-Benz Mercedes Maybach S-Class OVERVIEW
2021 Mercedes-Benz Mercedes Maybach S-Class For Sale
4.0L V8 biturbo engine with EQ Boost
ECO Start/Stop system
All-LED interior lighting
Active Brake Assist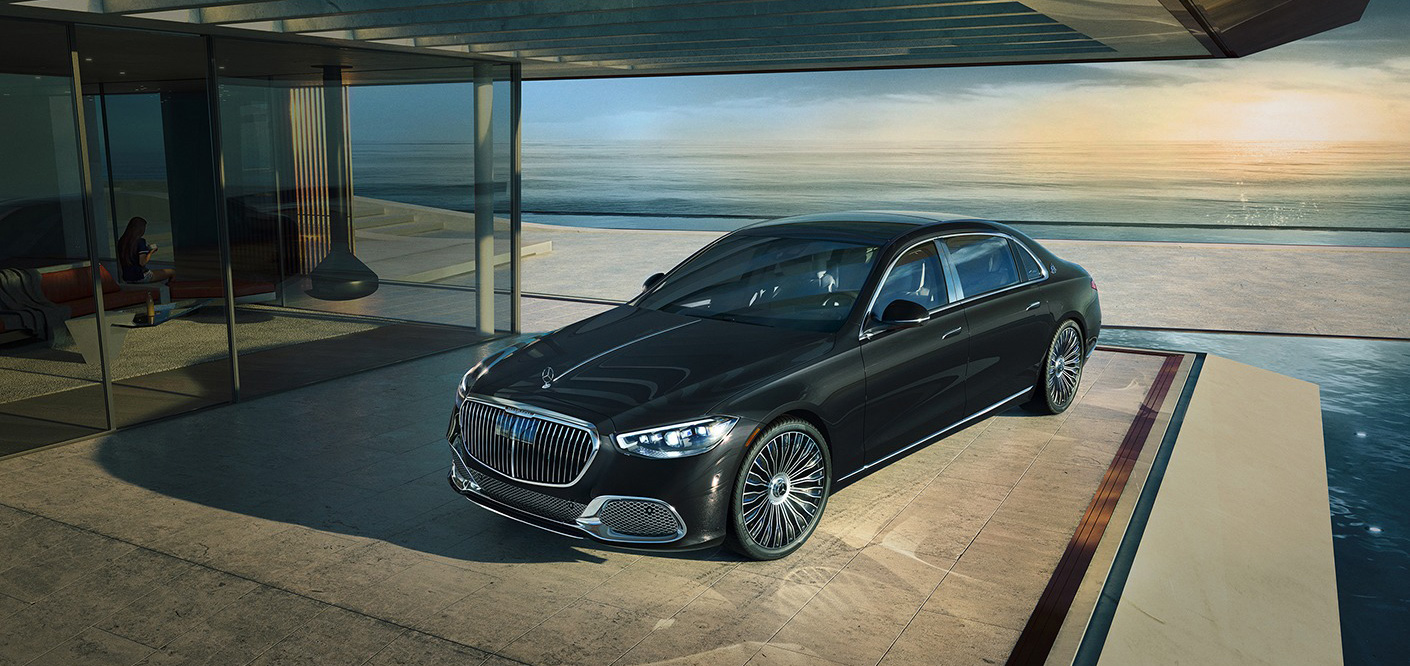 2021 Mercedes-Benz Mercedes Maybach S-Class MODELS
Mercedes-Maybach S 580 4MATIC
Mercedes-Benz Mercedes Maybach S-Class For Sale
Mercedes-Benz Mercedes Maybach S-Class PERFORMANCE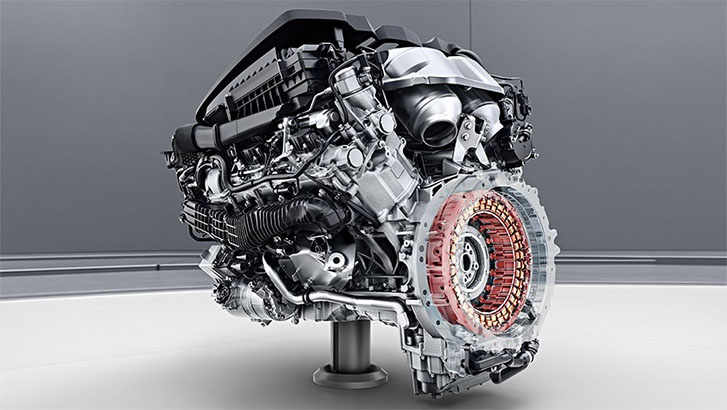 4.0L V8 biturbo engine with EQ Boost
Advanced performance comes from a high-output yet compact 4.0L biturbo V8. Exceptional output of 496 hp and 516 lb-ft of peak torque moves the Mercedes-Maybach with confidence, grace, and a sense of urgency evidenced by a 4.7-second 0-60 time. Racing-derived technology ranges from its turbocharger layout to its low-friction NANOSLIDE cylinder walls. And its high-pressure Direct Injection and rapid-multispark ignition can self-tune on the fly with millisecond speed and exceptional precision.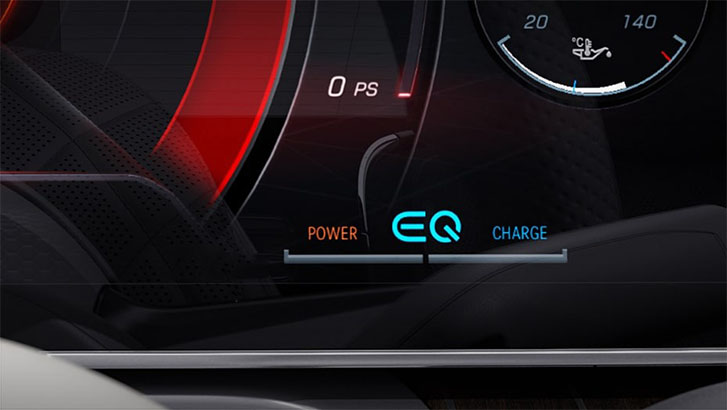 EQ Boost Integrated Starter-Generator
Electrifying the V8 biturbo gasoline engine is an innovative Integrated Starter-Generator. It teams with a 48-volt lithium-ion battery to supply power for formerly belt-driven components like the water pump and air-conditioning compressor. These advancements help reduce weight and enhance underhood packaging. In addition to generating power and torque for immediate response, EQ Boost offers a reduction in fuel consumption.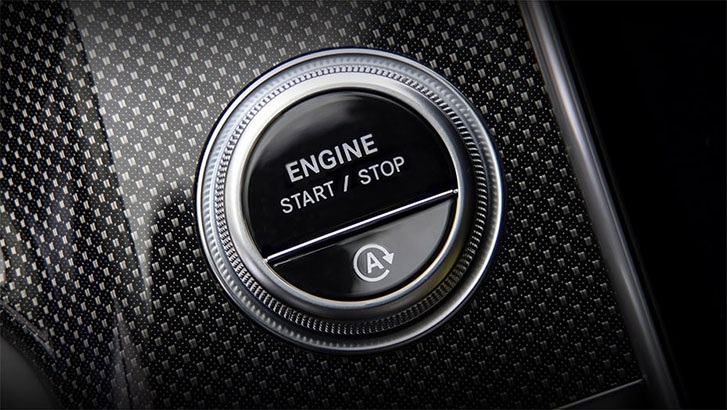 ECO Start/Stop system
A fuel-saving ECO Start/Stop system automatically shuts off the engine at stoplights and other idle situations. As soon as the driver lifts off the brake, the engine instantly restarts, for immediate acceleration response. The ECO Start/Stop system can also be shut off by the driver at any time.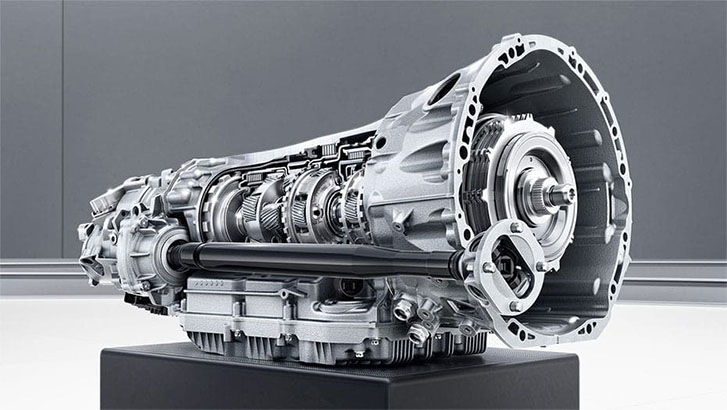 9G-TRONIC automatic transmission
With a greater range of ratios and shorter steps between gears, the 9-speed automatic changes gears more quickly but nearly imperceptibly. Along with a more seamless delivery of power, the lighter, more versatile transmission enhances quiet riding comfort and fuel-efficiency. The electronic selector and shift paddles let you control all gear changes with your hands on the steering wheel. And drivers can vary the shift modes via the innovative DYNAMIC SELECT system.
2021 Mercedes Maybach S-Class APPEARANCE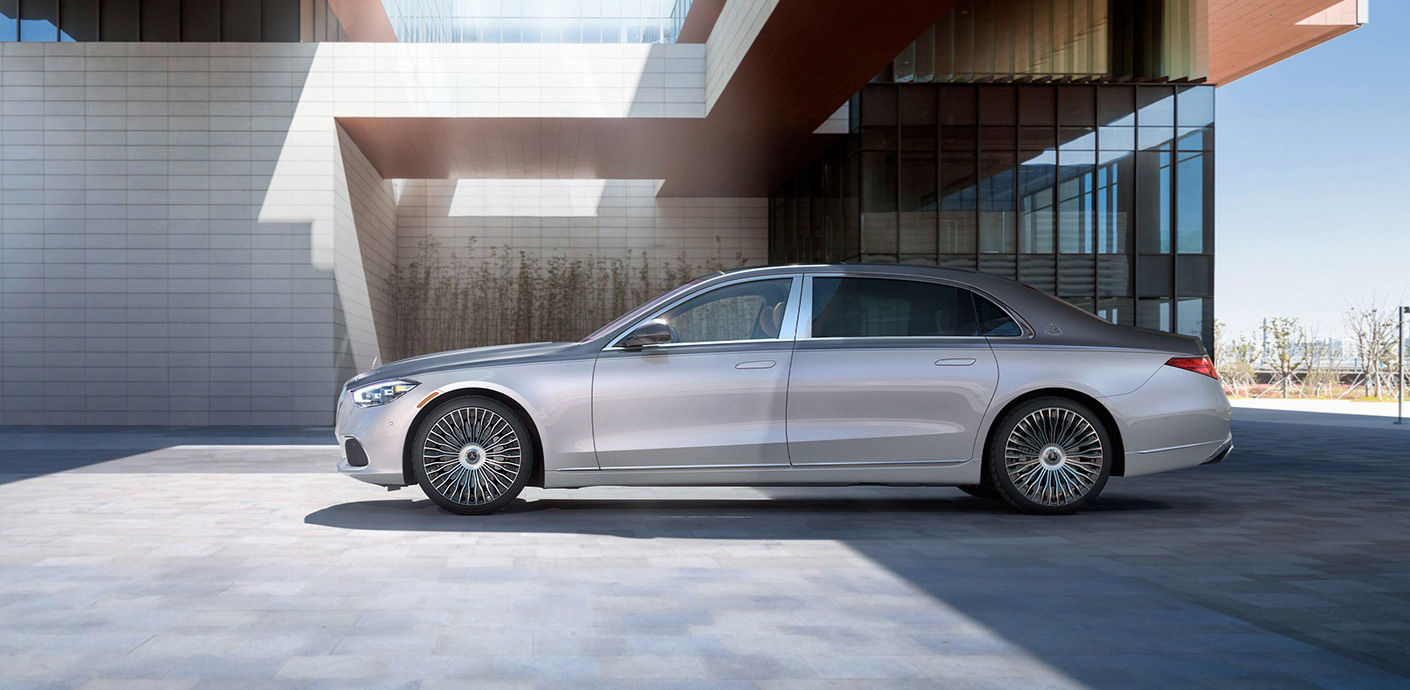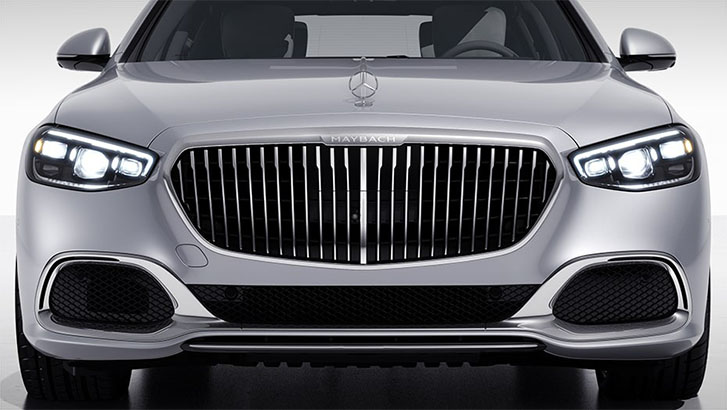 Maybach grille
A bespoke grille design captures the eye even before the Mercedes-Maybach's power, grace and thoughtfulness can captivate its driver and passengers. Fine vertical chrome vanes, each with a blade-like detail as it nears the upper frame of the grille, subtly fan outward from a slightly wider central chrome rib. An elegantly inscribed nameplate is inset near the top center, itself crowned by the hood-mounted Star to express the name "Mercedes-Maybach" and the values the pairing represents.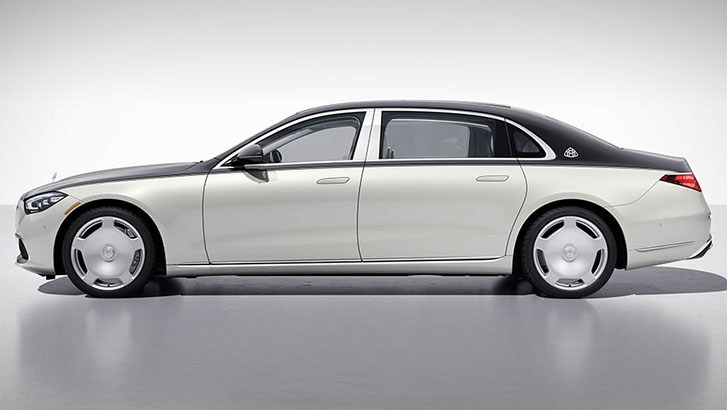 Two-tone paintwork
A selection of two-tone paint combinations express the bold yet elegant lines of the Mercedes-Maybach with a range of contrasts, from subtle tone-on-tone pairings to striking contrasts. The upper color, which extends from the grille to the hood, upper bodysides, roof and trunk, is applied by hand by highly trained experts in the Maybach manufaktur workshop. Hand-sanding helps assure a precise transition between the colors.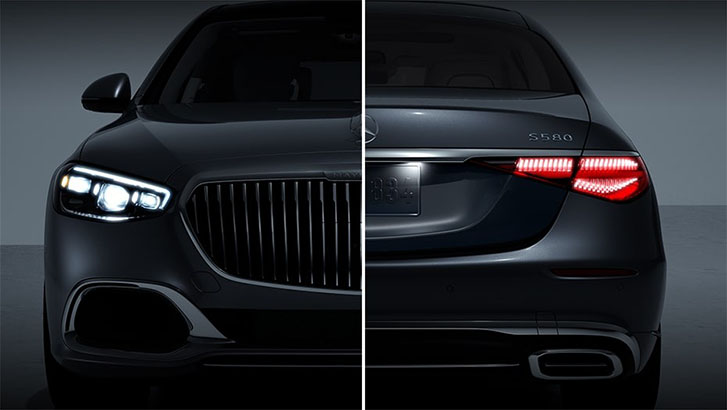 All-LED exterior lighting
From its headlamps to its distinctive taillamps, a network of long-lasting and energy-efficient LEDs accomplish every exterior lighting function with distinctive style. The taillamps feature a new horizontal design that flows with the reshaped trunklid. LEDs also offer quicker illumination, offering other drivers more time to react to your brake lamps and other signals.
Mercedes-Benz Mercedes Maybach S-Class COMFORT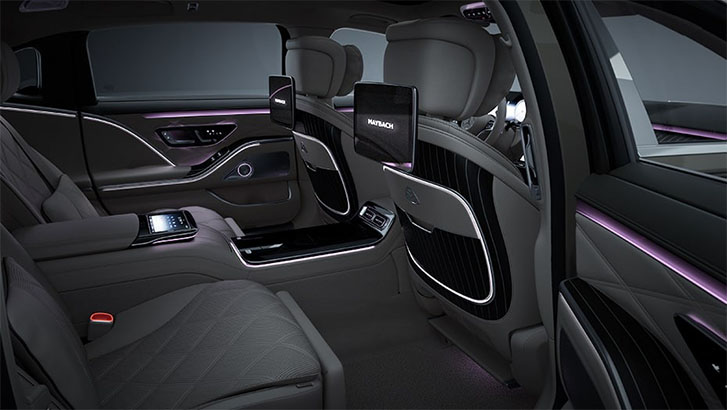 All-LED interior lighting
Approximately 300 LEDs bring extraordinary lighting effectiveness and a unique sense of environment to the cabin, again without employing a single conventional lightbulb. From the elaborate ambient lighting system, offering an expanded variety of colors and themes, to the subtle yet crisp lighting of the storage areas, footwells and even the instrument displays, the advanced lighting concept promotes safer, less stressful driving and a sense of well-being for all aboard.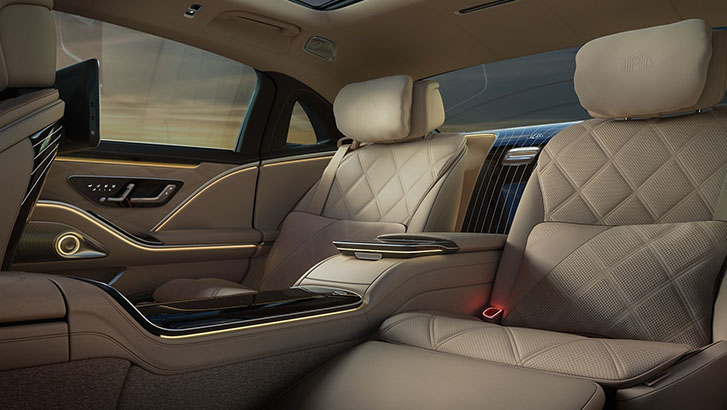 Attentive in its nature.
Twin power Executive seats flank a center seat or business console. Active LED lighting and a virtual voice assistant anticipate, learn and respond with a natural feel.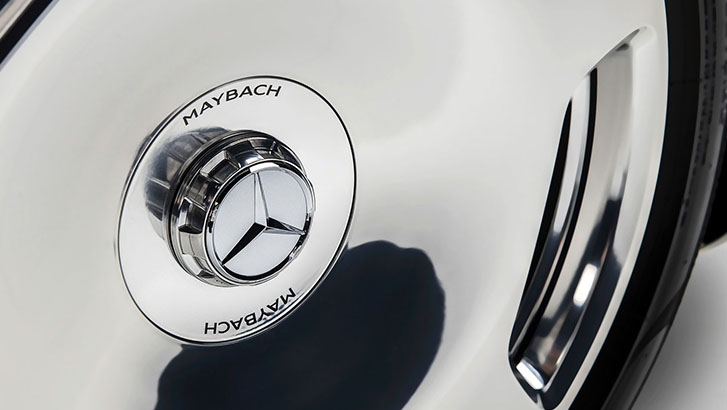 Confident in its elegance.
Every surface conveys the depth of engineering within. Wheels from 19 to 21 inches include polished, forged and fluted designs. Eighteen paint choices include seven distinctive two-tones.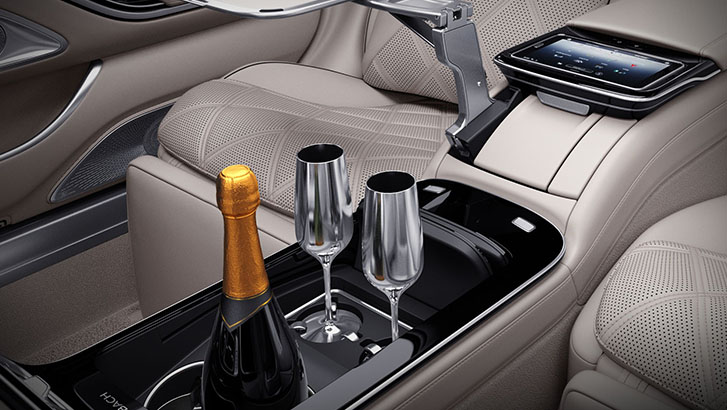 Travel in its finest form.
Generosity in standard fitments leaves only a short roster of options. Among them, twin lounges divided by a wood-trimmed console. Bespoke handcrafted flutes are a thoughtful addition.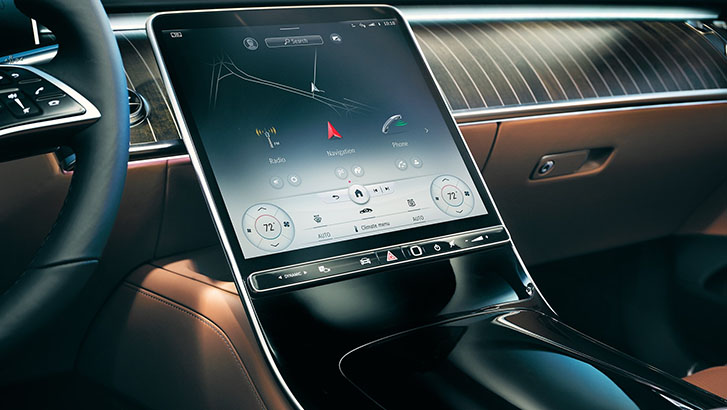 Personal, thoughtful, and attentive.
The digital cockpit responds to your natural spoken requests, or via touchscreens and a tablet. Climate and seating comforts tend to passengers individually. Music, lighting, massage and aromatherapy rival your favorite spa.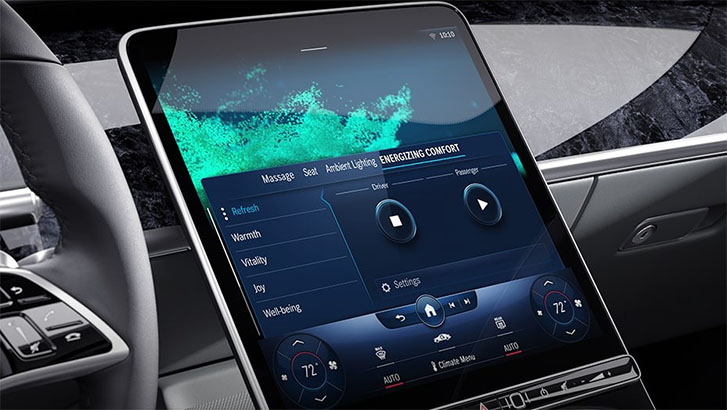 Front-cabin ENERGIZING Comfort
ENERGIZING Comfort coordinates climate control, ambient lighting, audio, cabin fragrance, plus front seat massage, heating and ventilation. Up to five 10-minute programs such as Refresh, Vitality or Enjoyment, plus three Training programs, accompany physical benefits with harmonious cabin lighting and music. Five music tracks are included, or it can select music from your own connected device by analyzing its tempo.
2021 Mercedes-Benz Mercedes Maybach S-Class SAFETY & WARRANTY
MB Limited Warranty
All new Mercedes-Benz vehicles are protected by our New Vehicle Limited Warranty, covering defects in material or workmanship for 48-months or 50,000 miles, whichever comes first. For added protection, the Mercedes-Benz Extended Limited Warranty offers continued peace of mind with prolonged coverage tailored to your needs.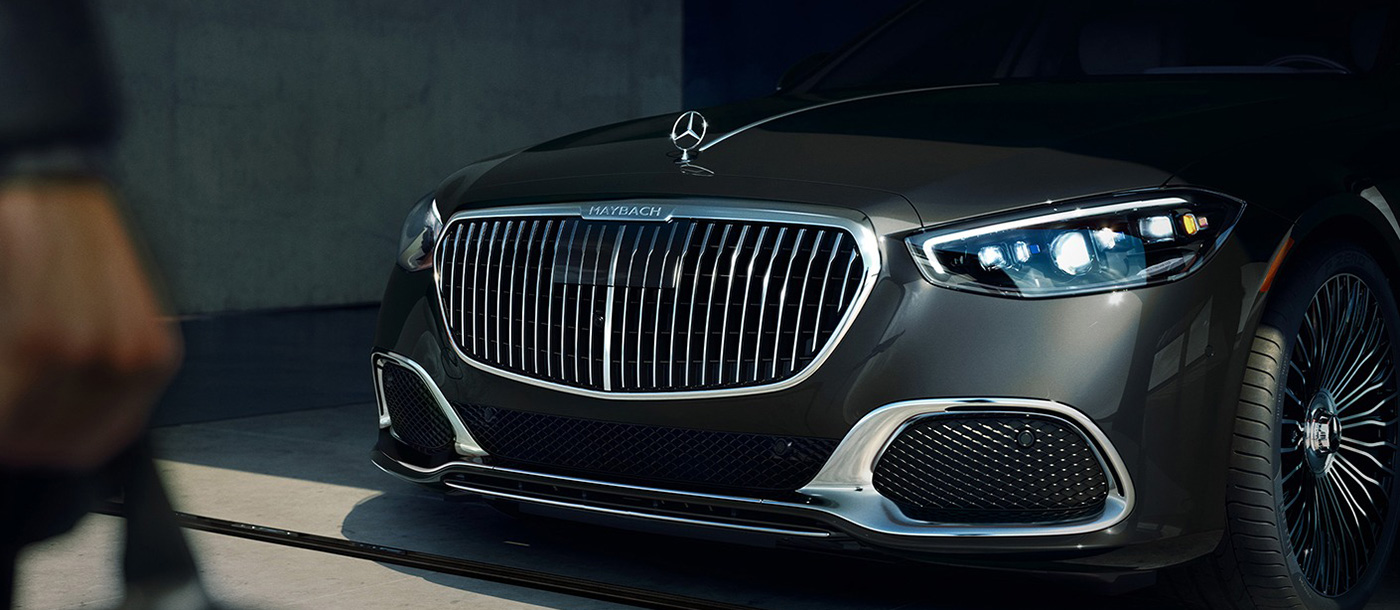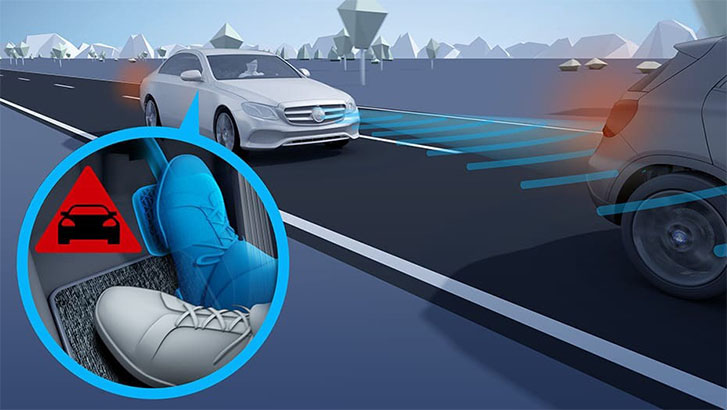 Active Brake Assist
Radar-based technology can alert you if you're approaching a vehicle ahead, or even some stationary objects, at a speed and distance that suggest a collision is likely. As soon as you start to brake, it can automatically provide an appropriate level of braking to help prevent a collision or reduce its severity. If you fail to respond, it can also initiate braking automatically at a range of driving speeds. The system can also detect and react to crossing pedestrians at typical city speeds.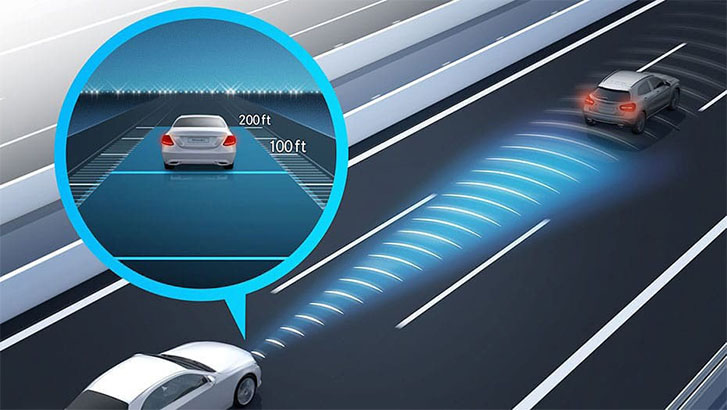 Active Distance Assist DISTRONIC
A Mercedes-Benz innovation, Active Distance Assist DISTRONIC® uses radar-based technology to adapt your cruise control speed in response to the flow of traffic. If the vehicle ahead slows to a stop, it can brake to a full halt. When traffic moves, you can resume with just a tap of the accelerator or resume button, or it can proceed automatically if the stop is under 60 seconds. Enhancements help it respond proactively to posted speed limits, and let you choose varying system dynamics via MBUX.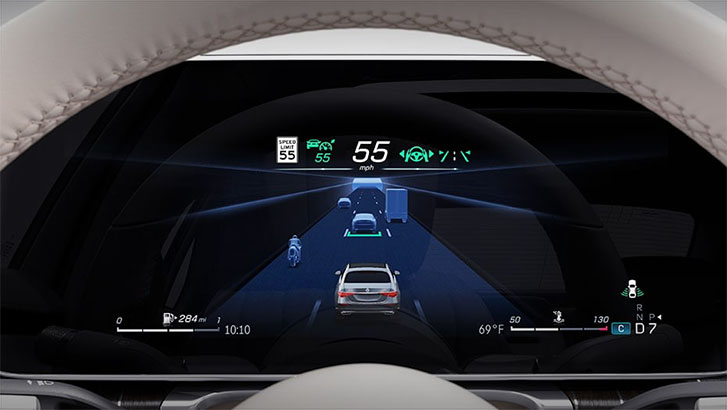 Active Steering Assist
Active Steering Assist can be engaged whenever you're using DISTRONIC adaptive cruise control. Using cameras and other sensors to detect lane markings, guardrails and other vehicles, Active Steering Assist helps the driver keep the vehicle centered in its lane while cruising, even in gentle curves. When lane markings aren't visible, it can even follow the vehicle ahead. Enhancements can improve lane centering on highways or follow the road edge on non-striped roadways.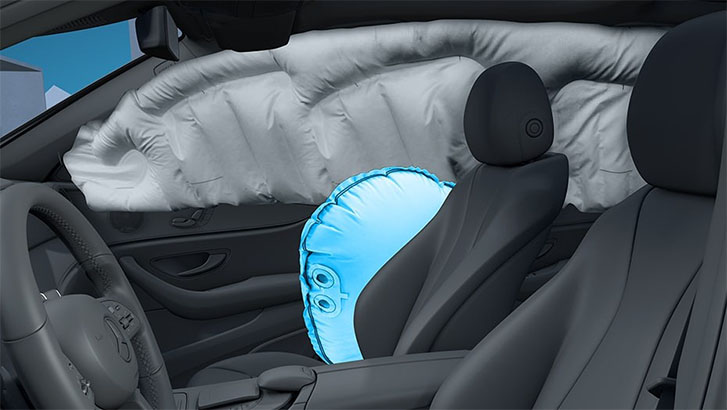 15 air bags
An advanced system of 15 air bags offers 17-way occupant protection: There are dual two-stage front air bags, a driver's knee air bag, front and outboard rear side-impact air bags, and side curtain air bags for both seating rows. In addition, each outboard rear seat is provided with an innovative frontal air bag, Beltbag@ and Cushionbag®.