2021 Mercedes-Benz Mercedes-Maybach GLS SUV OVERVIEW
2021 Mercedes-Benz Mercedes-Maybach GLS SUV For Sale
4.0L V8 biturbo with EQ Boost engine
550 hp with acceleration of 0-60 in 4.8 sec
Seating for up to 5 passengers
18.4 cu ft cargo capacity

2021 Mercedes-Benz Mercedes-Maybach GLS SUV MODELS
Mercedes-Maybach GLS 600 SUV
Mercedes-Benz Mercedes-Maybach GLS SUV For Sale
Mercedes-Benz Mercedes-Maybach GLS SUV PERFORMANCE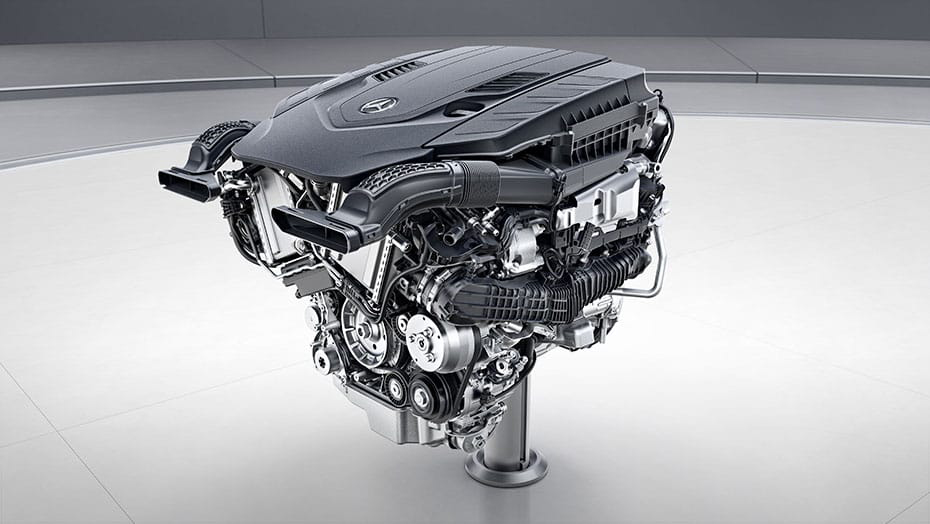 4.0L V8 biturbo engine with EQ Boost.
Advanced performance comes from a high-output yet compact 4.0L biturbo V8. Exceptional output of 550 hp and 538 lb-ft of peak torque moves the Mercedes-Maybach GLS with confidence, grace, and a sense of urgency evidenced by a 4.8-second 0-60 time. Racing-derived technology ranges from its turbocharger layout to its low-friction NANOSLIDE® cylinder walls. And its high-pressure Direct Injection and rapid-multispark ignition can self-tune on the fly with millisecond speed and molecular precision.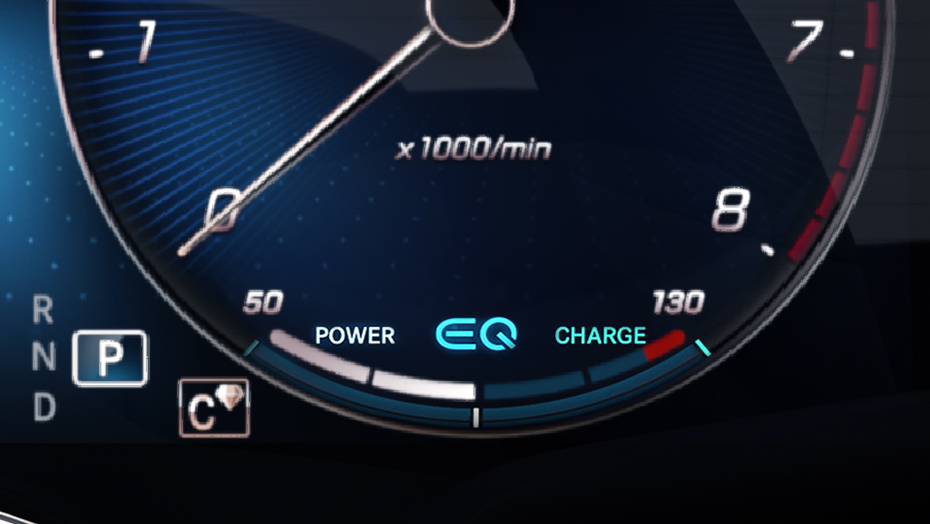 EQ Boost Integrated Starter-Generator.
Electrifying the V8 biturbo gasoline engine is an innovative Integrated Starter-Generator. It teams with a 48-volt lithium-ion battery, plus a power supply for formerly belt-driven components like the water pump and air-conditioning compressor. These advancements help reduce weight and enhance underhood packaging. In addition to generating power and torque for immediate response, EQ Boost offers a reduction in fuel consumption.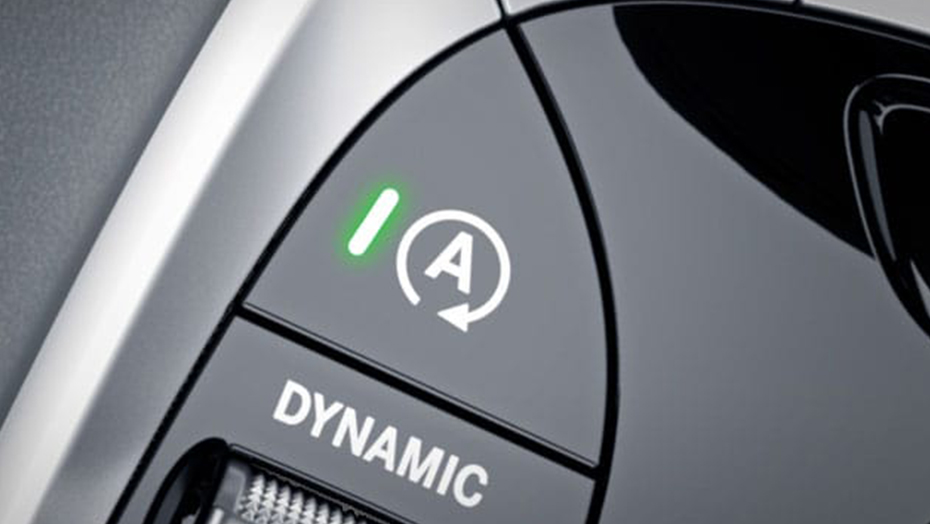 ECO Start/Stop system.
An ECO Start/Stop system automatically shuts off the engine at stoplights and other idle situations, to save fuel and reduce emissions. As soon as the driver lifts off the brake, the engine instantly restarts, for quick acceleration response. An added benefit of EQ Boost is that its Integrated Starter-Generator makes the restart process more seamlessly smooth than ever before. The ECO Start/Stop system can also be shut off by the driver at any time.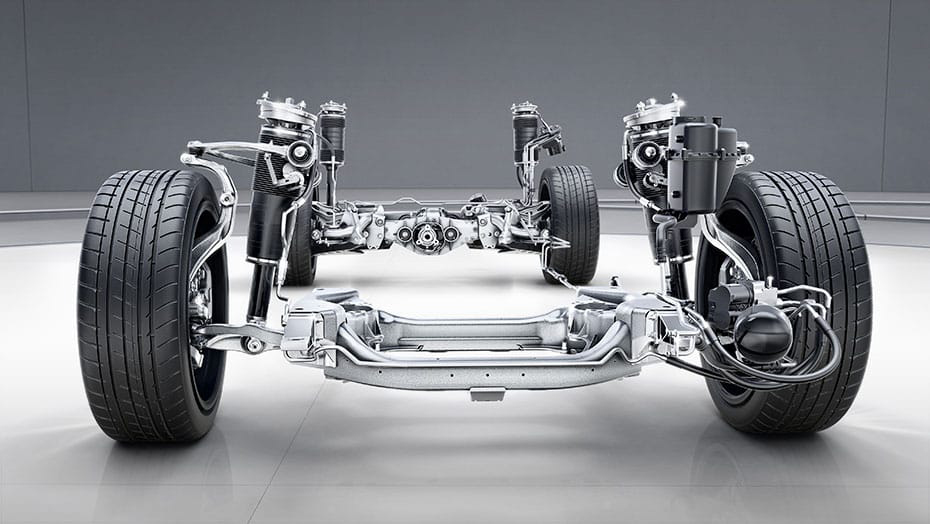 4MATIC fully variable all-wheel drive.
An advanced version of 4MATIC® can automatically send from zero to 100% of the engine's torque to either axle, front or rear. A transfer case with a multi-disc clutch can vary the torque distribution based on the driving conditions in the moment. While this allows for precise response to varying surfaces and individual-wheel traction off-road and in inclement weather, it can also enhance cornering in any season by favorably influencing the vehicle's handling.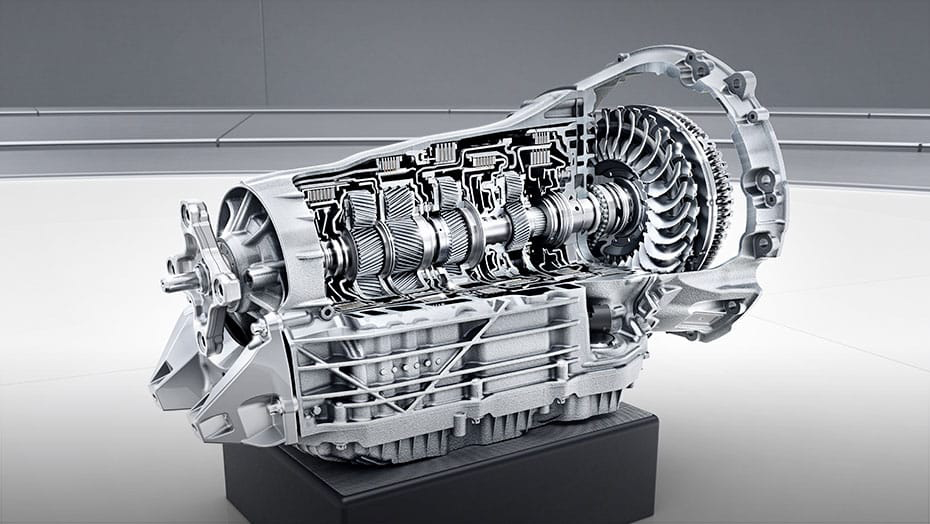 9G-TRONIC automatic transmission with shift paddles.
With a greater range of ratios and shorter steps between gears, the 9-speed automatic changes gears more quickly yet more smoothly. Along with a more seamless delivery of power, the lighter, more versatile transmission enhances quiet riding comfort and fuel-efficiency. The electronic selector and shift paddles let you control all gear changes with your hands on the steering wheel. And drivers can vary the shift modes via the innovative DYNAMIC SELECT system.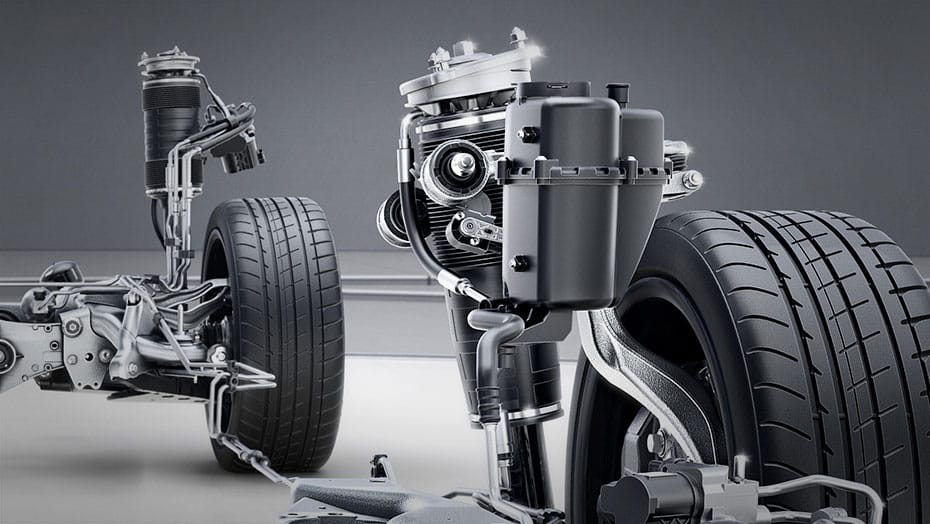 E-ACTIVE BODY CONTROL.
An innovative, fully active suspension delivers uncanny composure. E-ACTIVE BODY CONTROL can scan the road surface ahead via a stereo camera and adapt the suspension at each wheel to help minimize body motions. Benefiting from the 48-volt electronics of EQ Boost, the system can quickly counteract lean, pitch and dive, and even tilt into curves, to reduce the forces felt by passengers. Its 4-wheel level control can also self-lower at speed, and a special mode can help rock the vehicle free from soft or loose surfaces.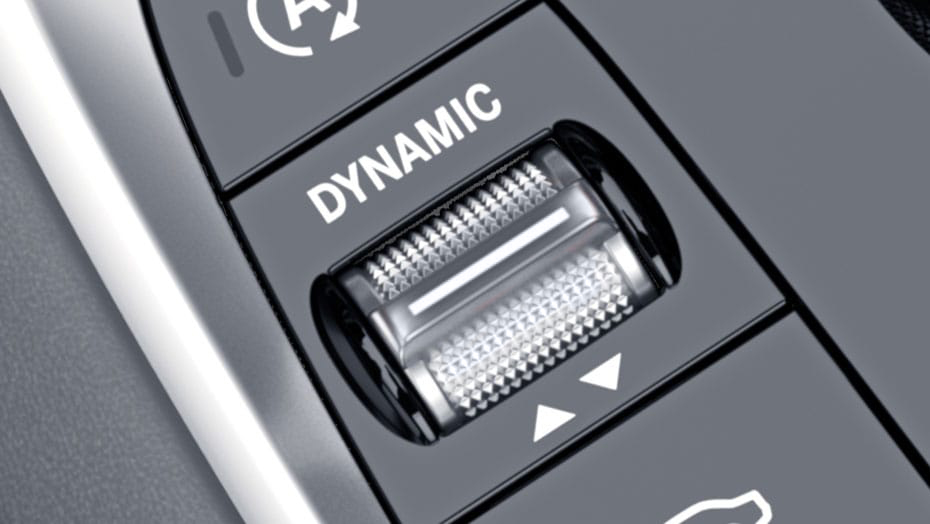 DYNAMIC SELECT.
A selector on the console lets you vary the vehicle's performance character to suit driver and passengers. DYNAMIC SELECT offers four preset modes: Comfort, Sport, Off-Road, and an exclusive Maybach mode. Each adapts the suspension, throttle response, shift points, and more. Maybach mode emphasizes comfort for the rear passengers by minimizing body motion and gearshifts, making the throttle response more gentle, and disabling ECO Start/Stop. There's also an Individual mode you can personalize.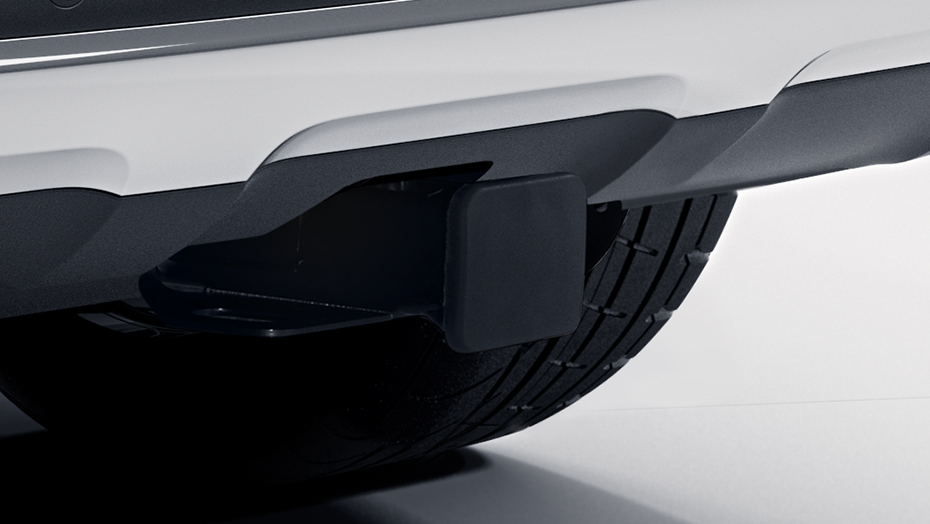 Optional Trailer hitch (Class IV).
With the optional trailer hitch, you can tow up to 7,700 lbs. The hitch option includes the wiring harnesses for the trailer lights and brakes, plus vehicle enhancements to handle the rigors of towing. Standard Trailer Stability Assist helps keep trailer sway under control.
2021 Mercedes-Maybach GLS SUV APPEARANCE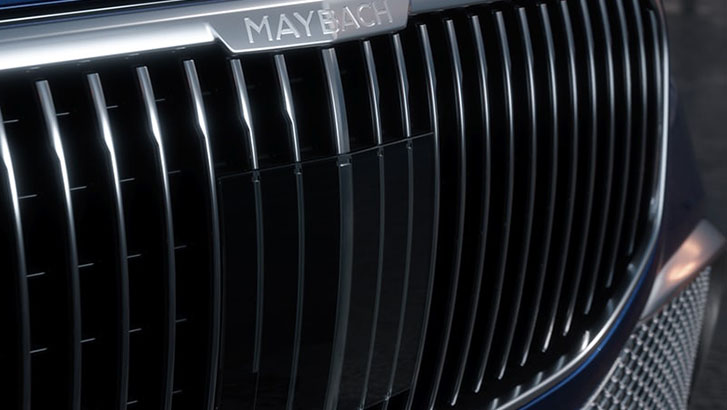 Bespoke, beautiful, bountiful.
Glimmering grille blades and a standup Star tempt the eye. A grand sunroof welcomes the sky. The GLS 600 delivers an experience from first glance to full immersion in its lavish luxuries.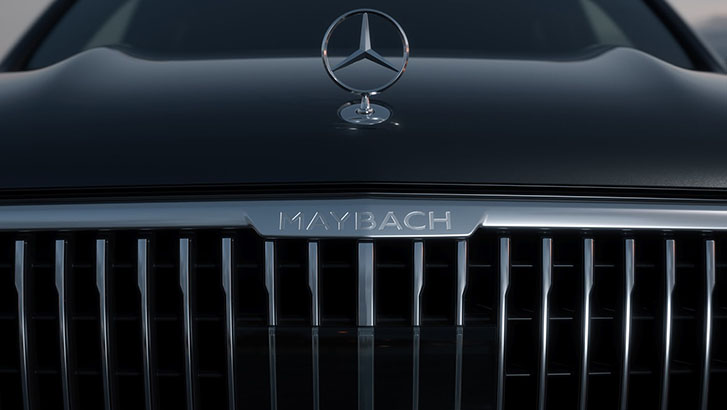 Legendary star.
The legendary Star stands proud on the hood above the bespoke Mercedes-Maybach grille. Maybach GLS 600 in Black pictured above.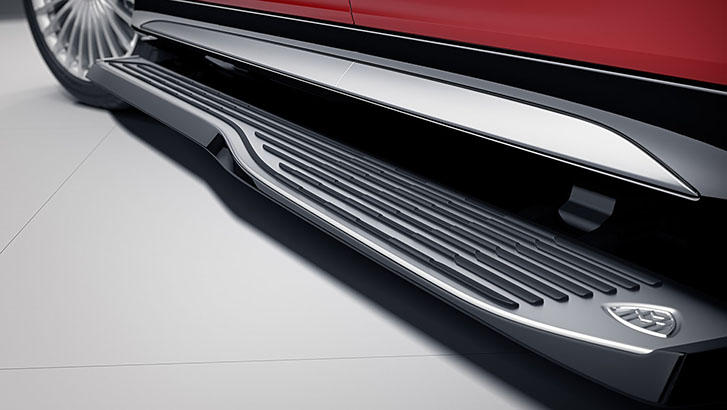 Electrically extending running boards.
Electrically extending running boards echo the blade-shaped grille in their rubber treads. Maybach GLS 600 in designo Cardinal Red pictured above.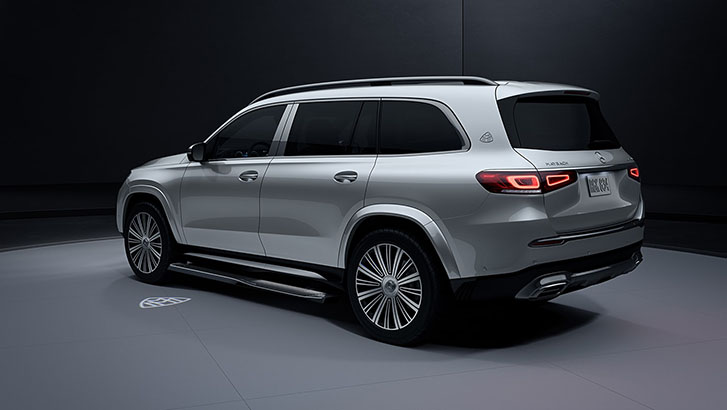 Mercedes-Maybach emblem projection.
Mercedes-Maybach emblems appear on the rear quarters and projected in light on the pavement. Maybach GLS 600 in Iridium Silver with 22-inch Maybach multispoke wheels pictured above.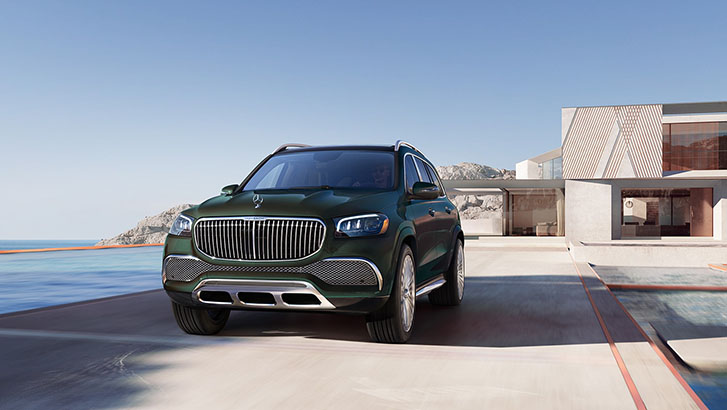 LED headlamps.
Active LED headlamps flank the grille, while a chrome guard underscores the lower chrome mesh intakes. Maybach GLS 600 in Emerald Green with 23-inch Maybach multispoke forged wheels pictured above.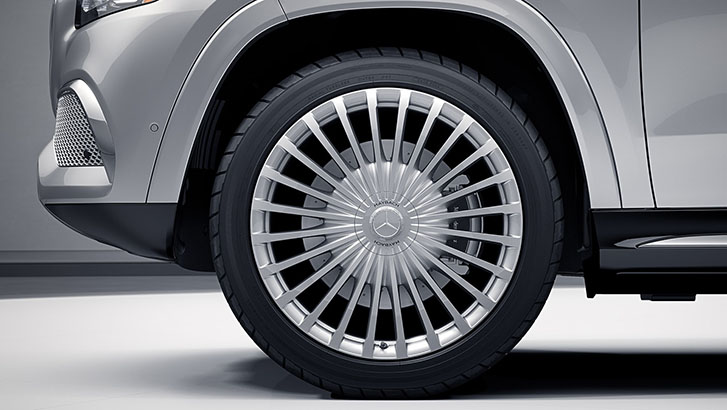 22-inch alloy wheels.
Fitted as standard to the Maybach GLS are substantial yet elegant 22-inch alloy wheels. Also available are forged 23-inch alloys which are among the largest wheels available on a production SUV. Maybach GLS 600 in Iridium Silver with 23-inch Maybach multispoke forged wheels pictured above.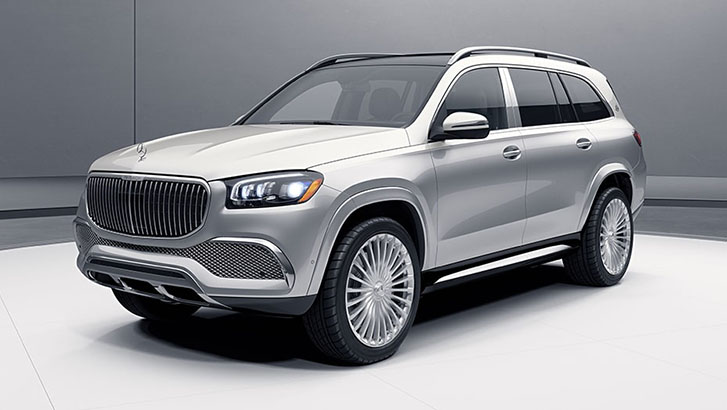 Majestic presence, exclusive details.
In stature, poise and presence, there is nothing quite like the Mercedes-Maybach GLS 600. Grand proportions flow into elegant details from the chrome mesh grilles in its front apron to a standing hood Star and bespoke rear emblems. Signature Maybach elements are rendered in polished chrome, including its distinctive upright grille, door-pillar accents and bladelike lower side trim. Along with a choice of two exclusive wheel designs, they elevate the GLS, itself the S-Class of SUVs, to a state of majesty.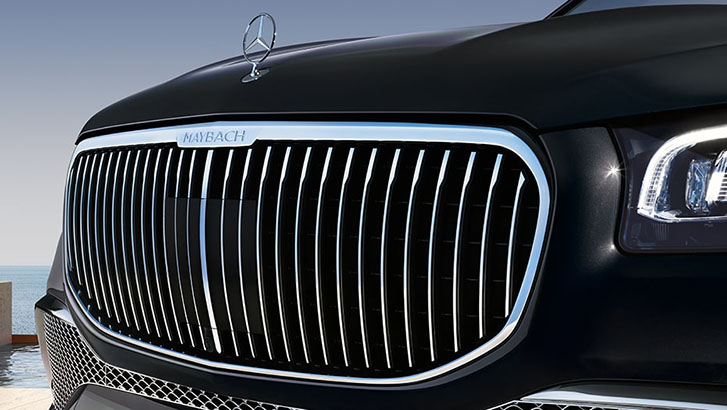 Maybach grille.
A bespoke grille design captures the eye even before the Mercedes-Maybach's power, grace and thoughtfulness can captivate its driver and passengers. Fine vertical chrome vanes, each with a blade-like detail as it nears the upper frame of the grille, are bisected by a wider, tapering central chrome rib. A subtly etched nameplate is inset near the top center, itself crowned by the hood-mounted Star to express the name "Mercedes-Maybach" and the values the pairing represents.
Mercedes-Benz Mercedes-Maybach GLS SUV COMFORT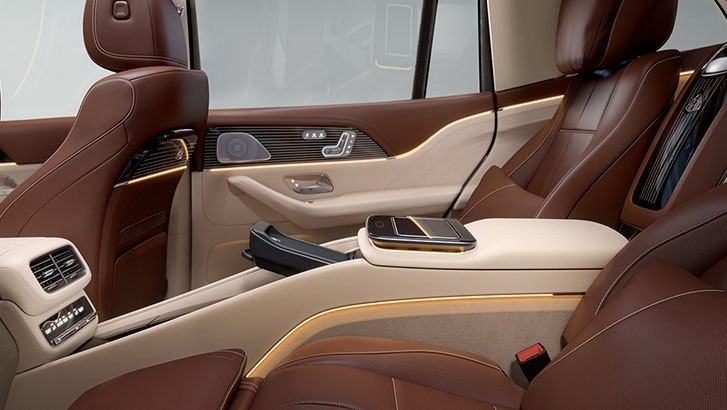 Maybach comfort.
Detail on a grander scale: Every stitch feels tighter. Every pixel, brighter. Exquisite materials greet your senses. Innovative luxuries engage, soothe, stimulate and satisfy. Comfort is the product of confidence with a commanding view.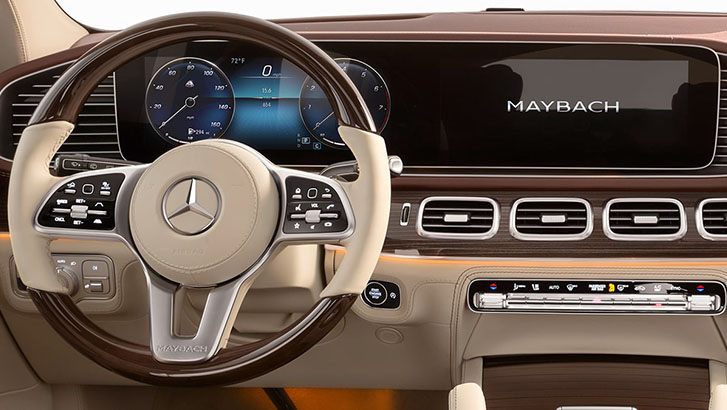 Maybach innovation.
First in a class of one: Innovation exists purely to serve your comfort, safety and convenience via multiple senses, from a virtual voice assistant, to subtle aromatherapy, to lifelike surround sound.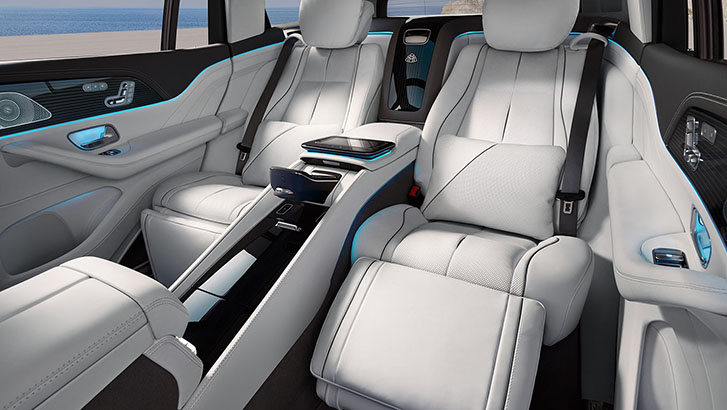 Attentive, advanced, abundant.
An Executive Climate System focuses on individual passengers. Cabin settings are within reach via touchscreen or tablet. All four seats can offer a "hot stone" massage, accompanied by music and soft lighting.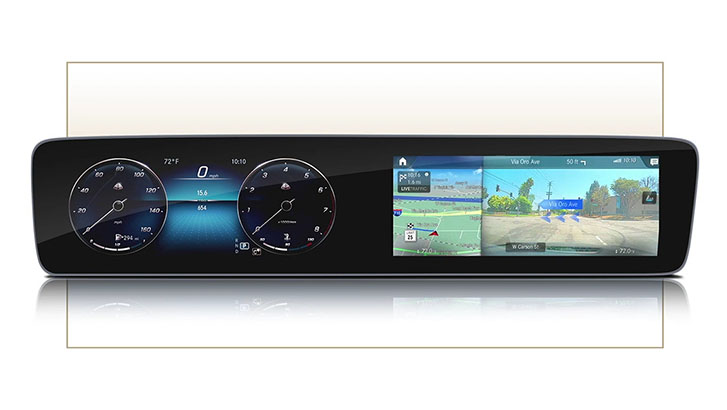 Widescreen cockpit.
The widescreen cockpit delivers a world of convenience to your fingertips or your voice. Along with three touch interfaces, the Maybach GLS can respond to your natural spoken requests.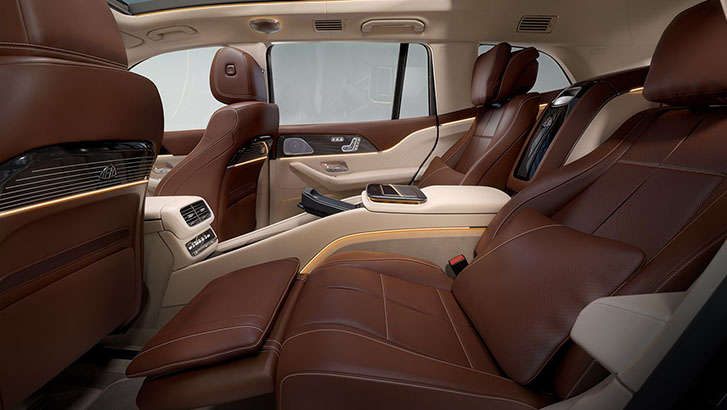 Rear seating comfort.
The standard twin rear seats feature heating, ventilation, massage and power adjustment. Maybach GLS 600 with Mahogany/Macchiato Beige Exclusive Nappa leather pictured above.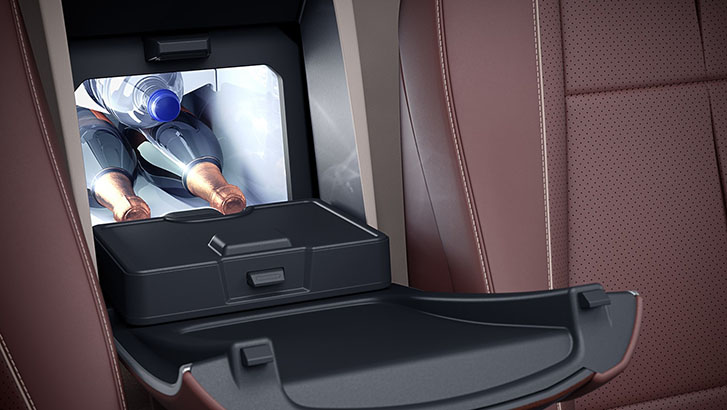 Available refrigerated compartment.
An available refrigerated compartment helps keep refreshments chilled for the rear passengers.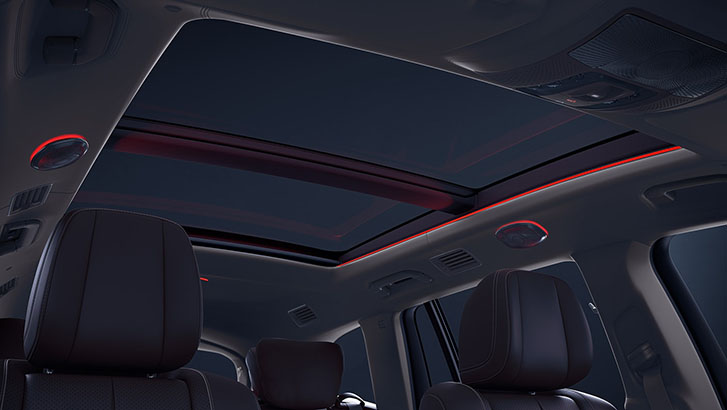 Panorama roof and 64-color LED ambient lighting.
Elaborate multicolor ambient lighting can edge-light the rear cabin and even the Panorama roof.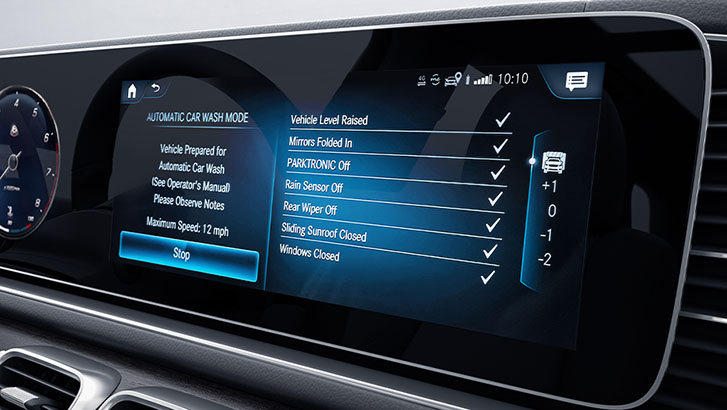 One-touch "Carwash mode."
A new function prepares your Mercedes-Maybach GLS for typical automated moving carwash facilities. One command can fully raise the suspension to slightly narrow its track width, while also allowing better cleaning of the wheel wells. In addition, it can retract the running boards, suspend rain-sensing wiper operation, and set the climate control to recirculation mode. After a few seconds, it can even activate the front camera to help the driver or attendant enter the carwash.
2021 Mercedes-Benz Mercedes-Maybach GLS SUV SAFETY & WARRANTY
MB Limited Warranty
All new Mercedes-Benz vehicles are protected by our New Vehicle Limited Warranty, covering defects in material or workmanship for 48-months or 50,000 miles, whichever comes first. For added protection, the Mercedes-Benz Extended Limited Warranty offers continued peace of mind with prolonged coverage tailored to your needs.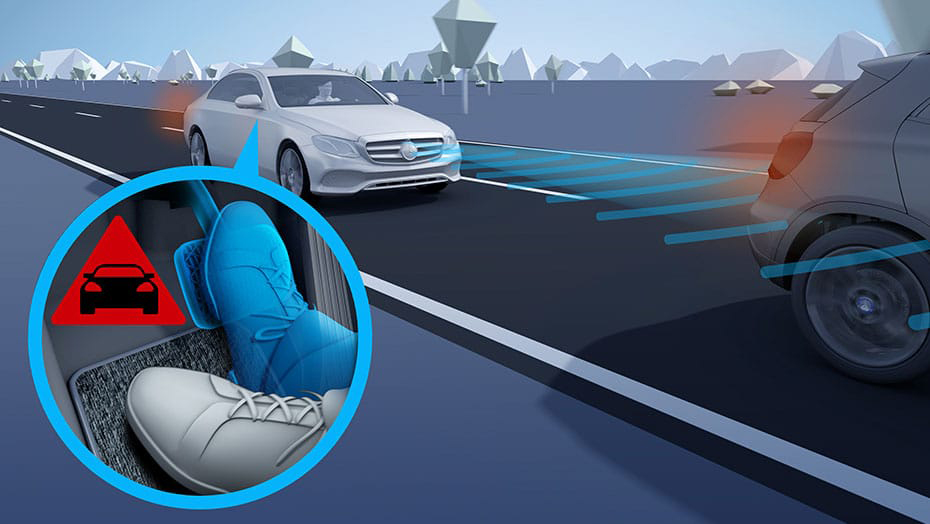 Active Brake Assist.
Radar-based technology can alert you if you're approaching a vehicle ahead, or even some stationary objects, at a speed and distance that suggest a collision is likely. As soon as you start to brake, it can automatically provide an appropriate level of braking to help prevent a collision or reduce its severity. If you fail to respond, it can also initiate braking automatically at a range of driving speeds. The system can also detect and react to crossing pedestrians at typical city speeds.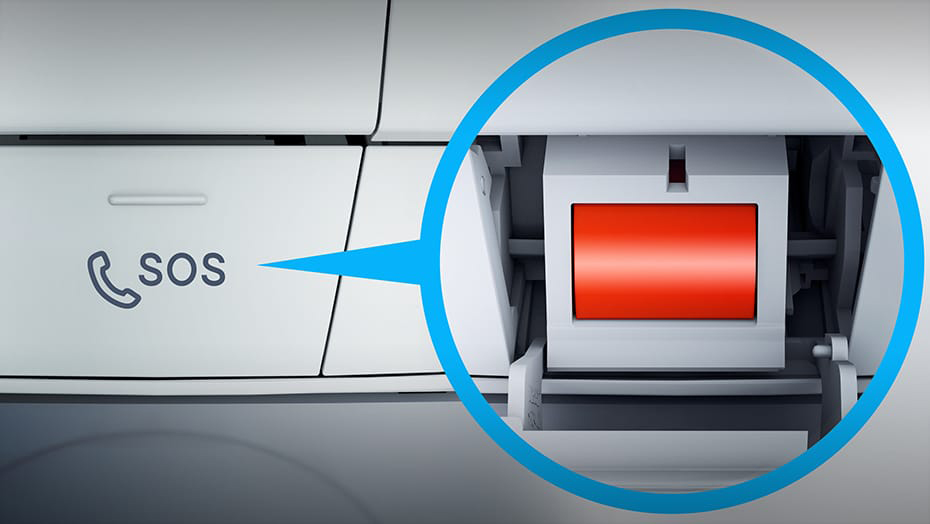 Mercedes-Benz Emergency Call service.
If an air bag deploys, your car can automatically initiate a call to Mercedes-Benz Emergency Services, transmitting your GPS-determined location and helpful vehicle information on your behalf. Trained experts are on call 24/7 to help summon local emergency responders to your location. You can also press the SOS button in the vehicle anytime you need emergency assistance, or see someone else who does. This vital service is provided for as long as you own the vehicle, no matter who's driving.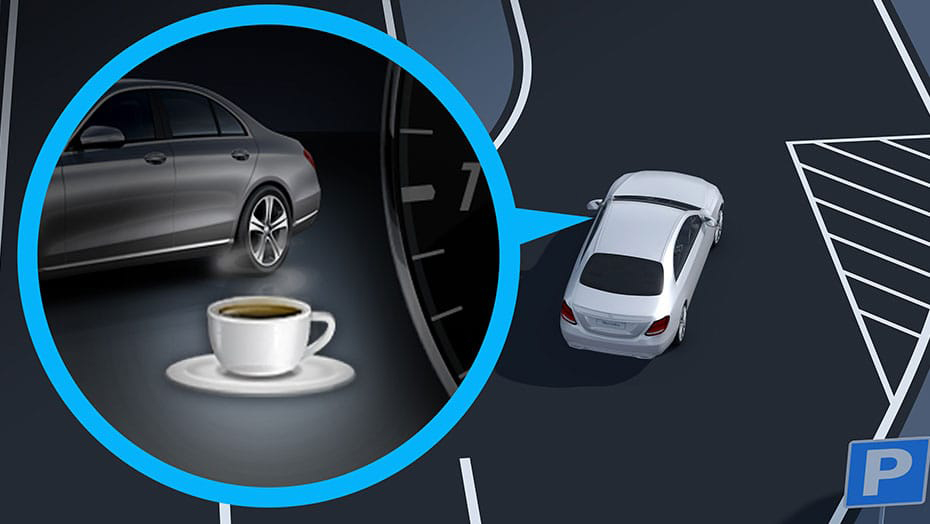 ATTENTION ASSIST.
The first system of its kind, ATTENTION ASSIST® continuously monitors up to 70 parameters of driving behavior, and can automatically alert the driver with both visual and audible warnings if it detects signs of drowsiness on long trips. With enhanced sensitivity, the system can also help detect drivers who begin their trip drowsy, and offer more useful information to drivers along their journey via a dashboard display.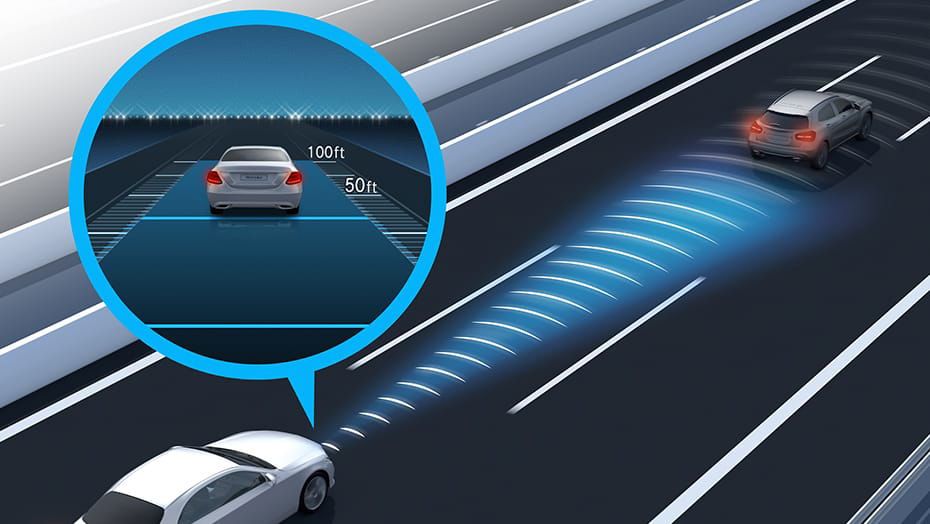 Active Distance Assist DISTRONIC.
A Mercedes-Benz innovation, Active Distance Assist DISTRONIC cruise control uses radar-based technology to adapt your set speed in response to the flow of traffic ahead. If traffic slows down, it can reduce your speed automatically until your path clears. If the vehicle ahead slows to a stop, it can brake to a full halt. When traffic moves, you can resume with just a tap of the accelerator or cruise control button, or it can resume automatically if the stop is under 30 seconds.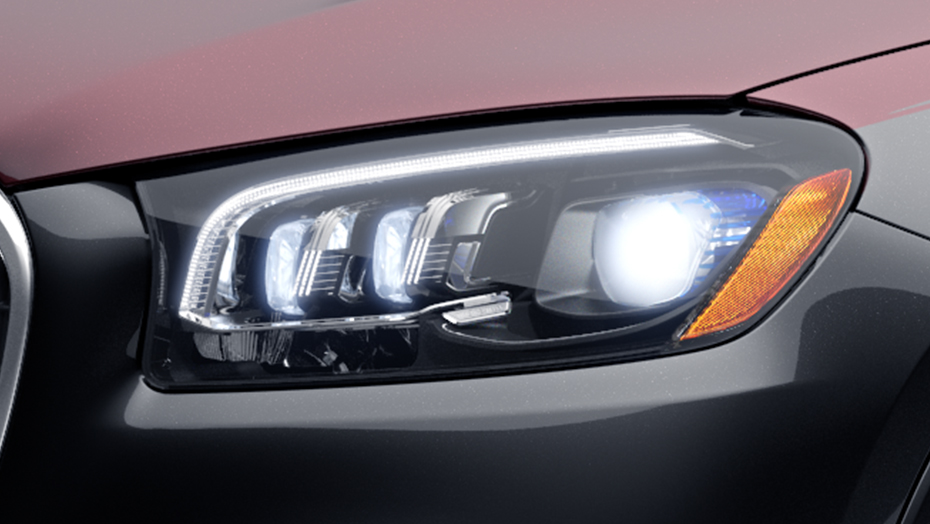 LED Intelligent Light System with Ultra Wide Highbeams.
Pioneered by Mercedes-Benz, active LED headlamps generate light that's perceived much like natural daylight. Active Curve Illumination and Adaptive Highbeam Assist continuously adjust the beam pattern of the LEDs in each headlamp to help maximize the illumination of corners and straightaways, without creating glare for other drivers. An Ultra Wide Highbeam feature is designed to better illuminate the road and the environment along either side.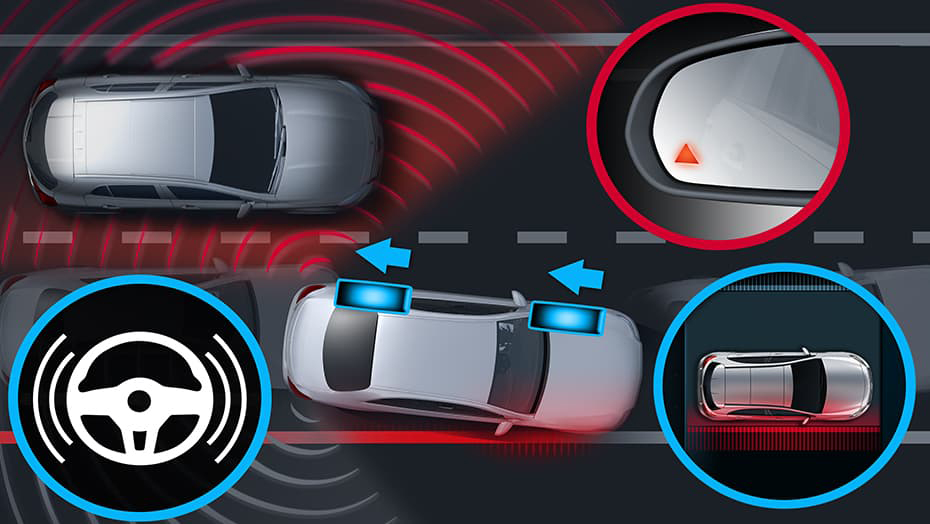 Blind Spot Assist with Exit Warning Assist.
When traveling above approximately 20 mph, radar technology can help sense when a vehicle enters the blind-spot area. Blind Spot Assist can then alert the driver via an illuminated red icon in the appropriate side mirror. An audible warning sounds if the driver activates a turn signal while a vehicle is detected in the blind spot. After parking, new enhancements can also alert the driver or passengers to vehicles, cyclists or pedestrians that could be at risk if the door is opened.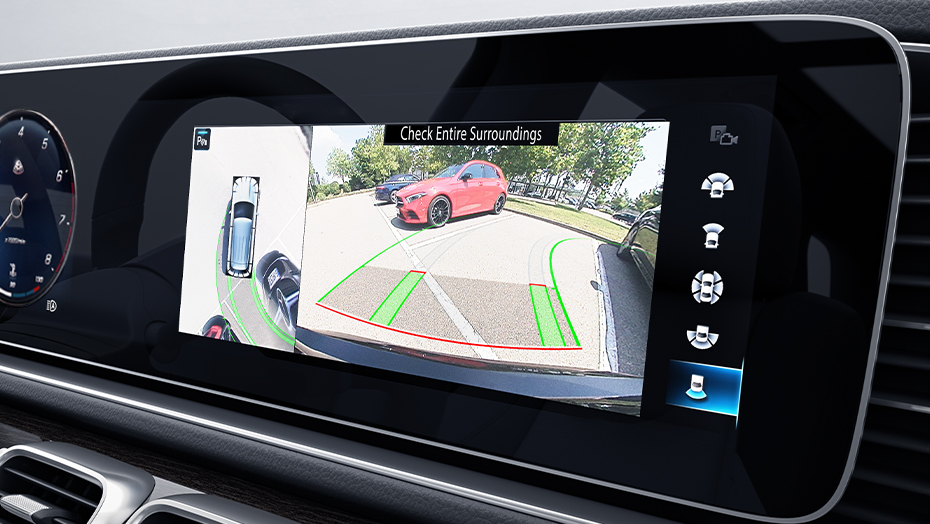 Surround View System.
The advanced Surround View System uses cameras in all four directions to compose a single, live overhead view of your immediate surroundings. Displayed on the central in-dash screen during low-speed maneuvers, it can help you avoid obstacles as you negotiate tight spaces, whether you're moving forward or backing up.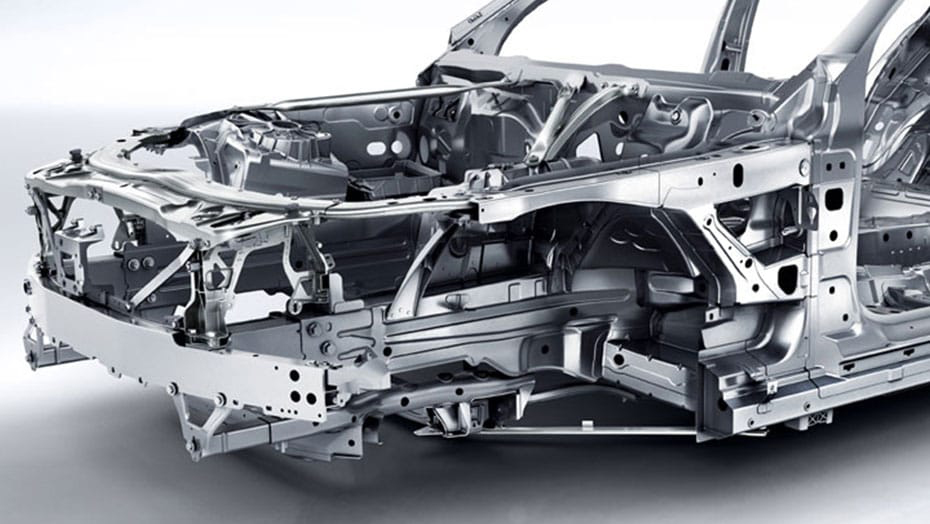 High-strength unibody.
An advanced unibody structure elevates the safety, comfort and performance of the Mercedes-Maybach GLS. The passenger cell extensively uses high and ultra-high-strength steel, plus triple-layer roof pillars and multiple reinforcements. Advanced front and rear crumple zones progressively deform to help absorb impact forces before dissipating them over, under and around the cabin. A lightweight aluminum hood and front fenders plus acoustically optimized materials enhance handling and quiet comfort.