2021 Mercedes-Benz AMG GT Roadster OVERVIEW
2021 Mercedes-Benz AMG GT Roadster For Sale
Handcrafted 4.0L AMG V8 biturbo engine
3.6 sec acceleration, 0-60 mph (on AMG GT C)
7-speed AMG SPEEDSHIFT® DCT dual-clutch rear-mounted transaxle automatic transmission
502 lb-ft torque and 550 hp (on AMG GT C)

2021 Mercedes-Benz AMG GT Roadster MODELS

Mercedes-Benz AMG GT Roadster For Sale
Mercedes-Benz AMG GT Roadster PERFORMANCE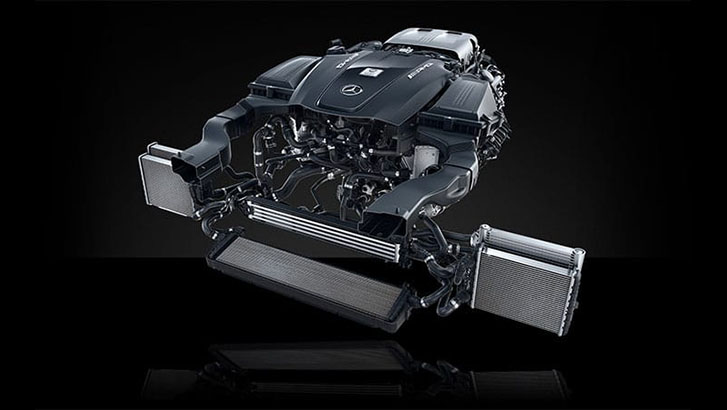 Compresses the air, to blow you away.
Handcrafted AMG 4.0L V8s place their twin turbos between their banks for quicker response. Dry sump design moves their oil supply aside, for lower engine mounting. In the AMG GT, now with 523 hp, 60 mph arrives in 3.7 seconds. In the 550-hp AMG GT C, just 3.6 seconds.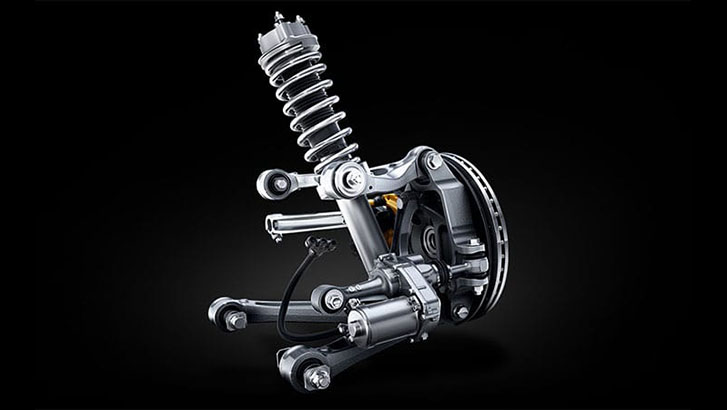 Clings to pavement, touches the sky.
Forged aluminum dominates the 4-wheel double-wishbone AMG RIDE CONTROL suspension with 3-stage damping. Coil-overs at the rear are hub-mounted for extreme precision. The GT C adds active rear-wheel steering. AMG DYNAMIC SELECT lets you dial in the throttle, shifting, chassis, exhaust and more.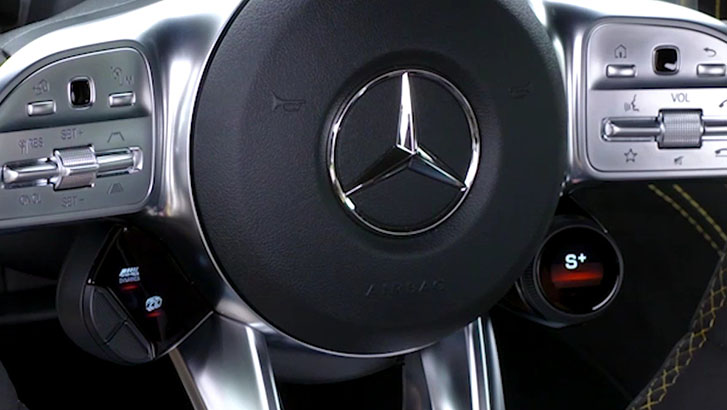 Tuned to your desires, sharpens on demand.
The AMG GT C's standard AMG DYNAMIC PLUS Package flexes its muscle freely. Dynamic engine and transaxle mounts use electromagnetic fluid that stiffens progressively, to keep handling precise during aggressive moves. The standard steering wheel is fully wrapped in grippy DINAMICA microsuede.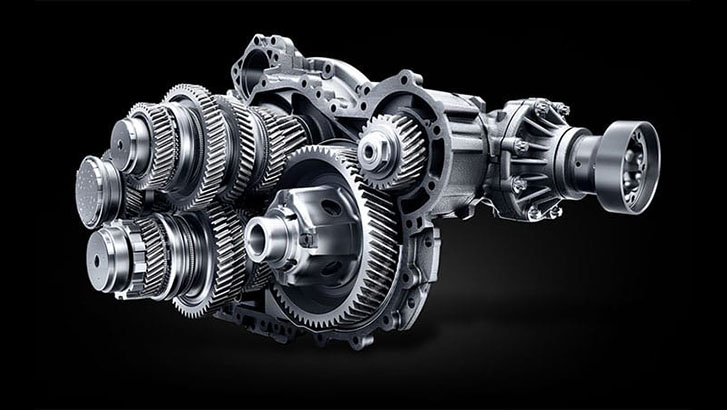 Balanced on every axis, in every action.
The 7-speed, multimode AMG SPEEDSHIFT® DCT transaxle is rear-mounted, to help create the GT's ideal 47:53 front/rear balance. A carbon-fiber driveshaft links it to the front-mid-mounted V8. Lightning-quick shifts, an electronic limited-slip differential and torque vectoring precisely deliver power to pavement.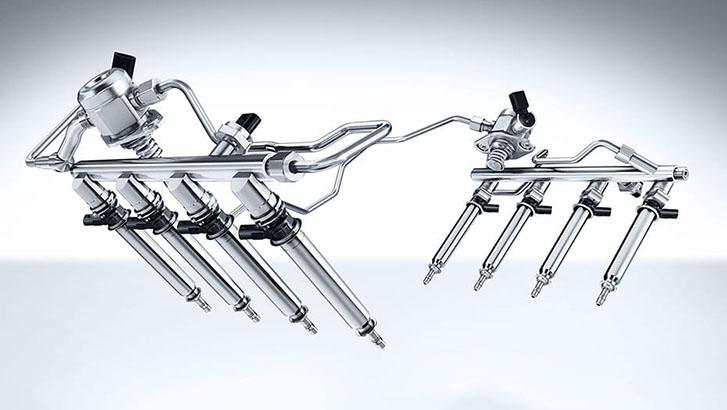 Direct Injection and multispark ignition.
Advanced piezoelectric fuel injectors spray fuel directly into each cylinder with exceptionally precise metering, ultrafine atomization and incredibly quick on/off switching speed. Based on the immediate, individual needs of each cylinder's combustion cycle, they can supply the ideal fuel spray at up to 2,900 psi with millisecond speed. Rapid-multispark ignition can fire the fuel mixture up to five times in a single cycle, for stronger and cleaner performance.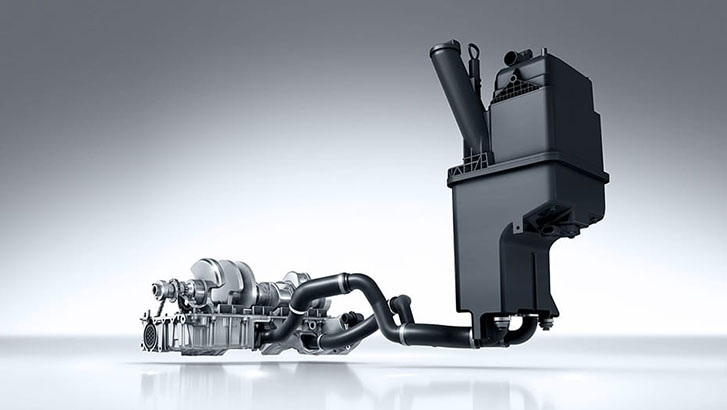 Dry-sump lubrication.
To improve lubrication during hard cornering and other extremes, a dry sump replaces the traditional oil pan with a remote reservoir with lightweight composite construction. The design also allows a lower overall engine profile, so the engine can be mounted more than two inches lower in the vehicle, behind the front axle. This front-mid-engine configuration contributes significantly to the car's ultralow center of gravity and ideal 47:53 front/rear weight distribution.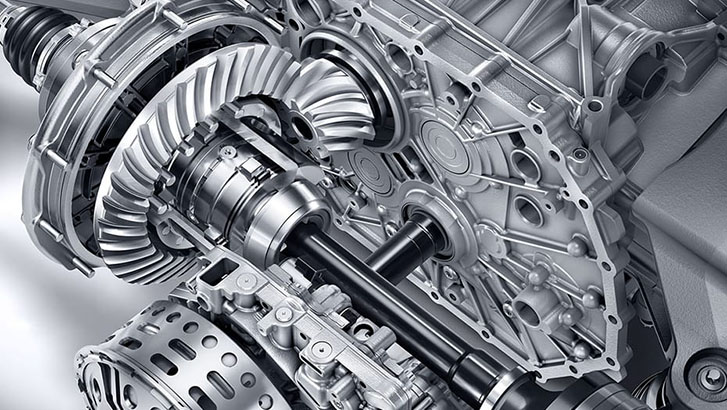 AMG electronic limited-slip differential.
Integrated into the compact housing of the rear-mounted transaxle, the limited-slip differential features electronic control. Its enhanced functionality can lock the differential with greater precision and speed, based on the changing driving demands as you corner, accelerate and brake. Dynamic variable locking also allows higher cornering speeds at the limit, adapting to road-surface friction, lateral forces and other driving conditions as they as are experienced.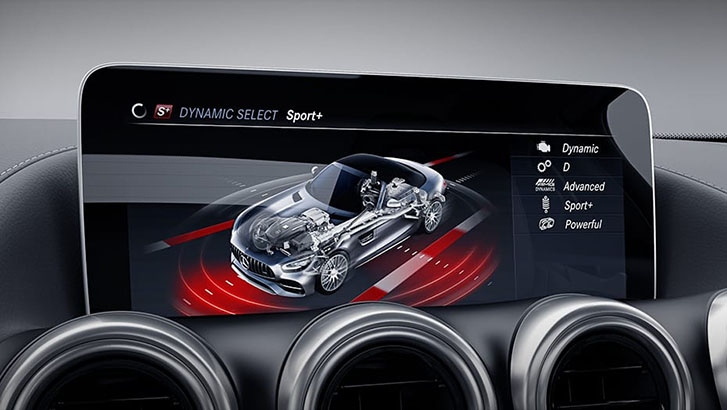 Multiple driving modes for DCT transmission.
Five shift modes are driver-selectable: For everyday on-street driving, Comfort is tuned for smooth throttle response and gear changes while keeping response instantaneous. Slippery shifts to apply torque more gently. Sport mode raises the shift points and cuts shift times. Sport+ and Manual modes upshift in fewer milliseconds than ever before, thanks to advanced controls. Each mode also engages specific throttle mapping, to assure seamless response whether driving in town or powering out of a corner on the track.
2021 AMG GT Roadster APPEARANCE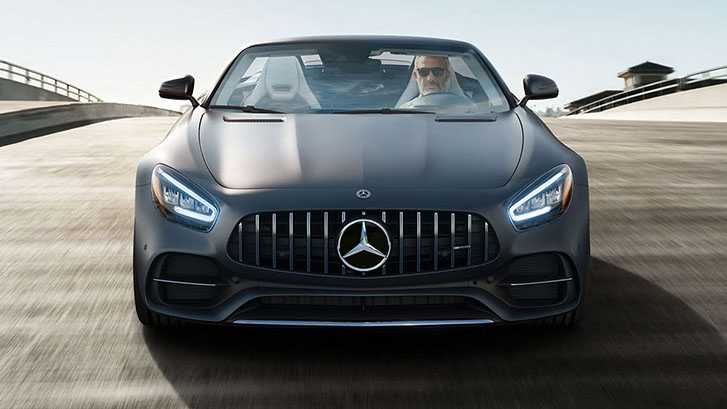 Sculpted to harness the wind.
Top up or down, the long-hood proportions express the purity of a roadster with a clarity of purpose. From the vertical-bar grille to an active rear spoiler, airflow under, over and into the body is managed with strategic brilliance. Every element contributes to performance, and conspires to seduce.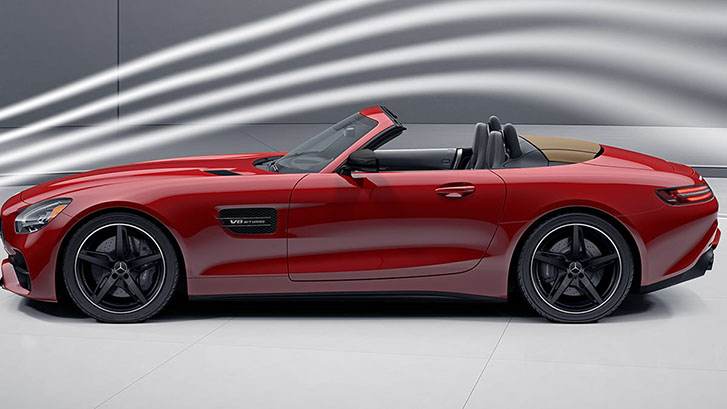 Tailored to transform and transcend.
It takes just 11 seconds to change the AMG GT from a closed, composed coupe into an all-out open-air super sports car. Tailored from three layers and available in three colors, the soft top powers up or down even at speeds up to 31 mph. A fixed see-through wind deflector helps keep the open cabin calm.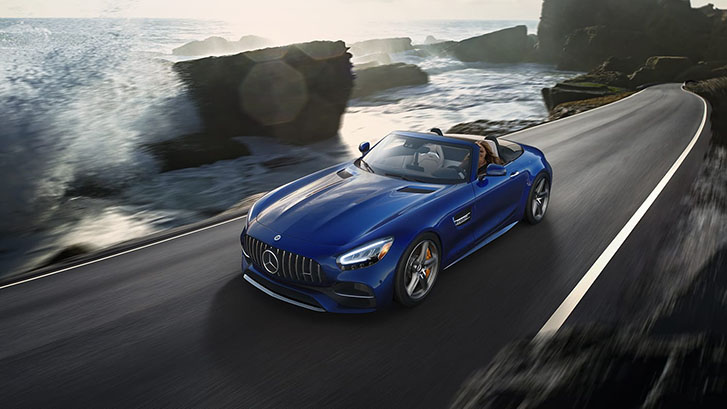 AMG grille.
The vertical-bar AMG grille evokes a rich racing heritage in the 550-hp AMG GT C Roadster. AMG GT C Roadster in Brilliant Blue with AMG twin 5-spoke wheels pictured above.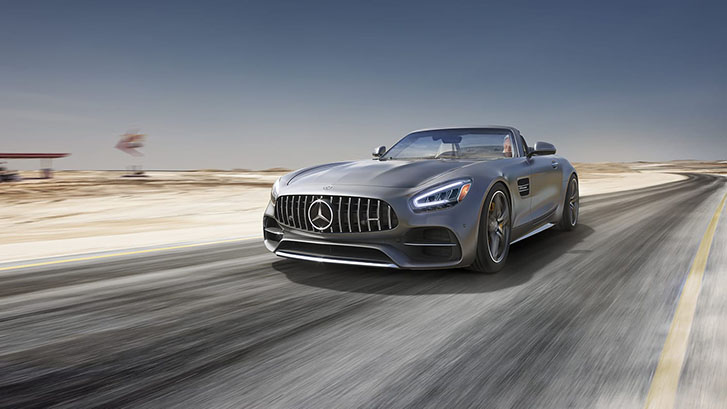 AIRPANEL active shutters.
Highly developed in the wind tunnel, the GT C's aerodynamics include AIRPANEL active shutters. AMG GT C Roadster in designo Selenite Grey Magno pictured above.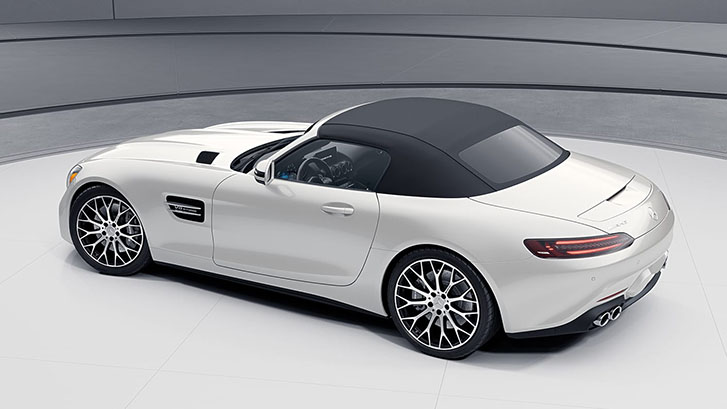 Wheel options.
AMG® 10-spoke Y-design wheels are one of several staggered 19" front/20" rear wheel options. AMG GT Roadster in designo Diamond White pictured above.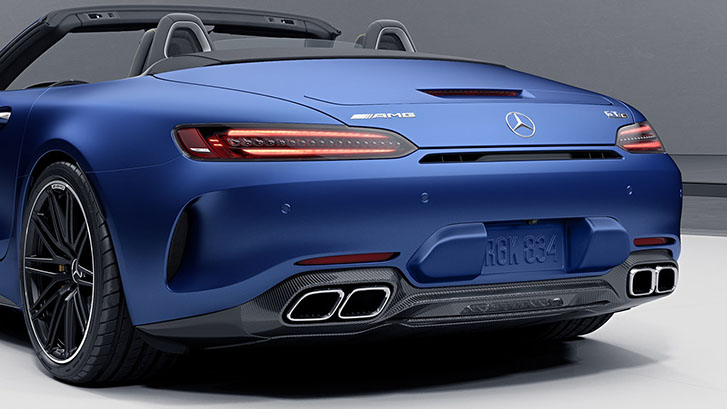 Carbon Fiber Package.
The AMG Exterior Carbon Fiber Package includes numerous exterior elements in genuine carbon fiber. AMG GT C Roadster in designo Brilliant Blue Magno pictured above.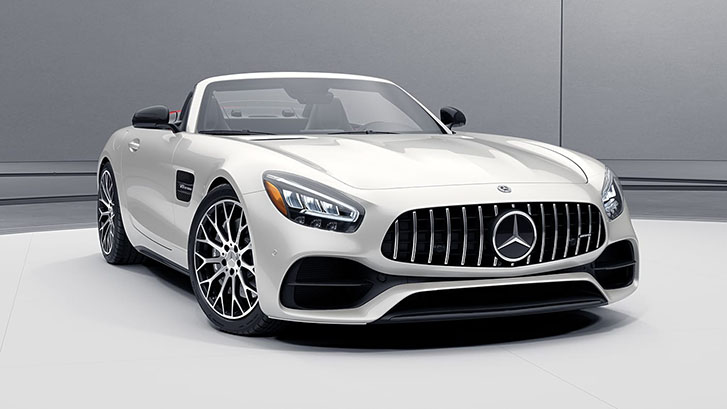 Front-mid-engine/rear-transaxle layout.
The long-hooded proportions of the AMG GT reflect its front-mid-engine/rear-transaxle layout. AMG GT Roadster in designo Diamond White pictured above.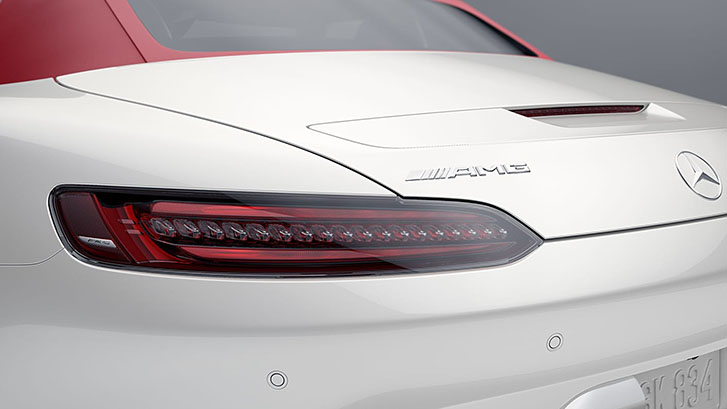 Wraparound LED taillamps.
Wide, wraparound LED taillamps are eye-catching whether they're off or instantly illuminating. AMG GT C Roadster in designo Diamond White with Red soft top pictured above.
Mercedes-Benz AMG GT Roadster COMFORT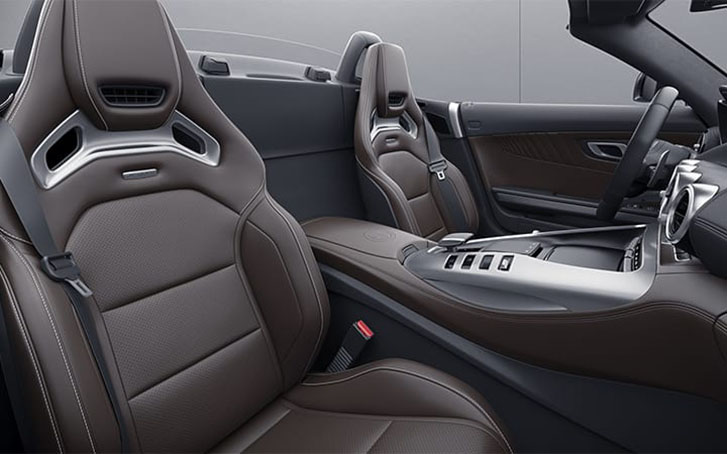 Equipped to embrace driving.
Sculpted AMG Performance seats combine sporting support with enduring comfort. Performance controls fall readily to hand, with color display buttons arrayed in a V on the wide console. A spectrum of cabin appointments, wheel choices, paint hues and styling packages let you make a powerful personal statement.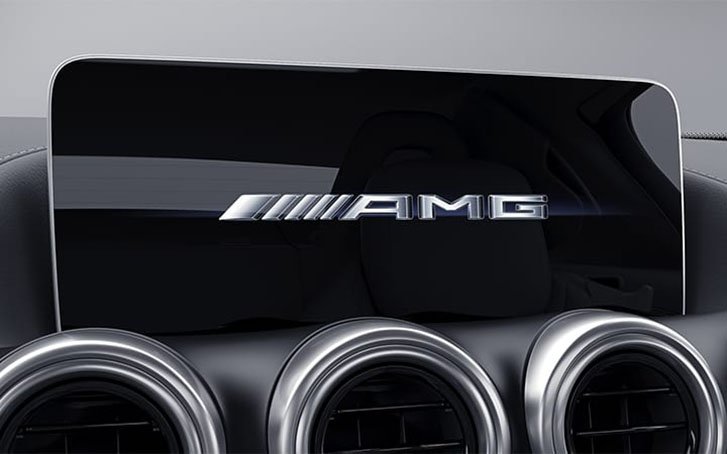 Responds at a touch, reveals at a glance.
A console controller and 10.25-inch central screen deliver entertainment, navigation and apps with animated displays and intuitive menus. The 12.3-inch digital instruments offer multiple gauge designs and exclusive AMG readouts of turbo boost, oil temperature, speed and gear selection.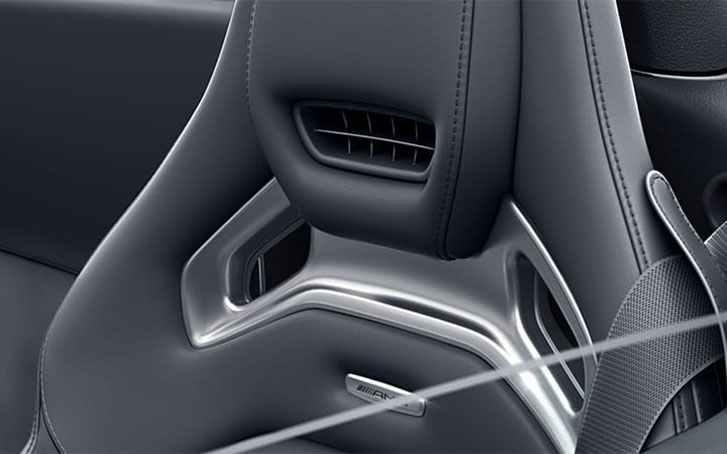 Shifts the seasons.
With a sonorous exhaust note you can unleash at the touch of a button, you're going to want to drive top-down as often as possible. Along with heated seats, standard AIRSCARF® can envelop your neck and shoulders in warmed air, turning a cool evening into the perfect time for an open-air drive.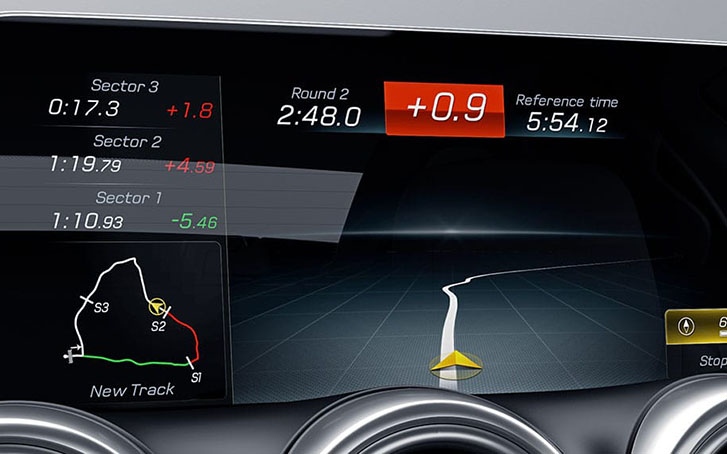 A virtual trainer in your dash.
Using performance driving data from your car, AMG Track Pace can turn your car's central screen into a virtual driving instructor. Its ability to store and display key performance data during track driving helps you analyze your skills and hone them even sharper.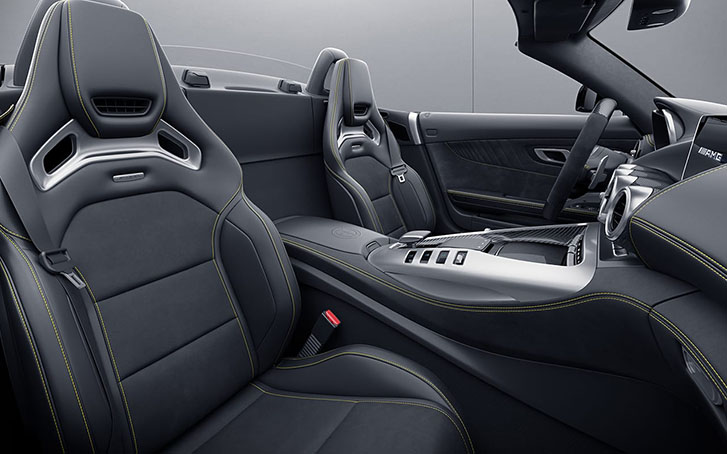 AMG Performance seats.
The standard AMG Performance seats offer a high degree of support and a high level of comfort. AMG GT C Roadster with Black Exclusive Nappa leather/DINAMICA (yellow stitching) pictured above.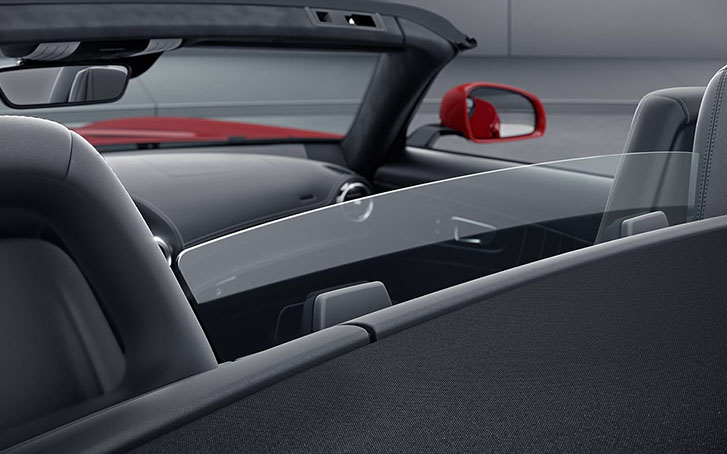 Wind deflector.
A see-through fixed wind deflector helps keep the cabin calm during top-down motoring. AMG GT Roadster in Jupiter Red with Black Exclusive Nappa leather pictured above.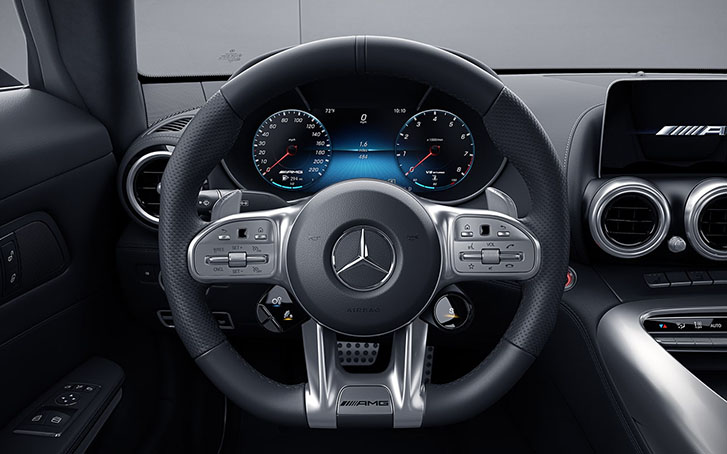 AMG DRIVE UNIT.
The AMG DRIVE UNIT places key performance controls with color readouts on the steering wheel. AMG GT Roadster with standard AMG Performance steering wheel in Nappa leather pictured above.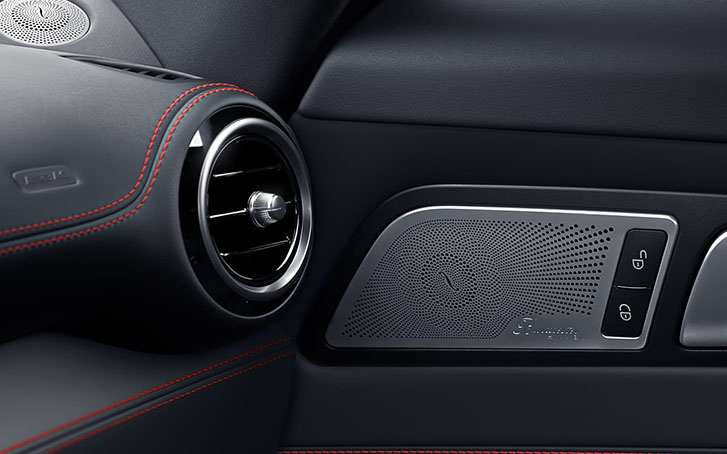 Burmester Surround Sound system.
Ten high-quality speakers and a 640-watt/10-channel digital amp fill the cabin with lifelike sound.
2021 Mercedes-Benz AMG GT Roadster SAFETY & WARRANTY
MB Limited Warranty
All new Mercedes-Benz vehicles are protected by our New Vehicle Limited Warranty, covering defects in material or workmanship for 48-months or 50,000 miles, whichever comes first. For added protection, the Mercedes-Benz Extended Limited Warranty offers continued peace of mind with prolonged coverage tailored to your needs.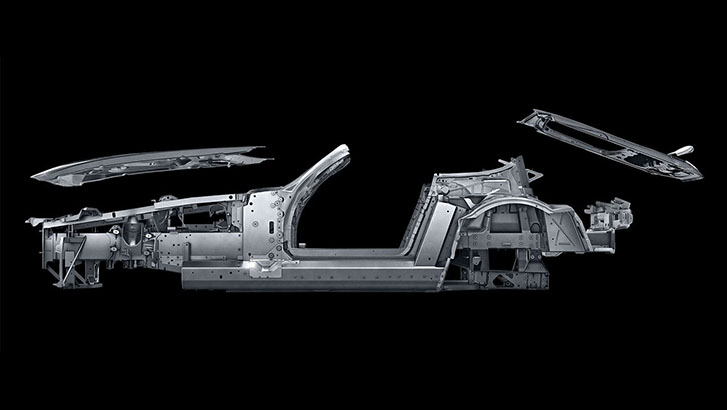 An intelligent mix of materials.
The GT's spaceframe achieves high torsional and longitudinal rigidity with exceptionally low weight. Engineered from the outset as a roadster, there's no weight penalty over the GT coupe. Aluminum makes up 97% of the body and frame by weight, along with magnesium, carbon fiber and advanced polymers.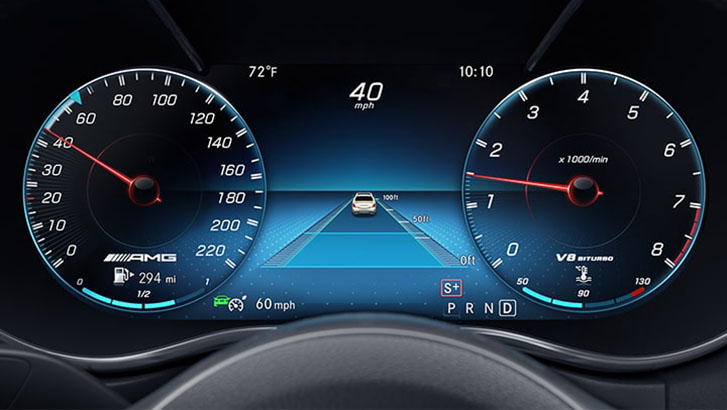 A protective, proactive eye on the future.
Radar-based Active Brake Assist can help you avoid some frontal collisions, and can even initiate braking. ATTENTION ASSIST® can help sense a drowsy driver. Front and rearview cameras, PARKTRONIC, and available Blind Spot and Lane Keeping Assists help smooth your moves from the driveway to the highway.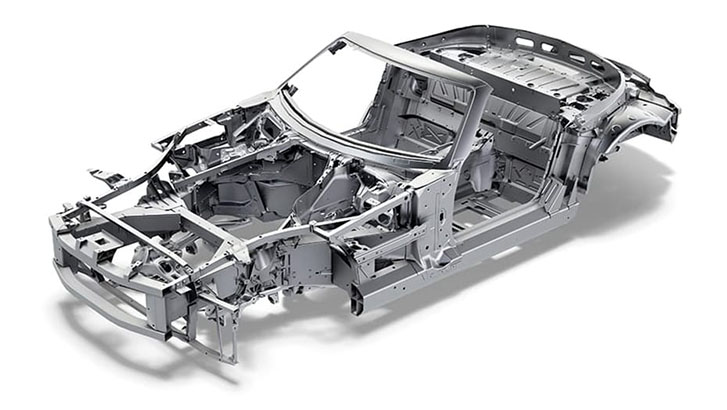 Development and testing.
Though fully conceived and developed by AMG, the Mercedes-AMG GT body structure and safety systems conform to the industry-leading standards of Mercedes-Benz. In addition to its advanced restraints and active safety systems, the vehicle underwent the full testing regimen during its development, from countless computer simulations with its aluminum spaceframe and body to an extensive series of actual crash tests.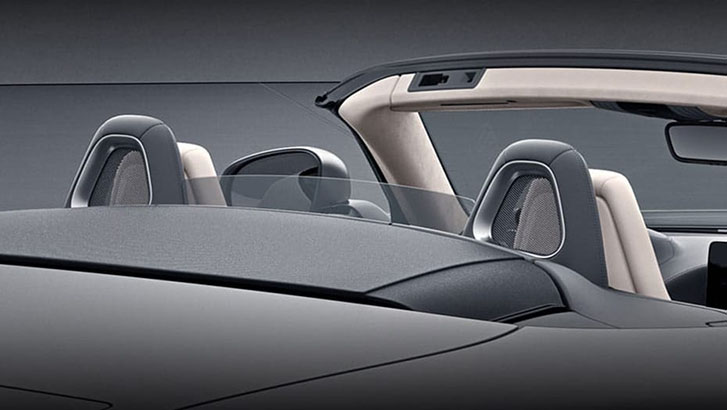 Dual roll bars.
A pair of tubular roll bars are affixed to the car's rigid, reinforced rear bulkhead. The windshield frame is also fortified.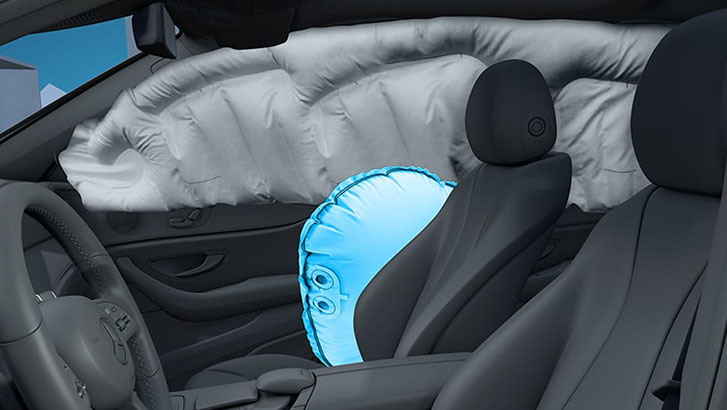 Eight air bags.
A system of eight advanced air bags is designed to offer protection in a variety of accident types. Dual-stage front air bags are augmented by knee air bags for both the driver and passenger. And each seating position is provided with a side-impact thorax/pelvis air bag and curtain-type head protection air bag.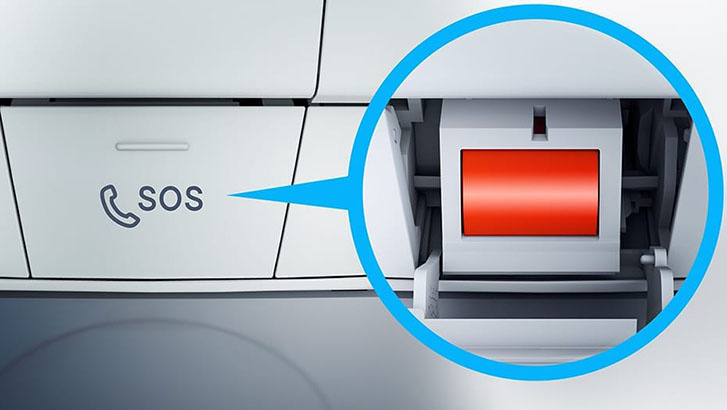 Mercedes-Benz Emergency Call service.
If an air bag deploys, your car can automatically initiate a call to Mercedes-Benz Emergency Services, transmitting your GPS-determined location and helpful vehicle information on your behalf. Trained experts are on call 24/7 to help summon local emergency responders to your location. You can also press the SOS button in the vehicle anytime you need emergency assistance, or see someone else who does. This vital service is provided for as long as you own the vehicle, no matter who's driving.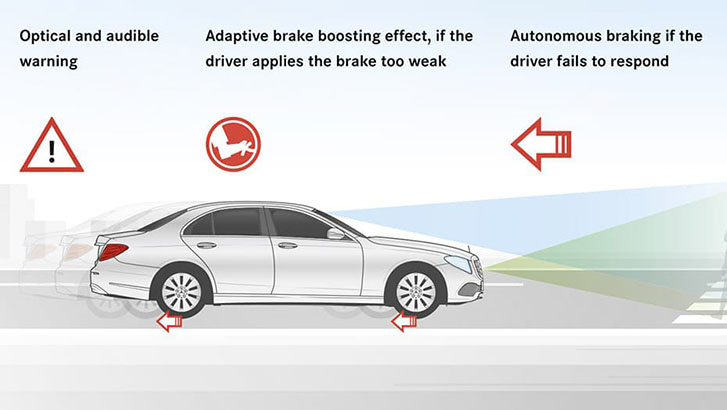 Adaptive braking technology.
Adaptive braking technology integrates a suite of advances. If you lift off the accelerator quickly, Predictive Brake Priming can set the pads closer to the discs for more immediate response when you apply the brakes. In the rain, Automatic Brake Drying can periodically apply the brakes just enough to sweep water build-up from the discs. During uphill starts, Hill-Start Assist can help prevent unwanted rollback. And a HOLD feature can make long red lights or stopped traffic a little easier.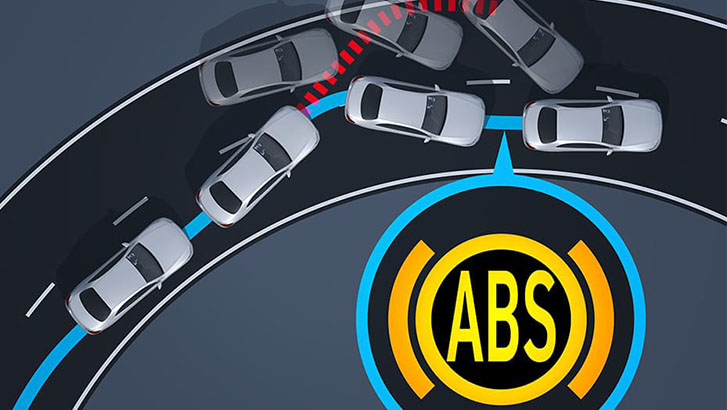 Antilock Braking System (ABS).
The Antilock Braking System (ABS) can sense impending wheel lockup under heavy braking, and pump the front brakes individually or the rear brakes together up to 30 times per second. By preventing wheel lockup, ABS helps preserve the driver's steering ability during hard braking.