2021 Mercedes-Benz AMG E-Class Coupe OVERVIEW
2021 Mercedes-Benz AMG E-Class Coupe For Sale
MotorTrend's 2021 Car of the Year®
AMG-enhanced 3.0L inline-6 turbo engine with EQ Boost
Up to 4.3 sec 0-60 mph acceleration
Up to 21 City/28 Hwy Est MPG

2021 Mercedes-Benz AMG E-Class Coupe MODELS

Mercedes-Benz AMG E-Class Coupe For Sale
Mercedes-Benz AMG E-Class Coupe PERFORMANCE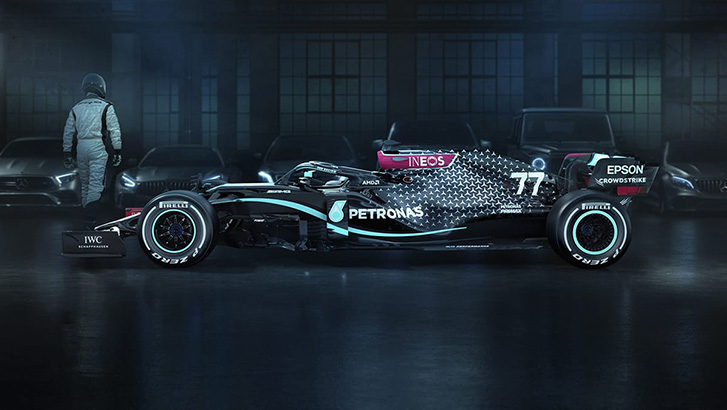 Cross-trained by a team of champions
An AMG E-Class benefits from 50-plus years of racing victory through the direct involvement of the same teams in its development. From chassis setups to the fine-tuning of its controls, AMG performance is defined by orchestrated, integrated teamwork.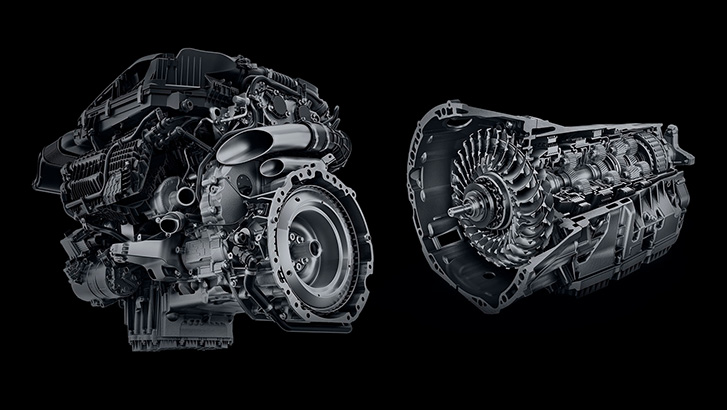 Triple-charged torque
A twin-scroll turbo plus an electric auxiliary compressor pump up the high-tech inline-6 to 429 hp, 384 lb-ft, and 0-60 in just 4.3 seconds. Electric EQ Boost can add 21 hp of its own. The AMG SPEEDSHIFT® TCT 9-speed offers multiple modes and multigear downshifts.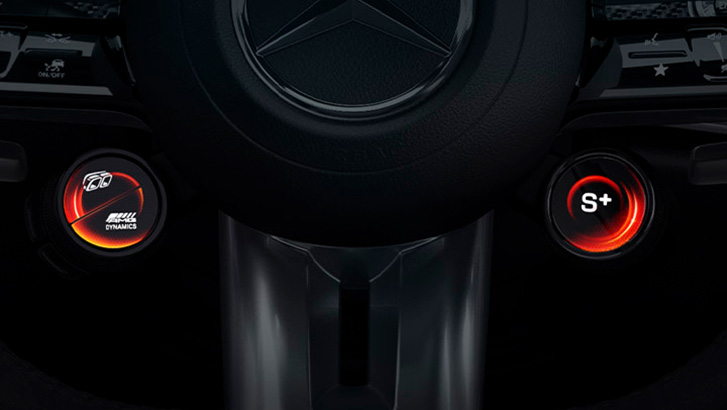 Touch-tuning
AMG DYNAMIC SELECT lets you fine-tune your car's performance via controls on the console or the standard steering-wheel AMG DRIVE UNIT. Five driving modes, one customizable, adapt the throttle, shifting, chassis and more from Slippery to Sport+.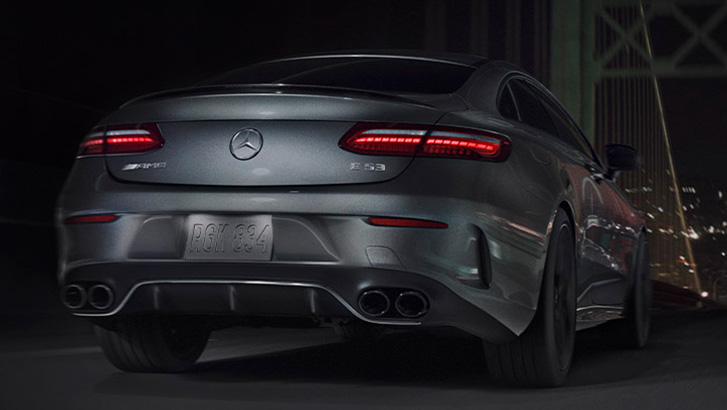 Rouse to the occasion
The AMG Sport Exhaust turns the rise and ebb of rpm into a rousing soundtrack. With multimode internal flaps, the available AMG Performance Exhaust lets you heighten the crescendos, or tone them down.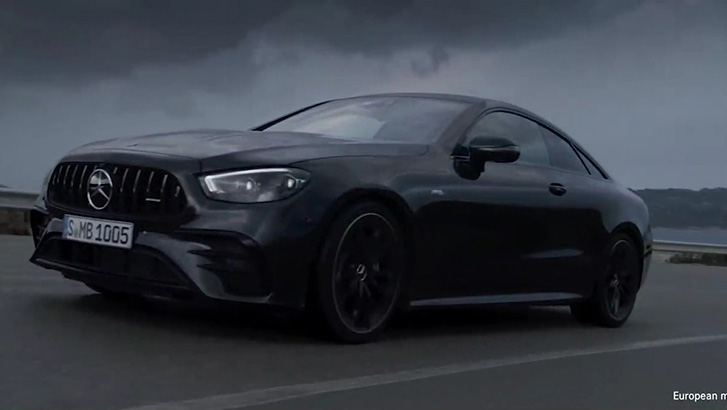 Traction-tailored torque
Fully variable AMG Performance 4MATIC+ can send torque to the wheels that can best turn traction into action. From launch grip to cornering, 4MATIC+ can go from 50/50 front/rear, up to 100% RWD.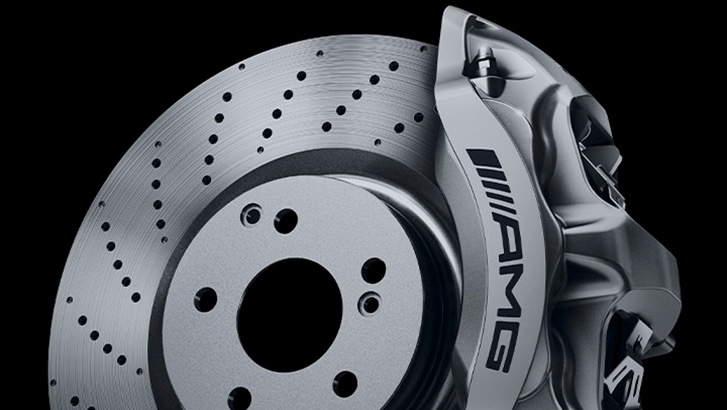 High-caliber calipers
AMG Performance brakes feature substantial, perforated and ventilated 14.6-inch front discs with beefy 4-piston calipers.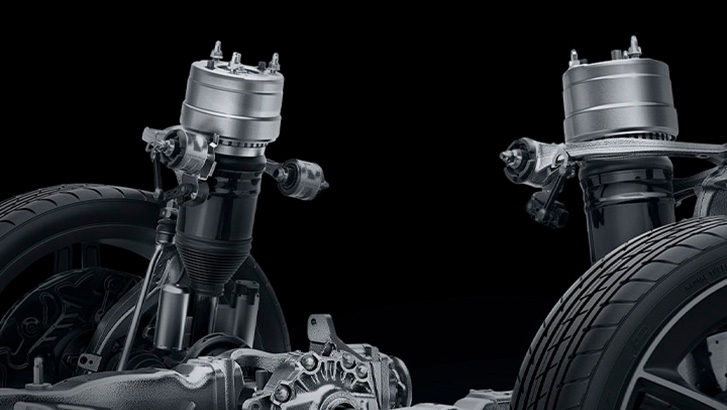 Pressure-treated limber
Based on AIR BODY CONTROL, the AMG Sport Suspension turns pressurized air into pure agility. It can adapt in milliseconds to changing roads, loads, and the modes of AMG DYNAMIC SELECT. It's self-lowering, self-leveling, and equal parts tenacity and composure.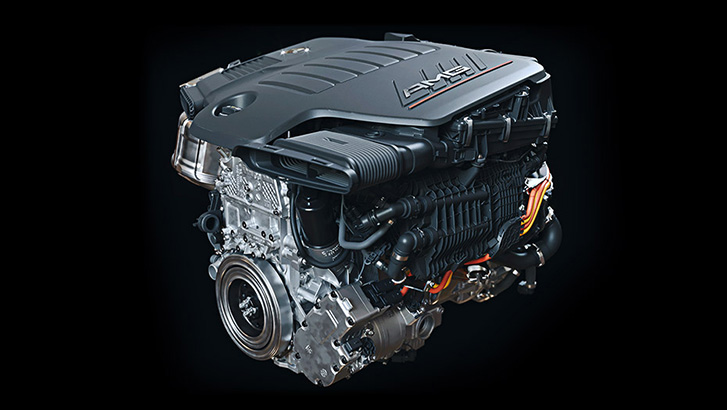 AMG-enhanced 3.0L inline-6 turbo engine with EQ Boost
The seamless power and natural balance of an inline-6 return with another Mercedes-AMG tradition: a technological leap forward. The lightweight, fully beltless engine is also electrified: An Integrated Starter-Generator can supply up to 21 hp at certain rpm, allow fuel-free coasting, and recapture energy during deceleration. With a twin-scroll turbo and electric auxiliary compressor, the gas engine outputs 429 hp and 384 lb-ft of torque on its own, for quick, efficient response.
2021 AMG E-Class Coupe APPEARANCE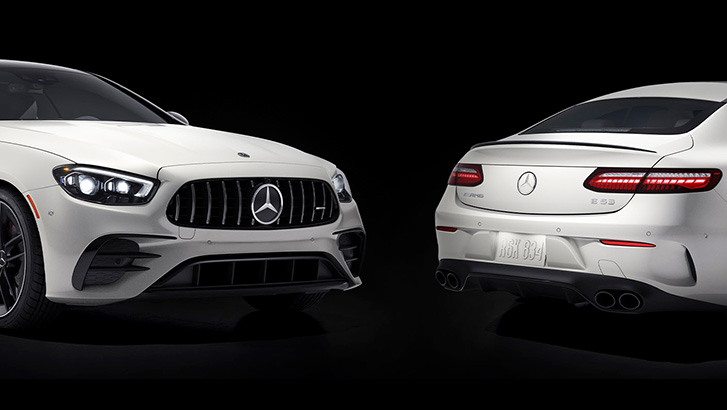 The lines of a fast family
Vertical grille bars evoke a deep racing legacy. A deep front apron, rear spoiler, and sleek LED lighting pierce the future. The E 53's AMG performance heritage shines on every surface of its body, or the road.
Cast-alloy character
Standard 19-inch AMG® wheels, or any of four 20-inch options, take a confident stance on handling. Wider rear wheels enhance grip at launch, with front wheels sized for crisp steering feedback.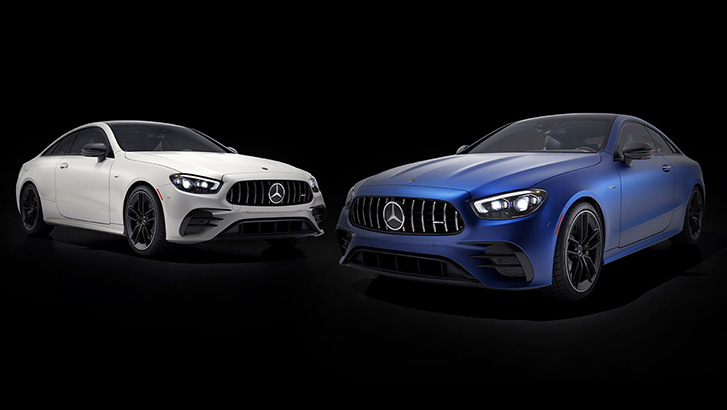 Details of distinction
AMG Carbon Fiber and Night Packages further embolden the E 53 Coupe. A new dark-tinted grille option deepens the blackout effect of the Night Package.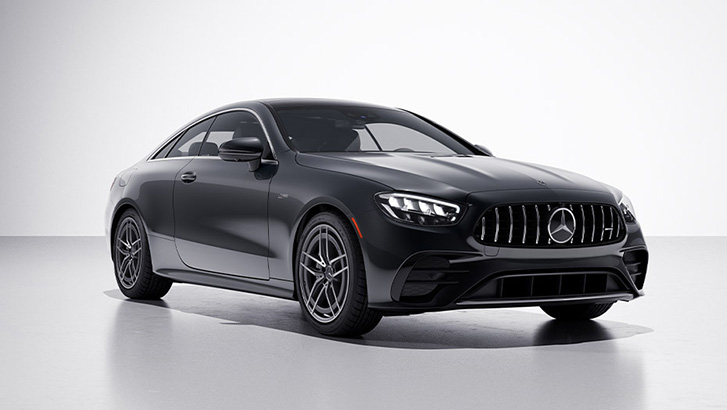 "Sensual purity" in coupe design
An AMG E-Class coupe wraps its technological leadership in a shape that advances its true-coupe tradition. Aggressive yet elegant lines sweep from a new vertical-bar AMG grille and LED headlamps to wide, wraparound LED taillamps via a sleek pillarless profile. A long wheelbase and wide stance offer spacious comfort for four, while its rakish roofline and aero-optimized details reveal that the timelessly modern appeal of a Mercedes-Benz coupe is equal parts performance, passion, and purity.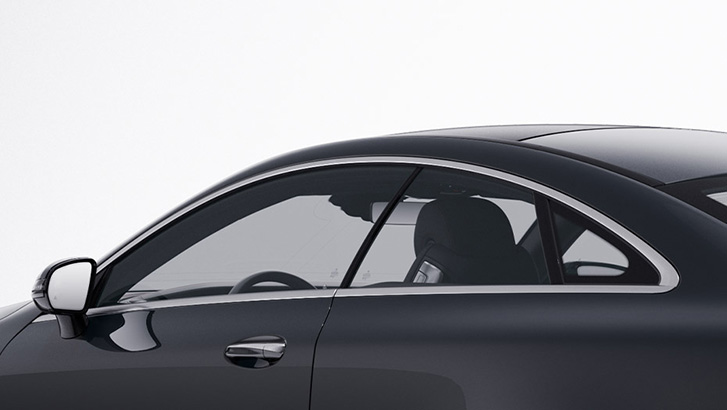 Pillarless hardtop design
The classic Mercedes-Benz coupe signature is a sweeping profile with no visible framework interrupting the four power side windows. Called pillarless design, it's a not just a class-exclusive but a bodystyle only Mercedes-Benz has produced continuously for over half a century. It takes an extensive degree of engineering to deliver the airy elegance and sporty energy of a pillarless coupe with the security and solidity expected of a Mercedes-Benz, but it reflects the passion behind the Star.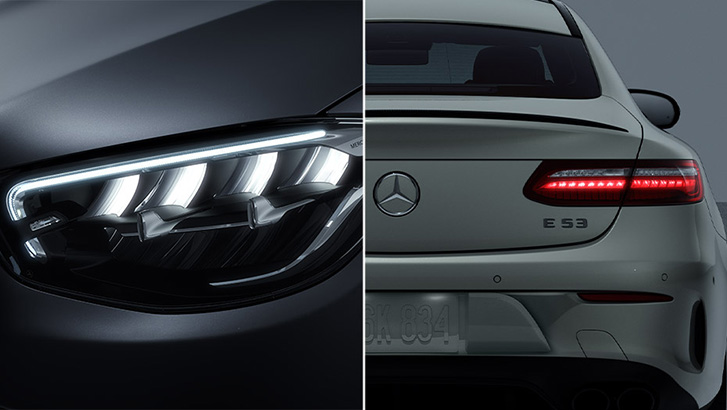 All-LED exterior lighting
From its headlamps to its distinctive taillamps, a network of long-lasting and energy-efficient LEDs accomplish every exterior lighting function with distinctive style. The wide, wraparound LED taillamps accentuate the car's athletic stance. LEDs also offer quicker illumination, offering other drivers more time to react to your brake lamps and other signals.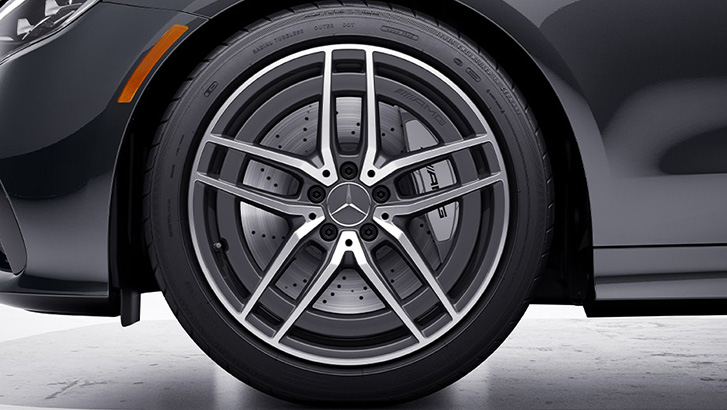 19-inch AMG twin 5-spoke wheels w/grey accents
With five pairs of twin spokes, these 19-inch AMG® wheels feature grey-painted inlays for a high-tech look. Wheels and all-season Extended Mobility tires are staggered in width, wider at the rear axle for greater acceleration grip while maintaining crisp steering feedback.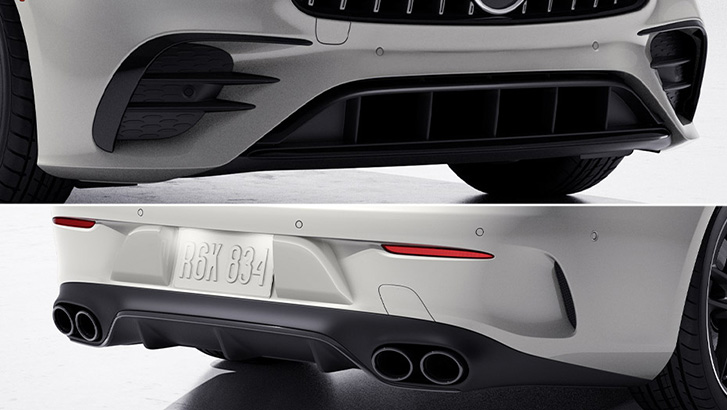 AMG Night Package
The Night Package adds even more jet-black accents to the menacing look of the AMG E 53. The front splitter and air-intake fins, as well as the side mirrors, side window surrounds and rear valance insert, are all finished in deep gloss black. Black chrome tailpipes complete the transformation.
Mercedes-Benz AMG E-Class Coupe COMFORT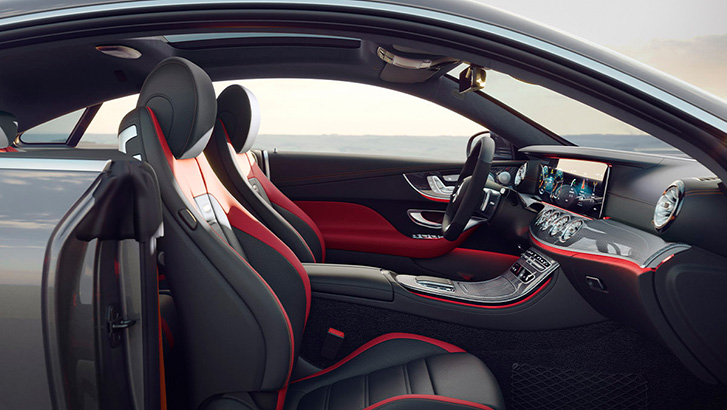 Panoramic vision, inside and out
Within the unimpeded vistas of its pillarless design, the E 53 Coupe cockpit presents driving information via widescreen displays and a wide array of intuitive touch and voice controls.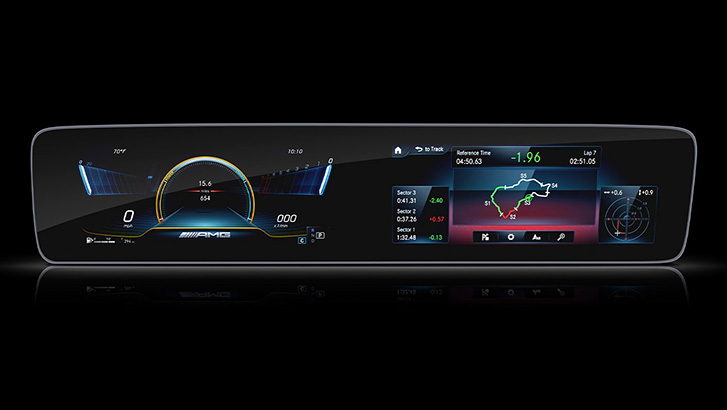 Tailored by technology
Dual 12.3-inch screens include a reconfigurable digital instrument panel with exclusive AMG performance readouts. Available AMG Track Pace lets you graph your skills on the central touchscreen.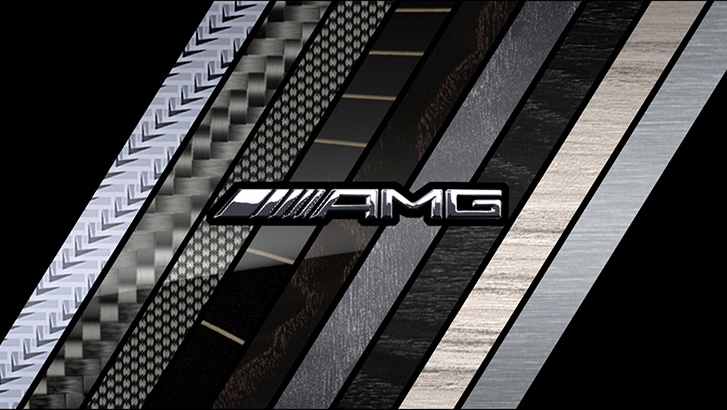 Outgoing, and ongoing
Expressive style starts with a range of leathers and nine trim options. And you can tailor the cabin to suit your mood, over and over, with 64-color LED ambient lighting, plus available multicontour front seats.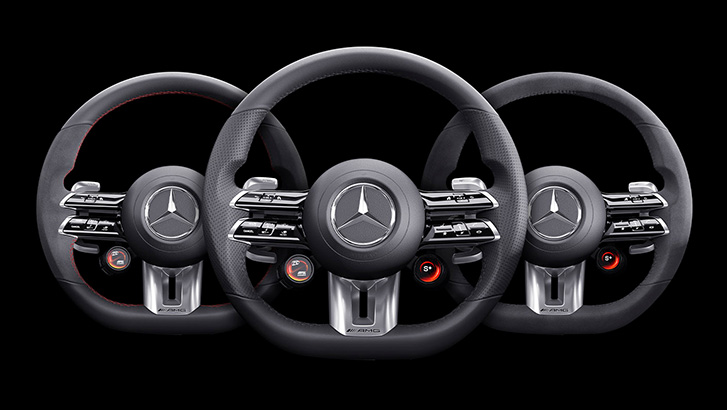 A higher sense of touch
Offered in three finishes, the AMG Performance steering wheel features a new twin-spoke design with capacitive touch controls. The standard AMG DRIVE UNIT puts performance controls right on the wheel.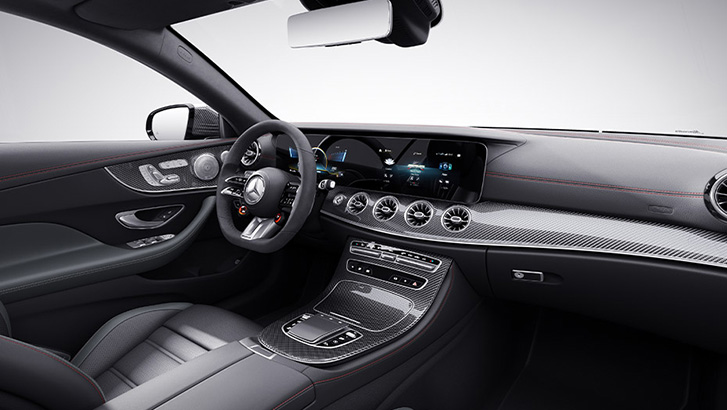 Elegantly sporty, extra-spacious cabin
Four individually tailored seats are an E-Class Coupe tradition. So is the driver focus of its advanced digital instruments and touch or voice controls. With a wheelbase stretching more than four inches beyond the previous generation's, the newest E-Class Coupe offers exceptional rear-cabin comfort. It's a true four-seater, not only by the count of its seating positions, but also by the measures that count even more: comfort, craftsmanship and contentment for all aboard.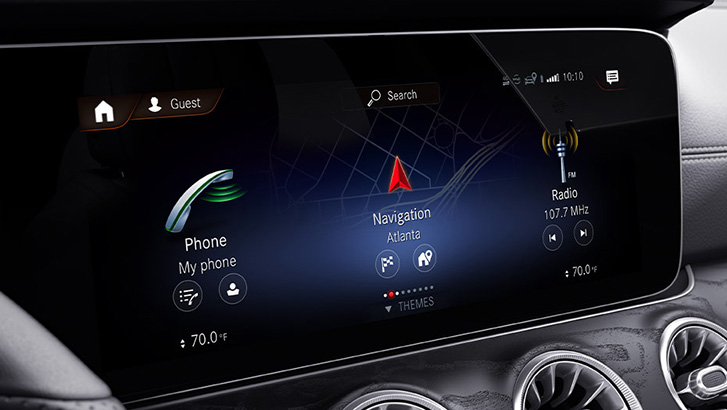 Mercedes-Benz User Experience (MBUX)
A groundbreaking concept in automobile cockpit control, the Mercedes-Benz User Experience advances to the forefront of innovation. MBUX integrates digital in-dash displays including a touchscreen, touch-sensitive controls, Bluetooth® hands-free and audio streaming, and an available industry-advancing voice control system that responds to your everyday speaking voice and phrasing of commands. You can set up multiple user profiles of favored settings, and groups of settings can be saved as themes or moods.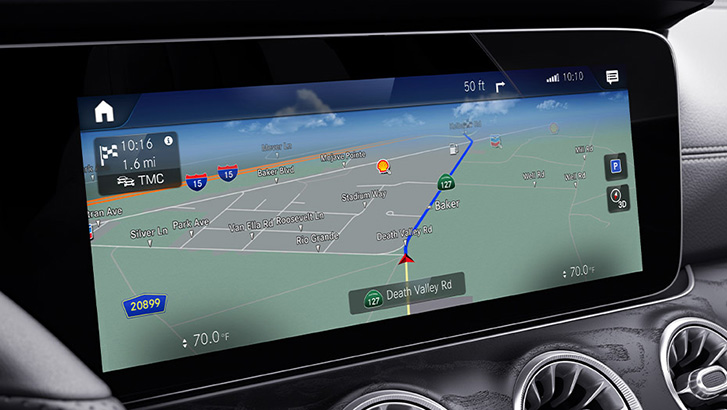 MB Navigation
Using GPS technology and a fast hard drive to store maps and points of interest, this virtual copilot provides detailed driving directions with remarkable speed and a friendly voice. The 12.3-inch high-resolution color touchscreen displays 3D maps with building profiles. Operation is made easy by a choice of four input methods, including your natural voice, so finding a Point of Interest can be as easy as saying "Hey, Mercedes, I'm hungry."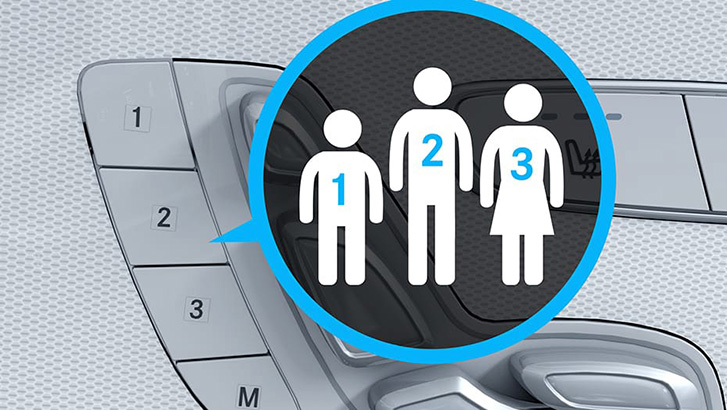 Power sport front seats with memory
Power front seats feature intuitive, seat-shaped controls on the door, plus a 4-way power lumbar support. To set and save your ideal driving position, a memory system for each front seat recalls three stored positions for the seat, plus the positions of the 4-way power steering column and side mirrors for the driver. Deep side bolsters add lateral support in turns.
2021 Mercedes-Benz AMG E-Class Coupe SAFETY & WARRANTY
MB Limited Warranty
All new Mercedes-Benz vehicles are protected by our New Vehicle Limited Warranty, covering defects in material or workmanship for 48-months or 50,000 miles, whichever comes first. For added protection, the Mercedes-Benz Extended Limited Warranty offers continued peace of mind with prolonged coverage tailored to your needs.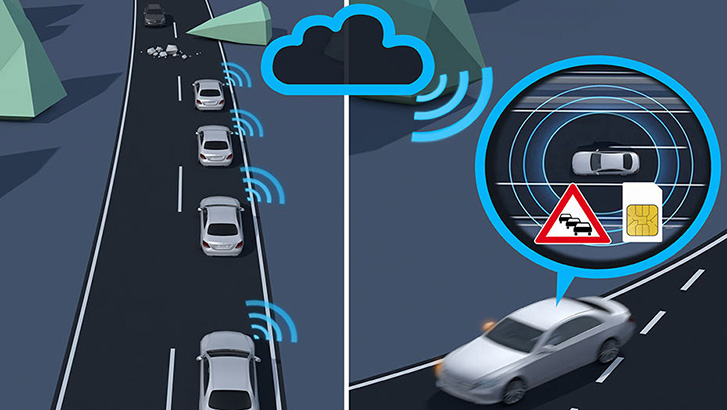 Car-to-X Communication
In the future, cars will be able to communicate with each other over the airwaves. In the E-Class, the future starts today. With its industry-leading Car-to-X Communication, every new E-Class can automatically alert a central notification system of certain dangers, from detected wheelspin to the use of hazard flashers or even windshield wipers. The system can then alert other drivers with Car-to-X via in-dash displays or announcements, allowing precautions to be taken before reaching the hazard.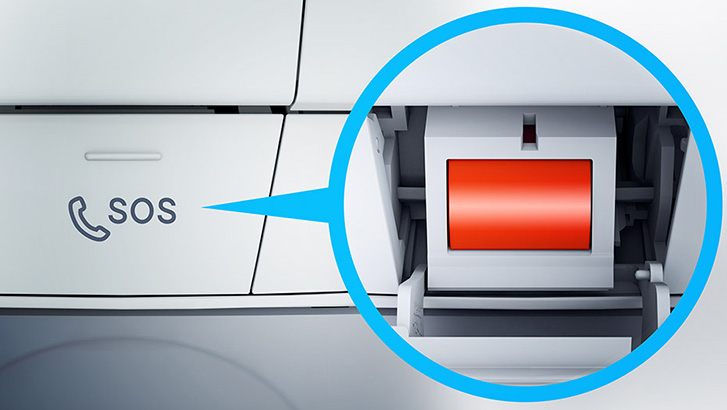 Mercedes-Benz Emergency Call Service
If an air bag deploys, your car can automatically initiate a call to Mercedes-Benz Emergency Services, transmitting your GPS-determined location and helpful vehicle information on your behalf. Trained experts are on call 24/7 to help summon local emergency responders to your location. You can also press the SOS button in the vehicle anytime you need emergency assistance, or see someone else who does. This vital service is provided for as long as you own the vehicle, no matter who's driving.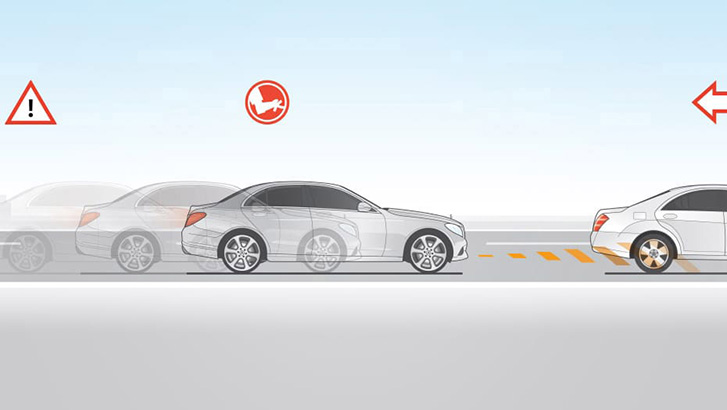 Active Brake Assist
Radar-based technology can alert you if you're approaching a vehicle ahead, or even some stationary objects, at a speed and distance that suggest a collision is likely. As soon as you start to brake, it can automatically provide an appropriate level of braking to help prevent a collision or reduce its severity. If you fail to respond, it can also initiate braking automatically at a range of driving speeds. The system can also detect and react to crossing pedestrians at typical city speeds.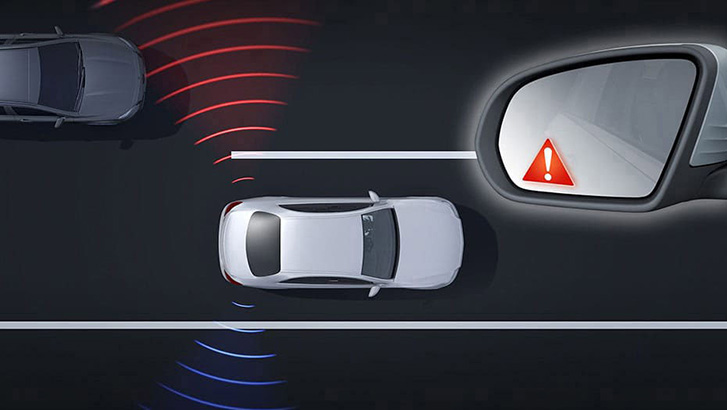 Blind Spot Assist
At most driving speeds, radar technology helps sense when a vehicle enters your blind-spot area. Blind Spot Assist can then automatically alert the driver via an illuminated icon in the appropriate side mirror. The system can also give an audible warning if the driver activates a turn signal while a vehicle is detected in the blind spot.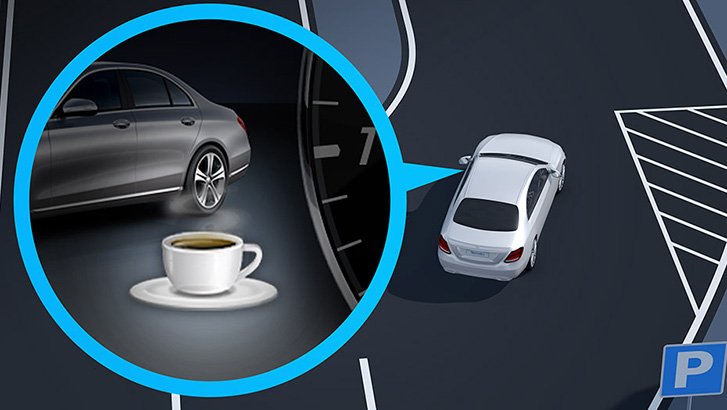 ATTENTION ASSIST
The first system of its kind, ATTENTION ASSIST® continuously monitors up to 70 parameters of driving behavior, and can automatically alert the driver with both visual and audible warnings if it detects signs of drowsiness on long trips. With enhanced sensitivity, the system can also help detect drivers who begin their trip drowsy, and offer more useful information to drivers along their journey via a dashboard display.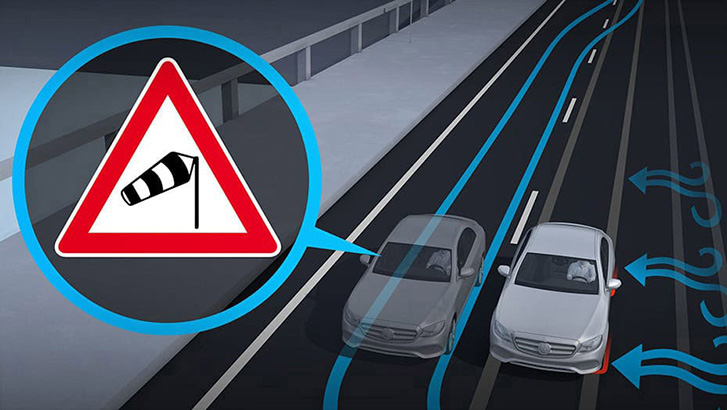 Crosswind Assist
Interpreting information that is continually supplied by the car's Electronic Stability Program (ESP®), electric power steering and suspension sensors, Crosswind Assist helps detect the effects of strong side winds on the vehicle's handling stability at highway speeds. Whether caused by lateral gusts or even a passing truck, the system can help keep the car on course via strategic braking of the wheels on one side of the vehicle.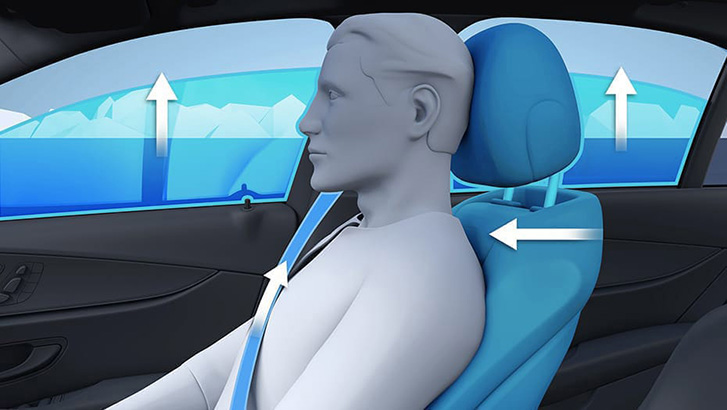 PRE-SAFE
A Mercedes-Benz first, PRE-SAFE® can detect instability during certain vehicle maneuvers that suggest a collision or rollover is imminent. It can then tighten the front seat belts, adjust the front passenger seat, and close the windows and sunroof, all in an effort to better prepare the occupants and restraints in the moments before a collision. If no accident occurs, the seat-belt tensioners reverse, and you simply readjust your seat, open the sunroof and continue on your way.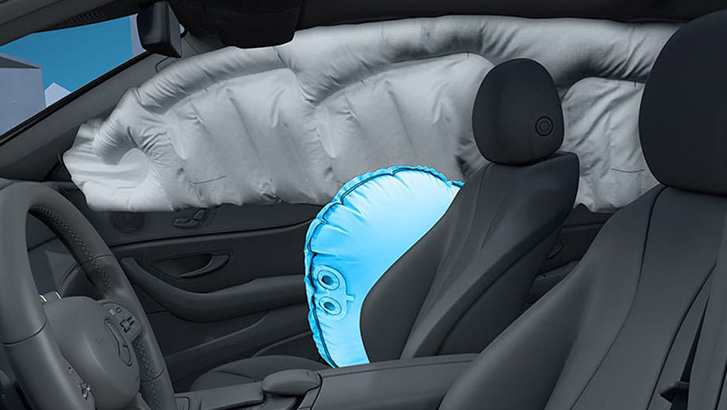 9-way air bag protection
An advanced system of 7 air bags offers 9-way occupant protection. Dual two-stage front air bags, combined thorax/pelvic bags for driver and front passenger, a driver's knee air bag, and side curtain air bags for both seating rows are standard.