2021 Mercedes-Benz AMG CLA Coupe OVERVIEW
2021 Mercedes-Benz AMG CLA Coupe For Sale
AMG 2.0L inline-4 turbo engine
SPEEDSHIFT® DCT 7-speed or 8-speed dual-clutch automatic transmission
Mercedes-Benz User Experience (MBUX)
Up to 382 hp with available handcrafted AMG Engine

2021 Mercedes-Benz AMG CLA Coupe MODELS

Mercedes-Benz AMG CLA Coupe For Sale
Mercedes-Benz AMG CLA Coupe PERFORMANCE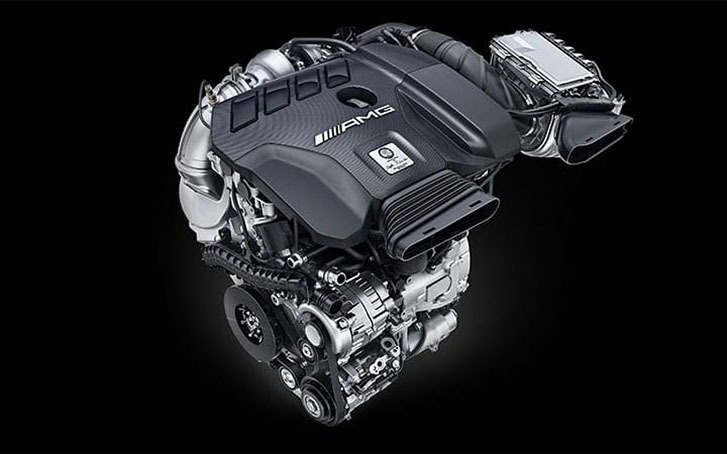 The most powerful gets more powerful
Two 2.0L turbo engines turn the AMG CLA family into a double rush. A 302-hp liquid-to-air intercooled twin-scroll turbo rushes the CLA 35 to 60 in 4.8 seconds. A handcrafted 382-hp engine, the most powerful 4-cylinder in a production car, thrusts the CLA 45 to 60 in just 4.0 seconds.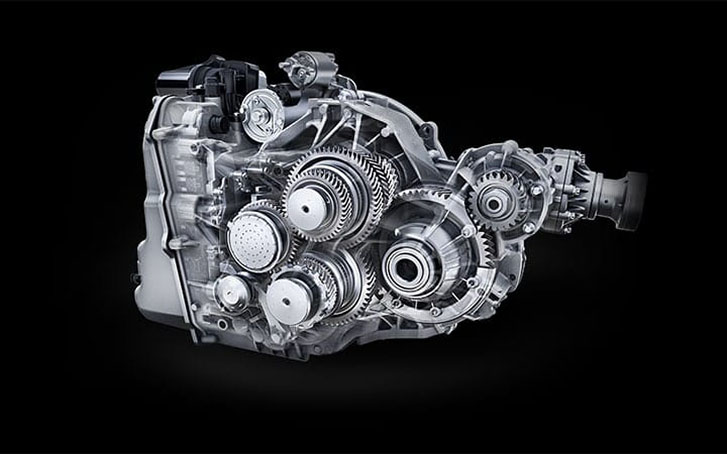 Quick shifting gets quicker
Dual-clutch AMG SPEEDSHIFT® transmissions can change gears more quickly than a human. Both the CLA 35's 7-speed and CLA 45's 8-speed offer a range of modes and manual paddle shifts, plus a RACE START function for the 8-speed. Partial ignition cutoff during upshifts and rev-matched downshifts enhance response, feel and sound.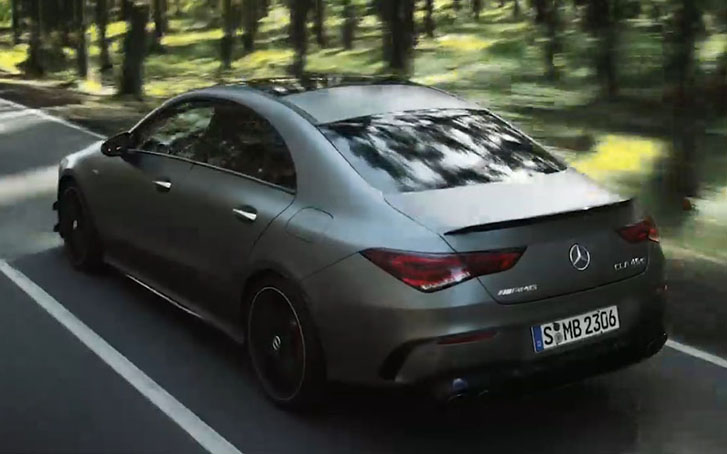 Fine-tuning gets finer
AMG DYNAMIC SELECT lets you alter the shifting, throttle, all-wheel drive and more via a console button. Modes include Comfort, Slippery, Sport+, and make-your-own Individual, plus RACE on the CLA 45. The available AMG DRIVE UNIT places drive-mode controls with color displays right on the steering wheel.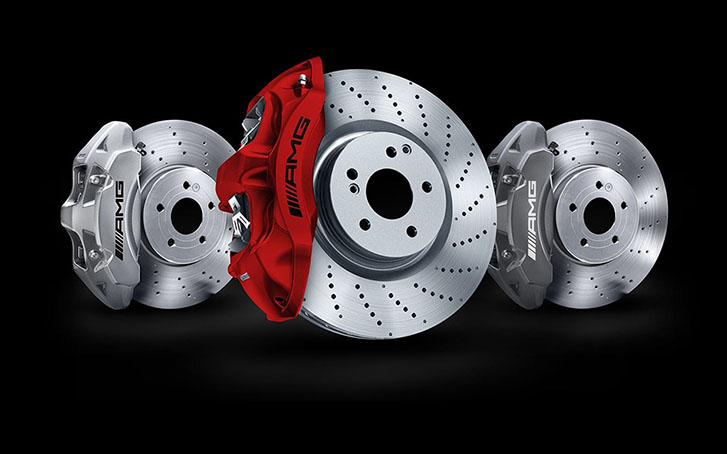 Power unleashed, but never off-leash
MG High-Performance Braking Systems rein in power and speed with 4-piston fixed front calipers grasping standard 13.8-inch perforated discs. The AMG Dynamic PLUS Package further endows the CLA 45 with 14.2-inch front discs and red 6-piston calipers.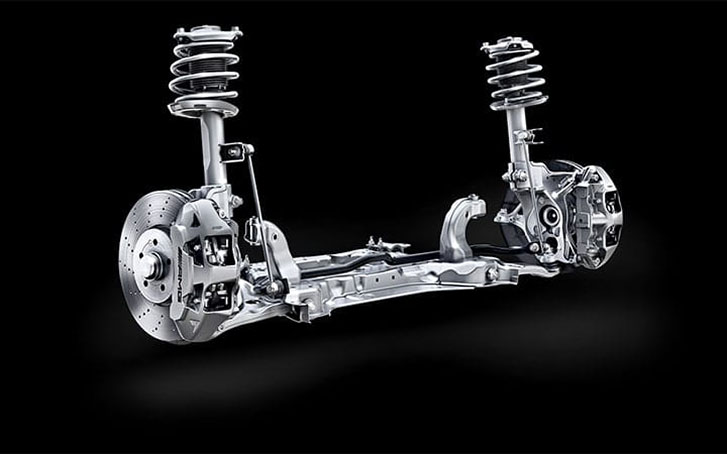 Well-damped moves, undampened spirit
Rigid, lightweight components and sport-tuning add up to handling precision from the double-wishbone front/multilink rear AMG Sport Suspension. Available AMG RIDE CONTROL can adapt the damping rate at each wheel in milliseconds. Three modes offer an ideal setup from daily commuting to track-day cornering.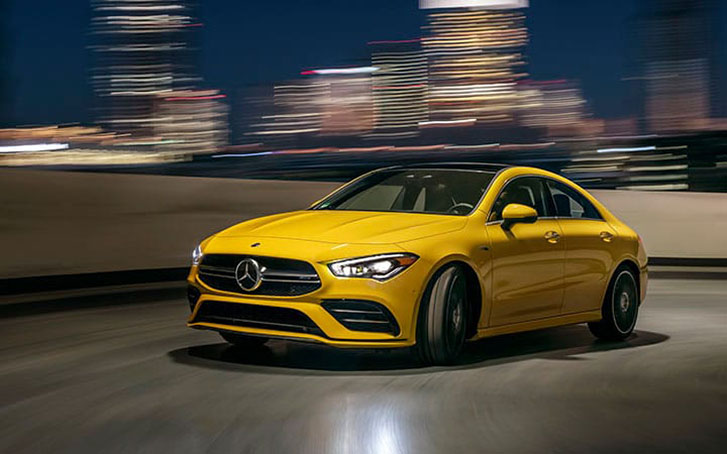 Variable torque, for more consistent traction
Electromechanical clutch packs and constant calculation of driving inputs, speed and g-forces allow AMG Performance 4MATIC to quickly send torque to the tires that can use it best. Rear-axle torque-vectoring further sharpens the CLA 45's AMG Performance 4MATIC+.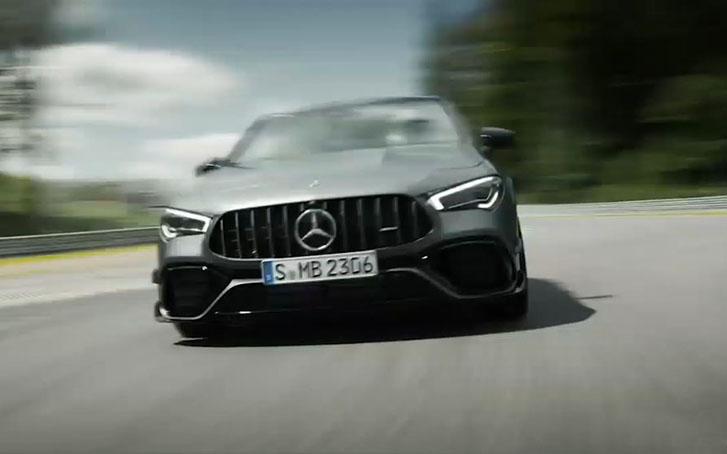 Track-tuned, to track true
With the AMG Dynamic PLUS Package, a steering wheel with AMG DRIVE UNIT buttons connects you to the AMG RIDE CONTROL multimode suspension. Red calipers call out the larger, composite brakes. And AMG Track Pace lets you record and analyze your track driving skills.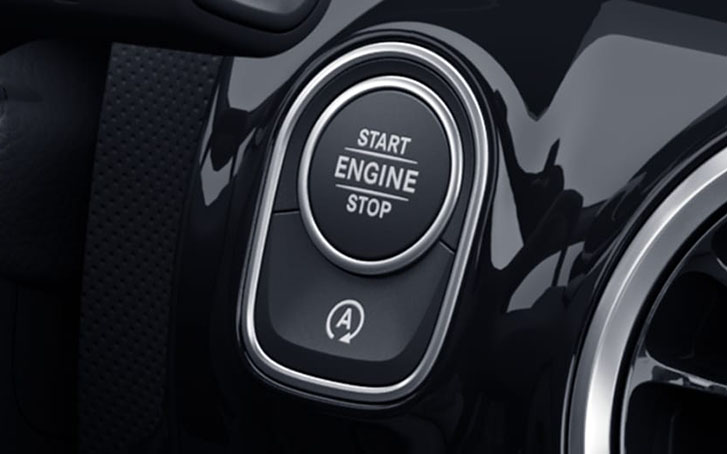 Standard ECO Start/Stop system
An ECO Start/Stop system automatically shuts off the engine at stoplights and other idle situations, to save fuel and reduce emissions. As soon as the driver lifts off the brake, the engine instantly restarts, for immediate acceleration response. The ECO Start/Stop system can also be shut off by the driver at any time.
2021 AMG CLA Coupe APPEARANCE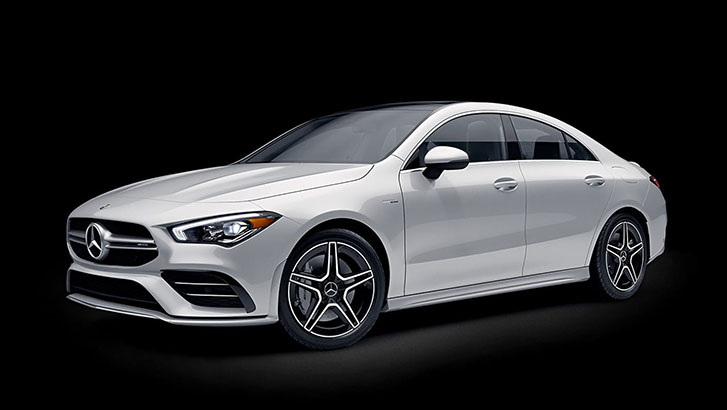 CLA 35 with 18-inch AMG twin 5-spoke wheels
A selection of styling options amplify the presence each AMG CLA coupe asserts with its own distinctive grille and lower bodywork. Each model offers no fewer than four 18-inch and 19-inch AMG® wheel choices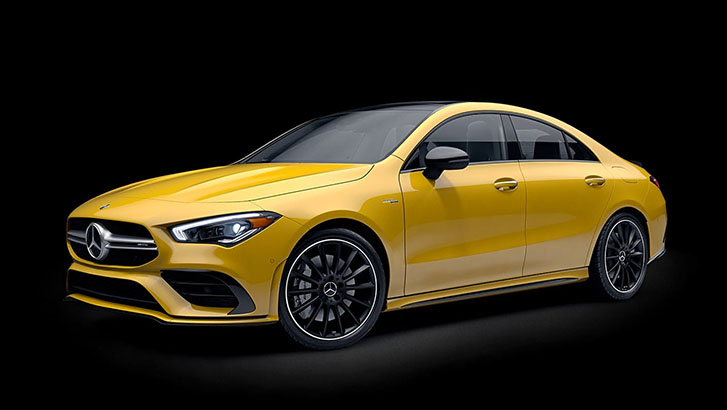 CLA 35 with AMG Night Package
Exterior packages can add bold black accents and functional aerodynamic enhancements.
AMG body styling
The CLA and AMG join forces in style. The vertical-bar AMG grille is underscored by a deep air dam with an "A-wing" design featuring large, deeply sculpted intakes and color-keyed details. Flared side sills bridge the standard 19-inch wheels. The deep rear valance embraces the four round AMG tailpipes and black diffuser. And a highly effective, wind-tunnel-shaped rear spoiler brings the flowing lines to a dramatic finish.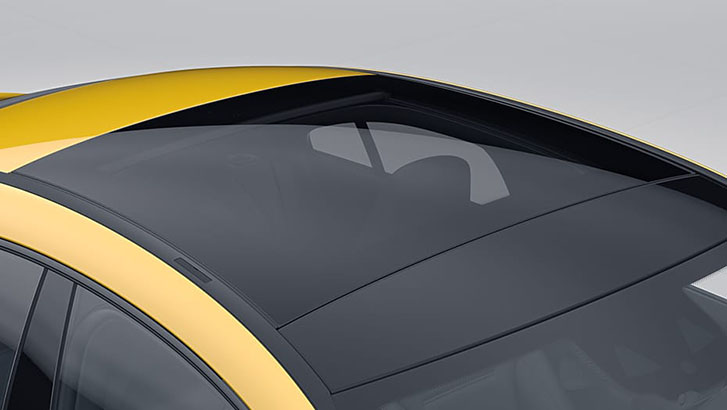 Panorama roof
Offering sweeping skyward views to both front- and rear-seat passengers, this giant, fully functional glass sunroof features a large panel that can tilt up for ventilation or slide back for an open-air feeling. A power interior shade lets occupants vary the amount of sunlight entering the cabin, and you can even open and close it using the car's advanced voice control system.
Mercedes-Benz AMG CLA Coupe COMFORT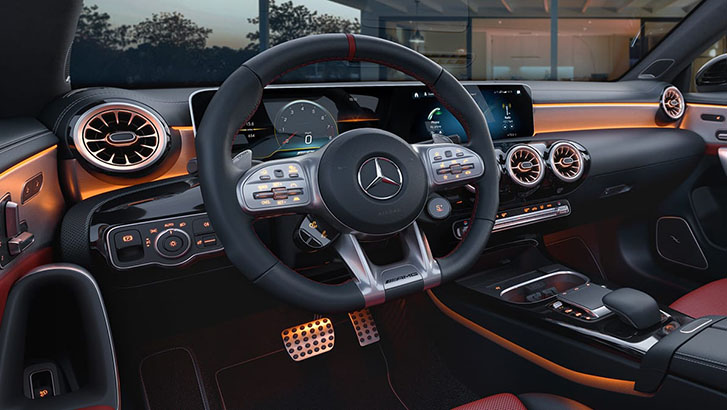 A multisensory sense of command
The digital cockpit of the AMG CLA coupes is furnished and finished to make you feel at one with the car's performance prowess. Deeply bolstered seats, crisp displays and ergonomically designed controls support your every driving move, while also letting you and your passengers ride in composed comfort.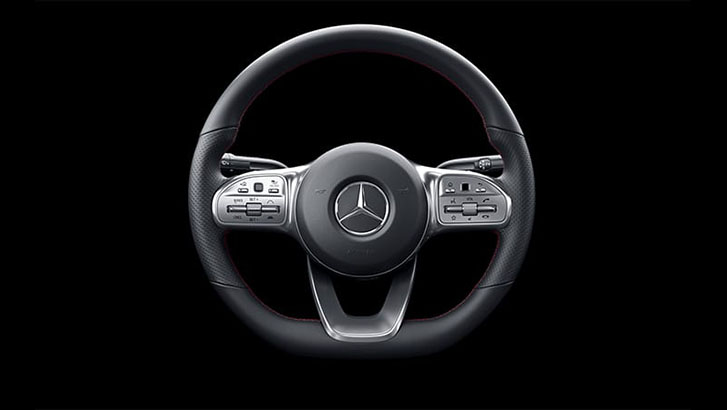 Surefooted in your hands
The standard flat-bottom steering wheel features Touch Control Buttons, shift paddles and Nappa leather trim. Three AMG Performance options let you wrap their contoured rim in Nappa leather, grippy DINAMICA microsuede, or a combination of both. You can also add the AMG DRIVE UNIT performance controls.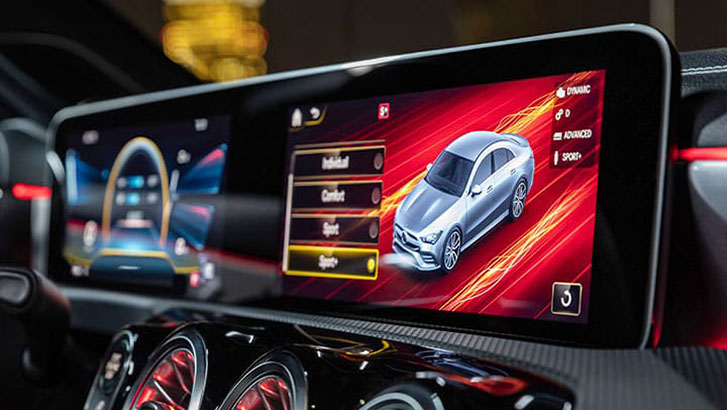 Displays of precision
Standard dual 10.25-inch digital displays include a central multimedia touchscreen and reconfigurable instruments with AMG-exclusive design, readouts and menus. An available Head-Up Display projects key driving information closer to your natural line of sight.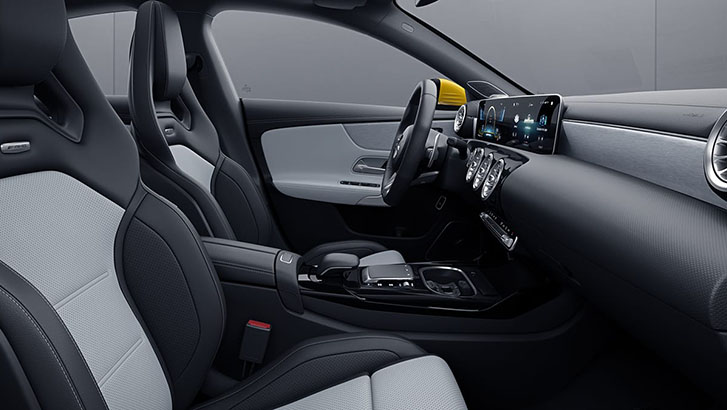 Always in your corner
Standard power front seats are deeply bolstered, with integrated head restraints inspired by racing seats. Even racier AMG Performance front seats are available. A range of upholstery colors can be complimented by a choice of aluminum and natural-grain wood trim options.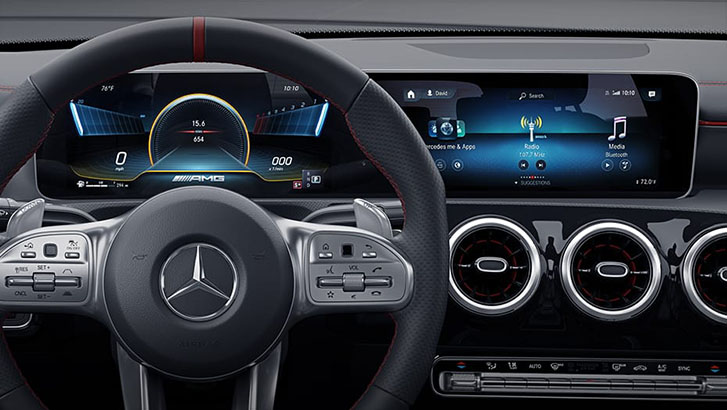 Mercedes-Benz User Experience (MBUX)
A leap ahead in automobile cockpit control, the Mercedes-Benz User Experience advances to the forefront of innovation. MBUX integrates digital in-dash displays including a touchscreen, touch-sensitive controls, Bluetooth® hands-free and audio streaming, and an available industry-advancing voice control system that responds to your everyday speaking voice and phrasing of commands. You can set up multiple user profiles of favored settings, and groups of settings can be saved as themes or moods.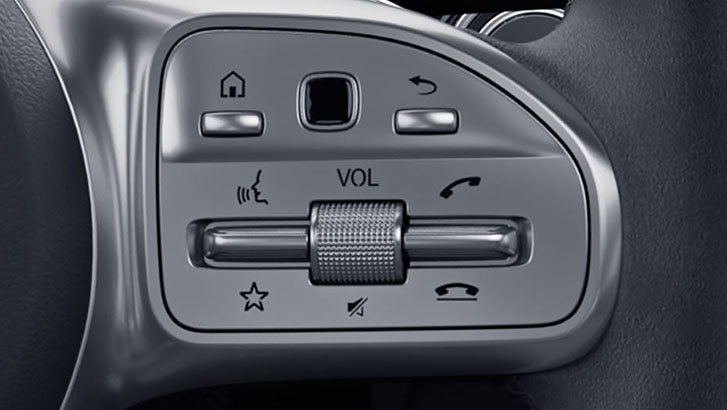 Voice Control with Natural Language Understanding
A highly advanced system takes voice control to a fascinating level. Memorizing fixed commands is a thing of the past, and artificial intelligence makes the Mercedes-Benz User Experience (MBUX) a future you can live today. Vehicle functions respond to natural, conversational phrases. For example, say "I feel cold" and MBUX can adjust the climate control. It even learns new phrases over time, and responds with more flexible and friendly language as well.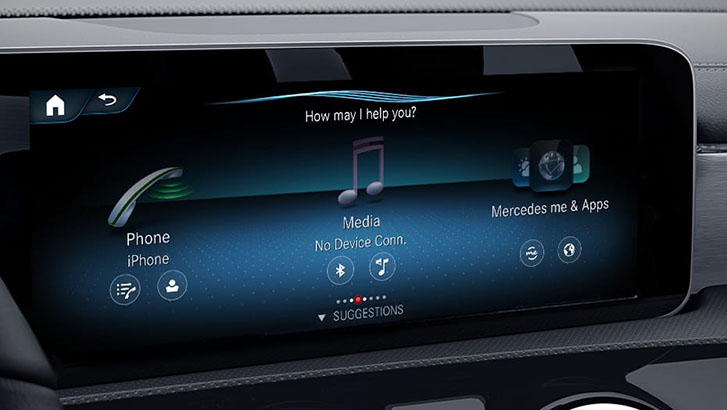 "Hey, Mercedes" keyword activation
Two friendly words let you activate the voice control features of the Mercedes-Benz User Experience (MBUX). Just say "Hey, Mercedes" (or touch the voice control button on the steering wheel), and then tell MBUX what you'd like the car to do in everyday language, like you're talking to another person. Want the available MB Navigation to guide to a coffee shop? You can just say "Hey, Mercedes, I need a coffee" or ask it to find your favorite coffee chain nearby.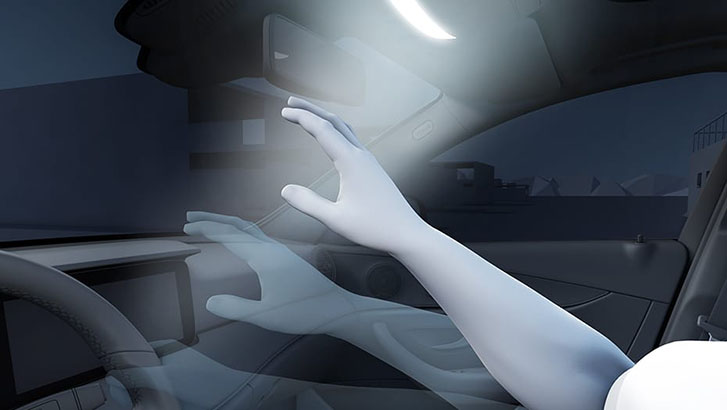 Optional MBUX Interior Assistant
An overhead camera lets MBUX respond to the driver's and front passenger's hand and arm movements. Reach for the touchscreen or console touchpad, and the display can highlight likely desired features, such as the passenger's seat comfort settings. Key features can also be controlled by simple hand gestures, like pointing toward the rearview mirror to turn on a map light. From either front seat, pointing forward with two fingers can call up your MBUX personal favorites menu.
2021 Mercedes-Benz AMG CLA Coupe SAFETY & WARRANTY
MB Limited Warranty
All new Mercedes-Benz vehicles are protected by our New Vehicle Limited Warranty, covering defects in material or workmanship for 48-months or 50,000 miles, whichever comes first. For added protection, the Mercedes-Benz Extended Limited Warranty offers continued peace of mind with prolonged coverage tailored to your needs.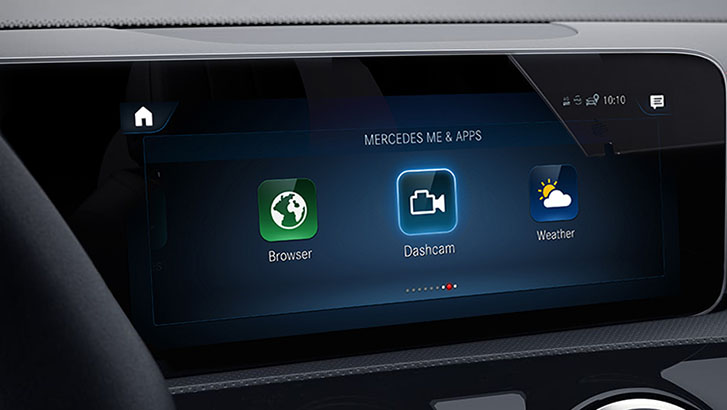 Optional Dashcam
A camera in the windshield can record activity occurring in front of the vehicle, and let you save it for playback using your own compatible USB flash drive. Potentially useful for documenting an accident or other event, the 1,280x720-pixel video with a 30-Hz frame rate can also include vehicle speed and the time of day. Playback can be viewed on the car's multimedia display or on your own computer via your USB flash drive.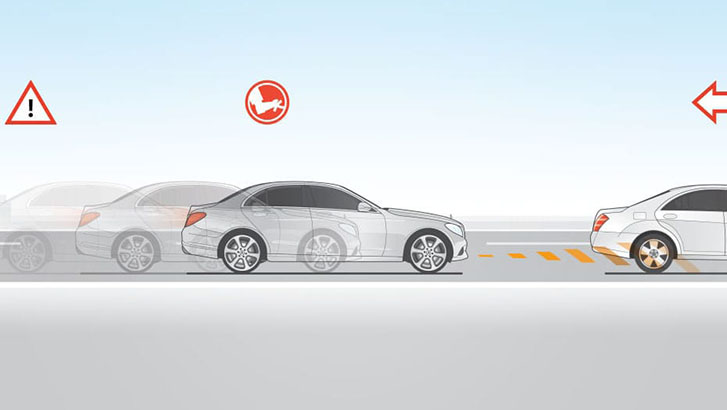 Standard Active Brake Assist
Radar-based technology can alert you if you're approaching a vehicle ahead, or even some stationary objects, at a speed and distance that suggest a collision is likely. As soon as you start to brake, it can automatically provide an appropriate level of braking to help prevent a collision or reduce its severity. If you fail to respond, it can also initiate braking automatically at a range of driving speeds. The system can also detect and react to crossing pedestrians at typical city speeds.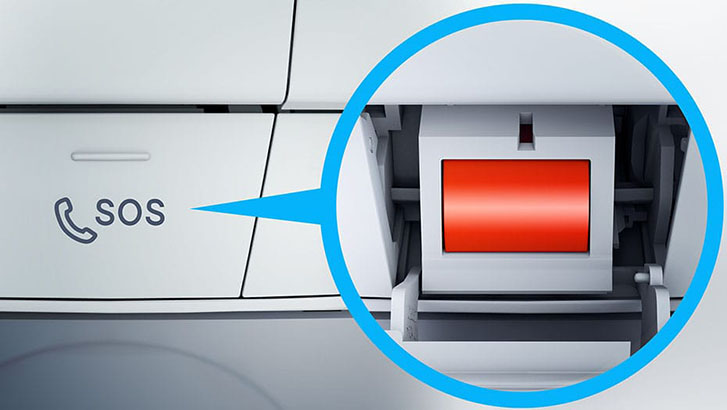 Mercedes-Benz Emergency Call service
If an air bag deploys, your car can automatically initiate a call to Mercedes-Benz Emergency Services, transmitting your GPS-determined location and helpful vehicle information on your behalf. Trained experts are on call 24/7 to help summon local emergency responders to your location. You can also press the SOS button in the vehicle anytime you need emergency assistance, or see someone else who does. This vital service is provided for as long as you own the vehicle, no matter who's driving.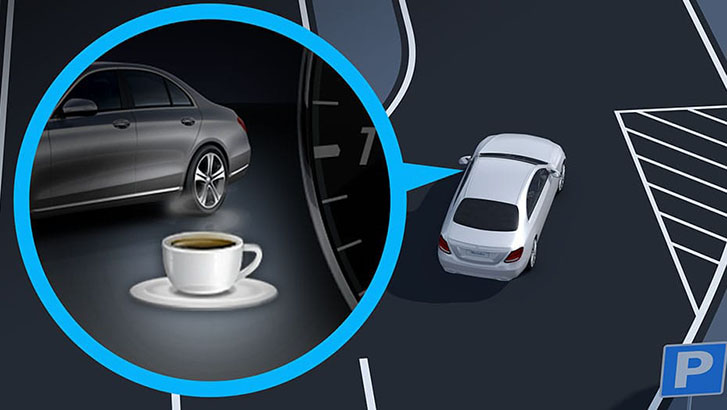 Standard ATTENTION ASSIST
The first system of its kind, ATTENTION ASSIST® continuously monitors up to 70 parameters of driving behavior, and can automatically alert the driver with both visual and audible warnings if it detects signs of drowsiness on long trips. With enhanced sensitivity, the system can also help detect drivers who begin their trip drowsy, and offer more useful information to drivers along their journey via a dashboard display.