2021 Hyundai Nexo Fuel Cell OVERVIEW
2021 Hyundai Nexo Fuel Cell For Sale
"Our hydrogen-powered SUV." —Hyundaiusa.com
380-mile driving range
12.3-inch touchscreen display with navigation
Forward Collision-Avoidance Assist with Pedestrian Detection (FCA-Ped)
Bio-based leatherette seating surfaces

2021 Hyundai Nexo Fuel Cell MODELS

Hyundai Nexo Fuel Cell For Sale
Hyundai Nexo Fuel Cell PERFORMANCE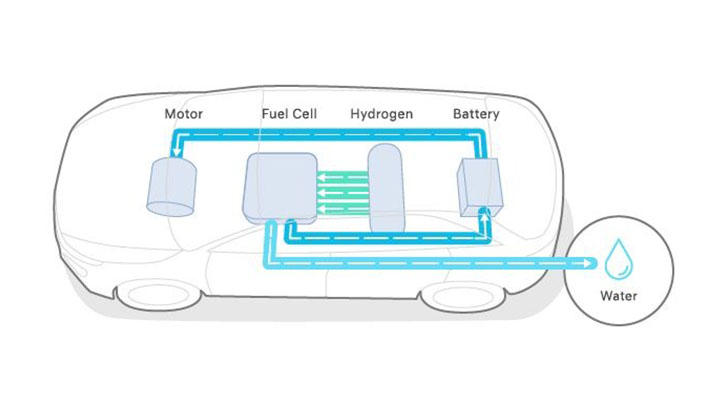 System
Although you refuel them with hydrogen, fuel cell vehicles are actually powered by an electric motor. The hydrogen in the fuel tanks travels to the fuel-cell stack. Inside the stack, the hydrogen undergoes an electrochemical reaction with oxygen that's collected through the air intake. This process generates electricity which either directly powers the motor or is stored in the battery for future use.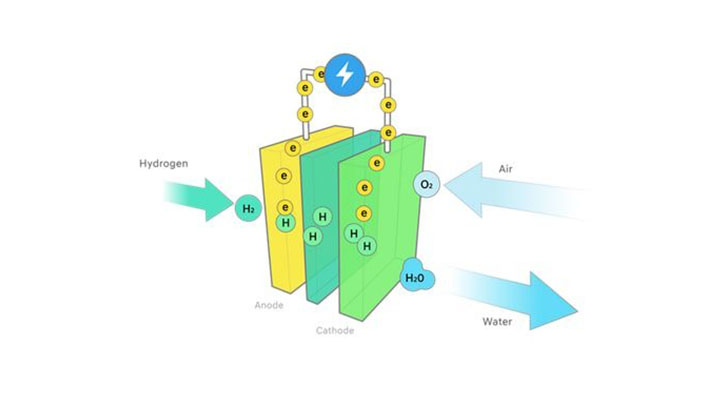 H20
Inside the fuel cell stack, a catalyst splits the hydrogen atoms into protons and electrons. The electrons flow as electrical current to the motor which powers NEXO. The protons pass through a membrane where they combine with electrons and oxygen atoms to form water, the only fuel cell vehicle emission.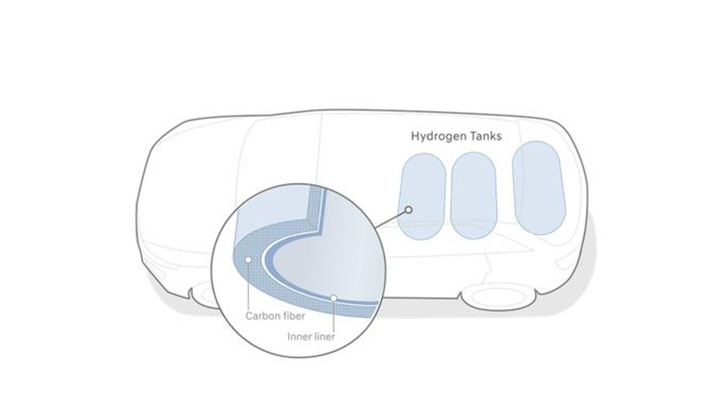 Safety
Despite public misconception, hydrogen energy is quite safe, even safer than other fuels. It's one reason why Hyundai has been committed to fuel cell vehicles for over 20 years. To ensure the utmost safety, hydrogen fuel is stored inside highly durable carbon-fiber tanks tested to withstand extreme heat and collisions. Plus, hydrogen is the lightest element, so even if it leaks from the tank it disperses quickly into the air, making the chances of a fire very low.
2021 Nexo Fuel Cell APPEARANCE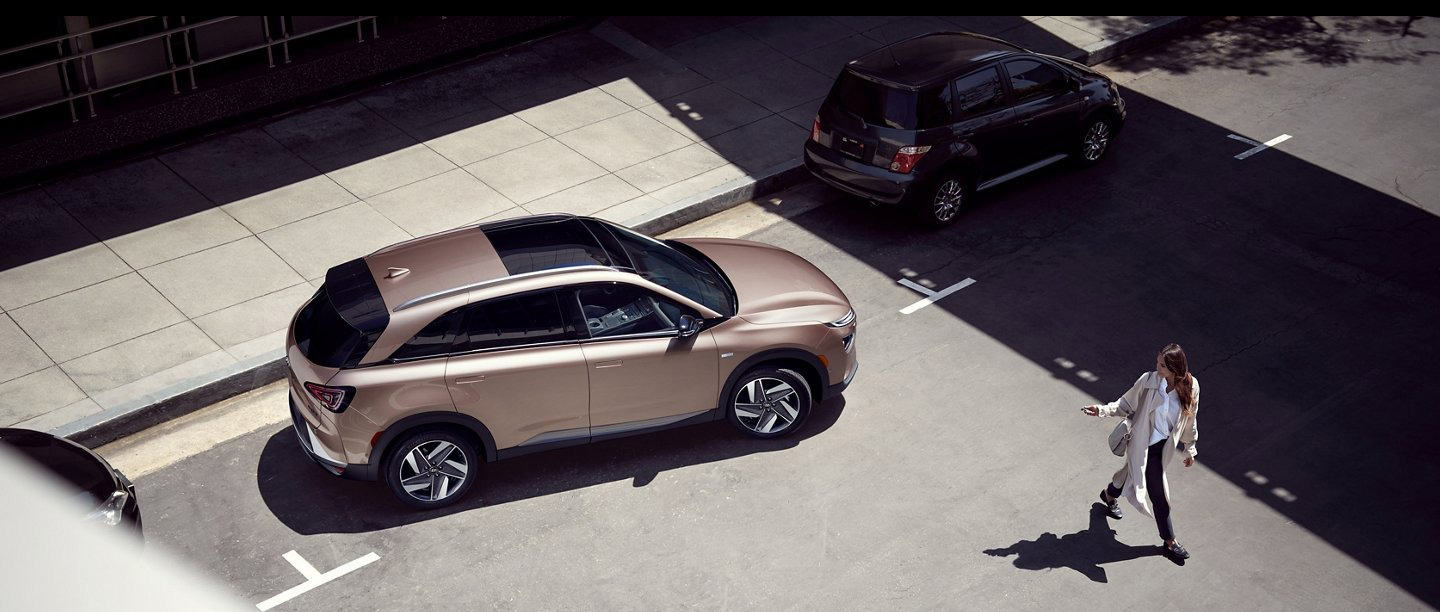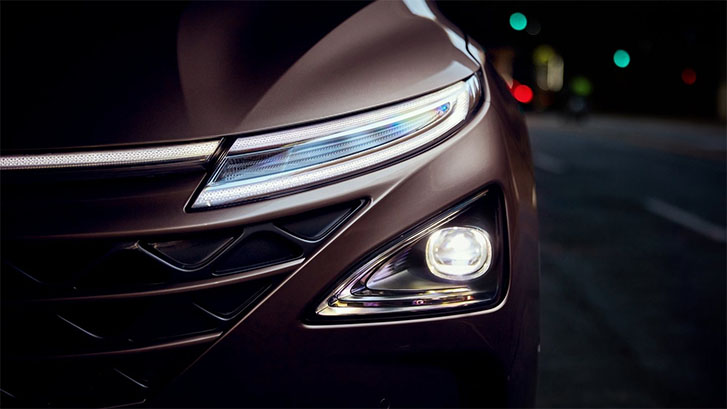 LED lights
Both LED Daytime Running Lights are connected by an illuminated seam to create a continuous line of light.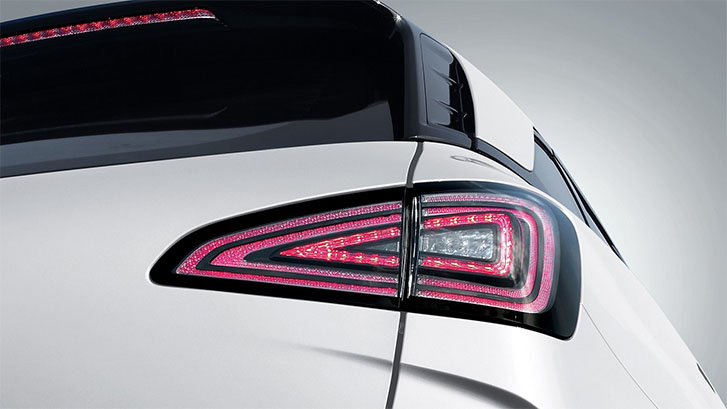 Wind blades
The D-pillars feature a blade-type design to further enhance aerodynamics.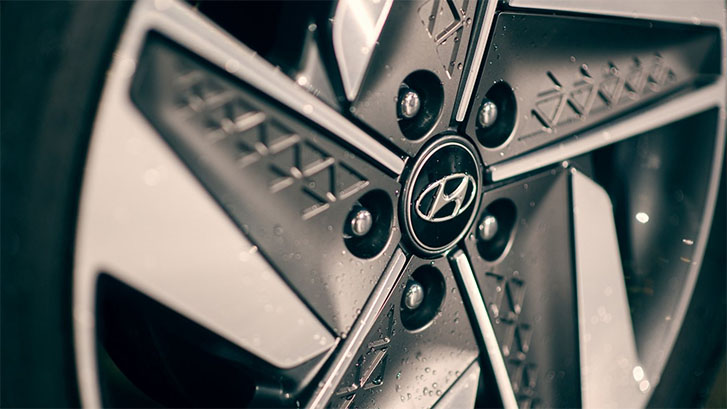 19-Inch alloy wheels
2021 NEXO Fuel Cell available 19-inch alloy wheels.
Hyundai Nexo Fuel Cell COMFORT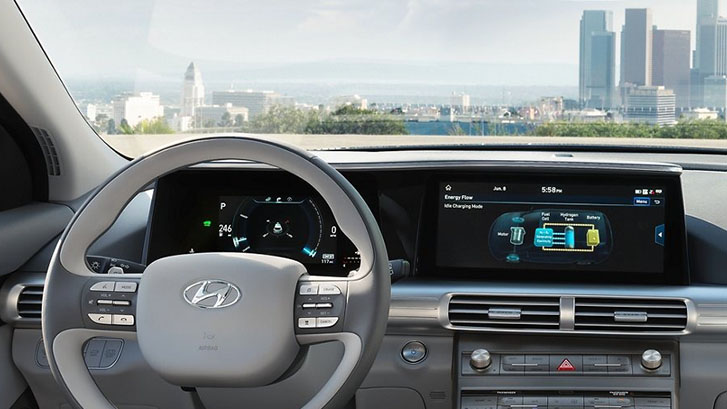 Integrated Seamless Display
A widescreen display seamlessly integrates the 7-inch digital cluster and 12.3-inch touchscreen.
STANDARD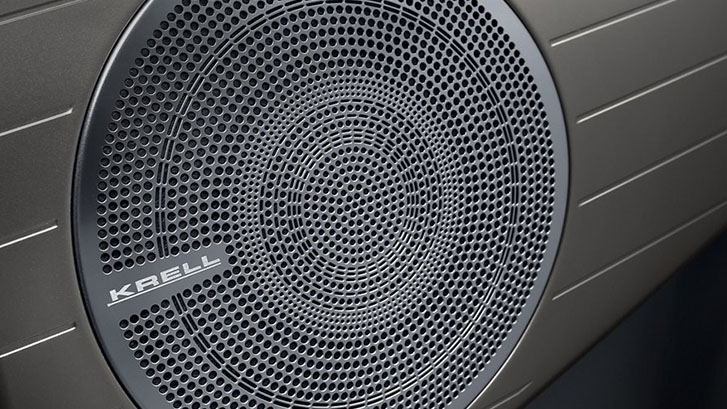 Krell® Premium Audio
The 440-watt Krell Premium Audio system features an 8-channel external amp and eight speakers.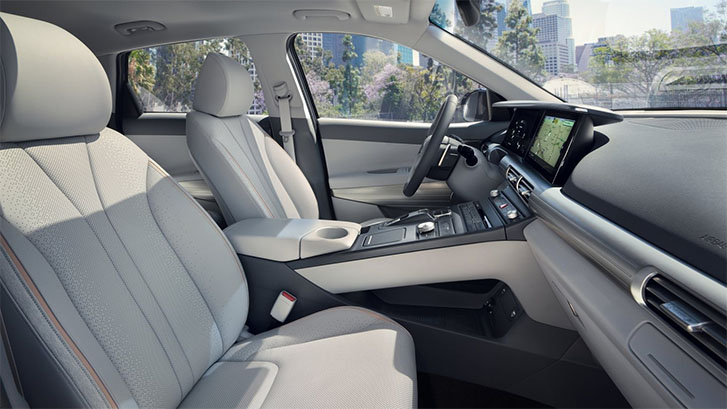 Dual-tier console
The bridge-like console provides a heightened position for ease of access to the Shift-by-Wire buttons and other controls.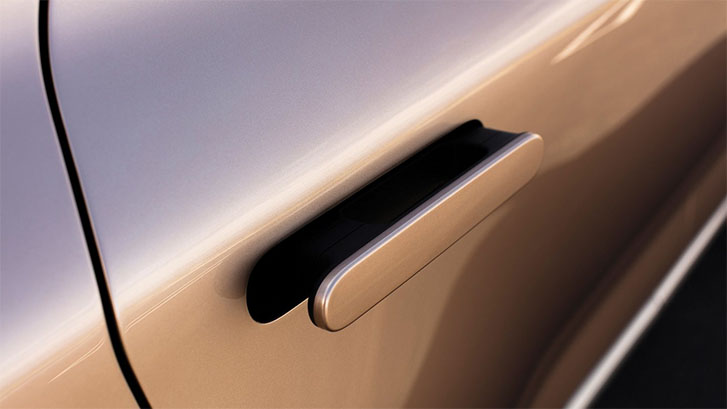 Integrated flush door handles
The integrated flush door handles automatically retract while driving to reduce wind resistance.
2021 Hyundai Nexo Fuel Cell SAFETY & WARRANTY
HYUNDAI ASSURANCE AMERICA'S BEST WARRANTY
5 Year/60,000 Miles - New Vehicle Limited Warranty
|

10 Year/100,000 Miles - Hybrid, Plug-in Hybrid, and Electric Vehicle System

|

10 years/100,000 miles - Powertrain Limited Warranty

|

7 Year/Unlimited Miles - Anti-Perforation Warranty

|

3 years/36,000 miles - Complimentary Maintenance

|

5-Year / Unlimited Miles - 24-Hour Roadside Assistance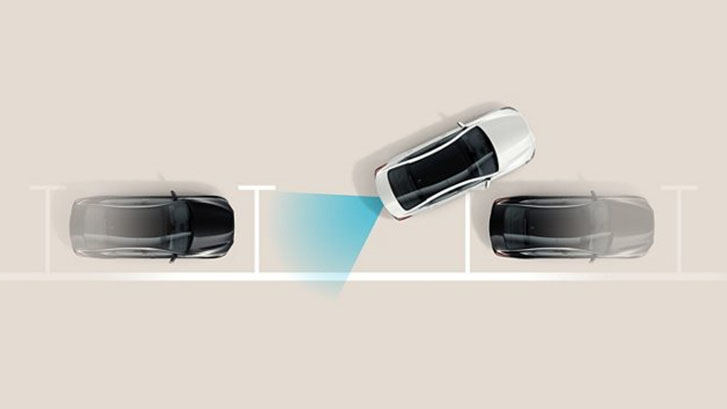 Premium Remote Smart Parking Assist (RSPA)
Our autonomous system allows the Hyundai to park itself, even when you're not inside the vehicle. Once you get out, the self-parking function can be started with a push of your Smart Key button. You can also summon the car out of its parking spot the same way. With an innovation like this, the future feels even less remote.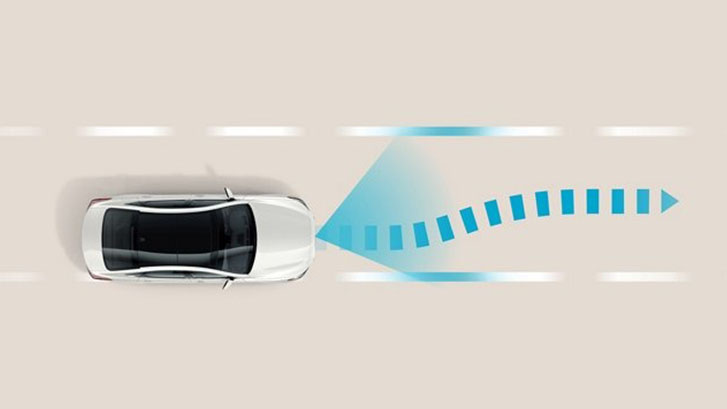 Lane Following Assist (LFA)
Another all-new innovation for Hyundai, Lane Following Assist automatically adjusts steering to make sure the vehicle is safely inside the lane. It also uses its sensors to maintain the proper speed to keep a safe distance from the car ahead.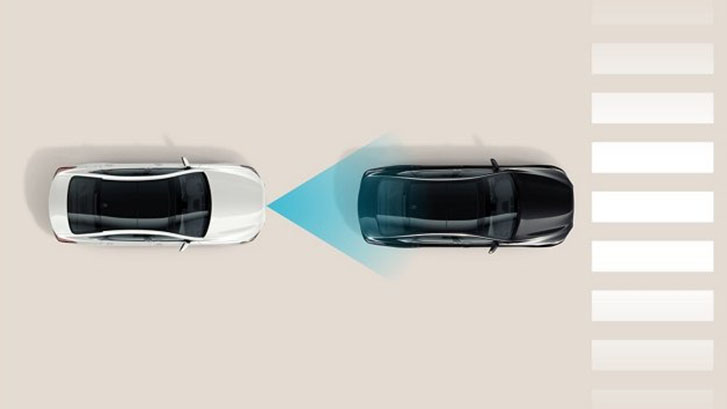 Forward Collision-Avoidance Assist with Pedestrian Detection (FCA-Ped)
The moment it detects a slowing or stopped vehicle or a pedestrian in your path, it warns you of a potential collision. If you don't stop in time, the system will automatically apply emergency braking to help avoid or reduce the severity of a collision.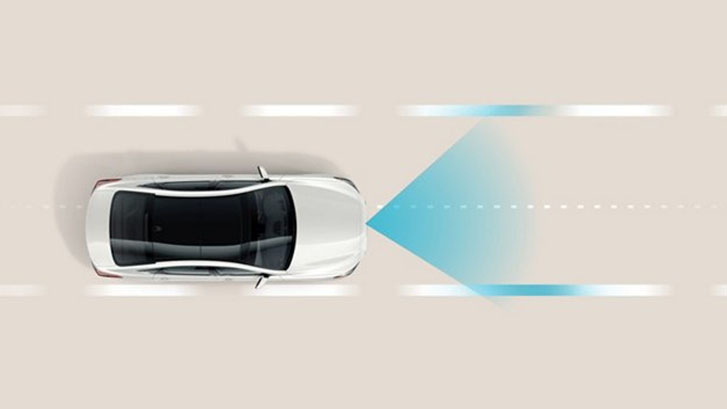 Driver Attention Warning (DAW)
To help prevent potential accidents, this system monitors your driving patterns to detect drowsy or inattentive driving. Once detected, it alerts you with a sound cue coupled with a warning message on the instrument panel.