2020

Volvo

V60 Cross Country
2020 Volvo V60 Cross Country OVERVIEW
2020 Volvo V60 Cross Country For Sale
"Discover a premium crossover created to take you to the heart of the adventure."
— Volvocars.com
Four-cylinder direct injection turbo petrol engine
All-Wheel Drive
Seating For 5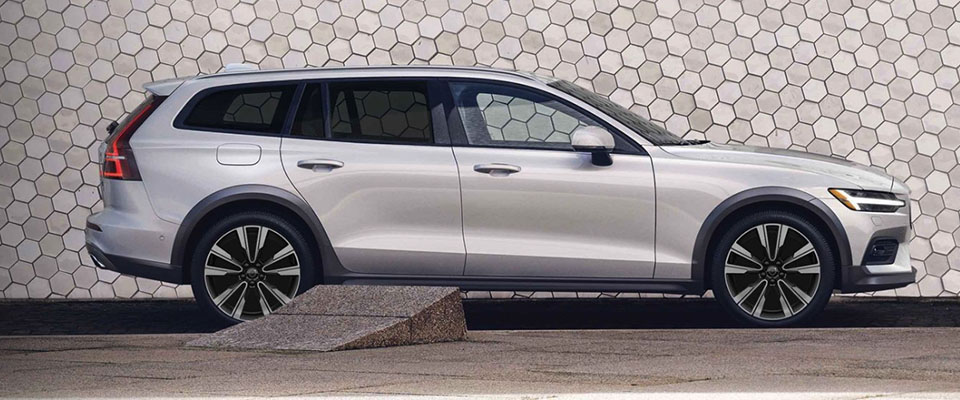 Volvo V60 Cross Country For Sale
Volvo V60 Cross Country PERFORMANCE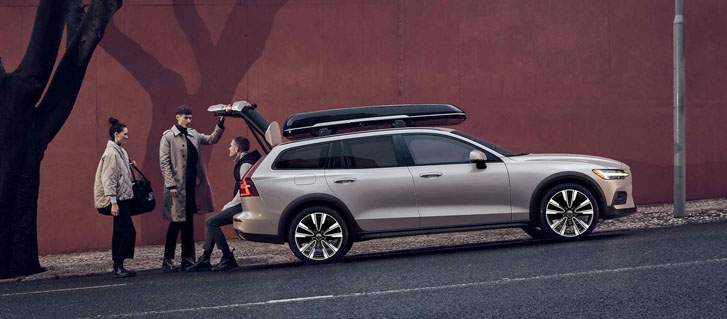 Loads Better
A range of load accessories help you make the most of your V60 Cross Country. These include a strong, lightweight bicycle holder that allows you to take what you love with you, and a folding towbar that slides out electrically when you need it. Load compartment mats help you keep the interior of your V60 Cross Country as good as new, whatever you're doing, while an accessory steel grille provides a strong barrier between the passenger and load compartments to help you transport your pet - or bulky loads - safely and securely.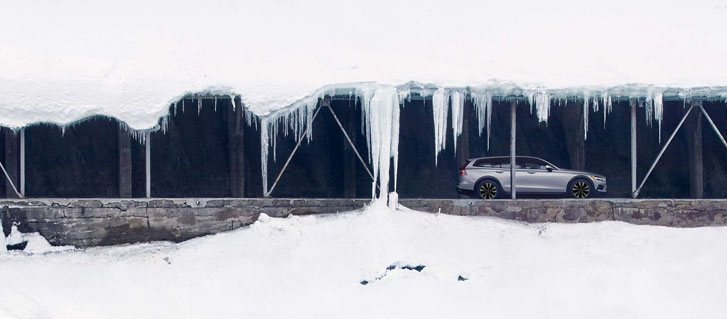 Gripped To The Ground
Remain poised and powerful no matter the road or the weather with the V60 Cross Country. Offering All-Wheel Drive (AWD), protect what matters under any condition. Increase your control with enhanced traction. Rain or shine, rugged or slick, enjoy the journey with confidence.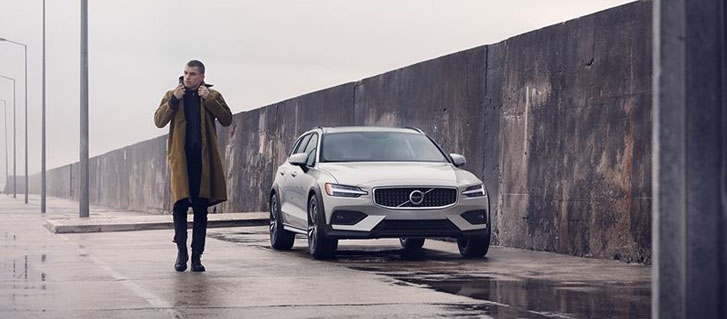 Ready For Anything
The V60 Cross Country is a car that enables you to experience more, in confidence. Higher ground clearance, standard all-wheel drive and tough body cladding help you seek out adventure. Unique design details express the car's rugged capability, while the interior blends versatility and intuitive technology with beautiful design. This is a car for those with a desire to go further, on every journey.
2020 V60 Cross Country APPEARANCE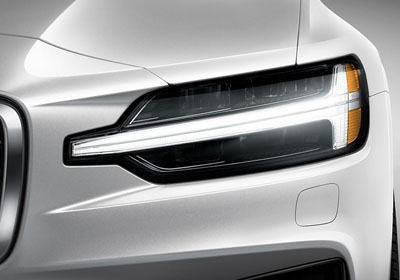 An Illuminating Presence
The V60 Cross Country has LED headlights that give it a strong identity – and give you the best possible view at night. The "Thor's Hammer" shaped light signature - a key element of Volvo Cars' latest exterior design - radiates strength. LED Illumination technology provides the best view and helps you avoid dazzling other drivers. Full-LED Active High Beam Illumination gives you a larger area of light. It also includes Active Bending Lights that turn in the same direction as the steering wheel (up to 30' in either direction), to provide a better view through corners.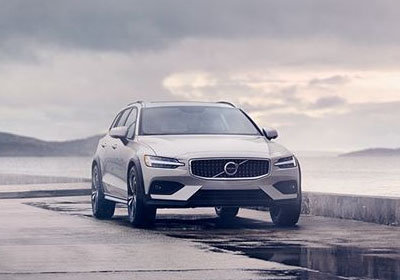 Exterior Details
Finely crafted exterior details let you know that the V60 Cross Country is one of the new generation of Volvo cars. A proud front grille sets the tone, while sculptured sides emphasize the car's athletic character. Strongly defined rear shoulders express the car 's dynamic abilities, while deep and long side windows let a lot of light into the cabin.
2020 Volvo V60 Cross Country COMFORT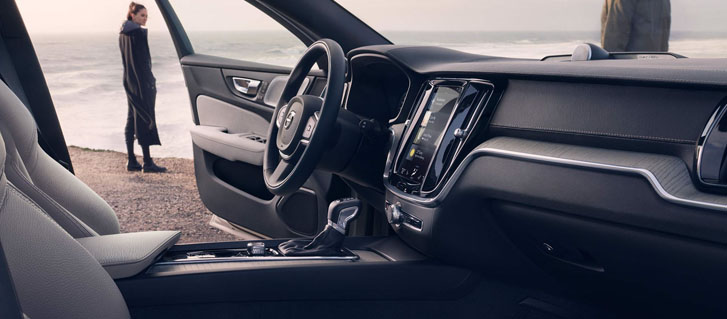 Designed In The Detail
Discover the Scandinavian standard of living with the V60 Cross Country. Contoured front seats and a spacious cabin allow everyone to ride in comfort. Intuitive technology seamlessly transforms your Volvo into an improved extension of your smartphone. With a range of interior features designed around you, the V60 Cross Country provides the ultimate luxury experience.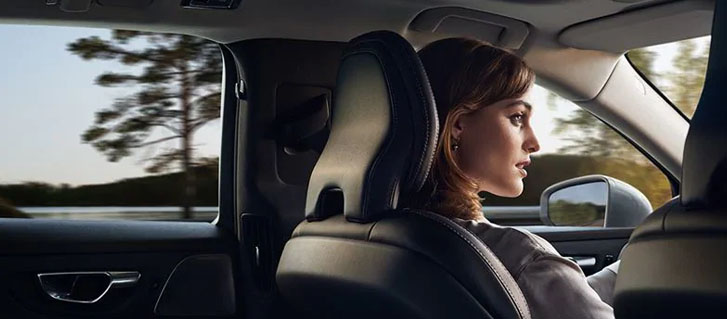 Your Window To The Sky
The V60 Cross Country features a standard panoramic moonroof that provides lots of natural light. Those in both the front and rear seats can enjoy it, while special tinted glass reduces the amount of unwanted heat and UV radiation. A power-operated sunshade made of perforated material makes it easy to keep strong light out if necessary, while the large front part of the roof can be tilted or opened to provide extra ventilation. The roof can be closed using either the remote control lock button or, for cars with keyless entry, the door handle button.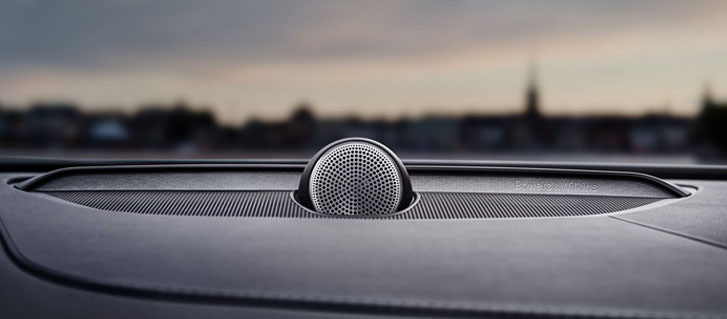 Bowers & Wilkins
Bowers & Wilkins audio is the top-level sound system for the V60 Cross Country. A collaboration with acclaimed audio manufacturer Bowers & Wilkins, the system delivers 1100 watts to its 15 speakers, including a unique air-ventilated subwoofer that provides powerful bass tones. Each speaker is positioned to optimize the car's acoustics, and there is a dashboard-mounted tweeter that cuts down acoustic reflection from the windscreen.
2020 Volvo V60 Cross Country SAFETY
New Vehicle Limited Warranty 4 years/50,000 miles
•

Corrosion Protection 12 years/unlimited mileage

•

Hybrid Battery 8 years/100,000 miles (CA 10 years/150,000 miles)

•

Volvo On Call Warranty Coverage, Roadside Assistance 4 years/unlimited mileage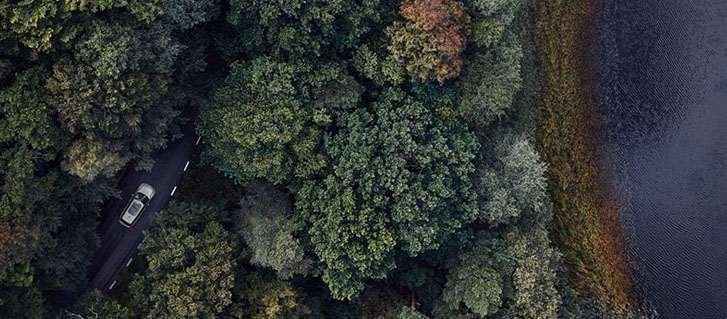 Designed To Protect You
Safety is at the heart of every Volvo car, and the features that make the V60 Cross Country a safe place for you and your passengers are the result of decades of innovation. Ultra high-strength boron steel - one of the strongest types available - forms a rigid safety cell around the car's passengers, while crumple zones, front and rear, dissipate as much energy as possible in the event of a collision.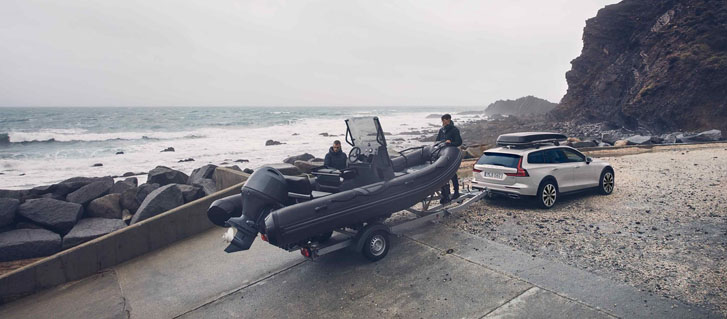 Keeping You On The Road
Accidents where a vehicle leaves the road - one of the most common types of accidents - are less likely to happen with Run-off Road Mitigation. It detects if the car is about to leave the road unintentionally and can then use steering and, if necessary, brake support to guide the car back onto the right path. If the car does leave the road, Run-off Road Protection - another Volvo Cars innovation - reduces the chances of serious injury. It features an energy-absorbing structure in the front seat frames that cushions vertical impact in the event of a hard landing. In addition, safety belts tighten electrically to hold passengers firmly in place.