2020 Porsche Cayenne Overview
2020 Porsche Cayenne For Sale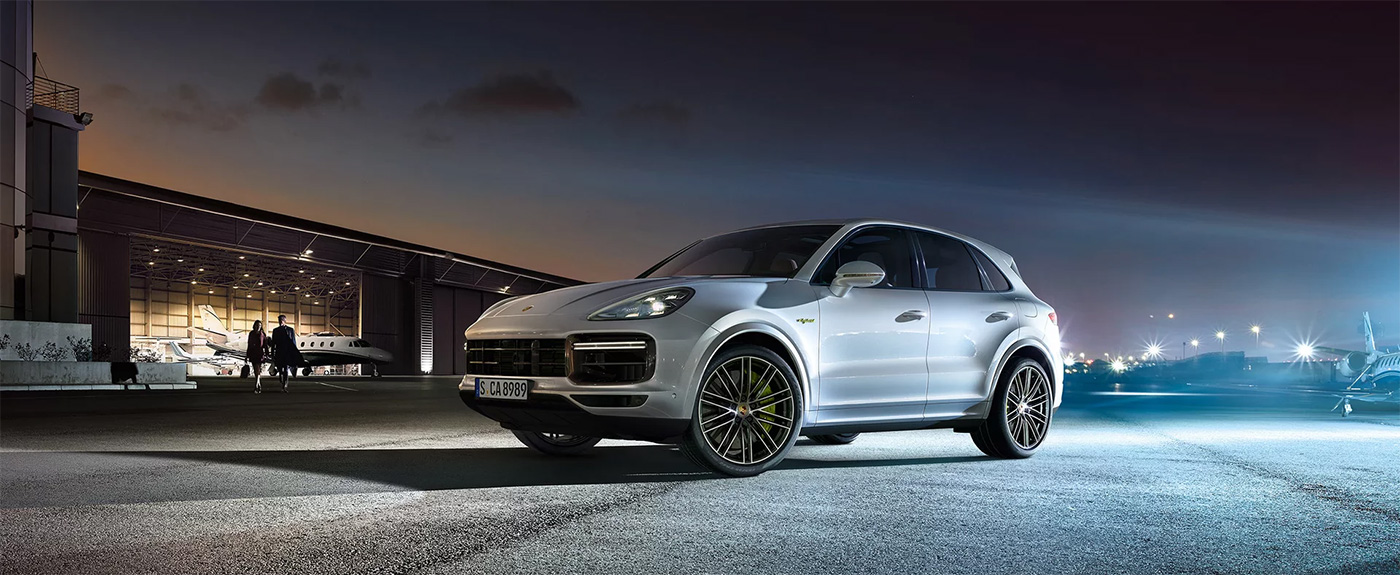 Porsche Cayenne For Sale
2020 Porsche Cayenne Performance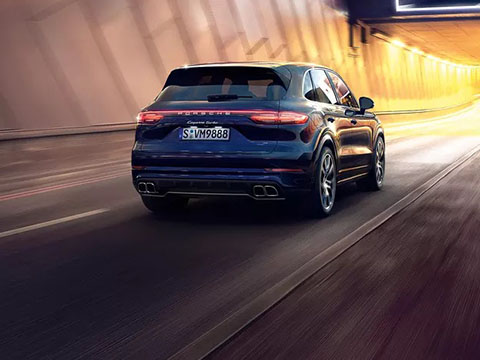 Performance
The Cayenne generation of engines has been redeveloped completely from scratch and they now offer even greater power and torque. Combined with a further improvement in efficiency.
The 8-speed Tiptronic S transmission in the Cayenne models has been redeveloped completely from scratch. Thanks to the wide ratio spread of the gears, fuel consumption is reduced – while comfort and sporty performance are enhanced.
Porsche Surface Coated Brake (PSCB).
A new benchmark in performance and design. The innovation of this brake lies in the unique combination of a cast-iron brake disc with a ceramic coating (tungsten carbide). The advantages: an even better response and a particularly high fading stability.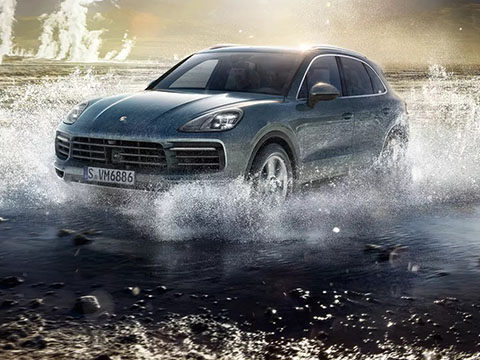 Chassis
Sometimes there are several ways to get to our destination. This is due to new developments such as, the adaptive air suspension with three-chamber technology or the rear-axle steering.
Also new is the integrated chassis controller, Porsche 4D Chassis Control. It centrally analyses the driving situation in all three spatial dimensions – the pitching, rolling and yawing motion. It calculates the best driving conditions and synchronizes all chassis systems in real time: the fourth dimension. For an optimized overall performance. And for the optimal combination of sportiness and comfort.
The standard all-wheel drive of the Cayenne helps to keep traction on the road – and, if necessary, on the race track. The Cayenne is also equipped for many other challenges, e.g. water crossing with a depth of up to 500mm1). Even in challenging terrain, the vehicle does not stop, because the adaptive air suspension increases the maximum ground clearance when required.
2020 Porsche Cayenne Appearance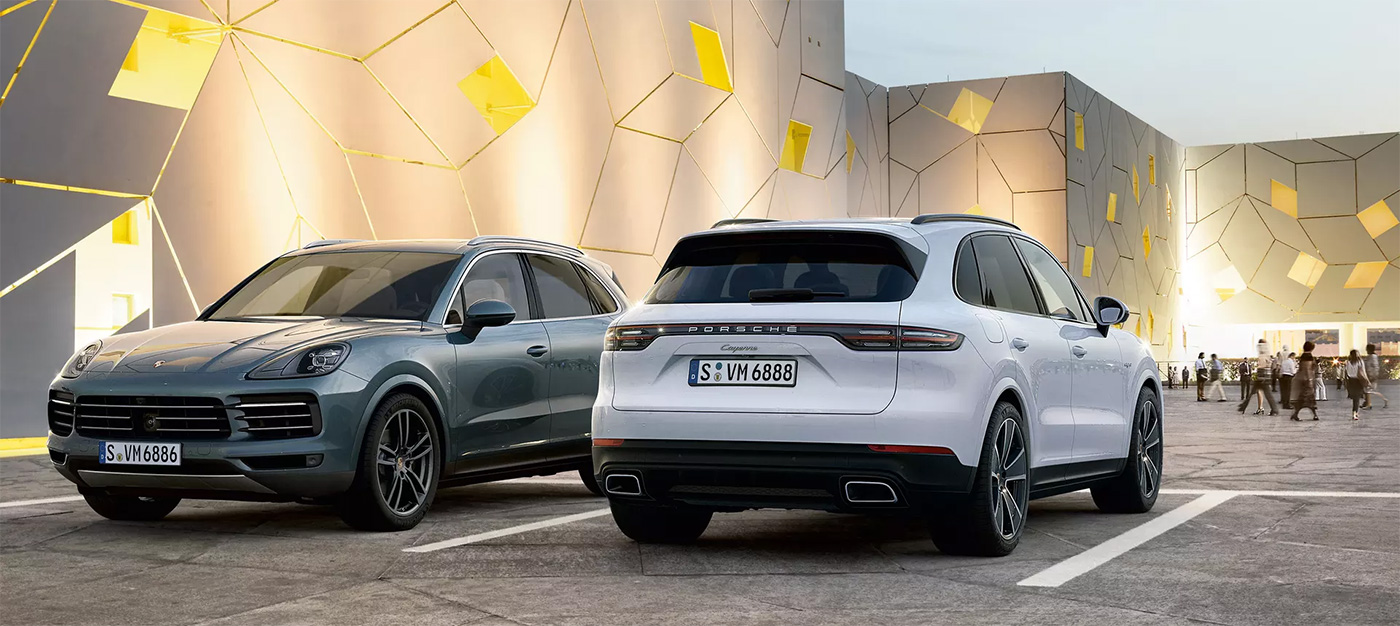 2020 Porsche Cayenne Comfort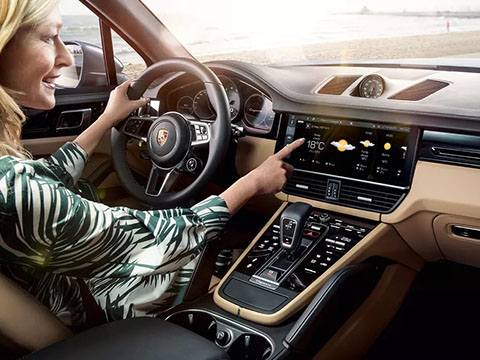 Control concept
New in all Cayenne models: the Porsche Advanced Cockpit control concept. The center console with Direct Touch Control features an interface in glass look with touch-sensitive buttons for direct access to the most important functions. Among these: the compact gear selector. Above the center console is Porsche Communication Management (PCM) with a full-HD 12-inch touchscreen display with online navigation module for intuitive operation. The new instrument cluster sits behind the multifunction Sports steering wheel. On the right and left of the typical Porsche analogue rev counter – classic with a needle – two high-resolution displays show all the virtual instruments, maps and other information as required.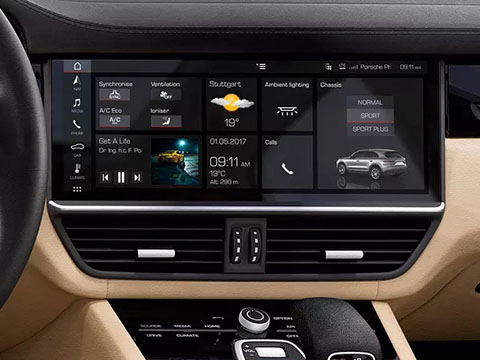 Porsche Connect
Every day is there to get the most out of it. Whether a decisive business meeting or a weekend trip with the whole family is on the cards: it is important to make more of your own possibilities. Porsche Connect can help you here. It puts you in the ideal starting position for any road trip – and any of your goals.
With new, helpful services and smartphone apps that make life easier for you in many ways. For example, with the new Porsche Connect app, which combines all the Connect features in one smartphone app. Whether remote control of your Porsche, navigation to your vehicle or from your Porsche to a final destination.
Or with Navigation Plus – our new online navigation, which will help you get to your destination even faster. Thanks to route calculation with up-to-date online map data for every navigation. Including updating of real-time traffic information by the minute – even for small side streets.
Porsche Connect in all its versatility: learn more about other services, apps, and features online, including availability information for your vehicle and your country. By the way, our portfolio of services is constantly being expanded: visit www.porsche.com/connect for all the latest information.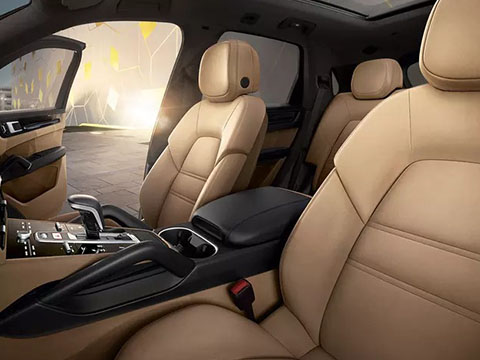 Interior design
There are many SUVs. But only one where you can breathe in the motorsports atmosphere just from entering it. High quality, sporty, ergonomic. For instance, due to the flat, broad dashboard and the ascending center console for a quick grip from the multifunction sports steering wheel to the gear selector.
In short: Porsche DNA. Because our origin is motorsports. That is where we have learned how important it is to bring vehicle and driver as close together as possible. The interior is built practically around the driver. And so is completely and fully focused on them.
This also applies to the seats: sportiness is very important. Also on the newly designed rear seats, where every single place also triggers motorsports emotions. Without compromising comfort.
All models impress with their typical Cayenne strengths: spaciousness, a high degree of variability and many select materials. Just as you wish, as there are numerous personalization options. In short: an interior that would be a pity to limit to trips alone.
2020 Porsche Cayenne Safety
New Car Limited Warranty & Porsche 24-Hour Roadside Assistance Program for 4-Years / 50,000 Miles (whichever occurs first)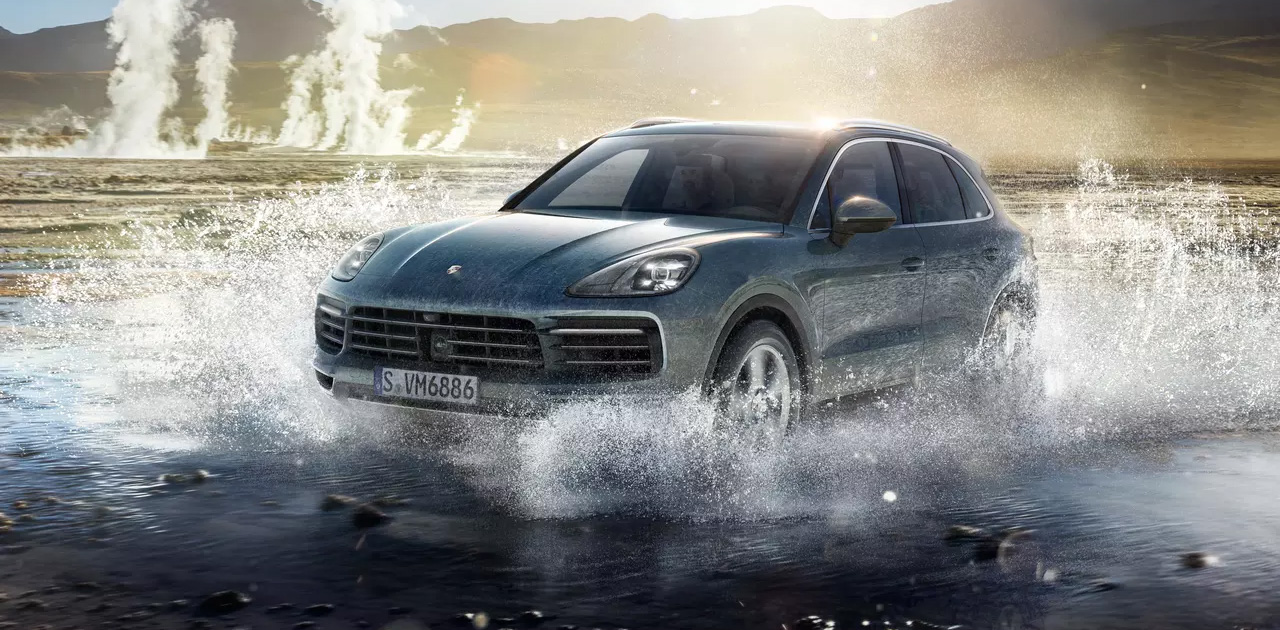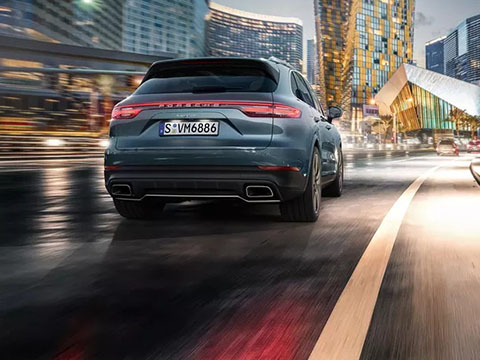 Assistance systems
So that you reach your destination more comfortably and efficiently, the Cayenne has numerous assistance systems that are used in many different driving situations. The assistance systems not only relieve and support you, they also recognize risks and warn you. That means you can concentrate on what makes Fascination Porsche so unique: the unadulterated driving experience.
The full-color head-up display projects all information pertaining to the journey directly into the driver's field of vision. The driver's visual attention is less distracted, meaning full attention can be paid to the road and driving. Information such as current speed, navigation, traffic sign recognition, telephone, off-road information or driver assistance system warnings can be displayed.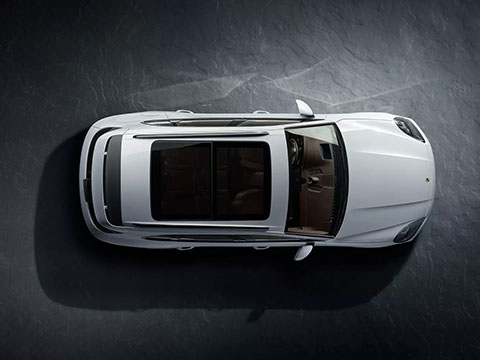 Adaptive cruise control (ACC)
Depending on the distance from the vehicle ahead, the system controls the speed of your Cayenne.
Night Vision Assist provides the driver with information even beyond the range of the headlights. An infrared camera detects pedestrians, deer and other large wildlife before they are illuminated by the headlights.
2020 Porsche Cayenne Specification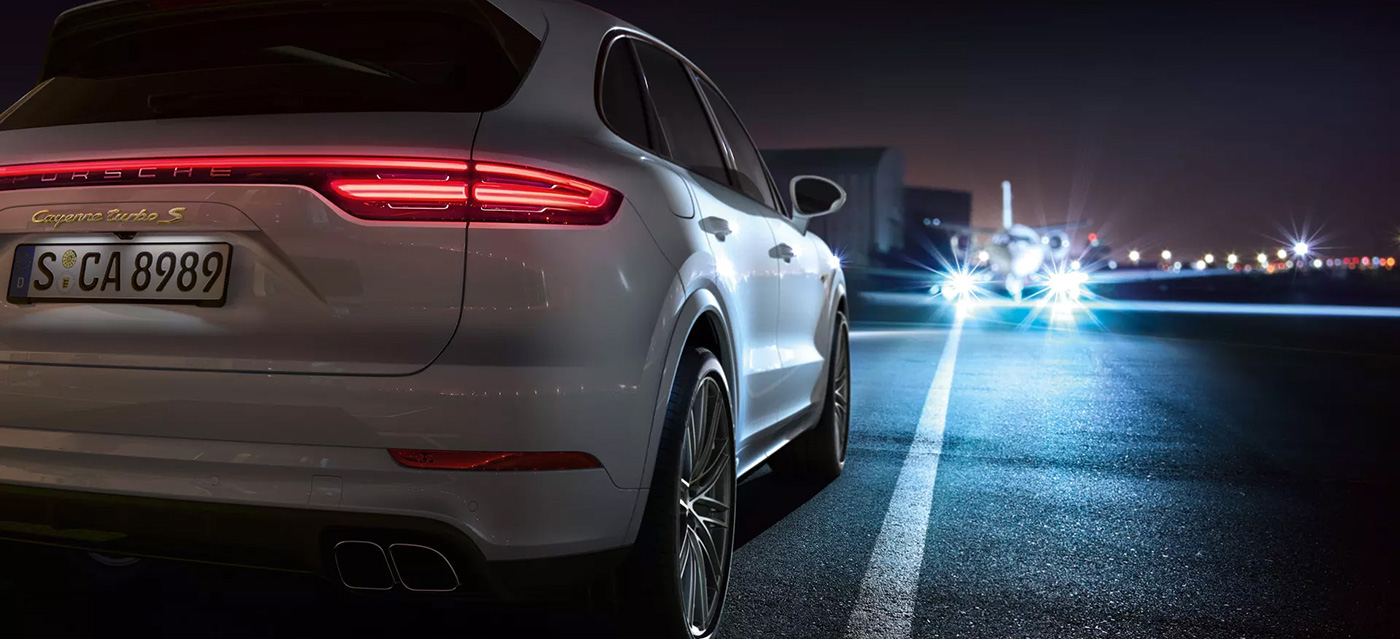 Specs reflect base model unless otherwise noted.
Motor
Engine layout
Front-engine
Design and cylinders
Turbocharged V6
Max. power at rpm
5,300 - 6,400 rpm
Max. engine speed
6,500 rpm
Max. torque at rpm
1,340 - 5,300 rpm
Max. power per liter
111.0 hp/l
Power-to-weight ratio
13.7 lb/hp
Valves
2 intake / 2 exhaust
Valve timing
VarioCam Plus
Fuel Consumption
EPA Disclaimer
EPA estimate. Actual mileage may vary.
Transmission
Drivetrain
All-wheel drive
Automatic transmission
8-speed Tiptronic S
Chassis and Suspension
Front axle
Aluminum multi-link
Rear axle
Aluminum multi-link
Steering
Electromechanical power steering with variable ratio
Stability control
Porsche Stability Management (PSM)
Anti-lock Braking System (ABS)
Component of Porsche Stability Management (PSM)
Traction control
Component of Porsche Stability Management (PSM)
Performance
0 - 60 mph with Sport Chrono Package
5.6 s
Terrain Features
Max. wading depth (steel suspension)
19.6 in
Max. wading depth (air suspension, high level)
20.8 in
Approach / departure angle (steel suspension)
25.2 - 22.1 °
Ramp break-over angle (steel suspension)
18.7 °
Ramp break-over angle (air suspension, high level)
21.3 °
Max. ground clearance (steel suspension)
8.2 in
Max. ground clearance (air suspension, normal level)
7.4 in
Max. ground clearance (air suspension, high level)
9.6 in
Body
Width w/ mirrors folded
78.1 in
Drag coefficient (Cd)
0.34 Cd
Gross Vehicle Weight Rating (GVWR)
6,239 lb
Capacities
Rear luggage compartment volume (w/ seats folded)
60.3 ft³
Rear luggage compartment volume
27.1 ft³
Service and Warranty
Limited vehicle warranty
4 years/50,000 miles (whichever comes first) including 24-hour roadside assistance program
Main service interval
Porsche Cars North America offers service and maintenance packages in a variety of terms to match your intended usage. Please see your authorized Porsche Dealer for details and availability.
Limited paint warranty
4 years/50,000 miles (whichever comes first)
Limited corrosion warranty
12 years/unlimited miles