2020 Porsche 718 T Overview
2020 Porsche 718 T For Sale


Porsche 718 T For Sale
2020 Porsche 718 T Performance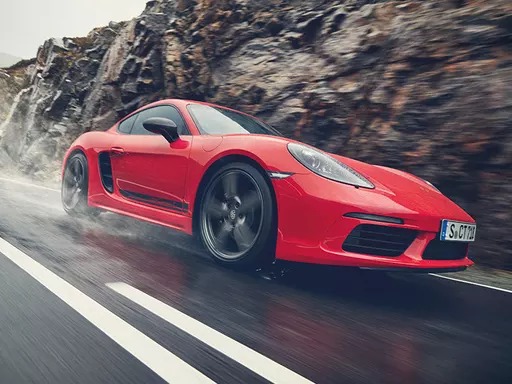 Engine
The heart of every individual Porsche: the engine. In the new 718 Boxster T and 718 Cayman T models, the 2.0 liter turbocharged horizontally opposed engine sits just inches behind you. Mounted deep. For an optimum vehicle center of gravity. With direct fuel injection (DFI), VarioCam Plus and integrated dry-sump lubrication. The 718 T models accelerate from 0 to 60 mph in 4.9 seconds. And with PDK and Launch Control, in 4.5 seconds. Enabled by a power unit with 300 hp and a maximum torque of 280 lb.-ft., thanks to turbocharged induction, is available as low as 1,950 rpm and up to 4,500 rpm. This is supplemented by engine characteristics configured to offer the high rev limits typical of a sports car. In summary: high compression and high engine speed combine with good modulation of power output. And, at its peak, 170 mph at 6,500rpm. That's how quickly you can clear your head.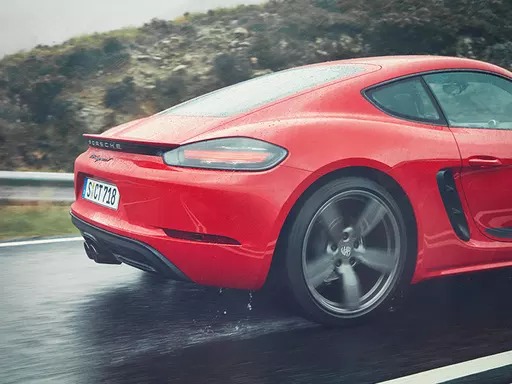 Chassis
PASM Sport Suspension
The new 718 Boxster T and 718 Cayman T are completely in tune with the road, thanks to the PASM Sport Suspension. The body sits a further 20mm lower than that of the 718 base models. Porsche Active Suspension Management (PASM) – the electronic damping control system – continuously adjusts the damping force on each wheel, based on current road conditions and driving style. PASM has two settings which can be selected using a button on the center console: in 'Normal' mode, the shock absorption is dynamic yet comfortable, whereas in 'Sport' mode, it is much firmer. The results are tangible: increased driving stability, improved comfort and enhanced performance.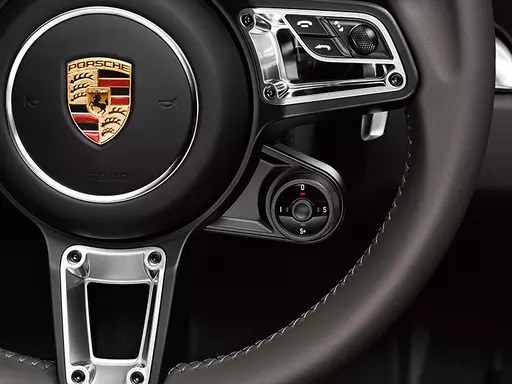 The mode switch
Flip the switch. Out of the four walls. On to the open straights. And, of course, in the bends. Thanks to the mode switch on the GT Sport Steering Wheel, you can select one of four settings: Normal, SPORT, SPORT PLUS or Individual mode, to adapt the vehicle even more precisely to the way you want to drive.
In SPORT mode, the electronic engine management demands a sharper response. Engine dynamics become more direct and the Sport Exhaust System is activated.
In SPORT PLUS mode, the 718 Boxster T and 718 Cayman T can unleash their full potential. Engine, chassis, Sport Exhaust System – everything is geared for 100% performance. The result: even sportier damping and superior driving dynamics.
Individual mode follows your driving style: you can select and store various vehicle settings to suit your preferences.
2020 Porsche 718 T Appearance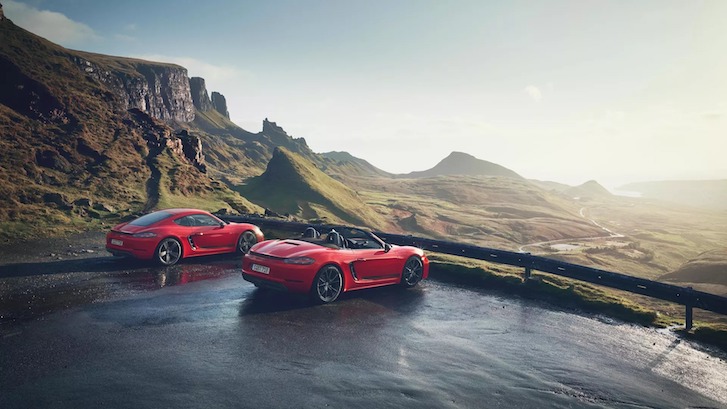 718 Boxster T and 718 Cayman T concept
The truly important things can't be found in conferences and meetings. They are not made of bits and bytes, they are not on timelines and news feeds. They are made up of curves and corners. Endorphins and adrenaline. Long straights and short shift throws. The best destination to have? No destination. The way there? We have reduced down to the bare essentials: in a purist's sports car which lets you switch off by shifting up. A Porsche which needs no more than a clear road – and, of course, you. Welcome to life.
The new 718 Boxster T and 718 Cayman T are thoroughbred sports cars. With one mission: driving for the sake of driving. Fully epitomized by the T for Touring in the name. Its heart: a powerful 300 hp turbocharged four-cylinder horizontally opposed engine located just inches behind the driver. And its center of gravity? Sits deep. The sport suspension (20 mm lower) brings you closer to the road – and even closer to the feeling of being alive. The soundtrack: its sports exhaust system, calling for freedom.
The new 718 Boxster T and 718 Cayman T are your personal here and now – the spontaneous opportunity to leave everyday routine behind. Highly dynamic. Puristic. Authentic. Porsche Doppelkupplung (PDK)? It can – but it doesn't have to. Instead: Sport Seats Plus, door pull loops, a GT Sport Steering Wheel with mode switch. That's all it takes to ensure that the everyday can no longer restrict you.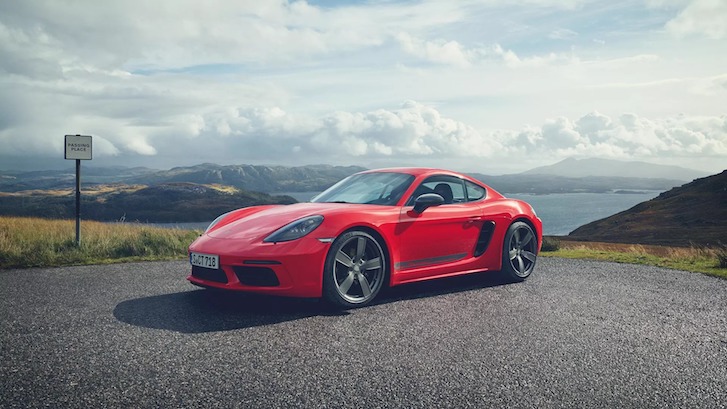 Exterior design
Thoughtful design tells a story. The 718 Boxster T and 718 Cayman T tells two. A story of its dynamic history. Of victory at mountain-top races. Of countless defeated curves. At the same time, it describes the start. Of new journeys, undiscovered routes and endless possibilities. In short: of the ability to begin spontaneously – and not stop for a long time.
The side profile of the 718 Boxster T and 718 Cayman T are sleek, dominant, and highlight their mid-engined layout. Large wheel arches, and the Titanium Grey paint accents of the 20-inch Carrera S wheels and Agate Grey offer a sophisticated finish. With a striking signature on the side: the decorative strips with either the '718 Boxster T' or '718 Cayman T' logo.
Moving forward, the powerful form typical of 718 models is clear to see. Large air intakes provide optimum air supply and fascia lend prominence to the design of the integrated Bi-Xenon headlights – with LED daytime running lights.
The broad rear is completed with either the '718 Boxster T' or '718 Cayman T' model logo, finished in Agate Grey. Another eye-catcher: the sport exhaust system with the centrally positioned twin tailpipes in black.
Low, wide, sleek. Confident. That's how it stands. Just as you would expect from a true sports car. The new 718 Boxster T and 718 Cayman T. Fiercely determined to catapult you into real life. As soon as you turn the ignition key.
2020 Porsche 718 T Comfort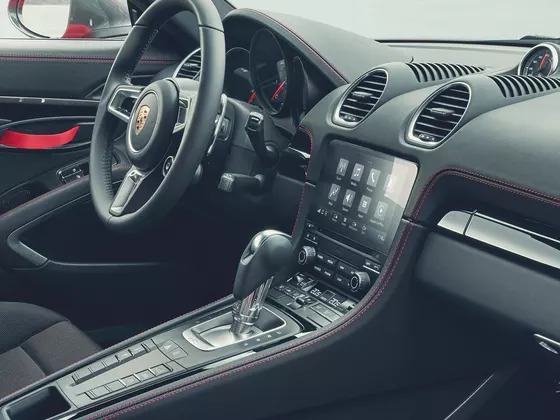 Porsche Connect
Porsche Communication Management (PCM)
serves as your central control unit for audio, navigation and communication, and for countless Car Connect Services via smartphone, such as vehicle positioning.
Navigation including Porsche Connect
Thanks to Real-time Traffic Information, the optional navigation module including Porsche Connect gets you to your destination quicker, and offers you numerous Porsche Connect services.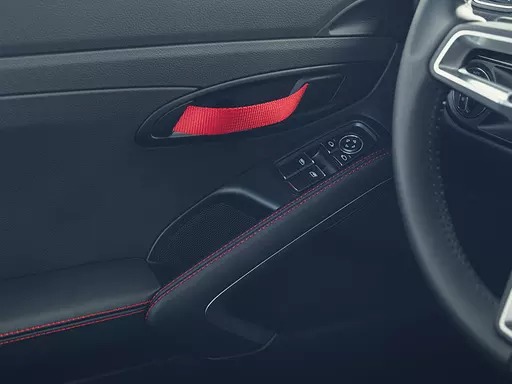 Sound systems
When you don't want the raw sound of the Sport Exhaust System to be the soundtrack to your journey: Sound Package Plus features six speakers in the 718 Boxster T and eight speakers in the 718 Cayman T for an acoustic performance perfectly adapted to the vehicle interior.
The optional BOSE® Surround Sound System has been specially developed for the 718 models and offers a total output of 505 watts. It features 10 fully active loudspeakers and amplifier channels including a patented, 100 watt active subwoofer integral to the vehicle bodyshell.
The optional Burmester® High-End Surround Sound System offers sound performance of the highest level. In numbers: 12 amplifier channels with a total output of 821 watts, 12 loudspeakers including an active subwoofer with 300 watt class D amplifier, a total diaphragm surface area of more than 1,340cm² and a frequency response of 35Hz to 20kHz.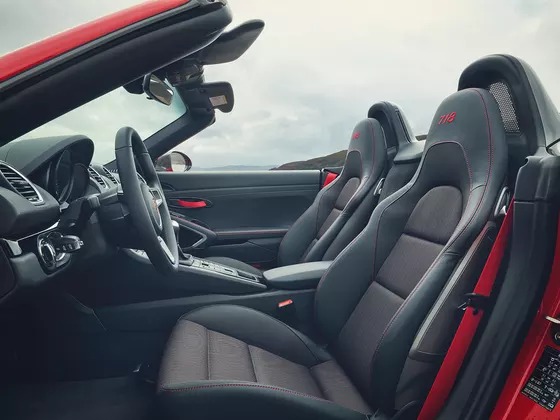 Interior design
Feng shui? Hygge? All well and good. But sometimes less is more – more room to breathe. Which is precisely why the design of the new 718 Boxster T and 718 Cayman T is focused on three things: driving, driving, driving. Meaning: excellent ergonomics, short distances between steering wheel and gear lever, and direct access to all the important functions.
So, hands on the GT Sport Steering Wheel! In easy reach: the mode switch, where you can select your preferred driving mode – from Normal, SPORT, SPORT PLUS and Individual. The shortened gear lever reinforces the sporty appeal of the interior with its shift pattern in red.
The interior: black and pure. On the steering wheel and gear lever: smooth-finish leather for a comfortable feel. On the doors: understated door pull loops. The trim strips on the dashboard and center console painted in High Gloss Black, harmoniously round off the design.
2020 Porsche 718 T Safety & Warranty
New Car Limited Warranty & Porsche 24-Hour Roadside Assistance Program for 4-Years / 50,000 Miles (whichever occurs first)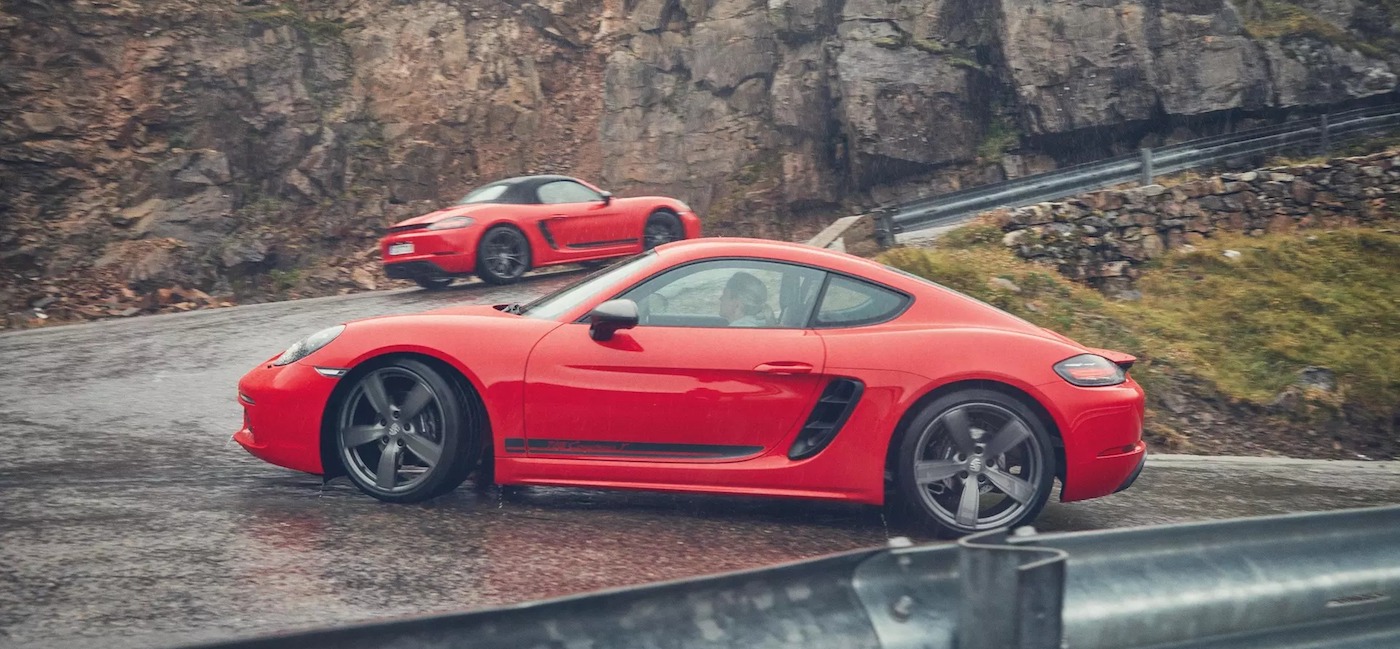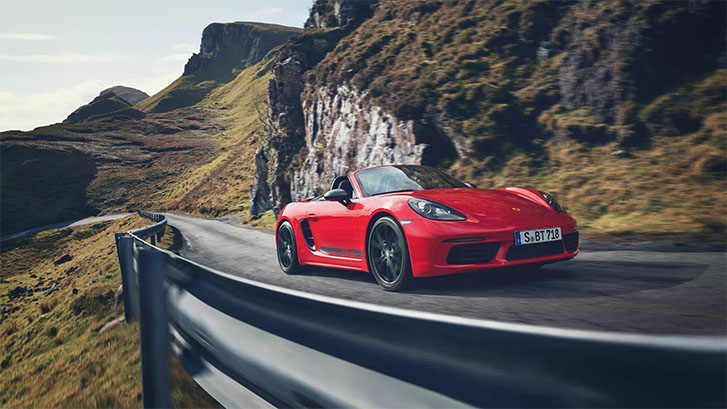 Porsche Torque Vectoring (PTV)
The standard Porsche Torque Vectoring (PTV) increases dynamic performance and stability. The system works with a variable torque distribution on the rear wheels and a mechanically regulated rear differential lock. When the car is driven assertively into a corner, moderate brake pressure is applied to the inside rear wheel. Consequently, a greater amount of drive force is distributed to the outside rear wheel, inducing an additional rotational pulse (yaw movement) around the vehicle's vertical axis. For direct, sporty steering from the turn-in point.
The mechanically regulated rear differential lock included with PTV has an asymmetrical lock factor. This helps to provide greater traction, for example when accelerating out of corners and driving on road surfaces with varying grip. The result: considerable lateral dynamic vehicle stability and exceptional traction. Impressive agility at every speed – with precise steering response and balanced load transfer characteristics. And, of course, tremendous fun on corners.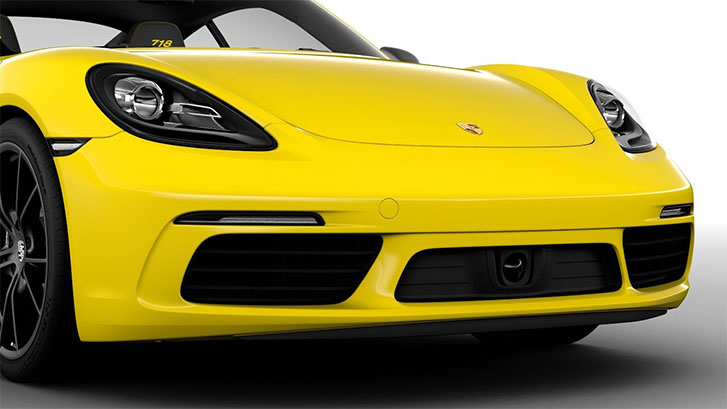 Adaptive Cruise Control (ACC)
Radar- and video-based technology that monitors and automatically regulates the distance from the vehicle in front as required even down to a halt by means of the stop-and-go function (usable at 19+ mph). Additional functions: audible warning if too close; warning by active jolt of the brakes; strategic braking; visual and audible warning if objects are detected within collision range. Note: Only in conjunction with PDK.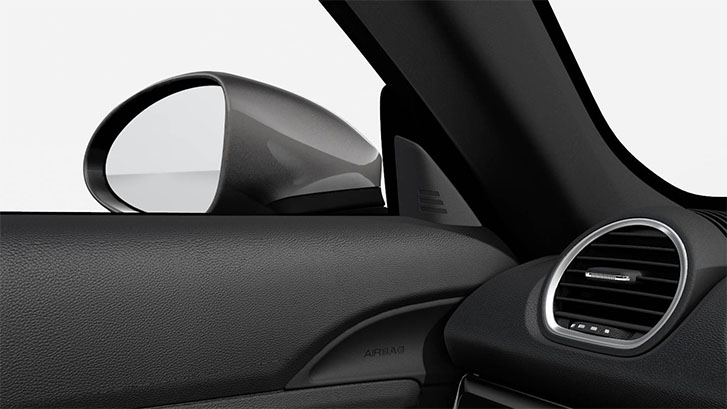 Lane Change Assist (LCA)
Lane Change Assist monitors the drivers blind spots and areas to the rear of the vehicle on both sides. A visual signal in the corresponding door mirror panel informs the driver that a vehicle has been detected in the adjacent lane. Available at 20+ mph.
2020 Porsche 718 T Specification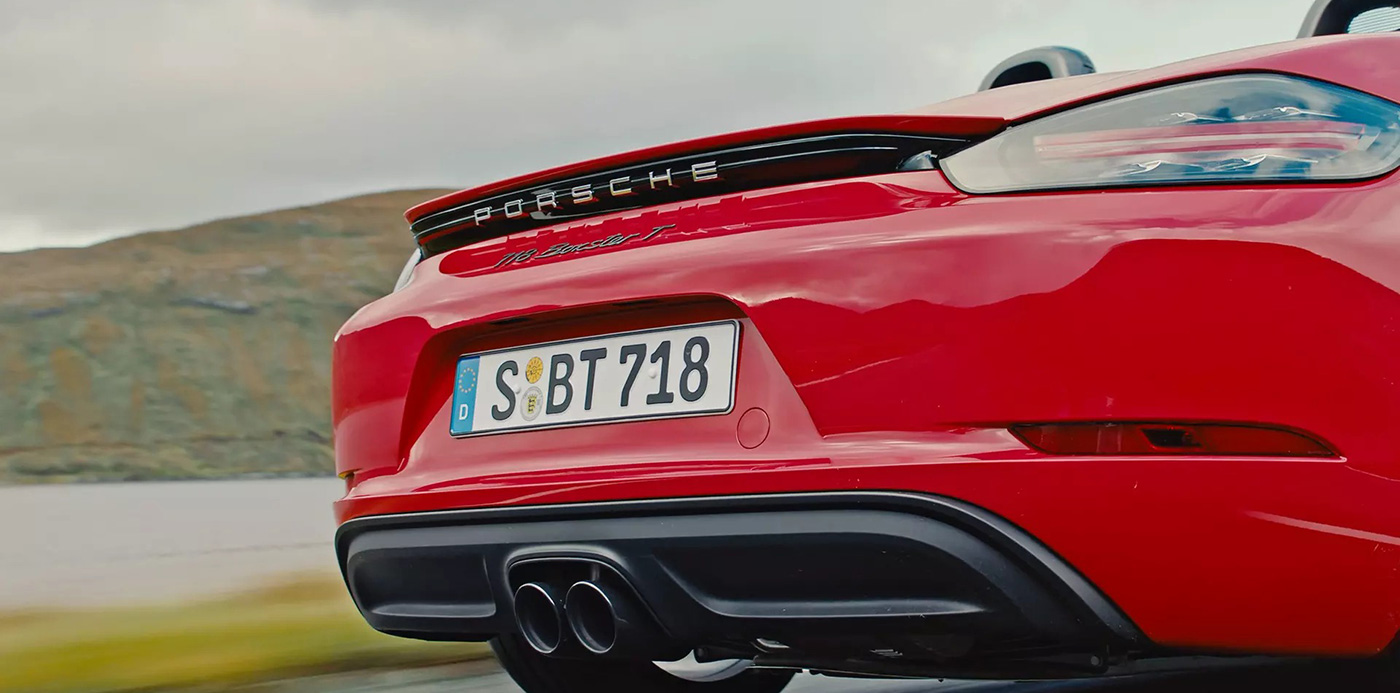 Specs reflect base model unless otherwise noted.
Motor
Design and cylinders
Turbocharged boxer 4
Max. power at rpm
6,500 rpm
Max. engine speed
7,500 rpm
Max. torque at rpm
1,950 - 4,500 rpm
Compression ratio
9.5 : 1
Max. power per liter
150.0 hp/l
Power-to-weight ratio (Manual)
9.8 lb/hp
Power-to-weight ratio (PDK (Automatic))
10.0 lb/hp
Valves
2 intake / 2 exhaust
Valve timing
VarioCam Plus
Lubrication
Integrated dry-sump
Intake style
Resonance intake system
Exhaust emission treatment
2 catalytic converters
Fuel Consumption
EPA Disclaimer
EPA estimates not yet available.
Chassis and Suspension
Front axle
MacPherson strut suspension with anti-roll bar
Rear axle
MacPherson strut suspension with anti-roll bar
Steering
Electromechanical power steering with variable steering ratio
Stability control
Component of Porsche Stability Management (PSM)
Anti-lock Braking System (ABS)
Component of Porsche Stability Management (PSM)
Traction control
Component of Porsche Stability Management (PSM)
Performance
0 - 60 mph with Sport Chrono Package (Manual)
4.9 s
0 - 60 mph with Sport Chrono Package (PDK (Automatic))
4.5 s
Body
Width w/ mirrors folded
70.9 in
Drag coefficient (Cd)
0.30 Cd
Curb weight (Manual)
3,065 lb
Curb weight (PDK (Automatic))
3,127 lb
Gross Vehicle Weight Rating (GVWR) (Manual)
3,648 lb
Gross Vehicle Weight Rating (GVWR) (PDK (Automatic))
3,714 lb
Maximum load (Manual)
583 lb
Maximum load (PDK (Automatic))
587 lb
Capacities
Front luggage compartment volume
5.2 ft³
Rear luggage compartment volume
9.7 ft³
Service and Warranty
Limited vehicle warranty
4 years/50,000 miles (whichever comes first) including 24-hour roadside assistance program
Main service interval
Porsche Cars North America offers service and maintenance packages in a variety of terms to match your intended usage. Please see your authorized Porsche Dealer for details and availability.
Limited paint warranty
4 years/50,000 miles (whichever comes first)
Limited corrosion warranty
12 years/unlimited miles