2020 Porsche 718 Spyder Overview
2020 Porsche 718 Spyder For Sale


Porsche 718 Spyder For Sale
2020 Porsche 718 Spyder Performance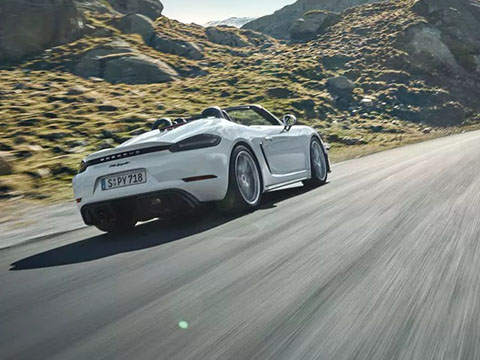 Engine
A 718 Boxster with six-cylinder horizontally opposed and naturally aspirated engine. Obviously. But with 4.0-liter displacement? The question has to be asked: "Does it go?" It goes.
Perfect. Or in other words: the horizontally opposed engine, completely redesigned. Six-cylinder, 4.0-liter displacement, naturally aspirated engine, excellent torque. Clear announcements presented by our broadly grinning engineers.
With its 414 hp, the engine delivers 39 hp more than its predecessors. A variable intake manifold with switchable resonance valves ensures optimal ventilation. As well as direct fuel injection (DFI), integrated dry-sump lubrication and adaptive cylinder control.
The maximum engine speed? 8,000rpm. The maximum torque of 309 lb-ft is from 5,000 to 6,800 rpm. Enough thrust to accelerate the new 718 Spyder to 60 mph in 4.2 seconds. Irrational: the sprint only ends the other side of the 187 mph mark.
An acoustic exclamation mark: the sound of the new 718 Spyder. Thanks to the precise sport exhaust system with its two clearly separated black tailpipes, to the left and right of the rear diffuser. For an even more powerful sports car sound at the press of a button.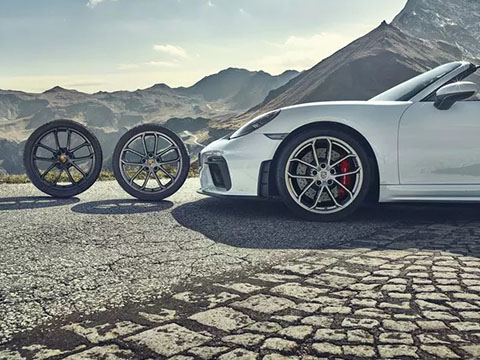 Wheels and Tires
The 20-inch alloy wheels of the new 718 Spyder are painted in silver color. Upon request, the wheels can also be painted in satin platinum or satin black. The dimensions of the road-approved sport tires are performance orientated. Specifically, 245/35 ZR 20 on 8.5 J × 20 front and 295/30 ZR 20 on 11 J × 20 rear. Multiple contact surfaces and grip with the reduced tread depth increases, however, the risk of hydroplaning on wet surfaces.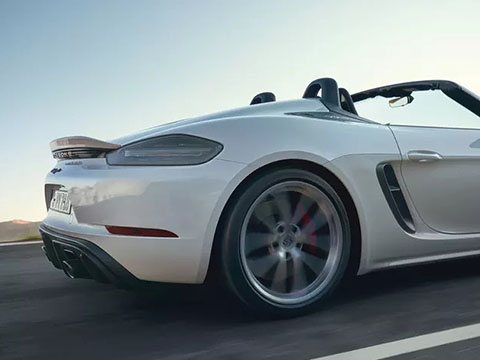 Chassis
Drifting gently through. Floating along the road on a cloud. A leather armchair on four wheels. To be frank: the new 718 Spyder is nothing like that.
The adaptive GT sports suspension of the new 718 Spyder is designed so that you experience every inch of road as directly as possible. And master every corner. Thanks to the wide toe angle, the streamlined tuning of the shock absorbers and the lowered body, every journey is a wild ride.
The lightweight spring-strut axle at the front is designed in typical GT style, the lightweight spring-strut axle at the rear is adjusted to the high performance of the new 718 Spyder with additional reinforcements and springs as well as specific wheel mounts. Ball joints on both axles also connect the chassis to the body in a particularly streamlined way, enabling an even more precise wheel control. Height, camber, toe angle and the anti-roll bars of the chassis can be adjusted individually. The new 718 Spyder doesn't just remain true to the track. It also remains true to your adrenaline levels – at the next mountain race for example.
2020 Porsche 718 Spyder Appearance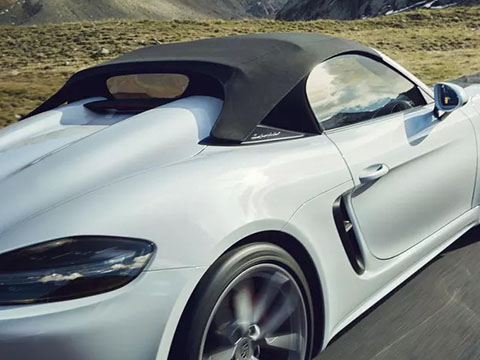 Roof
Let's face it, you'll barely ever want to close it: the partially electric and high-speed compatible, lightweight roof of the new 718 Spyder. It can be opened and closed with ease and enhances the presence of the new 718 Spyder even when closed.
The side profile of the roof is flat and shaped to pass harmoniously into the streamliners over the rear lid. At the rear, the roof tapers into two taut, streamlined fins.
It releases electrically. In a few simple steps, the roof can then be stored under the rear lid – without reducing the luggage compartment volume of course. The roof is also available in two-tone red and black in conjunction with the Classic package. The supplemental safety bars can also optionally be painted in the exterior color.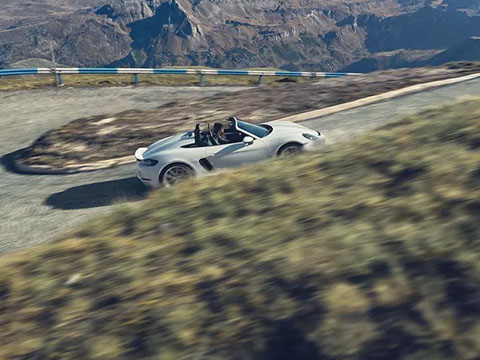 718 Spyder Concept
A firebrand. A go-getter. Aiming for the skies. The new 718 Spyder is an exclamation mark in a world full of 'what ifs'. And it is a promise – to every road and to every driver. Here is a roadster with no two quite the same. No compromises. No regrets. No rational arguments.
How about instead, unrestrained emotion and a good headwind? With a high-agility, mid-engined concept that will bring tears of joy to the eyes of all sports car fans. With a lightweight roof you'll probably never close. With sport suspension, manual transmission, door pull loops – essentially everything your everyday life doesn't need, but your heart yearns for.
With all this, the new 718 Spyder only has one target: to rob you of your sleep. To awaken your primal instincts. Take you as close to the moon as possible. And even closer to the road.
2020 Porsche 718 Spyder Comfort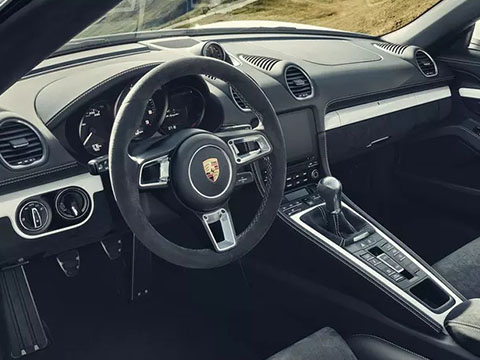 Interior
Sport seats Plus
The Sport seats Plus, with their sporty streamlined padding and raised side bolsters, provide optimal hold. The backrest can be adjusted electrically and the seat height and fore/aft position can be adjusted mechanically.
Adaptive Sport seats Plus
The adaptive Sport seats Plus go a step further. They complement the Sports seats Plus with an electric 18-way adjustment. The seats can be optimally adapted to meet your needs in terms of seat height, squab and backrest angle, seat depth, fore/aft adjustment and four-way lumbar support. The side bolsters on the seat surface and backrest can also be individually adjusted for precise lateral support on curves and added comfort on long journeys.
Full bucket seats
The full bucket seats are made of carbon-fiber reinforced plastic (CFRP) with carbon-weave finish. This provides especially good lateral support at minimal weight. The fore/aft adjustment is manual, the height adjustment is electric.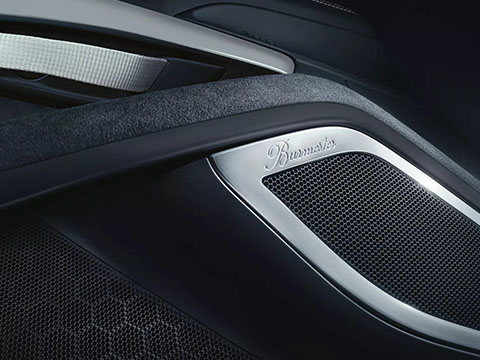 Sound Package Plus
The Sound Package Plus ensures an excellent sound. The acoustic pattern in the vehicle interior is perfectly adapted to the driver and passengers by the amplifiers integrated into PCM.
BOSE® Surround Sound System
The optional BOSE® Surround Sound system has been specially developed for the 718 models and is optimally tuned to the specific interior acoustics of these particular vehicles. The audio system features 10 loudspeakers and amplifier channels including a patented, 100-watt active subwoofer integral to the vehicle bodyshell. This fully active system set-up enables each individual loudspeaker to be optimally adapted to the vehicle interior. The total output: 505 watts. Should you ever want to drown out the resonant sound of the engine. For whatever reason.
Burmester® High-End Surround Sound System
For even greater listening pleasure: the optional Burmester® High-End Surround Sound System. With a total output of 821 watts and 12 individually controlled loudspeakers, including a 300-watt active subwoofer with class D digital amplifier integrated into the body, it provides a unique sound experience – even with an open roof. Sophisticated high-end audio components, e.g. special ribbon tweeters (air motion transformers, AMT), and a total diaphragm surface area of more than 1,340cm² enable precision playback even at very high sound levels. A wide selection of preset equalizers ensures a first-class audio experience, while a sound conditioner based on microphone technology adapts the sound sensitively and in real time to the driving situation.
2020 Porsche 718 Spyder Safety
New Car Limited Warranty & Porsche 24-Hour Roadside Assistance Program for 4-Years / 50,000 Miles (whichever occurs first)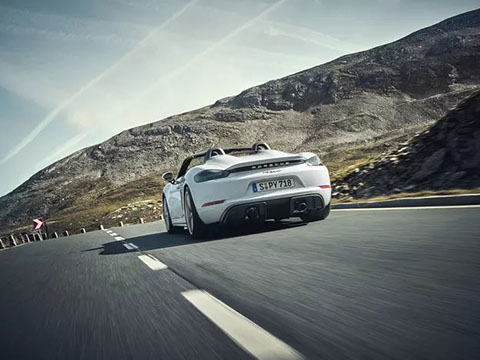 Passive Safety
The safety concept consists of a stiffness optimization of the body construction, two-piece roll-over protection and two full-size airbags that go off in two stages depending on the type and severity of the accident. Porsche Side Impact Protection (POSIP), comprising side impact protection elements in the doors, thorax airbag integrated into the side bolster of each seat and head airbag for driver and passengers in each door panel ensures additional protection. In short: greater safety – even with an open roof.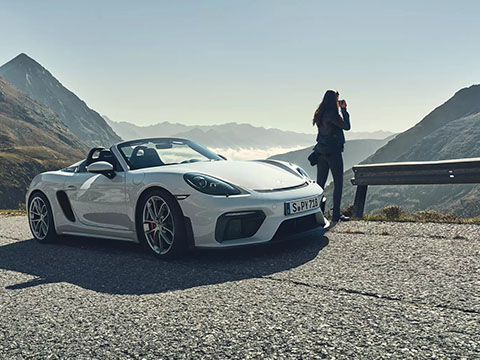 Light Systems
So that you know what's coming towards you, the new 718 Spyder is fitted with Bi-Xenon headlights with integrated LED daytime running lights as standard. Bi-Xenon headlights in black with Porsche Dynamic Light System (PDLS) and LED headlights with Porsche Dynamic Light System Plus (PDLS Plus) are optionally available.
2020 Porsche 718 Spyder Specification

Specs reflect base model unless otherwise noted.
Engine
Design and cylinders
Naturally aspirated boxer 6
Max. power at rpm
7,600 rpm
Max. engine speed
8,000 rpm
Max. torque at rpm
5,000 - 6,800 rpm
Max. power per liter
103.5 hp/l
Power-to-weight ratio
7.8 lb/hp
Fuel Consumption
EPA Disclaimer
EPA estimates not yet available.
Chassis and Suspension
Front axle
Lightweight spring-strut front axle, anti-roll bar and suspension mountings partly ball-jointed
Rear axle
Lightweight spring-strut rear axle (incl. helper springs), anti-roll bar and suspension mountings partly ball-jointed
Steering
Electromechanical direct steering with variable steering ratio
Anti-lock Braking System (ABS)
Component of Porsche Stability Management (PSM)
Traction control
Component of Porsche Stability Management (PSM)
Performance
Body
Width w/ mirrors folded
71.0 in
Drag coefficient (Cd)
0.34 Cd
Gross Vehicle Weight Rating (GVWR)
3,792 lb
Capacities
Front luggage compartment volume
5.2 ft³
Rear luggage compartment volume
4.2 ft³