2020 Porsche 718 Cayman Overview
2020 Porsche 718 Cayman For Sale


Porsche 718 Cayman For Sale
2020 Porsche 718 Cayman Performance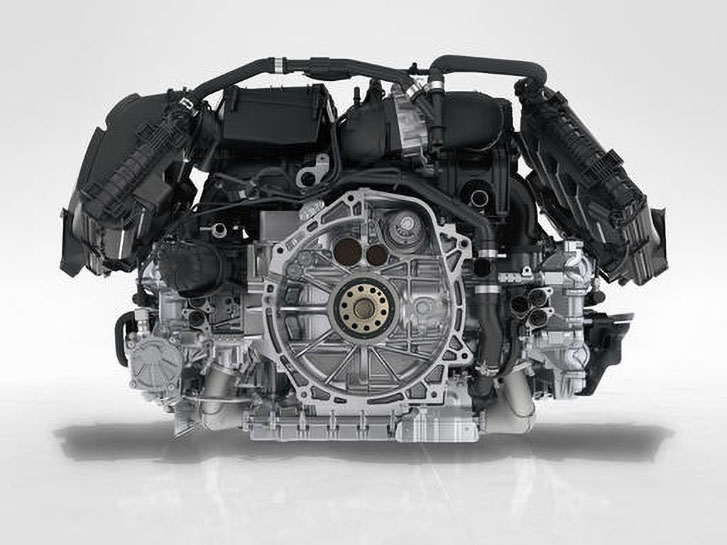 Engines
The 2.0-liter turbocharged boxer engine
The standard models are equipped with a 2.0-liter turbocharged boxer engine with direct fuel injection (DFI), VarioCam Plus and integrated dry-sump lubrication. The unit develops 300 hp at 6,500 rpm. Maximum torque is 280 lb.-ft. Thanks to turbocharged induction, it is available as low as 1,950 rpm and prevails until 4,500 rpm. With Porsche Doppelkupplung (PDK), the new 718 Cayman accelerates from 0 to 60 mph in only 4.7 seconds, reaching a top track speed of 170 mph.
The 2.5-liter turbocharged boxer engine
The S models draw their power from a capacity of 2.5 liters. The result is 350 hp at 6,500 rpm. The maximum torque of 309 lb.-ft. is available across an impressively wide range from 1,900 to 4,500 rpm. This engine – like the engine in the 911 Turbo – also comes equipped with variable turbine geometry (VTG). VTG provides an even more consistent delivery of power and, in turn, significantly greater driving pleasure. Propulsive potential? Top track speed is 177 mph. The S models with PDK and Launch Control complete the 0 to 60 mph sprint in just 4.0 seconds.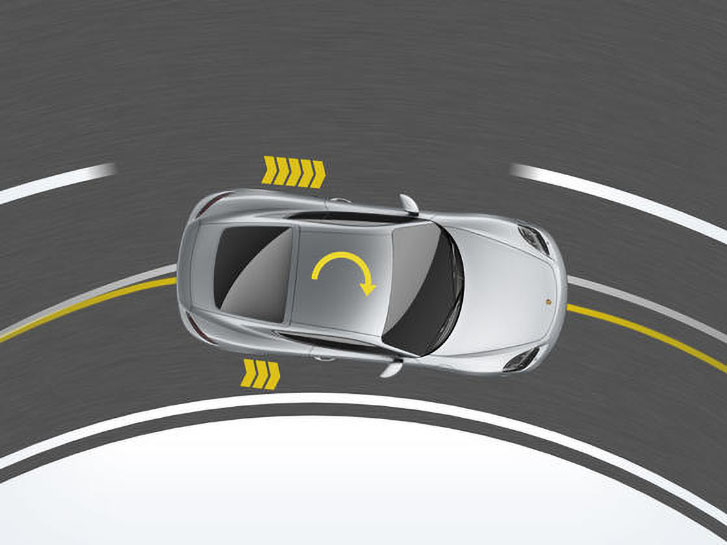 Porsche Torque Vectoring (PTV)
PTV is an optional system for enhancing driving dynamics and stability. Operating in conjunction with a mechanical rear differential lock, it works by varying the amount of torque transmitted to the rear wheels.
When the car is driven assertively into a corner, moderate brake pressure is applied to the inside rear wheel. Consequently, a greater amount of drive force is distributed to the outside rear wheel, inducing an additional rotational pulse (yaw movement) around the vehicle's vertical axis. This results in a direct and sporty steering response from the turn-in point.
At low and medium vehicle speeds, PTV significantly increases agility and steering precision. At high speeds and under acceleration out of corners, the mechanically controlled rear differential lock also acts to provide greater driving stability and traction.
For the driver, this means strong resistance to destabilizing side forces, outstanding traction and great agility at every speed – with precise turn-in and well-balanced load transfer characteristics. What else? Tremendous fun in the corners.
Efficiency-enhancing technologies
Auto start/stop switches off the engine when the driving speed falls below 4 mph, such as when you are approaching a red light. As soon as you release the clutch or depress the accelerator pedal, the engine restarts – swiftly and smoothly.
In conjunction with Porsche Doppelkupplung (PDK), a coasting function becomes available when the situation allows. The engine is decoupled from the transmission to avoid deceleration caused by engine braking. This way, optimum use is made of the vehicle's momentum, enabling it to coast for longer distances.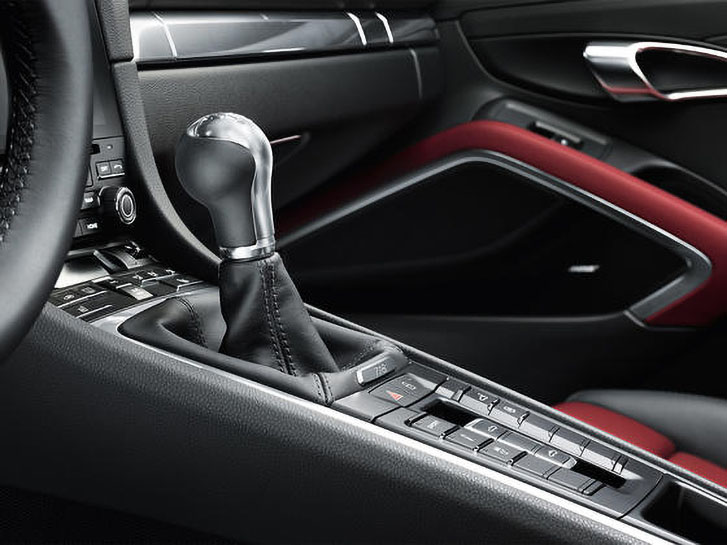 Transmission
6-Speed Manual Transmission
The 718 models are equipped with a smooth-shifting 6-speed manual transmission optimally matched to the respective engine map. The shift throws are sporty and short, and shift effort is low. This means short shift times for an engaging driving experience. The drive becomes even more dynamic in conjunction with the optional Sport Chrono Package: in SPORT and SPORT PLUS mode, the dynamic throttle-blip function ensures the optimum engine speed for every downshift, a more emotional driving experience and an impressive sound.
Porsche Doppelkupplung (PDK)
7-speed PDK, featuring both a manual and an automatic mode, is available as an option and offers extremely fast gear changes with no interruption in the flow of power. Not to mention even faster acceleration performance and a reduction in fuel consumption over the manual transmission.
In manual mode, the shift direction simulates that of racing cars – to the rear to shift up, forward to shift down.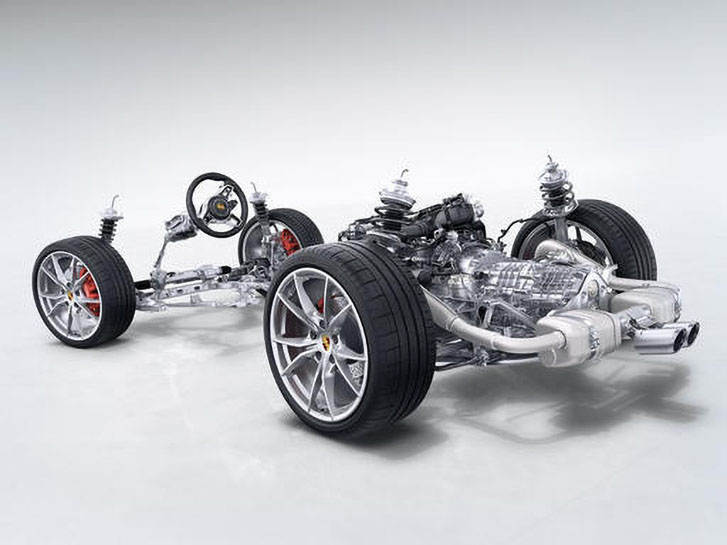 Chassis
Anyone can follow the straight and narrow. Only the corner is the true test of mettle. Only in the corner does a sport car really become a sport car. So it's all the more important to have a chassis that can master any sporting challenge. And be a match for the high power output of the engine.
The suspension components are for the most part made of aluminium, which keeps the vehicle weight and unsprung masses low. The wide track, long wheelbase and specific chassis construction help to deliver particularly precise and agile handling.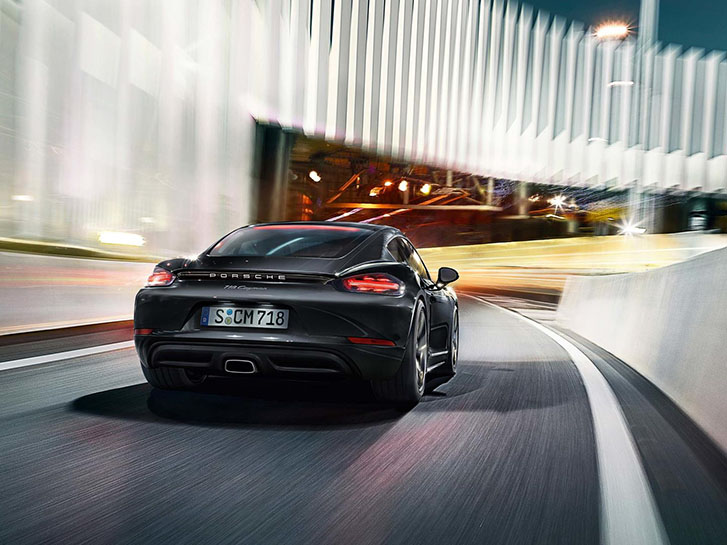 Steering
Electromechanical power steering
The direct steering system of the new 718 models has a perceptibly more immediate ratio than that of the previous models. The results are agile turn-in and an even sportier driving experience – with a customarily high level of comfort.
Power steering Plus
The comfort-oriented Power steering Plus is available as an option. At high speeds, the steering is as firm as you would expect. At low speeds, the steering ratio adjusts for easier maneuvering and parking.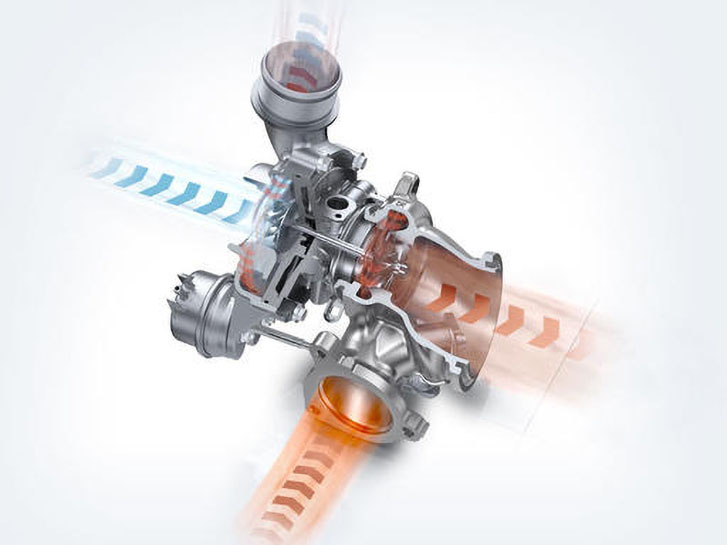 Turbocharger
The displacement of the new 718 Cayman models has been considerably reduced. Nevertheless, the power output of the new engines has been significantly increased. This has been possible thanks to the turbochargers developed for the 718 models completely from scratch. The respective turbocharger is particularly compact and has been optimally adapted to the displacement and power output of the engine.
The result could not deliver a clearer message. The extraordinarily wide torque plateau makes itself felt with each demand for throttle.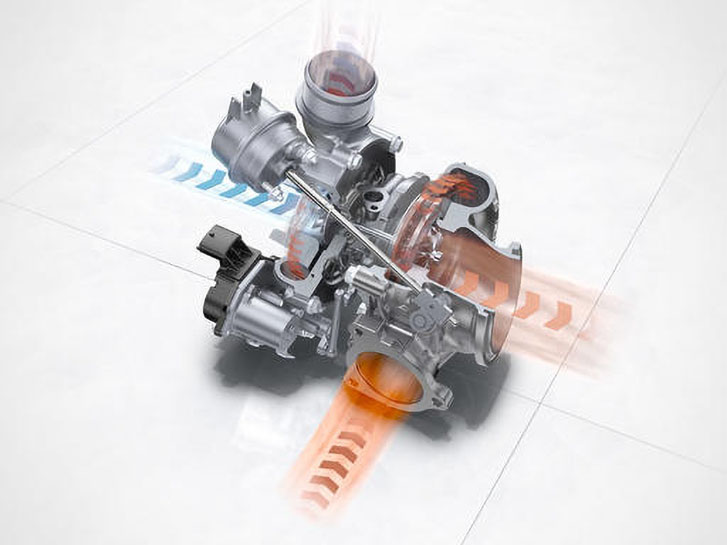 Variable turbine geometry (VTG)
The new 718 Cayman S come equipped with variable turbine geometry (VTG). Adjustable guide vanes on the turbine act to combine the benefits of a small and a large exhaust turbocharger. Derived from the proven 911 Turbo and adapted specifically for the 718 S models, this technology helps to deliver excellent responsiveness at low engine speeds and to provide a high maximum power output.
2020 Porsche 718 Cayman Appearance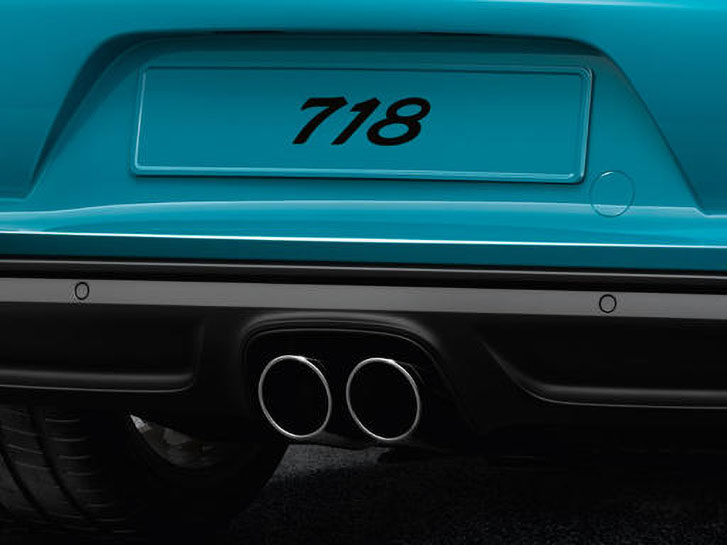 Sport exhaust system
With the standard sports exhaust system on all 718 models, the already powerful sound of the mid-mounted engine becomes even more intense – at the push of a button. Sports tailpipes in stainless steel with a high-gloss finish in a choice of black or silver colour are optionally available.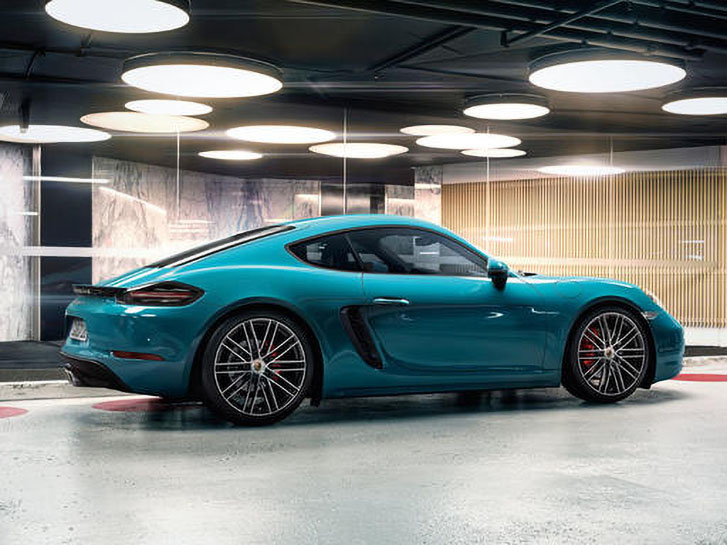 Exterior Design
Precise, not fanciful. Self-assured, not restrained. Low, wide and sleek. The exterior design of the new 718 models ushers in a new era for the Cayman with sporty, distinctive edges and clearly defined formal contours.
The horizontal geometry of the air intakes makes the front end appear even wider – and lends it added bite. The wings? Unmistakably Porsche. Higher than the front lid, they have been styled to give prominence to the new design of the headlight units, which lay bare their inner workings and incorporate the LED daytime running lights.
The side profile emphasizes the midengine layout. The wheel arches are large, designed for wheels up to 20 inches in size. One thing is clear: the new 718 models were not intended for the shelter of the garage, but for the pleasure of driving. That's precisely why the contouring on the doors purposefully directs headwind into the large air intakes on either side of the car. This provides the optimum supply of air to the new turbocharged engines, a basis for their powerful forward thrust.
Another sporty detail: new exterior mirrors with v-shaped mirror base.
The rear of the new 718 models is an expression of superlative sporty performance – and of the superlative performance of our designers. It is more cleanly defined, more pared back.
And yet it's anything but conformist. The taillights are slimline, their inner workings fashioned three-dimensionally. Four LED brake spot lights are incorporated into each of the horizontal rear light units. Between the two taillights, an accent trim makes the rear end look even wider.
The wing above extends automatically at a speed of TBD mph, reducing lift to provide even better roadholding performance.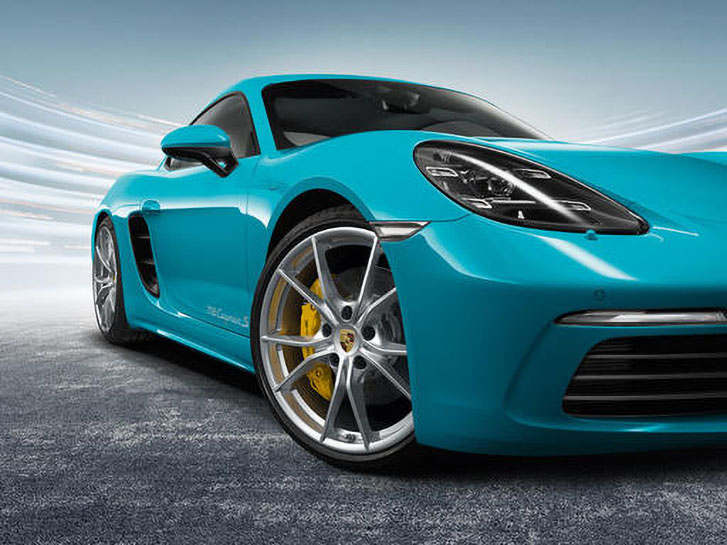 Wheels
The new Cayman models each come equipped with distinctively styled 18-inch wheels. The S models are fitted with 19-inch wheels introducing two new rim designs.
On all 718 models, the wheels are light alloy – a sports car hallmark. An extra half an inch has been added to the width of the rear wheels. This provides greater stability and overall enhanced cornering performance, in conjunction with the new generation of summer tires.
Rolling resistance and tire weight are comparatively low.
A selection of 20-inch wheels is available in our range of options.
2020 Porsche 718 Cayman Comfort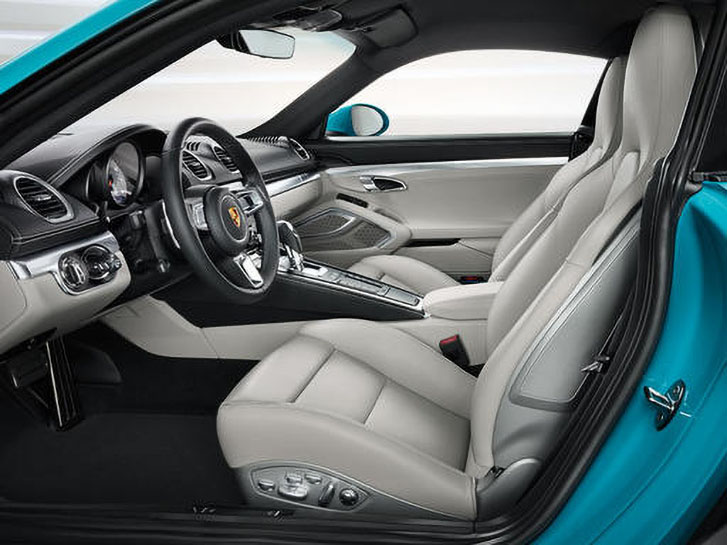 Interior
The new sport steering wheel with its puristic design, the ascending center console, three round instruments with the tachometer positioned in the center: everything in the interior is intended to put the driver first. All buttons and functions are intuitive to operate, all information is always at hand.
It's an ergonomics concept that not only saves time, but looks good, too. At Porsche, function and design are inextricably linked.
New Porsche Communication Management (PCM) with 7-inch multitouchscreen and optional navigation module enhances form and function with a further component: near-boundless possibilities. The optional Porsche Connect or Porsche Connect Plus module is the driver's gateway to the digital world.
The instrument cluster with 4.6-inch color screen provides you with a continuous stream of data from the on-board computer. It also displays the map of the optional navigation system, delivers various warnings and reminds you of your chosen communication and audio settings.
The materials are no less suited to the sporty challenge. Leather and Alcantara® are easy to grip, while the firmly padded sport seats provide support during dynamic cornering maneuvers.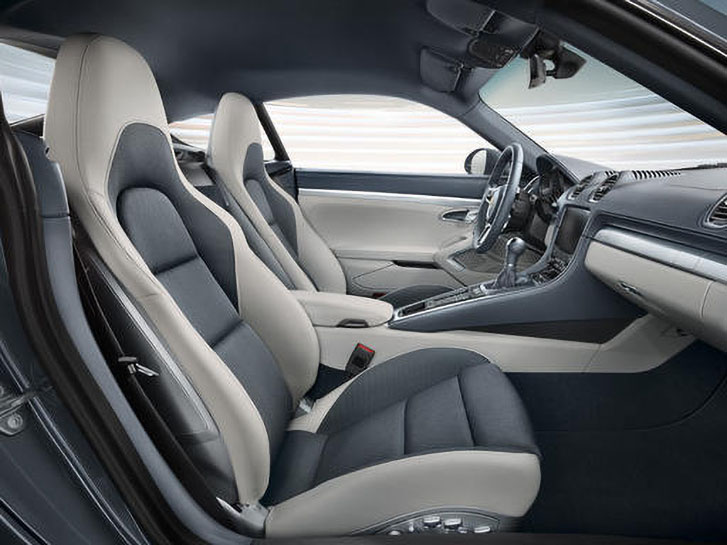 Seats
Sport seats
The Sport seats are comfortable and provide support even during performance driving. They come equipped with electric backrest adjustment and mechanical height and fore/aft adjustment.
Fully electric Sport seats
Comfort doesn't have to be sacrificed. Neither does a sporty driving feel. The optional fully electric Sport seats offer power adjustment of seat height, backrest angle, squab angle and squab depth. Also electrically operated are the fore/aft adjustment, four-way lumbar support and even the steering column. The included memory package stores a range of settings, including the positions of both exterior mirrors and all driver's seat and steering wheel positions.
Sport seats Plus
Available as an option are Sport seats Plus in leather with electric backrest adjustment as well as mechanical height and fore/aft adjustment. The side bolsters on the squab and backrest have a firmer, sportier padding and provide even better lateral support.
Adaptive Sport seats Plus
Available on request, adaptive Sport seats Plus reinforce the connection between sport and comfort. As an upgraded version of the Sport seats Plus, they combine all the features of the fully electric Sport seats and add power adjustment of the side bolsters on the squab and backrest.
Seat heating and ventilation
Seat heating is available as an option for all seats. Seat ventilation is also available on request (not for Sport bucket seats or seats with seat centres in Alcantara® or Sport-Tex) – for a pleasant and dry seating environment, even in hot weather.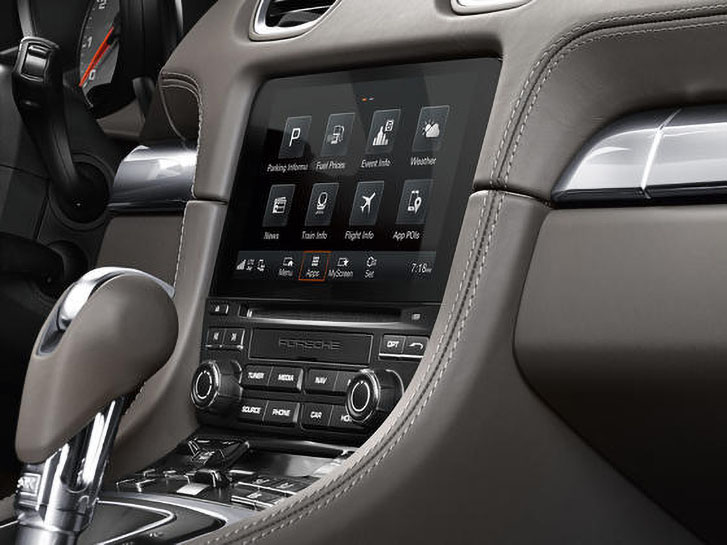 The new Porsche Communication Management (PCM)
The enhanced Porsche Communication Management (PCM) is your central control unit for all infotainment applications and is standard equipment in all models. The PCM features a high-resolution touch display with integrated proximity sensor which allows simple and convenient operation.
Infotainment already starts when you charge and connect your iPhone® or any other audio source. You can connect your device easily using either the USB port or AUX input. An internal hard drive ("Jukebox") and two SD card readers are provided in addition to the CD/DVD drive for playback of your personal music. After inserting the SD cards, you can simply play your music with the music player in the PCM.
The mobile phone preparation makes it easy for you to establish a Bluetooth® connection to a mobile phone that supports the hands-free profile (HFP). The cell phone can remain in your pocket or bag.
Further information on the availability of the functions and services described here and under "Porsche Connect" for your Porsche model is available in the Porsche Car Configurator and from your authorized Porsche dealer.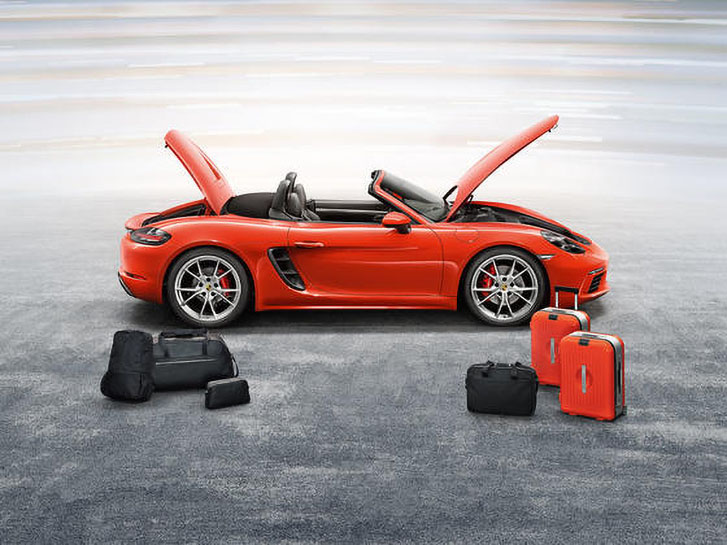 Luggage compartments and storage solutions
A lot can be expected of a genuine sport car. The mid-engine concept of the 718 models impresses not only by delivering superbly agile driving dynamics, but also by affording two luggage compartments.
On the new 718 Cayman models, the front luggage compartment holds 5.3 cu.ft. At the rear of the new 718 Cayman, there is space for 9.7 cu.ft. Thanks to the shelf above the engine cover, there is even enough room to accommodate the longer items of your belongings.
In the interior, too, clever storage solutions offer plenty of space. The compartment under the armrest – when combined with the optional Porsche Connect or Porsche Connect Plus module – becomes the ideal interface between your smartphone and your 718 model. Further convenience is provided, for example, in the form of two compartments in the doors, clothes hooks on the seat backrests and two cupholders above the glove compartment.
2020 Porsche 718 Cayman Safety
New Car Limited Warranty & Porsche 24-Hour Roadside Assistance Program for 4-Years / 50,000 Miles (whichever occurs first)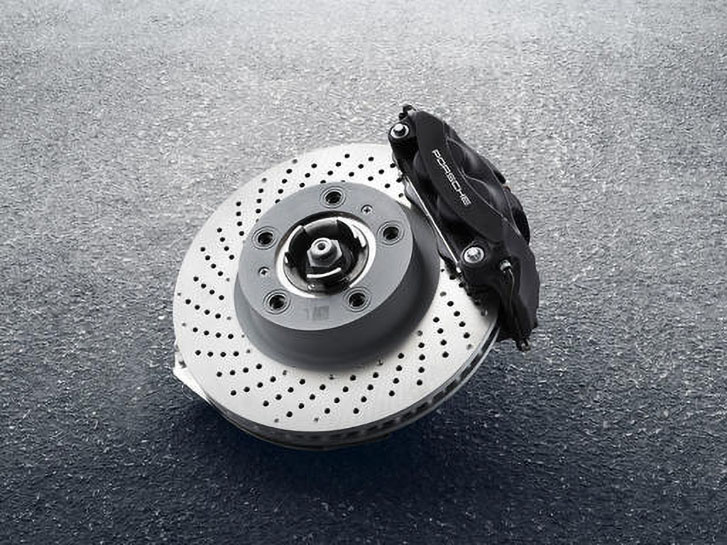 Brakes
In sport, performance counts. It applies to the engine and it also applies to the brakes. The new 718 models are therefore equipped with four-piston aluminium monobloc fixed calipers.
On the new 718 Cayman, the brake calipers come with a black finish – red on the S model. Brake disc diameters are 330 mm at the front and 299 mm at the rear.
To make them tougher yet lighter and enable a more rapid response – even under extreme loads – the brake calipers have an enclosed monobloc construction.
The pedal travel is short and the biting point precise. The brake discs are crossdrilled and internally vented, which helps to provide improved wet braking and optimum cooling.
Proven in motorsport, the Porsche Ceramic Composite Brake (PCCB) is available as an option.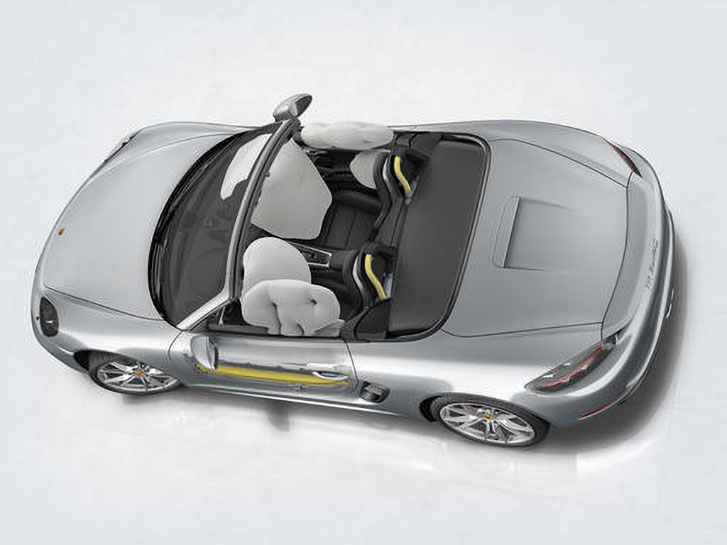 Airbags and Porsche Side Impact Protection System (POSIP)
The new 718 models offer advanced airbag technology in the form of full-size driver and front passenger airbags, which are inflated in two stages depending on the severity and type of accident. They also feature driver and passenger knee airbags.
All 718 models are also equipped with the Porsche Side Impact Protection System (POSIP). It comprises side impact protection elements in the doors and two airbags on each side. An integral thorax airbag is located in each seat side bolster, while the door panels each contain an upwards-inflating head airbag.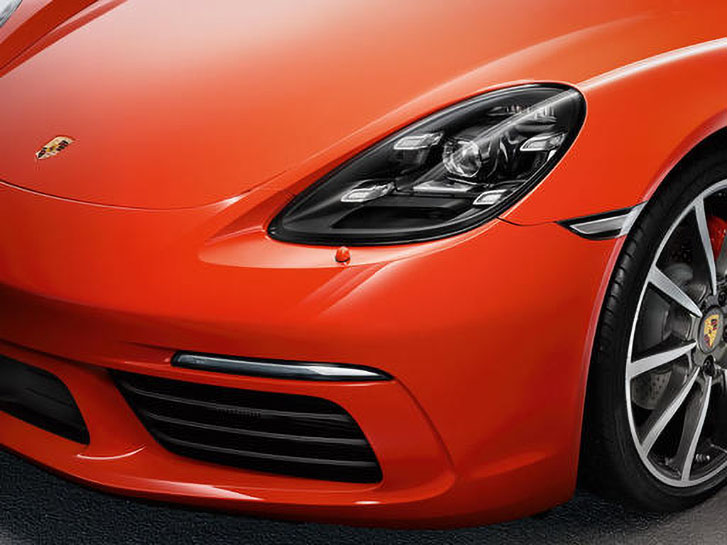 Lights
Rain. Fog. Darkness. Nothing that would faze a genuine athlete. That's why all 718 models are equipped with Bi-Xenon headlights with integrated LED daytime running lights.
At the rear, the three-dimensional design of the taillights incorporating four-point brake lights leaves a lasting impression. For powerful illumination, all functions are implemented by LED technology.
The Porsche Dynamic Light System (PDLS) and Porsche Dynamic Light System Plus (PDLS Plus), are available as an option.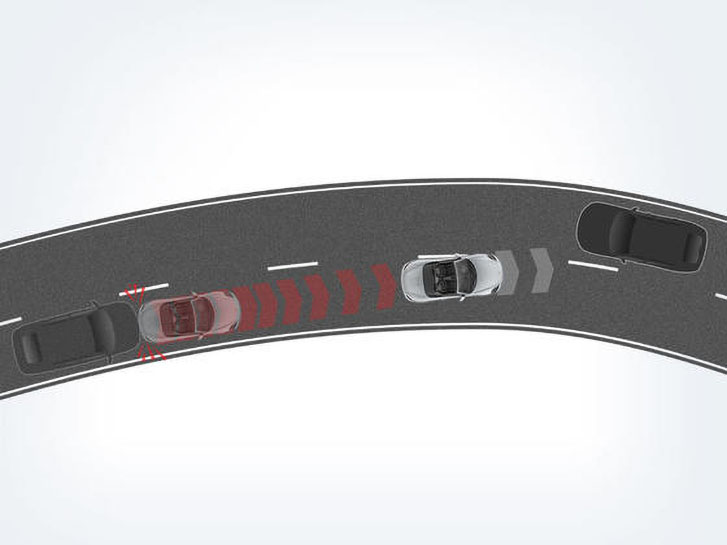 Assistance systems
Adaptive cruise control including Porsche Active Safe (PAS)
Available as an option in conjunction with Porsche Doppelkupplung (PDK), this enhanced version of cruise control actively regulates the speed of your vehicle in line with the speed of the vehicle in front. A radar sensor scans the road ahead up to a distance of 650 ft.
Lane Change Assist
New Lane Change Assist, available as an option, uses radar sensors to monitor the areas to the rear of the vehicle and the blind spots on either side. Above a speed of 19 mph, the system issues a visual warning signal in the door mirror panel whenever a vehicle rapidly approaches your vehicle from behind or enters one of your blind spots.
ParkAssist and reversing camera
Featuring four inconspicuous sensors in the front and rear ends, standard ParkAssist audibly alerts the driver to the presence of obstacles detected around the vehicle.
2020 Porsche 718 Cayman Specification
Specs reflect base model unless otherwise noted.
Motor
Design and cylinders
Turbocharged boxer 4
Max. power at rpm
6,500 rpm
Max. engine speed
7,500 rpm
Max. torque at rpm
1,950 - 4,500 rpm
Compression ratio
9,5 : 1
Max. power per liter
150.0 hp/l
Power-to-weight ratio (Manual)
9.8 lb/hp
Power-to-weight ratio (PDK (Automatic))
10.0 lb/hp
Valves
2 intake / 2 exhaust
Valve timing
VarioCam Plus
Lubrication
Integrated dry-sump
Intake style
Resonance intake system
Exhaust emission treatment
2 catalytic converters
Fuel Consumption
EPA Disclaimer (Manual)
EPA estimate. Actual mileage may vary.
EPA Disclaimer (PDK (Automatic))
EPA estimates not yet available.
Chassis and Suspension
Front axle
MacPherson strut suspension with anti-roll bar
Rear axle
MacPherson strut suspension with anti-roll bar
Steering
Electromechanical power steering with variable steering ratio
Stability control
Component of Porsche Stability Management (PSM)
Anti-lock Braking System (ABS)
Component of Porsche Stability Management (PSM)
Traction control
Component of Porsche Stability Management (PSM)
Performance
0 - 60 mph (Manual)
4.9 s
0 - 60 mph (PDK (Automatic))
4.7 s
0 - 60 mph with Sport Chrono Package (Manual)
4.9 s
0 - 60 mph with Sport Chrono Package (PDK (Automatic))
4.5 s
Body
Width w/ mirrors folded
70.9 in
Drag coefficient (Cd)
0.30 Cd
Curb weight (Manual)
3,034 lb
Curb weight (PDK (Automatic))
3,096 lb
Gross Vehicle Weight Rating (GVWR) (Manual)
3,648 lb
Gross Vehicle Weight Rating (GVWR) (PDK (Automatic))
3,714 lb
Maximum load (Manual)
614 lb
Maximum load (PDK (Automatic))
618 lb
Capacities
Front luggage compartment volume
5.2 ft³
Rear luggage compartment volume
9.7 ft³
Service and Warranty
Limited vehicle warranty
4 years/50,000 miles (whichever comes first) including 24-hour roadside assistance program
Main service interval
Porsche Cars North America offers service and maintenance packages in a variety of terms to match your intended usage. Please see your authorized Porsche Dealer for details and availability.
Limited paint warranty
4 years/50,000 miles (whichever comes first)
Limited corrosion warranty
12 years/unlimited miles