2020 Ford GT OVERVIEW
2020 Ford GT For Sale
3.5L EcoBoost® V6 engine
Top Speed: 216 MPH (GT)
7-Speed, Dual Clutch Automated Manual Transmission with Sequential Shift Controls
647 HP & 0-62 MPH in 3.1 sec. (GT) / 700 HP (GT MK II)

2020 Ford GT MODELS

Ford GT For Sale
Ford GT PERFORMANCE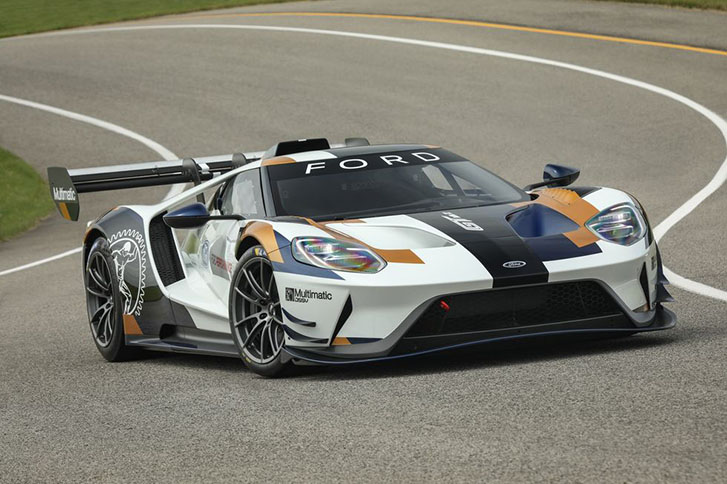 3.5-liter EcoBoost® Twin-Turbo V6
The Ford GT is improved for 2020 with increased horsepower and upgraded engine cooling. 2020 GT's EcoBoost engine features a broader torque band and revised engine calibration plus mechanical upgrades that include gallery-cooled pistons and higher-energy ignition coils, thanks to lessons learned from the limited-edition, track-only GT Mk II.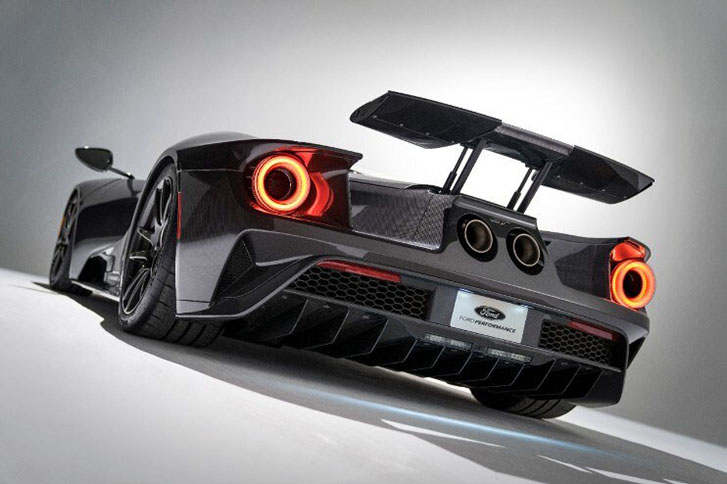 New Standard Akrapovič Titanium Exhaust
Ford Performance is also introducing the premium Akrapovič titanium exhaust as standard equipment for GT. Boasting the signature craftsmanship of these renowned race experts, this exhaust provides a nine-pound weight savings over the previous system while featuring that deeply resonant, unmistakable sound emanating from the more powerful EcoBoost engine.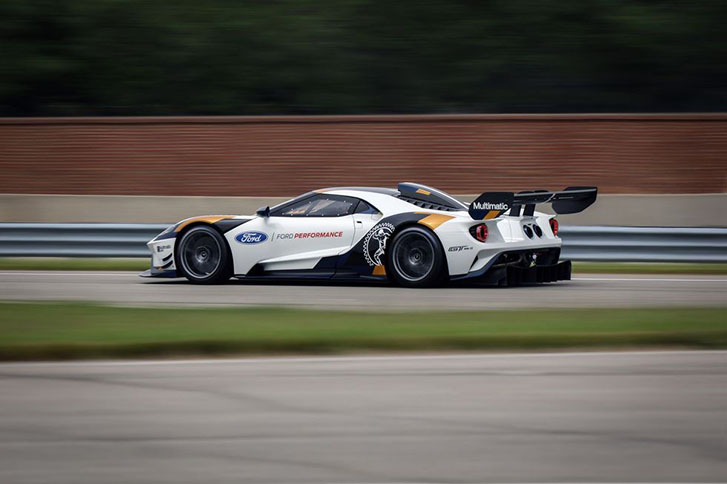 Ford GT MK II - The Most Powerful Ford GT Ever
Its upgraded 3.5-liter twin-turbocharged V6 EcoBoost engine is not limited by racing sanctioning bodies, allowing the Ford GT Mk II to generate significantly more horsepower than the race car, and making the Mk II the most powerful version of the Ford GT.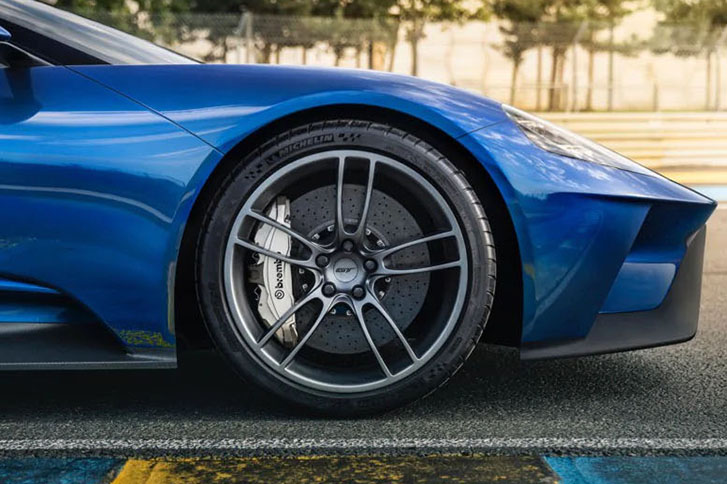 Carbon-Ceramic Brakes
To help overall performance, Brembo™ carbon-ceramic brakes have been engineered into the Ford GT.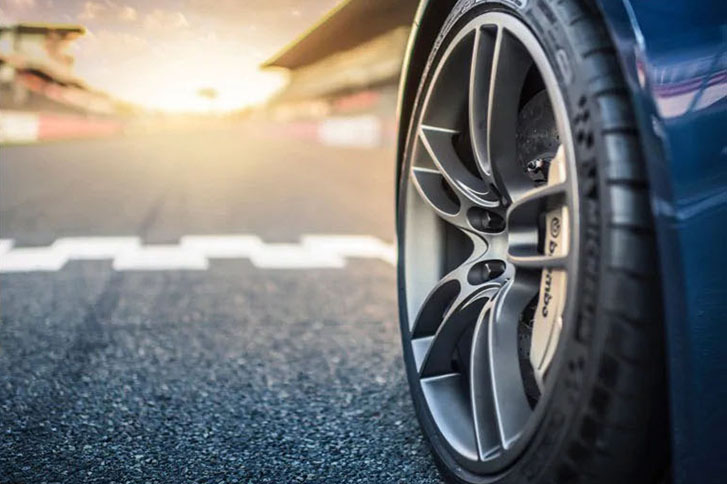 Suspension
Long suspension arms and inboard damper packaging deliver track-capable vehicle dynamics, an example of Ford Performance engineers exploring suspension design for future Ford Performance vehicles.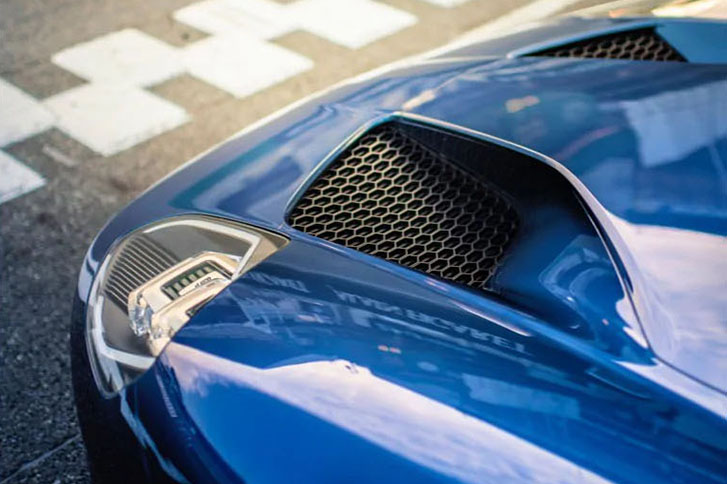 Super Light. Super Strong.
The lightweight body is made of carbon fiber. Aluminum structures minimize the weight of the high-strength subframe.
2020 GT APPEARANCE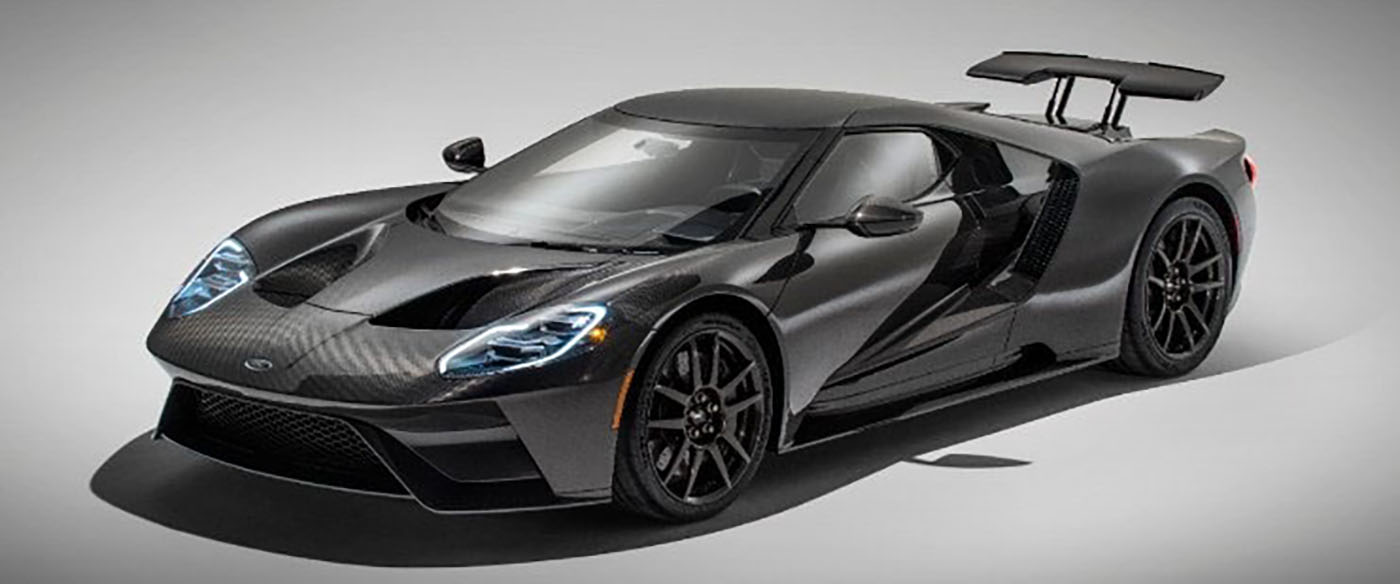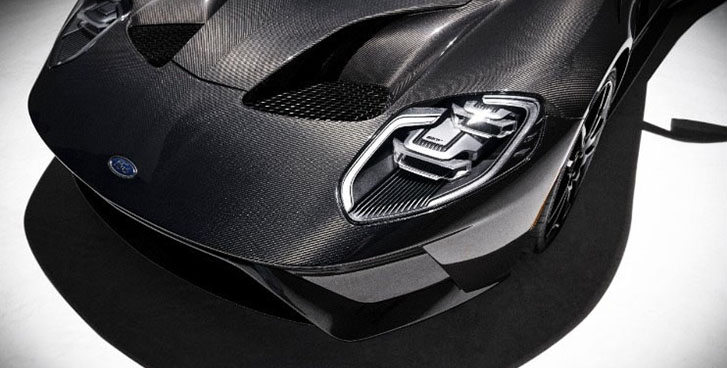 2020 Ford GT Liquid Carbon
Newly available Ford GT Liquid Carbon places an emphasis on GT's lightweight sculpted carbon fiber body completely free of paint color. A special clearcoat punctuates each GT's unique carbon fiber weave in this limited-edition appearance option.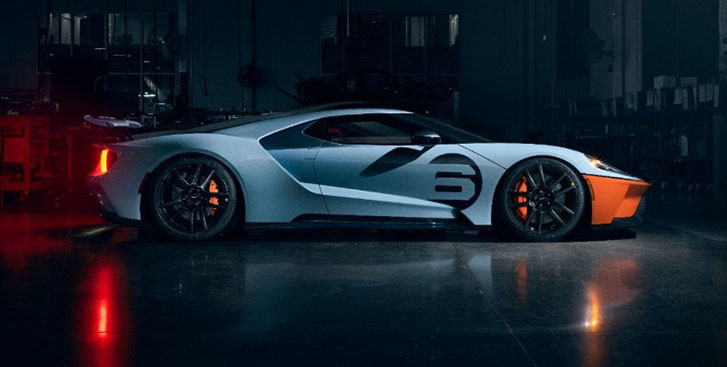 2020 Ford GT Gulf Racing Heritage Edition
Ford Performance is also updating GT's iconic heritage livery with a new design that includes a black pinstripe to divide the distinct blue and orange colors, recalling the 1968-69 Le Mans-winning GT40. The optional carbon fiber number switches from 9 on the 2019 model to 6 for 2020, matching that of the historic back-to-back winning car, chassis No. 1075. For the first time on a heritage model, carbon fiber wheels are available in lieu of aluminum alloy.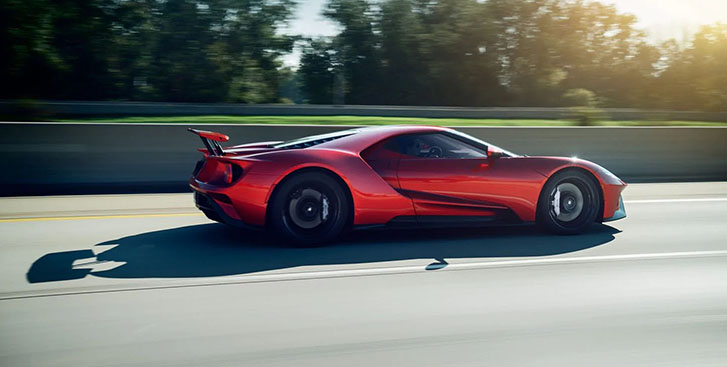 Rear Wing
The rear wing is built into the overall aerodynamic design of the fuselage, so it enhances airflow even when not deployed. When deployed, it can even change shape to optimize airflow and squeeze out just that extra bit of performance.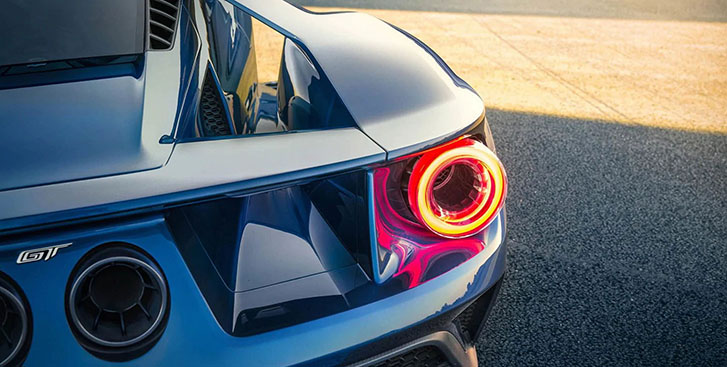 Buttress
A great example of the engineering ingenuity that went into the Ford GT, the buttresses add strength to the chassis and guide airflow over the car while contributing to drag reduction and efficient airflow management. They also reduce the coefficient of drag and contribute to the downforce that optimizes handling and performance.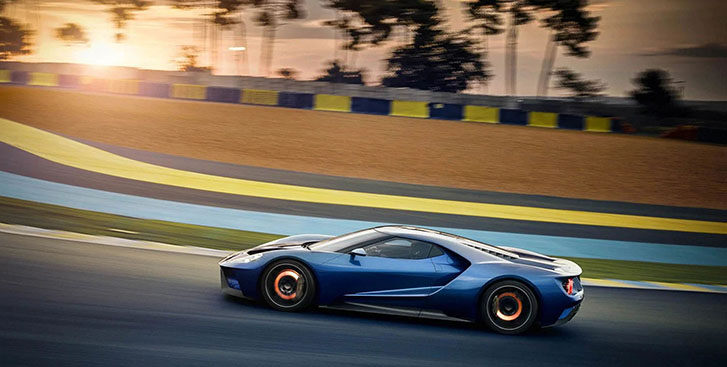 Ride Height
Its ride height can be lowered approximately 50mm, improving its aerodynamics and lowering its center of gravity for optimal performance on the track.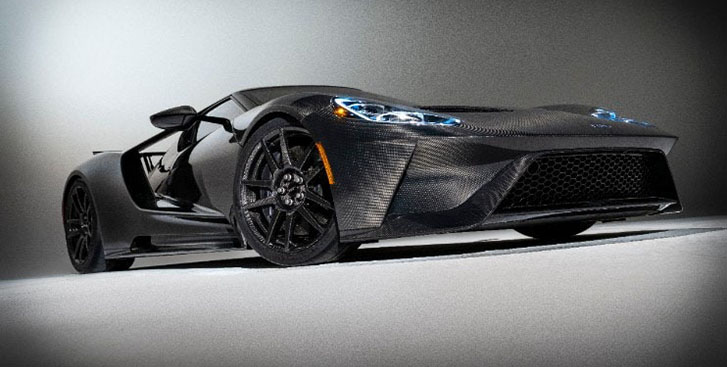 Intake
The air inlets just ahead of the rear wheels feed cooling air to the intercoolers, and also act as inlets for engine air intake.
Ford GT COMFORT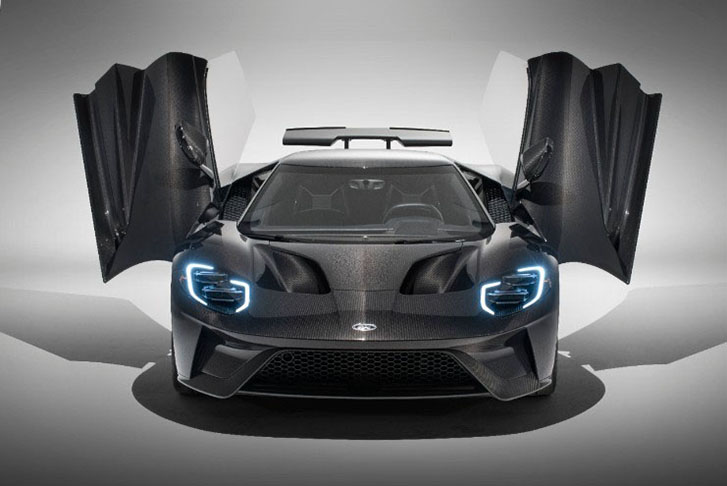 Butterfly Doors
These doors are opened upwards and towards the windshield to allow easier access inside.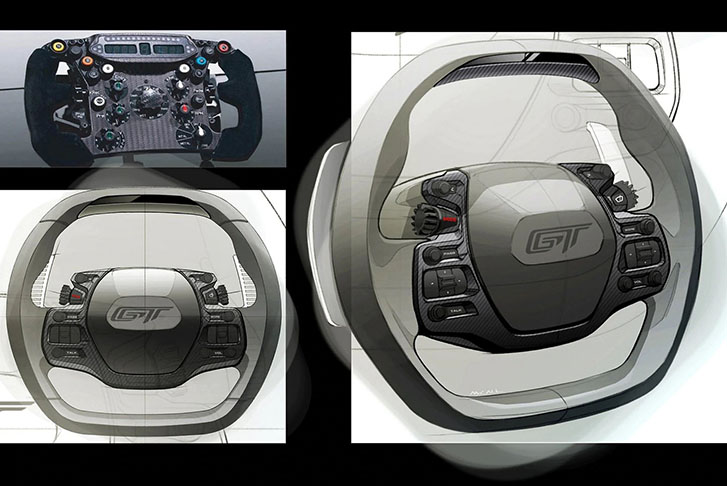 A Racing-Inspired Stalkless Steering Wheel
No detail was left to chance. A racing-inspired stalkless steering wheel has integrated illuminated shift lights that allow uncluttered access to the transmission paddle-shift controls.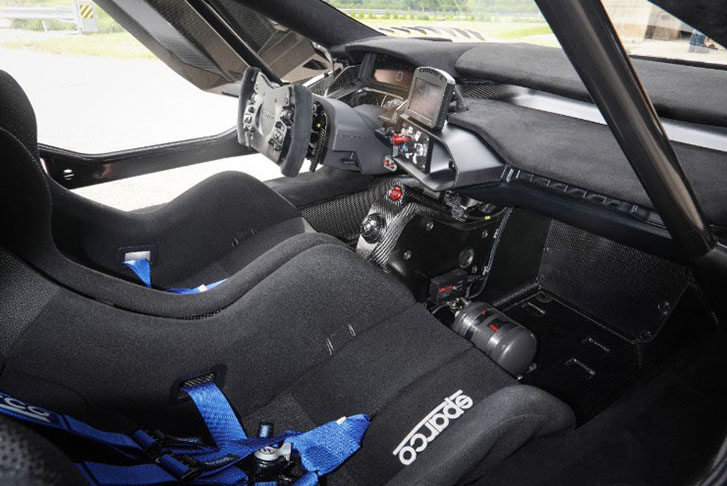 Ford GT Mk II Interior
Created by Ford Performance and Multimatic, the Ford GT Mk II delivers the full performance potential of the Ford GT in a track-only version engineered independent of race series rules, regulations and limitations.
Ford GT ACCESSORIES
2020 Ford GT SAFETY
New Vehicle Limited Warranty
Bumper to Bumper: 3-Years/36,000 Miles • Powertrain: 5-Years/60,000 Miles • Corrosion: 5-Years/Unlimted Miles • Hybrid/Electric Drivetrain Components: 8-Years/100,000 Miles • Diesel Engine: 5-Years/100,000 Miles • Roadside Assistance: 5-Years/60,000 Miles