2019 Porsche Panamera Overview
2019 Porsche Panamera For Sale

Panamera 4S Sport Turismo
Porsche Panamera For Sale
2019 Porsche Panamera Performance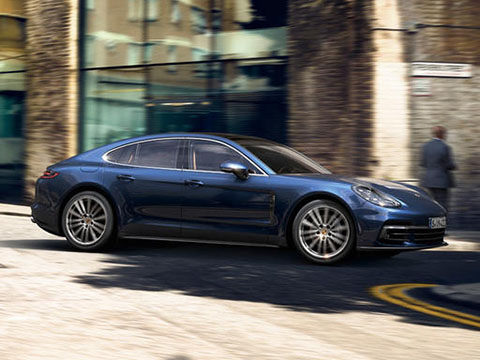 Performance
"That's the way we've always done it." Not really a sentence to inspire change. Except at Porsche. That's because we've always made each new generation of engines higher-performing, more dynamic and more efficient than the last. The new engine generation of the Panamera models now takes the next significant step forwards.
The all-new twin-turbo V6 engine in the Panamera 4S is lighter and more compact than its predecessor and comes equipped with VarioCam Plus. The two turbochargers are now positioned in between the cylinder banks. This reduces the distance that the exhaust stream has to travel to reach the respective turbo – delivering a more rapid response.
The direct fuel injection in the new generation of engines is realised by a central injector inside the combustion chamber. This optimises both the mixture injection and combustion – for greater efficiency and increased power delivery.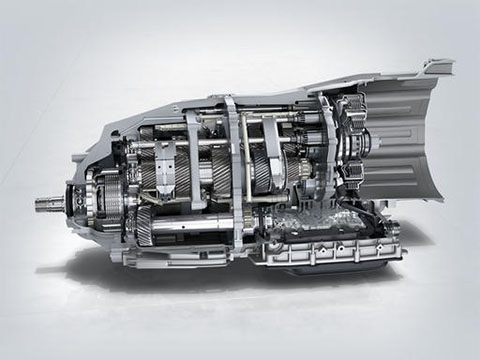 Drive
New 8-speed Porsche Doppelkupplung (PDK)
The latest Panamera models are equipped with a newly developed 8-speed Porsche Doppelkupplung (PDK), which translates the tremendous drive force of the respective engine into the acceleration expected of a sports car.
Gears 1 to 6 have a sports ratio and top speed is reached in 6th gear. 7th and 8th gear have a long ratio, which helps to keep engine revs low even at high road speeds.
PTM
All Panamera models are equipped with Porsche Traction Management (PTM). This active all-wheel drive with electronic and map-controlled multi-plate clutch ensures the optimum distribution of drive force whatever the driving situation.
Sport Mode
With SPORT mode, you can swap from a comfort-oriented tuning to a sporty setup.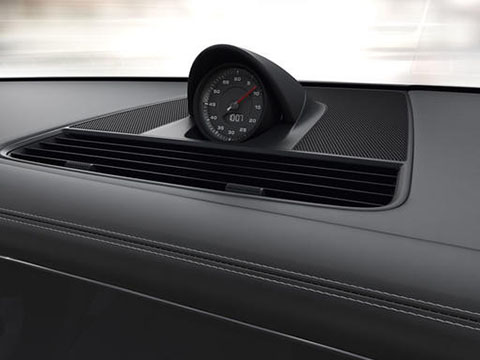 Sport Chrono Package including mode switch
The Sport Chrono Package offers an even sportier tuning of the chassis, engine and transmission. What's new is the mode switch on the steering wheel with SPORT Response button. Four driving modes are available to choose from: 'Normal', 'SPORT', 'SPORT PLUS' and 'Individual' – for an even more personalized driving style.
In SPORT mode alone, the new Panamera delivers increased dynamics and more direct handling. In SPORT PLUS mode, the engine becomes even more responsive.
SPORT Response
Pressing the button in the center of the mode switch primes the engine and transmission for the fastest possible unleashing of power (e.g. for overtaking).
PSM Sport
In conjunction with the Sport Chrono Package, Porsche Stability Management (PSM) is supplemented by a 'Sport' mode. It allows a significantly more sporty driving style.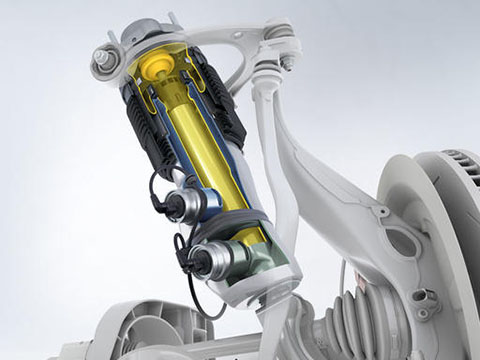 Chassis
The chassis of the new Panamera models performs this balancing act between sport and comfort effortlessly – and in the most masterful way possible: with further-developed, optional chassis technologies.
Rear-axle steering
Available for the Panamera models for the first time: optional rear-axle steering. It enhances performance and everyday driveability in equal measure.
Porsche Active Suspension Management (PASM)
PASM is an electronic damping control system. It actively and continuously adjusts the damping force on each wheel, based on current road conditions and driving style. Three modes are available: 'Normal', 'SPORT' and 'SPORT PLUS'.
Porsche Dynamic Chassis Control Sport (PDCC Sport) including Porsche Torque Vectoring Plus (PTV Plus)
New Porsche Dynamic Chassis Control Sport (PDCC Sport) is an active roll stabilization system with an ultra sporty setup.
2019 Porsche Panamera Appearance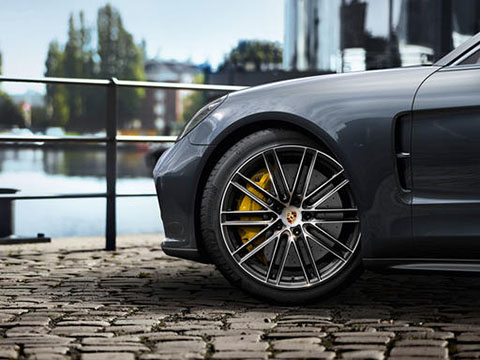 Wheels
We rise to the challenge we're given. The same applies to the wheel dimensions of the new Panamera . The tires are wider, the contact surface larger – for enhanced performance under acceleration and braking. As of now, optional sizes of up to 21 inches are available from a range of wheel designs, assuring you of a grand appearance. The Panamera models are equipped as standard with 19-inch wheels. The material? Alloy, of course. The design? Classic and sporty. A choice of other 19-, 20- and 21-inch wheels is available on request.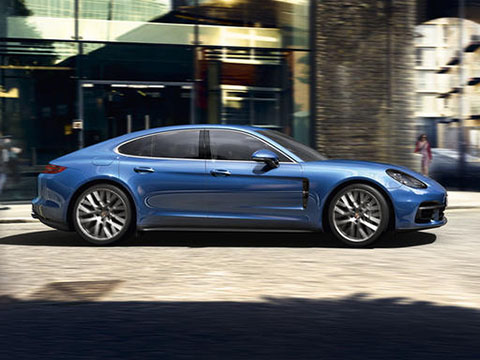 Exterior design
The silhouette and proportions of the new Panamera models are more Porsche than ever. The wheelbase is 1.2 in. longer than that of the predecessor – the shorter overhang at the front and the longer overhang at the rear lend visual dynamism.
Characteristic features of all Panamera models: the light strip on the rear end and the slimline three-dimensional LED taillights with four-spot brake lights. The extending rear spoiler integrated into the body reduces lift at the rear axle at high speeds.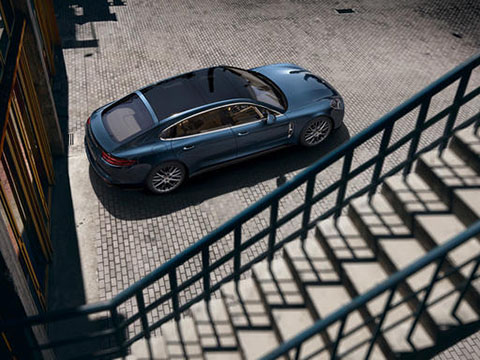 Panoramic sunroof
The tinted glass panels of the new panoramic sunroof on the Panamera models create a particularly bright and pleasant lighting mood in the interior. The two-piece panoramic sunroof can be tilted and opened electrically at the front.
2019 Porsche Panamera Comfort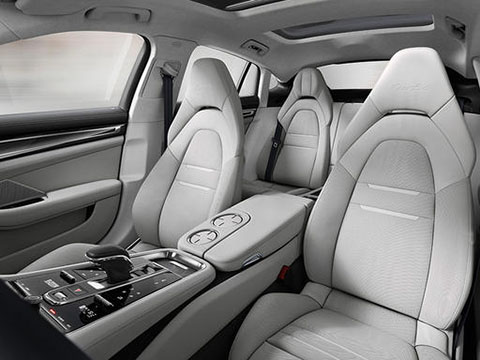 Interior design
The interior has been completely restyled – and nevertheless remains typically Porsche . The center console ascends towards the front. The dashboard is flat and conspicuously wide. The analog rev counter is positioned in the middle of the instrument cluster.
Also new is the control concept: Porsche Advanced Cockpit. The center console with Direct Touch Control has a glass-like surface with touch-sensitive buttons for direct access to the most important functions. In between: the compact gear selector. A high-resolution 12-inch touchscreen display is integrated into the dashboard. In conjunction with optional four-zone automatic climate control, the passengers in the rear also have a touchscreen display of their own.
Ambient lighting with rear interior lighting
Optional ambient lighting with rear interior lighting is an indirect lighting concept designed to enhance passenger comfort. You can choose from seven lighting colors and customize their intensity.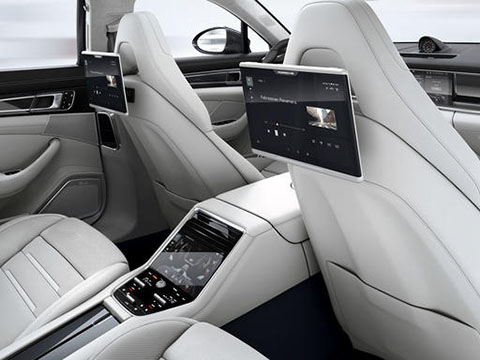 Porsche Rear Seat Entertainment
Porsche Rear Seat Entertainment connects to Porsche Communication Management (PCM) via WLAN to provide access to the radio, media, navigation system and vehicle functions of your Panamera . A wealth of entertainment awaits, thanks to two separate 10-inch touchscreen displays on the front seat backrests, an internal 32-GB memory, micro SD card slot, micro USB interface, Bluetooth® and NFC (near field communication). Through the connection to the WLAN router of the Connect Plus module, you also gain access to the Internet and up to one million apps and games, to movies and music, audiobooks, e-books and productivity applications from the GOOGLE® Play Store.
For an unrestricted listening experience, the sound can be output from the integrated loudspeakers, the in-car sound system or the wireless Bluetooth® headphones.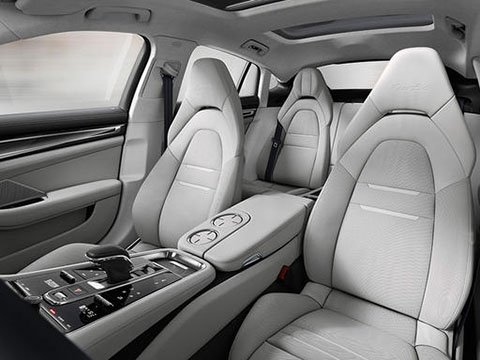 Seats
Front seats
The front seats offer a high level of comfort and provide support in fast corners without restricting freedom of movement. The seat height, squab and backrest angles and fore/aft position are electrically adjustable.
Adaptive sport seats
Adaptive sport seats (18-way, electric) are available as an option and provide even better lateral support.
Rear seats
The most striking feature of the rear seats? There are two separate ones. With plenty of leg- and headroom and offering excellent lateral support through fast corners without sacrificing comfort. Eight-way power seats are available as an option for the rear in any Panamera model.
Massage function
On request, the power seats are also available with a massage function – front and rear.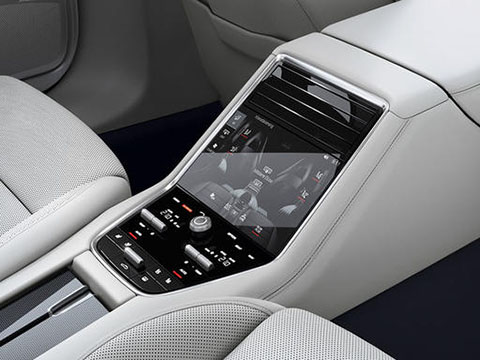 Four-zone automatic climate control including touchscreen display in rear compartment
Four-zone automatic climate control features individual temperature setting controls for the driver and front passenger, and separate ones for each seat in the rear, too. The system also comes with a dedicated touchscreen display for the rear compartment.
An active carbon filter traps particles, pollen and odors and thoroughly filters fine dust out of the outside air before it can reach the interior.
A new ionization function is available as an option. Before it reaches the cabin, the air in the automatic climate control system is passed through an ionizer. Airborne viruses, bacteria and spores are reduced.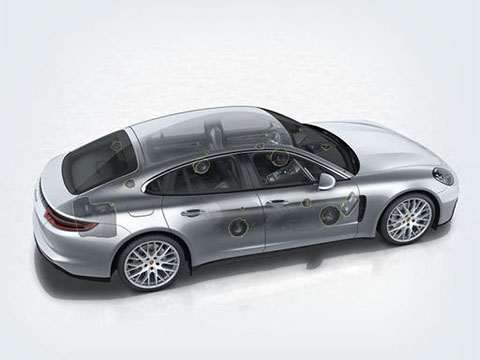 Sound
BOSE® Surround Sound System
The BOSE® Surround Sound System features 14 amplifier channels and offers a total output of 710 watts. Fourteen loudspeakers including a 160-watt passive subwoofer box ensure a balanced, faithfully reproduced acoustic pattern.
Burmester ® High-End 3D Surround Sound System
The Burmester ® High- End 3D Surround Sound System boasts a total output of 1,455 watts, 21 individually controlled loudspeakers including an active subwoofer with 400-watt class D digital amplifier, two-way center system and a total diaphragm surface area of more than 2,500 cm².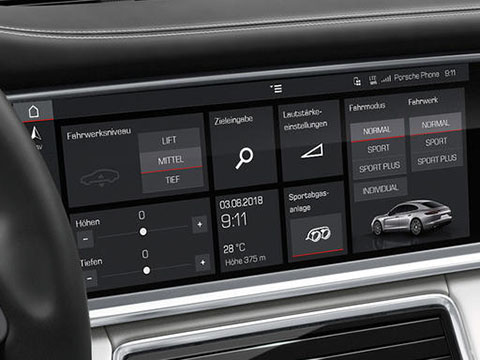 Communication
The new Porsche Communication Management (PCM)
PCM – as a basis for Porsche Connect – is your central control unit for audio, navigation and communication. The new generation with online navigation, cell-phone preparation and audio interfaces has a high-resolution 12-inch touchscreen display that can be used for simple control of most vehicle functions.
Connect Plus
The Connect Plus module ensures maximum connectivity to your Porsche with access to a range of helpful services, such as real-time traffic information. Porsche Connect offers two smartphone apps: Porsche Car Connect and the Porsche Connect app.
2019 Porsche Panamera Safety
New Car Limited Warranty & Porsche 24-Hour Roadside Assistance Program for 4-Years / 50,000 Miles (whichever occurs first)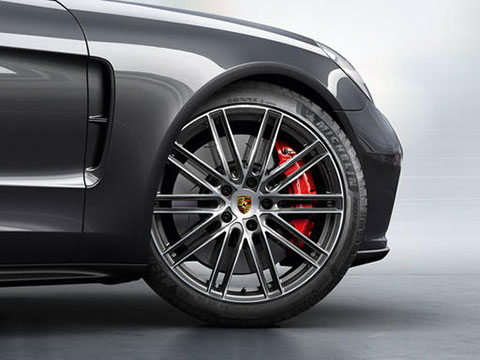 Brakes
The new Panamera models are equipped with a brake system having six-piston aluminium monobloc fixed brake calipers at the front and four-piston equivalents at the rear. The brake discs are internally vented and slotted. This improves braking behavior even under extreme conditions and heat is dissipated more effectively. The one-piece brake calipers have an enclosed construction. Pedal travel is tight, the pressure point precise, the braking distance impressively short.
Porsche Ceramic Composite Brake (PCCB)
Porsche Ceramic Composite Brake (PCCB) is available as an option. For the new Panamera models, the cross-drilled ceramic brake discs of PCCB now have a diameter of 420 mm at the front and 390 mm at the rear – for even more formidable braking performance. PCCB features 10-piston aluminium monobloc fixed brake calipers on the front axle and four-piston units at the rear – all painted in yellow – to provide braking forces that are considerably more powerful and, crucially, are exceptionally consistent.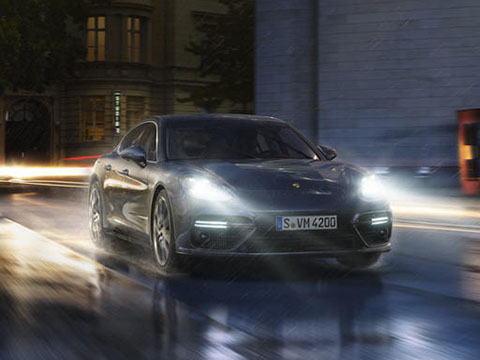 Lights
LED headlights including Porsche Dynamic Light System (PDLS)
Available as an option for all Panamera models, fitted as standard to the Panamera Turbo : LED headlights including Porsche Dynamic Light System (PDLS) with dynamic range adjustment, dynamic cornering lights and speedsensitive headlight range control. For enhanced near-field, lateral and far-field illumination – and added safety.
LED matrix headlights including Porsche Dynamic Light System Plus (PDLS Plus
PDLS Plus, which includes all the functions of PDLS, now comes for the first time with electronic cornering lights.
Night View
Night View provides the driver with information even beyond the range of the headlights. An infrared camera detects pedestrians or large wildlife before they are illuminated by the headlights. A thermal image in the instrument cluster warns the driver: the detected person or animal is highlighted in yellow – or in red and accompanied by an audible signal if within the critical range in front of the vehicle.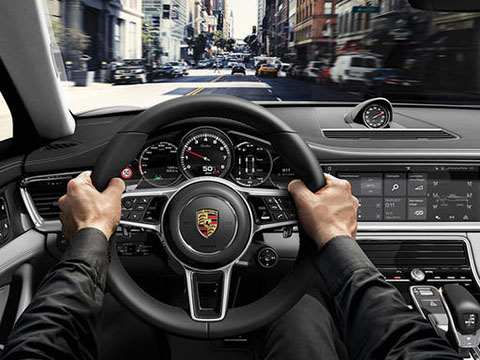 Assistance Systems
Adaptive Cruise Control (ACC)
This system regulates the speed of your Panamera fully independently in line with the speed of the vehicle in front. Radar sensors on the front end scan the road ahead.
Porsche InnoDrive including adaptive cruise control
The system enhances adaptive cruise control with additional, innovative functions like Traffic Jam Assist.
Lane Change Assist with Turn Assist
Lane Change Assist uses radar sensors to monitor the areas to the rear of the vehicle and the blind spots on either side.
Lane Keep Assist including traffic sign recognition and cornering notification
Lane Keep Assist is a camera-based system for automatic detection of divider line markings on the road.
ParkAssist including reversing camera and Surround View
ParkAssist is fitted in all Panamera models and audibly alerts the driver to the presence of obstacles detected to the front and rear of the vehicle.
2019 Porsche Panamera Specification

Height:56.0 in
Width (w/ mirrors folded): 76.3 in
Wheelbase: 116.1 in
Length: 198.8 in
Specs reflect base model unless otherwise noted.
Engine

Engine layout

Front-engine

Design and cylinders

Turbo charged V6

Bore

84.5 mm

Stroke

89.0 mm

Displacement

3.0 l

Max. power

330 hp

Max. power at rpm

5,400 - 6,400 rpm

Max. torque

331 lb-ft

Max. torque at rpm

1,340 - 4,900 rpm

Compression ratio

11.2 : 1

Max. engine speed

6,500 rpm

Power-to-weight ratio

12.1 lb/hp

Max. power per liter

110.0 hp/l

Valves

2 intake / 2 exhaust

Knock control

Yes

Valve timing

VarioCam Plus

Cooling

Water-cooled

Body

Length

198.8 in

Width (w/ mirrors)

85.2 in

Width (w/ mirrors folded)

76.3 in

Height

56.0 in

Drag coefficient (Cd)

0.28 Cd

Wheelbase

116.1 in

Turning circle

39.0 ft

Front track

65.8 in

Rear track

65.0 in

Curb weight

4,001 lb

Gross Vehicle Weight Rating (GVWR)

5,269 lb

Maximum load

1,268 lb
Performance

Top track speed

164 mph

0 - 60 mph

5.4 s

0 - 60 mph with Sport Chrono Package

5.2 s

Fuel Consumption

EPA Disclaimer

EPA estimates not yet available.
Chassis and Suspension

Front axle

Aluminum double-wishbone

Rear axle

Aluminum multi-link

Brakes

350 mm brake rotors with 6-piston aluminum monobloc fixed calipers at front; 330 mm brake rotors with 4-piston aluminum monobloc fixed calipers at rear

Steering

Electromechanical power steering with variable ratio

Anti-lock Braking System (ABS)

Component of Porsche Stability Management (PSM)

Traction control

Component of Porsche Stability Management (PSM)

Stability control

Porsche Stability Management (PSM)

Wheels (front)

9 J x 19 ET 64

Tires (front)

265 / 45 ZR 19

Wheels (rear)

10.5 J x 19 ET 62

Tires (rear)

295 / 40 ZR 19
Capacities

Rear luggage compartment volume (w/ seats folded)

47.3 ft³

Rear luggage compartment volume

17.6 ft³

Fuel tank

23.7 gal
Service & Warranty

Limited vehicle warranty

4 years/50,000 miles (whichever comes first) including 24-hour roadside assistance program

Main service interval

Porsche Cars North America offers service and maintenance packages in a variety of terms to match your intended usage. Please see your authorized Porsche Dealer for details and availability.

Limited paint warranty

4 years/50,000 miles (whichever comes first)

Limited corrosion warranty

12 years/unlimited miles