2019 Porsche Cayenne E-Hybrid Overview
2019 Porsche Cayenne E-Hybrid For Sale


Porsche Cayenne E-Hybrid For Sale
2019 Porsche Cayenne E-Hybrid Performance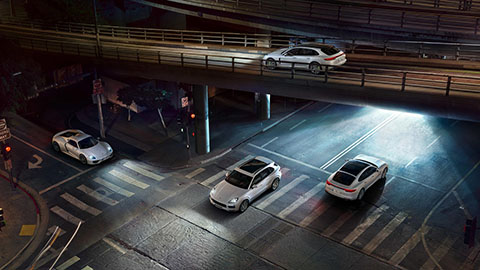 Porsche E-Performance
The 3.0 liter turbocharged V6 engine produces 250 kW (335 hp). The maximum torque of the 100 kW (134 hp) electric motor is immediately available. The result: an enormous total system torque of 516 lb. ft.
The Cayenne E-Hybrid accelerates from 0 to 60 mph in a mere 4.7 seconds, with a top track speed of 157 mph. And fuel consumption of just TBA l/62 miles.
Its all-electric range of "TBD" theoretically allows you to complete an entire working day in the city without using the combustion engine – with a top speed of up to 83 mph.
Charging infrastructure
Porsche E-Performance therefore includes an optimally integrated vehicle charge port, practical charging equipment and intelligent charging options, to use at home and on the road.
Charging at home
Charge your Porsche at home, we recommend installing an industrial electrical outlet. A basic wall mount for the Porsche Universal Charger (AC) comes as standard with your E-Hybrid model.
Porsche Universal Charger (AC) and vehicle charge port
The standard Porsche Universal Charger (AC) securely connects your Porsche to various sockets.
Charging en route
There are public charging pedestals in many cities, which you can use for your Porsche E-Hybrid model. The Cayenne hybrid can use any public level 1 or level 2 charger equipped with a J1772 EV plug.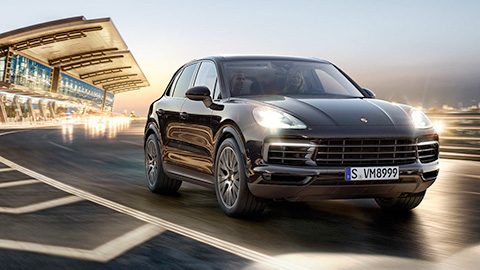 Chassis
Adaptive air suspension
Adaptive air suspension enhances both driving dynamics and comfort. The use of three-chamber technology makes it possible to enjoy an even better combination of comfort and sportiness, because the spring rate is adjusted to suit the driving mode and situation. The air suspension also features a self-leveling function for a constant vehicle position, PASM and ride-height adjustment – so that you can actively vary the ground clearance as required.
Rear-axle steering
Optional rear-axle steering is available for the Cayenne models for the first time. It enhances performance and everyday driveability in equal measure. At low speeds, the system steers the rear wheels in the opposite direction to that of the front wheels. This has the virtual effect of shortening the wheelbase. The turning circle is reduced, agility is increased and parking becomes noticeably easier to manage. At high speeds, the system steers the rear wheels in the same direction as that of the front wheels. This virtual extension of the wheelbase increases driving stability.
Porsche Dynamic Chassis Control (PDCC)
PDCC is an active roll stabilization system. It registers the lateral inclination of the body induced by cornering from the very outset and suppresses it accordingly. The system also reduces the vehicle's lateral instability on uneven ground. The electromechanical anti-roll bars are new. These respond faster than their hydraulic equivalents and work more efficiently. The result: improved performance.
2019 Porsche Cayenne E-Hybrid Appearance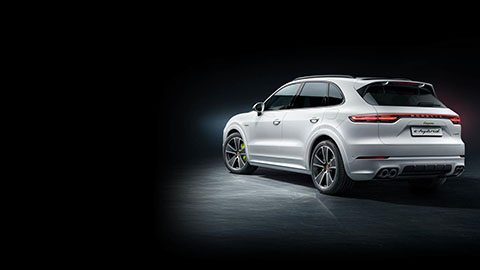 Design
Dynamic design language. Typically Porsche. This is revealed by distinguishing features, such as the heavily emphasized front wings, long, sloping bonnet with its power dome and the characteristic three-piece air intakes, which are even larger and more dominant.
The E-Hybrid also features the "E-Hybrid" model name on the left and right fenders, as well as on the tailgate. Additional distinguishing features are the brake calipers in Acid Green.
Overall, the Cayenne has broader shoulders compared to the predecessor generation – making it more muscular, more athletic and more dynamic.
Exclusive ly for the new Cayenne E-Hybrid: new 21-inch Cayenne AeroDesign wheels.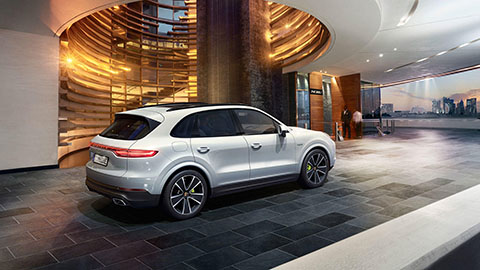 Exterior
The front apron is new and powerfully styled – even when stationary, it alludes to the sheer strength of performance packed within. The LED main headlights have an optional LED matrix beam.
At the side, the sharpened lines of the roof descend sleekly all the way back to the roof spoiler. There are also newly styled doors and new, up to 22-inch wheels with – for the first time on the Cayenne – staggered wheels and tires with up to 1.3 in. of additional wheel with on the rear axle.
The rear has been completely redesigned. Attention is directly drawn to the striking light strip, extending over the entire rear and elegantly emphasizing the presence of the Cayenne. The taillights use precise, state-of-the-art LED technology and replicate the design concept of the headlights. Their individual lighting components are recognizable as three-dimensional elements.
2019 Porsche Cayenne E-Hybrid Comfort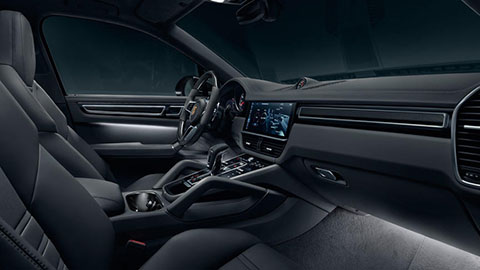 Interior
Exquisite, sporty, ergonomic. Not least thanks to the flat, broad dashboard and ascending center console for swift hand movements from the multifunction Sports steering wheel to the gear selector.
The interior is practically built around the driver. And is completely driver-centric as a result.The same applies to the seats: sporty with a capital 'S'. And also applies to the newly designed rear seats, each of which also triggers motorsport emotions. Without having to sacrifice comfort.
New in all Cayenne models: the Porsche Advanced Cockpit control concept. The center console with Direct Touch Control has a surface in glass look featuring touch-sensitive buttons for direct access to the most important functions. In between: the compact gear selector. Above the center console is Porsche Communication Management (PCM), which features a full-HD 12-inch touchscreen display and includes an online navigation module for intuitive operation. Behind the multifunction Sports steering wheel is the instrument cluster. To the right and left of the typical Porsche analog Tachometer are two high-resolution display screens that display virtual instruments, maps and other information as required.
Available as an option, the colored ambient lighting – new in the Cayenne – enriches the interior with precisely targeted lighting accents. You can choose from a variety of color schemes for any mood and also alter the light intensity.
All models boast typical Cayenne strengths: spaciousness, great versatility and an array of carefully selected materials.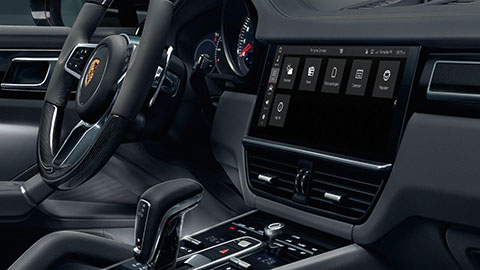 Porsche Connect
Every Porsche can be configured according to your preferences. And so can Porsche Connect. Plan your route and send it to your Porsche . Call up the current fuel level and stats relating to your last drive, or check whether the doors and windows are closed.
Check E-hybrid status
The Porsche Connect and Car Connect apps bundle important information about your E-Hybrid. Such as the all-electric and combined range, current battery charge status and remaining charge time.
Remotely control the charging process and air conditioning
Conveniently control the hybrid-specific functions of your Porsche from a distance. You can specify when the charging process should end, for example. The air conditioning can also be optimally adjusted to your daily routine.
Find charging facilities
Looking for a charging facility on the road? Use the Porsche Connect "E-Charging" service to find charging stations in your vicinity or at your destination.
Services and smartphone apps
Porsche Connect gives you access to useful services and functions that can help you before, during and after your journey in your Cayenne.
Voice Pilot, your online voice control, is also ready to assist - so that you can keep your eyes on the road and traffic at all times.
Apple CarPlay™
Thanks to its support for Apple CarPlay™, Porsche Connect enables you to use your iPhone® apps even when you're in your Porsche.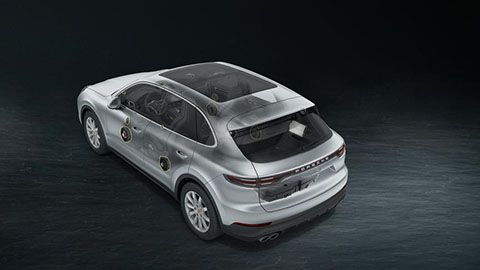 Sound systems
Sound Package Plus
The standard Sound Package Plus provides excellent sound: ten loudspeakers with an output of 150 watts. The amplifier integrated into PCM optimally adapts the acoustics in the vehicle interior to the driver and front passenger.
BOSE® Surround Sound System
The BOSE® Surround Sound System features 14 amplifier channels and offers a total output of 710 watts. Fourteen loudspeakers including a separate subwoofer ensure balanced, faithfully reproduced acoustics. BOSE® SoundTrue® enhancement technology delivers even better audio quality and dynamics for compressed file formats such as MP3. The patented AudioPilot® Noise Compensation Technology continuously measures the ambient noise inside the vehicle and automatically adapts music playback so that a consistent sound is maintained.
Burmester ® High-End 3D Surround Sound System
Quiet, please, as we introduce a total output of 1,455 watts, 21 individually controlled loudspeakers including an active subwoofer with 400-watt class D digital amplifier, two-way center system and a total diaphragm surface area of more than 2,500 cm². Special air motion transformer tweeters ensure unmistakably fine, clear and undistorted high-frequency sound reproduction with excellent level stability.
All loudspeaker housings are perfectly matched and deliver superior bass foundation, definition and precision.
2019 Porsche Cayenne E-Hybrid Safety
New Car Limited Warranty & Porsche 24-Hour Roadside Assistance Program for 4-Years / 50,000 Miles (whichever occurs first)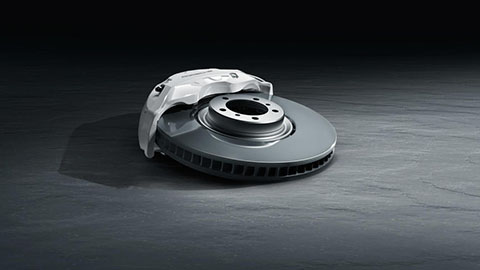 Porsche Surface Coated Brake (PSCB)
The innovation behind this brake is the unique combination of a cast-iron brake disc and a ceramic coating (tungsten carbide). Advantages over the conventional cast-iron brake of a similar design and size: even better responsiveness and particularly high fading stability. Thanks to this new surface coating, the brake disc remains glossy even after a long service life. Brake calipers painted in white lend this brake its distinctive look.
It is fitted as standard to the Cayenne Turbo and is available as an option for all other Cayenne models.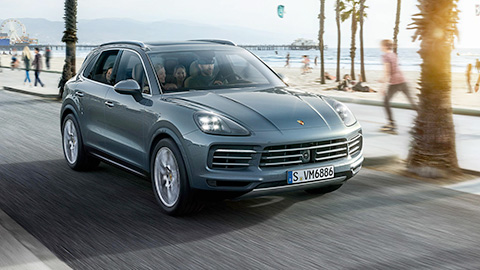 Assistance Systems
Head-Up Display
The full color head-up display projects all the information relevant for the journey directly into the driver's field of vision.
Adaptive cruise control (ACC)
This system controls the speed of your Cayenne independently by using radar sensors in the front apron to monitor the area in front of your vehicle.
Lane Keeping Assist including traffic sign recognition
The system eases the burden on the driver by providing steering assistance, helping to keep the vehicle in lane.
Collision and brake assist
The standard collision and brake assist significantly reduces the risk of collision with cars, pedestrians or cyclists within the system limits.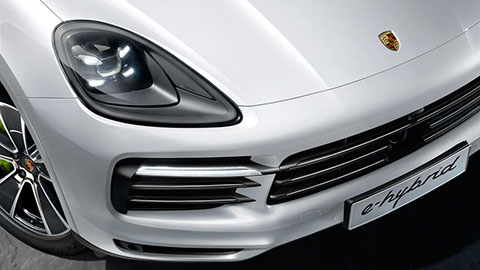 Lights
LED main headlights with matrix beam including Porsche Dynamic Light System Plus (PDLS Plus)
The LED matrix beam deactivates specific segments of the permanent main-beam cone. 84 individually controlled LEDs that act as one central light source.
PDLS Plus features electronic cornering lights and Auto High Beam activation.
Night Vision Assist
When driving at night, Night Vision Assist provides the driver with information even beyond the range of the headlights. An infrared camera detects pedestrians or larger animals before they are illuminated.
2019 Porsche Cayenne E-Hybrid Specification

Height: 66.8 in
Width (w/ mirrors folded): 78.1 in
Wheelbase: 114.0 in
Length: 193.7 in
Specs reflect base model unless otherwise noted.
Engine
Engine layout
Front-engine
Design and cylinders
Turbo charged V6
Max. power at rpm
5,300 - 6,400 rpm
Max. torque at rpm
1,340 - 5,300 rpm
Compression ratio
11.2 : 1
Max. engine speed
6,500 rpm
Hybrid specific details
14.1 kWh lithium-ion battery with on-board charger
Max. power electric motor
134 hp
Max. torque electric motor
295 lb-ft
Max. power combined
455 hp
Max. torque combined
516 lb-ft
Max. power per liter
111.0 hp/l
Valves
2 intake / 2 exhaust
Valve timing
VarioCam Plus
Fuel Consumption
EPA Disclaimer
EPA estimates not yet available.
Transmission
Drivetrain
All-wheel drive
Automatic transmission
8-speed Tiptronic S
Chassis and Suspension
Front axle
Aluminum multi-link
Rear axle
Aluminum multi-link
Brakes
360 mm brake rotors with 6-piston aluminum monobloc fixed calipers at front; 358 mm brake rotors with 4-piston aluminum monobloc fixed calipers at rear
Steering
Electromechanical power steering with variable ratio
Anti-lock Braking System (ABS)
Component of Porsche Stability Management (PSM)
Traction control
Component of Porsche Stability Management (PSM)
Stability control
Porsche Stability Management (PSM)
Wheels (front)
8.5 J x 19 ET 47
Tires (front)
255 / 55 ZR 19
Wheels (rear)
9.5 J x 19 ET 54
Tires (rear)
275 / 50 ZR 19
Performance
0 - 60 mph with Sport Chrono Package
4.7 s
Terrain Features
Max. ground clearance (steel suspension)
8.2 in
Max. wading depth (steel suspension)
9.8 in
Ramp break-over angle (steel suspension)
18.7 °
Approach / departure angle (steel suspension)
25.2 - 22.1 °
Body
Width (w/ mirrors)
86.4 in
Width (w/ mirrors folded)
78.1 in
Drag coefficient (Cd)
0.34 Cd
Gross Vehicle Weight Rating (GVWR)
6,680 lb
Capacities
Front luggage compartment volume
27.1 ft³
Rear luggage compartment volume (w/ seats folded)
56.8 ft³
Rear luggage compartment volume
22.7 ft³
Service & Warranty
Limited vehicle warranty
4 years/50,000 miles (whichever comes first) including 24-hour roadside assistance program
Main service interval
Porsche Cars North America offers service and maintenance packages in a variety of terms to match your intended usage. Please see your authorized Porsche Dealer for details and availability.
Limited paint warranty
4 years/50,000 miles (whichever comes first)
Limited corrosion warranty
12 years/unlimited miles