2019 Porsche 911 Turbo Overview
2019 Porsche 911 Turbo For Sale


Porsche 911 Turbo For Sale
2019 Porsche 911 Turbo Performance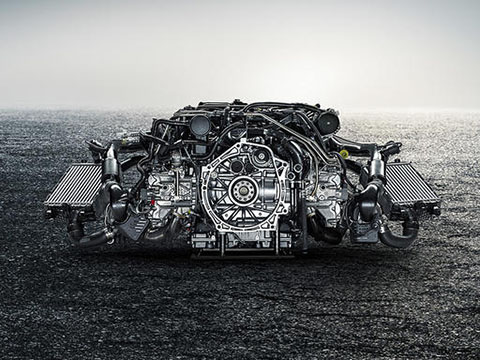 Engines
Presence requires a strong foundation. On the 911 Turbo models, this is the 3.8-liter, twin-turbo six-cylinder engine at the rear. Two exhaust turbochargers with variable turbine geometry (VTG) make for a dynamic response, high torque and exceptional performance figures.
The engine comes in two power levels. In the 911 Turbo and the 911 Turbo Cabriolet, it delivers 397 kW (540 hp).
By deploying larger turbochargers and electronics further optimized for performance, the 911 Turbo S models have 427 kW (580 hp) available.
Despite achieving an increase in performance compared to the previous generation, fuel consumption and CO2 emissions are remarkably low.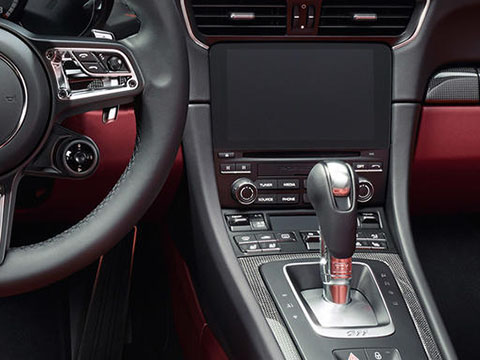 Porsche Doppelkupplung (PDK)
PDK has seven gears. Gears one to six have a sports ratio and top speed is reached in sixth gear. The seventh gear has a long ratio and keeps engine revs low to help reduce fuel consumption.
PDK is essentially two gearboxes in one. Whilst the drive power is transferred to the wheels through one clutch and one half gearbox, the next gear is already preselected in the second half gearbox. During a gear change, one clutch simply opens and the other closes at the same time.
Depending on the gearshift program (Normal, SPORT or SPORT PLUS), the gear change is optimized for comfort or for sporty driving.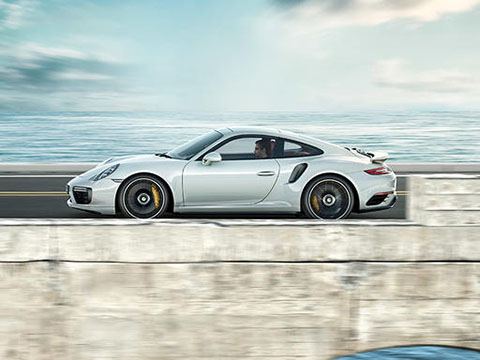 Coasting and the auto start/stop function, Porsche Traction Management (PTM),
Coasting and the auto start/stop function
By opening the clutches, the engine is decoupled from the transmission to prevent deceleration caused by engine braking. In this way, optimum use is made of the vehicle's momentum, allowing it to coast for longer distances. This translates into a significant fuel saving. The auto start/ stop function included as standard also reduces fuel consumption.
Porsche Traction Management (PTM)
Provided as standard, Porsche Traction Management (PTM) is an active all-wheel drive system with an electronically variable map-controlled multi-plate clutch. It distributes drive power between the permanently driven rear axle and the front axle.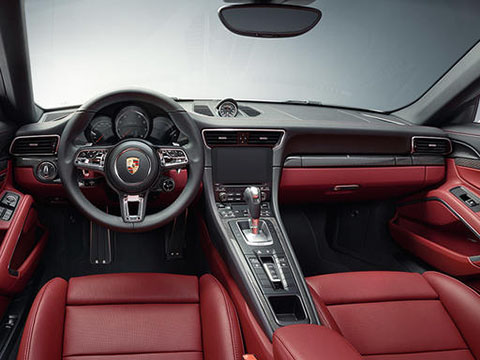 Sport Chrono package including MODE switch
This integrated system provides an enhanced tuning of the chassis, engine and transmission.
One new feature is the MODE switch on the steering wheel. There are four settings to choose from without taking your hand entirely off the wheel: Normal, SPORT, SPORT PLUS and Individual, which allows you to adjust the vehicle more closely to your personal driving style.
Launch Control helps you achieve optimum acceleration: a racing start.
Now available on 911 Turbo models for the first time: the SPORT Response function. A button in the center of the MODE switch prepares the engine and transmission for unleashing power as quickly as possible.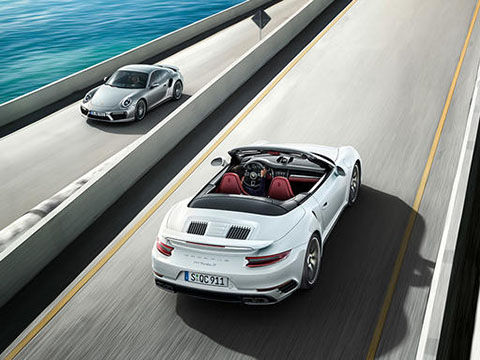 Chassis
Porsche Torque Vectoring Plus (PTV Plus) including electronic rear differential lock
The system operates in conjunction with an electronic rear differential lock, by varying the distribution of torque applied to the rear wheels to increase stability.
Porsche Active Suspension Management (PASM)
PASM is an electronic active damping system that responds to changing road conditions and/or driving style.
Porsche Dynamic Chassis Control (PDCC)
PDCC is an active antiroll system.
Porsche Stability Management (PSM)
PSM improves traction using the automatic brake differential (ABD) and anti-slip regulation (ASR).
Dynamic engine mounts
The system minimizes the oscillations and vibrations of the entire drivetrain.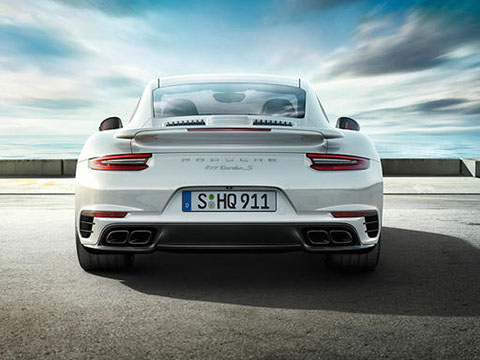 Rear Axle Steering & Front Axle Lift System
Rear axle steering
At speeds up to TBD mph, the system steers the rear wheels in the opposite direction to that of the front wheels. This has the virtual effect of shortening the wheelbase.
At speeds above TBD mph, the system steers the rear wheels in the same direction as that of the front wheels. The result is a virtual extension of the wheelbase and increased stability.
Front axle lift system
Available as an option, the lift system raises the vehicle by around 40 mm at the front – while driving at a speed of up to approximately TBD mph. This new system ensures that curbs, ramps and garage entrances no longer present a sporting challenge.
2019 Porsche 911 Turbo Appearance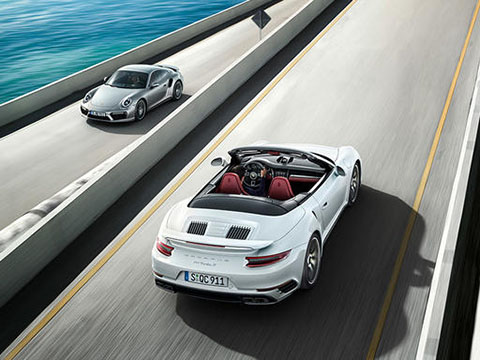 Exterior design
The 911 Turbo models include the new front section with its equally new front lights, as well as the black airblades. LED headlights with four-point daytime running lights are part of the standard specification of all models.
The door handles are integrated into the vehicle even more harmoniously than before, while the forged wheels have become more intricate.
To the rear, the rear lid grille with vertical slats attracts admiring glances. As do the three-dimensional taillights, the reflector units integrated into the air outlets and the powerfully shaped twin tailpipes.
Wheels
Available wheel options:
The 20-inch 911 Turbo wheel, the 20-inch 911 Turbo S wheel with central locking device, or the 20-inch Sport Classic wheel.
Tire Pressure System (TPS)
Tire Pressure System (TPS) is included as standard equipment on all models. It warns against low tire pressure and slow or even sudden pressure loss. The driver is informed via the on-board computer display.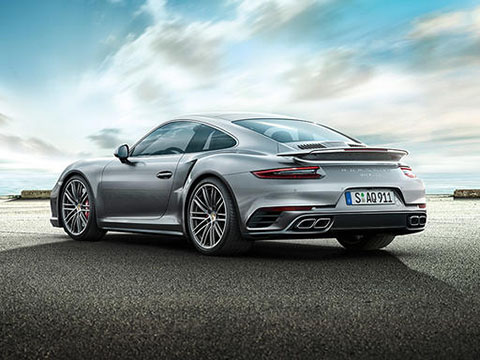 Porsche Active Aerodynamics (PAA)
All 911 Turbo models feature active aerodynamics – as a combination of a multi-stage adjustable front spoiler and a rear spoiler. The front spoiler and the rear spoiler will extend and retract synchronously in three positions.
In stage one (Start), front spoiler and rear spoiler are completely retracted. In stage two (Speed), after 120 km/h, the front spoiler and rear spoiler are partially extended. In stage three, activated by the spoiler button or in SPORT PLUS mode, the front and rear spoilers are now fully extended.
2019 Porsche 911 Turbo Comfort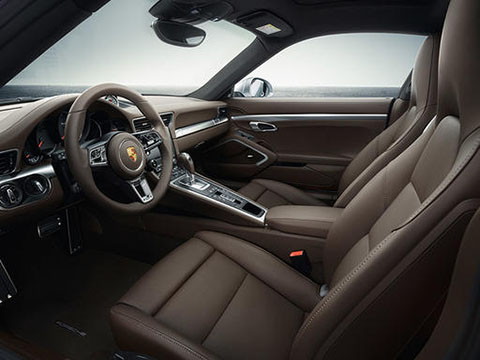 Interior design
The interior is just as dynamic as the exterior, thanks to, among other features, the next-generation steering wheel. It comes with gearshift paddles for ergonomic gear changes, a MODE switch for four different driving modes and, as an option, multifunction controls.
Featuring clever technology such as that of the two-zone air conditioning system or the suspension settings button, the 911 Turbo models have the interior leather package as standard, including leather seats, dashboard and door and side panel trim. Alcantara® has proven its credentials in motorsport and is used as standard for the roof lining of the Coupé models. On the 911 Turbo S models, the decorative trims for the dashboard, center console and door trims are finished in carbon.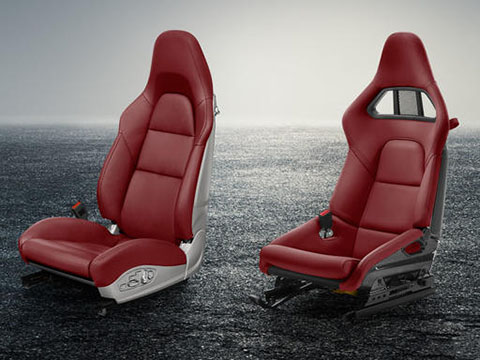 Seats
Fully electric Sport seats
They offer electric adjustment of seat height, backrest angle, squab angle and squab depth, along with fore/aft position and four-way lumbar support.
The integrated memory package supports the exterior mirrors and all seat positions on the driver's side as well as settings for the steering wheel, lights, wipers, air conditioning, door locks, PCM and instrument cluster.
Additional seating options:
Adaptive Sport seats Plus, Sport seat Plus*, Sport bucket seats**, and Seat heating and seat ventilation
* This option does not include the standard memory package.
** Child seats are not compatible with the Sport bucket seats.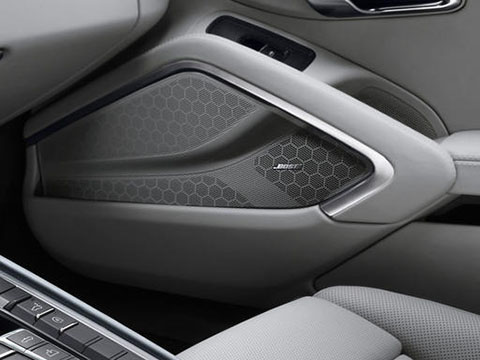 Sound
BOSE® Surround Sound System
The surround sound system from BOSE® that is fitted as standard is perfectly tuned to the specific interior acoustics of the 911 Turbo models. Audio is reproduced in stereo – or in a surround mode if desired, generated by the BOSE® Centerpoint® 2 technology.
12 loudspeakers. A total output of 555 watts.
Burmester ® High-End Surround Sound System
This system boasts 12 amplifier channels with a total output of 821 watts, 12 loudspeakers including an active subwoofer with 300-watt class D amplifier, a total diaphragm surface area of more than 1,340 cm² and a frequency response of 35 Hz to 20 kHz. The Burmester® system uses the patented integral subwoofer, which is perfectly integrated into the vehicle body.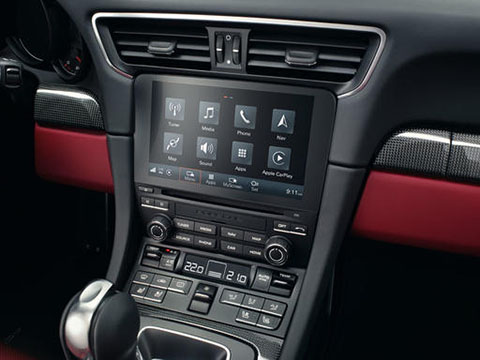 Communications
The new Porsche Communication Management (PCM)
The enhanced Porsche Communication Management (PCM) is your central control unit for all infotainment applications and is standard equipment in all models. The PCM features a high-resolution touch display with integrated proximity sensor which allows simple and convenient operation.
Connect Plus
The Connect Plus module ensures maximum connectivity in your Porsche with access to a range of helpful Porsche Connect services like real-time traffic information. Porsche Connect offers two smartphone apps, Porsche Car Connect and the Porsche Connect app.
2019 Porsche 911 Turbo Safety
New Car Limited Warranty & Porsche 24-Hour Roadside Assistance Program for 4-Years / 50,000 Miles (whichever occurs first)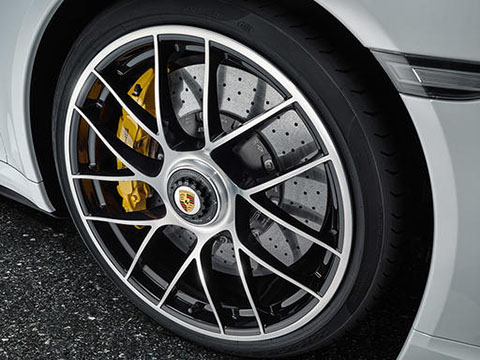 Brakes
On the 911 Turbo models, the brakes feature red six-piston aluminium monobloc fixed calipers at the front and four-piston aluminium monobloc fixed calipers at the rear. The brake disc diameter is 380 mm front and rear.
The brake calipers have an enclosed monobloc construction. This makes them tougher but lighter, enabling a more rapid response and release of the brake, even under extreme loads. The pedal travel is short and the biting point precise. The brake discs are cross-drilled for better performance in the wet.
Standard equipment in the 911 Turbo S models: the Porsche Ceramic Composite Brake (PCCB). The cross-drilled ceramic brake discs have a diameter of 410 mm at the front and 390 mm at the rear – for even more formidable braking performance.
The key advantage of the ceramic braking system is the extremely low weight of the ceramic brake discs, which are approximately 50% lighter than standard discs of similar design and size.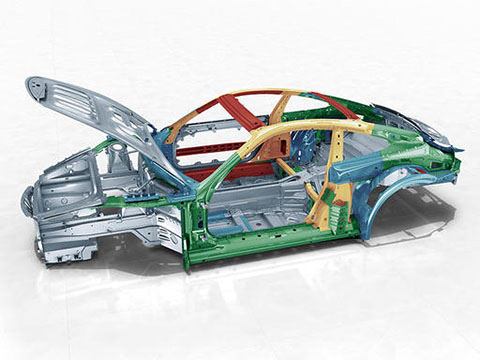 Vehicle body, Airbags and Porsche Side Impact Protection System (POSIP)
Vehicle body
The innovative bodyshell of the 911 Turbo models fulfils two structural design requirements: first, excellent driving dynamics due to the body's extremely high rigidity. Second, a saving in vehicle weight primarily because of the intelligent lightweight construction.
Airbags and Porsche Side Impact Protection System (POSIP)
The full-size airbags for the driver and front passenger inflate in two stages depending on the severity and type of accident. In less serious accidents, the airbags are only partially inflated.
The Porsche Side Impact Protection System (POSIP) comprises side impact protection elements in the doors and two airbags on each side: an integral thorax airbag is located in the seat side bolsters, while the door panels each contain a head airbag – ensuring excellent protection in the event of a side impact.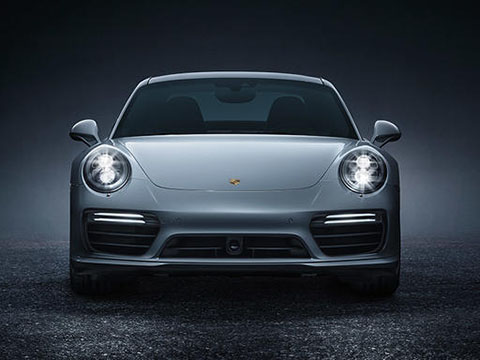 Light system
LED headlights
The inner workings of the LED headlights fitted as standard consist of two housings arranged at different levels. Daytime running lights are integrated into each headlight in the form of four LED spots encircled by a light ring.
Resembling daylight, the LED light is very bright, thus ensuring excellent illumination of the road ahead.
Porsche Dynamic Light System (PDLS) and Porsche Dynamic Light System Plus (PDLS+)
PDLS, the dynamic cornering light, swivels the main headlights towards the inside of a bend according to the steering angle and driving speed.
In addition to all of the functions provided by PDLS, PDLS+ has dynamic main beam control. It is activated at speeds in excess of TBD mph and identifies the lights of the car in front as well as oncoming vehicles. The range of the light cone can then be individually adapted to the current situation.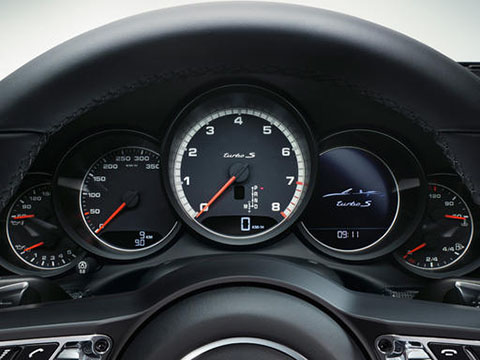 Assistance systems
Adaptive cruise control including Porsche Active Safe (PAS)
Cruise control, the automatic speed control function, is integrated as standard in all 911 Turbo models. Adaptive cruise control is available as an option. This function regulates your speed according to the distance between your vehicle and the vehicle in front. A radar sensor monitors the road ahead up to a distance of 200 meters.
Lane Change Assist
The optional Lane Change Assist system uses radar sensors to monitor the area to the rear of the vehicle and the blind spots on either side.
ParkAssist and the reversing camera
ParkAssist at the front and rear and the reversing camera are fitted as standard to all 911 Turbo models. An intermittent warning tone increases in rapidity as an obstacle is approached. A reversing camera facilitates precise reverse parking and manoeuvring as the image is shown within PCM.
2019 Porsche 911 Turbo Specification

Height: 51.1 in
Width (w/ mirrors folded): 74.0 in
Wheelbase: 96.5 in
Length: 177.4 in
Specs reflect base model unless otherwise noted.
Engine

Engine layout

Rear-engine

Design and cylinders

Twin-turbocharged boxer 6

Bore

102.0 mm

Stroke

77.5 mm

Displacement

3.8 l

Max. power

540 hp

Max. power at rpm

6,400 rpm

Max. torque

486 lb-ft

Max. torque at rpm

1,950 - 5,000 rpm

Compression ratio

9.8 : 1

Max. engine speed

7,000 rpm

Power-to-weight ratio

6.6 lb/hp

Max. power per liter

142.1 hp/l

Valves

2 intake / 2 exhaust

Exhaust emission treatment

2 catalytic converters

Knock control

Yes

Intake style

Expansion intake system

Lubrication

Integrated dry-sump

Valve timing

VarioCam Plus

Cooling

Water-cooled

Body

Type

Coupe (2+2)

Length

177.4 in

Width (w/ mirrors)

77.9 in

Width (w/ mirrors folded)

74.0 in

Height

51.1 in

Drag coefficient (Cd)

0.31 Cd

Wheelbase

96.5 in

Turning circle

34.7 ft

Front track

60.7 in

Rear track

62.6 in

Curb weight

3,517 lb

Gross Vehicle Weight Rating (GVWR)

4,431 lb

Maximum load

914 lb
Performance

Top track speed

198 mph

0 - 60 mph with Sport Chrono Package

2.9 s

Chassis and Suspension

Front axle

MacPherson strut suspension with anti-roll bar

Rear axle

LSA multi-link suspension with anti-roll bar

Brakes

380 mm internally vented and cross-drilled brake rotors front and rear with 6-piston aluminum monobloc fixed calipers front and 4-piston aluminum monobloc fixed calipers rear

Steering

Electric power-assisted steering with variable steering ratio

Anti-lock Braking System (ABS)

Component of Porsche Stability Management (PSM)

Traction control

Component of Porsche Stability Management (PSM)

Stability control

Component of Porsche Stability Management (PSM)

Wheels (front)

9 J x 20 ET 51

Tires (front)

245 / 35 ZR 20

Wheels (rear)

11.5 J x 20 ET 56

Tires (rear)

305 / 30 ZR 20
Fuel Consumption

City

19 MPG

Highway

24 MPG

Combined

21 MPG

EPA Disclaimer

EPA estimate. Actual mileage may vary.
Capacities

Front luggage compartment volume

4.4 ft³

Fuel tank

17.6 gal
Service & Warranty

Limited vehicle warranty

4 years/50,000 miles (whichever comes first) including 24-hour roadside assistance program

Main service interval

Porsche Cars North America offers service and maintenance packages in a variety of terms to match your intended usage. Please see your authorized Porsche Dealer for details and availability.

Limited paint warranty

4 years/50,000 miles (whichever comes first)

Limited corrosion warranty

12 years/unlimited miles