2019 Porsche 911 GT3 Overview
2019 Porsche 911 GT3 For Sale


Porsche 911 GT3 For Sale
2019 Porsche 911 GT3 Performance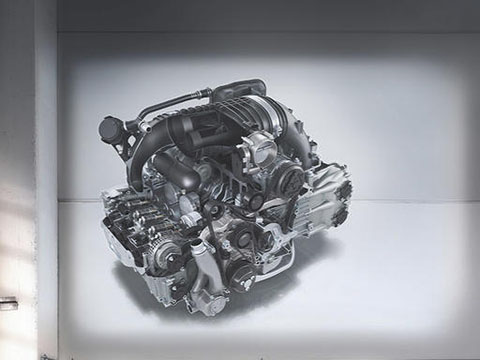 Performance
Brief for the new engine: naturally aspirated engine from motorsport, low down in the rear, six cylinders, horizontally opposed pistons. A full four liters of displacement. And high performance potential with unadulterated sound.
From its impressive capacity of 3,996 cm³, the engine draws a maximum power output of 368 kW (500 hp). With Porsche Doppelkupplung (PDK), fitted as standard, the sprint from 0 to 100 km/h takes just 3.4 seconds and top track speed is 318 km/h. With the optional 6-speed GT sports manual transmission, the time is 3.9 seconds. Top track speed? Not reached until 320 km/h.
VarioCam and high-revving concept work to provide high power and torque across the entire engine speed range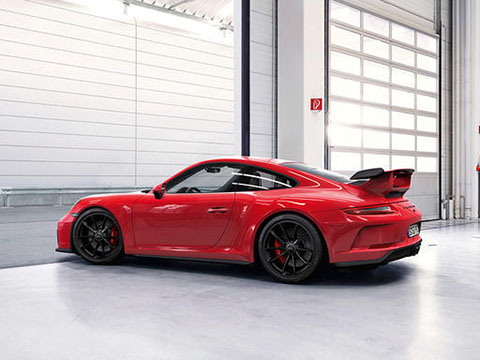 Dry-sump lubrication
Motorsport principles are also applied to the engine's oil supply. Continued lubrication is vital, especially at very high engine speeds of up to 9,000 rpm and under the effects of the particularly high lateral and longitudinal acceleration that can be experienced on the racetrack.
Seven scavenge pumps in total return the engine oil quickly and efficiently to the external oil tank. Together with a new oil pressure pump offering fully variable displacement, optimum oil pressure is assured in all operating conditions. This system provides reliable lubrication of hard-working components and increases the robustness of the engine under heavy use on the racetrack.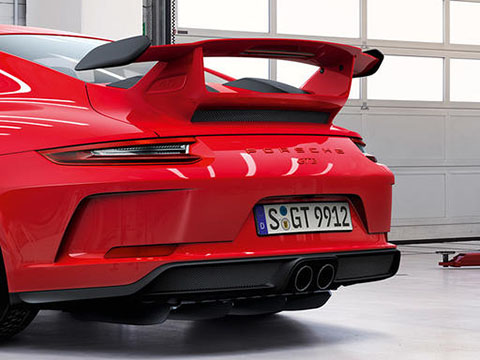 Intake manifold & Sports exhaust system
Intake manifold
In interaction with the sports exhaust system, the variable intake manifold in synthetic material and featuring two switchable resonance flaps helps to ensure efficient gas cycles.
This results in an impressive torque curve, a high maximum torque and high power output across a broad engine speed range.
Sports exhaust system
The sports exhaust system of the new 911 GT3 has two front silencers, two catalytic converters and one rear silencer, which discharges into the central twin-tract tailpipes. The large volume of the exhaust system reduces exhaust back pressure and thus increases power output.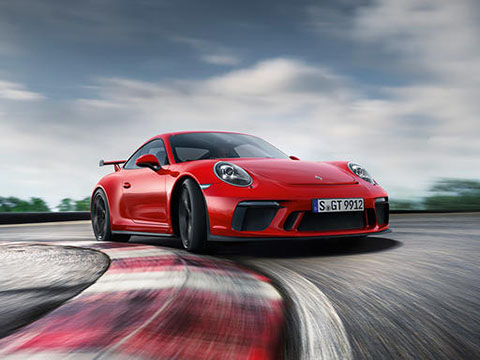 Transmission
Porsche Doppelkupplungsgetriebe (PDK)
Today, PDK is continuing to set standards – this time in series production. With gear changes that take place in milliseconds and with no interruption in the flow of power – for faster acceleration and moderate fuel consumption.
In the 911 GT3, PDK boasts an even sportier setup – with the short gear ratios specific to the 911 GT3 and the crisp, short movements of the gearshift paddles.
Optional 6-speed GT sports manual transmission
Six performance-oriented gears are available for you to select, with every single bite of the clutch also accompanied by a surge of adrenaline.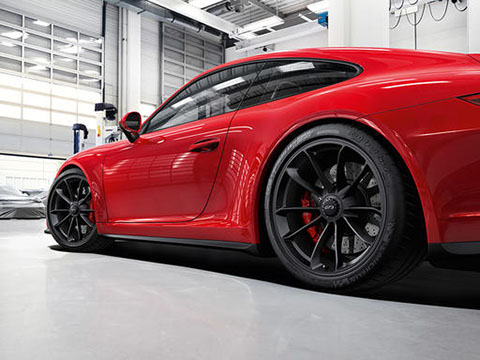 Chassis
For further improvements to driving dynamics, the new 911 GT3 benefits from a new chassis setup.
At the press of a button, you can select between two different modes. 'Normal' mode is designed for sporty driving on public roads and on wet racetracks. 'Sport' mode is specially tuned for maximum lateral acceleration and offers the best possible traction on the track.
Porsche Stability Management (PSM), Porsche Torque Vectoring Plus (PTV Plus) and Porsche Torque Vectoring (PTV)
Providing unrivalled pleasure at every twist and turn.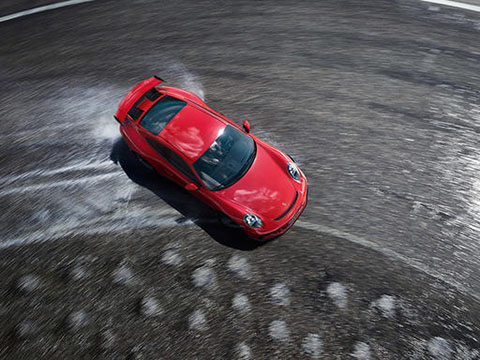 Rear-axle steering & Dynamic engine mounts
Rear-axle steering
Fitted as standard, rear-axle steering combines performance and everyday driveability. An electromechanical adjustment system at each rear wheel enables the steering angle to be adapted based on the current driving situation, steering input and vehicle speed.
Dynamic engine mounts
This electronically controlled system minimizes the perceptible oscillations and vibrations of the entire drivetrain, especially the engine, and combines the benefits of a hard or soft engine mounting arrangement.
2019 Porsche 911 GT3 Appearance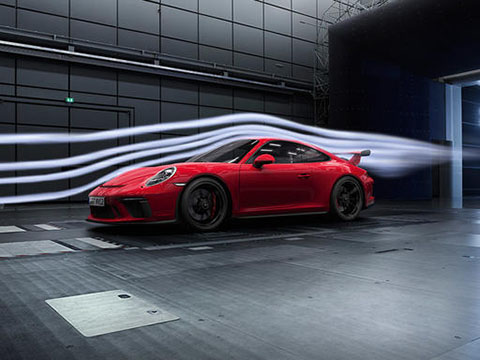 Aerodynamics and design
The new front end of the 911 GT3 has large openings left and right, together with new airblades on each side, improve cooling. Even the customary 911 GT3 air outlet to the front of the luggage compartment lid helps to ensure plenty of fresh air. All cooling air intakes are protected by air intake grilles in titanium color.
Like the front, the revised rear end is also manufactured from lightweight polyurethane. The rear lid, wing and wing uprights are in carbon. The central air outlet slit is larger and positioned higher than on the predecessor model. The two black-finish ram-air scoops on the rear lid supply the engine with combustion air.
A trademark of the GT models and a pointer in the direction of motorsport: the fixed rear wing. It is approximately 20 mm higher than on the predecessor model. For a further gain in downforce.
Four additional fins at the rear of the underbody panelling reinforce the aerodynamic effect of the diffuser.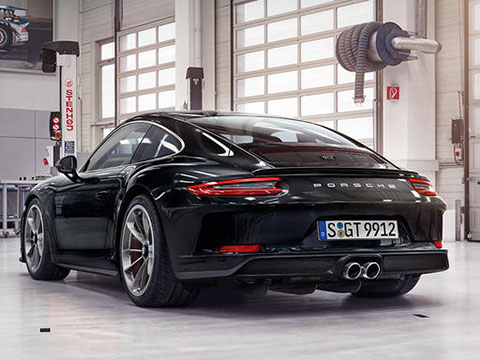 Touring Package
With the new optional Touring Package, the 911 GT3 does without the fixed rear wing, but its 'wolf in sheep's clothing' appearance gives the vehicle a visual as well as dynamic driving purism that last but not least, will be expressed on the road.
As with the 911 Carrera, an automatically extending rear wing helps to ensure for the necessary downforce in the high-speed range. Just above that: the especially designed rear lid grille with 'GT3 touring' badge. The turn signals and taillights are not tinted. The side window strips, the tailpipe trims and the covers for the headlight cleaning system have been carried out in the classic silver color. The Touring Package is also optionally available with a black exterior. Also included are a 6-speed GT sport manual transmission and dual-mass flywheel, plus a leather interior.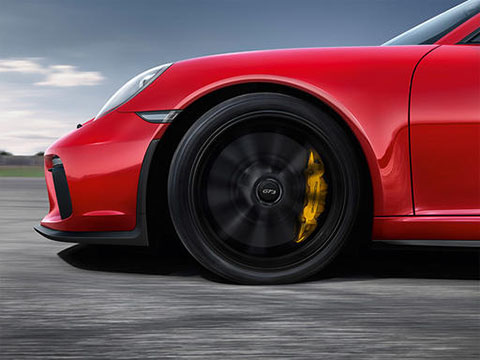 Wheels and tires
The 20-inch 911 GT3 wheels are silver colored as standard and made from a forged alloy. The central locking device bearing the 'GT3' logo is the essence of motorsport. Compared with the conventional five wheel bolts, it offers enhanced performance thanks to the reduction in rotating masses. And, of course, it ensures a faster wheel change.
Tire sizes:
245/35 ZR 20 on 9 J x 20 at the front
305/30 ZR 20 on 12 J x 20 at the rear
Road-approved sports tires on the new 911S help to provide the necessary grip. Bear in mind, however, that the reduced tread depth increases the risk of aquaplaning on wet surfaces.
Tire Pressure Monitoring System (TPMS) is fitted as standard. Not only does it issue warnings in the event of a gradual or sudden loss of pressure, it also features a racetrack mode. This factors in the lower inflation pressure of cold tires before an outing on the circuit.
2019 Porsche 911 GT3 Comfort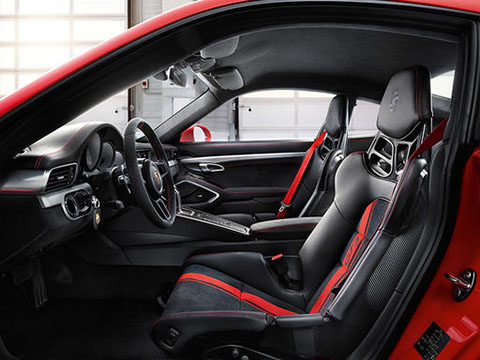 Interior
Instruments
The instrument cluster with 4.6-inch color screen provides you with a continuous stream of data from the on-board computer, including average speed and fuel consumption, fuel range and outside temperature, and allows you to view Tire Pressure Monitoring System (TPMS) information as well as the stopwatch of the optional Chrono Package.
Interior materials
It is an environment dominated by Alcantara® leather and silver-colored interior parts and brushed aluminum. Here, first and foremost, materials must be practical – and top quality.
Alcantara® is easy to grip, wash and maintain. For this reason, it is mainly found in places where there is direct contact.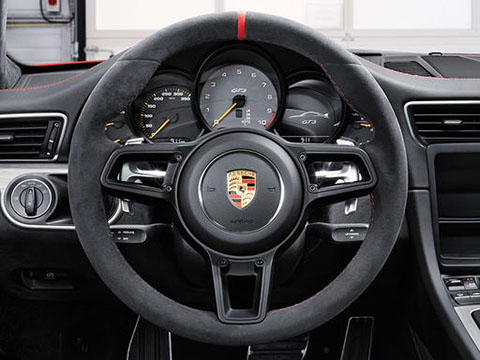 Sports steering wheel with gearshift paddles
Change gear like a motorsport professional – using the Sports steering wheel with gearshift paddles. The sporty shift throw of the paddles is authentically short, making gearshifts even more direct and precise.
The Sports steering wheel offers up to 40 mm of height and reach adjustment. The steering wheel rim in black Alcantara® is easy to grip and remains in firm hands, even on sporty drives.
Useful before yet another left-right chicane on the racetrack: the top center marking in red, available as an option.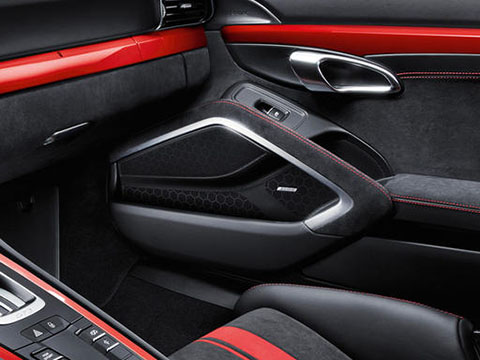 Sound systems
Sound Package Plus
Sound Package Plus, with eight loudspeakers and a total output of 150 watts, delivers excellent sound. The amplifier integrated into Porsche Communication Management (PCM) optimally adapts the acoustic pattern in the vehicle interior to the driver and passenger.
BOSE® Surround Sound System
The optional BOSE® Surround Sound System has been specially developed for the 911 models and is optimally tuned to the specific interior acoustics of these particular vehicles. The audio system features 12 fully active loudspeakers and amplifier channels including a patented 100-watt subwoofer integral to the vehicle bodyshell. Total output 555 watts.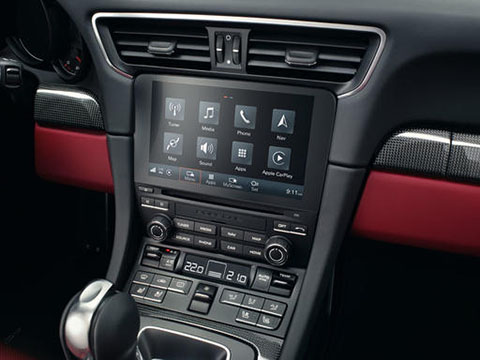 Porsche Connect
The new Porsche Communication Management (PCM)
The enhanced Porsche Communication Management (PCM) is your central control unit for all infotainment applications and is standard equipment in all models. The PCM features a high-resolution touch display with integrated proximity sensor which allows simple and convenient operation.
The Connect Plus module ensures maximum connectivity in your Porsche.
Porsche Connect offers two smartphone apps. The first, Porsche Car Connect, lets you use your smartphone or Apple Watch® to retrieve vehicle data and remotely control selected vehicle functions. The second app is the Porsche Connect app. This allows you to send chosen destinations to your Porsche before you start your journey.
2019 Porsche 911 GT3 Safety
New Car Limited Warranty & Porsche 24-Hour Roadside Assistance Program for 4-Years / 50,000 Miles (whichever occurs first)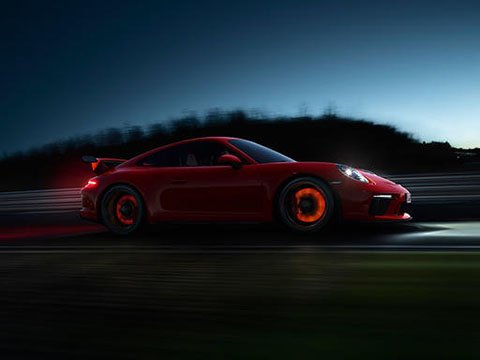 Brakes
The new 911 GT3 is equipped as standard with a particularly powerful brake system with a specifically matched brake booster. The red six-piston aluminium brake calipers on the front axle and the four-piston equivalents at the rear are designed as monobloc units. This makes them highly resistant to deformation and enables a more rapid response and release of the brake, even under heavy loads.
The brake discs are 380 mm in diameter, front and rear. Thanks to their two-piece construction with cast iron brake discs and aluminium brake chambers, they save weight and thereby reduce unsprung and rotating masses.
Optional: Porsche Ceramic Composite Brake (PCCB)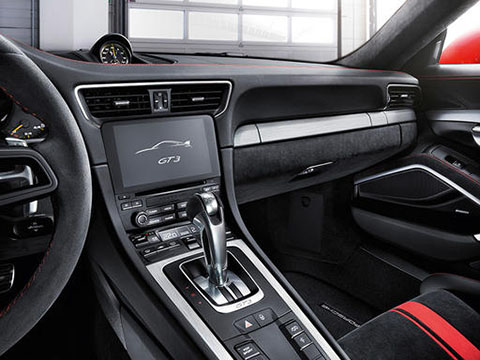 Airbags and Porsche Side Impact Protection System (POSIP)
Advanced airbag technology is integrated in the form of full-size driver and passenger airbags, which are inflated in two stages depending on the severity and type of accident.
The Porsche Side Impact Protection System (POSIP) also comes as standard. It comprises side impact protection elements in the doors and two side airbags on each side: an integral thorax airbag in each seat side bolster, and an upwards-inflating head airbag incorporated within each door.
2019 Porsche 911 GT3 Specification

Height: 50.0 in
Width (w/ mirrors folded): 72.9 in
Wheelbase: 96.7 in
Length: 179.6 in
Specs reflect base model unless otherwise noted.
Engine

Engine layout

Rear-engine

Design and cylinders

Boxer 6

Bore

102.0 mm

Stroke

81.5 mm

Displacement

4.0 l

Max. power

500 hp

Max. power at rpm

8,250 rpm

Max. torque

339 lb-ft

Max. torque at rpm

6,000 rpm

Compression ratio

13.3 : 1

Max. engine speed

9,000 rpm

Power-to-weight ratio (Manual)

6.3 lb/hp

Power-to-weight ratio (PDK (Automatic))

6.4 lb/hp

Max. power per liter

125.0 hp/l

Valves

2 intake / 2 exhaust

Exhaust emission treatment

Dual catalytic converters

Knock control

Cylinder-specific

Intake style

Resonance intake manifold with 2 switchable tuning flaps

Lubrication

Dry-sump

Valve timing

VarioCam timing control for intake and exhaust camshafts

Cooling

Water-cooled

Body

Type

Coupe

Length

179.6 in

Width (w/ mirrors)

77.9 in

Width (w/ mirrors folded)

72.9 in

Height

50.0 in

Drag coefficient (Cd)

0.33 Cd

Wheelbase

96.7 in

Turning circle

36.4 ft

Front track

61.1 in

Rear track

61.2 in

Curb weight (Manual)

3,116 lb

Curb weight (PDK (Automatic))

3,153 lb

Gross Vehicle Weight Rating (GVWR) (Manual)

3,880 lb

Gross Vehicle Weight Rating (GVWR) (PDK (Automatic))

3,917 lb

Maximum load

764 lb
Performance

Top track speed (Manual)

198 mph

Top track speed (PDK (Automatic))

197 mph

0 - 60 mph with Sport Chrono Package (Manual)

3.8 s

0 - 60 mph with Sport Chrono Package (PDK (Automatic))

3.2 s

Fuel Consumption

City (Manual)

13 MPG

City (PDK (Automatic))

15 MPG

Highway (Manual)

21 MPG

Highway (PDK (Automatic))

20 MPG

Combined (Manual)

16 MPG

Combined (PDK (Automatic))

17 MPG

EPA Disclaimer

EPA estimate. Actual mileage may vary.
Chassis and Suspension

Front axle

MacPherson strut suspension with anti-roll bar

Rear axle

LSA multi-link suspension with anti-roll bar

Brakes

380 mm internally vented and cross-drilled brake rotors front and rear with 6-piston aluminum monobloc fixed calipers front and 4-piston aluminum monobloc fixed calipers rear

Steering

Electric power-assisted steering with variable steering ratio

Anti-lock Braking System (ABS)

Component of Porsche Stability Management (PSM)

Traction control

Component of Porsche Stability Management (PSM)

Stability control

Porsche Stability Management (PSM)

Wheels (front)

9 J x 20 ET 55

Tires (front)

245 / 35 ZR 20

Wheels (rear)

12 J x 20 ET 47

Tires (rear)

305 / 30 ZR 20

Limited-slip differential

Electronically controlled locking rear differential
Capacities

Front luggage compartment volume

4.4 ft³

Fuel tank

16.9 gal
Service & Warranty

Limited vehicle warranty

4 years/50,000 miles (whichever comes first) including 24-hour roadside assistance program

Main service interval

Porsche Cars North America offers service and maintenance packages in a variety of terms to match your intended usage. Please see your authorized Porsche Dealer for details and availability.

Limited paint warranty

4 years/50,000 miles (whichever comes first)

Limited corrosion warranty

12 years/unlimited miles