2019 Porsche 911 GT2 RS Overview
2019 Porsche 911 GT2 RS For Sale


Porsche 911 GT2 RS For Sale
2019 Porsche 911 GT2 RS Performance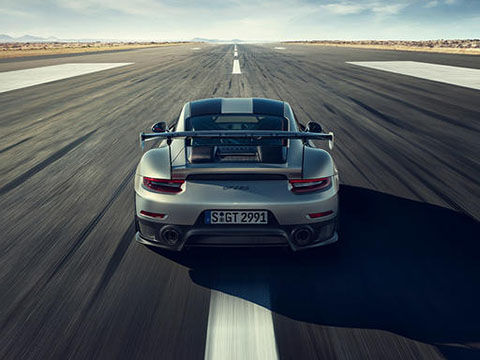 Engine
The source of its natural authority: the six-cylinder, twin-turbo boxer engine at the rear, four-valve technology, variable turbine geometry (VTG) with large turbochargers and newly designed charged air system, direct fuel injection (DFI) and VarioCam Plus. And transmission directly above the rear axle.
With a displacement of 3,800 cm³, the engine produces an impressive 515 kW (700 hp) at an rpm of 7,000. Maximum rpm is 7,200, and the maximum torque of 553 lb/ft is available from just 2,500 rpm. Sustainably unyielding – with sustainable performance.
It ticks the acceleration from 0 to 60 mph box after just 2,7 seconds. It reaches the 124 mph mark after only 8.3 seconds. And after 22.1 seconds the 186 mph mark is water under the bridge.
Variable turbine geometry (VTG), VarioCam Plus, expansion intake manifold, and intercooling all contribute to the superior performance of the new 911 GT2 RS.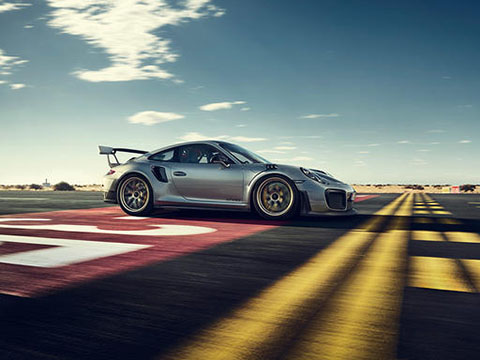 Porsche Doppelkupplung (PDK)
A 7-speed power demonstration: PDK, trimmed for maximum performance for the new 911 GT2 RS. With purposely short ratios and short, succinct gearshifts via the shift paddles. Seventh gear is also ratioed for sport and designed for maximum speed. The manual mode on the gear selector works as it does in our race cars: backwards to shift up, forwards to shift down.
Regarding the PDK technology: it consists of two half gearboxes mounted in a common housing. Two half gearboxes require two clutches. This double-clutch arrangement alternately connects these two half gearboxes to the engine via two separate drive shafts, depending on the current gear. When changing gear, one clutch engages and the other simultaneously disengages, allowing gear changes to take place in milliseconds, with no interruption in the flow of power.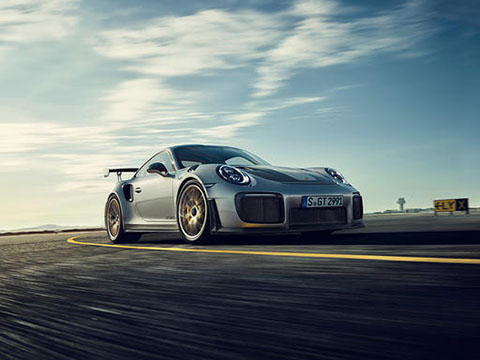 Chassis
The new 911 GT2 RS offers exceptional agility, maximum safety at high speeds and extremely stable roadholding.
The front axle uses a MacPherson strut suspension with helper springs and wheels independently suspended on the trailing arms and wishbones. At the rear is a multi-link axle with helper springs and subframe, based on the LSA concept (lightweight, stable, agile).
The height, camber and track can be individually adjusted for use on the racetrack, as can the stabilizers. For the first time in a Porsche road-going vehicle, all the chassis joints have been replaced by ball joints in the new 911 GT2 RS, ensuring an extremely rigid connection between the chassis and the body.
An optional lift system on the front axle lifts the front of the vehicle by 1.2 in – up to a speed of approximately 37 mph – thereby reducing the risk of hitting curbs, ramps or garage entrances.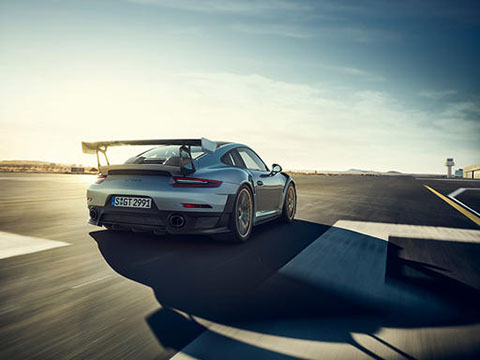 Rear-axle steering
Fitted as standard, the rear-axle steering with sports tuning combines performance and everyday driveability. An electromechanical adjustment system at each rear wheel enables the steering angle to be adapted based on the current driving situation, steering input and vehicle speed.
The benefit at low speed: the system steers the rear wheels in the opposite direction to that of the front wheels. This has the virtual effect of shortening the wheelbase. You can drive around tight bends more dynamically. The turning circle is also reduced to make it easier to park.
The benefit at high speed: the system steers the rear wheels in the same direction as that of the front wheels. The virtual effect of lengthening the wheelbase increases driving stability and thus agility, especially during rapid lane changes or overtaking manoeuvers on the racetrack.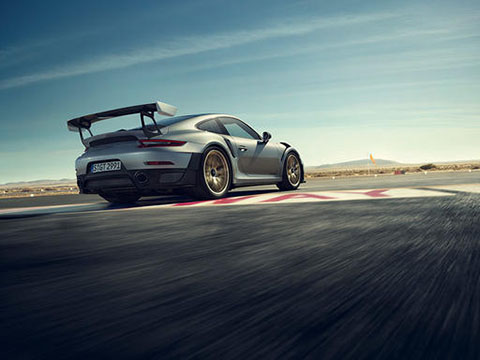 Dynamic engine mounts
This electronically controlled system minimizes the perceptible oscillations and vibrations of the entire drivetrain, particularly of the engine, and combines the benefits of a hard or soft transmission mounting arrangement.
A hard transmission mounting arrangement is best for driving dynamics, as it results in highly accurate roadholding. A soft transmission mounting arrangement, on the other hand, minimizes oscillations and vibrations, thereby improving comfort on uneven road surfaces, but at the expense of driving dynamics.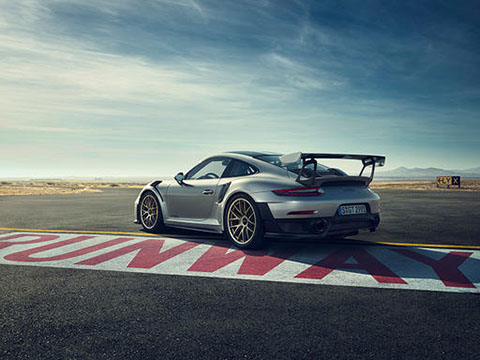 Porsche Active Suspension Management (PASM)
This electronic damping control system actively and continuously adjusts the damping force on each wheel – based on current road conditions and driving style.
You can switch between two sporty programs at the touch of a button. Normal mode is designed for sporty driving on public roads and wet race circuits. Sport mode is specially designed for maximum lateral acceleration and optimum traction on the racetrack.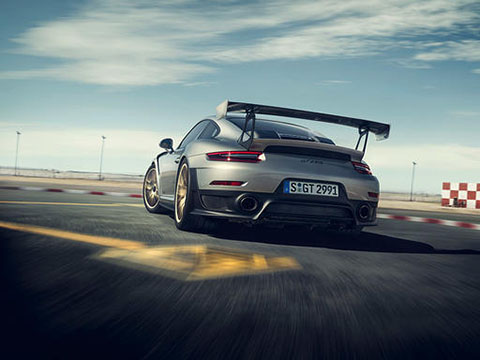 Porsche Stability Management (PSM)
PSM maintains stability even at the limits of dynamic driving performance. In addition to the anti-lock braking system, PSM also includes Electronic Stability Control (ESC) and Traction Control (TC).
Sensors continuously monitor the direction, speed, yaw velocity and lateral acceleration of the car. Using this information, PSM is able to calculate the actual direction of travel at any given moment and initiates strategic braking of individual wheels to prevent you from deviating from your intended line.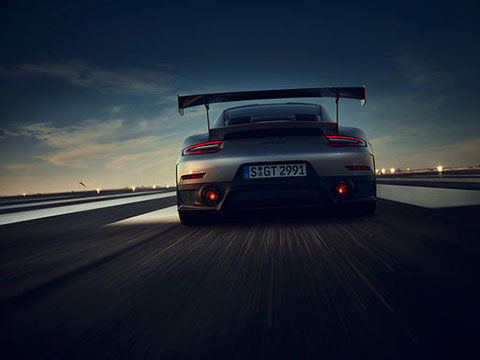 Porsche Torque Vectoring Plus (PTV Plus)
PTV Plus is specially designed for the new 911 GT2 RS and operates in conjunction with an electronically controlled, fully-variable rear differential lock.
PTV results in increased traction, especially at the limits of dynamic driving performance, better transverse dynamics and significantly improved driving stability during load changes, in bends and when switching lanes. The system also selectively applies brake pressure to the right and/or left rear wheel. Steering is therefore improved and agility increased.
2019 Porsche 911 GT2 RS Appearance

Aerodynamics and design
From words to actions: the powerful air intakes of the aerodynamically-shaped front apron ensure optimum cooling. The additional air outlet at the front of the hood assists the airflow of the central radiator, while providing aerodynamic downforce on the front axle by deflecting the airflow. But it's the wide, rear spoiler lip that makes the biggest contribution to downforce. All air vents are protected by titanium-colored air intake grills.
Motorsport technology is also present in the front wheel arch ventilation on the fenders, where carbon slats provide efficient ventilation. This reduces the excess pressure produced by the rotating wheels and thus the downforce. This so-called louvre – coincidentally? – resembles the gills of a shark.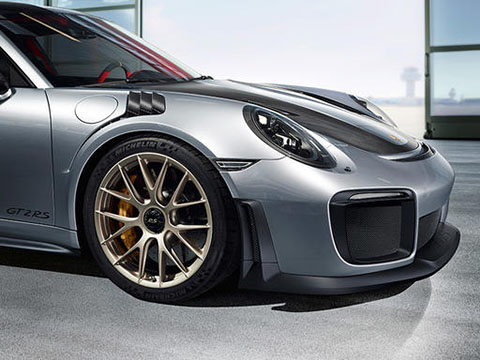 Wheels and tires
20-inch wheels on the front axle, 21-inch on the rear axle. In words: big, wide wheels, large tire contact area, great driving dynamics. In numbers: front 265/35 ZR 20 tires on 9.5 J x 20 wheels, rear 325/30 ZR 21 tires on 12.5 J x 21 wheels.
The new, light-alloy wheels of the 911 GT2 RS are painted in White Gold Metallic (high-gloss) and characterized by visible, recessed 'GT2 RS' logos on the rim. At this performance level, the central locking system goes without saying. The central wheel bolts are black and feature the distinctive 'RS' logo.
The standard Tire Pressure Monitoring (TPM) not only warns in the event of a gradual or even sudden loss of pressure, but also has a sport mode that takes account of the lower pressure of cold tires at the beginning of a race.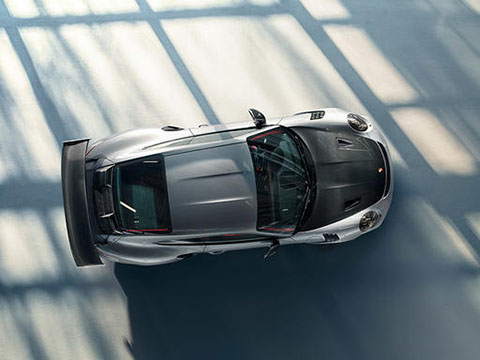 Lightweight construction
The hood, front fender, wheel arch vents, upper part of the SportDesign exterior mirrors, air intakes in the rear side panels and parts of the rear are produced from carbon fiber reinforced plastic (CFRP), as are many of the interior components.
The hood is also made from carbon fiber and contoured in the middle, as is the magnesium roof. This crease is not only a visual distinguishing feature of these lightweight components, but also increases their rigidity. Intelligent, lightweight construction using an aluminium–steel composite reduces the vehicle weight.
Another weight reduction that increases performance: lightweight polyurethane with hollow, glass microspheres and carbon fiber elements. This light yet extremely strong high-tech material has been used in the front and rear panels.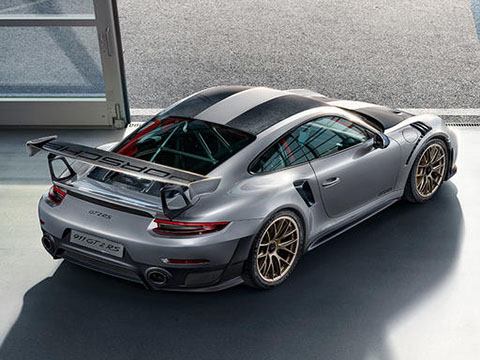 Weissach package
The name alone creates a bond. Because ever since the Weissach package was first offered in a similar form for the Porsche 918 Spyder, it has stood for extremely lightweight construction. And for maximum proximity to motorsport.
Visual appearance and lightweight construction form a real synthesis, with the particular focus on saving weight. For the first time in a series-produced car, the stabilizers on the front and rear axles are made of carbon, as are their coupling rods – for outstanding performance.
A visual distinguishing feature of the Weissach package is the central decorative strip in vehicle color on the carbon-weave finished hood and roof. It certainly lends the 911 GT2 RS its distinctive appearance. A highly visible, unyielding feature is the 'PORSCHE' logo on the rear wing.
2019 Porsche 911 GT2 RS Comfort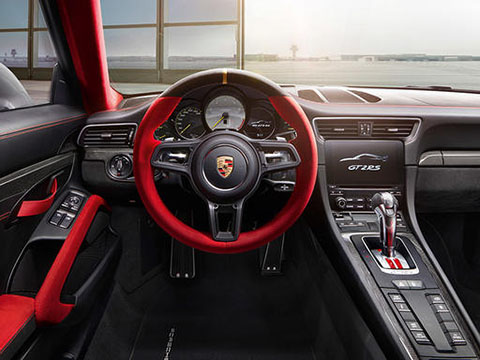 Interior
Dials
The unique language of Porsche : the five round instruments integrated into the cockpit with the rev counter in the middle. The dial is titanium colored, the needles and increment markings are yellow. A sporty pointer, as it were.
The instrument cluster with a 4.6-inch color display constantly supplies you with data from the on-board computer. You can also access the Tire Pressure Monitoring (TPM) data, as well as the stopwatch of the optional Chrono Package.
Materials
The materials represent a clear, sporty design and maximum quality. They are dominated by red Alcantara®, black leather and the carbon-weave finish of many of the interior components.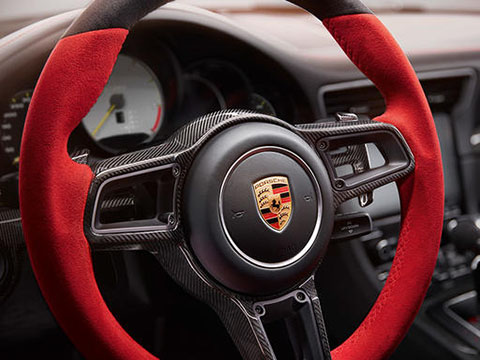 GT2 RS Sports steering wheel
Motorsport-inspired gear changes – the GT2 RS Sports steering wheel with gearshift paddles enables fast, sporty gear changes, thereby making them even more direct and precise.
The Sports steering wheel can be axially and vertically adjusted by up to TBA in. The steering wheel rim is made of black and red Alcantara®, is easy to grip, feels comfortable even during sporty driving and features a trendsetting top center marking in yellow.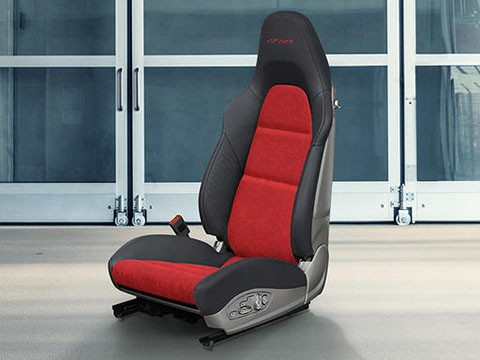 Seats
Full bucket seats
The standard equipment includes full bucket seats made entirely of carbon-fiber reinforced plastic (CFRP). The full bucket seat can be lowered by up to 1.2 in. or raised by up to 0.8 in. The height adjustment is electric, and the fore/aft adjustment manual. The seats are upholstered in black leather with seat centers in red Alcantara® as standard. The headrests feature an embroidered 'GT2 RS' logo in red.
Adaptive Sports seats Plus
A combination of sport and comfort, everyday and racetrack driving: the optionally available adaptive Sports seats Plus, with leather side bolsters, seat centers in red Alcantara® and headrests featuring an embroidered 'GT2 RS' logo in red.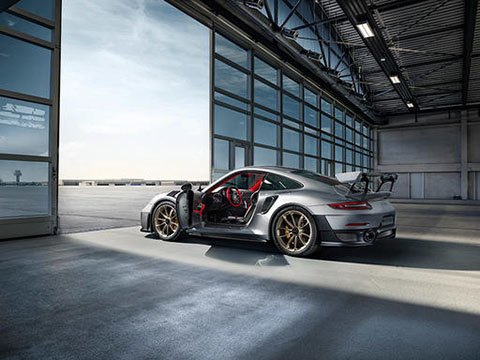 Sound systems
Sound Package Plus
Sound Package Plus delivers excellent sound, with eight loudspeakers and a total output of 150 watts. The amplifier integrated into PCM optimally adapts the acoustic pattern in the vehicle interior to the driver and front passenger.
BOSE® Surround Sound System
The optional BOSE® Surround Sound System has been specially developed for the 911 models and is optimally tuned to the vehicles' specific internal acoustics. The audio system has 12 loudspeakers and amplifier channels, including a robust, patented 100-watt subwoofer. The fully active system design allows each individual loudspeaker to be optimally adjusted to the vehicle interior, transforming the 911 GT2 RS into a concert hall in the blink of an eye. Total output: 555 watts.
2019 Porsche 911 GT2 RS Safety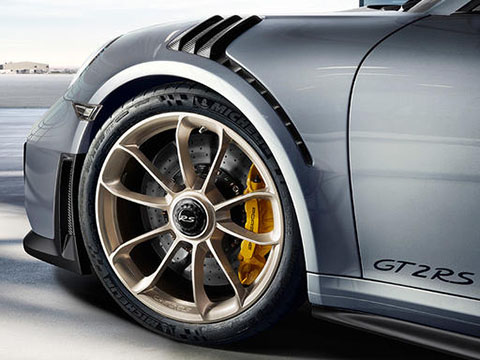 Porsche Ceramic Composite Brake (PCCB)
The size of the ceramic brake discs takes account of the performance potential of the new 911 GT2 RS. The cross-drilled ceramic brake discs have a correspondingly large diameter of TBA in at the front axle and TBA in at the rear – for even more formidable braking performance.
The use of yellow, six-piston aluminium monobloc fixed calipers on the front axle and four-piston aluminium monobloc fixed calipers on the rear axle ensures braking forces that are extremely powerful and above all exceptionally consistent.
PCCB enables shorter braking distances, particularly in tough road and race conditions. Safety when braking at high speed is also improved, thanks to its excellent fading stability.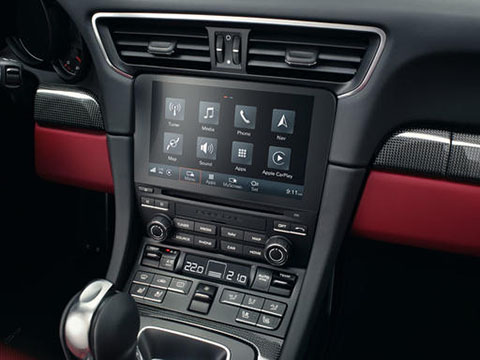 The new Porsche Communication Management (PCM)
The enhanced Porsche Communication Management (PCM) is your central control unit for all infotainment applications and is standard equipment in all models. The PCM features a high-resolution touch display with integrated proximity sensor which allows simple and convenient operation.
The mobile phone preparation makes it easy for you to establish a Bluetooth® connection to a mobile phone that supports the hands-free profile (HFP). The cell phone can remain in your pocket or bag.
Additional services include: Connect Plus Module, Porsche Connect services, and Connect Apps.
2019 Porsche 911 GT2 RS Specification

Height: 51.1 in
Width (w/ mirrors folded): 74.0 in
Wheelbase: 96.5 in
Length: 179.1 in
Specs reflect base model unless otherwise noted.
Engine

Engine layout

Rear-engine

Design and cylinders

Twin-turbocharged boxer 6

Bore

102.0 mm

Stroke

77.5 mm

Displacement

3.8 l

Max. power

690 hp

Max. power at rpm

7,000 rpm

Max. torque

553 lb-ft

Max. torque at rpm

2,500 - 4,500 rpm

Compression ratio

9.0 : 1

Max. engine speed

7,200 rpm

Power-to-weight ratio

4.7 lb/hp

Max. power per liter

181.5 hp/l

Valves

2 intake / 2 exhaust

Exhaust emission treatment

Dual catalytic converters

Knock control

Cylinder-specific

Intake style

Expansion intake system

Lubrication

Integrated dry-sump

Valve timing

VarioCam Plus

Cooling

Water-cooled

Body

Type

Coupe

Length

179.1 in

Width (w/ mirrors)

77.9 in

Width (w/ mirrors folded)

74.0 in

Height

51.1 in

Drag coefficient (Cd)

0.35 Cd

Wheelbase

96.5 in

Turning circle

33.6 ft

Front track

62.5 in

Rear track

61.3 in

Curb weight

3,241 lb

Gross Vehicle Weight Rating (GVWR)

4,034 lb

Maximum load

793 lb

Performance

Top track speed

211 mph

0 - 60 mph

2.7 s
Fuel Consumption

City

15 MPG

Highway

21 MPG

Combined

17 MPG

EPA Disclaimer

EPA estimate. Actual mileage may vary.
Chassis and Suspension

Front axle

MacPherson strut suspension with anti-roll bar

Rear axle

LSA multi-link suspension with anti-roll bar

Brakes

410 mm brake rotors with 6-piston calipers at front; 390 mm brake rotors with 4-piston calipers at rear

Steering

Electric power-assisted steering with variable steering ratio

Anti-lock Braking System (ABS)

Component of Porsche Stability Management (PSM)

Traction control

Component of Porsche Stability Management (PSM)

Stability control

Porsche Stability Management (PSM)

Wheels (front)

9.5 J x 20 ET 50

Tires (front)

265 / 35 ZR 20

Wheels (rear)

12.5 J x 21 ET 48

Tires (rear)

325 / 30 ZR 21

Limited-slip differential

Electronically controlled locking rear differential
Capacities

Front luggage compartment volume

4.0 ft³

Fuel tank

23.7 gal
Service & Warranty

Limited vehicle warranty

4 years/50,000 miles (whichever comes first) including 24-hour roadside assistance program

Main service interval

Porsche Cars North America offers service and maintenance packages in a variety of terms to match your intended usage. Please see your authorized Porsche Dealer for details and availability.

Limited paint warranty

4 years/50,000 miles (whichever comes first)

Limited corrosion warranty

12 years/unlimited miles
MSRP

PDK (Automatic)

From $ 293,200.00*
*Manufacturer's Suggested Retail Price. Excludes options; taxes; title; registration; delivery, processing and handling fee; dealer charges. Dealer sets actual selling price.