2019 Porsche 911 Carrera T Overview
2019 Porsche 911 Carrera T For Sale


Porsche 911 Carrera T For Sale
2019 Porsche 911 Carrera T Performance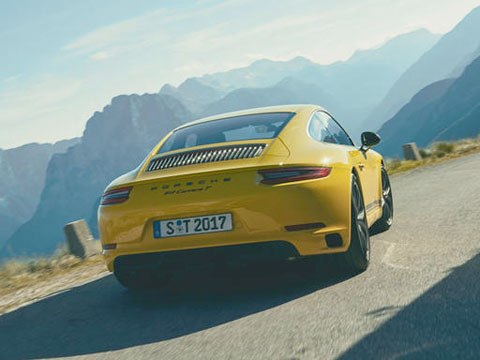 Engine
Positioned down low in the rear of the 911 Carrera T is the six-cylinder twin-turbo engine. The 3.0-liter power plant is rated at 370 hp and develops a maximum 331 lb-ft of torque.
More meaningful are the resulting acceleration figures: the sprint to 60 mph is completed in just 4.3 seconds. Top track speed is 182 mph. There's nothing really left to say. Well, almost nothing.
There are still the impressive qualities of the twinturbo engine: immediate responsiveness and a wide torque plateau reached relatively low in the rpm band. Let's not forget the mighty sound of the twin-turbo flat-six engine further reinforced by the sport exhaust system, fitted as standard, with two centrally positioned high gloss black tailpipes.
In short: high performance delivered immediately to the road and the driver. Which brings us back to you.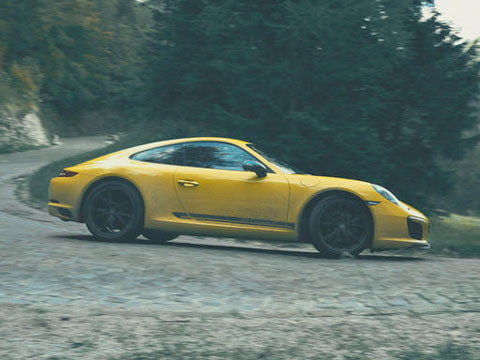 Transmission
The 7-speed manual transmission represents sportiness in pure form, with short shift throws and an optimum transition from one gear to the next. This leads to swift gear changes and an intimate relationship between the driver and the car.
The dynamic rev-match function active in SPORT or SPORT PLUS mode ensures the optimum engine speed during downshifts for an even more emotional driving experience and sensational sound.
The gear lever has been shortened and the shift pattern in Guards Red shows how it's done.
For extremely fast gear changes with no interruption in the flow of power, the 7-speed Porsche Doppelkupplung (PDK) transmission, featuring both a manual and an automatic mode, is available as an option.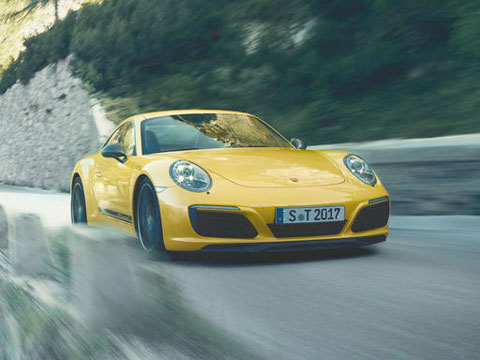 Chassis
PASM Sport suspension
The body sits a further 10 mm lower than that of the standard 911 Carrera . Porsche Active Suspension Management (PASM) – the electronic damping control system – continuously adjusts the damping force on each wheel based on current road conditions and driving inputs.
Porsche Torque Vectoring (PTV)
Fitted as standard, Porsche Torque Vectoring (PTV) enhances vehicle dynamics and stability. Operating in conjunction with a limited slip rear differential, the system works by intelligently braking the rear wheels as the situation demands.
Rear axle steering
Rear axle steering is available as an option. It enhances performance and everyday practicality in equal measure, for particularly agile handling combined with a significant increase in driving stability.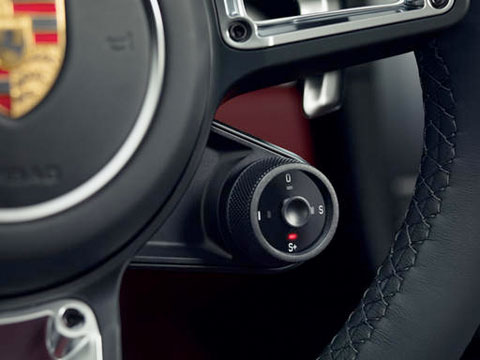 Mode switch
Auto start/stop switches off the engine when the driving speed falls below 7 km/h under moderate deceleration, such as when you are approaching a red light. As soon as you release the clutch or, with PDK, depress the accelerator pedal, the engine restarts – swiftly and smoothly.
Thanks to the mode switch, integrated as standard, your hand can remain on the steering wheel as you select any one of four settings: Normal, SPORT, SPORT PLUS and Individual mode, with which you can adapt the vehicle even more precisely to your personal style of driving.
In SPORT mode, engine dynamics become more direct and the sport exhaust system is activated.
In SPORT PLUS mode, engine, chassis, sport exhaust system – everything is geared 100 % for performance.
2019 Porsche 911 Carrera T Appearance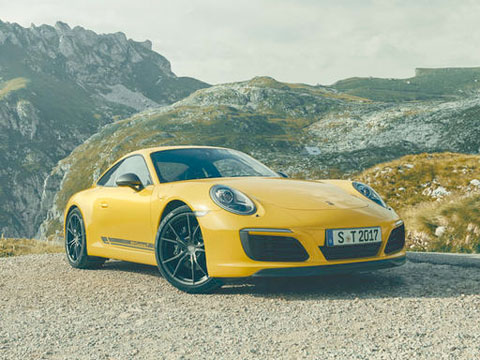 Exterior design
A timeless silhouette, prominent front fenders, a swooping roof line, and an imposing rear end. Sports car proportions – as only defined by the 911.
Turn your gaze forward to the front end of the 911 Carrera T with its clear form, large air intakes, and aerodynamically adapted front spoiler lip.
Details on the sides of this sports car will further catch your eye: decorative stripes with the '911 Carrera T' logo and SportDesign exterior mirrors painted in Agate Grey.
20-inch Carrera S wheels provide the grip necessary for excellent roadholding – exclusively for the 911 Carrera T, they are painted in high-gloss Titanium Grey.
Turn your gaze to the rear where you will find further accents in Agate Grey: in addition to the '911 Carrera T' model designation, the rear lid intake grille slats are also finished in this contrasting color. Underneath, the sport exhaust system features centrally positioned tailpipes in black.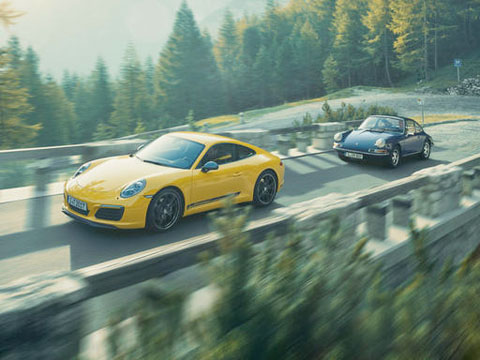 The concept 911 Carrera T
Made for the journey, not the destination. What's needed? A six-cylinder twinturbo and horizontally opposed engine. A 7-speed manual transmission. A chassis that celebrates every corner. And a driver like you.
Interior soundproofing has been reduced to the bare minimum. The rear window and rear side windows are made of lightweight glass. Rear seats can be omitted with selection of the Full Bucket Seats. The rearmounted six-cylinder horizontally opposed engine soundtrack plays clearly through the standard sport exhaust system.
Performance is controllable through the mode switch mounted to the steering wheel in interaction with the PASM Sport suspension and Porsche Torque Vectoring (PTV) with a limited-slip differential. These measures combine to make the new 911 Carrera T an unadulterated sports car – one that fully lives up to its Sixties predecessor.
2019 Porsche 911 Carrera T Comfort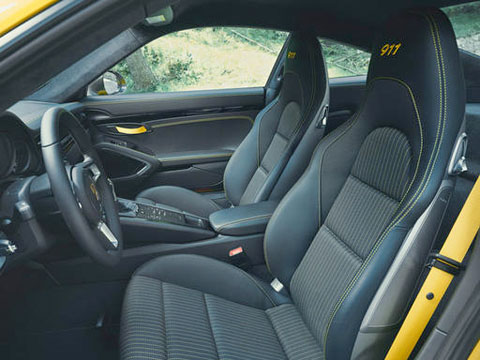 Interior design
Your hands grip the GT Sport steering wheel. In direct reach is the mode switch, offering the driving modes Normal, SPORT, SPORT PLUS, and Individual - which you can configure to define a driving style of your own.
The interior: black and pure. Surfaces within grasp are covered in smooth-finish leather. In contrast, the trim strips are painted in high-gloss black.
The new 911 Carrera T accelerates from 0 to 60 mph in 4.3 seconds, pushing you back into the Sport Seats Plus fitted as standard. The '911' logo is embroidered on the headrests in black.
Full Bucket Seats made of carbon fiber reinforced plastic (CFRP) are optionally available for the first time in a 911 Carrera and feature Alcantara® seat centers. When chosen, the rear seats are removed, also a first for the 911 Carrera.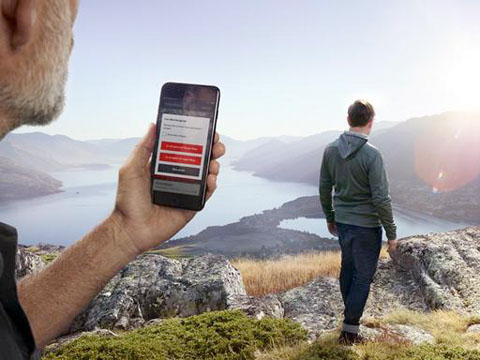 Porsche Connect
The PCM is your main control center for audio, navigation and communication.
Porsche Connect
Porsche Connect enhances the existing vehicle functions on demand with intelligent services and apps – all of which are intended to make the connection between you and your 911 Carrera T even more intimate.
Connect Plus
With the Connect Plus module you can optimally integrate your smartphone into your vehicle. In addition, the Connect Plus module enables you to use numerous Porsche Connect services and apps such as navigation and infotainment services. This includes, for example, Real-time Traffic Information. This means you already know the fastest route to your destination before setting off – if you want to take it, of course.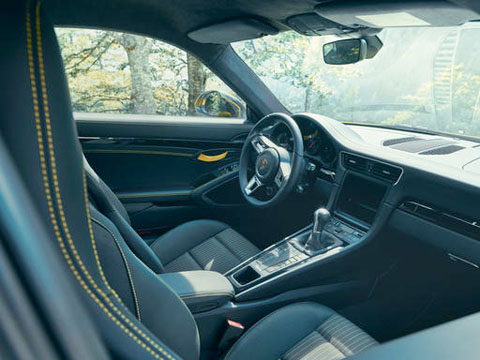 Sound System
Equipped as standard with the Sound Package Plus featuring eight loudspeakers and 150-watt total output via the integrated amplifier with digital signal processing.
Optionally available, the BOSE® Surround Sound System has been specially developed for the 911 models and offers a total output of 555 watts. It has 12 fully active loudspeakers and amplifier channels, including a robust, patented 100-watt high-power subwoofer.
The Burmester® High-End Surround Sound System offers sound performance of the highest level. In numbers: 12 amplifier channels with a total output of 821 watts, 12 loudspeakers including an active subwoofer with 300-watt class D amplifier, a total diaphragm surface area of more than 1,340 cm2, and a frequency response of 35 Hz to 20 kHz.
2019 Porsche 911 Carrera T Safety
New Car Limited Warranty & Porsche 24-Hour Roadside Assistance Program for 4-Years / 50,000 Miles (whichever occurs first)

2019 Porsche 911 Carrera T Specification

Height: 50.6 in
Width (w/ mirrors folded): 71.5 in
Wheelbase: 96.5 in
Length: 178.2 in
Specs reflect base model unless otherwise noted.
Engine

Engine layout

Rear-engine

Design and cylinders

Twin-turbocharged boxer 6

Bore

91.0 mm

Stroke

76.4 mm

Displacement

3.0 l

Max. power

370 hp

Max. power at rpm

6,500 rpm

Max. torque

331 lb-ft

Max. torque at rpm

1,700 - 5,000 rpm

Compression ratio

10.0 : 1

Max. engine speed

7,500 rpm

Power-to-weight ratio (Manual)

8.5 lb/hp

Power-to-weight ratio (PDK (Automatic))

8.6 lb/hp

Max. power per liter

123.3 hp/l

Valves

2 intake / 2 exhaust

Exhaust emission treatment

2 catalytic converters

Knock control

Yes

Intake style

Expansion intake manifold

Lubrication

Integrated dry-sump

Valve timing

VarioCam Plus

Cooling

Water-cooled

Performance

Top track speed (Manual)

182 mph

Top track speed (PDK (Automatic))

180 mph

0 - 60 mph (Manual)

4.3 s

0 - 60 mph (PDK (Automatic))

4.0 s

0 - 60 mph with Sport Chrono Package (Manual)

4.3 s

0 - 60 mph with Sport Chrono Package (PDK (Automatic))

4.0 s

Service & Warranty

Limited vehicle warranty

4 years/50,000 miles (whichever comes first) including 24-hour roadside assistance program

Main service interval

Porsche Cars North America offers service and maintenance packages in a variety of terms to match your intended usage. Please see your authorized Porsche Dealer for details and availability.

Limited paint warranty

4 years/50,000 miles (whichever comes first)

Limited corrosion warranty

12 years/unlimited miles

Capacities

Front luggage compartment volume

5.1 ft³

Fuel tank

16.9 gal
Fuel Consumption

City (Manual)

16 MPG

City (PDK (Automatic))

20 MPG

Highway (Manual)

25 MPG

Highway (PDK (Automatic))

26 MPG

Combined (Manual)

19 MPG

Combined (PDK (Automatic))

22 MPG

EPA Disclaimer

EPA estimate. Actual mileage may vary.
Chassis and Suspension

Front axle

MacPherson strut suspension with anti-roll bar

Rear axle

LSA multi-link suspension with anti-roll bar

Brakes

330 mm internally vented brake rotors front and rear with 4-piston aluminum monobloc fixed calipers front and rear

Steering

Electric power-assisted steering with variable steering ratio

Anti-lock Braking System (ABS)

Component of Porsche Stability Management (PSM)

Traction control

Component of Porsche Stability Management (PSM)

Stability control

Component of Porsche Stability Management (PSM)

Wheels (front)

8.5 J x 20 ET 49

Tires (front)

245 / 35 ZR 20

Wheels (rear)

11.5 J 20 ET 76

Tires (rear)

305 / 30 ZR 20
Body

Type

Coupe

Length

178.2 in

Width (w/ mirrors)

77.9 in

Width (w/ mirrors folded)

71.5 in

Height

50.6 in

Drag coefficient (Cd)

0.31 Cd

Wheelbase

96.5 in

Turning circle

36.5 ft

Front track

60.8 in

Rear track

59.8 in

Curb weight (Manual)

3,142 lb

Curb weight (PDK (Automatic))

3,186 lb

Gross Vehicle Weight Rating (GVWR) (Manual)

4,133 lb

Gross Vehicle Weight Rating (GVWR) (PDK (Automatic))

4,166 lb

Maximum load (Manual)

991 lb

Maximum load (PDK (Automatic))

980 lb