2019 Porsche 718 GTS Overview
2019 Porsche 718 GTS For Sale


Porsche 718 GTS For Sale
2019 Porsche 718 GTS Performance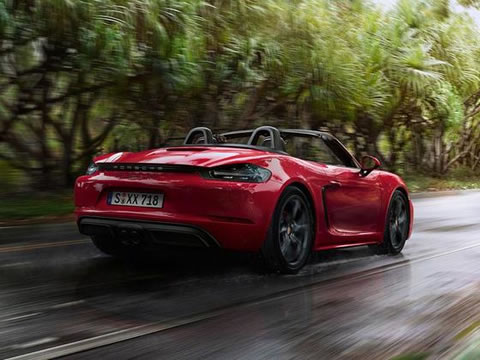 Drive
Engine
The high-powered 2.5-litre turbocharged and horizontally opposed cylinder engine with direct fuel injection (DFI), VarioCam Plus and integrated dry-sump lubrication delivers a mighty 269 kW (365 hp) to the road. Top speed isn't reached until 290 km/h. The dash from 0 to 100 km/h is quite remarkable, too: with the 6-speed manual transmission, the 718 GTS models complete the sprint in a mere 4.6 seconds. And it gets sportier still: with Launch Control of the Sport Chrono Package and Porsche Doppelkupplung (PDK), the clock stops after just 4.1 seconds.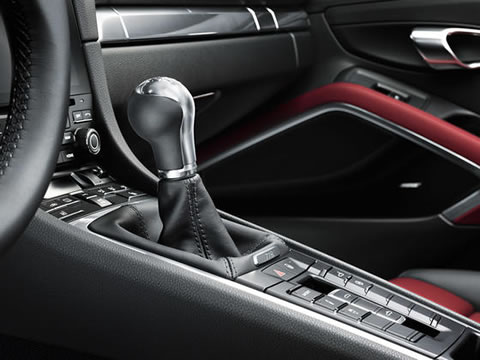 Transmission
6-speed manual transmission
The 718 GTS models are equipped with a smooth-shifting 6-speed manual transmission optimally matched to the respective engine map. The shift throws are sporty and short – shift effort is low. This means short shift times for a sporty and directly engaging driving experience.
Porsche Doppelkupplung (PDK)
Doppelkupplung, featuring a manual and an automatic mode, helps to ensure extremely fast gear changes with no interruption in the flow of power. And that's with even better acceleration performance and increased efficiency.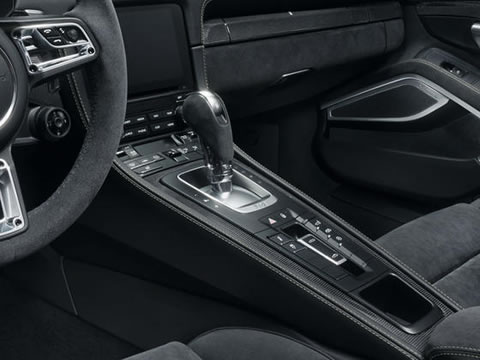 Chassis
On the 718 GTS models, the lightweight chassis with Porsche Active Suspension Management (PASM) delivers precise and agile handling. The body sits 10 mm lower than that of the 718 and 718 S models.
PASM sports suspension & Porsche Torque Vectoring (PTV)
The PASM sports suspension is available as an option for the 718 GTS models. The body sits 20 mm lower than that of the 718 and 718 S models. The springs are harder and shorter, and the anti-roll bars are stiffer. Porsche Torque Vectoring (PTV) enhances dynamic performance and stability.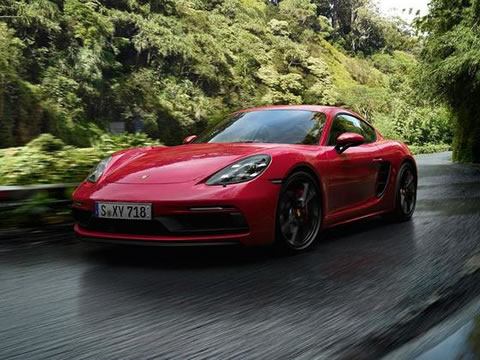 Sport Chrono Package
The Sport Chrono Package enables an even sportier tuning of the chassis, engine and transmission. And launches you to unprecedented sporty heights. Besides the four selectable performance modes available from the GT sports steering wheel, the Sport Chrono Package offers additional functions in conjunction with PDK – for maximum responsiveness and maximum acceleration.
The Sport Chrono Package also includes the Porsche Track Precision app. In conjunction with Connect Plus of Porsche Connect, you can clock lap times, collate driving stats, manage the results and share them with others for comparison.
2019 Porsche 718 GTS Appearance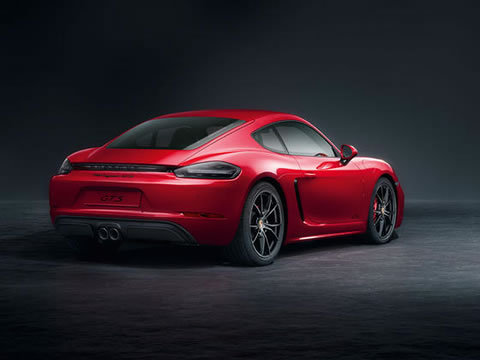 Exterior design
The rear is clearly contoured and looks wide and imposing due to the rear apron and the centrally positioned sports tailpipes in black. The LED taillights are tinted, the model logo is also finished in black.
The large air intakes make the front look even wider and more imposing. This impression is reinforced by the tinted front light units, the front spoiler and the outer airblades in black.
20-inch Carrera S wheels with a dynamic 10-spoke design help to ensure solid roadholding. They are – typically for a GTS – finished in satin black.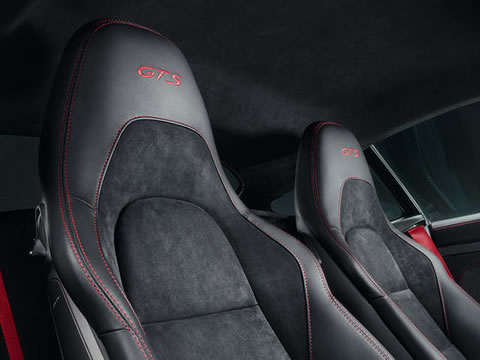 GTS interior package
The optionally available GTS interior package makes the 718 GTS models even more visually succinct and sporty. More succinct, thanks to the impression created by the accent colours of Carmine Red or Crayon in the interior. More sporty, thanks to extensive items in Alcantara® combined with the interior scheme of black leather and decorative trims in carbon.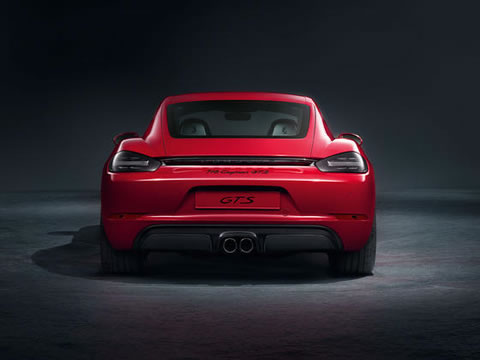 Sports exhaust system
With the sports exhaust system, the powerful sound of the mid-mounted engine becomes even more intense – at the push of a button. The centrally positioned two-tract sports tailpipes in stainless steel are finished in high-gloss black.
2019 Porsche 718 GTS Comfort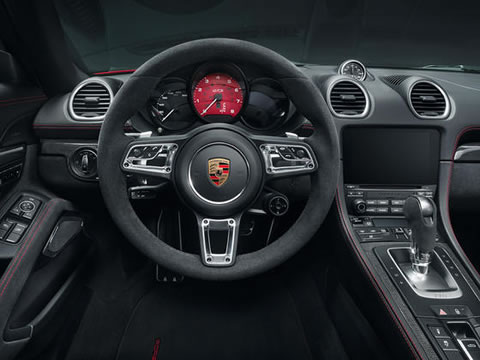 Interior design
The interior integrates the driver perfectly into the vehicle. All the important information you need is directly within view.
Alcantara®, the proven motorsport material, ensures a good grip. In the 718 GTS models, it is used primarily for surfaces within close reach: such as on the steering wheel rim and gear lever/ selector. Sports seats Plus help to create the seating sensation typical of a sports car. The special part? The combination of leather and Alcantara® and a striking seam pattern. The seat centres are in Alcantara® and the headrests are embroidered with 'GTS' logos. Sports bucket seats are available as an option for an even more authentic motorsport feel.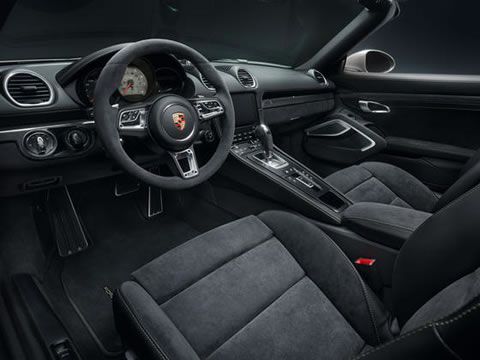 Sound
Sound Package Plus
Sound Package Plus comprises six loudspeakers and a total output of 110 watts in the 718 Boxster GTS, and eight loudspeakers with 150 watts in the 718 Cayman GTS.
BOSE® Surround Sound-System
The optional BOSE® Surround Sound System, featuring 10 amplifier channels and 10 loudspeakers including a patented 100-watt active subwoofer integral to the vehicle bodyshell, produces a total output of 505 watts.
Burmester® High-End Surround Sound-System
This system boasts 12 amplifier channels with a total output of 821 watts, 12 loudspeakers including an active subwoofer with 300-watt class D amplifier, a total diaphragm surface area of more than 1,340 cm2, and a frequency response of 35 Hz to 20 kHz.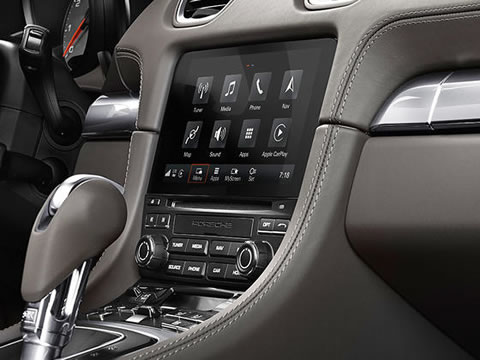 The new Porsche Communication Management (PCM)
The enhanced Porsche Communication Management (PCM) is your central control unit for all infotainment applications and is standard equipment in all models. The PCM features a high-resolution touch display with integrated proximity sensor which allows simple and convenient operation.
You can connect your device easily using either the USB port or AUX input. An internal hard drive ("Jukebox") and two SD card readers are provided in addition to the CD/DVD drive for playback of your personal music.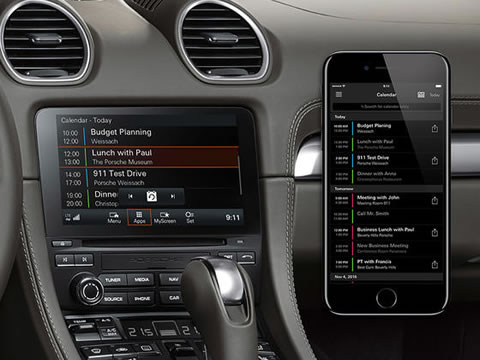 Connect Apps
In addition to its range of smart services, Porsche Connect offers two smartphone apps. The first, Porsche Car Connect, lets you use your smartphone or Apple Watch® to retrieve vehicle data and remotely control selected vehicle functions.
The second app is the Porsche Connect app. This allows you to send chosen destinations to your Porsche before you start your journey.
2019 Porsche 718 GTS Safety
New Car Limited Warranty & Porsche 24-Hour Roadside Assistance Program for 4-Years / 50,000 Miles (whichever occurs first)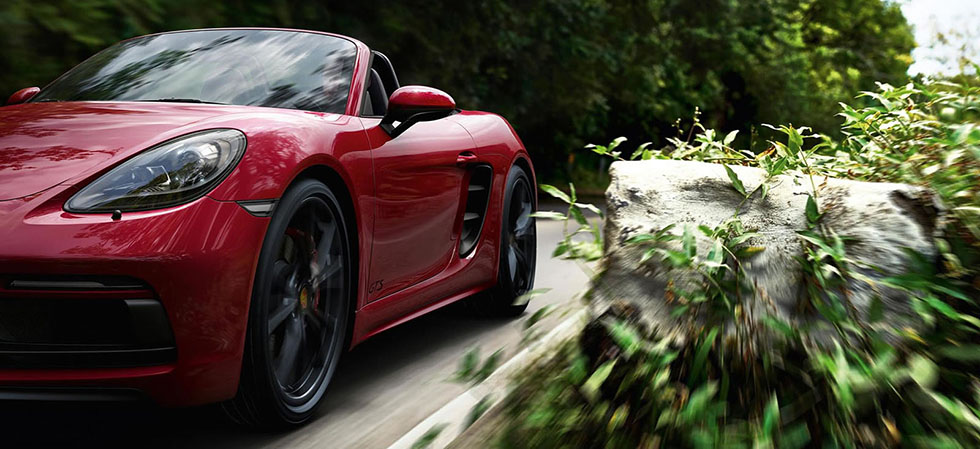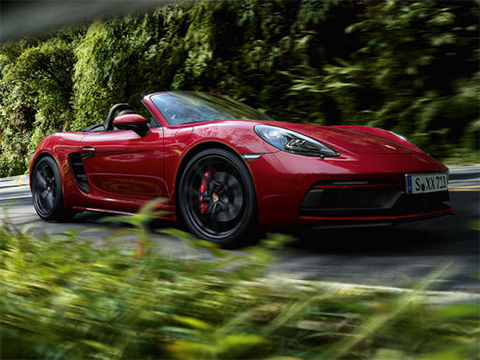 Brakes
The 718 GTS models are therefore equipped with four-piston aluminium monobloc fixed brake calipers, all finished in red. They are light and resistant to deformation. The brake discs are crossdrilled and internally vented, which helps to provide improved wet braking and optimum cooling.
Porsche Ceramic Composite Brake (PCCB)
Proven in motorsport, Porsche Ceramic Composite Brake (PCCB) is available as an option. PCCB features six-piston aluminium monobloc fixed brake calipers on the front axle and four-piston units at the rear – all painted in yellow – to provide braking forces that are considerably more powerful and, crucially, are exceptionally consistent.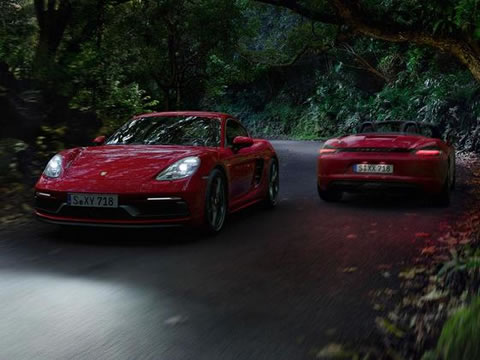 Lighting concept
The outlook is bright for the 718 GTS models thanks to Bi-Xenon headlights featuring integrated LED daytime running lights. At the rear, the three dimensional design of the tinted taillights incorporating four-point brake lights leaves a lasting impression.
Porsche Dynamic Light System (PDLS) & Porsche Dynamic Light System Plus (PDLS Plus)
Available as options, PDLS includes expressive four-point daytime running lights, headlight cleaning system, dynamic cornering light and dynamic range control. PDLS Plus helps to ensure optimum visibility thanks to all the components of PDLS supplemented by a dynamic main beam function
2019 Porsche 718 GTS Specification

Height: 50.6 in
Width (w/ mirrors folded): 70.9 in
Wheelbase: 97.4 in
Length: 172.9 in
Specs reflect base model unless otherwise noted.
| Engine | Manual | PDK (Automatic) |
| --- | --- | --- |
| Engine layout | Mid-engine | Mid-engine |
| Design and cylinders | Turbocharged boxer 4 | Turbocharged boxer 4 |
| Bore | 102.0 mm | 102.0 mm |
| Stroke | 76.0 mm | 76.0 mm |
| Displacement | 2.5 l | 2.5 l |
| Max. power | 365 hp | 365 hp |
| at rpm | 6,500 rpm | 6,500 rpm |
| Max. torque | 309 lb-ft | 317 lb-ft |
| at rpm | 1,900 - 5,500 rpm | 1,900 - 5,000 rpm |
| Compression ratio | 9.5 : 1 | 9.5 : 1 |
| Max. engine speed | 7,500 rpm | 7,500 rpm |
| Power-to-weight ratio | 8.3 lb/hp | 8.5 lb/hp |
| Max. power per liter | 146.0 hp/l | 146.0 hp/l |
| Valves | 2 intake / 2 exhaust | 2 intake / 2 exhaust |
| Exhaust emission treatment | 1 catalytic converter | 1 catalytic converter |
| Knock control | Yes | Yes |
| Intake style | Resonance intake system | Resonance intake system |
| Lubrication | Integrated dry-sump | Integrated dry-sump |
| Valve timing | VarioCam Plus | VarioCam Plus |
| Cooling | Water-cooled | Water-cooled |
| | | |
| Body | Manual | PDK (Automatic) |
| Type | Coupe | Coupe |
| Length | 172.9 in | 172.9 in |
| Width (w/ mirrors) | 78.5 in | 78.5 in |
| Width (w/ mirrors folded) | 70.9 in | 70.9 in |
| Height | 50.6 in | 50.6 in |
| Drag coefficient (Cd) | 0.32 Cd | 0.32 Cd |
| Wheelbase | 97.4 in | 97.4 in |
| Turning circle | 36.1 ft | 36.1 ft |
| Front track | 60.1 in | 60.1 in |
| Rear track | 60.4 in | 60.4 in |
| Curb weight | 3,032 lb | 3,098 lb |
| Gross Vehicle Weight Rating (GVWR) | 3,692 lb | 3,758 lb |
| Maximum load | 660 lb | 660 lb |
| Capacities | Manual | PDK (Automatic) |
| --- | --- | --- |
| Front luggage compartment volume | 5.2 ft³ | 5.2 ft³ |
| Rear luggage compartment volume | 9.7 ft³ | 9.7 ft³ |
| Fuel tank | 16.9 gal | 16.9 gal |
| Fuel Consumption | Manual | PDK (Automatic) |
| City | 19 MPG | 20 MPG |
| Highway | 25 MPG | 26 MPG |
| Combined | 21 MPG | 22 MPG |
| EPA Disclaimer | EPA estimate. Actual mileage may vary. | EPA estimate. Actual mileage may vary. |
| Chassis and Suspension | Manual | PDK (Automatic) |
| --- | --- | --- |
| Front axle | MacPherson strut suspension with anti-roll bar | MacPherson strut suspension with anti-roll bar |
| Rear axle | MacPherson strut suspension with anti-roll bar | MacPherson strut suspension with anti-roll bar |
| Brakes | 330 mm brake rotors with 4-piston calipers at front; 299 mm brake rotors with 4-piston calipers at rear | 330 mm brake rotors with 4-piston calipers at front; 299 mm brake rotors with 4-piston calipers at rear |
| Steering | Electromechanical power steering with variable steering ratio | Electromechanical power steering with variable steering ratio |
| Anti-lock Braking System (ABS) | Component of Porsche Stability Management (PSM) | Component of Porsche Stability Management (PSM) |
| Traction control | Component of Porsche Stability Management (PSM) | Component of Porsche Stability Management (PSM) |
| Stability control | Component of Porsche Stability Management (PSM) | Component of Porsche Stability Management (PSM) |
| Wheels (front) | 8 x 20 ET 57 | 8 x 20 ET 57 |
| Tires (front) | 235/35 ZR 20 | 235/35 ZR 20 |
| Wheels (rear) | 10 x 20 ET 45 | 10 x 20 ET 45 |
| Tires (rear) | 265/35 ZR 20 | 265/35 ZR 20 |
| Service & Warranty | Manual | PDK (Automatic) |
| --- | --- | --- |
| Limited vehicle warranty | 4 years/50,000 miles (whichever comes first) including 24-hour roadside assistance program | 4 years/50,000 miles (whichever comes first) including 24-hour roadside assistance program |
| Main service interval | Porsche Cars North America offers service and maintenance packages in a variety of terms to match your intended usage. Please see your authorized Porsche Dealer for details and availability. | Porsche Cars North America offers service and maintenance packages in a variety of terms to match your intended usage. Please see your authorized Porsche Dealer for details and availability. |
| Limited paint warranty | 4 years/50,000 miles (whichever comes first) | 4 years/50,000 miles (whichever comes first) |
| Limited corrosion warranty | 12 years/unlimited miles | 12 years/unlimited miles |