2019 Mercedes-Benz G-Class SUV OVERVIEW
2019 Mercedes-Benz G-Class SUV For Sale
LED ambient lighting system
4.0L V8 biturbo engine
19-inch 8-spoke wheels
Apple CarPlay™ and Android Auto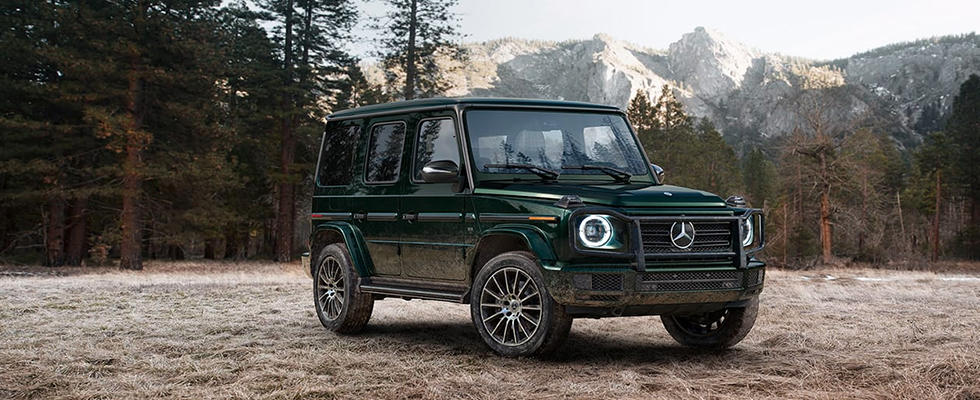 2019 Mercedes-Benz G-Class SUV MODELS

Mercedes-Benz G-Class SUV For Sale
Mercedes-Benz G-Class SUV PERFORMANCE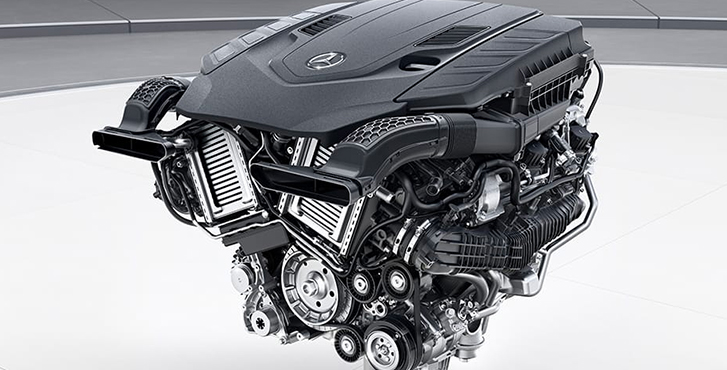 4.0L V8 Biturbo Engine
Advanced performance comes from a high-output engine with a remarkably compact size. The 416-hp 4.0L biturbo V8 is more responsive than some larger engines, making 100% of its 450 lb-ft of peak torque available from 2,000-4,750 rpm, for a 5.6 second 0-60 rush and instant response at any speed. And its innovative design combines racing-derived technology, from its turbocharger layout to its low-friction cylinder walls.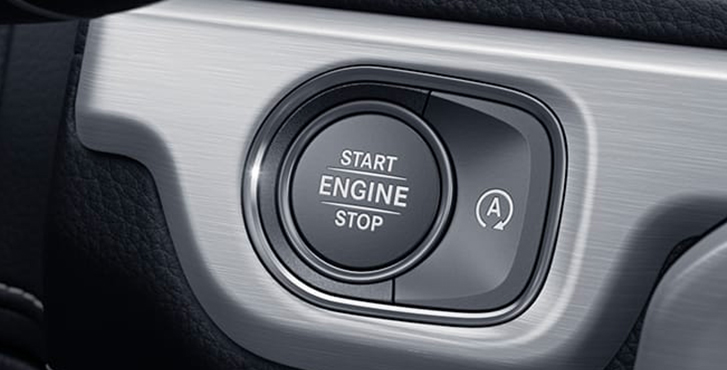 ECO Start/Stop System
An ECO Start/Stop system automatically shuts off the engine at stoplights and other idle situations, to save fuel and reduce emissions. As soon as the driver lifts off the brake, the engine instantly restarts, for immediate acceleration response. The ECO Start/Stop system can also be shut off by the driver at any time.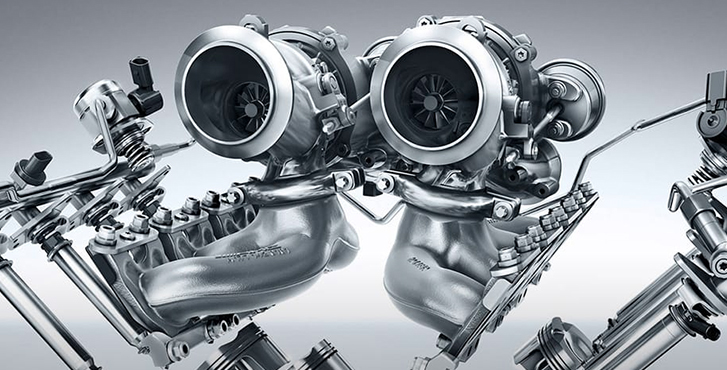 "Hot Inside V" Turbocharger Configuration
For better performance and packaging, the V8's twin turbos are placed inside the "V" of the engine. The layout sends the compressed charge from each turbo to its bank of cylinders via an extremely short path, with near-zero pressure loss or turbo lag. The high-pressure turbos spool up quickly to provide up to 14.5 psi of boost. The setup is also highly efficient from intake to exhaust, with liquid-cooled intercoolers and close-mounted catalysts that reach peak efficiency in seconds.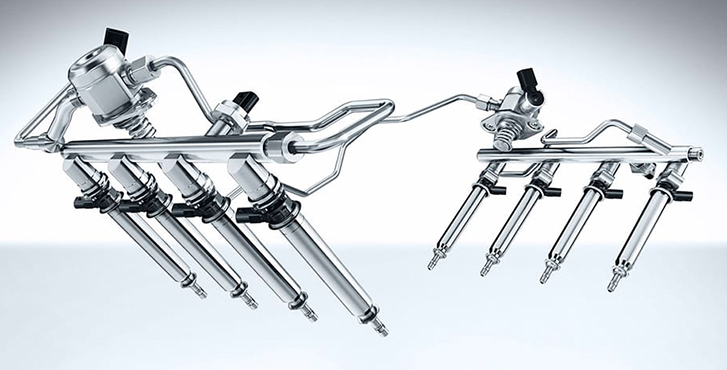 Direct Injection and Multispark Ignition
Advanced piezoelectric fuel injectors spray fuel directly into each cylinder with exceptionally precise metering, ultrafine atomization and incredibly quick on/off switching speed. Based on the immediate, individual needs of each cylinder's combustion cycle, they can supply the ideal fuel spray at high pressure and with millisecond speed. State-of-the-art multispark ignition can fire the fuel mixture multiple times in a single cycle, for stronger and cleaner performance.
2019 G-Class SUV APPEARANCE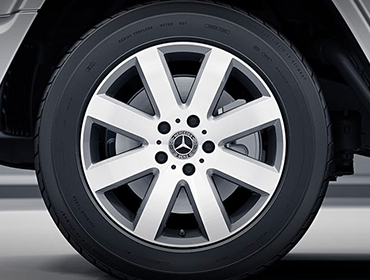 19-Inch 8-Spoke Wheels
Bold yet elegant alloy wheels feature eight wide, machined-finished spokes in a clean design that befits the iconic style of the G-Class. Beefy 275/55R19 all-season tires, including the rear-mounted spare, are included.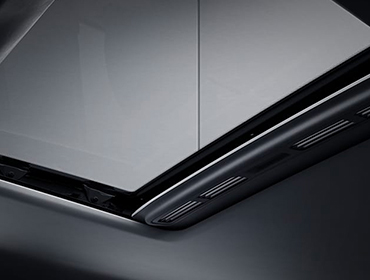 Power Tilt/Sliding Glass Sunroof
The standard G-Class sunroof features heat-rejecting tinted glass. At the touch of a button, the sunroof tilts up at the rear for ventilation, or slides open for a breezy view of the sky. An express feature fully opens or closes the roof with a single touch, and a manual sliding sunshade helps block out unwanted sunlight.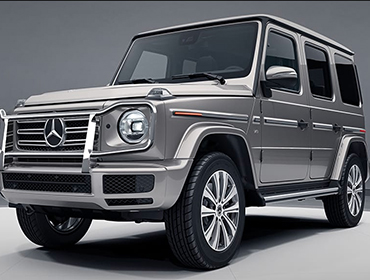 An Icon Refined
True to the original, the new G is designed to be uncomplicated, uncompromised and functional, shaped and sized to maximize interior room as well as maneuverability in tight spaces. Yet in refinement and detail, the G is brilliantly evolved: Subtly radiused surfaces enhance cabin room while preserving its classic proportions. Advanced LED technology powers its signature round headlamps. Only a handful of parts carry over from the previous G, among them the belovedly precise door handles.
Mercedes-Benz G-Class SUV COMFORT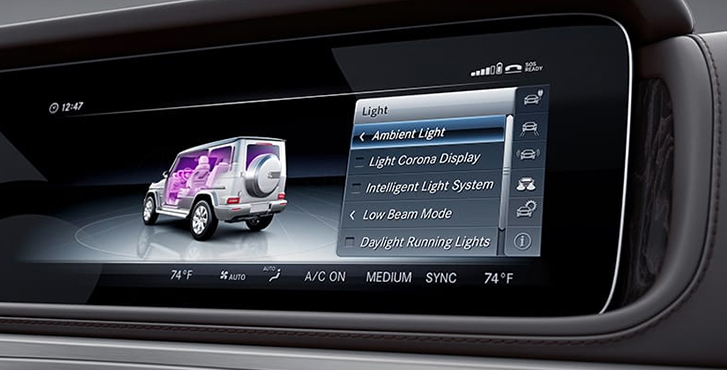 64-Color LED Ambient Lighting
A network of LEDs can create not just a soothing ambience in the cabin, but one you can alter to suit your mood, or even create one. Edge-lighting glows from beneath the dash trim, behind the in-dash screens, in the footwells and in other key areas. Along with 64 selectable colors, four cabin zones and adjustable brightness, numerous programs let you adapt the atmosphere with two or even five colors at once, or with a dynamic mode that slowly changes the colors as you drive.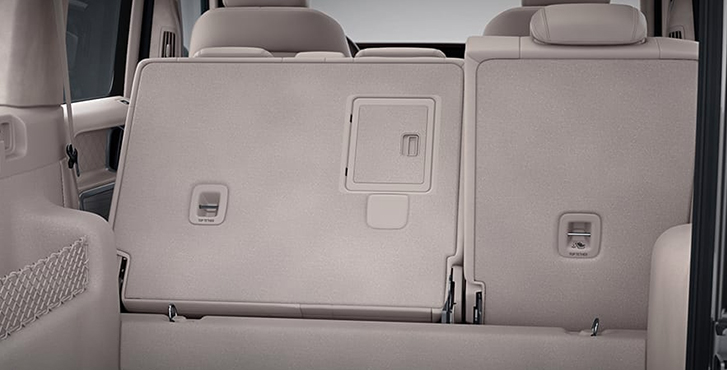 60/40-Split Folding Rear Seats
The G-Class accommodates up to XX.X cubic feet of cargo with the 60/40-split rear seats folded. Floor-mounted tie-downs, a side parcel net, and a 12-volt power outlet add to its convenience.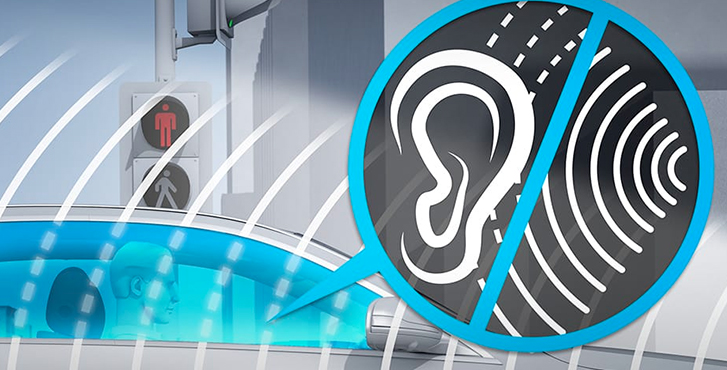 Heat- and Noise-Insulating Glass
To make riding in the G-Class even more serene, the windshield and all door windows are laminated with an acoustic membrane that further keeps external noise from entering the cabin.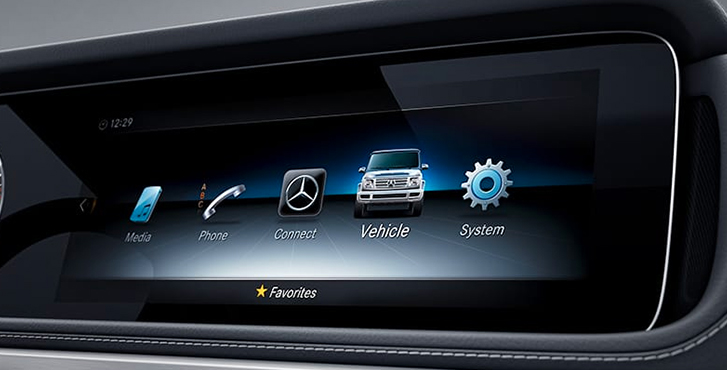 12.3-Inch High-Resolution Central Display
A crisp, high-resolution screen uses a high pixel count, a fast refresh rate and automatic adjustment to ambient light to provide seamless display of entertainment, navigation, comfort and convenience features, and customizable vehicle settings. New linear-style menus are more intuitive and offer easy access via the touchpad controller on the console or the right-hand Touch Control Buttons on the steering wheel.
2019 Mercedes-Benz G-Class SUV SAFETY & WARRANTY
MB Limited Warranty
All new Mercedes-Benz vehicles are protected by our New Vehicle Limited Warranty, covering defects in material or workmanship for 48-months or 50,000 miles, whichever comes first. For added protection, the Mercedes-Benz Extended Limited Warranty offers continued peace of mind with prolonged coverage tailored to your needs.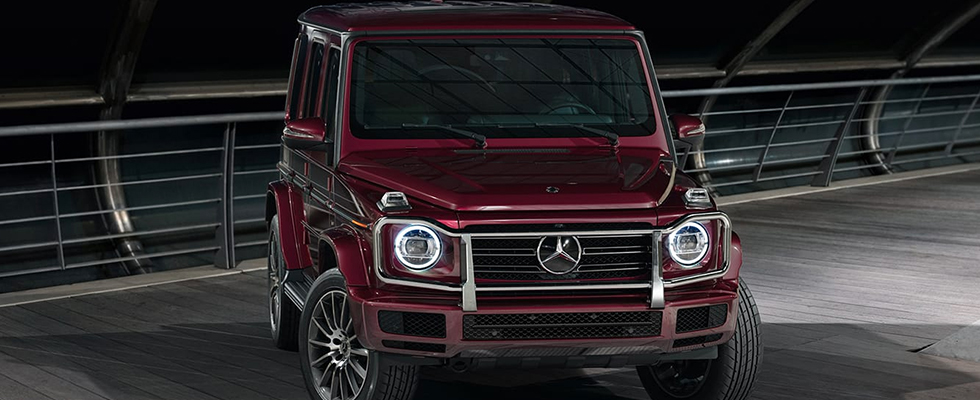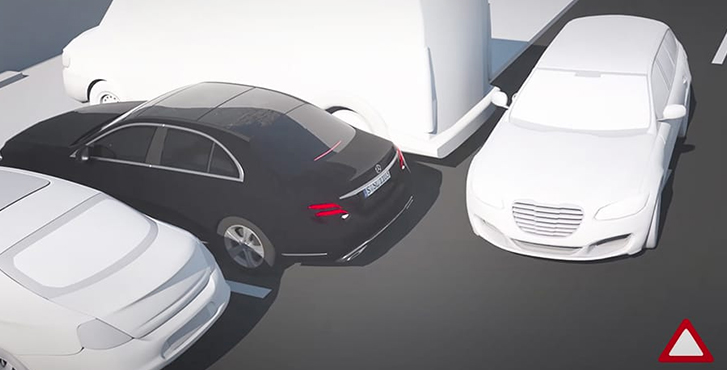 Rear Cross-Traffic Alert
Using the ultrasonic sensors of Active Parking Assist and the radar sensors of Blind Spot Assist, this system helps audibly and visually alert the driver to approaching cross-traffic when backing out of a parking space at low speed. Especially helpful if your view is obstructed by vehicles or structures, the system can also apply the brakes. The sensors can also help detect if the driver has engaged the wrong gear or pedal for exiting a confined space.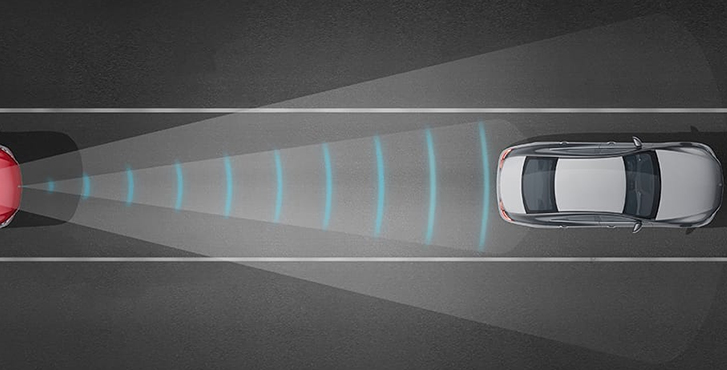 Active Distance Assist DISTRONIC
A Mercedes-Benz innovation, Active Distance Assist DISTRONIC® cruise control uses radar-based technology to adapt your set speed in response to the flow of traffic ahead. If traffic slows down, it can reduce your speed automatically until your path clears. If the vehicle ahead slows to a stop, it can brake to a full halt. When traffic moves, you can resume with just a tap of the accelerator or cruise control lever, or it can resume automatically if the stop is under three seconds.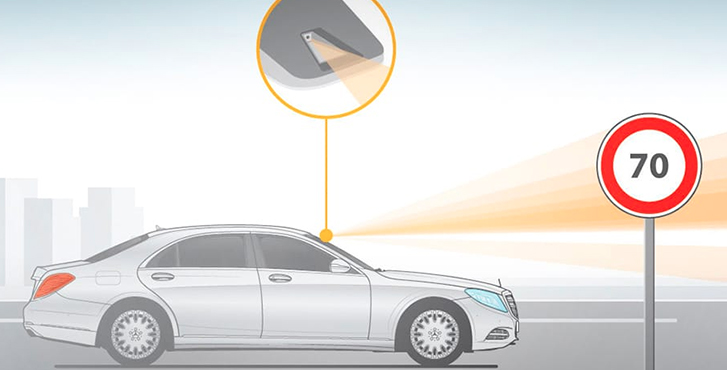 Traffic Sign Assist
Traffic Sign Assist can detect posted speed-limit signs and, along with information in the navigation system's map database, display the limit on the dash or in the available Head-Up Display. It can also alert you when you exceed the limit.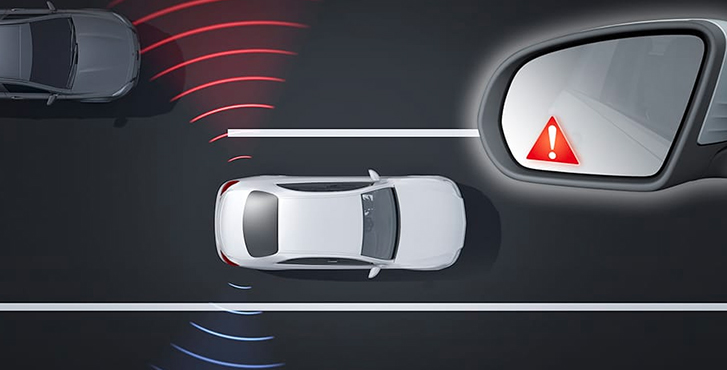 Blind Spot Assist
At most driving speeds, radar technology helps sense when a vehicle enters your blind-spot area. Blind Spot Assist then automatically alerts the driver via an illuminated icon in the appropriate side mirror. The system also gives an audible warning if the driver activates a turn signal while a vehicle is detected in the blind spot.