2019 Acura NSX OVERVIEW
2019 Acura NSX For Sale
"The Legend Continues" —Acura.com
Sport Hybrid Super Handling All-Wheel Drive
3.5-liter DOHC V-6 engine
Tailored Leather
Painstakingly Engineered NSX Steering Wheel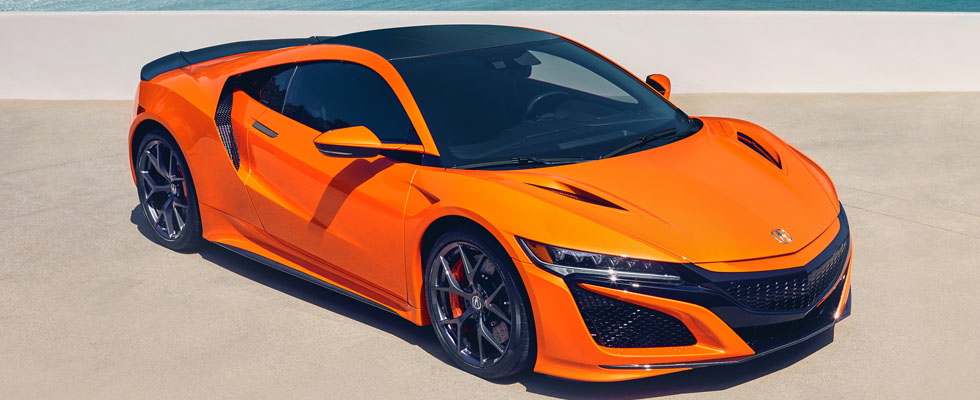 Acura NSX For Sale
Acura PERFORMANCE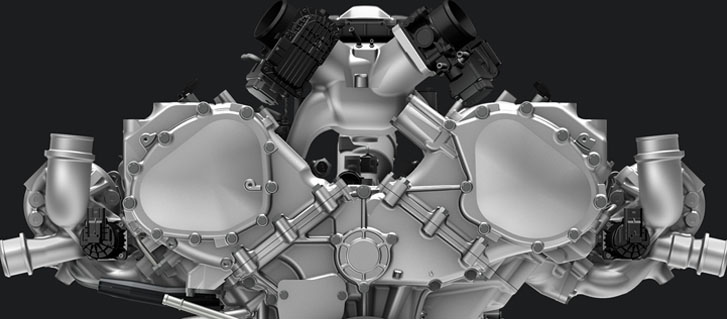 It Starts With 500-HP
It growls and you're gone. Speed, power and amazing ingenuity live inside this clever beast: a mid-mounted twin-turbocharged, 75-degree, 3.5-liter DOHC V-6 engine with dry sump lubrication. It's the product of countless days and nights of relentless engineering, perfected on the track.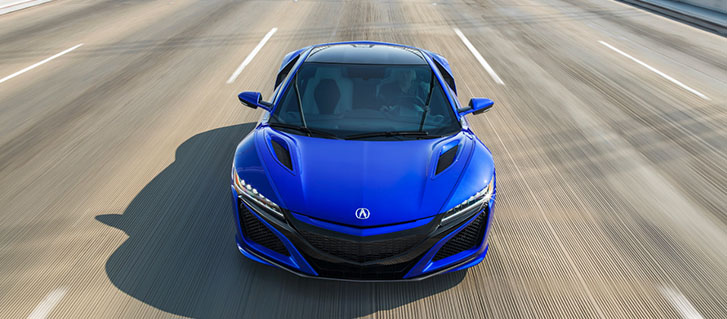 Coming Through In The Clutch
The race-ready 9-speed DCT brings it all to the table. With an electronically-operated wet dual-clutch, high-rigidity shift forks, double-cone synchronizers and electronic shift actuator, shift timing is precisely synchronized with power unit torque – and that means super-fast, smooth-as-silk shifting.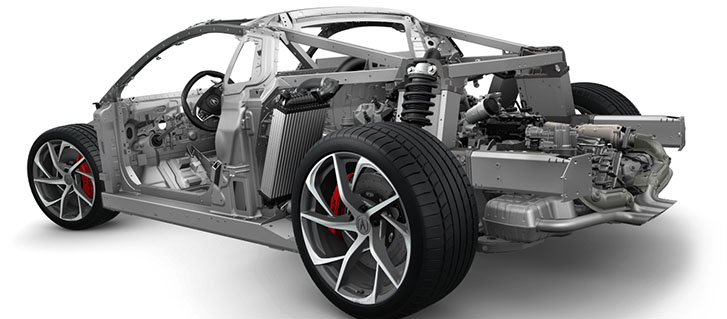 Super Skeleton
From its ultra-rigid space frame to dynamically agile Sport Hybrid Super Handling All-Wheel Drive™, the chassis is the super skeleton that supports all NSX systems.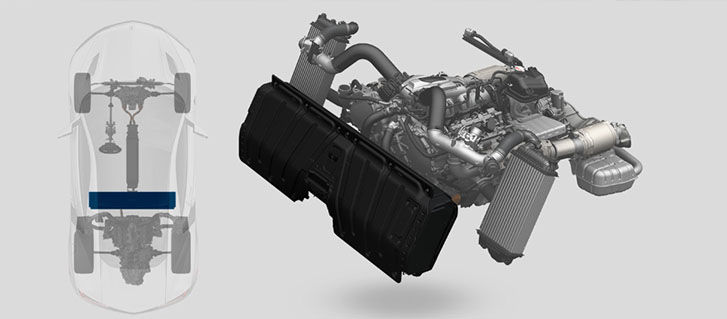 Intelligent Power Unit
The brain of the power unit is also its primary battery. Positioned low and center, it sits behind the seats, directing energy to electric motors front and rear.
2019 NSX APPEARANCE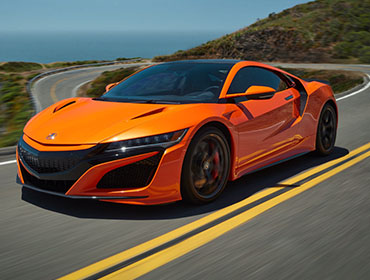 Exterior Design
In its exterior design, NSX presents purity of form in graceful lines weaving through aggressively sculpted planes. Elegant design language creates intriguing contrasts from every angle; what appears as a singular striking shape reveals purposeful detail.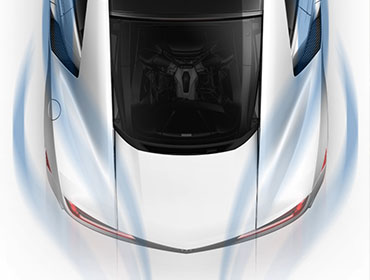 Tuned For Aero
Three times the downforce at the rear of the car than at the front provides ultimate sports car balance. Painstakingly carved design lines augment that balance with total airflow management. Together they create unparalleled performance with extraordinary efficiency.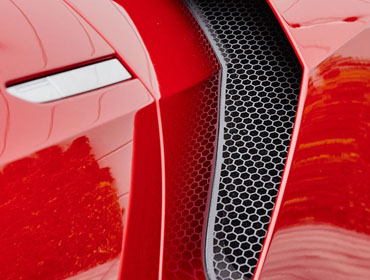 Side Airflow Intakes
Airflow stabilized by front vents and body shape, enters the side intakes to cool the turbo intercoolers.
Acura NSX COMFORT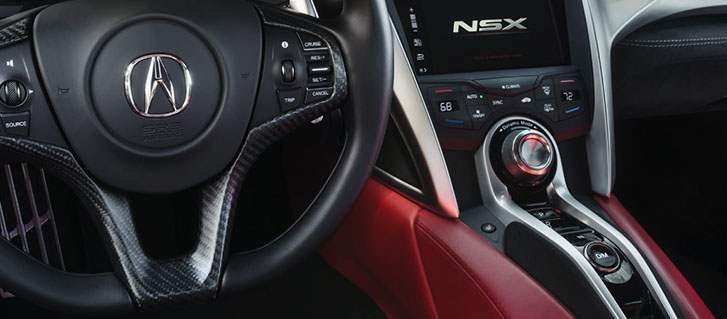 Funtional Minimalism
Simplicity of form and elements essential to the space form the foundation of NSX cockpit design. Minimalist in its aesthetic and spacious in its dimensions, the NSX interior was precisely engineered to create a richly supportive domain for the driver – even those whose height is in the 95th percentile.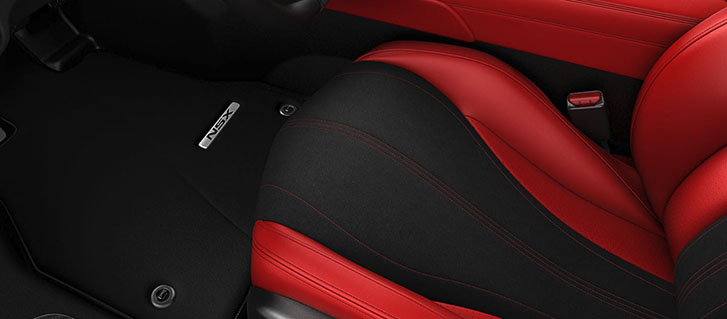 Seat Materials
The aggressively-shaped bolsters are smooth leather for ease of ingress/egress. Alcantara® is at the center of the sports seats to provide grip and reduce lateral movement. Key interior surfaces are ergonomically padded to support knees and elbows, providing additional supercar comfort and stability.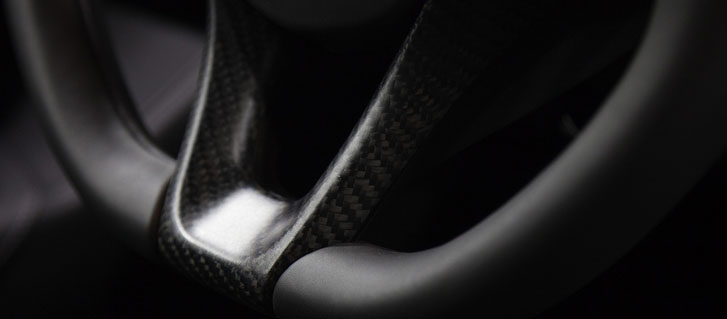 Racing Inspired
The racing inspired shape allows an unobstructed view over the top and greater leg clearance at the bottom.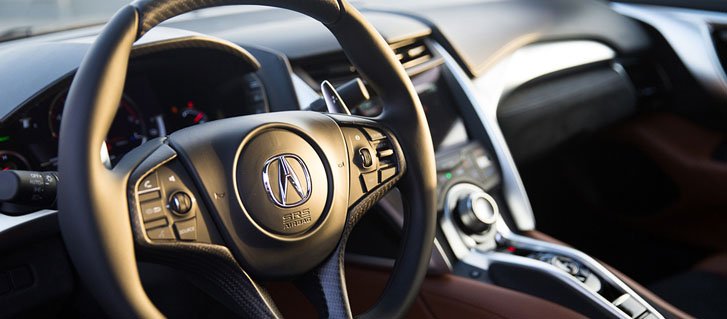 Finger Holds
Slightly-indented finger holds are located at both 10:00 and 2:00 and at 9:00 and 3:00 to satisfy the preferences of most drivers.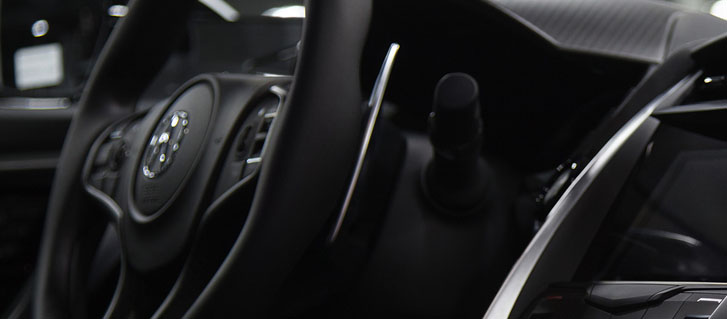 Tailored Leather
Tailored leather wrap is finished with hidden stitching for an unencumbered grip.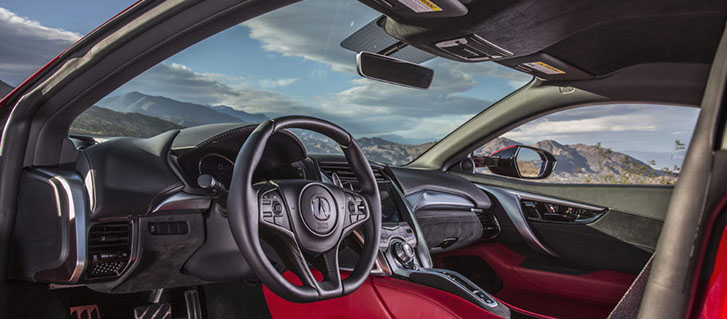 Sweeping Visibility
Connection to the road demands sweeping visibility – a quality embraced by NSX engineers dating back to the first-generation NSX. Today, the expansive view begins with ultra-slim A-pillars crafted using an innovative, 3D bent-and-quenched fabrication process that produces ultra-high tensile strength. Adding to the openness is the low meter visor, the uniquely shaped steering wheel, a frameless rearview mirror and side mirrors on slender stalks.
2019 Acura NSX SAFETY & WARRANTY
4-year/50,000-mile limited warranty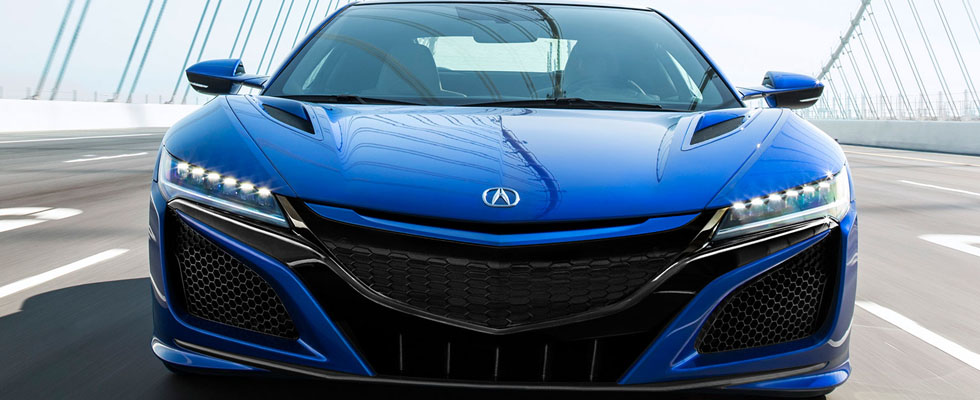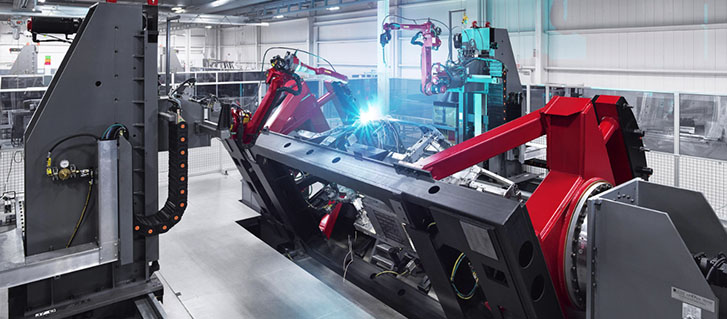 Innovation
Building an entirely new kind of supercar requires entirely new ways of thinking. At the Performance Manufacturing Center, the same level of innovation that went into the NSX itself went into its production. Top specialists in each area of production were asked to imagine their dream process and work station – then make it real. Thus new tools, systems, materials and practices – two of which are patented with an additional nine pending – were brought to life, ensuring a perfect union of technology and craftsmanship.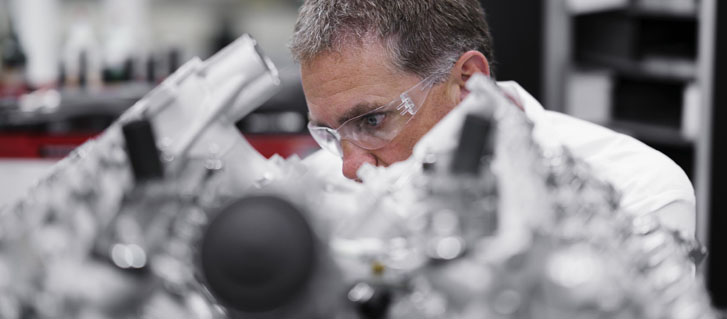 Built By Masters
A team of eight elite associates build NSX engines at the Acura engine plant in Anna, Ohio – where 4,000 square feet is their exclusive domain. Each NSX engine is hand-built by one master builder at their own station, where every fastener is started by hand and every torque measurement is recorded – on all 547 bolts. When complete, the engine is broken in on a dynamotor, revving the engine to various speeds and loads for the equivalent of 150 miles of driving, so every engine is ready to go full throttle on delivery.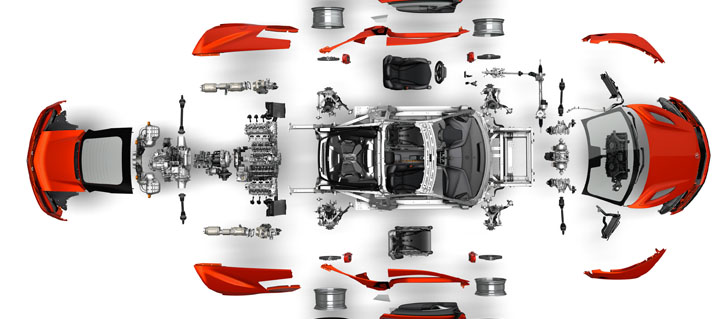 Passion. Teamwork. Precision.
The words above the entrance to the Performance Manufacturing Center define what happens inside. PMC is the purpose-built facility in Ohio, where the Acura NSX is produced. It's 200,000 square feet of innovation, a place where craftsmanship and technology converge in ways so forward-thinking, it's sparked a dozen patents. The openness of the space – expansive, airy and absolutely pristine – aptly represents the values of transparency and collaboration here.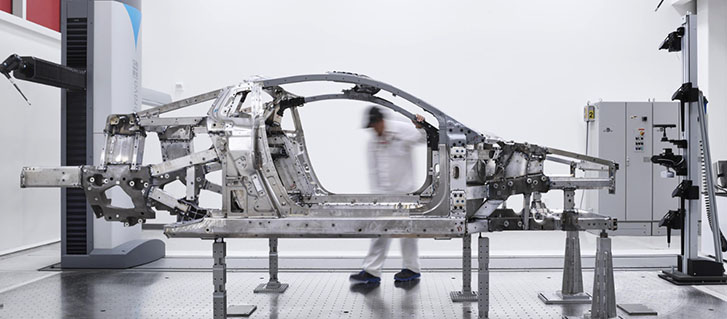 A Labor of Love
Engineers and technicians guide each car along its journey to completion, a process of 22 stations for a total of 14 hands-on hours. It begins with assembly of the multi-material space frame, joined by robotic MIG welding – an automobile industry first. Next comes robotic tooling of the inner and outer hood, door and hatch panels. These components are then hand-carted to the paint shop.