2018 Porsche Panamera E-Hybrid Overview
2018 Porsche Panamera E-Hybrid For Sale

Panamera 4 E-Hybrid Sport Turismo

Panamera 4 E-Hybrid Executive

Panamera Turbo S E-Hybrid

Panamera Turbo S E-Hybrid Executive

Panamera Turbo S E-Hybrid Sport Turismo
Porsche Panamera E-Hybrid For Sale
2018 Porsche Panamera E-Hybrid Performance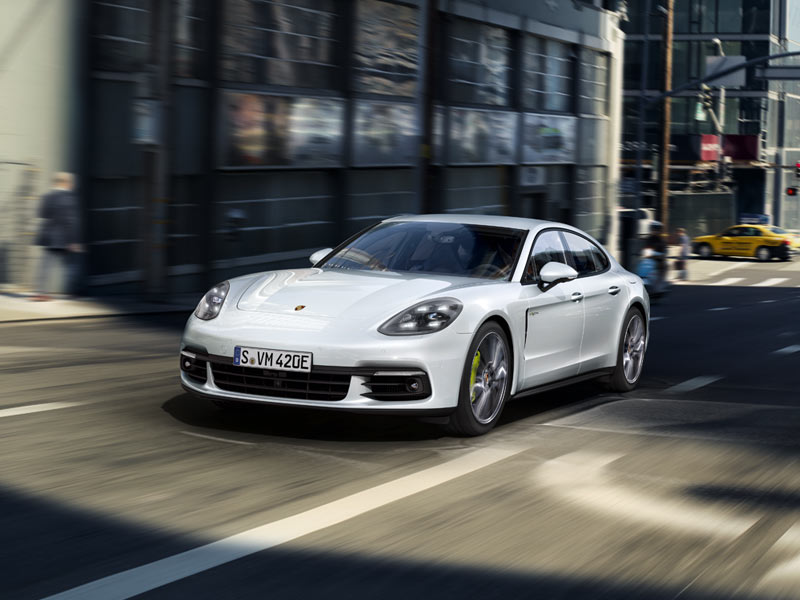 Performance
The new Panamera 4 E-Hybrid will change your view of hybrid technology. And your everyday life. With 462 hp of pure Sports Car performance – and fuel economy that will impress . This is more than just a courageous step. It is a giant leap into the future. The combination of combustion engine and electric machine is crucial for this peak performance. The combustion engine builds up power and torque as engine speed increases. The maximum torque of the electric machine is available immediately. As a result, consistently high overall torque and dynamic responsiveness are available over an extremely wide rpm range. And your adrenalin also reaches a new maximum level.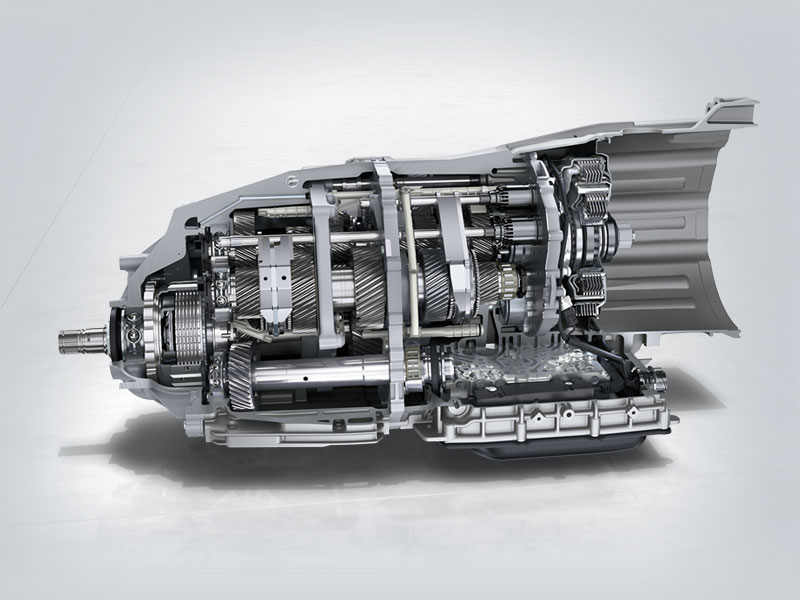 New 8-speed Porsche Doppelkupplung (PDK)
Getting more power from an engine is worthwhile only when you know where it needs to go. And how quickly and effectively. The latest Panamera models are therefore equipped with a newly developed 8-speed Porsche Doppelkupplung (PDK), which translates the tremendous drive force of the respective engine into the acceleration expected of a sports car. Gears 1 to 6 have a sports ratio and top speed is reached in 6th gear. 7th and 8th gear have a long ratio, which helps to keep engine revs low even at high road speeds – for efficient and comfortable driving over long distances. The precise gearshifts take place in milliseconds with no discernible interruption in the flow of power – as you would expect of a sports car.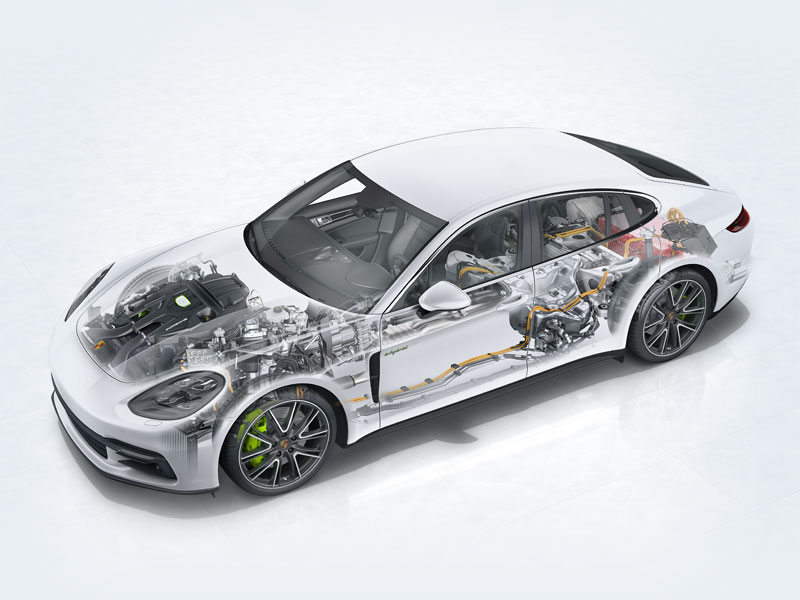 Porsche E-Performance
The core of Porsche E-Performance is the vehicle. Our plug-in hybrid technology therefore has to meet two strict requirements. Firstly, it must drastically reduce fuel consumption and emissions. Secondly, it must deliver an experience that pushes the driver firmly back into the seat. Which is precisely the right place to be in a Porsche. It takes courage to try out something new. Of course, this is something we knew already. And yet we stick to this principle. It therefore almost goes without saying that our next step when it comes to Porsche E-Performance should involve a Sports Car that has revolutionized the sedan segment.
2018 Porsche Panamera E-Hybrid Appearance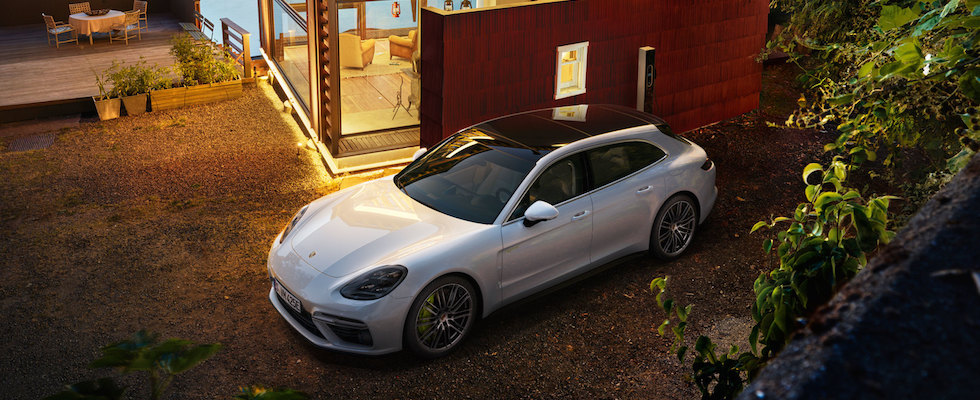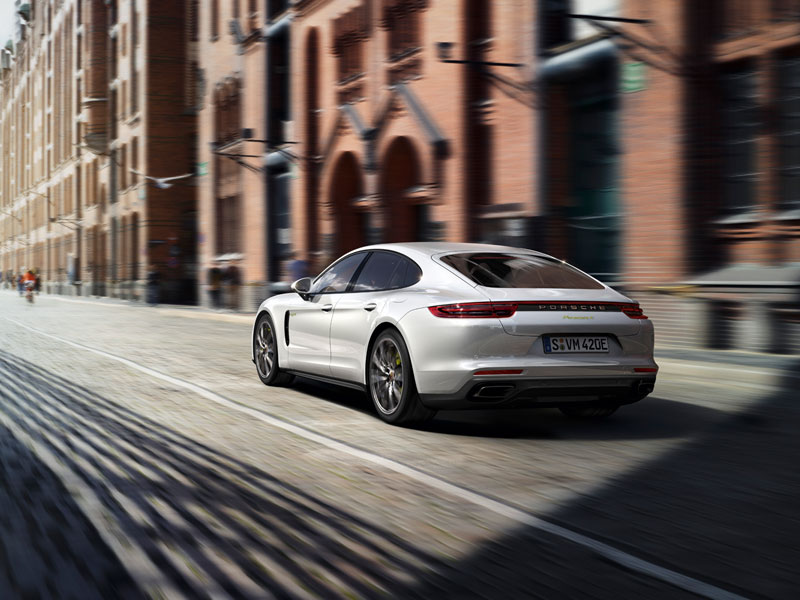 Exterior design
Does a sporty sedan really have to look like a sedan? Or can it look rather more athletic? With a taut roof line, for example, that displays a sleek and harmonious contour more likely to be associated with a two-seater? The silhouette and proportions of the new Panamera models are more Porsche than ever. Clearly perceived rounded transitions, powerful muscles and a sharpened sports car silhouette emphasize the precision of the new design.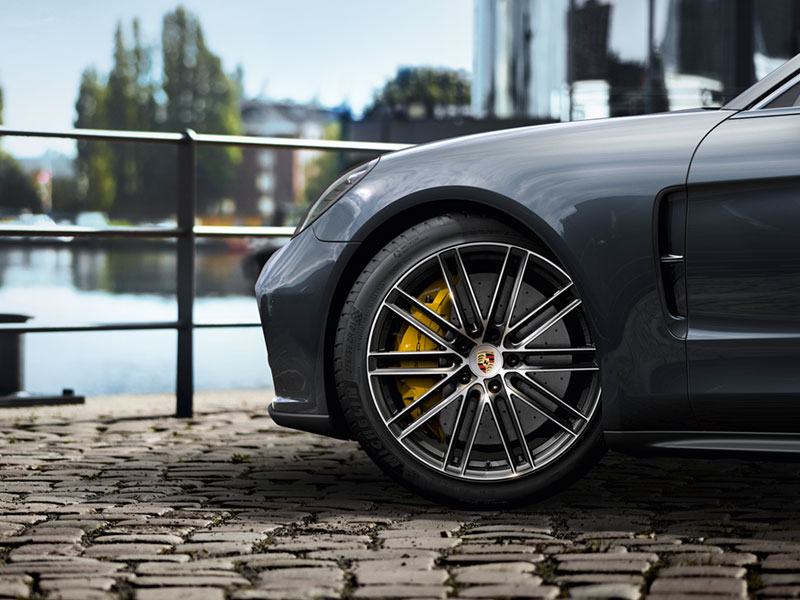 Wheels
We rise to the challenge we're given. The same applies to the wheel dimensions of the new Panamera. The tires are wider, the contact surface larger – for enhanced performance under acceleration and braking. As of now, optional sizes of up to 21 inches are available from a range of wheel designs, assuring you of a grand appearance. The Panamera models are equipped as standard with 19-inch wheels. The material? Alloy, of course. The design? Classic and sporty. A choice of other 19-, 20- and 21-inch wheels is available on request.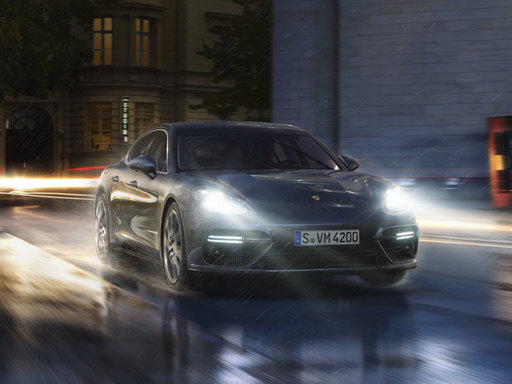 LED headlights including Porsche Dynamic Light System (PDLS)
Available as an option for all Panamera models, fitted as standard to the Panamera Turbo: LED headlights including Porsche Dynamic Light System (PDLS) with dynamic range adjustment, dynamic cornering lights and speedsensitive headlight range control. For enhanced near-field, lateral and far-field illumination – and added safety.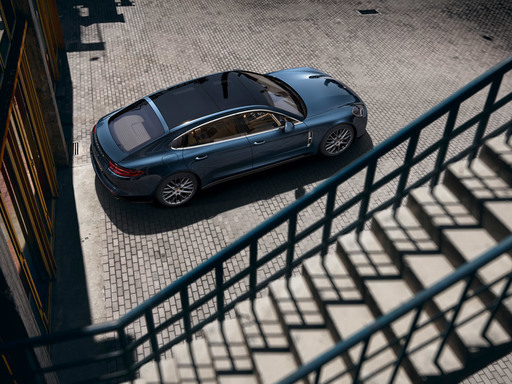 Panoramic sunroof
The tinted glass panels of the new panoramic sunroof on the Panamera models create a particularly bright and pleasant lighting mood in the interior. The two-piece panoramic sunroof can be tilted and opened electrically at the front.
2018 Porsche Panamera E-Hybrid Comfort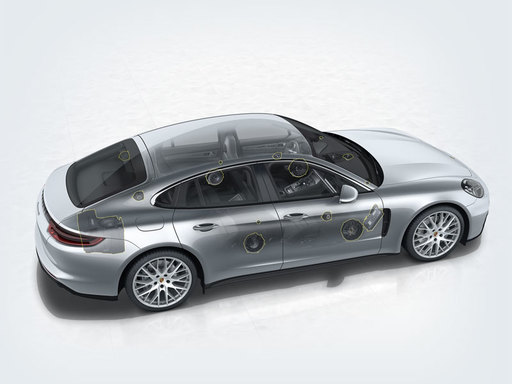 BOSE® Surround Sound System
The BOSE® Surround Sound System features 14 amplifier channels and offers a total output of 710 watts. Fourteen loudspeakers including a 160-watt passive subwoofer box ensure a balanced, faithfully reproduced acoustic pattern. The patented AudioPilot® Noise Compensation Technology continuously measures the ambient noise inside the vehicle and adapts music playback instantly and automatically so that a consistent sound is maintained – whatever the driving conditions. The result is a captivating 360° acoustic experience delivered to all four seat positions. At all times.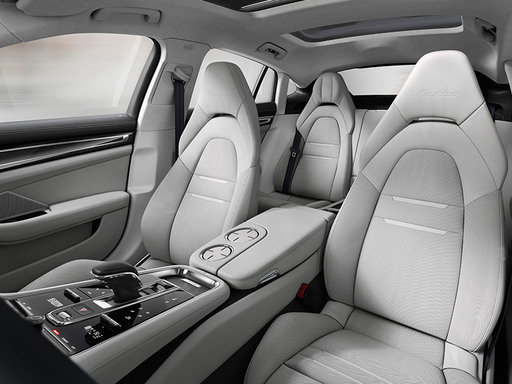 Interior
Sporty, for an outing on the racetrack. Comfortable, for a long journey in a party of four. There is no 'either–or'. That's the Panamera. Its ingenious sports car ergonomics are centered on the driver and on performance – without disregard for the well-being of passengers. Let's give you some examples. Ascending center console: enabling quick hand movements from the steering wheel to the gear selector. New control and display concept: Porsche Advanced Cockpit with newly styled centre console in glass look and touch-sensitive buttons arranged in logical groups. High-resolution 12-inch touchscreen display. Instrument cluster with analog tachometer positioned in the middle, flanked on the left and right by two high-resolution displays. Multifunction sports steering wheel.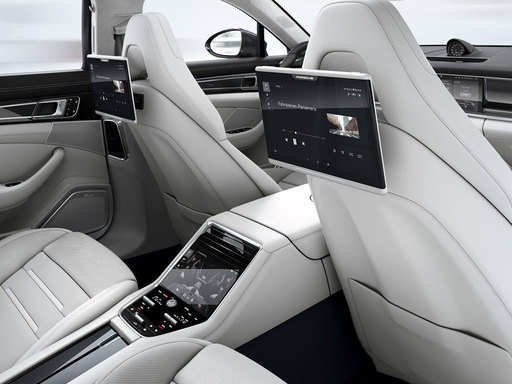 Porsche Rear Seat Entertainment
A cinematic experience enjoyed in the second row: new Porsche Rear Seat Entertainment has been specially developed to appeal to the discerning taste of a Porsche passenger and offers a fully integrated and networked infotainment system for on the move. Both units are removable, making them convenient to use outside the vehicle, too.
2018 Porsche Panamera E-Hybrid Safety
New Car Limited Warranty & Porsche 24-Hour Roadside Assistance Program for 4-Years / 50,000 Miles (whichever occurs first)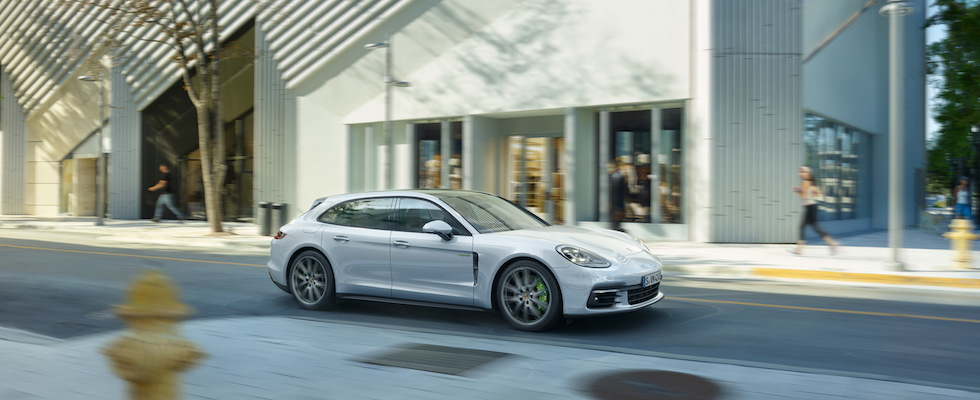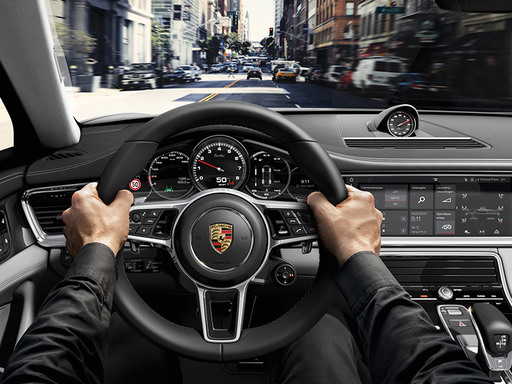 Adaptive Cruise Control (ACC)
This system regulates the speed of your Panamera fully independently in line with the speed of the vehicle in front. Radar sensors on the front end scan the road ahead. Let's imagine you've selected a cruising speed but have begun to gain on the vehicle in front because it is driving more slowly – the system reduces the speed of your vehicle by restricting throttle or gently applying the brakes until your chosen distance from the vehicle in front is restored.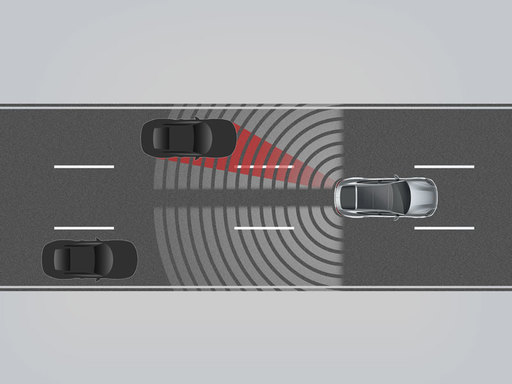 Lane Change Assist with Turn Assist
Lane Change Assist uses radar sensors to monitor the areas to the rear of the vehicle and the blind spots on either side. As you move to change lane, the system issues a visual warning signal in the exterior mirrors if another vehicle is rapidly approaching your vehicle from behind or is residing in one of your blind spots. The function can be activated in PCM as required. During low-speed turns, new Turn Assist improves safety at the rear. When approaching an intersection, Turn Assist issues a visual warning if it detects objects approaching in the blind spots behind your vehicle.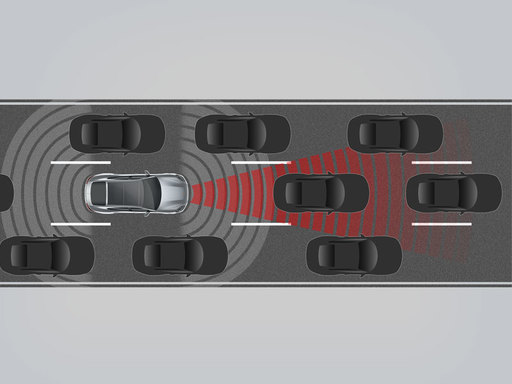 Lane Keep Assist including traffic sign recognition and cornering notification
Lane Keep Assist is a camera-based system for automatic detection of divider line markings on the road. The system eases the burden on the driver by providing steering assistance, helping to keep the vehicle in lane. Integrated traffic sign recognition uses a camera and navigation data to detect speed limits and 'no passing' zones. Information is displayed in the instrument cluster. The advantage over information stored in the navigation database is that even temporary speed restrictions can be detected.
2018 Porsche Panamera E-Hybrid Specification

Height: 56.0 in.
Width (w/ mirrors folded): 85.2 in. (76.3 in.)
Wheelbase: 116.1 in.
Length: 198.8 in.
Specs reflect base model unless otherwise noted.
| Engine | PDK |
| --- | --- |
| Number of cylinders | 6 |
| Displacement | 2.9 liters |
| Horsepower | Total Output: 462 hp; Combustion Engine: 330 hp; Electric Motor: 136 hp |
| @ rpm | 6000 rpm |
| Torque | Combustion Engine: 331 lb.-ft.; Electric Motor: 295 lb.-ft.; Total Output: 516 lb.-ft. |
| Compression ratio | 10.5 : 1 |
| Body | PDK |
| Length | 198.8 in. |
| Width (w/ mirrors folded) | 85.2 in. (76.3 in.) |
| Height | 56.0 in. |
| Wheelbase | 116.1 in. |
| Drag coefficient (Cd) | 0.28 |
| Curb Weight | 4787 lbs |
| Fuel Consumption | PDK |
| --- | --- |
| Combined (estimate) | TBA MPGe |
| Performance | PDK |
| --- | --- |
| Top Track Speed | 172 mph |
| 0 - 60 mph | 4.4 sec w/ Sport Chrono |
| Transmission | PDK |
| --- | --- |
| Driveline layout | All-wheel drive |
| Manual Gearbox | n/a |
| PDK | Standard / 8 speed |
| Other | |
| --- | --- |
| Luggage compartment volume | 14.3 cu.-ft. (seats up) / 44.0 cu.-ft. (seats folded) |
| Fuel tank | 21.1 gal. |