2018 Porsche Macan Turbo Overview
2018 Porsche Macan Turbo For Sale

Macan Turbo with
Performance Package

MSRP $87,700
Porsche Macan Turbo For Sale
2018 Porsche Macan Turbo Performance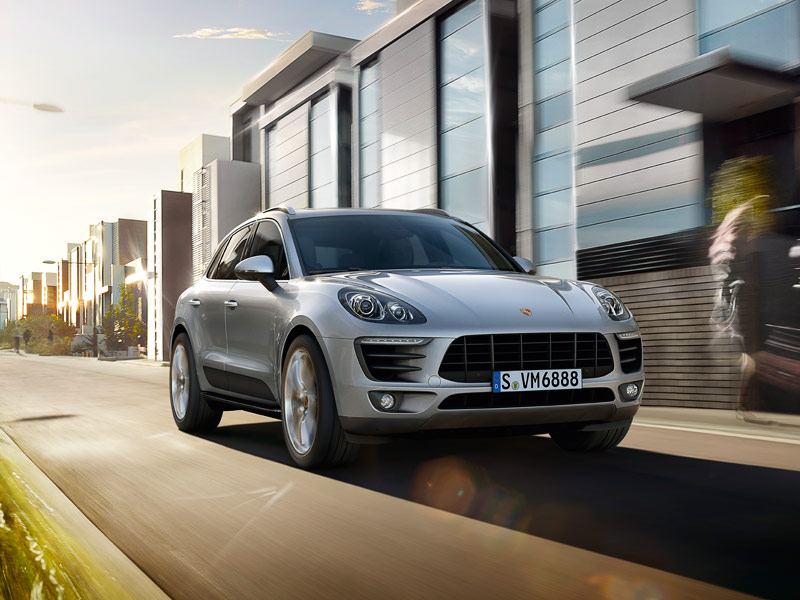 Direct fuel injection (DFI)
With millisecond precision, DFI injects fuel at up to 200 bar directly into the combustion chamber by means of electromagnetically actuated injection valves. The spray and cone angles have been optimised for torque, power output, fuel consumption and emissions by enabling a homogeneous distribution of the air/fuel mixture and, therefore, effective combustion. DFI improves the internal cooling of the combustion chamber by having the mixture prepared directly in the cylinder. This allows for a higher compression ratio, which helps to deliver greater power output at the same time as enhanced engine efficiency.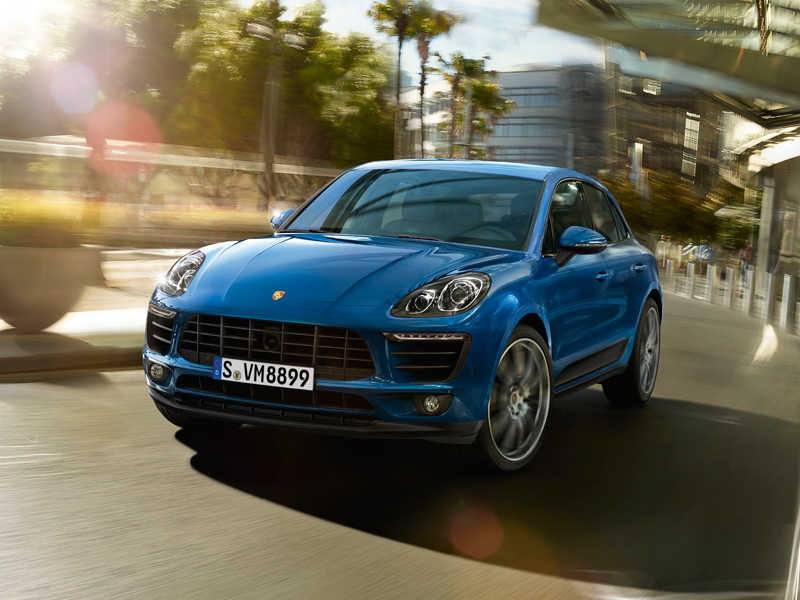 7-speed Porsche Doppelkupplung (PDK)
Would you prefer to experience the gear change or the driving pleasure? No contest. The new Macan is equipped with the 7-speed PDK transmission, which changes gear in fractions of a second with no interruption in the flow of power. The advantage is that, whenever a particular gear is engaged, the next gear is already preselected. As the clutch of the engaged gear opens, the clutch of the target gear closes simultaneously. The effect is a sporty, dynamic and agile driving feel. The principle of PDK is that, whenever a particular gear is engaged, the next gear is already preselected. As a result, gear changes take place within milliseconds. Automatic mode is optimized for fuel economy. This means that PDK is able to offer not only a sporty, agile driving feel, but also increased efficiency.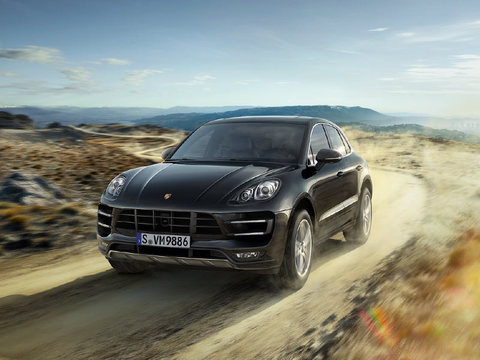 Sport suspension
The steel spring suspension is standard in all Macan models. Not only does it fulfil exacting requirements for performance and driving pleasure, it contributes to enhanced driving dynamics, lower fuel consumption and increased ride comfort. The Macan Turbo also comes equipped with Porsche Active Suspension Management (PASM).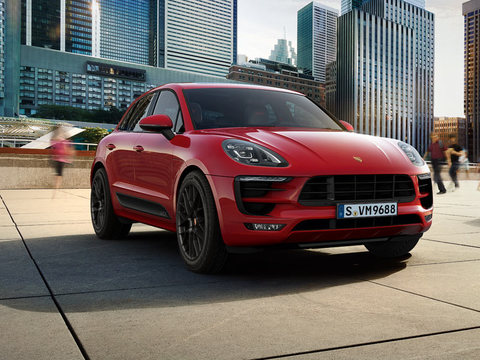 OFF-ROAD button
Would you like to try roads that aren't actually there? A button on the center console sets your Macan to OFF-ROAD mode. All relevant systems switch to a traction-optimized program for off-road terrain. The optional air suspension including PASM automatically adjusts to Terrain Level. In addition, optional Porsche Torque Vectoring Plus (PTV Plus) and Porsche Stability Management (PSM) – integrated as standard – optimally adapt their setup for off-road use, delivering improved driveability.
2018 Porsche Macan Turbo Appearance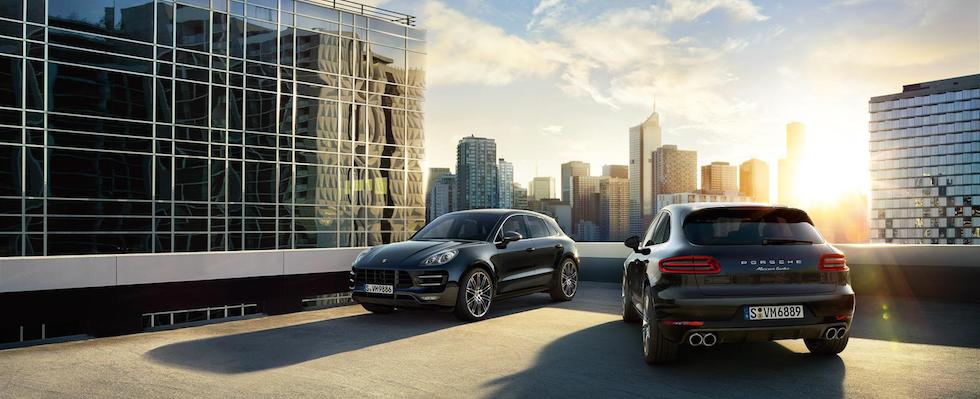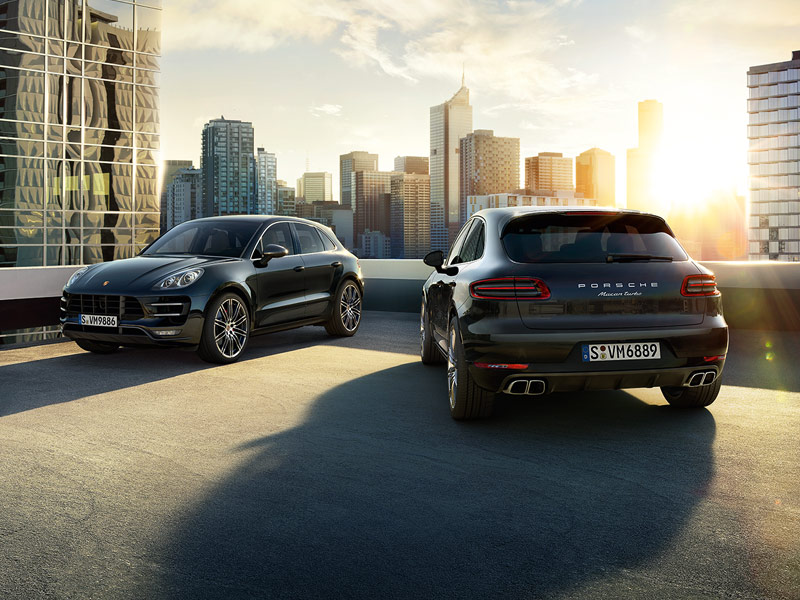 Character
The distinctly muscular front apron, with the side airblades of the conspicuously large cooling air intakes, is found nowhere else but on the Macan Turbo. It's a visual promise of thrilling performance. Bi-Xenon main headlights with dynamic cornering lights provide optimum illumination of the road – and therefore a high level of safety. These are supplemented by the stunning four-point LED daytime running lights.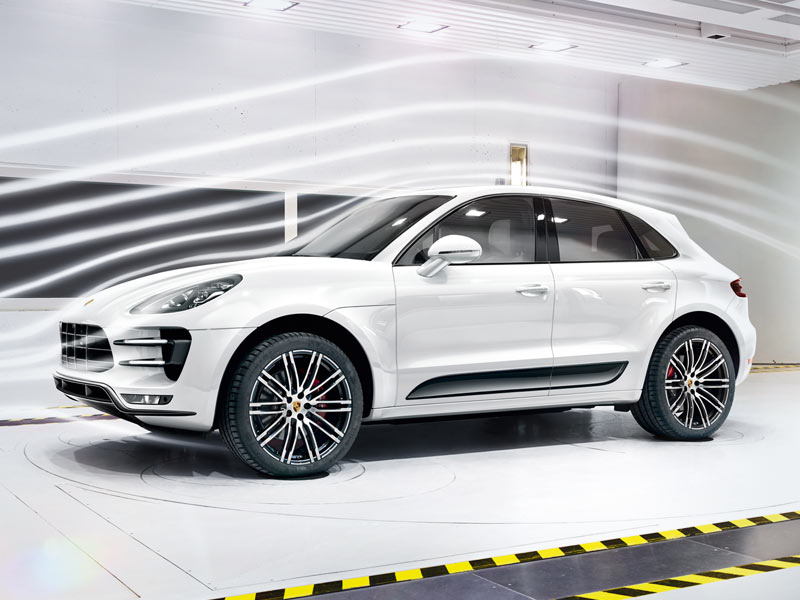 Exterior design
Markers include the characteristic headlights, which are recessed in the hood. The large, imposing air intakes of the front fascia are just waiting to inhale fresh air. The hood stretches through to the wheel arches. This lends the front a broad and powerful presence and reminds us of the legendary Porsche 917, which won countless victories in the early 1970s. The side profile is typically Porsche. From this angle, every muscle appears flexed. The roof line slopes distinctively down towards the rear, drawing the customary sports car contour that promises excellent aerodynamics.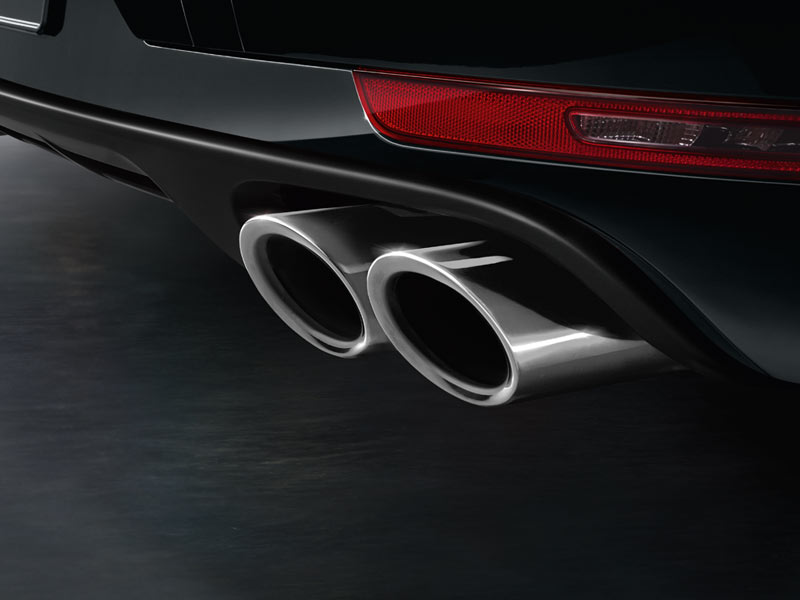 Sport tailpipes
Sport tailpipes are available for your Macan on request. The twin dual-tube tailpipes are specially designed and feature a highly polished chrome-plated stainless steel finish, also available in chrome-plated black. A sporty statement that is visually unmistakable. Standard as part of the Turbo exterior package. Optional for all models.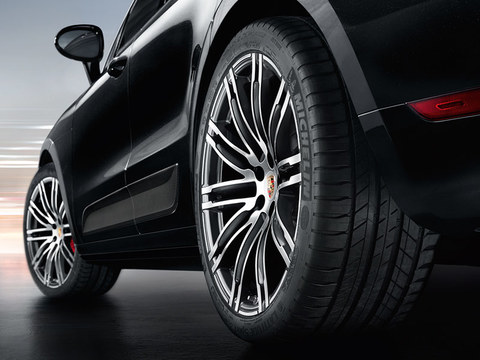 Mixed tires
As with any genuine sports car, the Macan is equipped with wider tires at the rear – just like the 911. The visual impact is not the only effect: the larger footprint at the rear improves both stability and traction and also enhances agility for intensified contact with the road.
2018 Porsche Macan Turbo Comfort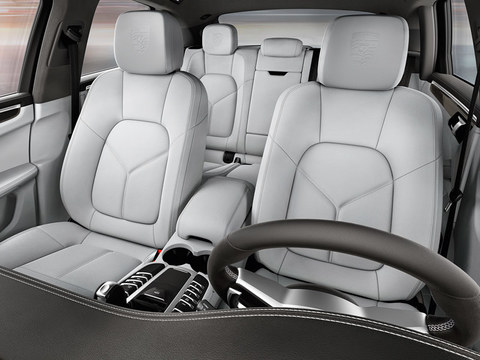 Interior
Five doors. Five seats. Excellent everyday practicality – and an elevated sitting position. That's what you can expect of an SUV. Now let's consider what you can expect of a Porsche: sports car sensations. You get in – and find the ignition lock closest to the door. It's typically Porsche, and has been since 1948. An old motorsport tradition. The interior architecture integrates you perfectly into the vehicle. This is exemplified by the three-dimensional arrangement of the controls and the ascending center console with control buttons for the most important comfort functions. The layout emulates that of the Carrera GT – it's as if you're sitting in a sports car.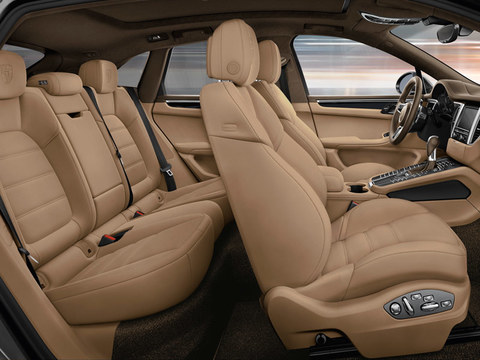 Adaptive Sport seats with comfort memory package (18-way)
The adaptive Sport seats with comfort memory package combine ultimate seating comfort with racing-style support. Their side bolsters are particularly high and prominently contoured. Offering 18-way electric adjustment, the seats can be optimally adapted to meet your needs in terms of seat height, squab and backrest angle, squab length, fore/aft adjustment and four-way lumbar support. The steering column is also electrically adjustable. The following functions can be memorized: driver and front passenger seat positions, including lumbar support and steering wheel and exterior mirror positions.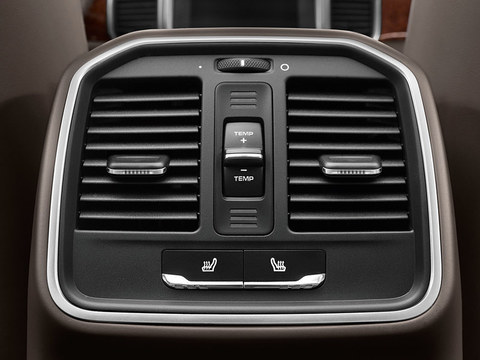 Three-zone automatic climate control
Fitted as standard, three-zone automatic climate control provides separate air conditioning in the rear compartment – and a cooling function for the glove compartment. Air conditioning settings in the rear compartment are infinitely variable.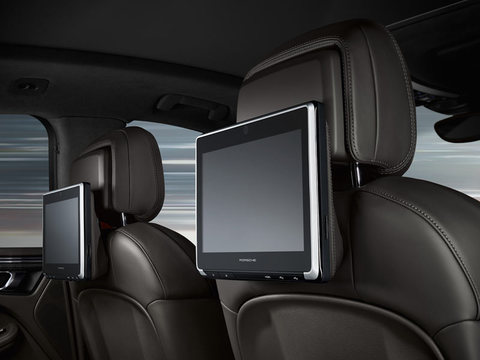 Porsche Rear Seat Entertainment Plus
A cinematic experience enjoyed in the second row. New Porsche Rear Seat Entertainment Plus has been specially developed to appeal to the discerning viewers in your Macan. Thanks to two high-resolution 10.1-inch TFT color touchscreens on the front seat backrests, each featuring an integrated DVD drive, two USB interfaces, an SD card interface, an HDMI interface and an internal 32-GB flash memory, a world of entertainment is at your passengers' fingertips. What's more, it's also possible to surf the Internet* along the way.
2018 Porsche Macan Turbo Safety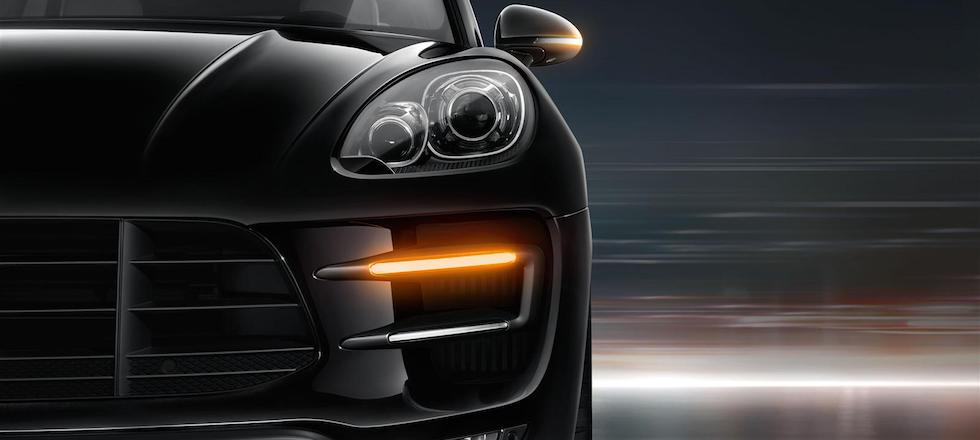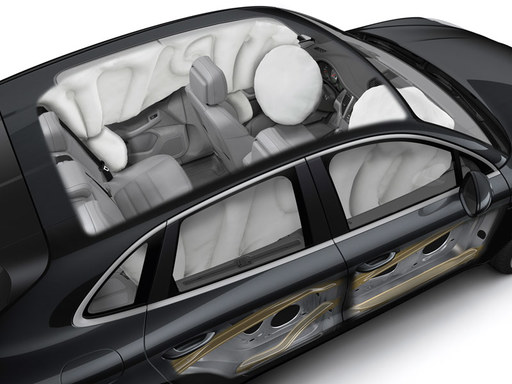 Airbags
All Macan models are equipped, as standard, with full-size airbags for the driver and front passenger. These are supplemented by the Porsche Side Impact Protection System (POSIP). It comprises side airbags in the front seats, curtain airbags along the entire roof frame and the side windows from the A-pillar to the C-pillar, and side impact protection elements in the doors. Side airbags for the rear compartment, along with driver and passenger knee bags, are standard. Two auxiliary sensors in the bumper help to detect frontal collisions. A cluster of acceleration and yaw rate sensors detects a threat of rollover and triggers the curtain airbags and seat belt pretensioners.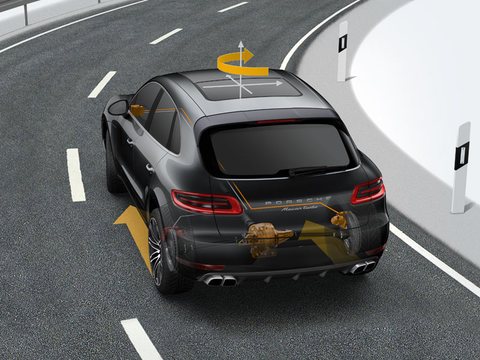 Porsche Torque Vectoring Plus (PTV Plus)
Sports car makers adore corners. With our technologies, we are forever fanning the flames of the relationship. PTV Plus is an optional system for enhancing both driving dynamics and stability. Operating in conjunction with an electronically regulated rear differential lock, it works by varying the torque distribution to the rear wheels. When the car is driven into a corner, moderate brake pressure is applied to the inside rear wheel as the situation demands. Consequently, a greater amount of drive force is distributed to the outside rear wheel, inducing an additional rotational pulse (yaw movement) around the vehicle's vertical axis. The effect is a direct and sporty steering action. And considerable driving pleasure at every twist and turn. At low and medium vehicle speeds, PTV Plus significantly increases agility and steering precision. At high speeds on the straight, and in fast corners where the wheels threaten to spin, the electronically controlled rear differential lock provides added driving stability. Stability is also improved on road surfaces with varying grip as well as in the wet and snow.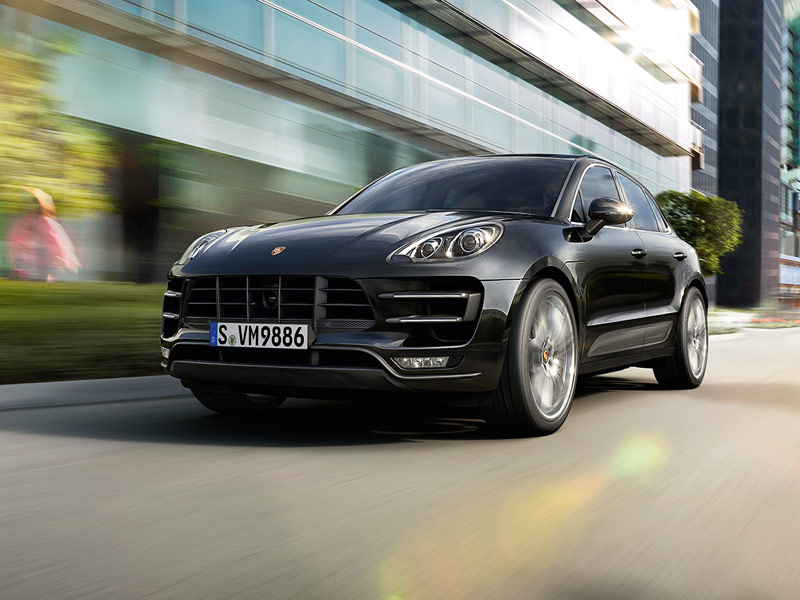 Porsche Traction Management (PTM)
The tremendous dynamic performance of the new Macan is thanks in part to the Porsche Traction Management (PTM) active all-wheel drive system. It comprises an electronic and map-controlled multi-plate clutch, the automatic brake differential (ABD) and anti-slip regulation (ASR). The electronically controlled multiplate clutch regulates the distribution of drive force between the rear axle and the front axle. Driving conditions are constantly monitored to enable a precise and lightning-quick response to a variety of situations. Sensors continuously check, among other variables, the rotation speeds of all four wheels, the longitudinal and lateral acceleration of the vehicle, and the steering angle. If, for example, the rear wheels threaten to spin under acceleration, a greater proportion of drive force is distributed to the front by a more powerful engagement of the multiplate clutch. In addition, ASR reduces wheel slip. In corners, the drive force sent to the front wheels is regulated for optimum lateral stability.
2018 Porsche Macan Turbo Specification

Height: 63.94 in.
Width (w/ mirrors folded): 76.1 in. (82.6 in.)
Wheelbase: 110.51 in.
Length: 185.00 in.
Specs reflect base model unless otherwise noted.
| Engine | PDK |
| --- | --- |
| Engine layout | Front Engine / All wheel drive |
| Cylinder layout / number of cylinders | V engine / 6 |
| Displacement | 3.6 Liters |
| Horsepower | 400 hp |
| @ rpm | 6000 rpm |
| Torque | 406 lb.-ft. |
| Compression ratio | 10.5 : 1 |
| Body | PDK |
| --- | --- |
| Length | 185.00 in. |
| Width (w/ mirrors folded) | 76.1 in. (82.6 in.) |
| Height | 63.94 in. |
| Wheelbase | 110.51 in. |
| Drag coefficient (Cd) | 0.36 |
| Curb weight | 4244 lbs |
| Towing capacity (braked / unbraked) | 4409 lbs / 1653 lbs |
| | |
| Performance | PDK |
| --- | --- |
| Top Track Speed | 164 mph |
| 0 - 60 mph | 4.6 sec |
| Fuel Consumption | PDK |
| --- | --- |
| City (estimate) | 17 mpg |
| Highway (estimate) | 23 mpg |
| Combined (estimate) | 19 mpg |
Transport
Luggage compartment volume: 17.7 cu. ft. / 53.0 cu. ft. (with seats folded)
Fixed, removable luggage compartment cover
| MSRP | PDK |
| --- | --- |
| | From $ 77,200.00* |
*Manufacturer's Suggested Retail Price. Excludes options; taxes; title; registration; delivery, processing and handling fee; dealer charges. Dealer sets actual selling price.