2018 Porsche Cayenne Overview
2018 Porsche Cayenne For Sale


Porsche Cayenne For Sale
2018 Porsche Cayenne Performance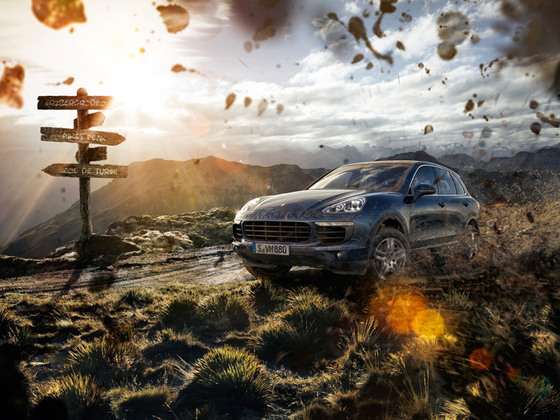 Off-road capability
Using the main off-road control on the center console, you can select one of up to three modes (depending on the model) for improving the off-road capability or revert the setting to normal road driving. In Off-road Mode 1, the maps for all relevant systems, e.g. ABS, are adapted to provide optimum traction. In addition, High Level 1 is selected on vehicles featuring air suspension with PASM. The air suspension can also be raised further to High Level II to increase the approach/departure angle and wading depth.
Off-road Mode 2 helps to ensure even greater traction on difficult terrain by fully locking the multi-plate clutch. The electronically controlled variable rear differential on the optional Porsche Torque Vectoring Plus (PTV Plus) is integrated within the all-wheel drive system and can be fully locked in Off-road Mode 3.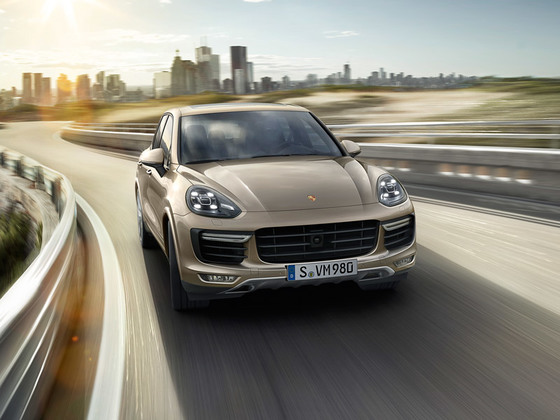 Air suspension with Porsche Active Suspension Management (PASM)
A constant vehicle position thanks to air suspension including self-leveling and ride-height control with PASM. The ground clearance can be adjusted using the rocker switch on the center console.
PASM is an electronic damping control system that actively and continuously adjusts the damping force on each wheel, based on road conditions and driving style. By means of a button on the center console, you can select one of three modes: Comfort, SPORT or SPORT PLUS. Sensors record the body movements that accompany powerful acceleration, braking and rapid cornering on uneven road surfaces. The control unit evaluates the driving conditions and modifies the damping force on each wheel in accordance with the selected mode. The result is threefold: increased driving stability, more comfort and improved performance.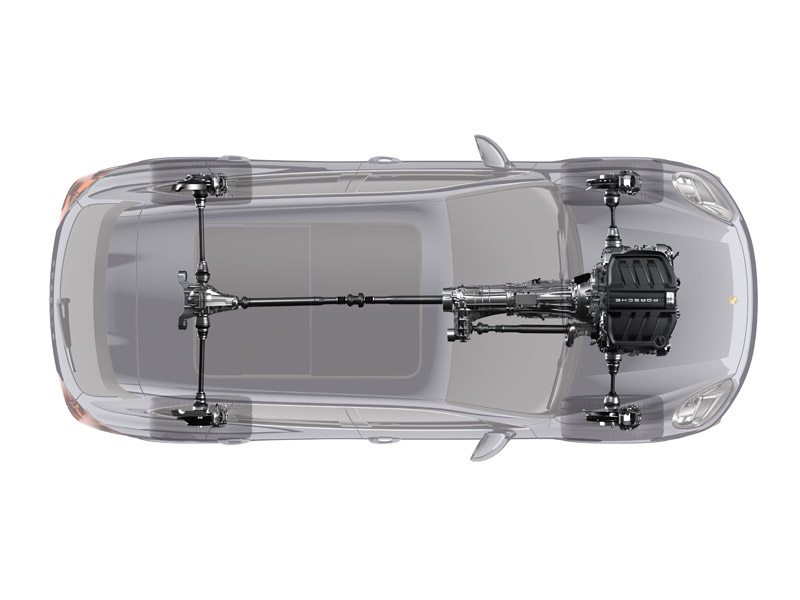 Porsche Traction Management (PTM)
PTM comprises an active all-wheel drive system with an electronically variable, map-controlled multi-plate clutch, automatic brake differential (ABD) and anti-slip regulation (ASR).
The electronically controlled multi-plate clutch helps to ensure optimum distribution of force between the permanently driven rear axle and the front axle. The driving conditions are continuously monitored to enable the system to respond to a variety of situations. During cornering, the required level of engine torque is distributed to the front wheels to provide excellent lateral stability. The result: perfect distribution of drive torque at all times.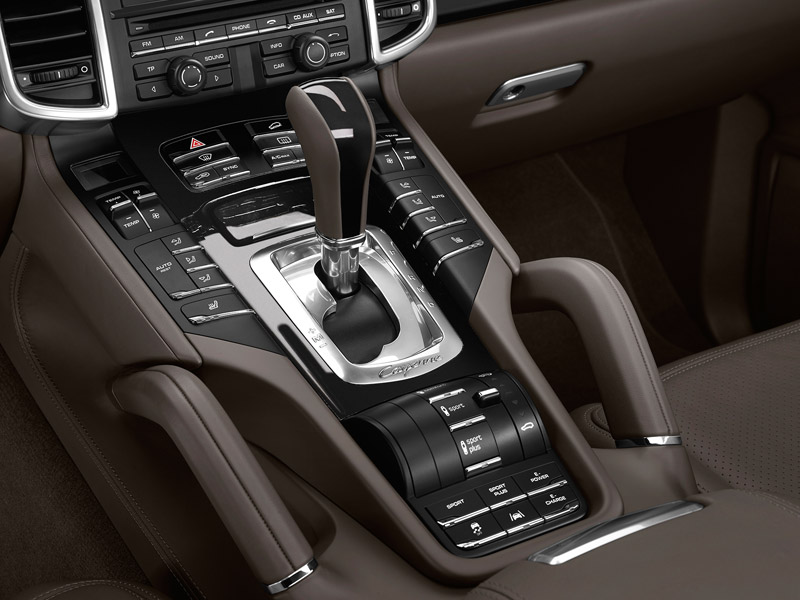 8-speed Tiptronic S
Thanks to a particularly wide ratio spread, the 8-speed Tiptronic S lowers fuel consumption – and increases comfort and dynamic agility. The low engine speeds in the higher gears reduce the noise level inside the vehicle. The 8-speed Tiptronic S shifts gear automatically and adapts to your individual driving style. New features include the extended auto start/stop function. This cuts the engine not only when the vehicle stops, but also if you are approaching traffic lights, for example.
2018 Porsche Cayenne Appearance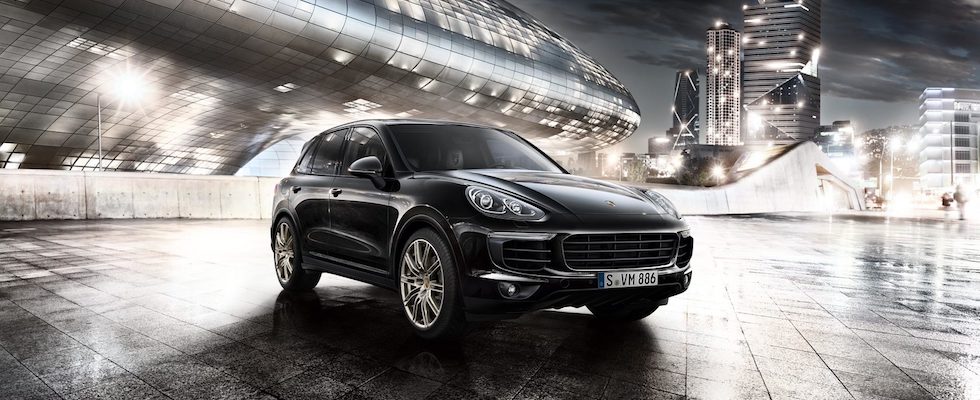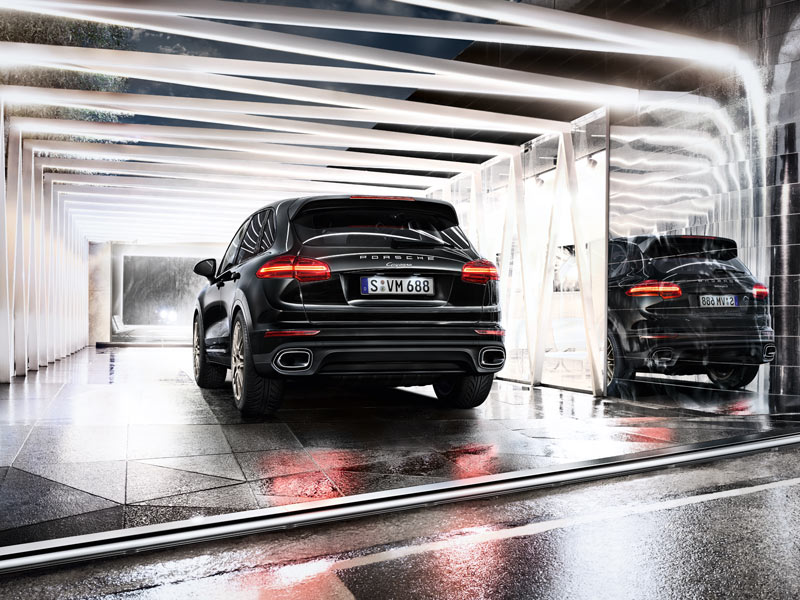 Exterior design
The prowess of the Cayenne SUV is clearly reflected in the design: the front and rear sections are now sharper and even more sophisticated. The bonnet, front wings, main headlights and air intakes lend the car even greater presence. It is impressively athletic and muscular.
The precise lines make it evident that this is a sports car with character and stature. The sporty side contouring and wheels with attractive styling serve to emphasize the car's dynamics. An impression that is confirmed by the daytime running lights featuring four LED spotlights fitted as standard, as well as the LED taillights and integrated tailpipes.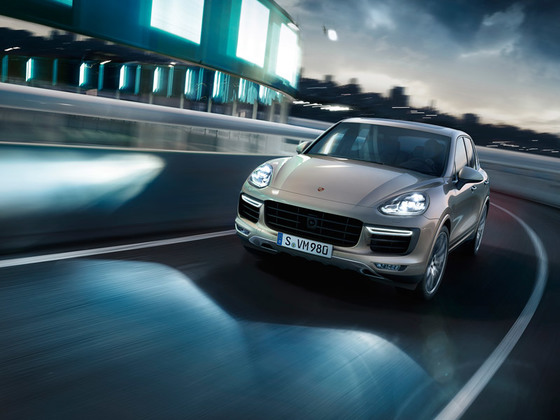 LED main headlights with Porsche Dynamic Light System (PDLS)
Excellent illumination of the road thanks to the optimum balance between short and long-distance lighting with side illumination. Due to the similarity in color with daylight and the low light scatter of the LED main headlights with Porsche Dynamic Light System (PDLS), the driver's eyes tire less quickly than with other systems.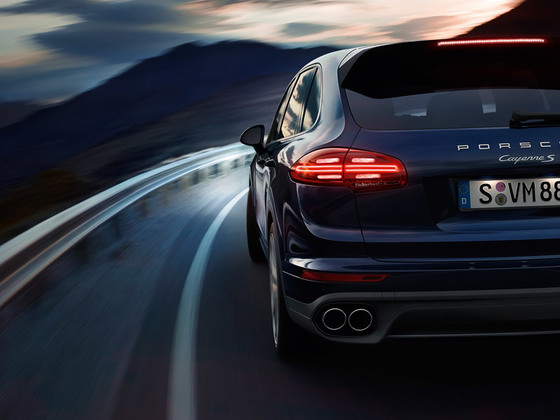 Taillights
LED technology is used for all functions on the newly designed rear light modules. For an ultrafast response and greater luminance. The high-level third brake light is integrated into the roof spoiler.
2018 Porsche Cayenne Comfort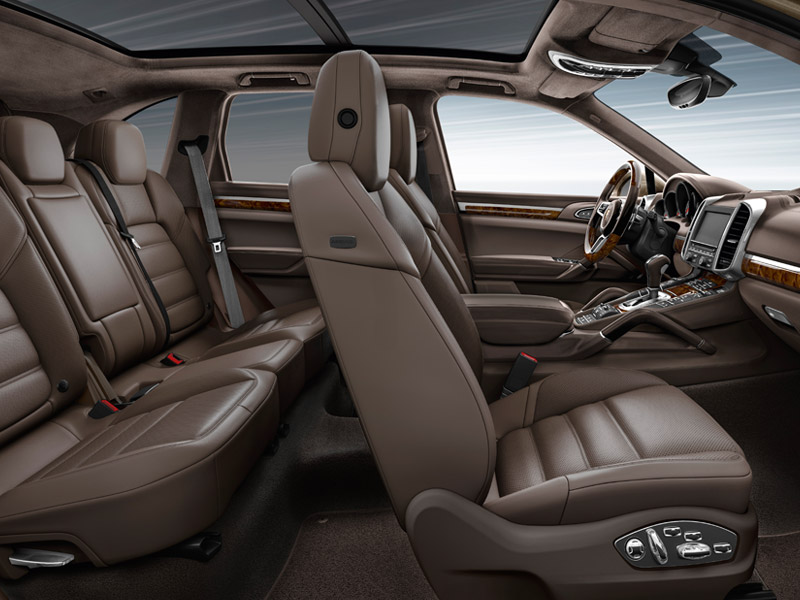 Interior design
When you take to the wheel of a Porsche, you are not just a driver. You are part of something bigger. Part of an overall concept. An idea. One that has its roots in motor racing. This is where we learnt how important it is to bring the car and driver together as closely as possible. That's why the interior of the Cayenne SUV is virtually built around you. Everything you need is within easy reach. Practical and exclusively designed to suit your needs.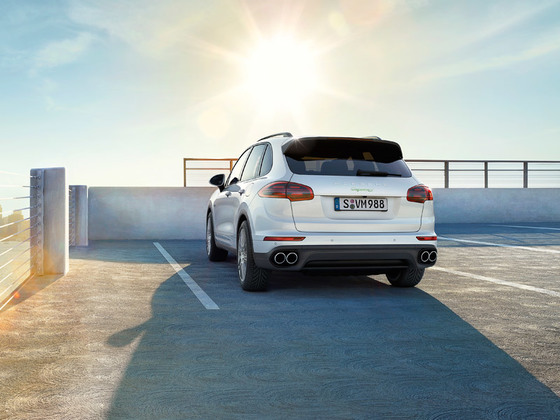 Environmental protection
With the plug-in hybrid technology of the new Cayenne S E-Hybrid, we are continuing to forge ahead into the future. Ecological responsibility is nothing new for Porsche, as can be seen from our efficient drive systems, lightweight construction, optimized aerodynamics and low rolling resistance. We have demonstrated that even high-performance sports cars can achieve comparatively moderate exhaust emission values. All technological developments are carried out with environmental protection in mind. This is demonstrated by the fact that around 70% of all Porsche cars ever built are still on the road.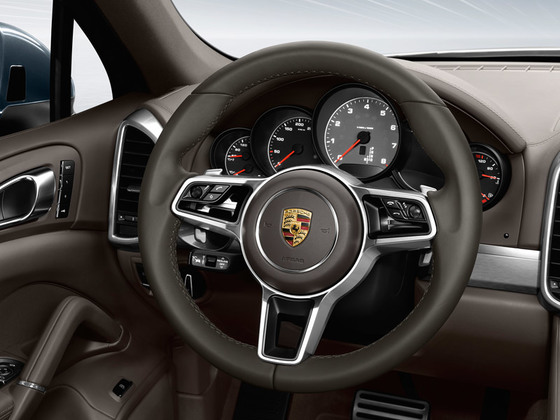 Multifunction sport steering wheel with paddles
Motorsport. At your fingertips. In the truest sense of the word. The paddles enable fast, sporty and ergonomic gear changes. There are also additional multifunction controls for telephone, radio and on-board computer functions. Derived from the 918 Spyder super sports car, the steering wheel also comes with standard heating. In addition to sporting appeal, it also offers a high level of comfort.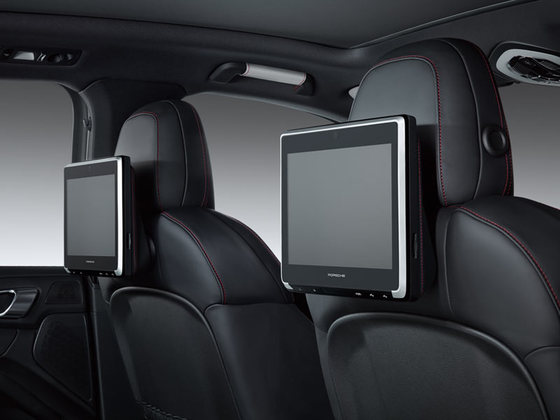 Porsche Rear Seat Entertainment Plus
Ensuring a superb cinematic experience at the rear, the new Porsche Rear Seat Entertainment Plus has been specially developed to meet the high requirements inside a Porsche. Two high-resolution 10.1-inch TFT touchscreen color displays mounted in the backrests of the front seats, with integrated DVD drive, two USB slots, one SD card slot, an HDMI interface and a 32 GB internal flash memory, offer you all manner of entertainment options.
2018 Porsche Cayenne Safety
New Car Limited Warranty & Porsche 24-Hour Roadside Assistance Program for 4-Years / 50,000 Miles (whichever occurs first)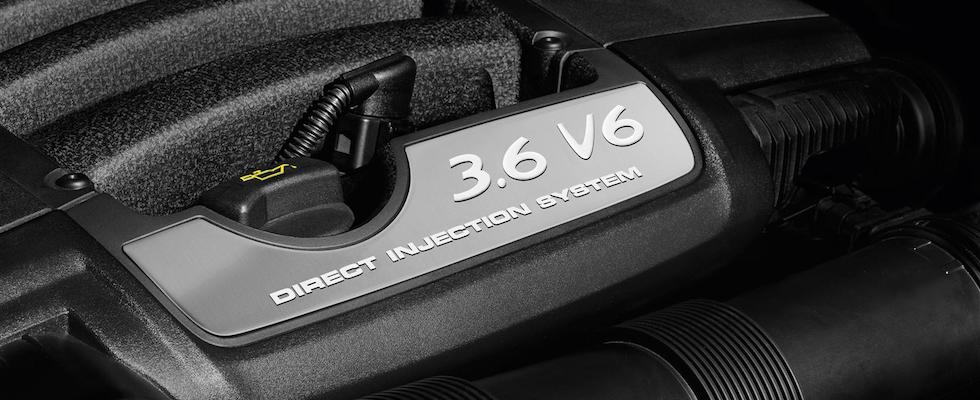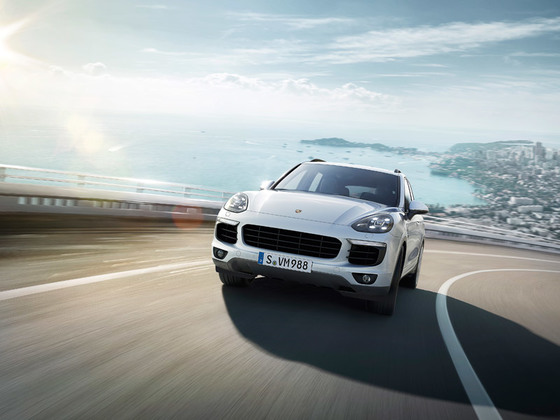 Porsche Stability Management (PSM)
PSM helps to stabilize the vehicle in hazardous road scenarios. The electronic control system uses sensors to continuously monitor the direction, speed, yaw velocity and lateral acceleration of the car. It also enhances traction when accelerating on inconsistent road surfaces. In SPORT PLUS mode, as featured in the Sport Chrono Package, PSM is initiated later – affording a greater sense of freedom to the more dynamic driver.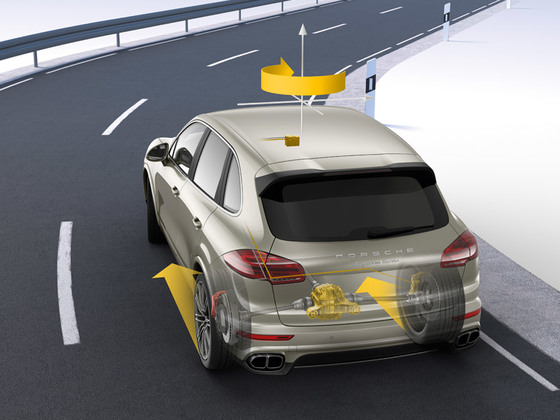 Porsche Torque Vectoring Plus (PTV Plus)
PTV Plus is a system for enhancing driving dynamics and stability. Operating in conjunction with an electronically controlled rear differential lock, it works by varying the torque distribution to the rear wheels. Depending on the steering angle and steering speed, accelerator pedal position, yaw rate and vehicle speed, PTV Plus optimizes steering response and precision by selectively applying brake pressure to the left or right rear wheel.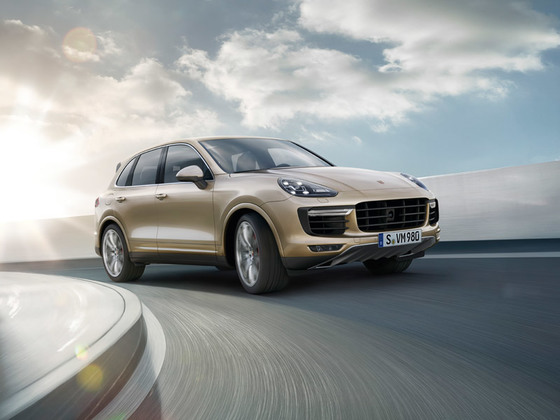 Porsche Dynamic Chassis Control (PDCC)
PDCC is an active anti-roll system that anticipates and reduces lateral body movement when cornering. In addition, it minimizes lateral sway of the vehicle on rippled road surfaces.
2018 Porsche Cayenne Specification

Height: 67.4 in.
Width (w/ mirrors folded): 85.2 in. (78.7 in.)
Wheelbase: 113.98 in.
Length: 191.14 in.
Specs reflect base model unless otherwise noted.
| Engine | Tiptronic S |
| --- | --- |
| Engine layout | Front Engine / All wheel drive |
| Cylinder layout / number of cylinders | V engine / 6 |
| Displacement | 3.6 Liters |
| Horsepower | 300 hp |
| @ rpm | 6300 rpm |
| Torque | 295 lb.-ft. |
| Compression ratio | 11.65 : 1 |
| Body | Tiptronic S |
| --- | --- |
| Length | 191.14 in. |
| Width (w/ mirrors folded) | 85.2 in. (78.7 in.) |
| Height | 67.4 in. |
| Wheelbase | 113.98 in. |
| Drag coefficient (Cd) | 0.35 |
| Curb weight | 4488 lbs. |
| Towing capacity (braked / unbraked) | 7716 lbs./1653 lbs. |
| Performance | Tiptronic S |
| --- | --- |
| Top Track Speed | 142 mph |
| 0 - 60 mph | 7.3 sec |
| Fuel Consumption | Tiptronic S |
| --- | --- |
| City (estimate) | 19 mpg |
| Highway (estimate) | 24 mpg |
| Other | |
| --- | --- |
| Luggage compartment volume | 177.0 gal. |
| Fuel tank | 26.4 gal. |