2018 Porsche 911 Turbo Overview
2018 Porsche 911 Turbo For Sale

911 Turbo S

MSRP $190,700

911 Turbo Cabriolet

MSRP $124,300

911 Turbo S Cabriolet

MSRP $203,000
Porsche 911 Turbo For Sale
2018 Porsche 911 Turbo Performance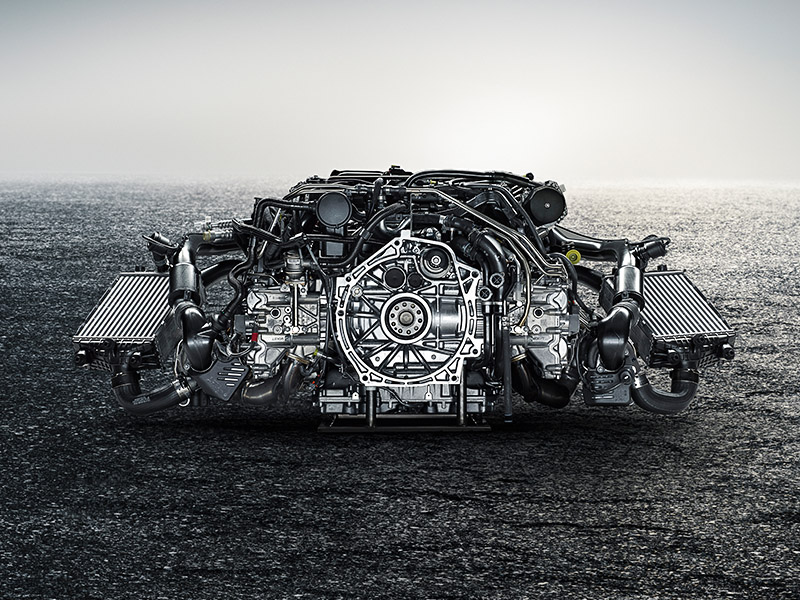 Engines
Presence requires a strong foundation. On the 911 Turbo models, this is the 3.8-liter, twin-turbo six-cylinder engine at the rear. The engine of the 911 has the typical horizontally opposed arrangement for excellent balancing of masses and low vibration. The drive unit's low position at the rear gives the vehicle a low center of gravity. Two exhaust turbochargers with variable turbine geometry (VTG) make for a dynamic response, high torque and exceptional performance figures.
The engine comes in two power levels. In the 911 Turbo and the 911 Turbo Cabriolet, it delivers 397 kW (540 hp).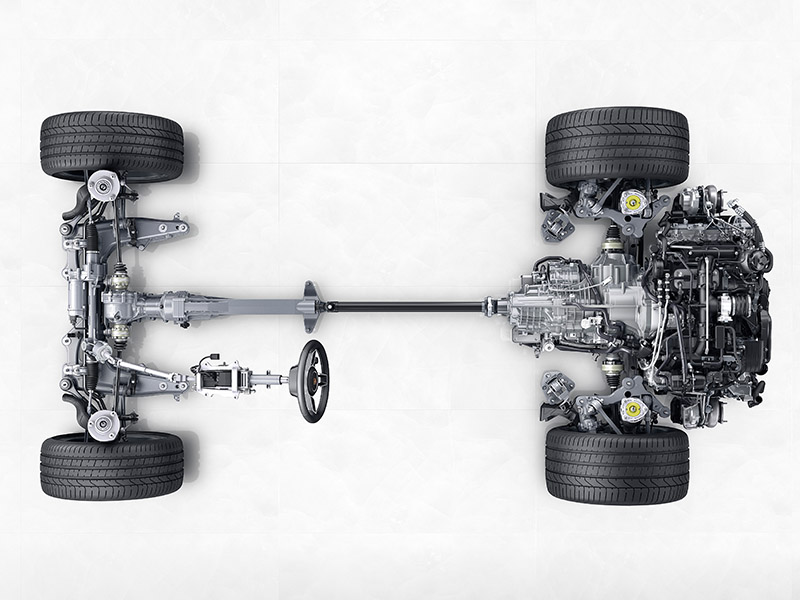 Porsche Traction Management (PTM)
Provided as standard, Porsche Traction Management (PTM) is an active all-wheel drive system with an electronically variable map-controlled multi-plate clutch. It distributes drive power between the permanently driven rear axle and the front axle.
If, for example, the rear wheels begin to lose traction under acceleration, a greater proportion of the drive power is automatically transmitted to the front axle by a more positive engagement of the multi-plate clutch. In addition, antislip regulation (ASR) prevents wheel spin. During cornering, the optimal level of drive power is distributed to the front wheels to help to ensure excellent lateral stability. In conjunction with Porsche Stability Management (PSM), PTM helps to ensure the perfect distribution of drive power for optimum traction in most road scenarios.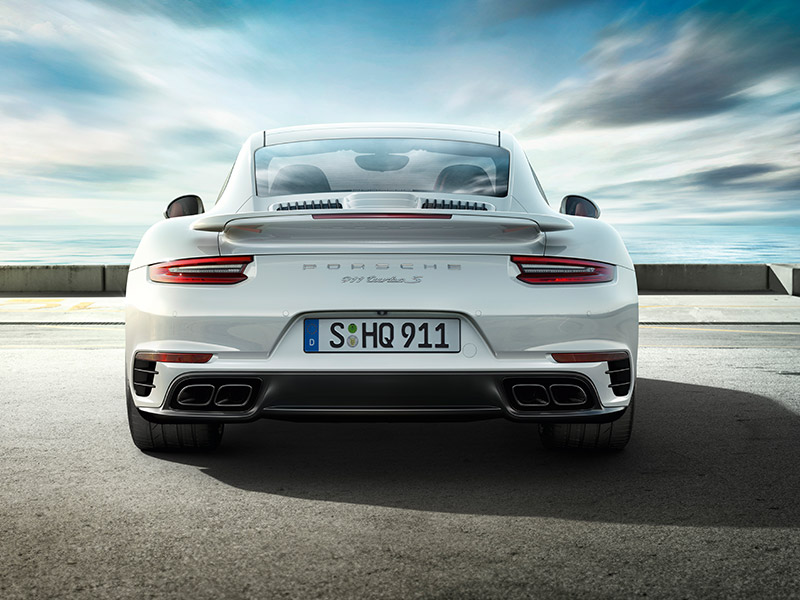 Dynamic engine mounts
The electronically controlled system minimizes the oscillations and vibrations of the entire drivetrain, especially the engine, and combines the benefits of a hard or soft engine mounting arrangement. The outcome is increased stability and ride comfort.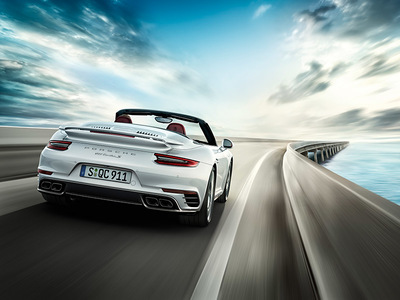 Rear axle steering
Thanks to the rear axle steering, everyday usability and performance have both been equally increased. At speeds up to TBD mph, the system steers the rear wheels in the opposite direction to that of the front wheels. This has the virtual effect of shortening the wheelbase. The turning circle is reduced, steering into corners becomes much more dynamic and parking is noticeably easier.
2018 Porsche 911 Turbo Appearance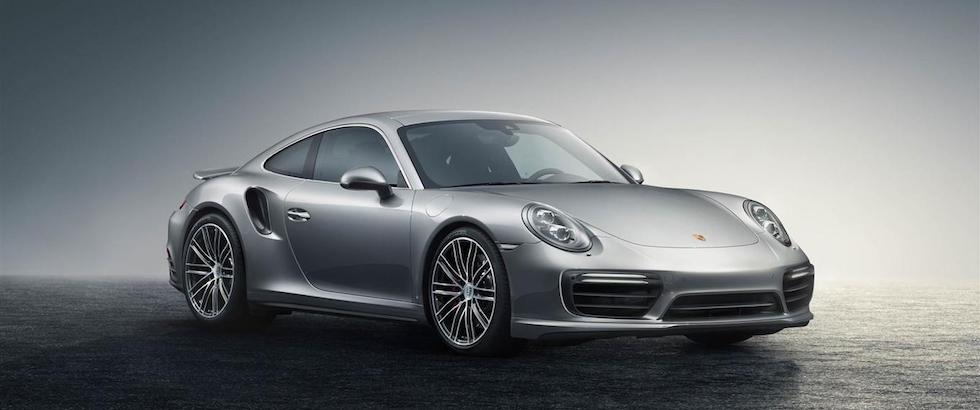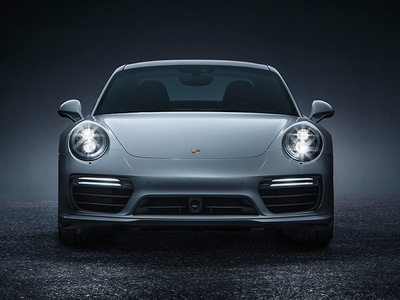 LED headlights
The inner workings of the LED headlights fitted as standard consist of two housings arranged at different levels. Daytime running lights are integrated into each headlight in the form of four LED spots encircled by a light ring. The effect? Resembling daylight, the LED light is very bright, thus ensuring excellent illumination of the road ahead. Thanks to optimized close-range, side and distance lighting and the daylight-like coloring, your eyes become tired less quickly than with other systems.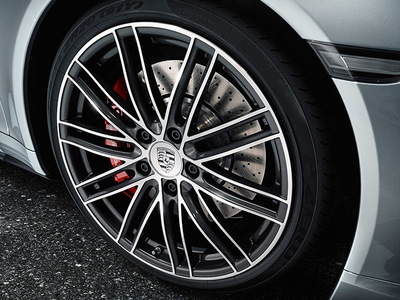 Wheels
Forged, of course, to reduce weight and unsprung masses. With highly polished wheel center. This partially black painted and highly polished aluminium wheel has been forged. It is especially light and sets standards in driving comfort and performance as well as in design. With central locking device including chrome-plated wheel center with full colour Porsche Crest – and anti-theft protection.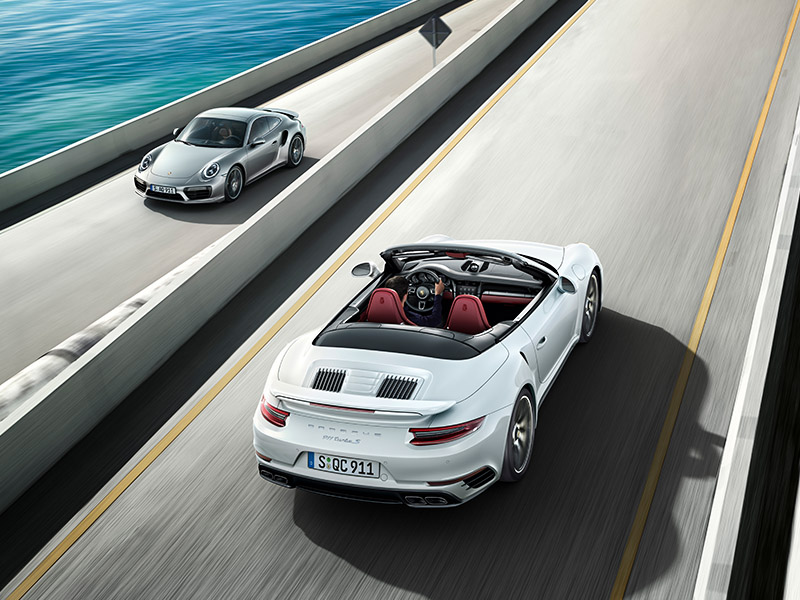 Exterior design
That is the way we do things. The Porsche way. A case of refining the ingredients rather than changing the recipe. Examples on the 911 Turbo models include the new front section with its equally new front lights, as well as the black airblades. Powerful design serves to emphasize the vehicle's dynamism. LED headlights with four-point daytime running lights are part of the standard specification of all models. The door handles are integrated into the vehicle even more harmoniously than before, while the forged wheels have become more intricate.
2018 Porsche 911 Turbo Comfort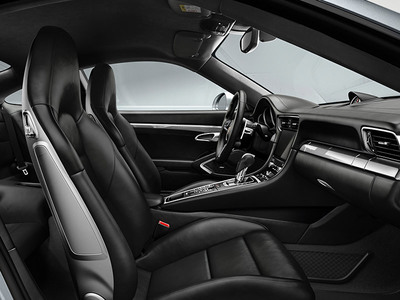 Interior
The interior materials are of high quality – with a sporty character. 911 Turbo models have the interior leather package as standard, including leather seats, dashboard and door and side panel trim. Alcantara® has proven its credentials in motorsport and is used as a standard for the roof lining of the Coupé models. On the 911 Turbo S models, the decorative trims for the dashboard, center console, and door trims are finished in carbon. With two-tone color combinations or special colours and with materials such as carbon, aluminium, and mahogany, there is plenty of scope for personalisation.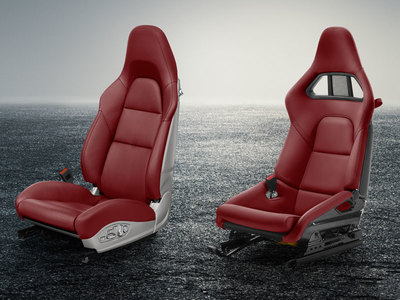 Fully electric Sport seats
They offer electric adjustment of seat height, backrest angle, squab angle and squab depth, along with fore/aft position and four-way lumbar support. The integrated memory package supports the exterior mirrors and all seat positions on the driver's side as well as settings for the steering wheel, lights, wipers, air conditioning, door locks, PCM and instrument cluster.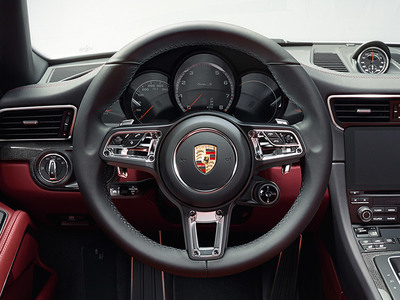 Sport steering wheel
The new GT sports steering wheel features electric height and reach adjustment, a MODE switch with SPORT Response button and two gearshift paddles made from an alloy. They are ergonomically located behind the left- and right-hand steering wheel spokes. As an option, the steering wheel is available with multifunction controls for operating audio and communications functions, as well as the on-board computer. The steering wheel rim can then also be heated by pressing a button on the steering wheel.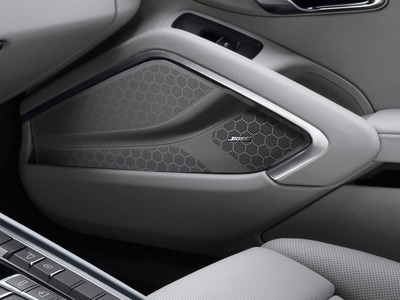 BOSE® Surround Sound System
The surround sound system from BOSE® that is fitted as standard is perfectly tuned to the specific interior acoustics of the 911 Turbo models. 12 loudspeakers. A total output of 555 watts. For impressive sound quality. In the 911 Turbo models, the subwoofer amplifier is integrated into the main amplifier, thus saving six kilograms in weight. The fully active system design makes it possible to adjust each individual loudspeaker optimally to the vehicle interior – and transforms your 911 Turbo into a concert hall. An exceptionally fast one.
2018 Porsche 911 Turbo Safety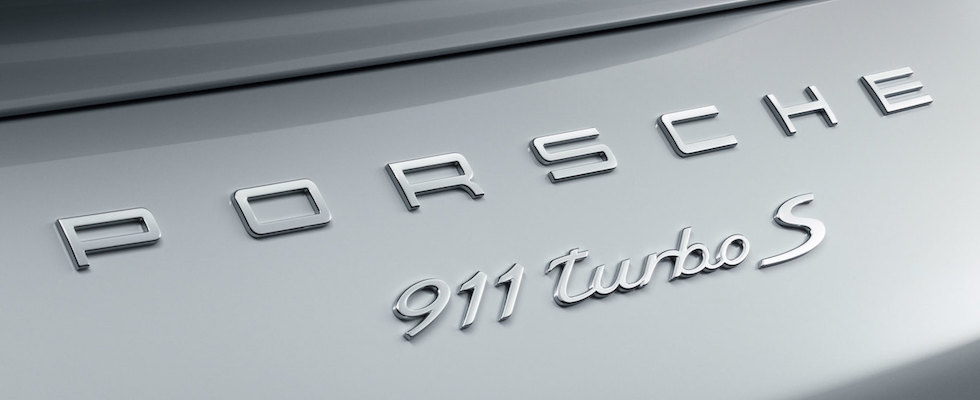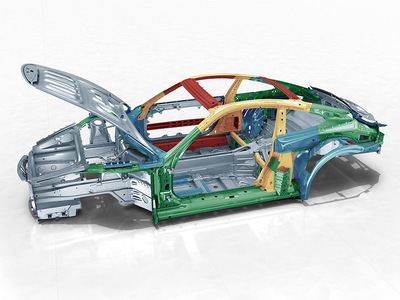 Vehicle body
The innovative bodyshell of the 911 Turbo models fulfils two structural design requirements: first, excellent driving dynamics due to the body's extremely high rigidity. Second, a saving in vehicle weight primarily because of the intelligent lightweight construction. State-of-the-art techniques are used to combine various materials in order to utilise specific material properties exactly where they are needed. For the bodyshell, therefore, we used very thin, but nevertheless extremely rigid, sheets of steel. Aluminium was utilized extensively in areas such as the roof, underbody, doors, engine compartment and luggage compartment lids.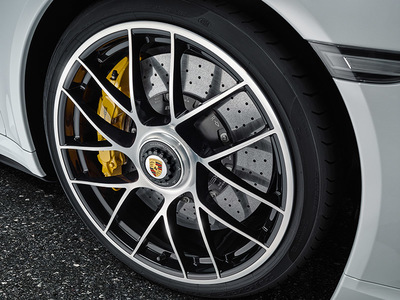 Brakes
We place just as much importance on braking performance as performance generally. On the 911 Turbo models, the brakes feature red six-piston aluminium monobloc fixed calipers at the front and four-piston aluminium monobloc fixed calipers at the rear. The brake disc diameter is 380 mm front and rear. The brake calipers have an enclosed monobloc construction. This makes them tougher but lighter, enabling a more rapid response and release of the brake, even under extreme loads. The pedal travel is short and the biting point precise. The brake discs are cross-drilled for better performance in the wet.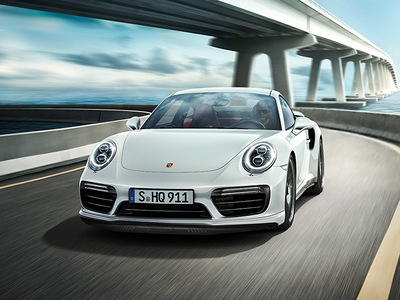 Porsche Stability Management (PSM)
PSM is an automatic control system for stabilization when driving at the limits of performance. Under acceleration on wet or low-grip road surfaces, PSM improves traction using the automatic brake differential (ABD) and anti-slip regulation (ASR). For a high level of stability combined with exceptional agility. In SPORT mode, the trigger threshold for PSM is raised. Agility is perceptibly enhanced when braking for corners with PSM, allowing very sporty braking and exit acceleration. For maximum dexterity, PSM can be set to standby. Although, if desired, it's still there in the background.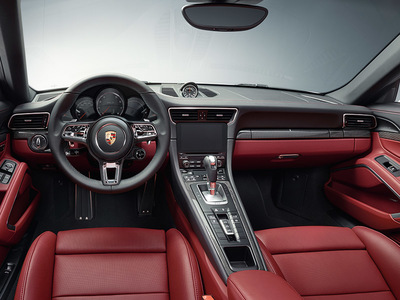 Airbags and Porsche Side Impact Protection System (POSIP)
The full-size airbags for the driver and front passenger inflate in two stages depending on the severity and type of accident. In less serious accidents, the airbags are only partially inflated. The Porsche Side Impact Protection System (POSIP) comprises side impact protection elements in the doors and two airbags on each side: an integral thorax airbag is located in the seat side bolsters, while the door panels each contain a head airbag – ensuring excellent protection in the event of a side impact.
2018 Porsche 911 Turbo Specification

Height: 51.06 in.
Width: 74.02 in.
Wheelbase: 96.46 in.
Length: 177.44 in.
Specs reflect base model unless otherwise noted.
| Engine | PDK |
| --- | --- |
| Cylinder layout / number of cylinders | Boxer 6 |
| Displacement | 3.8 l |
| Engine layout | Rear engine |
| Horsepower | 540 hp |
| Max. Torque | 523 lb.-ft. |
| Compression ratio | 9.8 : 1 |
| | |
| Performance | PDK |
| Top Track Speed | 198 mph |
| 0 - 60 mph | 2.9 sec with Sport Chrono |
| | |
| Transmission | PDK |
| Driveline layout | All-wheel drive |
| | |
| Other | |
| Luggage compartment volume | TBD ft³ |
| Fuel Tank Capacity | 17.9 gal. |
| Body | PDK |
| --- | --- |
| Length | 177.44 in. |
| Width | 74.02 in. |
| Height | 51.06 in. |
| Wheelbase | 96.46 in. |
| Drag coefficient (Cd) | 0.31 |
| Curb weight | TBD lbs |
| Towing capacity (braked / unbraked) | - / - |
| Gross Vehicle Weight Rating (GVWR) | TBD lbs |
| Fuel Consumption | PDK |
| --- | --- |
| City (estimate) | 19 mpg |
| Highway (estimate) | 24 mpg |
| Combined (estimate) | 21 mpg |
| MSRP | PDK |
| --- | --- |
| | From $ 161,800.00* |
*Manufacturer's Suggested Retail Price. Excludes options; taxes; title; registration; delivery, processing and handling fee; dealer charges. Dealer sets actual selling price.