2018 Porsche 911 Targa 4 Overview
2018 Porsche 911 Targa 4 For Sale
911 Targa 4

MSRP $110,300

911 Targa 4S

MSRP $124,300
Porsche 911 Targa 4 For Sale
2018 Porsche 911 Targa 4 Performance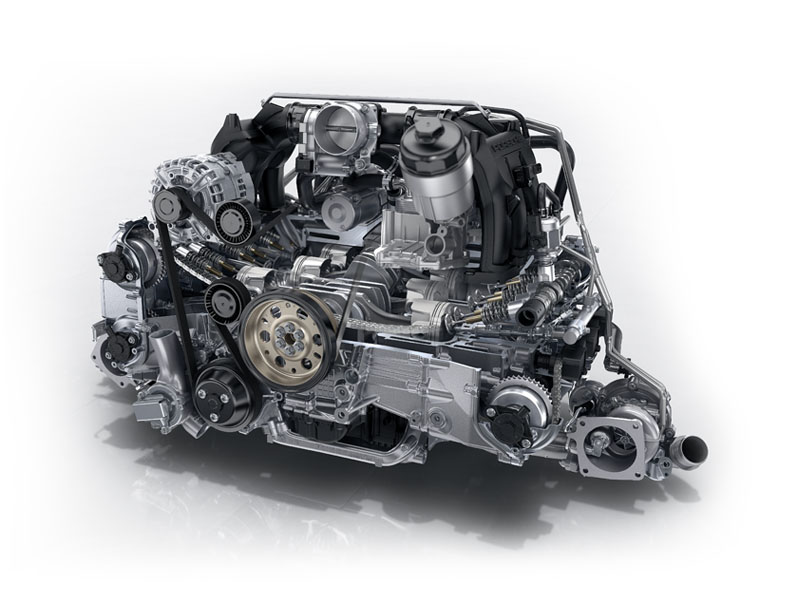 Engines
Expressed in figures, this means an extra 20 hp of power, an extra 43 lb.-ft. of torque and engine speeds of up to 7,500 rpm. And a reduced fuel consumption. The engine of the 911 Targa 4 develops 370 hp. The maximum torque of 325 lb.-ft. is available from as low as 1,700 rpm. With Porsche Doppelkupplung (PDK), the 911 Targa 4 can accelerate from 0 to 100 km/h in only 4.4 seconds and reach a top speed of 293 km/h.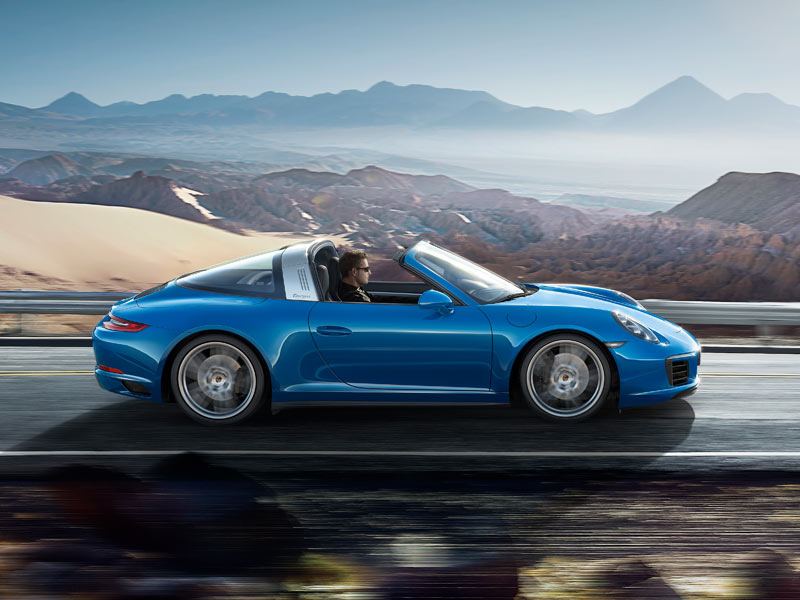 Rear-wheel and all-wheel drive
The answer may turn out differently on either side, but neither would be wrong. Those who recognise the rear-driven variant as being the one true 911 should consider that the all-wheel drive setup goes back to the legendary Paris–Dakar Rally of 1984, when the Porsche 953 based on the 911 wrote its own chapter in sport – and engineering – history. Fun in the corners, by the way, is guaranteed by both drive layouts. Two irreconcilable philosophies? Let's discuss a third: the design. The all-wheel drive 911 models have a 44 mm wider body, letting it rest more firmly on the road. An impression underlined by the new light strip, especially after dark.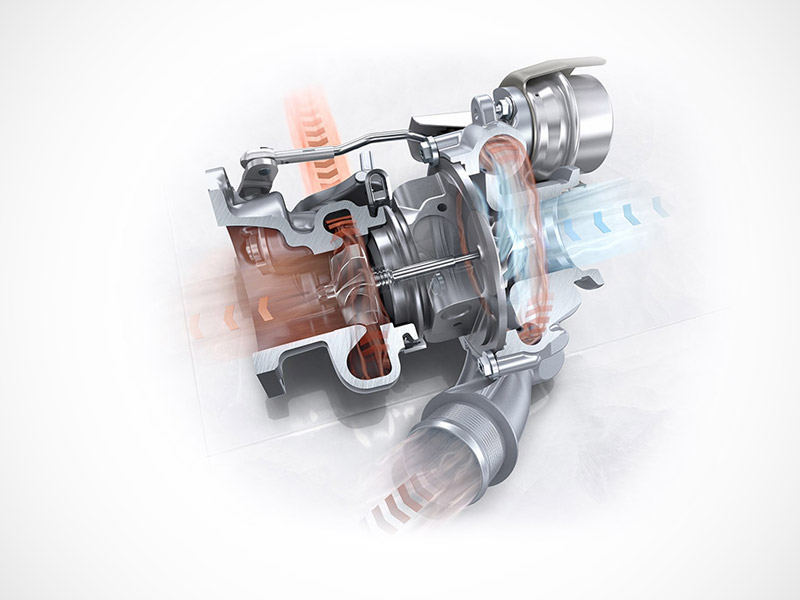 Turbochargers
The drive system is a twin-turbo configuration. It has two turbochargers with one charge-air cooling for each cylinder bank. Both turbos are particularly compact and have been optimally adapted to the displacement and power output of the engine. This construction minimises the inertia of the drivetrain and improves responsiveness. The new turbochargers leave the sceptics in their wake and find a new destination: unexplored levels of torque.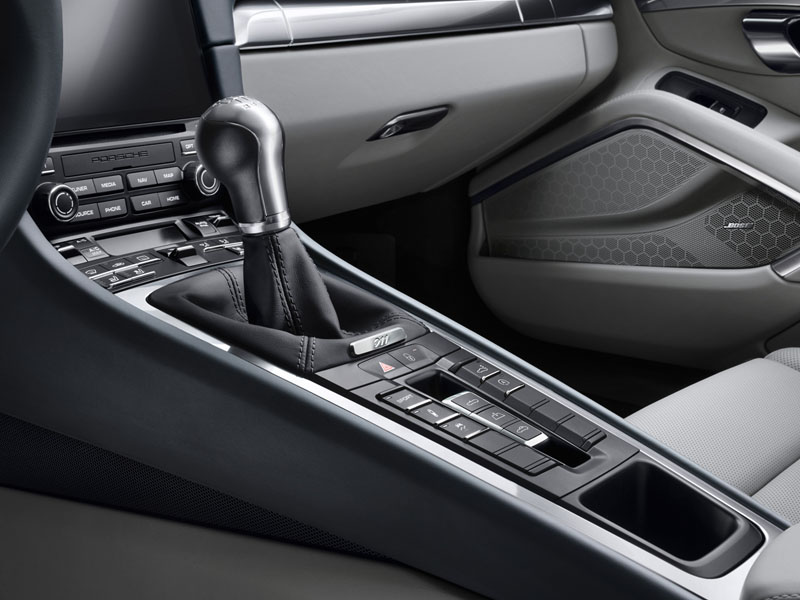 7-speed manual transmission
Pure, direct, precise. Short shift movements and an optimum transition from one gear to the next. The 7-speed manual transmission combines a high level of sporty performance with fast gear changes. In conjunction with the optional Sport Chrono Package, selecting SPORT or SPORT PLUS mode activates the dynamic throttle-blip function, which ensures the optimum engine speed for every downshift, a more emotional driving experience and an impressive sound.
2018 Porsche 911 Targa 4 Appearance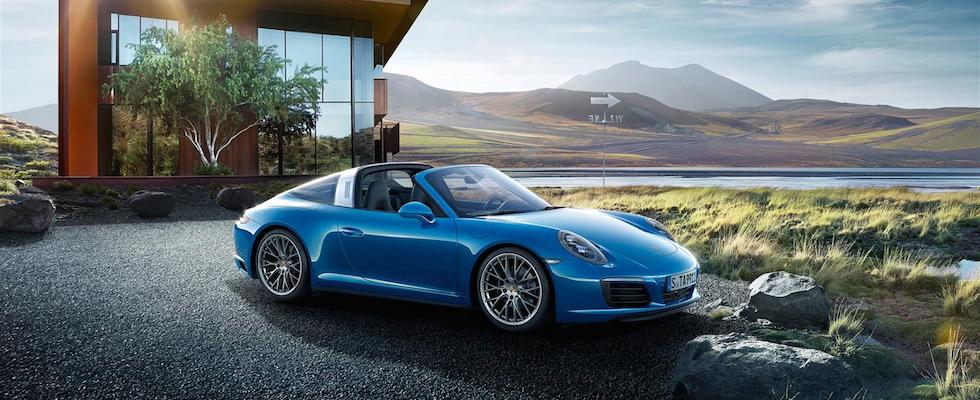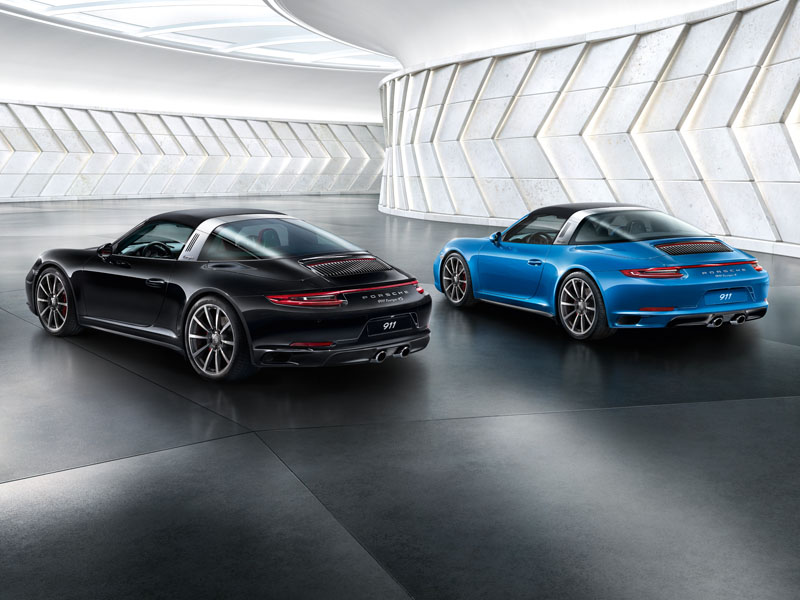 Design
The design language, proportions and contouring follow the 911 tradition: with wings that are higher than the front lid; with headlights that are bulging and round; with a roof line that slopes down towards the rear over tapering side windows. The overall appearance is low, wide and sleek. Sports car proportions that originated on the racetrack.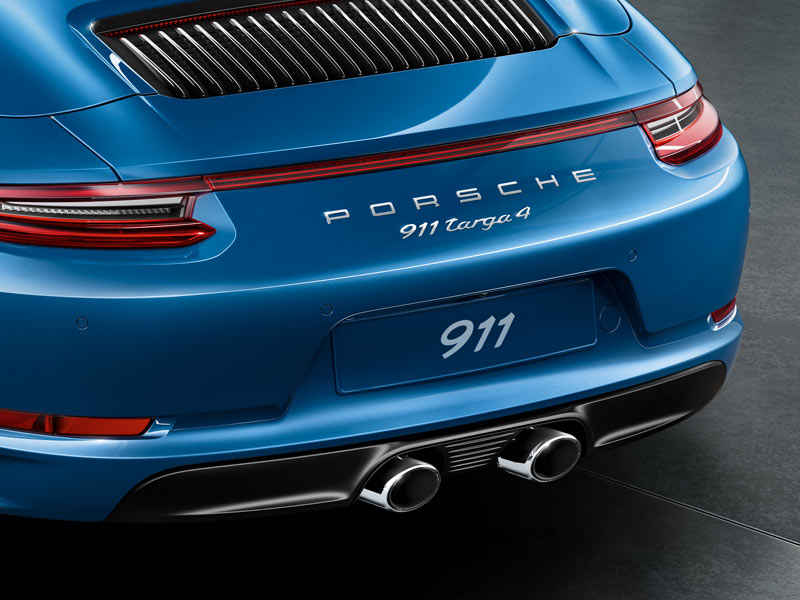 Sport exhaust system
It's a first for any Porsche turbocharged boxer engines, and it's a technical innovation. Available as an option for the new 911, the sport exhaust system features two catalytic converters and a rear silencer, which lead into two centrally positioned tailpipes. For a look otherwise more likely to be seen on the racetrack. For impressive resonance and an intense sports car sound – typical of the 911. For 100 % Porsche. And for goose bumps at the push of a button.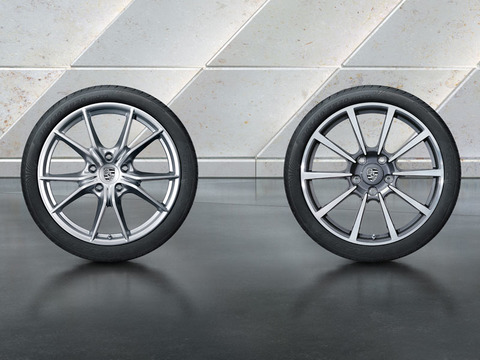 Wheels
The 911 Targa 4 is equipped with 19-inch wheels. These are lightweight alloys featuring a classic sporty design. The S model is equipped with 20-inch alloy wheels. The visual effect is sporty and dynamic. The tyres are wider to cope with the increased power output of these models. The large wheel size improves traction and track performance. Rolling resistance and tyre weight are comparatively low, which helps to reduce fuel consumption. A selection of 20-inch wheels is available in our range of options.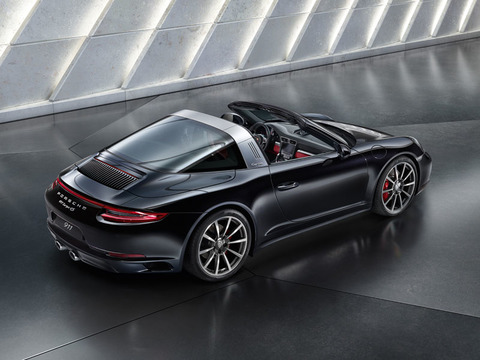 Roof system
The fully automatic roof system of the new 911 Targa 4 models is innovative – and extremely robust. With the vehicle stationary, the roof opens and closes fully automatically in around 20 seconds. And it folds away behind the rear seats elegantly and with visual perfection. The roof materials are as pioneering as the overall concept. Two magnesium elements provide optimum tensioning of the fabric hood, while the heatable rear screen is made from laminated safety glass. Together with the soundproofed interior lining of the hood itself, this selection of materials ensures an incredibly low level of driving noise with the roof closed. An extendable wind deflector is integrated into the windscreen cowl surround.
2018 Porsche 911 Targa 4 Comfort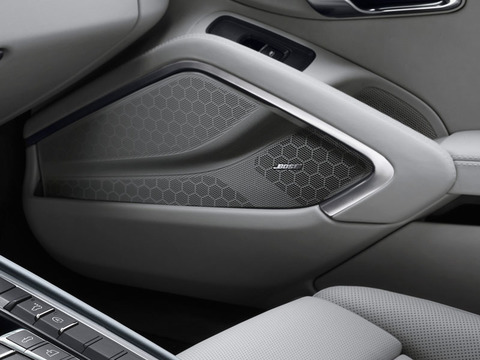 BOSE® Surround Sound System
The optional BOSE® Surround Sound System has been specially developed for the 911 models and is optimally tuned to the specific interior acoustics of these particular vehicles. The audio system features 12 fully active loudspeakers and amplifier channels including a patented 100-watt active subwoofer integral to the vehicle bodyshell. This fully active system setup enables each individual loudspeaker to be optimally adapted to the vehicle interior and transforms the 911 into a fast-moving concert hall. Total output 555 watts.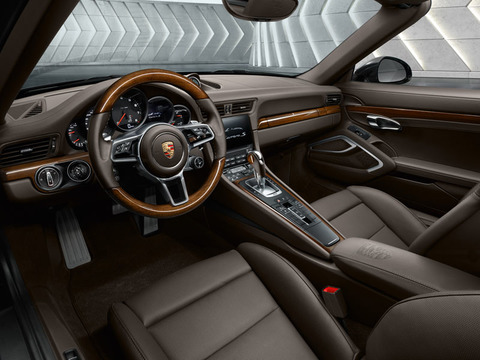 Interior
The driver must always know how to get ahead, without ever losing sight of the bigger picture. For this reason, everything in the interior is geared towards looking forward: to the car in front, to the next corner, to the next driving manoeuvre.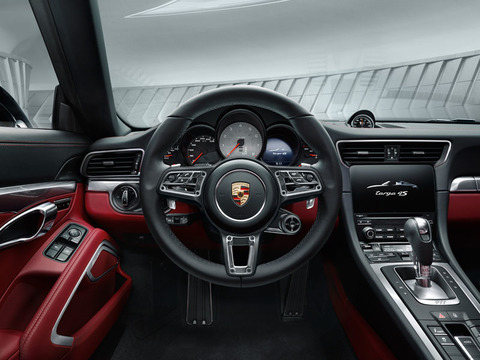 Sport steering wheel
Fitted as standard, the sport steering wheel with spoked design is lightweight and functional. The small center pad and the chrome ring encircling the Porsche Crest – both derived from the steering wheel of the 918 Spyder – reinforce its sporty character. Heating and multifunction controls are optionally available for all steering wheels. These give you fingertip access to the color display, the on-board computer and many audio, telephone and navigation functions.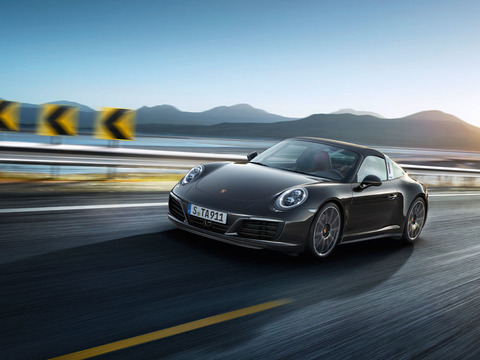 Fuel economy and recycling
Intelligent lightweight construction is integral to the Porsche identity. This is expressed in the form of a high proportion of aluminium, magnesium, plastics and super-high-strength sheet steels. All materials have been strategically selected, and the paints used are predominantly environmentally friendly water-based paints. Each lightweight material is easily recyclable and all plastic components are labelled to facilitate future separation for recycling. In all, the 911 is up to 95 % recoverable.
2018 Porsche 911 Targa 4 Safety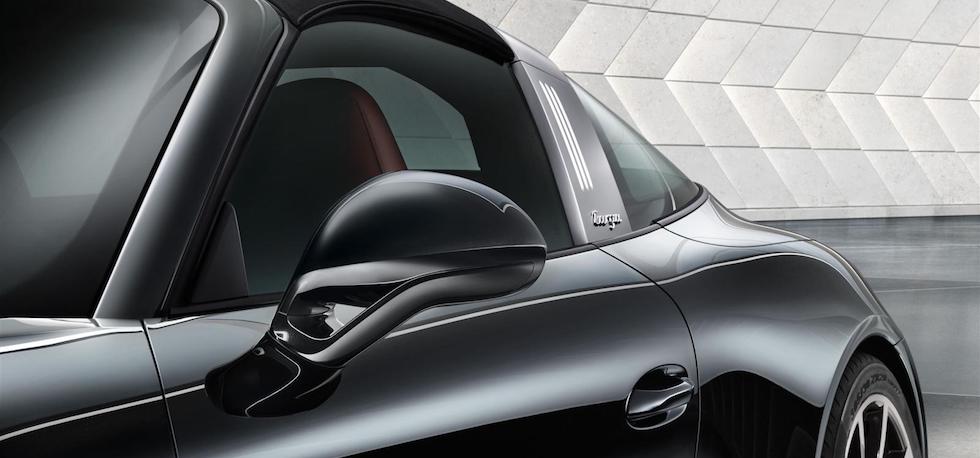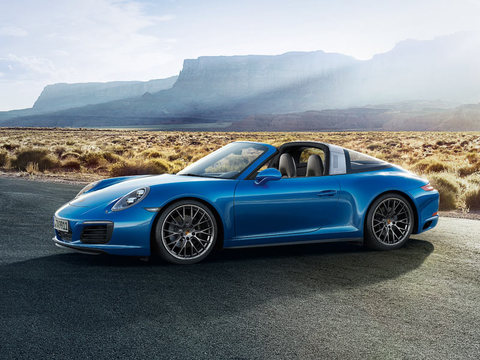 Airbags and Porsche Side Impact Protection System (POSIP)
The new 911 models offer advanced airbag technology in the form of full-size driver and front passenger airbags, which are inflated in two stages depending on the severity and type of accident. All new 911 models are also equipped as standard with the Porsche Side Impact Protection System (POSIP). It comprises side impact protection elements in the doors and two airbags on each side. An integral thorax airbag is located in each seat side bolster, while the door panels each contain an upwards-inflating head airbag. Each thorax airbag has a volume of 10 liters and each head airbag 15 liters, ensuring excellent protection in the event of a side impact.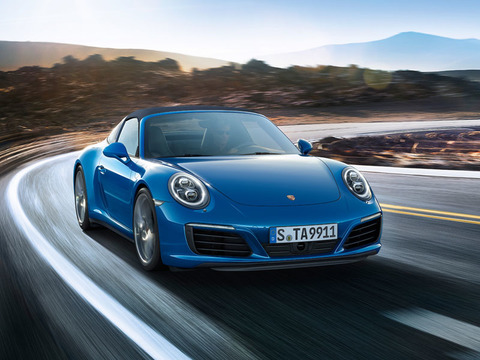 Roll-over protection
For the 911 Targa 4 and 911 Targa 4S, added roll-over safety is provided by a steel protection system concealed behind the aluminium trim of the Targa roll bar.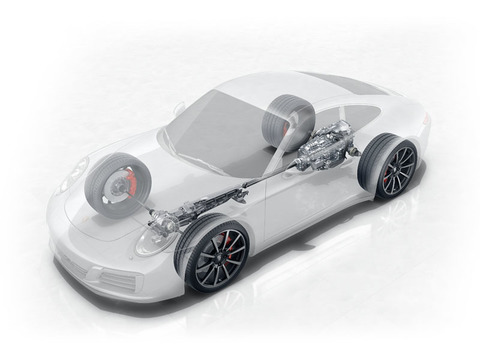 Porsche Traction Management (PTM)
Derived from the 911 Turbo, the electronically controlled and fully variable multi-plate clutch distributes drive force between the permanently driven rear axle and the front axle even faster and more precisely than ever before. The driving state of the vehicle is continuously monitored so that it is possible to respond to different driving situations. Sensors are used to collect a range of data, including the rotational speed of all four wheels, the lateral and longitudinal acceleration of the car and the current steering angle.
2018 Porsche 911 Targa 4 Specification

Height: 50.7 in.
Width: TBD in. (w/o mirrors)
Wheelbase: 96.5 in.
Length: 177.1 in.
Specs reflect base model unless otherwise noted.
| Engine | Manual | PDK |
| --- | --- | --- |
| Cylinder layout / number of cylinders | Horizontally Opposed / 6 | Horizontally Opposed / 6 |
| Displacement | 3.0 l | 3.0 l |
| Engine layout | Rear engine | Rear engine |
| Horsepower | 370 hp | 370 hp |
| Max. Torque | 331 lb.-ft. | 331 lb.-ft. |
| Compression ratio | 10.0 : 1 | 10.0 : 1 |
| Fuel Consumption | Manual | PDK |
| --- | --- | --- |
| City (estimate) | 19 mpg | 22 mpg |
| Highway (estimate) | 28 mpg | 28 mpg |
| Combined (estimate) | 22 mpg | 24 mpg |
| Performance | Manual | PDK |
| --- | --- | --- |
| Top Track Speed | 179 mph | 178 mph |
| 0 - 60 mph | 4.5 sec | 4.3 sec / 4.1 sec (PDK with Sport Chrono) |
| Transmission | Manual | PDK |
| --- | --- | --- |
| Manual transmission | 7-speed | - |
| PDK | - | 7-speed Porsche Doppelkupplung (PDK) |
| | | |
| Other | | |
| Luggage compartment volume (with rear seats folded) | TBD cu. ft. | TBD cu. ft. |
| Fuel Tank Capacity | TBD gal. | TBD gal. |
| Body | Manual | PDK |
| --- | --- | --- |
| Length | 177.1 in. | 177.1 in. |
| Width | TBD in. (w/o mirrors) | TBD in. (w/o mirrors) |
| Height | 50.7 in. | 50.7 in. |
| Wheelbase | 96.5 in. | 96.5 in. |
| Drag coefficient (Cd) | 0.30 | 0.30 |
| Curb weight | TBD lbs | TBD lbs |
| Towing capacity (braked / unbraked) | - / - | - / - |
| Gross Vehicle Weight Rating (GVWR) | TBD lbs | TBD lbs |
| | | |
| MSRP | Manual | PDK |
| --- | --- | --- |
| | From $ 110,300.00* | From $ 113,510.00* |
*Manufacturer's Suggested Retail Price. Excludes options; taxes; title; registration; delivery, processing and handling fee; dealer charges. Dealer sets actual selling price.