2018 Porsche 911 GT3 Overview
2018 Porsche 911 GT3 For Sale


Porsche 911 GT3 For Sale
2018 Porsche 911 GT3 Performance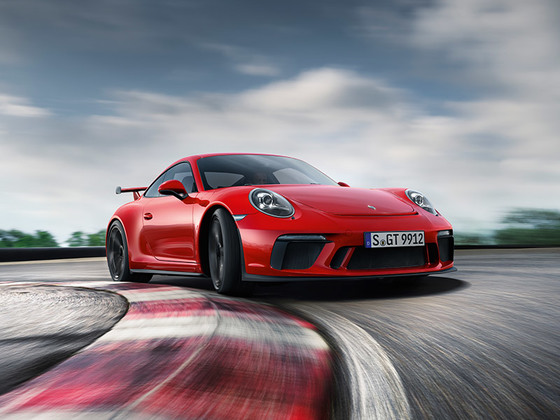 6-speed GT sports manual transmission*
In all honesty, we can't promise you a particularly great deal at this point. Apart from a whole lot of effort, sweat, aching muscles and tears. Tears of joy, that is, because the optional 6-speed GT sports manual transmission brings pure, hands on pleasure back to the cockpit. Six performance-oriented gears are available for you to select, with every single bite of the clutch also accompanied by a surge of adrenaline. With the 6-speed GT sports manual transmission, the focus is not on every tenth of a second, but on unconditional driving pleasure and unfiltered emotion.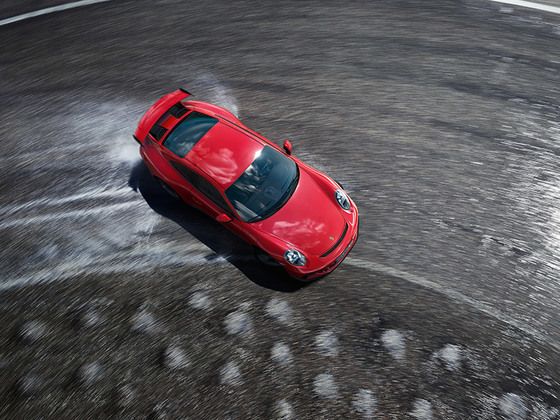 Rear axle steering
Fitted as standard, rear-axle steering combines performance and everyday driveability. An electromechanical adjustment system at each rear wheel enables the steering angle to be adapted based on the current driving situation, steering input and vehicle speed.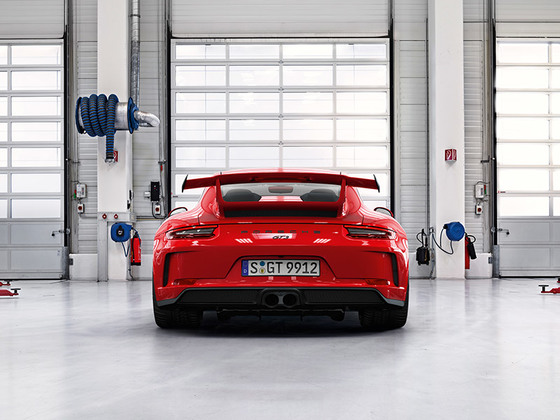 Dynamic engine mounts
This electronically controlled system minimises the perceptible oscillations and vibrations of the entire drivetrain, especially the engine, and combines the benefits of a hard or soft engine mounting arrangement.
2018 Porsche 911 GT3 Appearance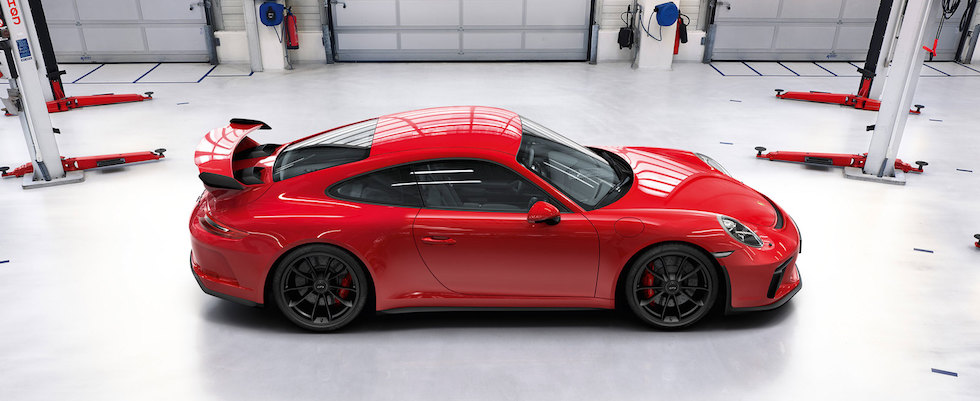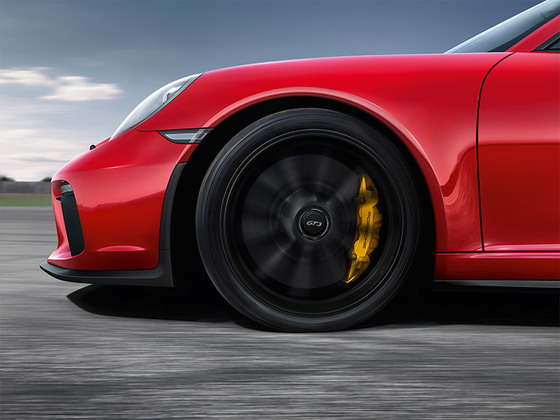 Wheels and tires
The 20-inch 911 GT3 wheels are silver colored as standard and made from a forged alloy. The central locking device bearing the 'GT3' logo is the essence of motorsport. Compared with the conventional five wheel bolts, it offers enhanced performance thanks to the reduction in rotating masses. And, of course, it ensures a faster wheel change.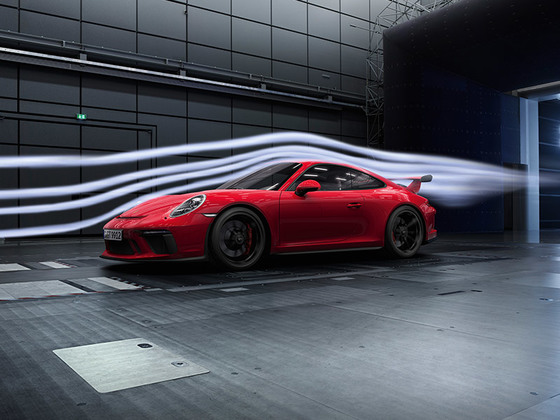 Aerodynamics and design
The first impression is like the second: the new 911 GT3 has a more imposing appearance. And always looks ready to pounce. More aggressive as well? We prefer to say: more impatient. At least for those on the racetrack who see it approaching in their rear-view mirror.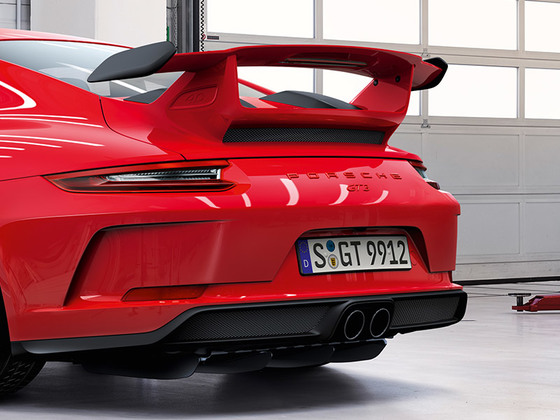 Sports exhaust system
The sports exhaust system of the new 911 GT3 has two front silencers, two catalytic converters and one rear silencer, which discharges into the central twin-tract tailpipes. The large volume of the exhaust system reduces exhaust back pressure and thus increases power output.
2018 Porsche 911 GT3 Comfort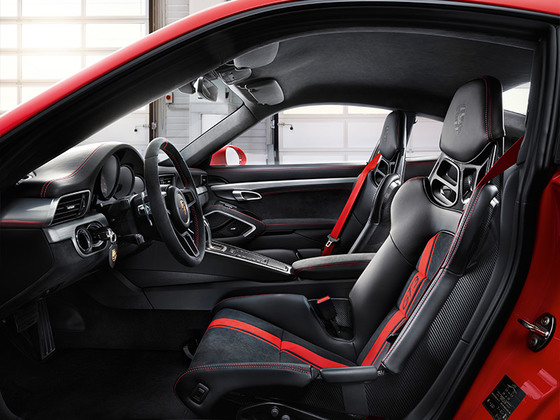 Instruments
Precise not fanciful, minimalist not trendy. True to Porsche style, the five round instruments integrated into the cockpit lead the way. The rev counter resides in the middle. Its dial is titanium colored and bears the 'GT3' logo. The instrument cluster with 4.6-inch color screen provides you with a continuous stream of data from the on-board computer, including average speed and fuel consumption, fuel range and outside temperature, and allows you to view Tire Pressure Monitoring System (TPMS) information as well as the stopwatch of the optional Chrono Package. It also reminds you of your selected communication and audio settings or displays the map of the navigation system – but only for the rare occasion you aren't on the racetrack.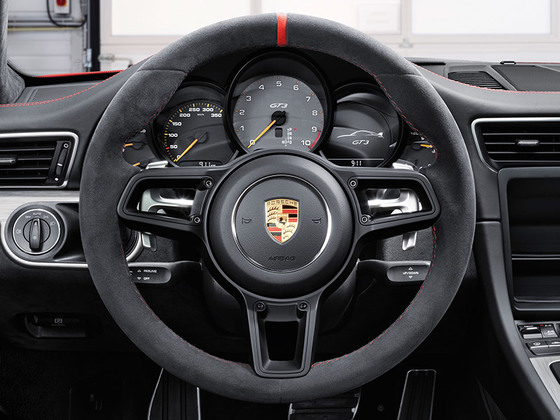 Sports steering wheel with gearshift paddles
Change gear like a motorsport professional – using the Sports steering wheel with gearshift paddles. The sporty shift throw of the paddles is authentically short, making gearshifts even more direct and precise. The Sports steering wheel offers up to 40 mm of height and reach adjustment. The steering wheel rim in black Alcantara® is easy to grip and remains in firm hands, even on sporty drives.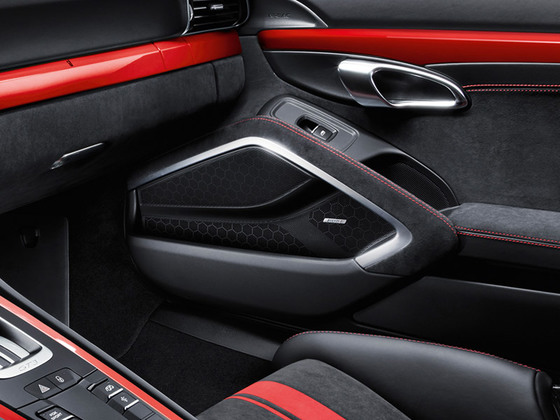 BOSE® Surround Sound System
The optional BOSE® Surround Sound System has been specially developed for the 911 models and is optimally tuned to the specific interior acoustics of these particular vehicles. The audio system features 12 fully active loudspeakers and amplifier channels including a patented 100-watt subwoofer integral to the vehicle bodyshell. This fully active system setup enables each individual loudspeaker to be optimally adapted to the vehicle interior and transforms the 911 GT3 into a fast-moving concert hall. Total output 555 watts.
2018 Porsche 911 GT3 Safety
New Car Limited Warranty & Porsche 24-Hour Roadside Assistance Program for 4-Years / 50,000 Miles (whichever occurs first)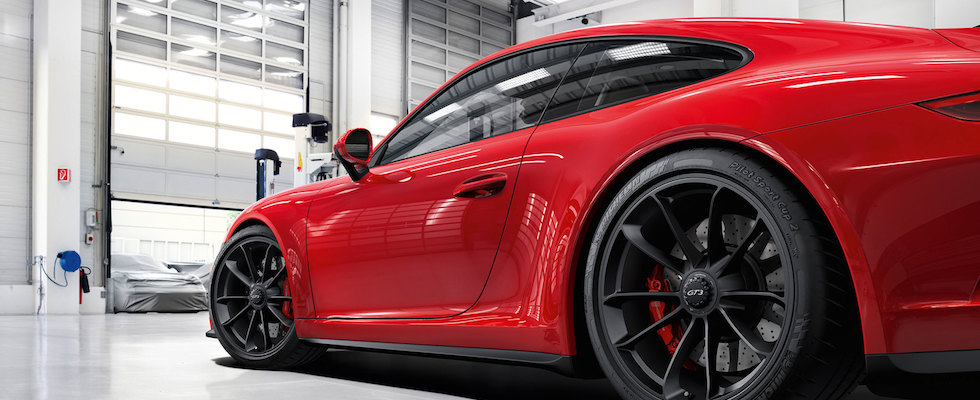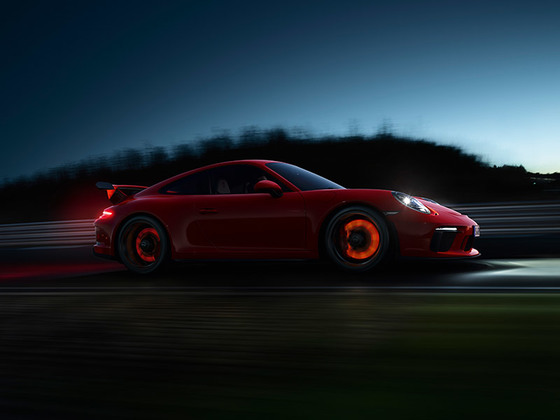 Brakes
The new 911 GT3 is equipped as standard with a particularly powerful brake system with a specifically matched brake booster. The red six-piston aluminium brake calipers on the front axle and the four-piston equivalents at the rear are designed as monobloc units. This makes them highly resistant to deformation and enables a more rapid response and release of the brake, even under heavy loads.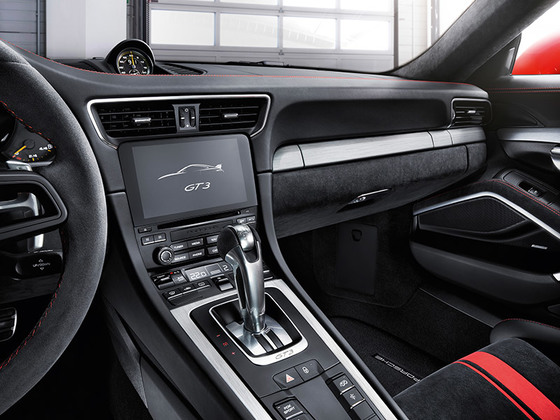 Airbags and Porsche Side Impact Protection System (POSIP)
Advanced airbag technology is integrated in the form of full-size driver and passenger airbags, which are inflated in two stages depending on the severity and type of accident. The Porsche Side Impact Protection System (POSIP) also comes as standard. It comprises side impact protection elements in the doors and two side airbags on each side: an integral thorax airbag in each seat side bolster, and an upwards-inflating head airbag incorporated within each door.
2018 Porsche 911 GT3 Specification

Height: 50.0 in.
Width (w/ mirrors folded): 77.8 in. (72.9 in.)
Wheelbase: 96.7 in.
Length: 179.6 in.
Specs reflect base model unless otherwise noted.
| Engine | Manual | PDK |
| --- | --- | --- |
| Cylinder layout / number of cylinders | 6 | 6 |
| Displacement | 4.0 liters | 4.0 liters |
| Horsepower | 500 hp | 500 hp |
| @ rpm | 8250 rpm | 8250 rpm |
| Torque | 339 lb.-ft. | 339 lb.-ft. |
| Compression ratio | 13.3 : 1 | 13.3 : 1 |
| Fuel Consumption | Manual | PDK |
| --- | --- | --- |
| City | TBD mpg | TBD mpg |
| Highway | TBD mpg | TBD mpg |
| | | |
| Performance | Manual | PDK |
| --- | --- | --- |
| Top Track Speed | 198 mph | 197 mph |
| 0 - 60 mph | 3.8 sec | 3.2 sec |
| Transmission | Manual | PDK |
| --- | --- | --- |
| Driveline layout | Rear-wheel drive | Rear-wheel drive |
| Manual Gearbox | 6 speed | - |
| | | |
| Other | | |
| Luggage compartment volume | 4.4 cu.-ft. | 4.4 cu.-ft. |
| Fuel tank | 16.9 gal. | 16.9 gal. |
| Body | Manual | PDK |
| --- | --- | --- |
| Length | 179.6 in. | 179.6 in. |
| Width (w/ mirrors folded) | 77.8 in. (72.9 in.) | 77.8 in. (72.9 in.) |
| Height | 50.0 in. | 50.0 in. |
| Wheelbase | 96.7 in. | 96.7 in. |
| Drag coefficient (Cd) | 0.33 | 0.33 |
| Curb Weight | 3,116 lbs | 3,153 lbs |
| | | |