2018 Porsche 911 GT2 RS Overview
2018 Porsche 911 GT2 RS For Sale


Porsche 911 GT2 RS For Sale
2018 Porsche 911 GT2 RS Performance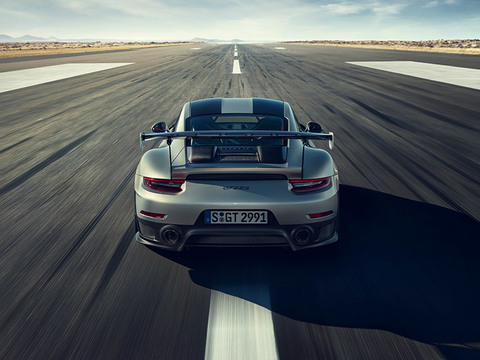 Engine
A quick look at the speedometer. It goes up to TBA mph. A figure that will bring tears of joy to the eyes of every sports car fan. And also sets the tone for the top track speed: 211 mph Vmax. How does the new 911 GT2 RS achieve this? Quickly, of course. It ticks the acceleration from 0 to 60 mph box after just 2,7 seconds. It reaches the 124 mph mark after only 8.3 seconds. And after 22.1 seconds the 186 mph mark is water under the bridge.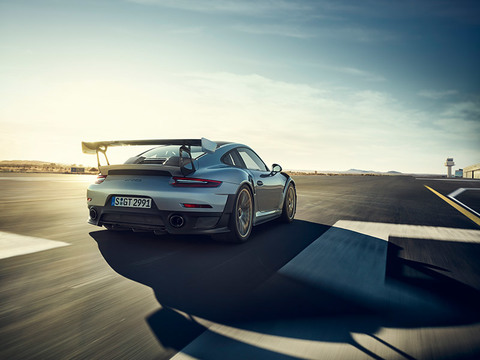 Rear axle steering
Fitted as standard, the rear-axle steering with sports tuning combines performance and everyday driveability. An electromechanical adjustment system at each rear wheel enables the steering angle to be adapted based on the current driving situation, steering input and vehicle speed.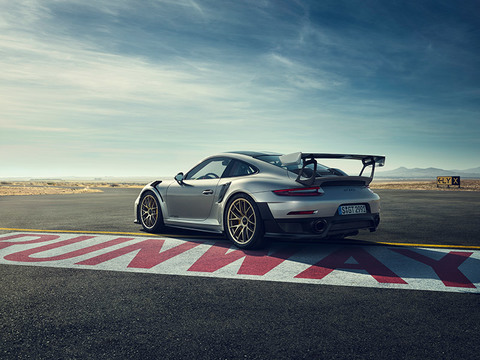 Porsche Active Suspension Management (PASM)
This electronic damping control system actively and continuously adjusts the damping force on each wheel – based on current road conditions and driving style. You can switch between two sporty programs at the touch of a button. Normal mode is designed for sporty driving on public roads and wet race circuits. Sport mode is specially designed for maximum lateral acceleration and optimum traction on the racetrack.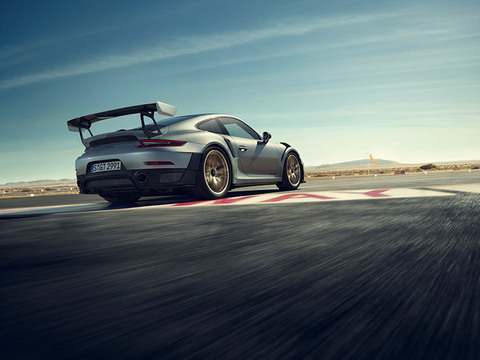 Dynamic Engine Mounts
This electronically controlled system minimizes the perceptible oscillations and vibrations of the entire drivetrain, particularly of the engine, and combines the benefits of a hard or soft transmission mounting arrangement. A hard transmission mounting arrangement is best for driving dynamics, as it results in highly accurate roadholding. A soft transmission mounting arrangement, on the other hand, minimizes oscillations and vibrations, thereby improving comfort on uneven road surfaces, but at the expense of driving dynamics.
2018 Porsche 911 GT2 RS Appearance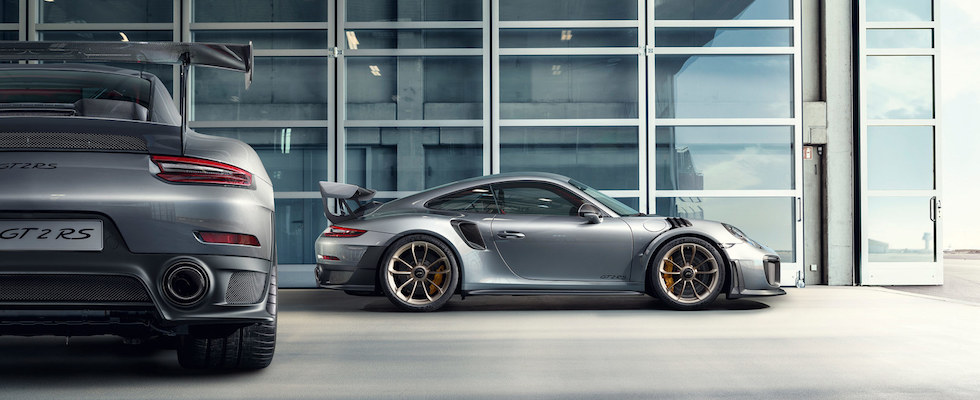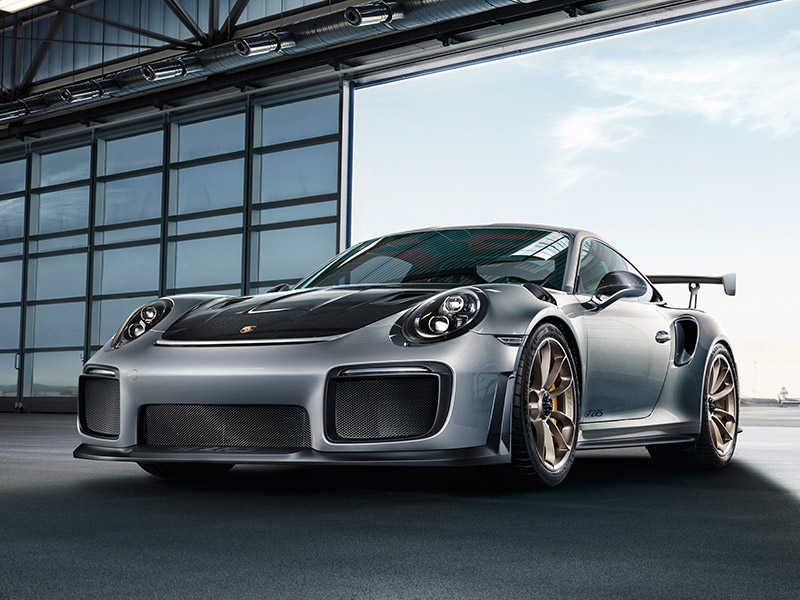 Aerodynamics and design
The design of the new 911 GT2 RS must therefore reconcile diametrically opposed requirements: top speed (maximum drag coefficient) on the one hand and race-optimized aerodynamics (maximum downforce) on the other. No easy task? Our engineers love reaching new heights, especially when things get tricky. Distinguishing features for ultimate performance: the extremely large side air intakes for the intercooling of the new 911 GT2 RS. The sideskirts are also wider than those of the previous model, resulting in a larger underbody area and therefore increased downforce.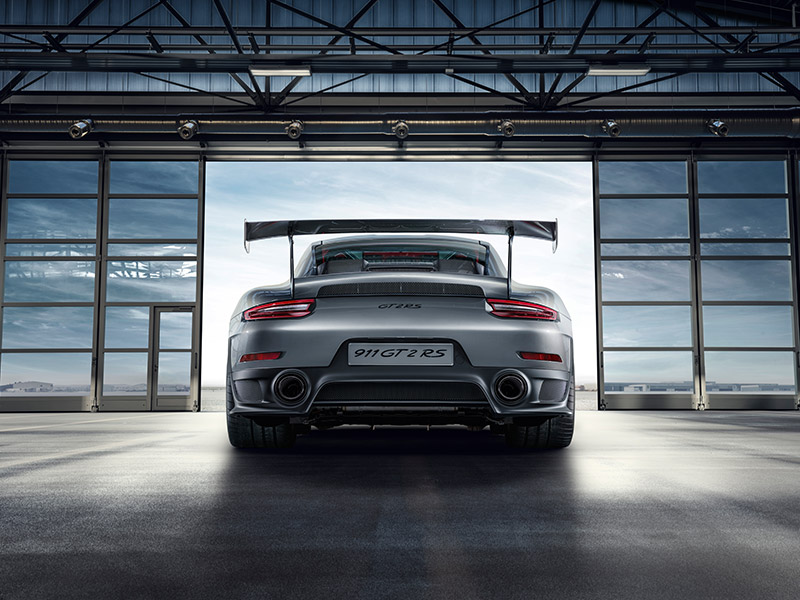 Idea 911 GT2 RS
The new 911 GT2 RS is simply the most powerful 911 ever built by Porsche – with the performance level of a super sports car. Its design combines the aerodynamic requirements of optimum downforce and maximum air supply. Its consistent lightweight construction makes it a pure athlete. Its racing chassis with excellent cornering stability gives the new 911 GT2 RS those crucial additional seconds. And its 3.8-liter, six-cylinder, twin turbo engine, producing 515 kW (700 hp), lends it sufficient authority to lead the field.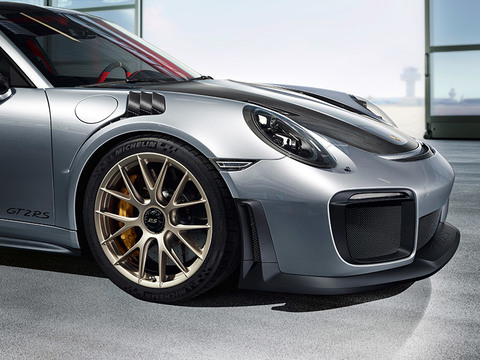 Wheels and tires
The new, light-alloy wheels of the 911 GT2 RS are painted in White Gold Metallic (high-gloss) and characterized by visible, recessed 'GT2 RS' logos on the rim. At this performance level, the central locking system goes without saying. The central wheel bolts are black and feature the distinctive 'RS' logo.
2018 Porsche 911 GT2 RS Comfort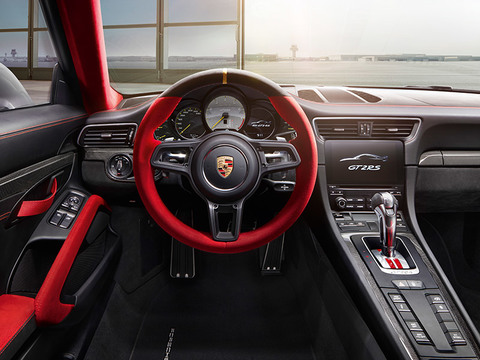 Materials
The materials represent a clear, sporty design and maximum quality. They are dominated by red Alcantara®, black leather and the carbon-weave finish of many of the interior components. Alcantara® is easy to grip and maintain and also washable. For this reason, it's mainly used in places where there is direct contact: on the steering wheel rim and gear stick as well as on the door handles, door armrests and lid of the center console storage compartment. The roof lining and A, B and C-pillar trims are also finished in Alcantara®.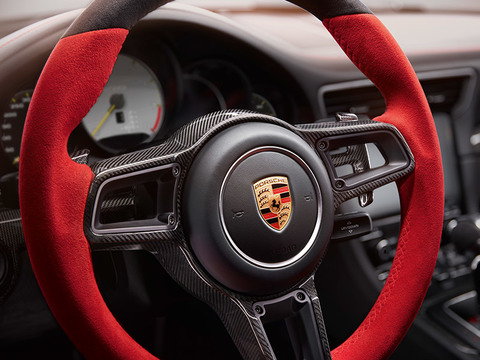 GT2 RS Sports steering wheel
Motorsport-inspired gear changes – the GT2 RS Sports steering wheel with gearshift paddles enables fast, sporty gear changes, thereby making them even more direct and precise. The Sports steering wheel can be axially and vertically adjusted by up to TBA in. The steering wheel rim is made of black and red Alcantara®, is easy to grip, feels comfortable even during sporty driving and features a trendsetting top center marking in yellow.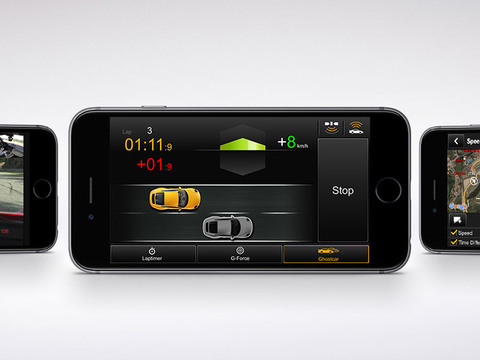 Porsche Track Precision App*
The 'Porsche Track Precision app' allows you to record, display and analyze detailed driving stats using your smartphone. Lap times can be clocked automatically via a precise 10-Hz PCM GPS signal, or manually via the control lever of the optional Chrono Package, or even more accurately using the lap trigger optionally available from Porsche Tequipment, and then compared using your smartphone.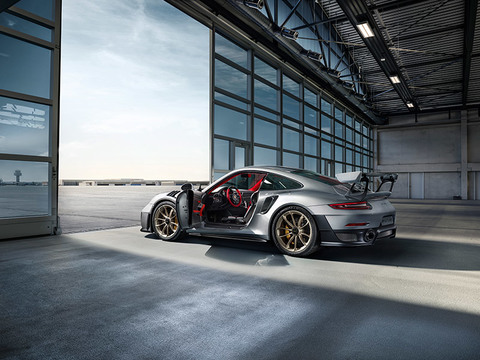 BOSE® Surround Sound System
The optional BOSE® Surround Sound System has been specially developed for the 911 models and is optimally tuned to the vehicles' specific internal acoustics. The audio system has 12 loudspeakers and amplifier channels, including a robust, patented 100-watt subwoofer. The fully active system design allows each individual loudspeaker to be optimally adjusted to the vehicle interior, transforming the 911 GT2 RS into a concert hall in the blink of an eye. Total output: 555 watts.
2018 Porsche 911 GT2 RS Safety
New Car Limited Warranty & Porsche 24-Hour Roadside Assistance Program for 4-Years / 50,000 Miles (whichever occurs first)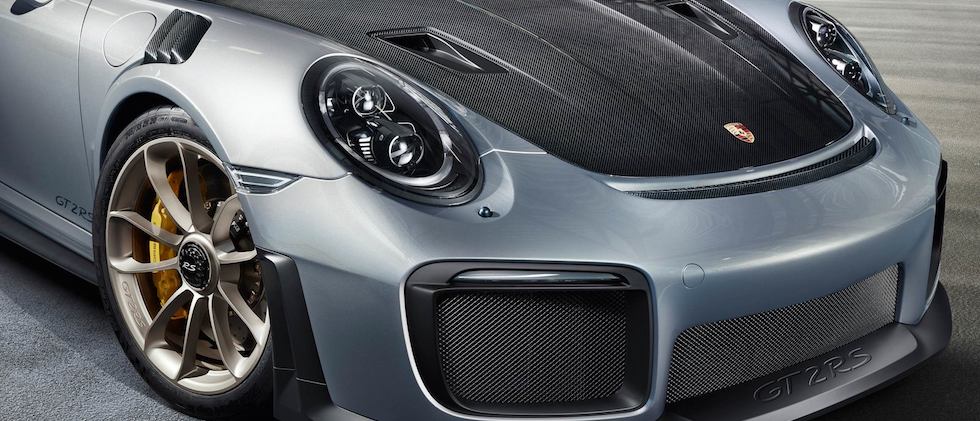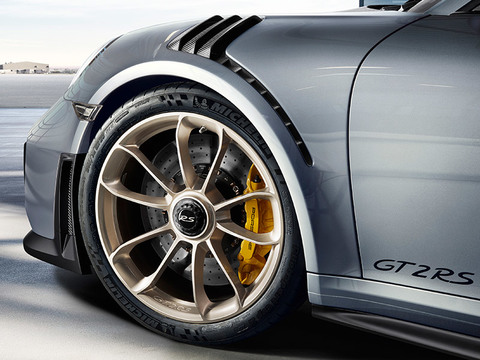 Porsche Ceramic Composite Brake (PCCB)
The size of the ceramic brake discs takes account of the performance potential of the new 911 GT2 RS. The cross-drilled ceramic brake discs have a correspondingly large diameter of TBA in at the front axle and TBA in at the rear – for even more formidable braking performance. PCCB enables shorter braking distances, particularly in tough road and race conditions. Safety when braking at high speed is also improved, thanks to its excellent fading stability. This results in better roadholding and increased comfort, particularly on uneven roads, as well as greater agility and a further improvement in handling.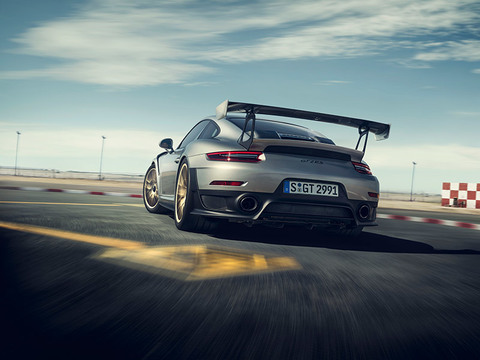 Porsche Stability Management (PSM)
PSM maintains stability even at the limits of dynamic driving performance. In addition to the anti-lock braking system, PSM also includes Electronic Stability Control (ESC) and Traction Control (TC). Sensors continuously monitor the direction, speed, yaw velocity and lateral acceleration of the car. Using this information, PSM is able to calculate the actual direction of travel at any given moment and initiates strategic braking of individual wheels to prevent you from deviating from your intended line.
2018 Porsche 911 GT2 RS Specification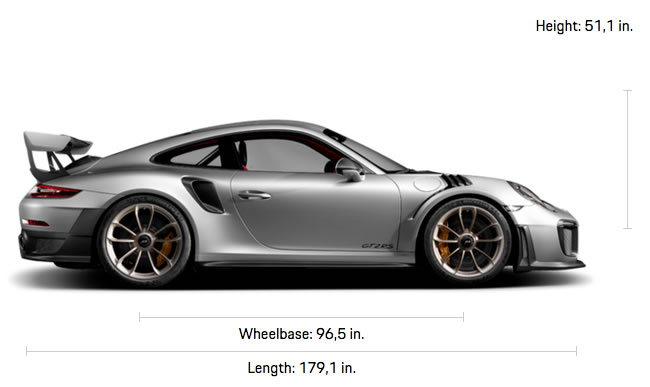 | | PDK |
| --- | --- |
| Horsepower | 700 hp at 7000 rpm |
| 0 - 60 mph | 2.7 sec |
| Top Track Speed | 211 mph |
| Fuel Consumption City (estimate) | TBD mpg |
| Highway (estimate) | TBD mpg |