2018 Porsche 911 Carrera Overview
2018 Porsche 911 Carrera For Sale

911 Carrera S

MSRP $105,100

911 Carrera Cabriolet

MSRP $103,400

911 Carrera S Cabriolet

MSRP $117,400

911 Carrera 4

MSRP $98,000

911 Carrera 4S

MSRP $112,000

911 Carrera 4 Cabriolet

MSRP $110,300

911 Carrera 4S Cabriolet

MSRP $124,300
Porsche 911 Carrera For Sale
2018 Porsche 911 Carrera Performance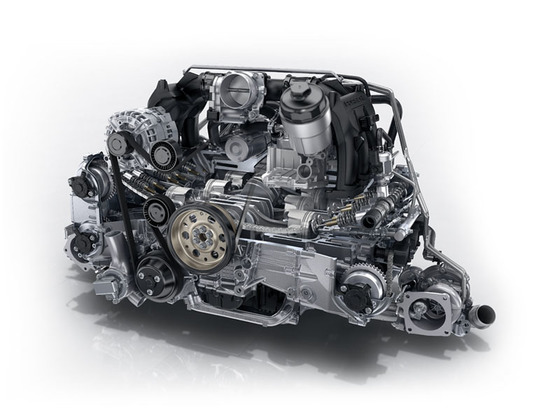 Engines
At Porsche, there are no conventions. Forbidding free thought? That's forbidden. The only thing that matters is this question: how can we become even better? Let's put it another way: can we redefine the limits of engineering? Can we reconcile apparent contradictions? Yes, we can. With Intelligent Performance. The engine of the 911 Carrera models develops 370 hp. The maximum torque of 325 lb.-ft. is available from as low as 1,700 rpm. With Porsche Doppelkupplung (PDK), the 911 Carrera can accelerate from 0 to 100 km/h in only 4.4 seconds and reach a top speed of 293 km/h.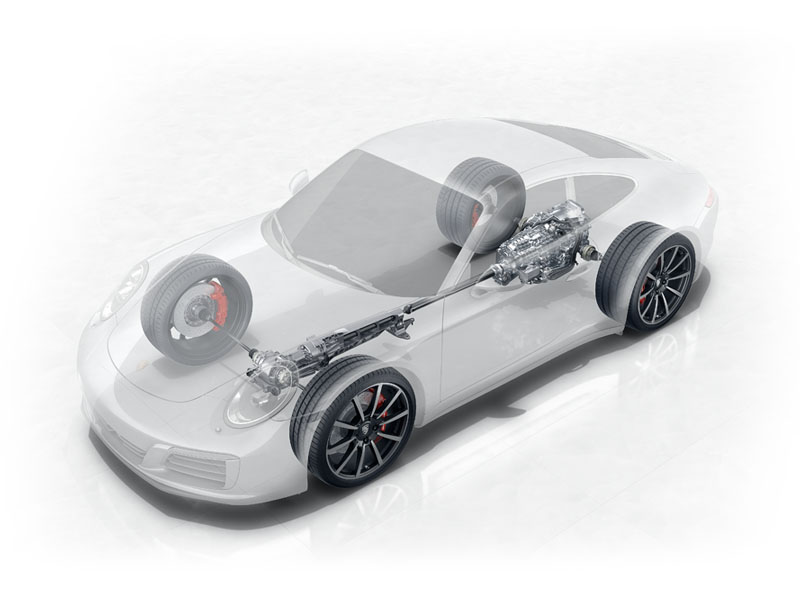 Rear-wheel and all-wheel drive
The answer may turn out differently on either side, but neither would be wrong. Those who recognise the rear-driven variant as being the one true 911 should consider that the all-wheel drive setup goes back to the legendary Paris–Dakar Rally of 1984, when the Porsche 953 based on the 911 wrote its own chapter in sport – and engineering – history. Fun in the corners, by the way, is guaranteed by both drive layouts. Rear or all-wheel drive? Whatever stance you take, the most fascinating philosophy of life is and shall remain the practical one. At Porsche, this philosophy has been about the road for well over 60 years.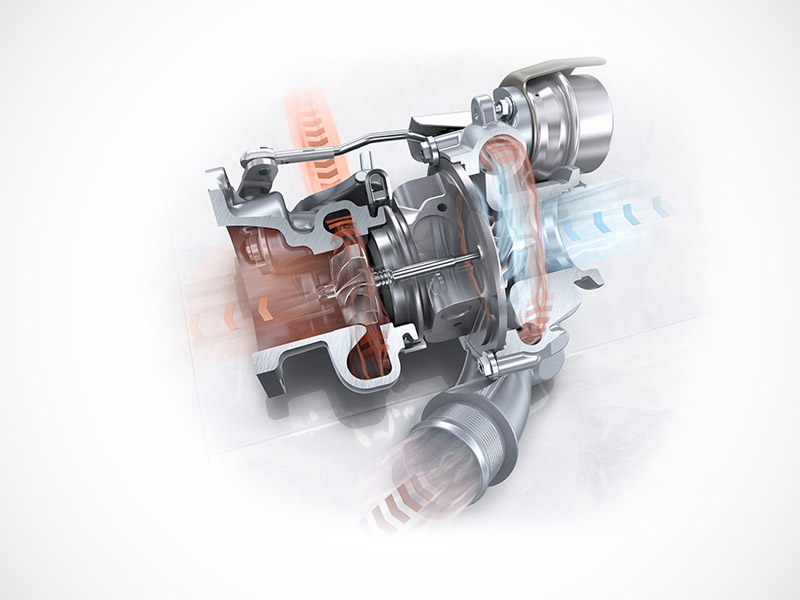 Turbochargers
The displacement of the new 911 models has been considerably reduced with the aim of cutting fuel consumption. That's because we more than most as a sports car manufacturer bear huge responsibility. Nevertheless, the power output of the new engines has been significantly increased. Responsible for that are the turbochargers developed for the 911 completely from scratch.
The drive system is a twin-turbo configuration. It has two turbochargers with one charge-air cooling for each cylinder bank. Both turbos are particularly compact and have been optimally adapted to the displacement and power output of the engine. This construction minimises the inertia of the drivetrain and improves responsiveness. The new turbochargers leave the sceptics in their wake and find a new destination: unexplored levels of torque.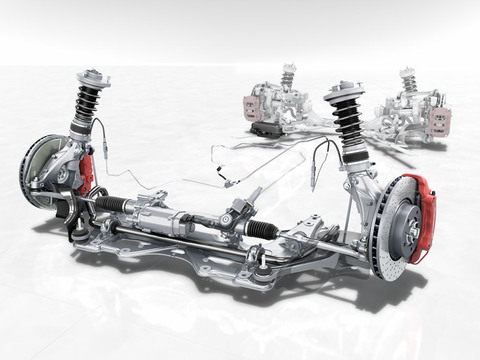 Porsche Active Suspension Management (PASM)
PASM is fitted as standard in all 911 models for the first time. This electronic damping control system continuously adjusts the damping force on each wheel, based on current road conditions and driving style. PASM has two modes, which can be selected using a separate button on the centre console: 'Normal', which is a blend of performance and comfort, and 'Sport' where the setup is much firmer. The results are tangible: increased driving stability, improved comfort and enhanced performance.
2018 Porsche 911 Carrera Appearance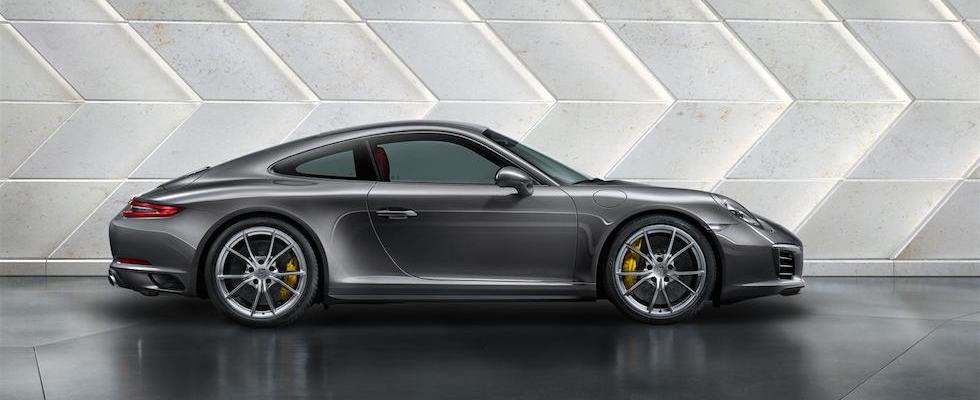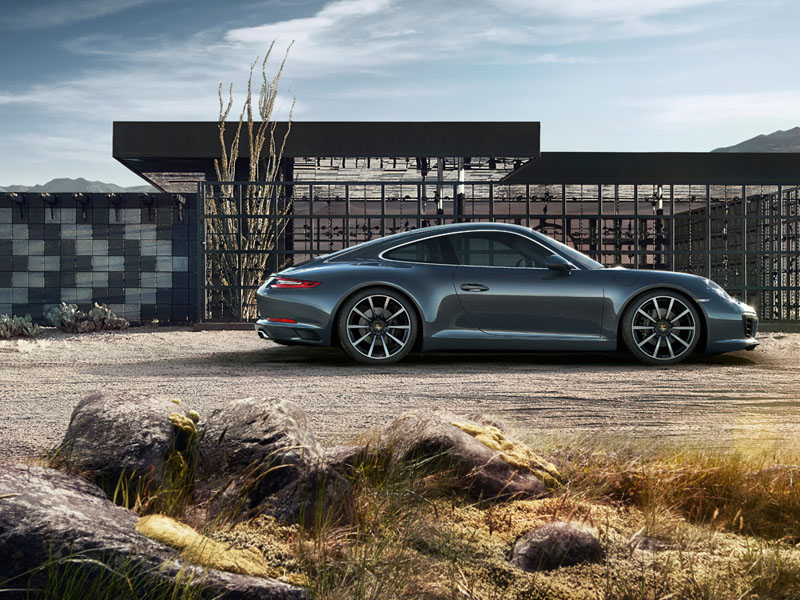 Design
The design of the 911 shows where we come from and where our roots are. But it also shows the direction of our thinking and how we see the future. The front has been reshaped for an even sportier look. The air intakes are larger, the design is even more succinct. In the side air intakes, new active air intake flaps control aerodynamics and cooling performance as required.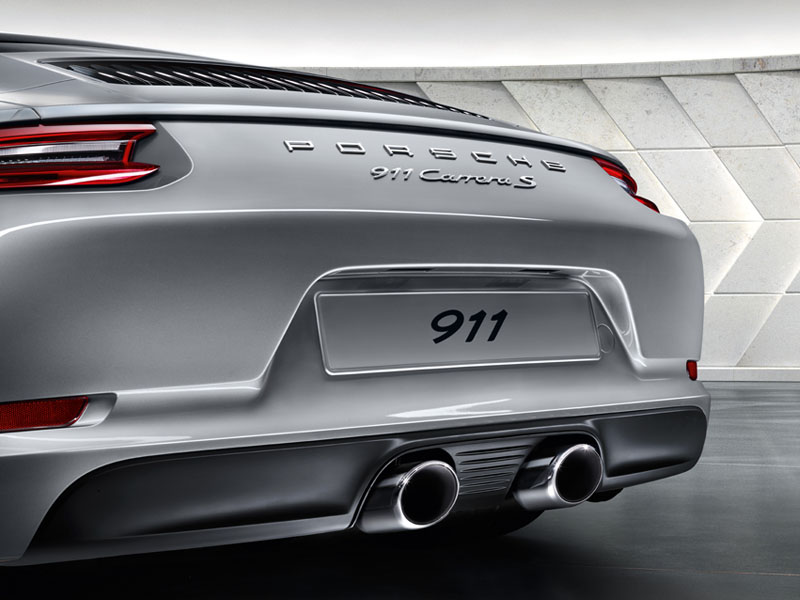 Sport exhaust system
It's a first for any Porsche turbocharged boxer engines, and it's a technical innovation. Available as an option for the new 911, the sport exhaust system features two catalytic converters and a rear silencer, which lead into two centrally positioned tailpipes. For a look otherwise more likely to be seen on the racetrack. For impressive resonance and an intense sports car sound – typical of the 911. For 100 % Porsche. And for goose bumps at the push of a button.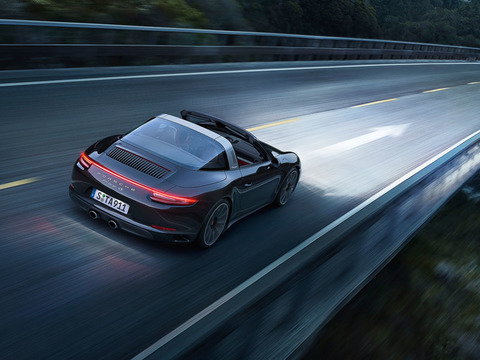 Lights
A restyling of the Bi-Xenon main headlights – fitted as standard – sees the four-spot LED daytime running lights now incorporated into each headlight unit. These are an innovative technical feature of the new 911 models – and a facet of their personality. After all, it is the characteristic lighting design that makes the face of the 911 so unmistakable.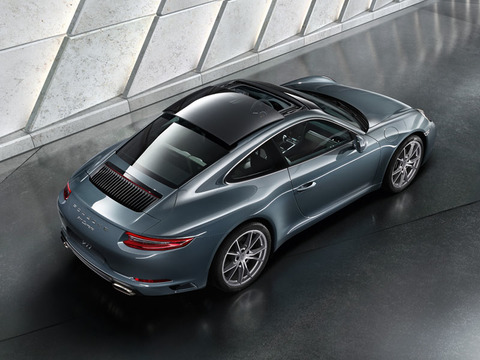 Slide/tilt sunroof
The electrically adjustable slide/tilt sunroof is available as an option for the 911 Coupé models. It opens outwards so that it does not interfere with headroom. Another advantage of this innovative design is the particularly large aperture for increased driving pleasure under the open sky. The net-type wind deflector protects against draught and further reduces wind noise.
2018 Porsche 911 Carrera Comfort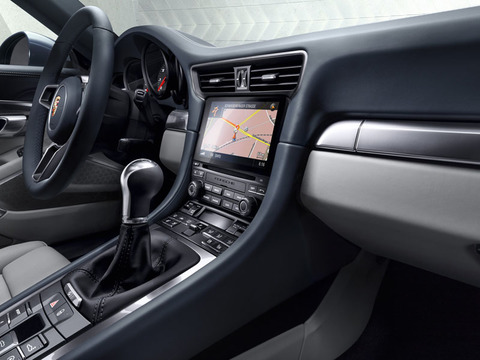 Climate control
An active carbon filter traps particles, pollen and odours and an automatic airrecirculation function permanently monitors air quality, reduces humidity and switches from fresh to recirculated air when required. A demister function keeps the windows clear in cold weather. In warmer weather, strong sunlight is detected by a solar sensor, for which the air conditioning system automatically compensates in order to maintain the comfort of both the driver and front passenger.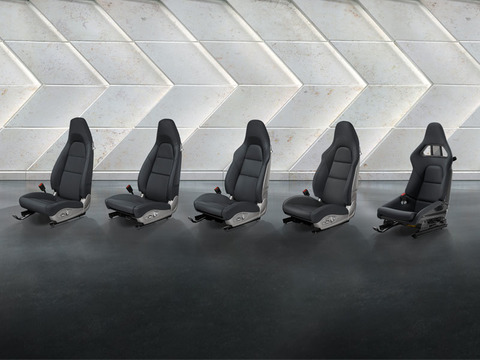 Seat heating and ventilation
Seat heating is available as an option for all seats. Seats are heated in the squab, the backrest and, for the front seats, the side bolsters. Seat ventilation is also available on request (excluding Sports bucket seats) – for a pleasant and dry seating environment, even in hot weather.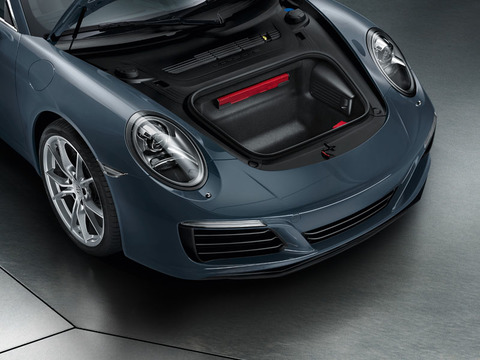 Luggage compartment
The luggage compartment volume in the 911 models is 145 liters – 125 liters in the 911 all-wheel drive models. The luggage compartment is fully trimmed in scratch-resistant materials.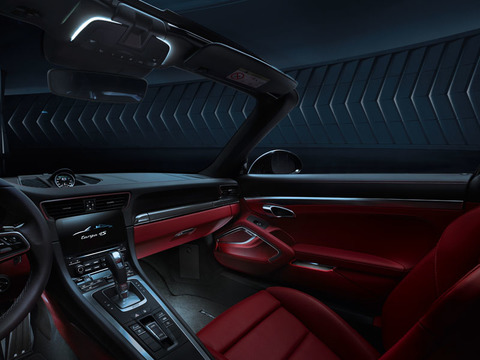 Light design package
The optional light design package is both practical and aesthetically appealing. It comprises dimmable LEDs in the overhead console and in the areas of the door handles, door storage compartments, front footwells and rear seats.
2018 Porsche 911 Carrera Safety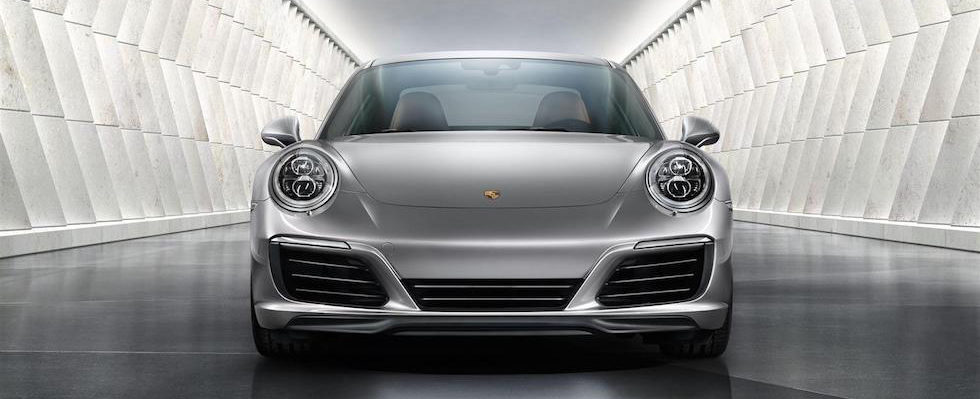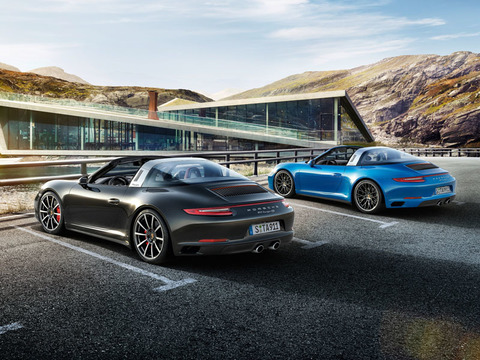 ParkAssist
Featuring four inconspicuous sensors in the rear end, the system audibly alerts the driver to the presence of obstacles detected behind the vehicle. An intermittent warning tone increases in rapidity as the obstacle is approached. ParkAssist comes standard and monitors the front end with four additional sensors. The audible alert is supplemented by a visual warning in the central display screen, which shows a graphical representation of the vehicle from overhead. The standard reversing camera facilitates precise reverse parking and manoeuvring. Help is provided in the form of the camera image and the dynamic, superimposed guidelines on the PCM screen, which illustrate the predicted course of the vehicle given the current position of the steering wheel.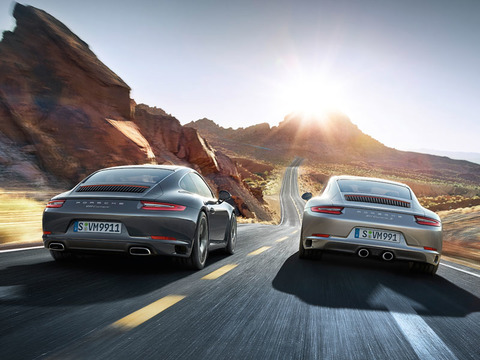 Lane Change Assist
New Lane Change Assist, available as an option, uses radar sensors to monitor the areas to the rear of the vehicle and the blind spots on either side. Above a speed of 15 km/h, the system issues a visual warning signal in the door mirror panel whenever a vehicle rapidly approaches your vehicle from behind or enters one of your blind spots. In this way, Lane Change Assist improves comfort and safety, particularly on motorways. However, the system does not actively intervene to control the vehicle and can be deactivated at any time.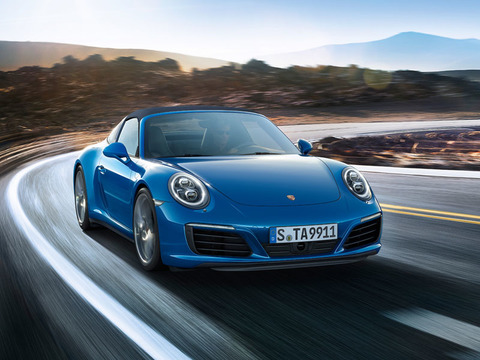 Roll-over protection
In the 911 Carrera Cabriolet models, an automatically deploying roll-over protection system offers added protection if the car were to overturn. Two spring-loaded roll-over bars are neatly incorporated behind the rear seats. The roll-over sensor continuously monitors the car's pitch and roll, contact with the road, as well as lateral and longitudinal forces. The instant a potential roll-over is detected, it initiates deployment of the roll-over bars within fractions of a second.
2018 Porsche 911 Carrera Specification

Height: 50.9 in. (1,294 mm)
Width: 71.2 in. (w/o mirrors)
Wheelbase: 96.5 in. (2,450)
Length: 177.1 in. (4,499 mm)
Specs reflect base model unless otherwise noted.
| Engine | Manual | PDK |
| --- | --- | --- |
| Cylinder layout / number of cylinders | Boxer 6 | Boxer 6 |
| Displacement | 3.0 l | 3.0 l |
| Engine layout | Rear engine | Rear engine |
| Horsepower | 370 hp | 370 hp |
| Max. Torque | 331 lb.-ft. | 331 lb.-ft. |
| Compression ratio | 10.0 : 1 | 10.0 : 1 |
| | | |
| Performance | Manual | PDK |
| Top Track Speed | 183 mph | 182 mph |
| 0 - 60 mph | 4.4 sec | 4.2 sec / 4.0 sec (PDK with Sport Chrono) |
| Flexibility 50 - 75 mph (in 5th gear) | 5.5 sec | - |
| | | |
| Transmission | Manual | PDK |
| Driveline layout | Rear wheel drive | Rear wheel drive |
| | | |
| Other | | |
| Luggage compartment volume (DIN measurements) | 5.1 ft³ | 5.1 ft³ |
| Fuel Tank Capacity | 16.9 gal. | 16.9 gal. |
| Body | Manual | PDK |
| --- | --- | --- |
| Length | 177.1 in. (4,499 mm) | 177.1 in. (4,499 mm) |
| Width | 71.2 in. (w/o mirrors) | 71.2 in. (w/o mirrors) |
| Height | 50.9 in. (1,294 mm) | 50.9 in. (1,294 mm) |
| Wheelbase | 96.5 in. (2,450 mm) | 96.5 in. (2,450 mm) |
| Drag coefficient (Cd) | 0.29 | 0.29 |
| Curb weight | 3,153 lbs | 3,153 lbs |
| Towing capacity (braked / unbraked) | - / - | - / - |
| Gross Vehicle Weight Rating (GVWR) | 4,133 lbs | 4,133 lbs |
| | | |
| Fuel Consumption | Manual | PDK |
| --- | --- | --- |
| City (estimate) | 20 mpg | 22 mpg |
| Highway (estimate) | 29 mpg | 30 mpg |
| Combined (estimate) | 23 mpg | 25 mpg |
MSRP
Manual
PDK
From $ 91,100.00*
From $ 94,310.00*

*Manufacturer's Suggested Retail Price. Excludes options; taxes; title; registration; delivery, processing and handling fee; dealer charges. Dealer sets actual selling price.