2018 FIAT 500e OVERVIEW
2018 FIAT 500e For Sale
"Ugliness Is The Worst Form Of Pollution."
—fiatusa.com
121 MPGe City/103 MPGe Highway Ratings
Driving Range of 84 Miles
Zero Emission Vehicle
Navigation and Uconnect® Access with Electric Vehicle App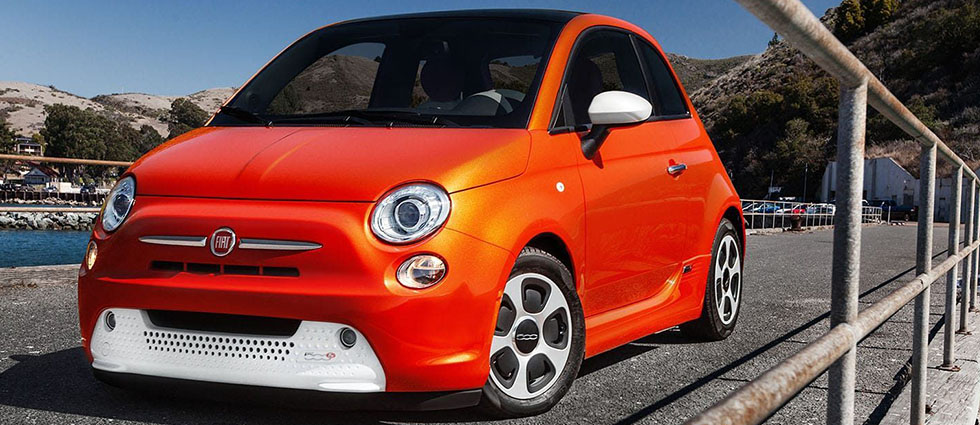 FIAT 500e For Sale
FIAT 500e PERFORMANCE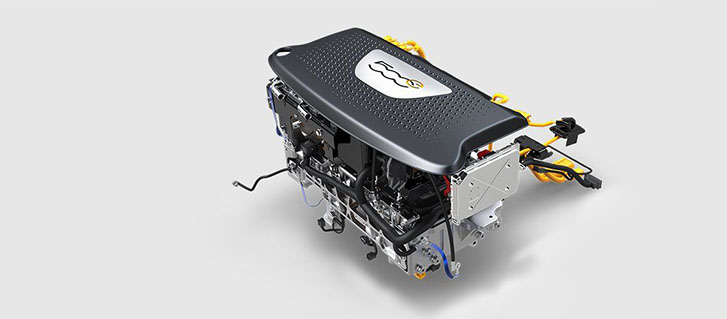 Responsible Power
The FIAT® 500e powertrain is 100% electric and composed of three main components: an advanced high-voltage lithium-ion battery pack, a high-power electric-drive motor and a power inverter module to help manage power flow. Using electricity to fuel the vehicle, you need an inverter to get the job done. It works a bit like a fuel pump in a conventional gas-powered engine, but in this case the fuel is electricity stored in the battery pack of the FIAT 500e.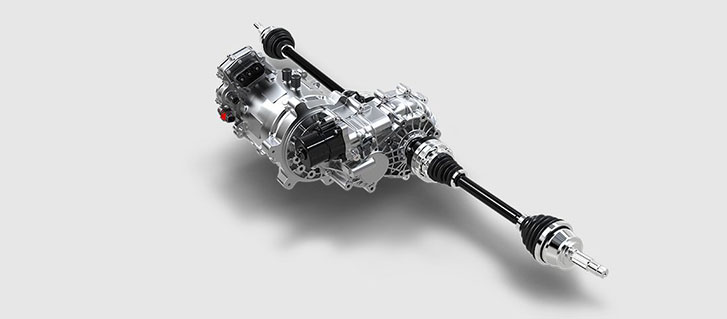 Good Riddance Gas
Even though this vehicle is electric, that doesn't mean it isn't fun to drive. Just get in and test it for yourself. The electric-drive motor is simply a device that uses electrical energy to produce mechanical energy or movement. Electric motors use electrical energy to spin. The FIAT® 500e uses an 83-kWh electric-drive motor that delivers 111 horsepower and 147 pound-feet of torque.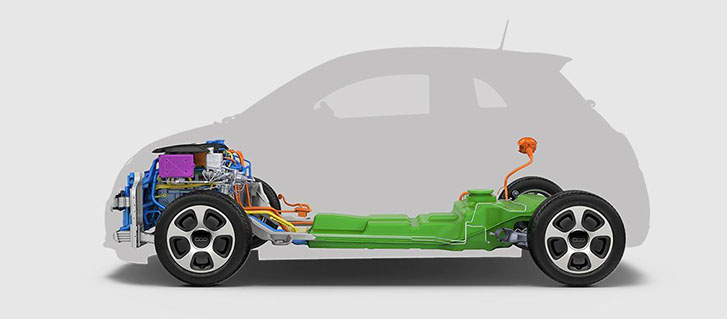 Ready As Charged
This lithium-ion battery is full of benefits—like holding its charge. It has no memory effect, which means that you do not have to completely discharge the battery before recharging, so as not to reduce battery life. And lithium-ion batteries can handle numerous charge and discharge cycles. Just as important, the battery includes a system that actively heats and cools the battery to maintain its optimal operating temperature. The high-voltage lithium-ion battery is covered by an 8-Year Limited Warranty.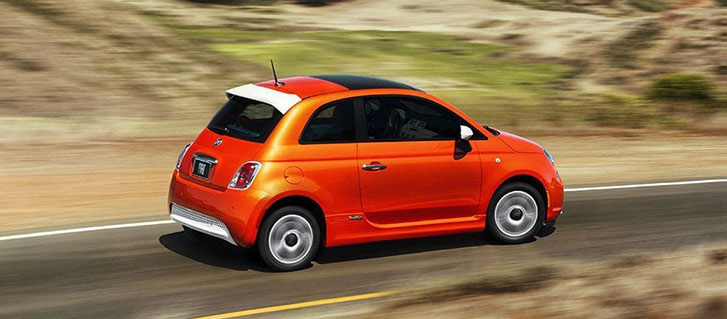 One Speed Fits All
Unlike a traditional transmission, the single-speed gearbox transmission directs the output from the electric-drive motor and provides calibrated gear reduction. Lower electric motor input speeds, decreased battery usage and more efficient use of vehicle energy with increased torque output capacity are a few of the benefits this transmission provides.
2018 500e APPEARANCE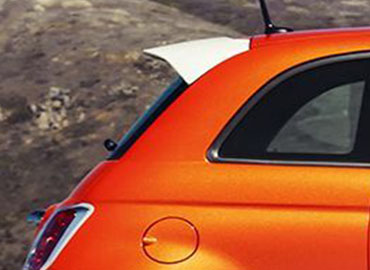 A Natural Fit
The FIAT® 500e features a rear spoiler that helps increase aerodynamic efficiency and adds style and flair.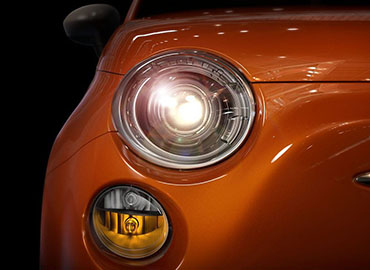 Shine On
Steer clear with circular Bifunctional Halogen Projector Headlamps and Daytime Running Lamps that feature high-tech bulbs.
FIAT 500e COMFORT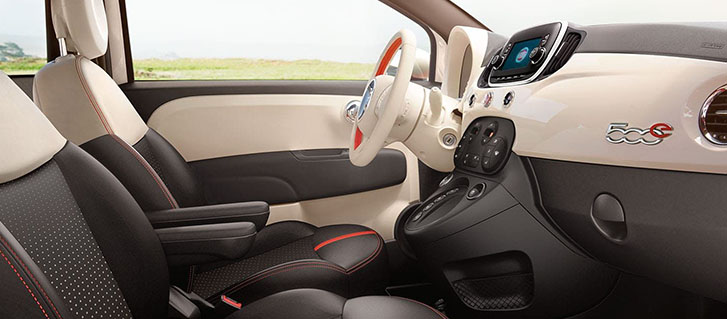 Peace Within
The FIAT® 500e offers seating that is designed for exceptional comfort. Featuring leatherette trim, the reclining front seats are heated and include a memory feature that remembers the position of the seats. So you only need to set them once. Distinctive headrests and an easy entry pull handle are also included.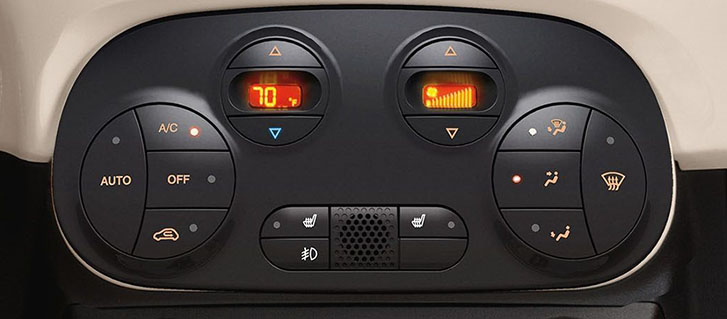 Automatic Temperature Control
Maintain your temperature in comfort and style with this standard feature. Just set the Automatic Temperature Control once and it will warm or cool the interior of your FIAT® 500e, no matter what the temperature is outside.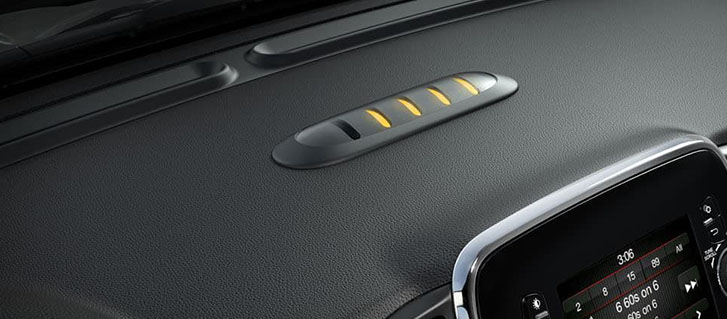 Charge Indicators
Be in charge of your charge. The FIAT® 500e is equipped with visual LED illuminated indicators to show the current charge level during charging. For your convenience, one is mounted in the instrument cluster. The second is mounted on top of the instrument panel and uses five lights as a visual reference.
2018 FIAT 500e SAFETY & WARRANTY
STANDARD COVERAGE for FIAT 500
Basic Limited Warranty 4 Yrs/50,000 Miles • Anti-Corrosion Perforation Limited Warranty 12 Yrs/Unlimited Miles • Roadside Assistance 4 Yrs/Unlimited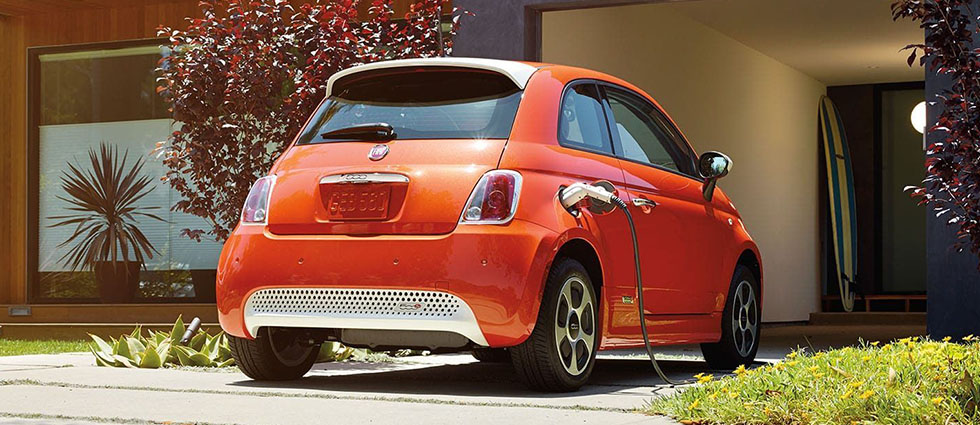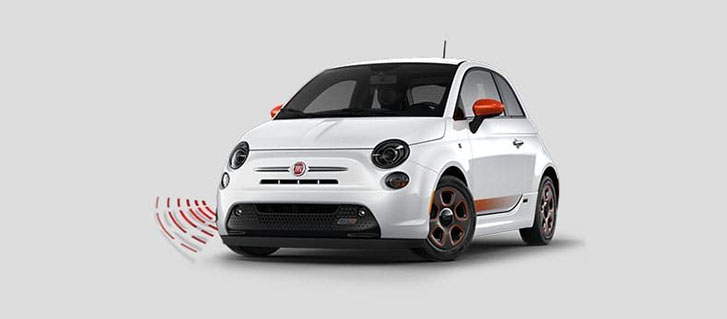 Audible Pedestrian Warning System
The FIAT® 500e has an Audible Pedestrian Warning System that uses distinctive sounds to help ensure the safety and security of other road users. The warning system is automatically activated when you shift into drive or reverse. When your driving speed reaches approximately 22 mph, the warning is deactivated until the vehicle speed returns to approximately 20 mph. The Audible Pedestrian Warning System uses an in-car sound synthesizer with a speaker located in the engine compartment.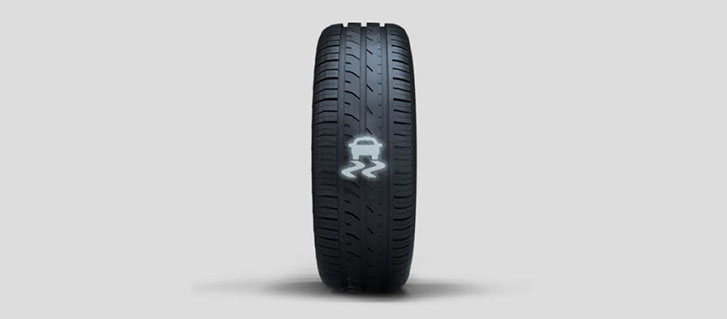 Electronic Stability Control
Using strategically placed sensors, Electronic Stability Control(ESC) compares your steering input to the direction your vehicle is actually traveling. If it senses a difference between the two, ESC applies the brakes to individual wheels automatically and may reduce engine torque to help you maintain directional control under demanding or adverse conditions.