2018 Alfa Romeo 4C Spider OVERVIEW
2018 Alfa Romeo 4C Spider For Sale
"Open-Air Seduction"
—Alfaromeousa.com
Twin Clutch Transmission
0 – 60 MPH in 4.1 Seconds
7-Inch Full-Color TFT Display
Remote Keyless Entry With Engine Immobilizer
Removable and Trunk-Stowable Soft-Top Roof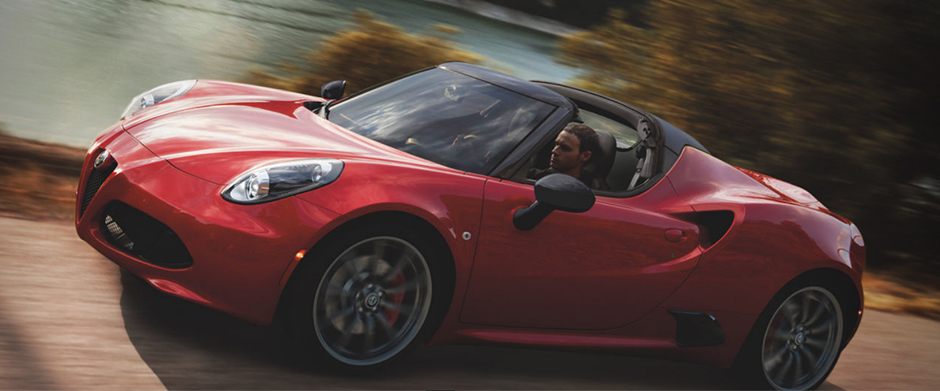 Alfa Romeo 4C Spider For Sale
Alfa Romeo PERFORMANCE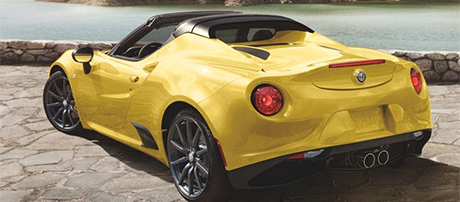 Exhilarating Emotion
The Alfa Romeo 4C Spider is unlike anything else. Sporting the heart of a supercar, it delivers a sensory explosion that can only be experienced in a convertible of this caliber. Welcome to the sound, smell and feel of life on the open road.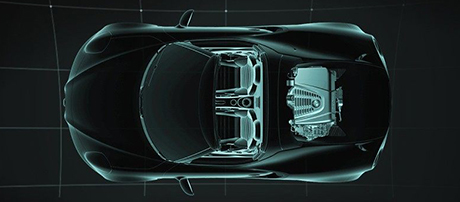 Balancing Act
Experience pure open-air excitement. Beautifully proportioned and built to impress, the Alfa Romeo 4C Spider has a carbon fiber monocoque chassis and centrally-mounted aluminum engine that deliver optimal weight distribution and a pure connection to the road. With the added advantage of rear-wheel drive and near-perfect balance, you have the pleasure of better control when turning and increased grip during acceleration.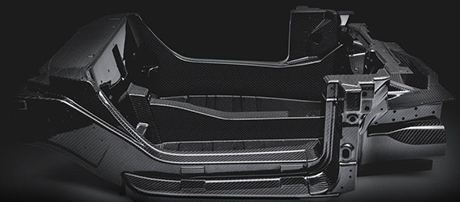 Built To Please
The remarkably lightweight 4C Spider is a seductive mix of progressive technology and pure power. With a carbon fiber monocoque chassis and aluminum subframes, the power-to-weight ratio maximizes dynamic efficiency like a true supercar.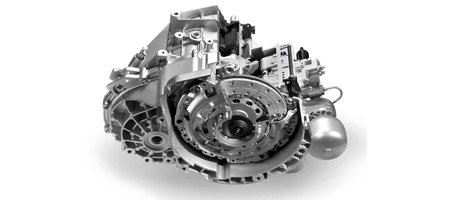 Twin Clutch Transmission
The Alfa TCT 6-speed automatic transmission delivers the instant power of a sequential shift with the convenience of an automatic. The ultra-responsive paddle shifters allow faster, more intuitive gearshifts – up to 130 milliseconds – to help you conquer any street with confidence.
2018 4C Spider APPEARANCE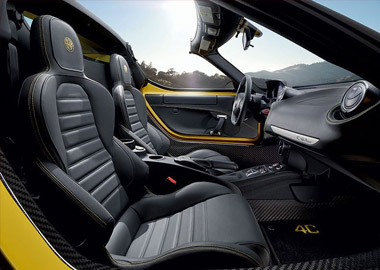 Open-Air Experience
Beyond delivering outdoor splendor, the open-air design of the 4C Spider includes an interior that caters to the senses. Glances turn into gazes with gleaming carbon fiber accents and vent surrounds, distinctive exterior color-matched fabrics and trims, and contrasting stitching. Opulent materials in seating, steering wheel, shifter and other touch points complete the experience.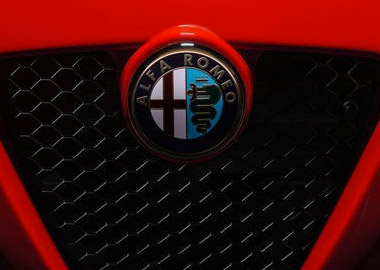 Traditional Designs
The front-end is still a distinguishing element, even on the most recent additions to the Alfa Romeo lineup. The Alfa Romeo 4C Coupe and 4C Spider continue an Alfa Romeo tradition of performance-oriented lines and proportions. Inspired by the 1967 Tipo 33 Stradale, considered by many as one of the most beautiful cars ever made, the 4C models are just as shapely, and offer the classic Alfa Romeo V-shaped "plunging neckline" front grille.
Alfa Romeo 4C Spider COMFORT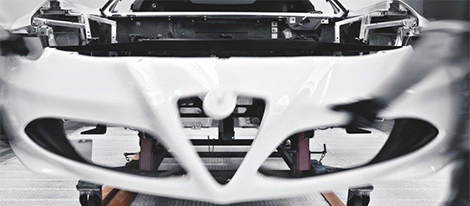 Shaping Desire
Building an Alfa Romeo 4C Spider is an art honed to perfection. Assembled at the Maserati workshop in the heart of Italy, each vehicle requires six full weeks to complete. Like true artisans, the highly-skilled technicians follow every phase of the intricate process and carefully test each component to ensure perfect harmony and top performance.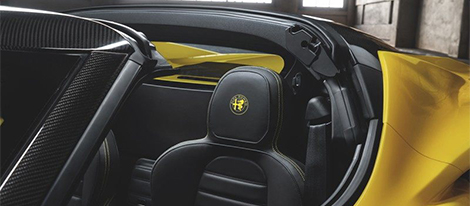 Top-Down Styling
The open-air splendor of the Alfa Romeo 4C Spider turns glances into stares. From gleaming carbon fiber accents and premium interior detailing to the thrill of feeling the wind, sun and open air, this Italian sportscar is synonymous with absolute driving pleasure.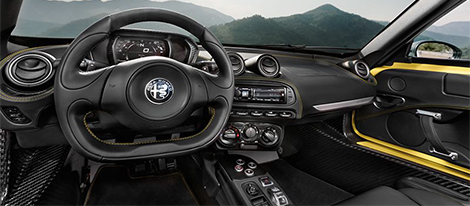 High Fidelity
Immerse yourself in a full sound experience with the choice of an optional Alpine Premium Audio and subwoofer system or standard Alpine audio featuring 2 tweeters, 2 midwoofers and an 8-channel amplifier.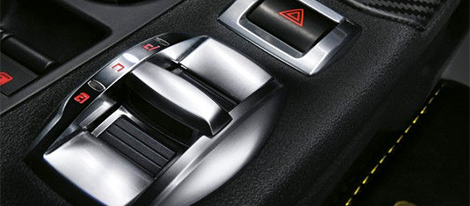 Alfa DNA Drive Mode Selector System
With the 4-mode Alfa DNA Drive Mode selector – featuring Race Mode – you can enjoy a customized driving experience based on road conditions or desired responsiveness. Every 4C Spider is also fitted with Launch Control for dynamic, high-performance standing starts.
2018 Alfa Romeo 4C Spider SAFETY & WARRANTY
Basic Limited Warranty
A 4-Year/50,000-Mile Basic Limited Warranty which includes towing assistance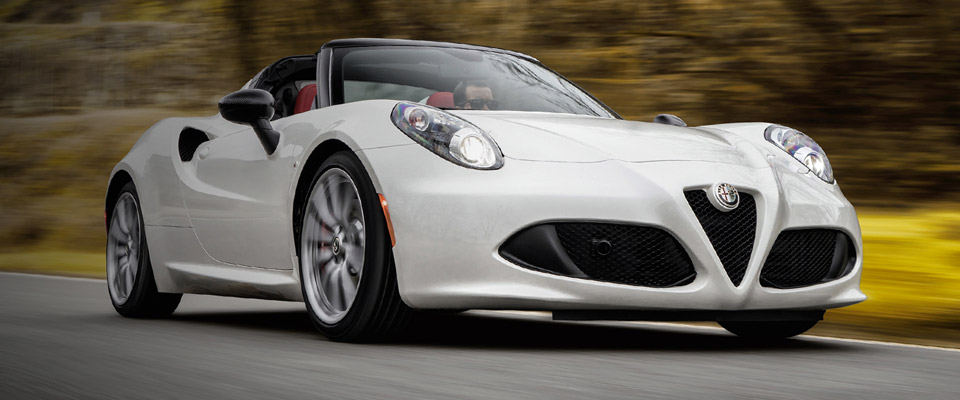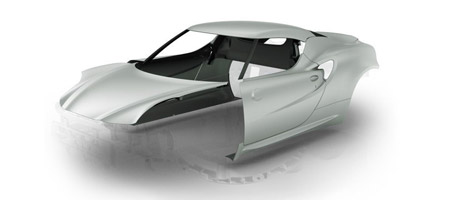 Innovative Materials
Alfa Romeo uses ultralight materials in every component. These materials are not only light but also durable, stiff and dynamically efficient. The 4C begins with the solid foundation of a Carbon Fiber monocoque chassis- three times stronger and seven times lighter than conventional steel. Front and rear aluminum subframes combine strength with weight-saving technologies. Sheet Molded Compound (SMC) is used for the outer body and is 20% lighter and more stable than steel — and also resists corrosion.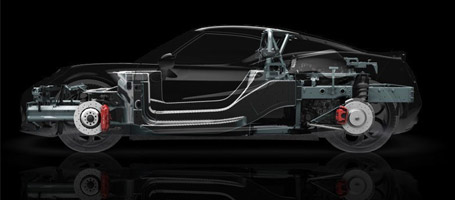 Alfa Romeo Philosophy
Alfa Romeo has a long history of creating racetrack-inspired vehicles for the street. It's why designers incorporated some of the same innovative materials and technology found in Formula One cars and supercars. In the racing world, an efficient balance of power and weight is the key to successful race cars. Alfa Romeo pursues the perfect balance between power and weight. Every component of every vehicle is designed and produced following this balanced philosophy.