2017 Porsche 911 Targa Overview
2017 Porsche 911 Targa For Sale


Porsche 911 Targa For Sale
2017 Porsche 911 Targa Performance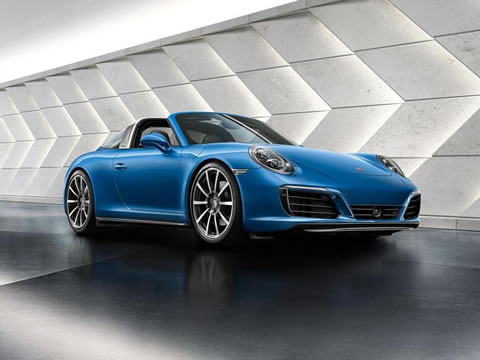 More Power More Torque
Redesigned headlights and a smaller steering wheel are fine, but the most important changes are found under the rear decklid. Like the Coupe and Cabriolet, both the 911 Targa 4 and 4S are equipped with Porsche's new 3.0-liter flat-six powerplant. Displacement is lower than before, but the addition of two turbochargers makes up for it, and the final result is more power and more torque (not to mention up to 12 percent higher efficiency).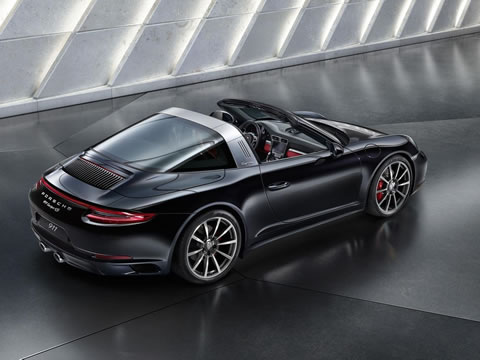 420 Horsepower and 368 Pound-Feet of Torque
The base model Targa 4 produces 370 horsepower and 331 pound-feet of torque, while the 4S adds modified compressor wheels, a new exhaust, and a new engine tune to bump peak output to 420 horsepower and 368 pound-feet of torque. A seven-speed manual transmission comes standard on both models, while Porsche's indispensable seven-speed dual-clutch PDK is optional.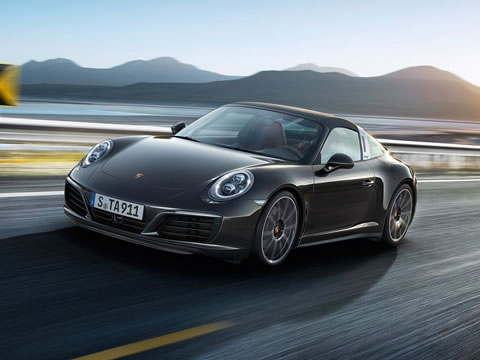 The AWD 911 Accelerates Quicker Than Its RWD Equivalent
All in all, the heavier Targa models only take an extra 0.2 seconds to reach 60 mph compared to the Coupe. Even more impressive is the fact that, for the first time ever, this AWD 911 accelerates quicker than its RWD equivalent (not including the monster 911 Turbo, of course).
2017 Porsche 911 Targa Appearance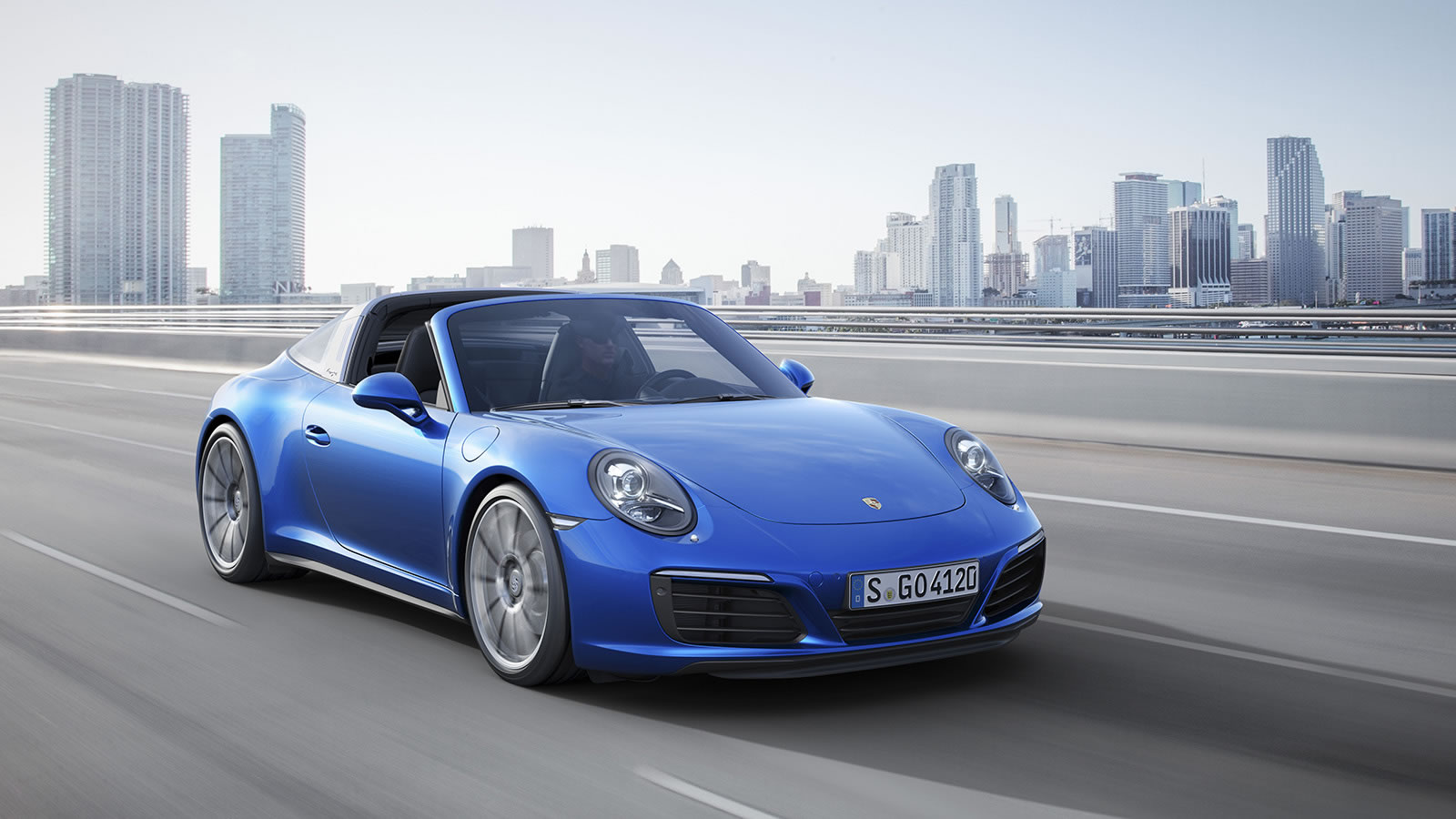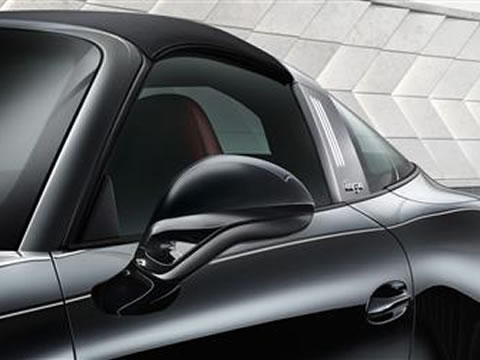 Targa's Unique Open-Top Style
Of course, being a Targa, you get that unique open-top style, complete with silver Targa-bar B-pillars and wrap-around rear window glass. All together, the Targa offers the suggestion of a roofline when viewed in profile, which to my eye, looks far better than the topless Cabriolet. It's unlimited headroom, but in a more graceful package.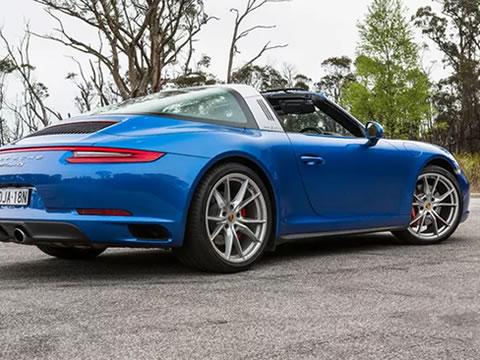 Style With an Exceptional Driving Experience
Yes, the 911 Targa is for showmen (and women), but it delivers on its styling promise with an exceptional driving experience which is hard to beat, even with, dare we say it…a turbo in the boot.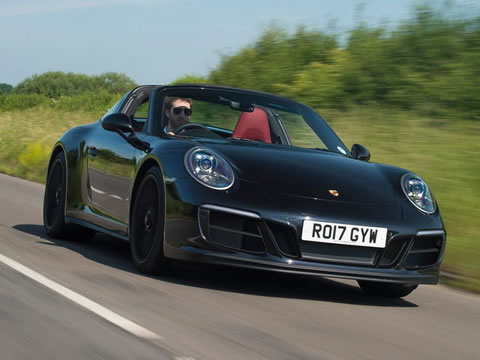 Best on an Open, Sweeping Road
The Targa is at its best on an open, sweeping road with the sun beating down. The cabin is spacious up front, and buffeting with the roof down is kept to a minimum. It's beautifully built, too, with loads of soft leather and a responsive touchscreen infotainment system.
2017 Porsche 911 Targa Comfort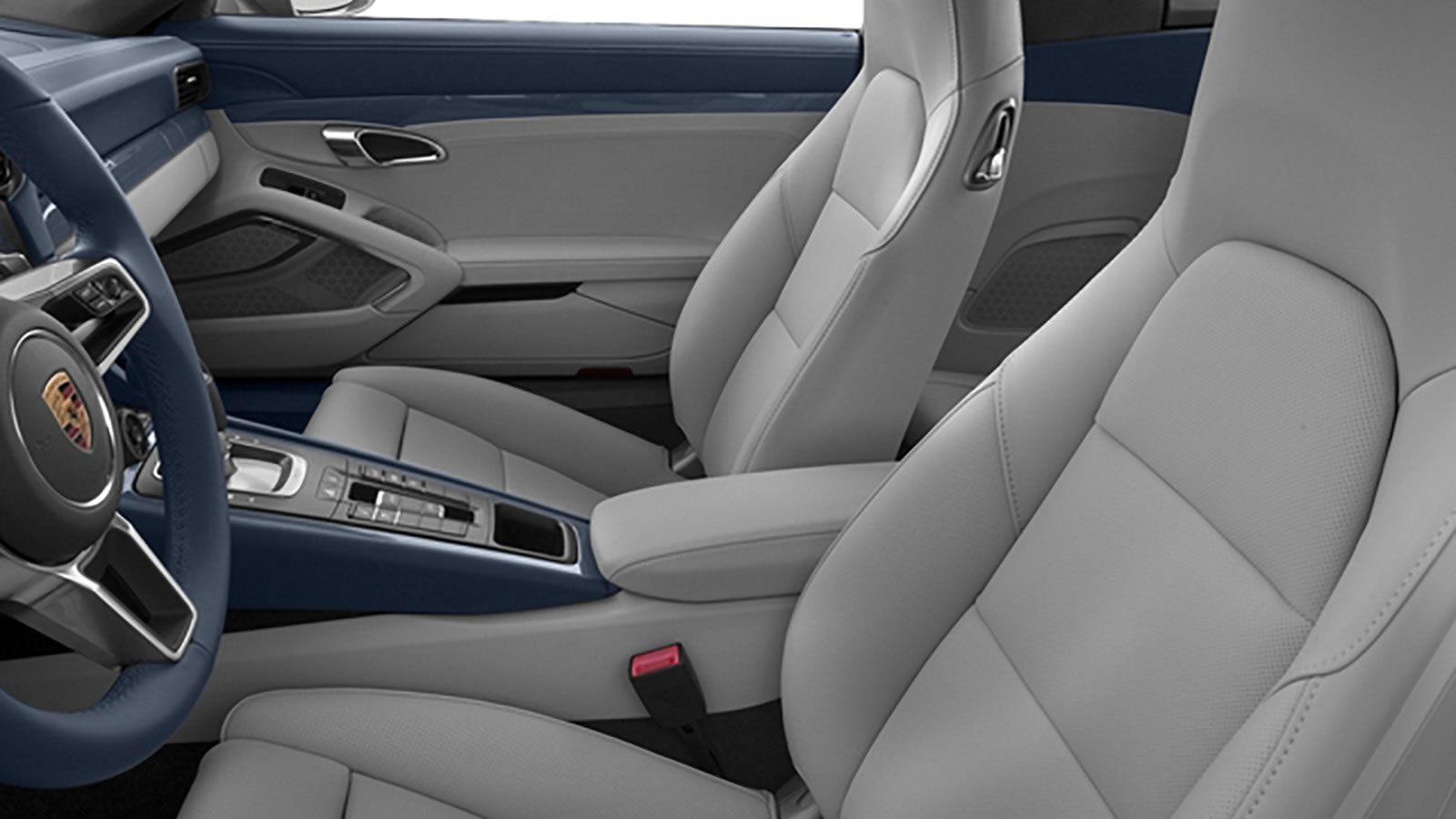 Convenience
Sporty not kitschy, practical not fanciful. The five round instruments have one purpose above all: to provide information. They do so efficiently and accurately with a styling that you would expect from Porsche, and a rev counter that's right in the middle. With the 'GTS' logo on the dial. The instrument cluster with high-resolution 4.6-inch colour screen delivers a continuous stream of data from the on-board computer.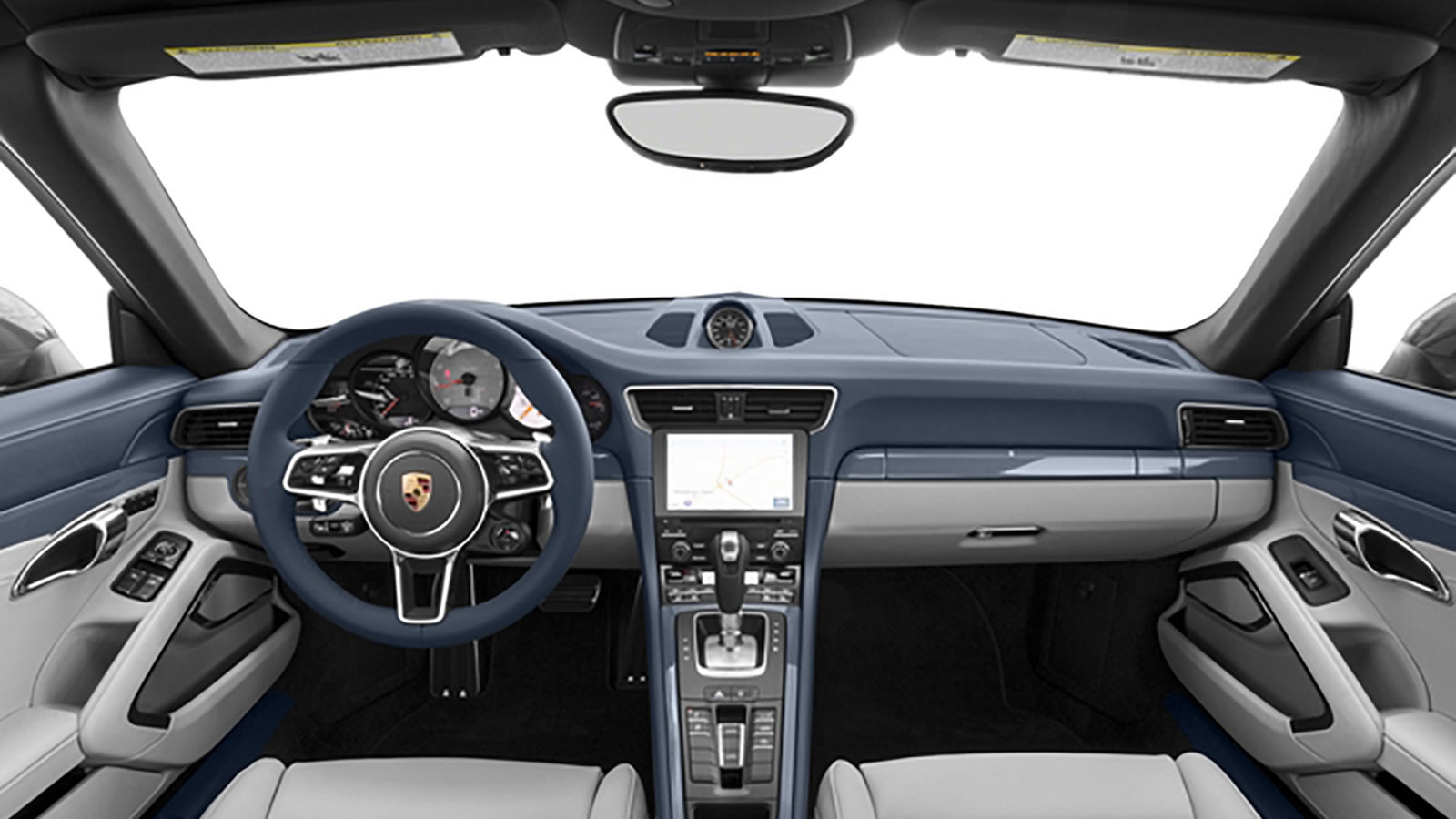 Interior
What's the use of inner drive without a clear objective? It's all the more important to have an interior that lets you concentrate on the essentials. By giving you quick access to all the information you need while you're driving. A particularly sporty interpretation of this idea is the mode switch on the GT Sport steering wheel, which enables you to choose from four driving modes.
2017 Porsche 911 Targa Safety
New Car Limited Warranty & Porsche 24-Hour Roadside Assistance Program for 4-Years / 50,000 Miles (whichever occurs first)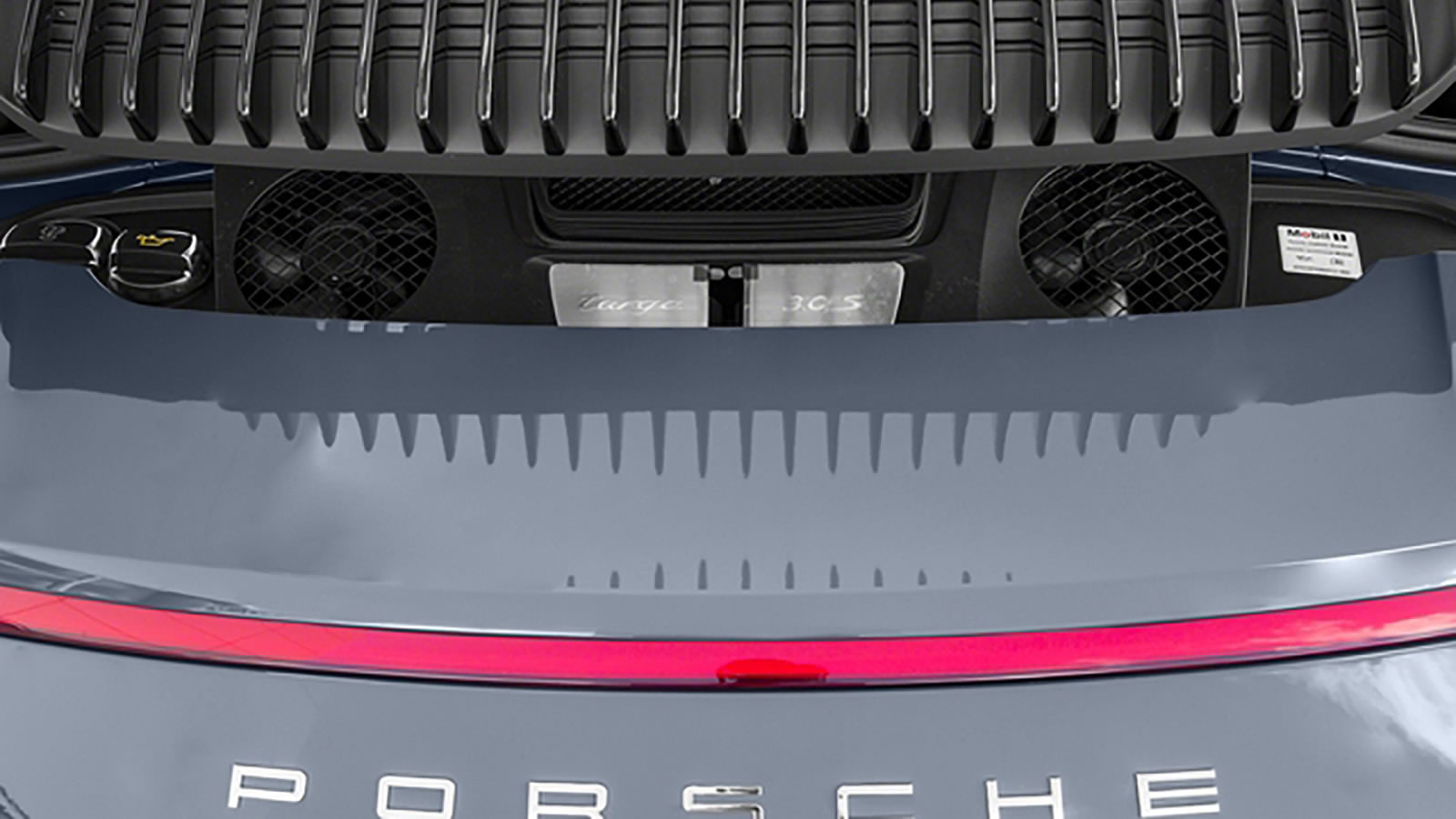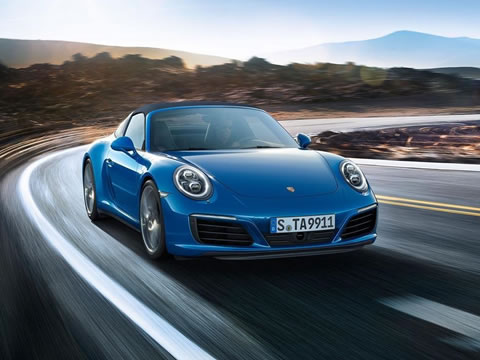 Electro-Hydraulic Lift Feature
One final option of note is the electro-hydraulic lift feature, which increases front ground clearance by 40 mm (1.57 inches). Push a button, and five seconds later you'll be able to navigate speed bumps and angled driveways without scraping that finely chiseled, road-hugging Porsche chin.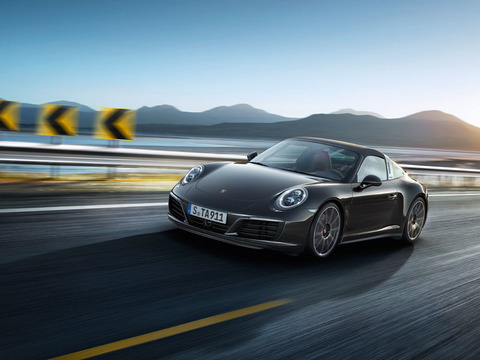 Porsche Active Suspension Management (PASM) System
Finally, keeping it all rubber-side-down is the standard Porsche Active Suspension Management (PASM) system, which comes with new shock absorbers and lowers the ride height by 10 mm (0.39 inches), all in the name of striking a balance between comfort and sportiness.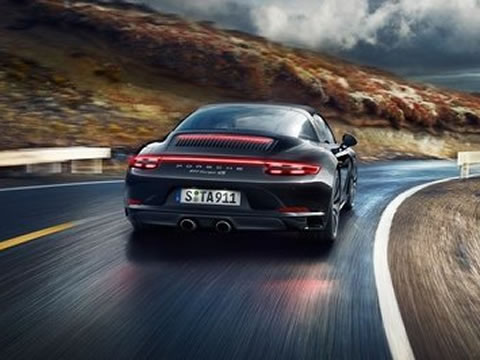 Dynamic Light System
There's also Porsche's Dynamic Light System offered as an available option, which comes with speed-sensitive beam-range adjustability, adverse weather functionality, and a pivot function that helps to illuminate around corners. Finally, there's the Porsche Dynamic Light System Plus, which comes with LEDs, plus an automatic high/low beam function.
2017 Porsche 911 Targa Specification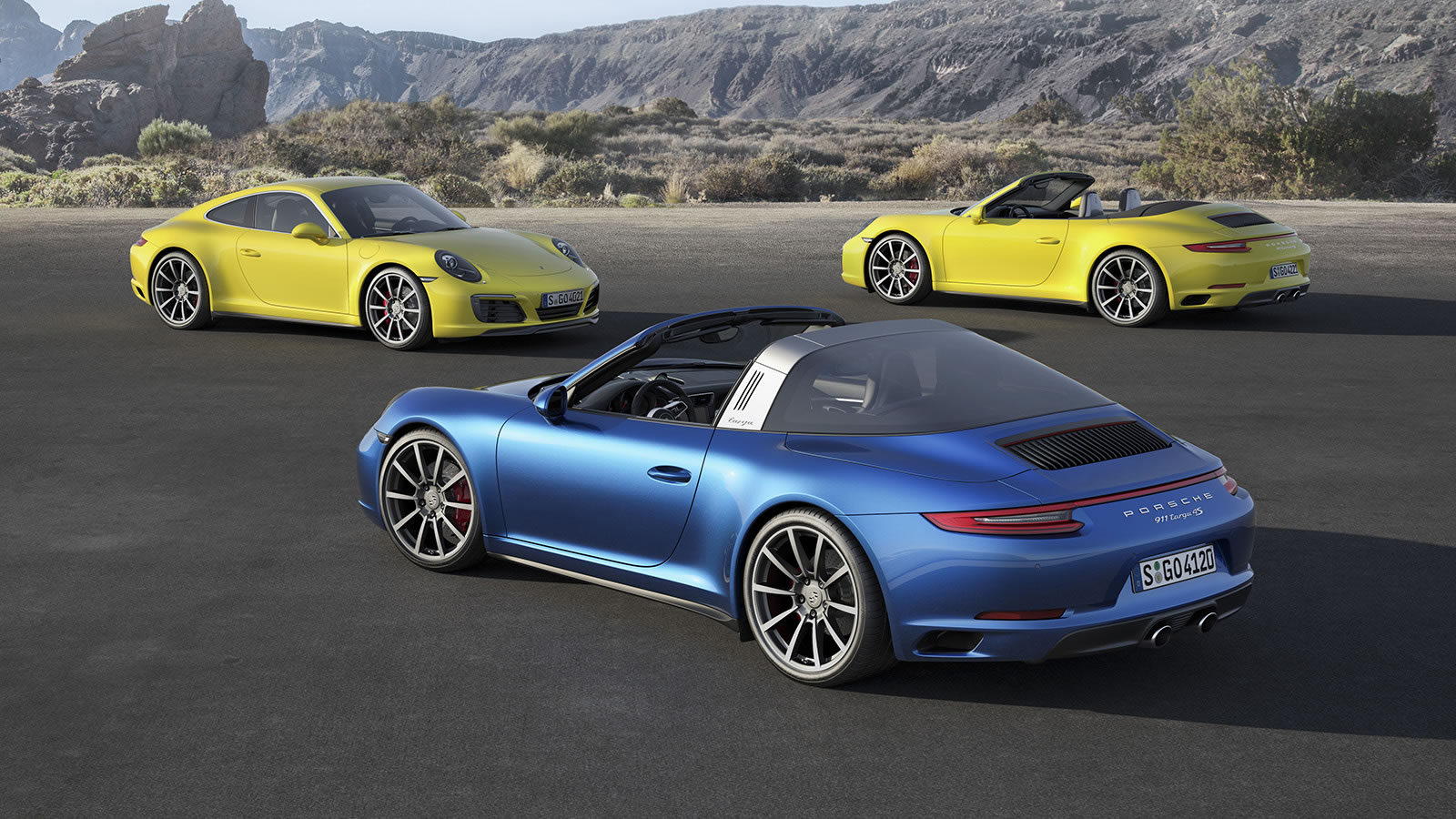 911 Targa 4
911 Targa 4S
Engine
Engine layout
Rear Engine
Rear Engine
Engine type
Boxer, twin-turbo
Boxer, twin-turbo
Cylinders
6
6
Valves per cylinder
4
4
Construction
Aluminum crankcase and heads
Aluminum crankcase and heads
Fuel injection
Direct Fuel Injection (DFI)
Direct Fuel Injection (DFI)
Fuel
Premium
Premium
Displacement (Liters)
3.0 l
3.0 l
Bore/Stroke (mm/mm)
91.0 mm / 76.0 mm
91.0 mm / 76.0 mm
Maximum power output @ engine speed
370 hp @ 6500
420 hp @ 6500
Maximum torque @ engine speed
331 lb.-ft. @ 1700-5000
368 lb.-ft. @ 1700-5000
Maximum engine speed
7500
7500
Compression ratio
10.0 : 1
10.0 : 1
Output per liter
124.1 hp
140.0 hp
Lubrication
Integrated dry-sump
Integrated dry-sump
Electrical System
12 V, 2450 W alternator; battery capacity 80 Ah
12 V, 2940 W alternator; battery capacity 80 Ah
Power to weight ratio (lb/hp)
9.4 (manual) / 9.5 (PDK)
8.3 (manual) / 8.4 (PDK)
Drivetrain
Active all-wheel drive
Active all-wheel drive
Chassis & Suspension
Body
Monocoque lightweight body in a combination of steel, aluminum, and magnesium
Monocoque lightweight body in a combination of steel, aluminum, and magnesium
Front Axle
MacPherson strut with anti-roll bar
MacPherson strut with anti-roll bar
Rear Axle
Aluminum multi-link with anti-roll bar
Aluminum multi-link with anti-roll bar
Steering System
Variable ratio electromec. power steering
Variable ratio electromec. power steering
Steering Ratio
16.6 : 1 (on-center) to 12.5 : 1
16.6 : 1 (on-center) to 12.5 : 1
Steering Ratio with rear-axle steering
not available
15.0 : 1 (on-center) to 12.5 : 1
Turning Circle
36.7 ft
36.7 ft / 35.1 ft. (with rear axle steering)
Brakes & Wheels
Caliper type
Aluminum monobloc fixed-caliper brake
Aluminum monobloc fixed-caliper brake
Rotor material
Steel
Steel
Caliper color
Black
Red
Number of pistons (front/rear)
4 / 4
6 / 4
Rotor diameter (front/rear) mm
330 mm / 330 mm
350 mm / 330 mm
Rotor thickness (front/rear) mm
34 mm / 28 mm
34 mm / 28 mm
Standard wheels
19" Carrera
20" Carrera S
Wheels (front/rear)
8.5J x 19" / 11.5J x 19"
8.5J x 20" / 11.5J x 20"
Tires (front/rear)
235/40 ZR 19 / 295/35 ZR 19
245/35 ZR 20 / 305/30 ZR 20
Fuel Economy/Rating
Rating
-
-
City
19 mpg (manual) / 22 mpg (PDK)
19 mpg (manual) / 21 mpg (PDK)
Highway
28 mpg (manual) / 28 mpg (PDK)
28 mpg (manual) / 28 mpg (PDK)
Combined
22 mpg (manual) / 24 mpg (PDK)
22 mpg (manual) / 24 mpg (PDK)
911 Targa 4
911 Targa 4S
Dimensions, Aerodynamics, & Weight
Length (inches/mm)
177.1 in. / 4499 mm
177.1 in. / 4499 mm
Wheelbase (inches/mm)
96.5 in. / 2450 mm
96.5 in. / 2450 mm
Width w/ mirrors (inches/mm)
77.9 in. / 1978 mm
77.9 in. / 1978 mm
Width w/o mirrors (inches/mm)
72.9 in. / 1852 mm
72.9 in. / 1852 mm
Height
50.7 in. / 1288 mm
50.9 in. / 1293 mm
Track width front (inches/mm)
60.7 in. / 1541 mm
60.7 in. / 1543 mm
Track width rear (inches/mm)
61.3 in. / 1558 mm
61.3 in. / 1558 mm
Drag coefficient (Cd)
0.30
0.30
Legroom (inches)
TBD
TBD
Headroom (inches)
TBD
TBD
Cargo area volume (cu.-ft.) front trunk
125 l / 4.41 cu.-ft.
125 l / 4.41 cu.-ft.
Cargo area volume (cu.-ft.) rear seats
160 l / 5.65 cu.-ft.
160 l / 5.65 cu.-ft.
Fuel tank capacity - refill volume (gal)
17.9 gal.
17.9 gal.
Curb weight (lbs)
3461 lbs. (man.) / 3505 lbs. (PDK)
3483 lbs. (man.) / 3527 lbs. (PDK)
Gross Vehicle Weight (lbs)
4133 lbs. (man.) / 4166 lbs. (PDK)
4243 lbs. (man.) / 4276 lbs. (PDK)
Payload range (lbs)
672 lbs. (man.) / 661 lbs. (PDK)
760 lbs. (man.) / 749 lbs. (PDK)
Performance
Top track speed manual (mph)
179 mph
188 mph
Top track speed PDK (mph)
178 mph
187 mph
Acceleration 0-60 manual (sec)
4.5 sec.
4.2 sec.
Acceleration 0-60 PDK (sec)
4.3 sec.
4.0 sec.
Acceleration 0-60 PDK with Launch Control (sec)
4.1 sec.
3.8 sec.
Quarter mile time manual (sec)
12.9 sec.
12.6 sec.
Quarter mile time PDK (sec)
12.7 sec.
12.4 sec.
Quarter mile time PDK with Launch Control (sec)
12.6 sec.
12.1 sec.
Transmission
Number of gears
7
7
Transmission type
7-speed manual / 7-speed PDK
7-speed manual / 7-speed PDK
Ratios




1st
3.91 / 3.91
3.91 / 3.91
2nd
2.29 / 2.29
2.29 / 2.29
3rd
1.58 / 1.58
1.58 / 1.58
4th
1.18 / 1.18
1.18 / 1.18
5th
0.94 / 0.94
0.94 / 0.94
6th
0.79 / 0.79
0.79 / 0.79
7th
0.62 / 0.62
0.62 / 0.62
Reverse
3.55 / 3.55
3.55 / 3.55
Final drive ratio front axle
3.46 / 3.46
3.46 / 3.46
Total Rear Axle Ratio
3.09 / 3.09
3.09 / 3.09
Clutch/Converter diameter (inches)
9.0 inches (man.) / 8.0 / 6.0 inches (PDK)
9.0 inches (man.) / 8.0 / 6.0 inches (PDK)