2017 Nissan GT-R OVERVIEW
2017 Nissan GT-R For Sale
"A Supercar That Sculpts The Wind" —nissanusa.com
Available 3.8-Liter Twin-Turbo V6 Engine
Dual Clutch 6-Speed Transmission
Nissan/Brembo® Braking System
Active Noise Cancellation/Active Sound Enchancement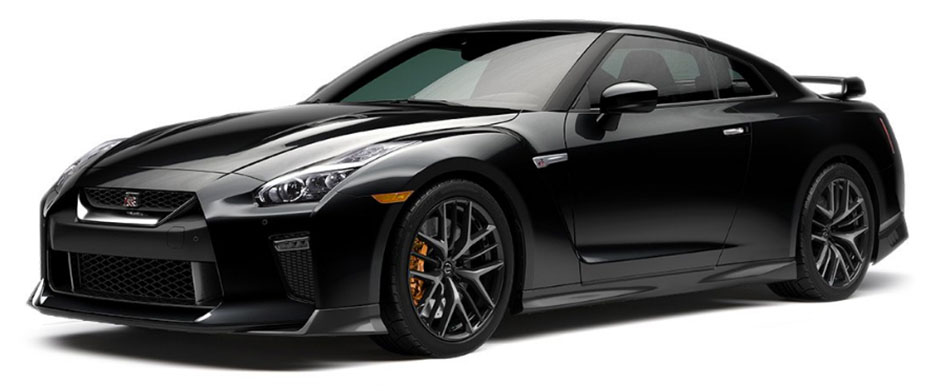 Nissan GT-R For Sale
Nissan PERFORMANCE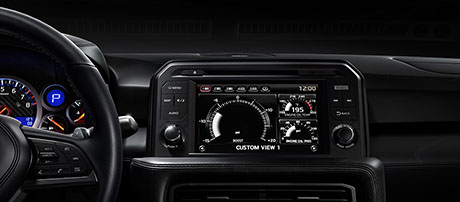 Dialed In Like Never Before
The Display Commander lets you dial in your world, allowing you to control key functions through GT-R's multi-touch screen. By rotating the dial, or pushing it to the left or right, you can scroll through all menus, and move selections around the screen.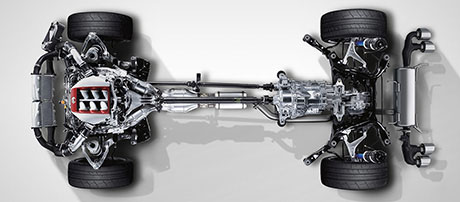 Premium Midship Platform
In another break with convention, Nissan GT-R's Premium Midship Platform places the engine farther back in the chassis for better handling. This unique layout also mounts the transmission with the transfer case in the rear of the Nissan GT-R, creating the world's first independent rear transaxle for an All-Wheel Drive vehicle.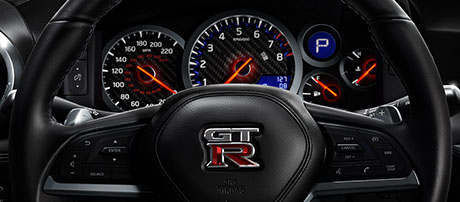 Mastery At Your Fingertips
Nissan GT-R's easy-to-use 3-mode system is always ready. Three switches allow for on-the-fly adjustment of specific performance parameters for the transmission, suspension, and Vehicle Dynamic Control (VDC) system.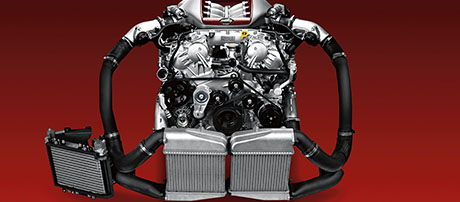 The Heart Of The Legend
Nissan challenged convention at every point of the Nissan GT-R's development. Instead of a large, heavy engine thirsty for fuel, the Nissan GT-R is powered by an ideally sized, twin-turbocharged 3.8-L V6 that produces a prodigious 565 hp and equally immense 467 lb.-ft of torque. Just as important as the engineering is the actual assembly, which is done by hand by a single master craftsman, whose signature you'll find on a small, but prominent, plaque.
2017 GT-R APPEARANCE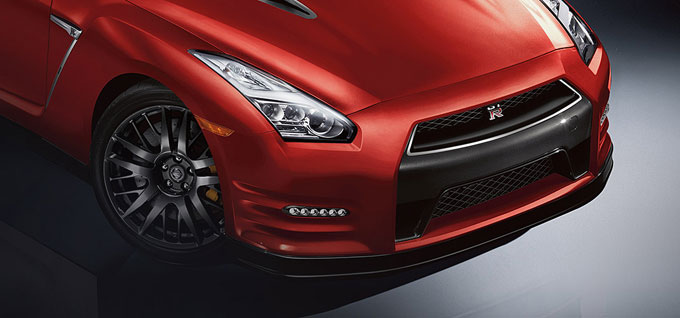 Multi-LED Headlights
The headlights feature four LED units to create an extremely natural light, replicating daylight, while also offering increased illumination. The super-wide-beam headlights expand the area of illumination toward the sides of the car, enhancing visibility, especially when cornering.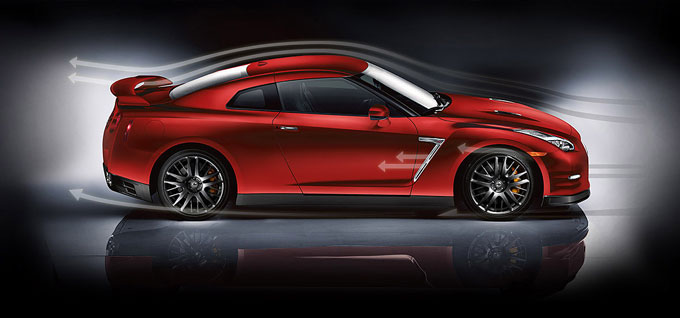 A Supercar That Sculpts The Wind
Relentless tuning of the GT-R's aerodynamics maintains its incredibly clean Coefficient of Drag to a super-slippery 0.26, yet provides consistent downforce. While you see a substantial, powerful supercar, to the wind, it punches through the air like a lo-slung, mid-engine supercar. Pure aerodynamic alchemy.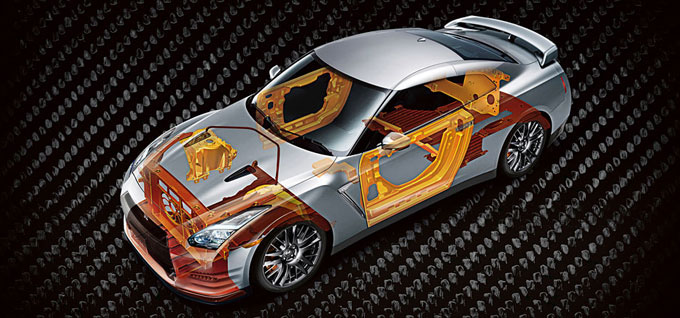 Multi-Material Body Structure
The GT-R's body gets maximum strength from Carbon Aluminum Die-cast Steel, a combination of carbon fiber, die-cast aluminum and steel. For structural rigidity, aluminum die-cast door inner panels are employed to decrease the amount of deformation during a crash. Die-cast aluminum is also used for the front strut housing and in the front suspension. For added structural rigidity, the suspension's strut tower bar is made of lightweight carbon composite containing aluminum honeycomb.
Nissan GT-R COMFORT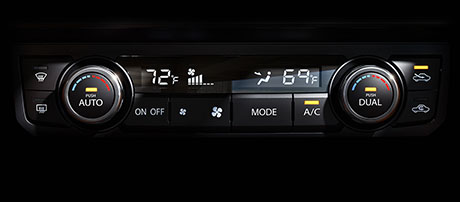 A/C and Heating Control Knobs
Nissan GT-R®, shown with subtle etching on control knobs to enhance their feel when selecting the air conditioning or heating system.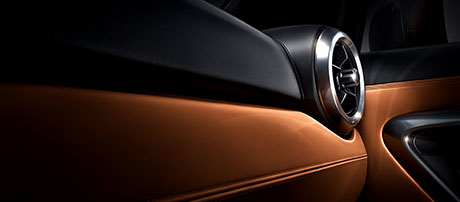 Decades To Perfect Things You Touch For A Second
Turn an air vent that was studied, designed, and developed by a quality expert to operate flawlessly for years. Rotate a switch that's been subtly etched on the outside to enhance its feel. Or let your eyes travel across a dashboard that comes from a single Nappa leather hide, hand-selected for tone, and free of even the smallest imperfection. This is attention to detail bordering on obsession.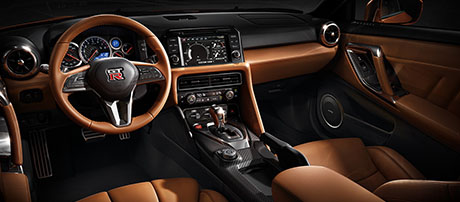 Traveling At The Speed Of GT-R
Once again, GT-R® rethinks the way the driver receives information. Multiple, easily accessed screens are an innovative way the driver can get immediate feedback to key performance parameters. The result is engaging and informative – providing quick readability combined with the flexibility of multiple customizable displays.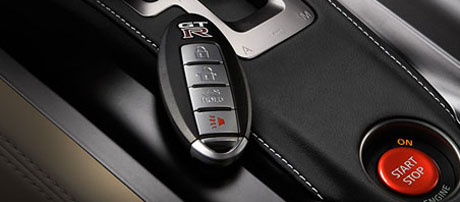 Nissan Intelligent Key®
The Nissan Intelligent Key let you tap a button on the door handle to lock and unlock your Nissan GT-R, while your keys stay in your pocket or purse. With the standard Push Button Ignition feature, you just get in, push the button and go.
2017 Nissan GT-R SAFETY & WARRANTY
Basic Warranty 36 month / 36,000 miles
Every Nissan is backed by a 36-month/36,000-mile limited vehicle coverage and a 5-year/60,000-mile limited powertrain coverage.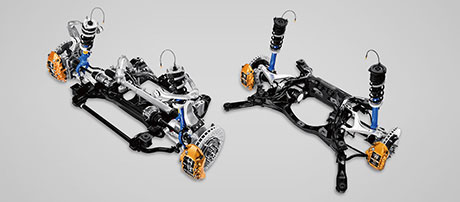 Shock Absorber
A special Blistein® DampTronic® driver-adjustable shock absorber system utilizes multiple vehicle information systems to provide appropriate damping forces and a high level of control for a variety of driving situations.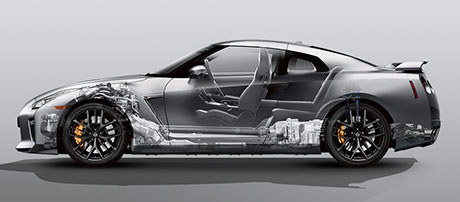 Anywhere. Anytime.
When most supercars stay in the garage or make a hasty retreat from the less-than-ideal conditions, the Nissan GT-R powers through, with one of the most advanced All-Wheel Drive and Vehicle Dynamic Control (VDC) systems ever used in a road car.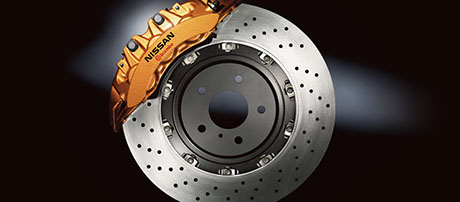 Monoblock Calipers
The brakes feature 6-piston front and 4-piston rear calipers for stronger, more equal clamping power – something you'd expect to see on an all-out competition machine. For extreme rigidity with light weight, the caliper is machined from a single one-piece "monoblock" of aluminum.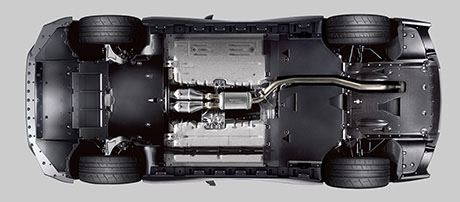 It Breaks All The Rules
The average car has exposed working gear under the car, where wind whips around, creating lift, and slowing you down. The Nissan GT-R, of course, isn't an average car. Its underbody is virtually covered by composite panels, giving it a flat, aerodynamic surface. At the front of the car, the flat underbody is accelerating the air and channeling it over the brakes, cooling them down. At the back, a carbon-fiber diffuser takes that accelerated air and slows it down, creating a vacuum effect that helps the Nissan GT-R stick to the road.