2017 Nissan 370 Z Coupe OVERVIEW
2017 Nissan 370 Z Coupe For Sale
"A Design More Than 40 Years in The Making" —nissanusa.com
3.7-liter V6
6-Speed Manual Transmission
18" Black-Finish Aluminum-Alloy Wheels
Nissan Intelligent Key®
HID Headlights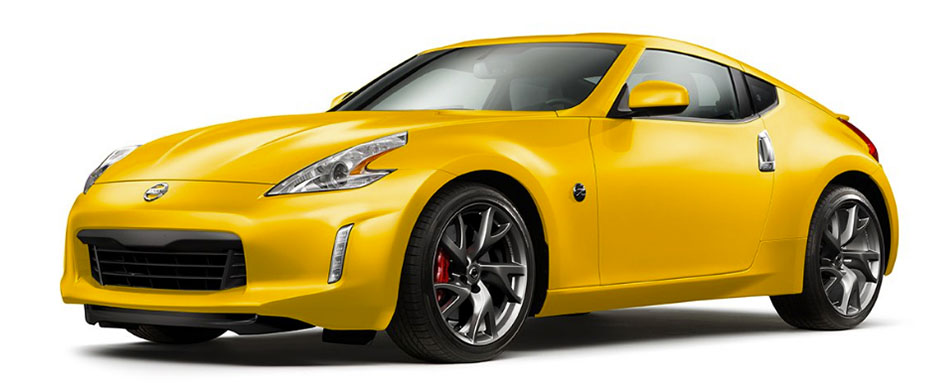 Nissan 370 Z Coupe For Sale
Nissan PERFORMANCE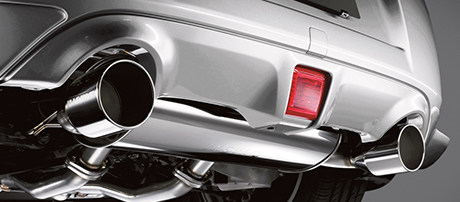 Dual Exhaust
A free-flow dual exhaust combined with H-pipe configuration reduces back pressure up to 30%. The result: responsive upper-end power for an exhilarating redline rush and an exhaust note that's pure performance.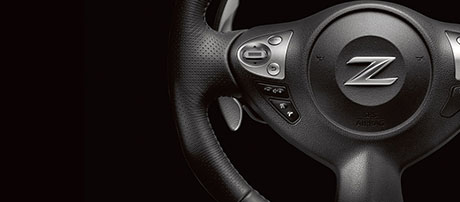 Z Steering Wheel
From the Information Layer, you see everything at a glance: the windshield pillar has been minimized to improve outward vision, an oval steering wheel with large gauges enhances viewing, and gauges that adjust with the steering column are always easy to see.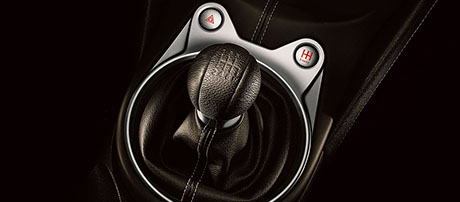 SynchroRev Match® Manual Transmission
Available SynchroRev Match® technology monitors the clutch, shift lever, and vehicle speed so that when you downshift, the system "blips" the throttle to the ideal engine rpm for a supremely smooth downshift. It also works when upshifting to give you seamless acceleration. If you want more traditional performance, you can turn the system off with the touch of a button.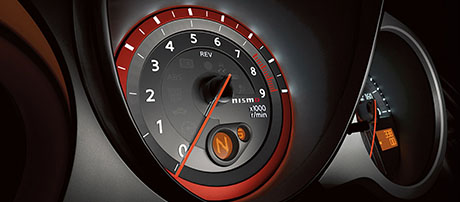 NISMO® Instrument Cluster
The 370Z® NISMO® has a vivid, illuminated red tachometer sitting right in the center of the gauge cluster. You'll always know exactly how hard you're pushing that 350 horsepower engine.
2017 370 Z Coupe APPEARANCE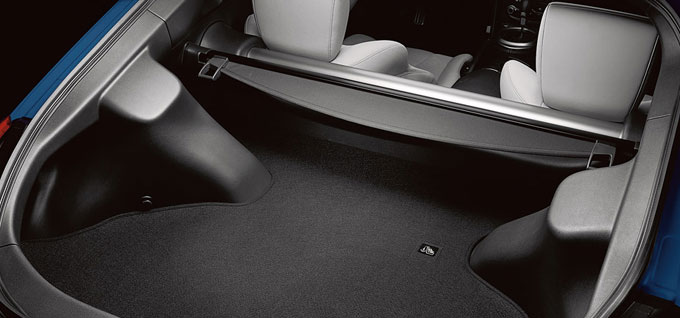 Trunk Space
The rear cargo area offers plenty of open space for the important things in life – like golf clubs. An available retractable cargo cover helps keep things out of sight. Inside the cabin, clever built-in storage means everything has a place, and a hidden compartment behind the passenger's seat helps conceal valuables.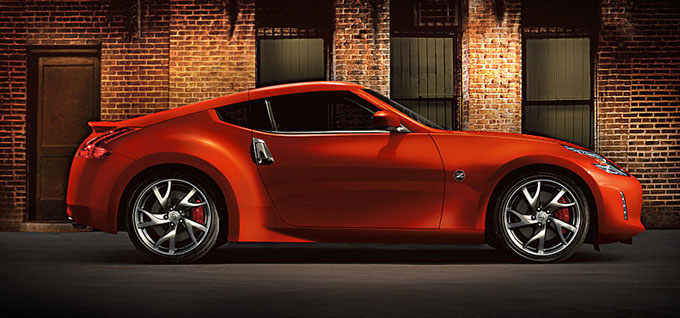 Coupe Exterior
It's a living legend. With the emphasis on living. The iconic lines, low center of gravity, wide track, and short wheelbase give it that unmistakable, instantly recognizable profile.
Nissan 370 Z Coupe COMFORT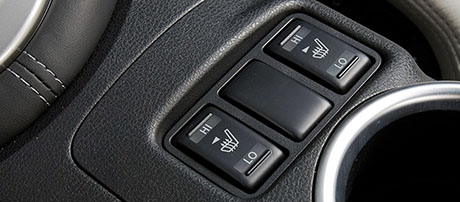 Lumbar Support/Heated Seats
You just might want to drive your 370Z® endlessly, and you're going to need proper back support to do it. Lumbar support is standard, and the Touring Edition offers adjustable lumbar support and heated seats.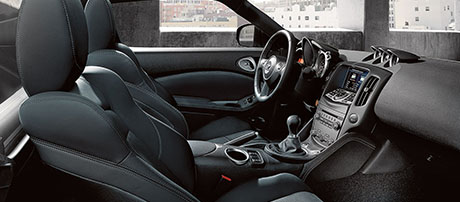 Holding Layer
The Holding Layer helps hold you in place during spirited driving with anti-slip material on the seat cushions and integrated knee pads on both sides of the center console. The uniquely bolstered driver's seat provides enhanced support.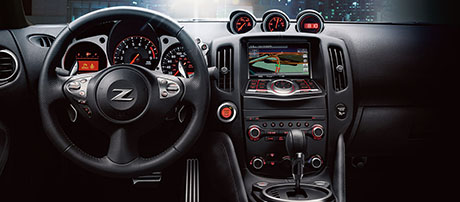 332-HP 3.7L V-6 Engine
The 370Z® is powered by a 332-horsepower, 3.7-liter V6. The engine features Variable Valve Event and Lift (VVEL®) technology that continuously tunes valve timing for quicker response and optimal fuel efficiency. All this engineering may sound intriguing on paper, but the exhilaration from idle to the 7,500-rpm redline is pure magic.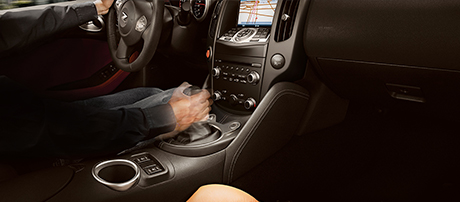 Operation Layer
At the Operation Layer, everything is easily reached and operated: the center console controls are shaped to be identifiable by touch, the low center armrest cover facilitates shifting, and the "kidney-shaped" steering wheel rim fits your hands to connect you directly to the 370Z®.
2017 Nissan 370 Z Coupe SAFETY & WARRANTY
Basic Warranty 36 month / 36,000 miles
Every Nissan is backed by a 36-month/36,000-mile limited vehicle coverage and a 5-year/60,000-mile limited powertrain coverage.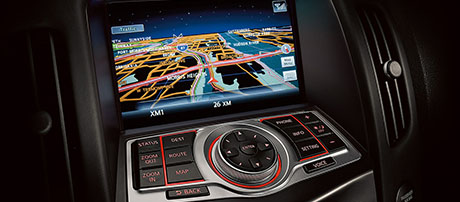 NavTraffic®
Navigate through congested areas more conveniently with the available touch-screen, voice-activated Nissan Hard Drive Navigation System. Its advanced NavTraffic® feature displays color-coded, real-time traffic advisories to help you steer clear of the gridlock.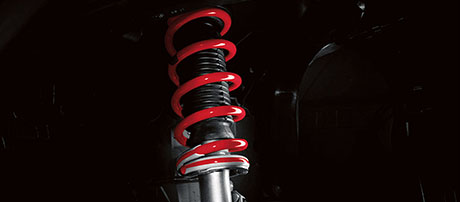 NISMO® Suspension
The 370Z® NISMO® has an aggressive, competition-tuned suspension that will satisfy even the most demanding drivers. Up front and in back, we've added stiffer springs that decrease travel and help limit body roll.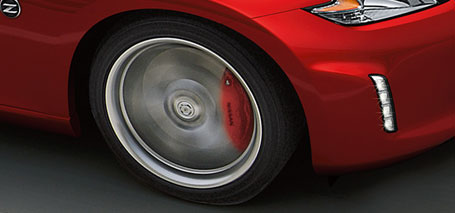 Nissan Sport Brakes with 4-Piston Front Calipers
To keep those 350 horses in check, the 370Z® NISMO® features massive 14" 4-piston front brakes and 13.8" 2-piston rear brakes – the largest brakes ever offered on a 370Z®. It also takes a page from the GT-R® playbook, sporting high-rigidity brake hoses and performance brake fluid.