2017 Ford GT OVERVIEW
2017 Ford GT For Sale
2016 Winner at Le Mans
647 HP 3.5L Ecoboost® V6
Lightweight body made of carbon fiber
Brembo™* carbon-ceramic brakes

Ford GT For Sale
Ford GT PERFORMANCE

Designed for Speed and Performance. From the Ground Up.
Twin-turbocharged, intercooled EcoBoost® 3.5-liter V6 with 647 horsepower. Whether on the road or on the track, every single element of the Ford GT was designed to deliver the extraordinary speed and exceptional handling found only in purpose-built racing cars.

The Very Definition of Aerodynamic
Its aerodynamically optimal teardrop shape minimizes drag and maximizes downforce.

Super light. Super strong.
The lightweight body is made of carbon fiber. Aluminum structures minimize the weight of the high-strength subframes.

Suspension
Long suspension arms and inboard damper packaging deliver track-capable vehicle dynamics - an example of Ford Performance engineers exploring suspension design for future Ford Performance vehicles.

Carbon-ceramic brakes
To help optimum overall performance, Brembo™* carbon-ceramic brakes have been engineered into the Ford GT.

Ford GT again victorious at Le Mans
From the depths of Ford's Product Development Center in Dearborn, Mich., a dedicated team of designers and engineers worked in secret to bring the Ford GT back to race in the legendary 24 Hours of Le Mans. And just as it did 50 years ago - the Ford GT returned triumphant.
2017 GT APPEARANCE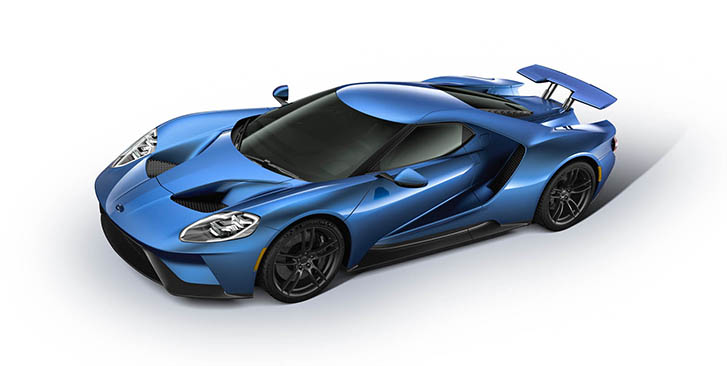 Rear Wing
The rear wing is built into the overall aerodynamic design of the fuselage, so it enhances airflow even when not deployed. When deployed, it can even change shape to optimize airflow and squeeze out just that extra bit of performance.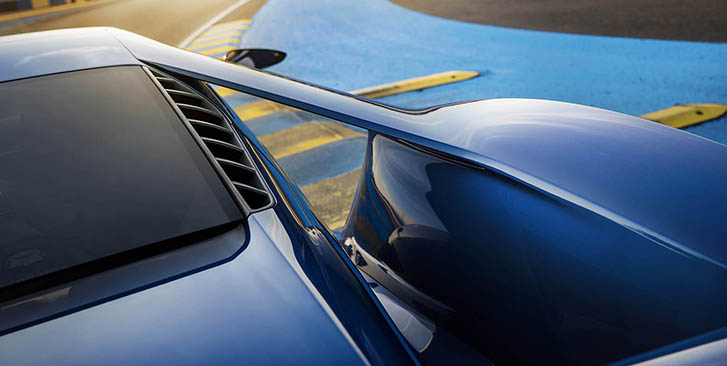 Buttress
A great example of the engineering ingenuity that went into the Ford GT, the buttresses add strength to the chassis and guide airflow over the car while contributing to drag reduction and efficient airflow management. They also reduce the coefficient of drag and contribute to the downforce that optimizes handling and performance.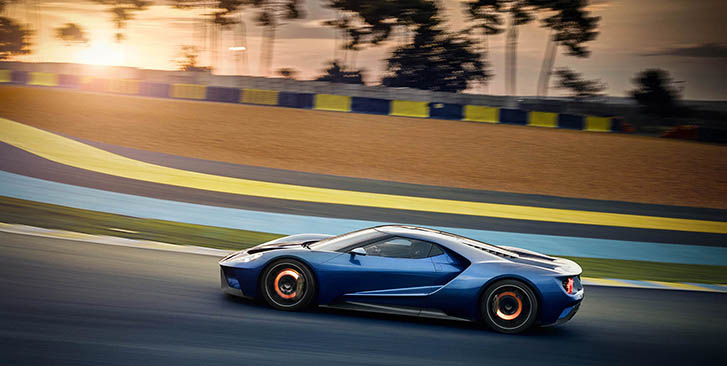 Ride Height
Its ride height can be lowered approximately 50mm, improving its aerodynamics and lowering its center of gravity for optimal performance on the track.
Ford GT ACCESSORIES
2017 Ford GT SAFETY
New Vehicle Limited Warranty
Bumper to Bumper: 3-Years/36,000 Miles • Powertrain: 5-Years/60,000 Miles • Corrosion: 5-Years/Unlimted Miles • Hybrid/Electric Drivetrain Components: 8-Years/100,000 Miles • Roadside Assistance: 5-Years/60,000 Miles