2017 FIAT 500e OVERVIEW
2017 FIAT 500e For Sale
"Ugliness is the Worst Form of Pollution."
—fiatusa.com
121 MPGe City/103 MPGe Highway Ratings
Driving Range of 84 Miles
EPA Estimated Fuel Consumption Rate of 30 Kilowatt Hours (kWh) Per 100 Miles
Electric-Drive Motor with 111 HP (83 kW) and 147 LB-FT (200 Nm) of Torque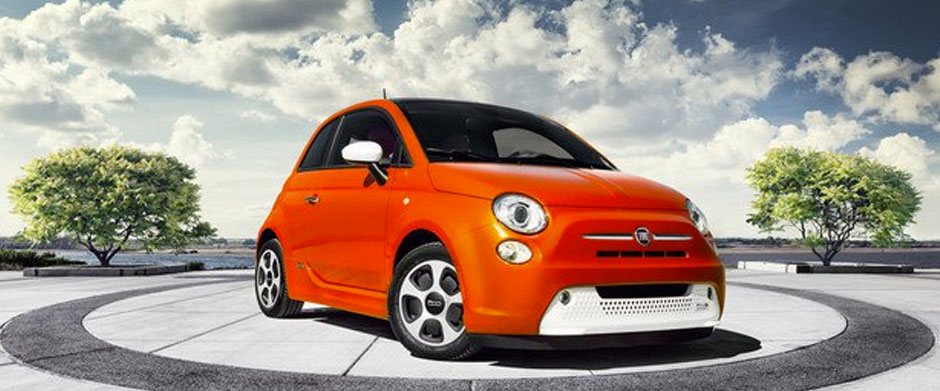 FIAT 500e For Sale
FIAT 500e PERFORMANCE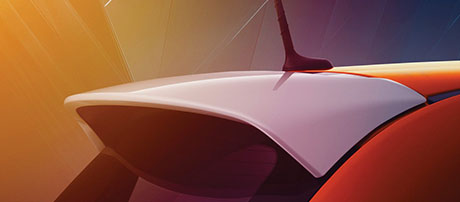 A Natural Fit
The FIAT® 500e features a rear spoiler that helps increase aerodynamic efficiency and adds style and flair.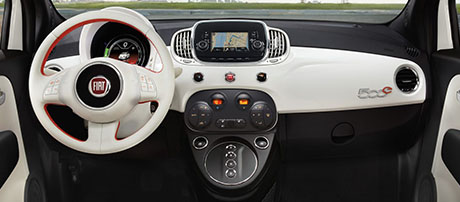 Advance Navigation And More
The GPS Navigation System on the FIAT® 500e helps keep you focused on the road ahead and get you to your planned destination with ease.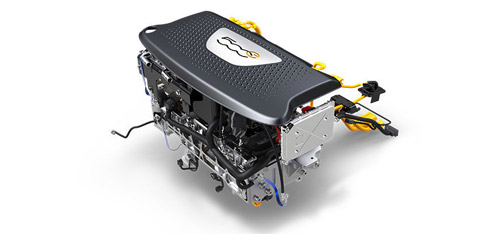 Responsible Power
The FIAT® 500e powertrain is 100% electric and composed of three main components: an advanced high-voltage lithium-ion battery pack, a high-power electric-drive motor and a power inverter module to help manage power flow. Using electricity to fuel the vehicle, you need an inverter to get the job done. It works a bit like a fuel pump in a conventional gas-powered engine, but in this case the fuel is electricity stored in the battery pack of the FIAT 500e.
2017 500e APPEARANCE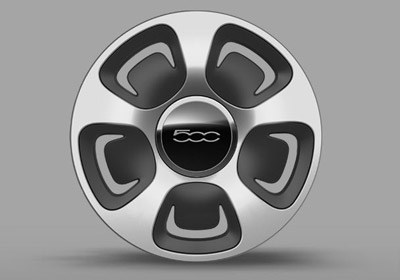 15-Inch Aluminum Wheels
Roll in style with your choice of aluminum wheels. The FIAT® 500e come standard with 15-inch aluminum wheels that keep you going. 16-inch wheels are standard on the FIAT 500 Abarth and available on Lounge. And 17-inch forged aluminum hyper black or bronze wheels are available on Abarth.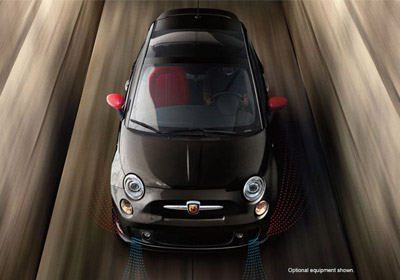 One Speed Fits All
Unlike a traditional transmission, the single-speed gearbox transmission directs the output from the electric-drive motor and provides calibrated gear reduction. Lower electric motor input speeds, decreased battery usage and more efficient use of vehicle energy with increased torque output capacity are a few of the benefits this transmission provides.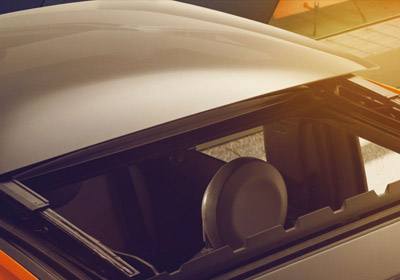 Skies Wide Open
Take in the view. The available one-touch power sunroof can tilt from the rear for ventilation or slide rearward to provide a full opening.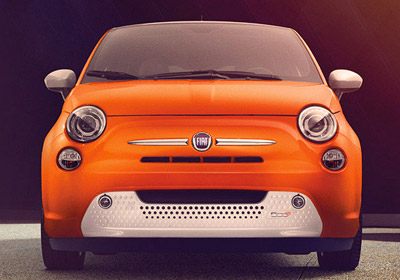 Good Riddance Gas
Even though this vehicle is electric, that doesn't mean it isn't fun to drive. Just get in and test it for yourself. The electric-drive motor is simply a device that uses electrical energy to produce mechanical energy or movement. Electric motors use electrical energy to spin. The FIAT® 500e uses an 83-kW electric-drive motor that delivers 111 horsepower and 147 lb-ft of torque.
FIAT 500e COMFORT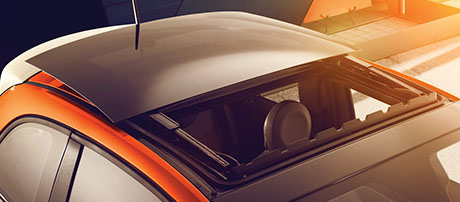 Eco-Chic In The Modern World
Because we love design as much as we love the earth, we created the all-electric FIAT® 500e. The 2017 FIAT 500e is 100% battery powered and yields zero tailpipe emissions without compromising style. Ugliness is the worst pollution of all. With its Italian styling, instant torque, strong and smooth acceleration and aerodynamic bodywork, the FIAT 500e is environmentally sexy. The FIAT® 500e is available only in California and Oregon at select FIAT dealers.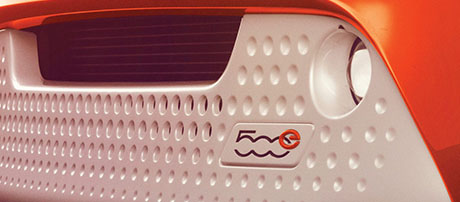 Clear The Way
Style and functionality come into play with the fog lamps on the FIAT® 500e. Beautiful bulbs illuminate the road to help make your ride easier when it gets harder to see.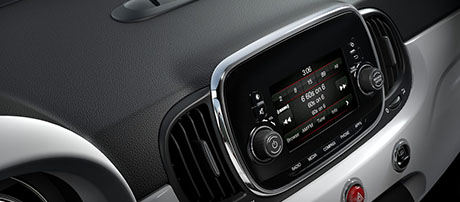 SiriusXM® Satellite Radio
Experience out-of-this-world sound. An Alpine® Premium Audio System with six high-performance speakers, seven-channel custom-equalization, a series digital amplifier and SiriusXM® Satellite Radio with one year of service are all included on the FIAT® 500e. Radio features include MP3 functionality, an auxiliary input to support external audio sources and a USB port to support media play. Steering wheel-mounted audio controls make operating the system extra convenient.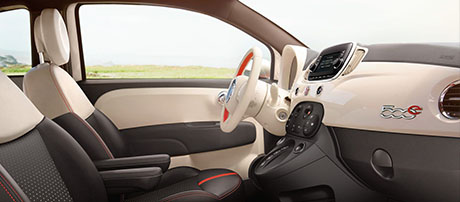 Heated Leatherette Seats
The FIAT® 500e offers seating that is designed for exceptional comfort. Featuring leatherette trim, the reclining front seats are heated and include a memory feature that remembers the position of the seats. So you only need to set them once. Distinctive headrests and an easy entry pull handle are also included.
2017 FIAT 500e SAFETY & WARRANTY
STANDARD COVERAGE for FIAT 500
Basic Limited Warranty 4 Yrs/50,000 Miles • Anti-Corrosion Perforation Limited Warranty 12 Yrs/Unlimited Miles • Roadside Assistance 4 Yrs/Unlimited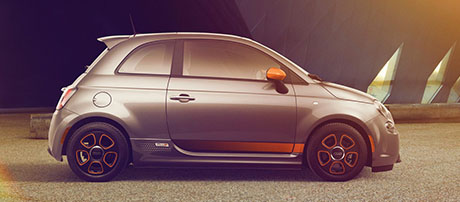 Hill Start Assist
Hill Start Assist is part of the Electronic Stability Control System. Hill Start Assist helps you when launching a vehicle on an incline. It helps maintain brake pressure for a short duration between the time you release the brake pedal and step on the accelerator. If you don't apply the throttle in a few seconds, the system will release brake pressure.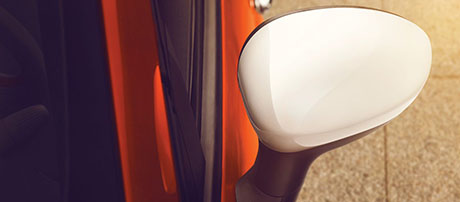 Get A Better Look
A bright and beautiful exterior is complemented by heated power exterior mirrors that come standard on the 2017 FIAT® 500e. The exterior mirror caps are designed to help reduce the vehicle's drag coefficient.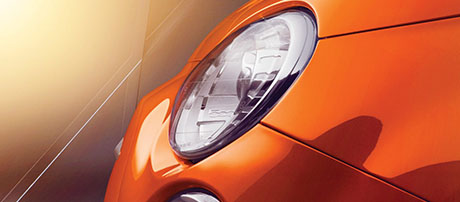 Shine On
Steer clear with circular bifunctional halogen projector headlamps and daytime running lamps that feature high-tech bulbs.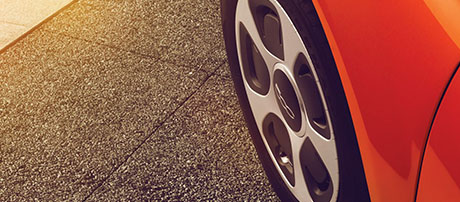 Electronic Stability Control
Using strategically placed sensors, Electronic Stability Control (ESC) compares your steering input to the direction your vehicle is actually traveling. If it senses a difference between the two, ESC applies the brakes to individual wheels automatically and may reduce engine torque to help you maintain directional control under demanding or adverse conditions.