2016 Porsche Macan Overview
2016 Porsche Macan For Sale


Porsche Macan For Sale
2016 Porsche Macan Performance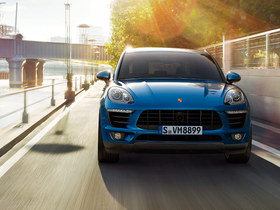 OFF-ROAD Button
Would you like to try roads that aren't actually there? A button on the center console sets your Macan to OFF-ROAD mode. All relevant systems switch to a traction-optimized program for off-road terrain. The optional air suspension including PASM automatically adjusts to Terrain Level. In addition, optional Porsche Torque Vectoring Plus (PTV Plus) and Porsche Stability Management (PSM) – integrated as standard – optimally adapt their setup for off-road use, delivering improved driveability and safety.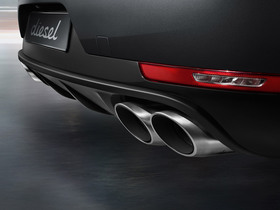 Sport Tailpipes
Sport tailpipes are available for your Macan on request. The twin dual-tube tailpipes are specially designed and feature a highly polished chrome-plated stainless steel finish, also available in chrome-plated black. A sporty statement that is visually unmistakable.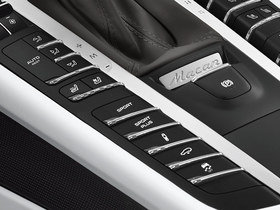 Sport Button
The SPORT button, which is fitted as standard, enables you to select a setup that favors either comfort or sporty performance. At the push of a button, the electronic engine management system switches the engine mapping to offer an even sharper response and engine dynamics that are more direct.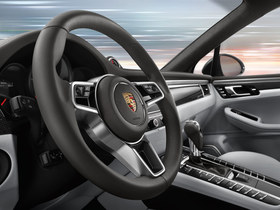 Steering
The steering has been engineered for sporty and immediate handling. The tuning of the electromechanical steering system is what makes the Macan models so extraordinarily agile. It also contributes to low fuel consumption. As there is no hydraulic system constantly drawing power, energy is consumed only when the steering is turned.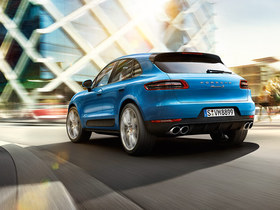 Porsche Active Suspension Management (PASM)
PASM is an electronic damping control system. It actively and continuously adjusts damping force based on current road conditions and driving style. When a car is driven off-road or assertively in a manner that demands hard acceleration and braking, the forces acting on the car will normally induce perceptible body movements. PASM intervenes in these situations to reduce them. You can select from three modes: 'Comfort', 'SPORT' and 'SPORT PLUS'. PASM is permanently active, adapting automatically to the current driving situation with the aim of increasing driving stability and comfort.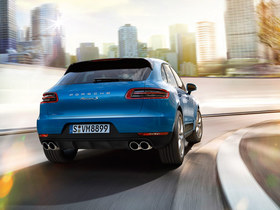 Porsche Torque Vectoring Plus (PTV Plus)
Operating in conjunction with an electronically regulated rear differential lock, it works by varying the torque distribution to the rear wheels. When the car is driven into a corner, moderate brake pressure is applied to the inside rear wheel as the situation demands. Consequently, a greater amount of drive force is distributed to the outside rear wheel, inducing an additional rotational pulse (yaw movement) around the vehicle's vertical axis. The effect is a direct and sporty steering action. And considerable driving pleasure at every twist and turn. At low and medium vehicle speeds, PTV Plus significantly increases agility and steering precision. At high speeds on the straight, and in fast corners where the wheels threaten to spin, the electronically controlled rear differential lock provides added driving stability. Stability is also improved on road surfaces with varying grip as well as in the wet and snow.
2016 Porsche Macan Appearance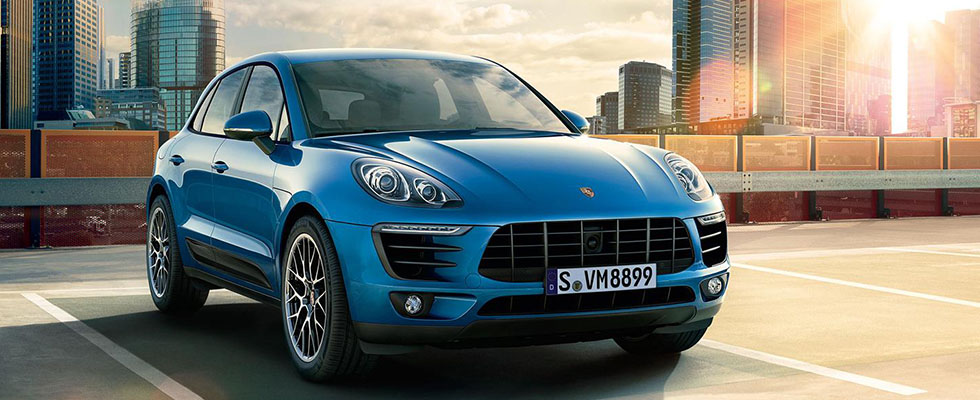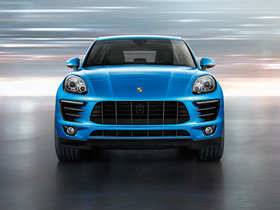 Trailer Hitch Without Tow Ball
The Macan is quite simply the most versatile vehicle we have ever built. This includes the capability of being used as a tow vehicle. An optional Towing Package includes a trailer receiver without tow ball that accommodates a maximum braked trailer weight of 4,409 pounds. With its exceptional towing capacity, the Macan takes you down the road as perhaps no Porsche has ever before.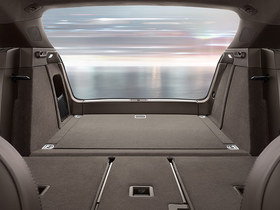 Luggage
The large luggage compartment of the new Macan models is prepared for a wide variety of uses and boasts a capacity of 17.7 cu. ft.. A storage compartment to the side offers additional space. The rear bench seat folds down with a ratio of 40 : 20 : 40. With the seats fully folded, the available capacity increases to 53.0 cu. ft. To protect against sunlight and offer additional privacy, the luggage compartment is equipped with a removable luggage compartment cover. The optional ski bag can also be removed. It can be used for carrying ski equipment outside the vehicle or simply taken out for cleaning. Practical and hygienic in equal measure.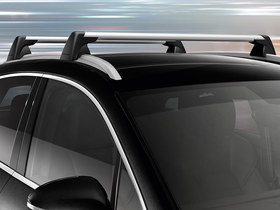 Roof Rails/Transport System
These high-quality roof rails are available in aluminum or with a black painted finish. They blend harmoniously into the vehicle's dynamic design. Roof rails are a prerequisite for installation of the optional roof transport system and are available as a factory-fitted option only. In conjunction with the optional roof rails, this set of lockable roof bars is compatible with all Porsche roof attachment modules. The load-bearing parts in aluminum are designed to carry a maximum load of 220 lbs. A range of aftermarket attachment modules is available from Porsche Tequipment.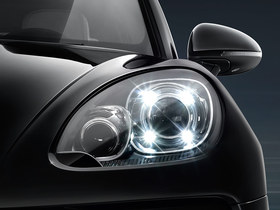 Lighting Concept
The Bi-Xenon™ headlights feature automatic and dynamic range control, which provides uniform illumination of the road whether low or high beam is selected. The dynamic cornering light function swivels the headlights towards the inside of a bend based on the steering angle and road speed. The static cornering lights activate the auxiliary headlights in order to illuminate more of the road at tight bends and turns. Put simply, a greater part of the road ahead is illuminated the moment you enter a bend.
2016 Porsche Macan Comfort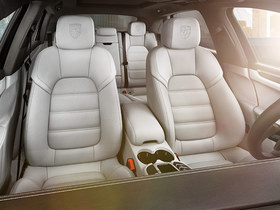 Interior Design
As a creator of sports cars, we know that driver and car must form a single entity. As such, you do not simply sit in the Macan – the ergonomic architecture integrates you into the vehicle. The three-dimensional arrangement of the controls lends the interior a cockpit-style layout. In typical Macan fashion, the sporty front seats convey a sense of height above the road without any loss of intimacy with it. The essentials are seen at a glance. The instrument panel has a three-tube design. Three tubes – just like in a classic sports car. Also in view is the centrally positioned tachometer. To the right is the 4.8-inch color screen, which, among other things, displays information from the on-board computer.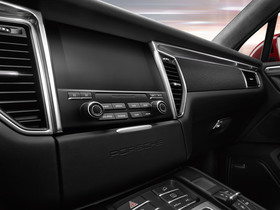 New Porsche Communication Management (PCM)
Infotainment for a new generation: new Porsche Communication Management (PCM), with optional navigation, features Sirius XM and HD radio fitted as standard and is the central control unit for audio and communication. Easy to operate using the new 7-inch multi-touchscreen or rotary pushbutton controls. When the screen is approached, the integrated proximity sensor brings up the relevant menus so that they can be selected intuitively by multi-touch gestures. The PCM features a high-quality glass surface that blends perfectly with the interior. Mobile phone preparation allows you to connect your mobile phone to the PCM via Bluetooth® without any complications.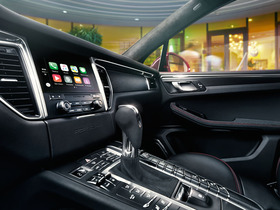 Connect Plus
The optional Connect Plus module provides wireless Internet access so that you can connect WLAN compatible devices to the Internet, Apple® CarPlay and online navigation with real-time traffic information on the navigation system's map view (including GOOGLE® Earth and GOOGLE® Street View) *. Another feature of the Connect Plus module is the Porsche Connect app. Information from your smartphone's address book or calendar can then be transferred, easily and quickly, to the vehicle. The music streaming function also provides access to millions of music titles. Also included is Apple® CarPlay, with which iPhone® apps, including 'Siri®', can be used via PCM even while driving.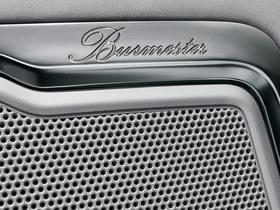 Burmester® High-End Surround Sound System
The figures alone sound impressive: 16 amplifier channels with a total output of more than 1,000 watts, 16 loudspeakers including an active subwoofer with 300-watt class D amplifier, a total diaphragm surface area of more than 2,400 cm2, and a frequency response of 30 Hz to 20 kHz.
2016 Porsche Macan Safety
New Car Limited Warranty & Porsche 24-Hour Roadside Assistance Program for 4-Years / 50,000 Miles (whichever occurs first)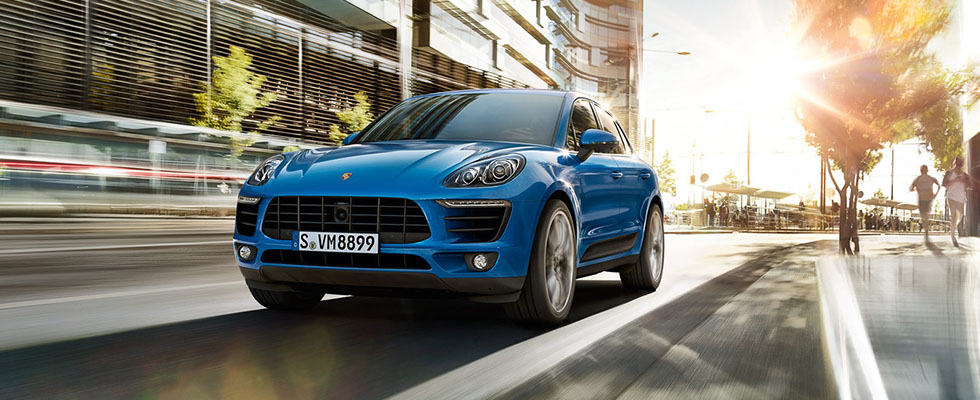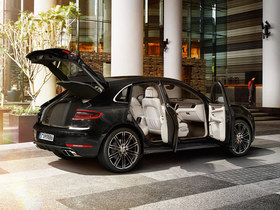 Engineered Body Design
The use of ultra- and super-high-strength steels makes a crucial contribution to safety and, at the same time, purposefully encapsulates the principle of lightweight construction. The forces exerted in the event of a frontal impact are dispersed by a system of longitudinal and transverse members. Reinforcements in ultra-high-strength steel provide additional protection for occupants in the event of a side impact. The concept also sees the use of multiphase steels. High strength and clearly defined deformability are two qualities that they have in common. The passenger cell is a cage formed of high-tech steels and offers a considerable level of protection.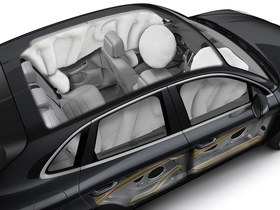 Airbags
All Macan models are equipped, as standard, with full-size airbags for the driver and front passenger. These are supplemented by the Porsche Side Impact Protection System (POSIP). It comprises side airbags in the front seats, curtain airbags along the entire roof frame and the side windows from the A-pillar to the C-pillar, and side impact protection elements in the doors. Side airbags for the rear compartment, along with driver and passenger knee bags, are standard. Two auxiliary sensors in the bumper help to detect frontal collisions. A cluster of acceleration and yaw rate sensors detects a threat of rollover and triggers the curtain airbags and seat belt pretensioners.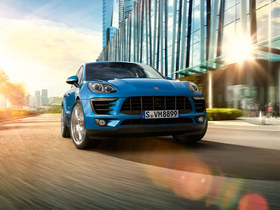 Porsche Stability Management (PSM)
PSM is an electronic control system that maintains stability – and increases driving safety – even at the limits of sporty performance. Sensors continuously monitor driving direction, speed, yaw velocity and lateral acceleration. PSM actively intervenes to stabilize the vehicle when necessary by strategically applying the brakes at individual wheels. That's not all. If the driver suddenly releases the accelerator pedal, PSM primes the brake system for a higher state of readiness. Maximum braking power is therefore achieved much sooner. Integral ABS is optimized for short braking distances.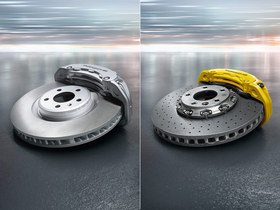 Braking Systems
At Porsche, we also set ourselves high standards for braking performance. So it goes without saying that our brake systems are super-sized and adapted to the high power output of the engine. At the front, the Macan models are equipped with six-piston aluminum monobloc fixed brake calipers. The brake discs are internally vented for consistently high braking power, even during continuous use. To cope with the performance capability of the Macan models, the brake discs fitted to the front axle are up to 360 mm in diameter. The brake calipers of the Macan S are silver-colored. On the Macan Turbo – red.
2016 Porsche Macan Specification

Height: 63.94 in
Width (w/ mirrors folded): 76.1 in. (82.6 in.)
Wheelbase: 110.51 in
Length: 184.29 in
Specs reflect base model unless otherwise noted.
Engine
PDK
Engine layout
Front Engine / All wheel drive
Cylinder layout / number of cylinders
V engine / 6
Displacement
3.0 Liters
Horsepower
340 hp
@ rpm
5500 - 6500 rpm
Torque
339 lb.-ft.
Compression ratio
9.8 : 1
Body
PDK
Length
184.29 in.
Width (w/ mirrors folded)
76.1 in. (82.6 in.)
Height
63.94 in.
Wheelbase
110.51 in.
Drag coefficient (Cd)
0.36
Curb weight
4112 lbs
Towing capacity (braked / unbraked)
4409 lbs / 1653 lbs
Performance
PDK
Top Track Speed
156 mph
0 - 60 mph
5.2 sec (5.0 sec w/ Sport Chrono)
Transmission
PDK
Manual Gearbox
n/a
Tiptronic S
n/a
PDK
Porsche Doppelkupplung (PDK), 7-speed transmission
| Fuel consumption | PDK |
| --- | --- |
| City (estimate) | 17 mpg |
| Highway (estimate) | 23 mpg |
| Combined (estimate) | 19 mpg |
| | |
| --- | --- |
| Luggage compartment volume (with seats folded) | 17.7 cu.-ft. (53.0 cu.-ft.) |
| Fuel tank | 19.8 gal. |