2016 Porsche Cayman Overview
2016 Porsche Cayman For Sale


Porsche Cayman For Sale
2016 Porsche Cayman Performance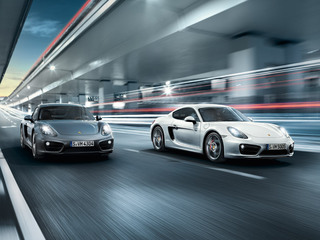 Thermal Management
The intelligent thermal management system in the Cayman models regulates the temperature in the engine and gearbox to reduce friction losses that occur during the warm-up phase. Thanks to the purposeful control of heat flow and on-demand, gradual activation of the various cooling circuits, the engine and gearbox warm up to normal operating temperature more rapidly. The resulting reduction in friction also reduces fuel consumption and CO2 emissions. During sporty driving, thermal management also acts to reduce temperatures so as to maintain a high degree of performance. Our cross-flow cooling system, as used in motorsport, supplies each engine cylinder uniformly with coolant, which protects all valves against thermal overload and, therefore, premature wear. This improves combustion and keeps emissions, fuel consumption and noise comparatively low.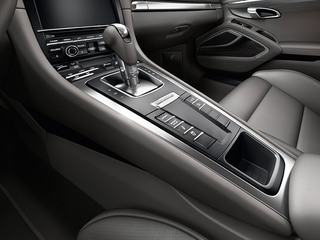 Porsche Doppelkupplung (PDK)
Of course, you could let us take care of the gearshift strategy so that you can devote all your attention to your cornering strategy, with the optional 7-speed Porsche Doppelkupplung (PDK) featuring both manual and automatic modes. PDK offers extremely fast gear changes with no interruption in the flow of power, improved acceleration over the manual transmission, very short response times, reduced fuel consumption and a distinct increase in comfort. PDK is essentially two gearboxes in one, thus requiring two clutches. This double-clutch transmission provides an alternating, non-positive connection between the two half gearboxes and the engine by means of two separate input shafts. The flow of power from the engine is transmitted through one half gearbox and one clutch at a time, while the next gear is preselected in the second half gearbox. Therefore, during a gear change, one clutch simply opens and the other closes simultaneously, enabling gear changes to take place within milliseconds. With the SPORT button selected, the full advantages of PDK are brought into play: a more immediate response to throttle inputs, relatively short shift times and swift throttle-blip downshifts on overrun, such as when braking into a corner, and always accompanied by an emotive engine sound.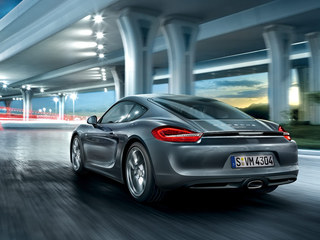 True Performance
The Cayman is equipped with a freerevving 2.7-liter flat-six engine with direct fuel injection (DFI) and VarioCam Plus. It develops 202 kW (275 hp) at 7,400 rpm. The maximum torque of 290 Nm is available across a wide speed range from 4,500 to 6,500 rpm. The Cayman with six-speed manual transmission accelerates from 0 to 100 km/h in 5.7 seconds and reaches a top speed of 266 km/h. With the optional Porsche Doppelkupplung (PDK) it completes the 0 to 100 km/h sprint in 5.6 seconds and achieves a top speed of 264 km/h. The optional Sport Chrono Package in conjunction with PDK offers a further performance boost. With Launch Control in the Sport Chrono Package, the Cayman accelerates from 0 to 100 km/h in just 5.4 seconds.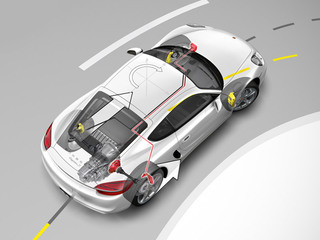 Porsche Torque Vectoring (PTV)
This optional system for increasing dynamic performance and stability varies the distribution of torque to the rear wheels and includes a locking rear differential. When the car is driven assertively into a corner, moderate brake pressure is applied to the inside rear wheel. Consequently, an additional rotational pulse (yaw movement) is induced around the vehicle's vertical axis in the direction of the turn. This results in a direct and sporty steering action as the car enters the corner. At low and medium vehicle speeds, PTV significantly increases agility and steering precision. At high speeds and when accelerating out of corners, the rear differential lock ensures greater driving stability and traction on road surfaces with varying grip, including wet and wintery conditions with cold weather tires.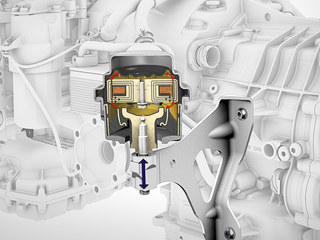 Dynamic transmission mounts
Dynamic transmission mounts are a component of the optionally available Sport Chrono Package. This electronically controlled system minimizes the oscillations and vibrations of the entire drivetrain, especially the engine, and combines the benefits that otherwise distinguish hard and soft gearbox mounting arrangements. A hard gearbox mounting delivers optimum dynamic performance because it offers a high degree of handling precision. Soft gearbox mounts, on the other hand, minimize oscillations and vibrations. While comfort is improved on uneven road surfaces, this comes at the expense of dynamic performance. Dynamic gearbox mounts adapt their stiffness and damping characteristics to changes in driving style and road surface conditions. This has been achieved by use of a fluid with magnetic properties in interaction with an electrically generated field. For the driver, the results are tangible. Handling is perceptibly more stable under load change conditions and in fast corners. Whenever a less assertive driving style is adopted, the dynamic gearbox mounts automatically soften to enhance comfort.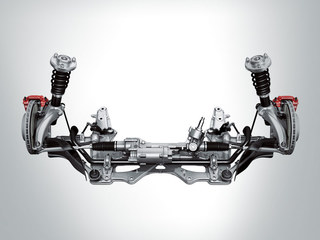 Steering
Our interpretation of efficiency is a system that works only when it is needed, and then does so in a particularly effective way. Whereas a conventional hydraulically assisted steering system draws engine power continuously, the electric motor of the electromechanical system in the Cayman models uses energy only when you actually steer. As a result, fuel consumption is reduced and the absence of hydraulic fluid eliminates the need for servicing the system. These two advantages are also beneficial to the environment. A variable steering ratio preserves the precise and direct steering response associated with the typical Porsche steering feel. This intelligent system filters out unwanted shocks from the road and actively assists steering inputs under braking on road surfaces with varying grip.
2016 Porsche Cayman Appearance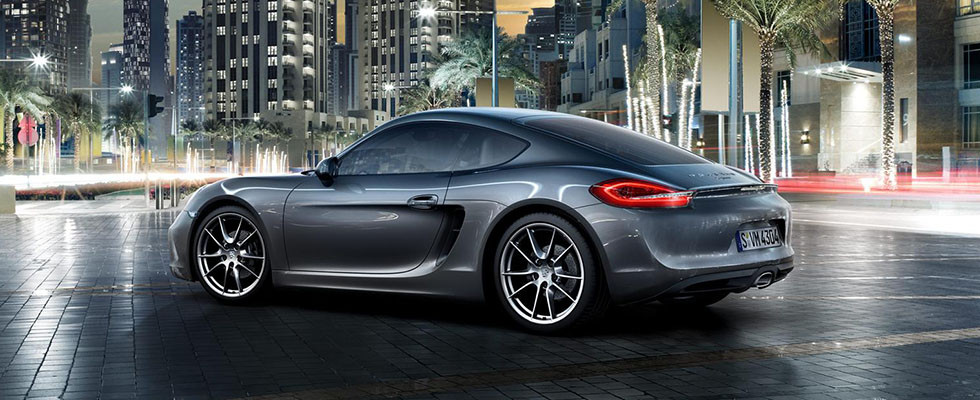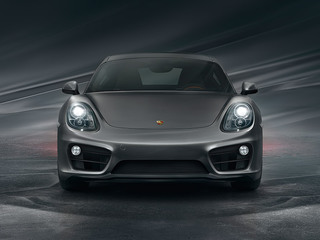 Lights
A design is either fascinating or functional. The front and rear lights of the Cayman models can be both. Clear glass halogen headlights are fitted on the Cayman as standard. The Cayman S is equipped as standard with Bi-Xenon headlights while the Cayman GTS has Bi-Xenon headlights including the Porsche Dynamic Light System (PDLS). Daytime running lights and position lights are integrated in the air intakes of all Cayman models. Also standard in all Cayman models is automatic headlight activation which, depending on the ambient light conditions, automatically switches between daytime running lights and dipped beam. LEDs provide powerful illumination, respond rapidly to driver input, are more energy efficient and have a longer service life. They are also used in the rear lights. Ensuring greater safety and creating a look that is unmistakable, day and night.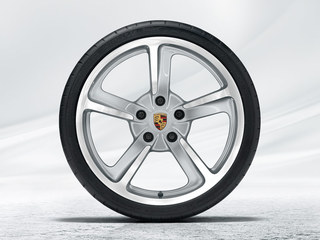 Wheels + TPMS
Performance needs sustained stability. Fitted as standard on the Cayman, 18-inch alloy wheels are responsible for maintaining the strong connection between the vehicle and the road. A minimalist dual-arm spoke design accentuates their sporty character – and yours. Tire sizes are 235/45 ZR 18 at the front and 265/45 ZR 18 at the rear. Standard Tire Pressure Monitoring System (TPMS) sends warnings to the on-board computer's display screen in the event of low tire pressure. The TFT screen in the instrument cluster enables the driver to check the pressure in all four tires. The system updates quickly and accurately after an engine start, tire pressure correction or wheel change – for increased comfort and your safety.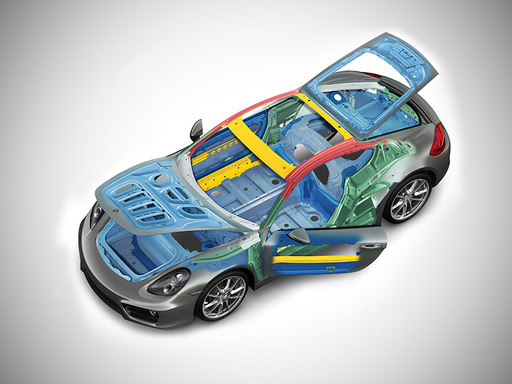 Engineered Body Design
The bodyshell of the Cayman models is based on an intelligent lightweight principle involving the composite construction of aluminium and steel. The use of dissimilar but precisely combined components makes it possible to utilise specific material properties exactly where they are needed. Not only does this provide a high degree of safety for the driver, it also offers a considerable weight saving compared with the bodyshell of the previous model. This is why the doors, luggage compartment lid and rear hatch are made of aluminium.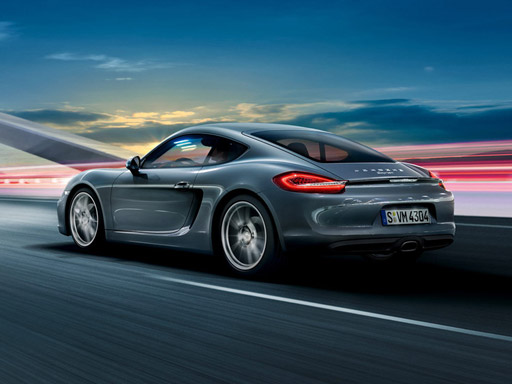 Fuel
The Cayman models are designed to operate on fuels with an ethanol content of up to 10%. Ethanol has a positive impact on the CO2 balance since the plants grown for the production of this biofuel also absorb CO2 from the atmosphere. The release of hydrocarbons from the fuel system has been minimised thanks to the active carbon filter and the multilayered material from which the fuel tank is made.
2016 Porsche Cayman Comfort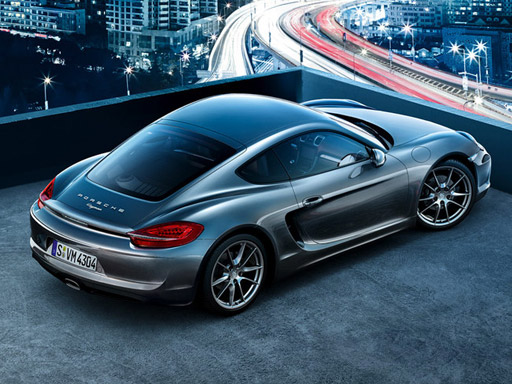 Recycling
Intelligent lightweight construction is, and always has been, a fundamental aspect of the Porsche philosophy – for both technical and ecological reasons. This combination forms the basis for achieving low fuel consumption values in conjunction with high performance. On the technical side, various components are made with a high proportion of aluminium, magnesium, plastics and super-high-strength sheet steel. The materials used have been selected for their ability to withstand load, yet they are considerably lighter than conventional steel. As a result, the bodyshell of the Cayman models has a light alloy content of approximately 44%.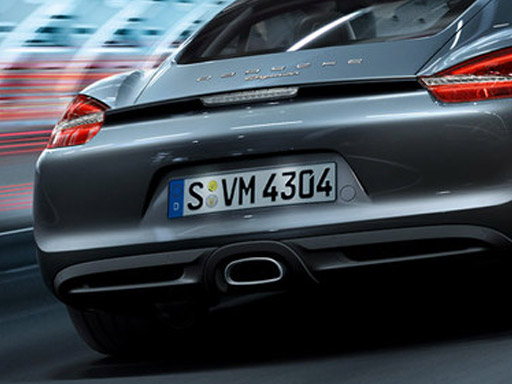 Exhaust Emission Control
Vehicles manufactured by Porsche demonstrate that even high-performance sports cars can achieve moderate fuel consumption and exhaust emission values in their respective category. This is accomplished by the use of fuel-efficient technologies such as auto start/stop, thermal management, electrical system recuperation, direct fuel injection, VarioCam Plus and, in conjunction with optional PDK, coasting mode.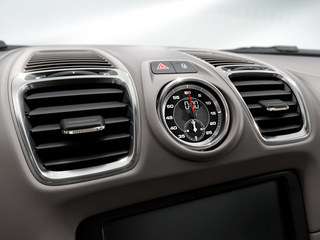 Sport Chrono Package
Better performance would normally be impossible to achieve without more intensive training. In the Cayman models, it comes at the push of a button. The optional Sport Chrono Package provides simultaneous enhancement for the chassis, engine and transmission – accompanied by an even more emotive sound. In addition to the performance display, a digital and an analogue stopwatch, the Sport Chrono Package also includes dynamic transmission mounts. Another component is the SPORT PLUS button. When this is pressed, optional Porsche Active Suspension Management (PASM) switches to 'Sport' mode for harder damping and more direct steering and, therefore, even more intensive road holding.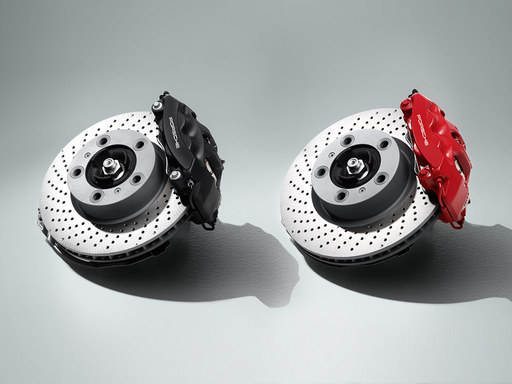 Brakes
The Cayman models are equipped with four-piston aluminium monobloc fixed-caliper brakes. This design means that, not only are the brakes extremely resistant to deformation, they are lightweight for a particularly fast and sensitive braking response. Even during continuous use. Brake cooling has also been optimised by the brake ventilation system with brake air spoilers at the front and rear axles. The dynamics of the Cayman models also demand appropriate brake discs. All Cayman brake discs are internally vented and cross-drilled for improved braking in wet conditions. With a diameter of 330 mm, the front brake discs of the Cayman S and Cayman GTS are 15 mm larger that those of the Cayman. The diameter of the rear brake discs is 299 mm on all models.
2016 Porsche Cayman Safety
New Car Limited Warranty & Porsche 24-Hour Roadside Assistance Program for 4-Years / 50,000 Miles (whichever occurs first)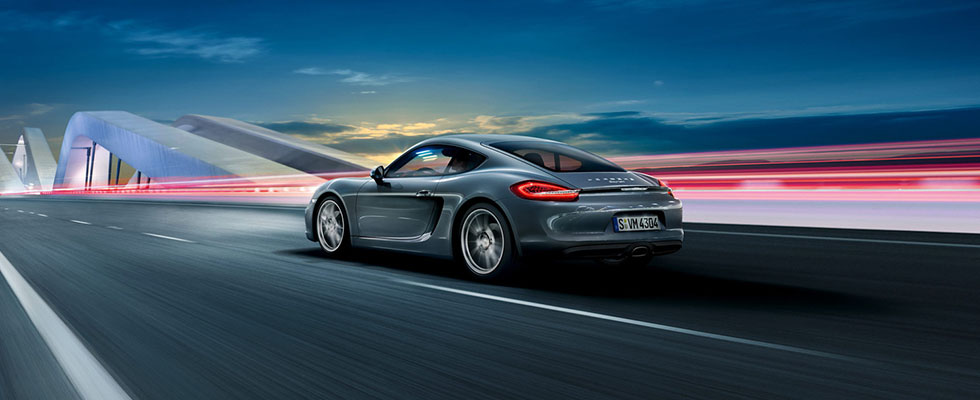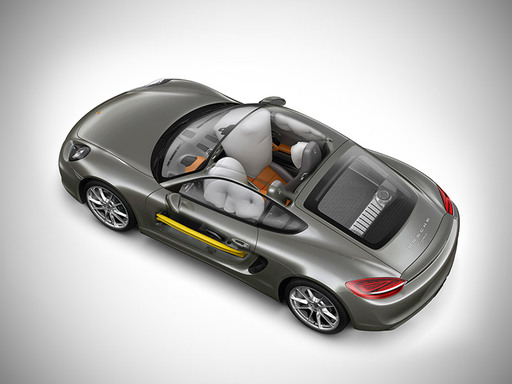 Airbags
To protect the driver and passenger, the Cayman models are equipped as standard with full-size airbags, which are inflated in two stages depending on the severity and type of accident (e.g. frontal or offset frontal). In less serious accidents, the airbags are only partially inflated, thereby minimising discomfort to the occupants. To protect the driver and passenger, the Cayman models are equipped as standard with full-size airbags, which are inflated in two stages depending on the severity and type of accident (e. g. frontal or offset frontal). In less serious accidents, the airbags are only partially inflated, thereby minimising discomfort to the occupants.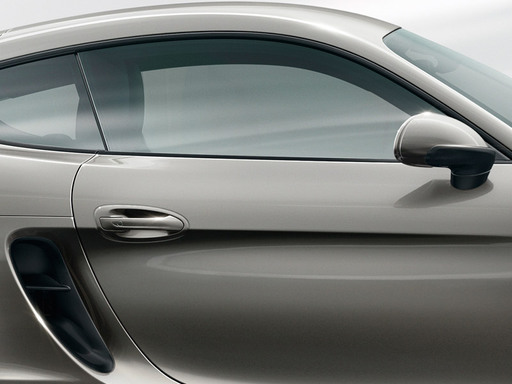 Anti-Theft Protection
The Cayman models are equipped as standard with an immobiliser with in-key transponder. The Cayman S and Cayman GTS have an alarm system with contact-sensitive exterior protection. A radar-based interior surveillance system is available to protect the interior of the vehicle. A combined alarm and radar-based interior surveillance system is available as an option for the Cayman. Porsche Vehicle Tracking System (PVTS) is available as an option.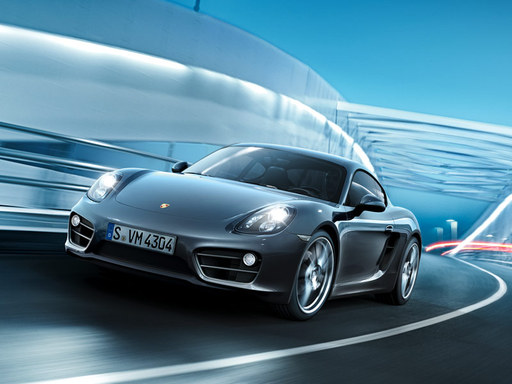 Porsche Stability Management (PSM)
Porsche Stability Management (PSM) is fitted as standard. This system automatically maintains stability, even at the limits of dynamic driving performance. Sensors continuously monitor the speed, yaw velocity and lateral acceleration of the car. Using this information, PSM is able to calculate the actual direction of travel at any given moment. If the car begins to oversteer or understeer, PSM applies selective braking on individual wheels in order to restore stability. When accelerating on wet or low-grip road surfaces, PSM improves traction – as well as agility and safety – using the automatic brake differential (ABD) and anti-slip regulation (ASR). Integrated ABS is designed to minimise braking distances.
2016 Porsche Cayman Specification

Height: 50.9 in
Width (w/ mirrors folded): 70.9 in
Wheelbase: 97.4 in
Length: 172.2 in
Specs reflect base model unless otherwise noted.
Engine
Manual
PDK
Engine layout
Mid-engine
Mid-engine
Number of cylinders
6
6
Displacement
2.7 l
2.7 l
Horsepower
275 hp
275 hp
@ rpm
7,400
7,400
Torque
213 lb.-ft.
213 lb.-ft.
Compression ratio
12.5 : 1
12.5 : 1
Body
Manual
PDK
Length
172.2 in.
172.2 in.
Width
70.9 in.
70.9 in.
Height
50.9 in.
50.9 in.
Wheelbase
97.4 in.
97.4 in.
Drag coefficient (Cd)
0.30
0.30
Unladen weight (DIN)
1,310 kg
1,340 kg
Unladen weight (EG)
2,888 lbs
2,954 lbs
Capacities
Manual
PDK
Luggage compartment volume
5.3 cu. ft. (front) / 9.7 cu. ft. (rear)
5.3 cu. ft. (front) / 9.7 cu. ft. (rear)
Fuel tank
16.9 gal.
16.9 gal.
Fuel consumption
Manual
PDK
City
20 mpg
22 mpg
Highway
30 mpg
32 mpg
| Performance | Manual | PDK |
| --- | --- | --- |
| Top Track Speed | 165 mph | 164 mph |
| 0 - 60 mph | 5.4 sec | 5.3 sec (5.1 sec in Sport Plus mode) |
| Transmission | Manual | PDK |
| --- | --- | --- |
| Manual Gearbox | 6-speed with dual-mass flywheel and self-adjusting clutch | - |
| Tiptronic S | n/a | n/a |
| PDK | - | 7-speed Porsche Doppelkupplung (PDK) |