2016 Porsche 911 Overview
2016 Porsche 911 For Sale

911
Carrera Black Edition

911
Carrera Cabriolet Black Edition

911
Carrera 4 Black Edition

911
Carrera 4 Cabriolet Black Edition

911
Carrera GTS Cabriolet

911
Carrera 4 GTS Cabriolet
Porsche 911 For Sale
2016 Porsche 911 Performance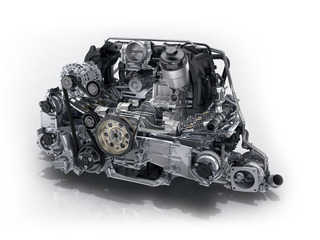 Engines
You could ask whether the sports car is still relevant. It would be a good question, but you might as well ask the same of dreams.
The answer to both questions lies in the future or, to be more precise, in the future of the sports car. In the 911, the future is already here. The highly efficient, state-of-the-art-engines make a considerable contribution to the comparatively low fuel consumption, but their sound is still unmistakably Porsche.
The 911 engines are also unmistakably sporty thanks to the SPORT button fitted as standard. At the push of a button, the engine becomes tuned for a sharper response and engine dynamics that are even more direct.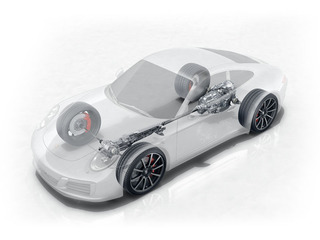 Advanced Powertrain
How did Porsche engineers balance the sensible with the sensational? The new thermal management technology manipulates heat flow to bring engine and transmission to optimal operation temperatures faster, reducing fuel consumption. Electrical system recuperation reduces the alternator's draw on engine power, freeing it for pure exhilaration. Other benefits come from a choice of two advanced transmissions, including a seven-speed manual gearbox. The first six forward gears have a sport ratio, while the seventh has a long ratio that reduces fuel consumption and engine noise at highway cruising speeds. The optional PDK also employs seven forward gears with a long-ratio top gear for efficient cruising.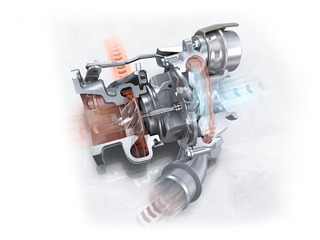 Turbochargers
The new 911 Turbo engine adheres to proven Porsche principles: rear-mounted. With six cylinders and a total displacement of 3.8 liters. And the cylinders placed horizontally in two opposite rows—what's referred to as a "flat-six" arrangement. What ultimately transforms a Porsche into a 911 Turbo are its two exhaust-driven turbochargers. Together with Variable Turbine Geometry (VTG), the intake manifold, and VarioCam Plus, the forced induction of compressed air into the cylinders creates stunning performance. On paper or on pavement, there is nothing like a Porsche 911 Turbo.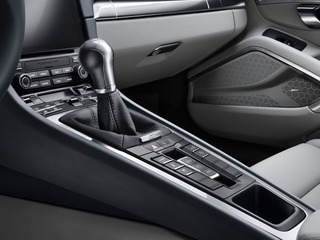 Transmissions
7-speed manual transmission
Pure, direct, precise. Short shift movements and an optimal transition from one gear to the next. That's exactly what you would expect of a Porsche manual gearbox. The design of this manual gearbox is based in principle on that of Porsche Doppelkupplung (PDK). Gears 1 to 6 have a sports ratio and top speed is reached in 6th gear. The additional 7th gear, however, has a long ratio, which reduces torque and helps to reduce fuel consumption.
Porsche Doppelkupplung (PDK)
The 7-speed PDK is available as an option for all of the 911 models, giving the driver the ability to enjoy driving in either manual or automatic mode, with significant performance and efficiency benefits.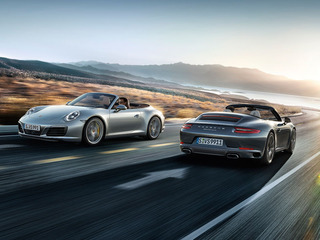 Efficiency-enhancing technologies
Auto Start Stop Function
The Auto Start Stop function is standard in the 911 models. In the 911 equipped with manual transmission, the engine switches off automatically when you come to a stop, select Neutral, and release the clutch pedal. In cars equipped with the optional Porsche Doppelkupplung (PDK) transmission, the engine switches off when you stop and leave your foot on the brake pedal.
Thermal Management
The thermal management system regulates the temperature in the engine and gearbox through the intelligent manipulation of heat flow. In this way, the engine and gearbox reach their optimal operating temperature sooner, reducing fuel consumption through increased combustion efficiency and lubrication performance.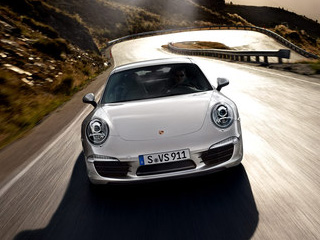 Air-Intake System
This system adjusts the volume of air entering the engine to suit changes in engine speed. It does so by cleverly fine-tuning the air's vibration as it passes through the intake manifold. Benefits include higher torque at low engine speeds, a flatter torque curve, and a sporty sound at higher revolutions. The Carrera S and Carrera 4S operate a two-stage system. The entire intake system is made from a durable, lightweight synthetic material.
2016 Porsche 911 Appearance
New Car Limited Warranty & Porsche 24-Hour Roadside Assistance Program for 4-Years / 50,000 Miles (whichever occurs first)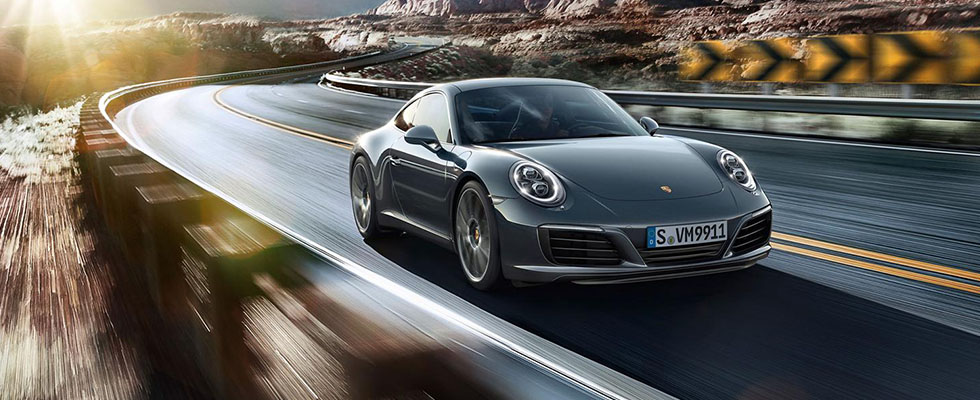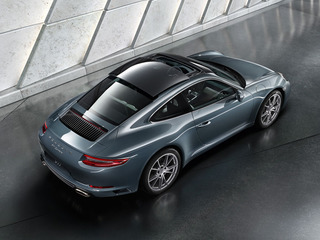 Slide/tilt sunroof
The electrically adjustable slide/tilt sunroof is available as an option for the 911 Coupé models. It opens outwards so that it does not interfere with headroom. Another advantage of this innovative design is the particularly large aperture for increased driving pleasure under the open sky. The net-type wind deflector protects against draught and further reduces wind noise. On request, the electrically adjustable slide/tilt sunroof is available in tinted toughened safety glass.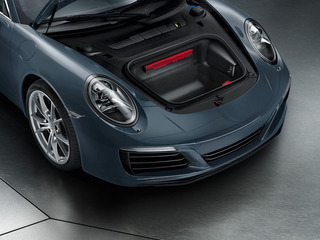 Luggage compartment
The luggage compartment volume in the 911 models is 145 litres – 125 litres in the 911 all-wheel drive models. The luggage compartment is fully trimmed in scratch-resistant materials.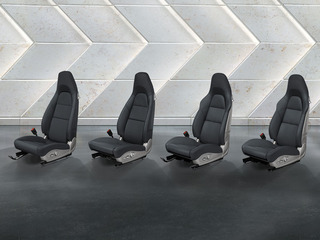 Seats
Sports seats
The Sports seats are equipped as standard with electric seat height and backrest adjustment and mechanical fore/aft adjustment.
Optional: Fully electric Sports Seats, Sports Seats Plus, Adaptive Sports seats Plus, and seat heating and ventilation.
Rear seats
The rear seats are remarkably comfortable for a sports car and the shelf behind offers additional storage space.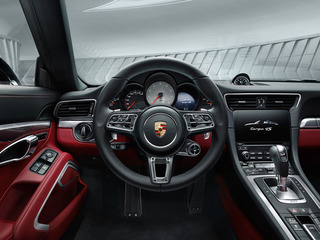 Sports steering wheel
The sports steering wheel is fitted as standard and adjusts up to 40 mm for height and up to 60 mm for reach. In conjunction with PDK, the steering wheels are equipped with two ergonomic gearshift switches enabling you to change gear directly from the steering wheel. Optional: SportDesign steering wheel & Steering wheel heating.
2016 Porsche 911 Comfort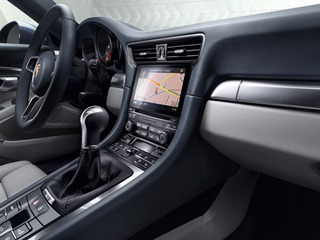 Porsche Communication Management (PCM)
Porsche Communication Management (PCM) is fitted as standard for the 911 models. Powerful, multifunctional and easy to use, PCM is your control centre for audio, navigation and communication functions.
The main feature is the intuitive 7-inch high-resolution color touchscreen. Radio functions include up to 42 memory presets and an FM twin tuner frequency diversity with RDS, which continuously scans in the background for the best signal, and a dynamic autostore. The DVD-audio drive plays CDs and audio DVDs and is MP3-compatible. Audio playback of video DVDs is also supported. A six-disc CD/DVD autochanger integrated into PCM is available as an option.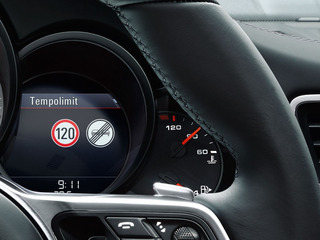 Assistance Systems
Cruise Control
This automatic speed control function is available as an option. For greater driver comfort on long stretches of road, cruise control operates in the 18–149 mph speed range and is activated using a button on the steering column control stalk.
Reversing camera
The optional reversing camera (only in conjunction with ParkAssist (front and rear), and with PCM) facilitates precise reverse parking and manoeuvring.
ParkAssist
Featuring four inconspicuous sensors in the rear end, the system audibly alerts the driver to the presence of obstacles detected behind the vehicle.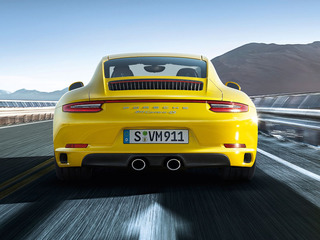 Porsche Traction Management (PTM)
Enhanced Porsche Traction Management (PTM) is standard on all 911 Carrera all-wheel-drive models. It is an active allwheel- drive system with an electronically variable map-controlled multiplate clutch, Automatic Brake Differential (ABD), and Anti-Slip Regulation (ASR). Drive power is distributed between the permanently driven rear axle and the front axle by means of the electronically variable multiplate clutch.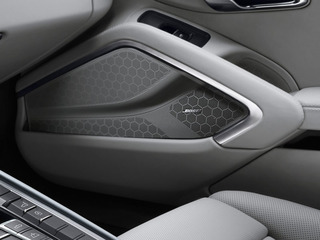 Sound Systems
BOSE® Surround Sound System
The optional BOSE® Surround Sound System has a total output of 445 watts and comprises eight amplifier channels, 12 loudspeakers and a patented integral 100-watt active subwoofer. The combined effect is a balanced acoustic pattern that transforms your 911 into a fast-moving concert hall.
Burmester® High-End Surround Sound System High-End Surround Sound System
The system has 12 amplifier channels with a total output of 821 watts, 12 loudspeakers including an active subwoofer with 300-watt class D amplifier, a total diaphragm surface area of more than 1,340 cm2, and a frequency response of 35 Hz to 20 kHz.
2016 Porsche 911 Safety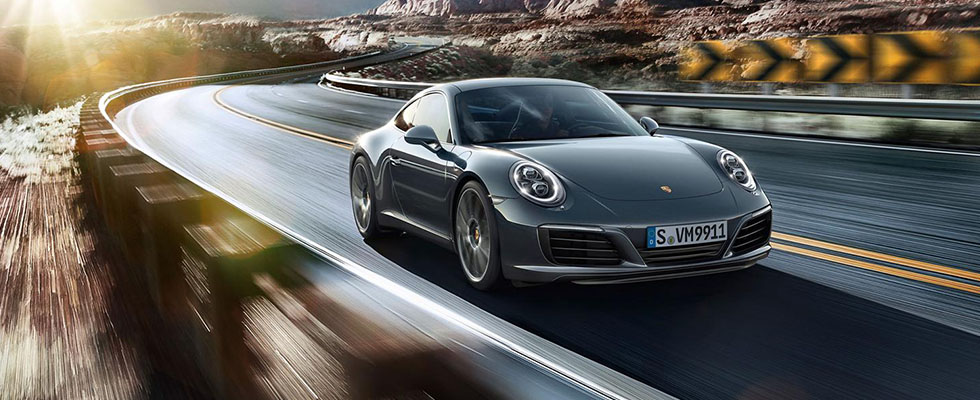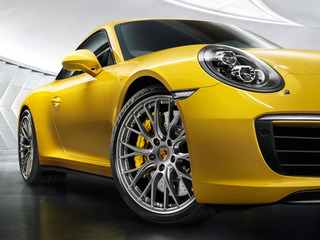 Brakes
On all models, the brake calipers have an enclosed monobloc construction. This makes them tougher but lightweight and enables a more rapid response and release of the brake even under extreme loads. The pedal travel is short and the biting point precise. The brake discs are cross-drilled for improved wet braking and optimum cooling.
Porsche Ceramic Composite Brake (PCCB)
Available as an option PCCB features six-piston aluminium monobloc fixed brake calipers on the front axle and four-piston units at the rear – all painted in yellow – to provide braking forces that are considerably more powerful and, crucially, are exceptionally consistent.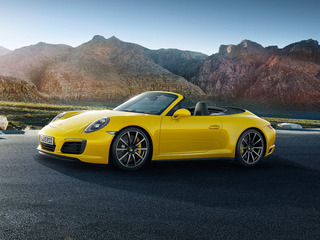 Airbags and Porsche Side Impact Protection System (POSIP)
The new 911 models offer advanced airbag technology in the form of full-size driver and front passenger airbags, which are inflated in two stages depending on the severity and type of accident.
Coupé or Cabriolet, the 911 models are equipped as standard with the Porsche Side Impact Protection System (POSIP). It comprises side impact protection elements in the doors and two airbags on each side. An integral thorax airbag is located in each seat side bolster, while the door panels each contain an upwards-inflating head airbag.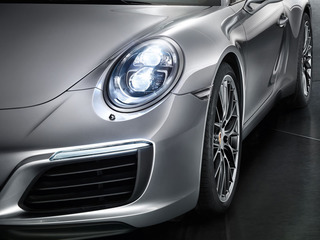 Porsche Dynamic Light System (PDLS)
The Porsche Dynamic Light System (PDLS) is available as an option. Its dynamic cornering light function swivels the headlights towards the inside of a bend, based on steering angle and road speed, in order to illuminate more of the road at tight bends and turns. Put simply, the road ahead is illuminated the moment you enter a bend. Speed-sensitive headlight range control is also part of the PDLS as is the adverse weather function.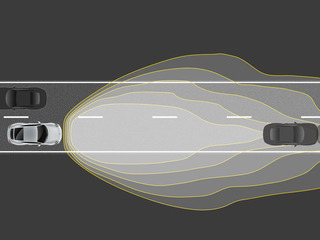 LED main headlights including Porsche Dynamic Light System Plus (PDLS+)
Superior safety meets sporty design in the form of the LED main headlights with PDLS+ which are available as optional equipment. In addition to being efficient and long-lasting, LED technology also creates a light very similar to daylight and thus helps to reduce driver fatigue.
One special feature of PDLS+ is the dynamic main beam function. A camera detects the lights of vehicles ahead as well as those of oncoming traffic. Based on the data from the camera, the dynamic main beam function then adapts the headlight range accordingly.
2016 Porsche 911 Specification

Height: 51.3 in
Width (w/ mirrors folded): 71.18 in
Wheelbase: 96.46 in
Length: 176.81 in
Specs reflect 2016 911 Carrera Coupe.
| Engine | Manual | PDK |
| --- | --- | --- |
| Engine layout | Rear engine | Rear engine |
| Cylinder layout / number of cylinders | Horizontally Opposed / 6 | Horizontally Opposed / 6 |
| Displacement | 3.4 l | 3.4 l |
| Max. Power | 350 hp | 350 hp |
| @ rpm | 7400 rpm | 7400 rpm |
| Max. Torque | 287 lb.-ft. | 287 lb.-ft. |
| Compression ratio | 12.5 : 1 | 12.5 : 1 |
| Body | Manual | PDK |
| Length | 176.81 in. | 176.81 in. |
| Width | 71.18 in. (w/o mirrors) | 71.18 in. (w/o mirrors) |
| Height | 51.30 in. | 51.30 in. |
| Wheelbase | 96.46 in. | 96.46 in. |
| Drag coefficient (Cd) | 0.29 | 0.29 |
| Curb weight | 3,042 lbs | 3,086 lbs |
| | | |
| Luggage compartment volume | 54.2 gallons | 54.2 gallons |
| Fuel Tank Capacity | 16.9 gal. | 16.9 gal. |
| Transmission | Manual | PDK |
| --- | --- | --- |
| Manual transmission | 7-speed | - |
| Tiptronic S | n/a | n/a |
| PDK | - | 7-speed Porsche Doppelkupplung (PDK) |
| Performance | Manual | PDK |
| --- | --- | --- |
| Top Track Speed | 179 mph | 178 mph |
| Acceleration 0 - 60 mph | 4.6 sec | 4.4 sec (4.2 sec Sport Plus) |
| Fuel Consumption | Manual | PDK |
| --- | --- | --- |
| City (estimate) | 19 mpg | 20 mpg |
| Highway (estimate) | 27 mpg | 28 mpg |
EPA estimate; your mileage may vary.