2016 Mercedes-Benz S-Class Coupe OVERVIEW
2016 Mercedes-Benz S-Class Coupe For Sale
4.7L biturbo V-8 Engine
449 horsepower
4.5 sec Acceleration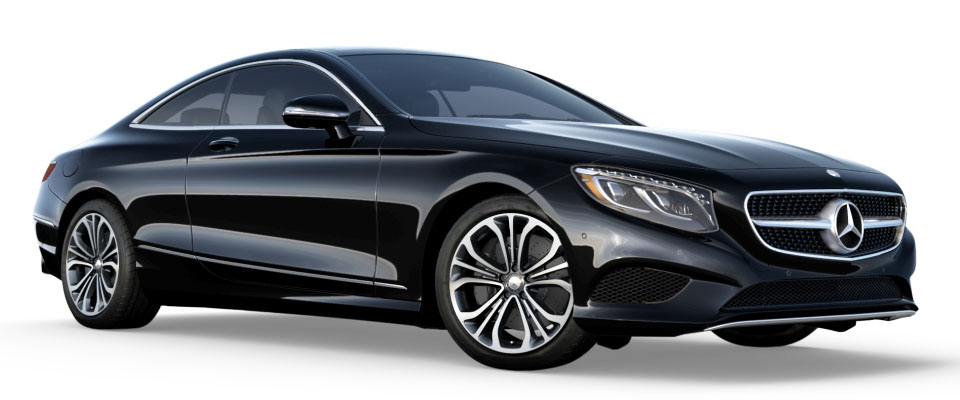 2016 Mercedes-Benz S-Class Coupe MODELS

Mercedes-Benz S-Class Coupe For Sale
Mercedes-Benz S-Class Coupe PERFORMANCE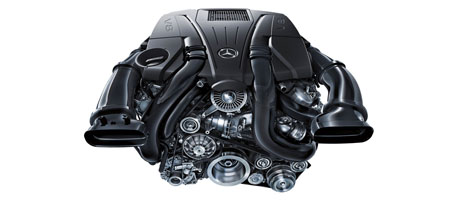 4.7L Biturbo V-8 Engine
Generating 449 hp, the 4.7-liter V-8 combines twin turbos and numerous advances to deliver more torque from less fuel, with cleaner emissions. Rapid-multispark ignition can fire up to four times per millisecond, while high-pressure Direct Injection can fine-tune fuel spray in 0.1 millisecond, reducing emissions, fuel consumption and noise. A lightweight diecast-alloy block, widely variable valve timing, reduced friction, and clever "on-demand'' ancillary components further boost efficiency.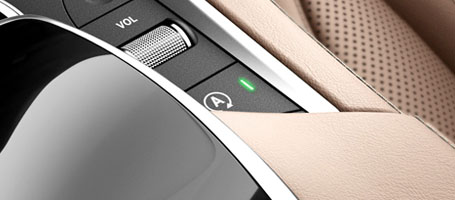 ECO Start/Stop System
A fuel-saving ECO Start/Stop system automatically shuts off the engine at stoplights and other idle situations. As soon as the driver lifts off the brake, the engine instantly restarts, for immediate acceleration response. The ECO Start/Stop system can also be shut off by the driver at any time.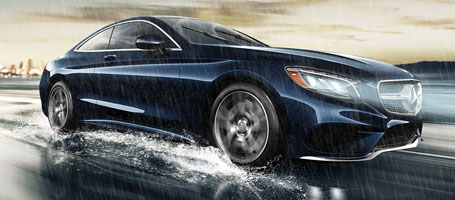 4MATIC® All-Wheel Drive
In any season, on any road, 4MATIC® all-wheel drive adds to your confidence and control. Always engaged and optimizing torque to every wheel, 4MATIC® integrates with ESP®, our standard Electronic Stability Program, for maximum effectiveness in corners and slippery conditions. It also incorporates our 4-wheel Electronic Traction System (4-ETS®), which monitors for the first sign of wheel slip and responds to ensure torque is sent to the wheels with the best grip, even if that's only one wheel.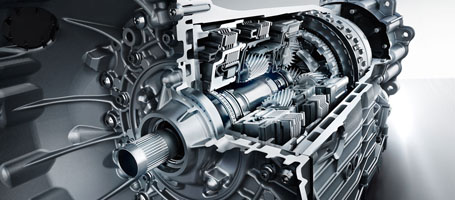 7-Speed Automatic Transmission With Shift Paddles
Smooth, responsive and efficient, the 7-speed automatic offers the ideal response in virtually every driving situation, from relaxed cruising to quick acceleration. Two overdrive ratios enhance highway fuel-efficiency. An electronic selector and shift paddles on the steering wheel let you control all gear changes with your hands on the wheel. Adaptive logic paces automatic shifting to match your driving style. And the shift paddles let you enjoy manual control anytime.
2016 S-Class Coupe APPEARANCE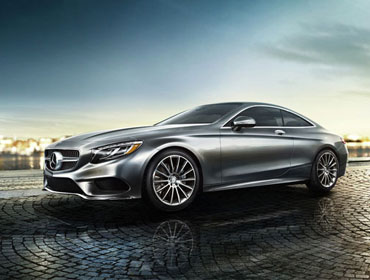 Breathtaking coupe design
As the flagship Mercedes-Benz coupe, the S-Class draws from its rich heritage while projecting a brilliant beacon into the future. Sweeping and sleek, it is also a sculpture of tensed muscle from its expressive headlamps to its horizontal taillamps, all rendered in LED. Its iconic wide grille presents a modern texture and chrome frame, luring the eye along the twin power-dome hood and over the roof, much as the wind is quickly swept past the coupe's flowing shape.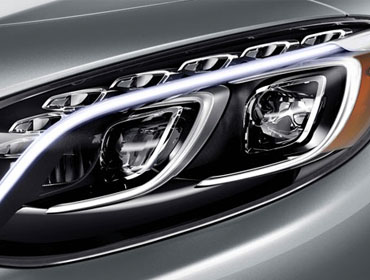 All-LED exterior lighting
The S-Class is the first car without a single lightbulb since the advent of electric lighting in automobiles. From its headlamps to its distinctive horizontal taillamps, nearly 200 long-lasting and energy-efficient LEDs accomplish every exterior lighting function with distinctive style. LEDs also offer quicker illumination, offering other drivers more time to react to your brake lamps and other signals.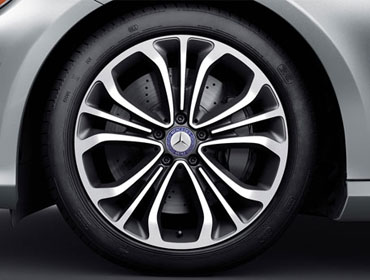 19-inch triple 5-spoke alloy wheels
Substantial in size and style yet light in weight, the standard 19-inch wheels display a web of thin triple spokes spokes with a brilliant machine finish, set off by dark grey pockets. They're fitted with all-season Extended Mobility tires.
Mercedes-Benz S-Class Coupe COMFORT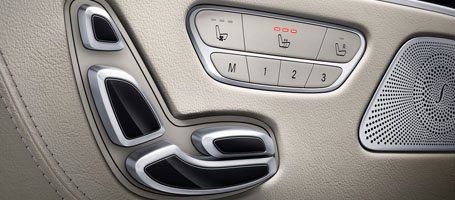 Heated 16-Way Power Front Seats With Memory
Intuitive, and artfully sculpted, seat-shaped controls help you and your front passenger find your ideal seating positions with 16-way power adjustment, including cushion length and 4-way power lumbar support. A memory system for each front seat recalls three stored seat positions with the touch of a button. The driver-seat memory also includes the power steering column and side mirror positions. Standard heating with automatic timed step-down adds soothing, controlled comfort in cool weather.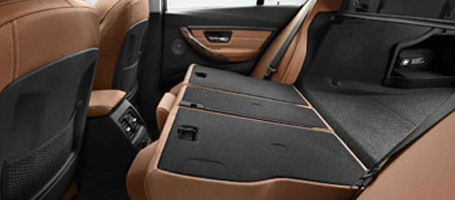 5 Years Of Mercedes-Benz Mbrace® Connect Package
Five years of mbrace® Connect gives you remote access to your car from your smartphone or computer. The mbrace® Mobile App puts new Remote Start and numerous other conveniences on your phone. You can access Google, Yelp and more with an ever-growing variety of in-vehicle apps. You can send destinations to your COMAND® navigation system from your computer or phone. Even your car can reach out, with remote diagnostics and a direct connection to Mercedes-Benz Roadside Assistance.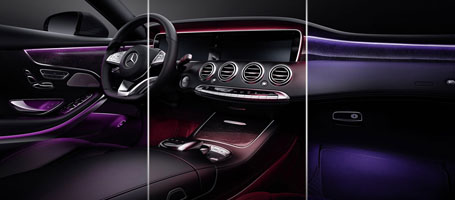 Multicolor/Multizone LED Ambient Lighting
A network of hundreds of LEDs and fiber-optics can create not just a soothing ambience in the cabin, but one you can alter to suit your mood, or even create one. Seven selectable colors, adjustable brightness, and three lighting zones let the driver control the atmosphere like never before. In the front cabin, LED underlighting of the sweeping "waveform" dash and subtle backlighting of the in-dash displays elevate the cabin's finely crafted beauty while highlighting its fascinating technology.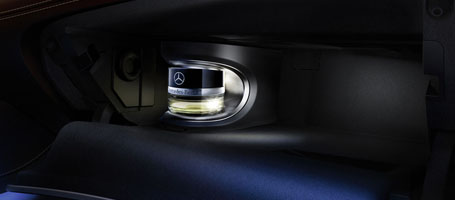 Cabin Fragrance System
Featuring an elegant, LED-backlit vial in the glovebox and its own ductwork, a standard fragrance atomizer offers a dimension of cabin ambiance never before offered in a production automobile. Any of four distinctive yet subtle aromas is gently atomized at periodic intervals into the cabin in such a way that it neither lingers on the cabin surfaces nor stays on your clothes. The vial is easily replaced when you'd like to change scents, or you may fill one with your own favorite fragrance.
2016 Mercedes-Benz S-Class Coupe SAFETY & WARRANTY
MB Limited Warranty
All new Mercedes-Benz vehicles are protected by our New Vehicle Limited Warranty, covering defects in material or workmanship for 48-months or 50,000 miles, whichever comes first. For added protection, the Mercedes-Benz Extended Limited Warranty offers continued peace of mind with prolonged coverage tailored to your needs.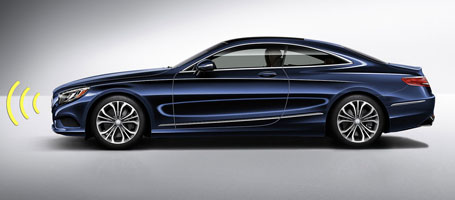 Collision Prevention Assist
Radar-based technology alerts you if you're approaching a vehicle ahead, or even some stationary objects, at a speed and distance that suggest a collision is likely. As soon as the driver starts to brake, its Adaptive Brake Assist automatically provides the ideal level of braking, to help prevent a collision or reduce its severity. The system can also provide autonomous braking from speeds up to 65 mph, and can activate the features of PRE-SAFE®.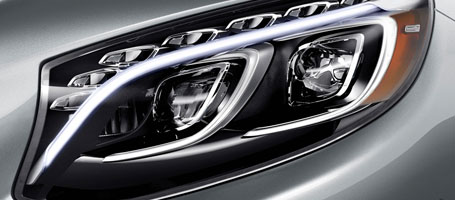 Active Full-LED Headlamps
Pioneered by Mercedes-Benz, active full-LED active headlamps generate light that's perceived much like natural daylight. Active Curve Illumination and Adaptive Highbeam Assist continuously vary the beam pattern of the LEDs in each headlamp to help maximize the illumination of corners and straightaways, without creating glare for other drivers.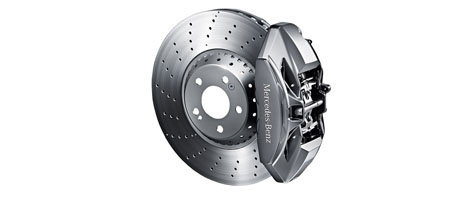 Adaptive Braking Technology
Adaptive braking technology integrates a suite of advances. If you lift off the accelerator quickly, Predictive Brake Priming sets the pads closer to the discs for more immediate response when you apply the brakes. In the rain, Automatic Brake Drying periodically applies the brakes just enough to sweep water build-up from the discs. During uphill starts, Hill-Start Assist helps prevent unwanted rollback. And a HOLD feature can make long red lights or stopped traffic a little easier.