2016 Alfa Romeo 4C Spider OVERVIEW
2016 Alfa Romeo 4C Spider For Sale
"Exhilaration Exposed."
—Alfaromeousa.com
Twin Clutch Transmission with Launch Control
0 – 60 MPH in 4.1 Seconds
Classic Alfa Romeo V-Shaped "Plunging Neckline" Front Grille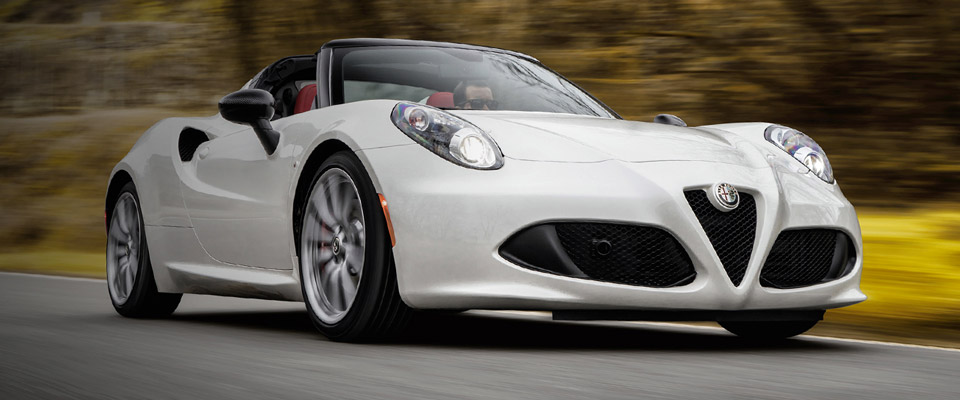 Alfa Romeo 4C Spider For Sale
Alfa Romeo PERFORMANCE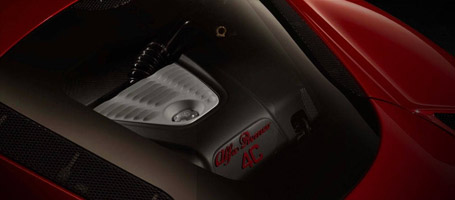 Mid-Engine Design
If there's one thing Alfa Romeo has learned from years of victory on the racetracks, it's that balance is key. The Alfa Romeo 4C's groundbreaking, centrally mounted aluminum engine significantly reduces weight as it eliminates the need for a driveshaft and optimizes weight distribution by concentrating mass near the center of the vehicle.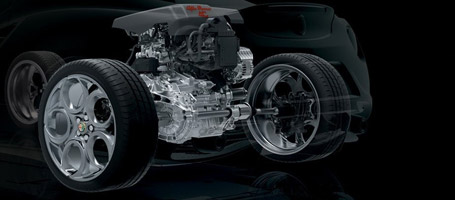 A Classic Solution For Balance
The best sometimes comes from the past. Rear-wheel drive is featured in some of the most remarkable Alfa Romeo classic vehicles and is the configuration of the new Alfa Romeo 4C. The mid-engine layout, rear-wheel drive and monocoque chassis give each 4C model ideal weight distribution, with amazing handling control. This configuration is instrumental in delivering an unique driving experience and a constant racing feel that is 100% Alfa Romeo.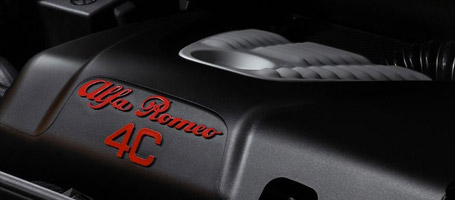 0 – 60 MPH In 4.1 Seconds
The 4C boasts 237 hp, 258 lb-ft of torque, 136 hp per liter and a blazing top speed of 160 mph —with up to 34 mpg hwy. A quick look reveals an all-aluminum design with 4 valves per cylinder, a new-generation turbocharger, ultra-high pressure direct fuel injection and a dual-core intercooler that cools intake air before it reaches the turbocharger. A quick spin reveals an exhilarating 0 – 60 mph in just 4.1 seconds.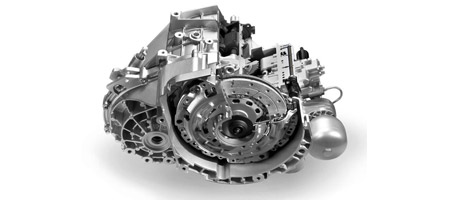 Alfa Twin Clutch Transmission
The Alfa TCT clutch has been specially modified for use on the Alfa Romeo 4C and features control software that ensures the fastest possible gearshifts under all conditions — as quick as 130 milliseconds. Gearshifts are more aggressive in the dynamic and race modes, yet are completed in the smoothest way possible on bends to avoid reducing stability.
2016 4C Spider APPEARANCE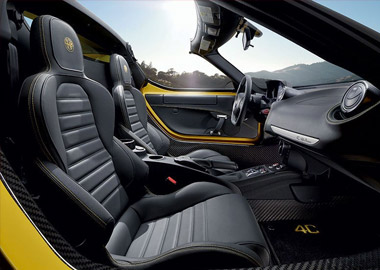 Open-Air Experience
Beyond delivering outdoor splendor, the open-air design of the 4C Spider includes an interior that caters to the senses. Glances turn into gazes with gleaming carbon fiber accents and vent surrounds, distinctive exterior color-matched fabrics and trims, and contrasting stitching. Opulent materials in seating, steering wheel, shifter and other touch points complete the experience.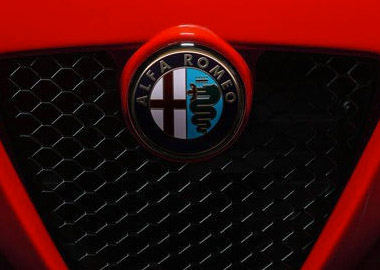 Traditional Designs
The front-end is still a distinguishing element, even on the most recent additions to the Alfa Romeo lineup. The Alfa Romeo 4C Coupe and 4C Spider continue an Alfa Romeo tradition of performance-oriented lines and proportions. Inspired by the 1967 Tipo 33 Stradale, considered by many as one of the most beautiful cars ever made, the 4C models are just as shapely, and offer the classic Alfa Romeo V-shaped "plunging neckline" front grille.
Alfa Romeo 4C Spider COMFORT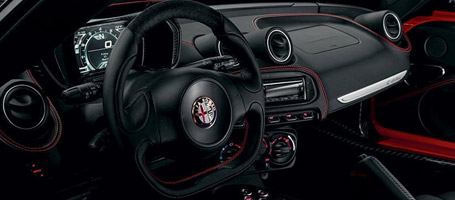 Competitive Atmosphere
The cockpit graphics have a high visual impact and are clearly inspired by those of sport motorcycles and competition cars. Aluminum pedals and heel guards form the last details of its true sporting character. It all works to create the kind of competitive atmosphere that brings out the best in you — and your driving.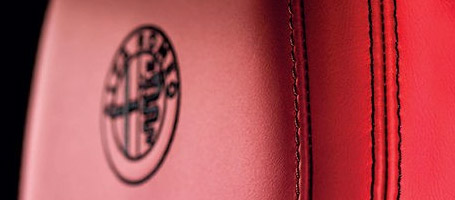 Desire In Every Detail
On the 4C, absolutely everything expresses the racing spirit of Alfa Romeo. The finely crafted details are carefully and intentionally edited; instruments and controls are angled toward the driver. The race-inspired steering wheel is flat at the bottom. The dashboard is made from a thermoformed shell, like those found on limited-edition supercars.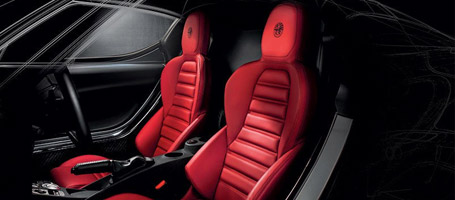 Driver-Centric Design
Climbing into the interior reveals a study in driver-centric design and opulent materials, including hand-laid carbon fiber. Competition seats guarantee a comfortable but correct racing posture. Race-ready bucket seats incorporate a reinforced composite structure for strength and lightness, while pronounced bolstering keeps the driver firmly in place.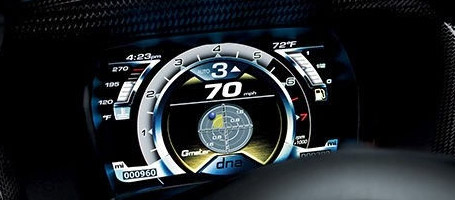 D.N.A. System With Race Mode
Four-mode Alfa D.N.A. gives drivers the ability to create a customized vehicle experience according to driving conditions or desired vehicle responsiveness. Choose from its All-Weather, Natural, Dynamic or Race modes which make changes in throttle response, shifting speeds and traction control for a driving experience tailored to any situation.
2016 Alfa Romeo 4C Spider SAFETY & WARRANTY
Basic Limited Warranty
A 4-Year/50,000-Mile Basic Limited Warranty which includes towing assistance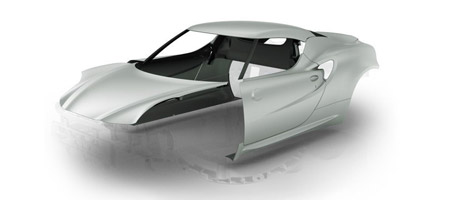 Innovative Materials
Alfa Romeo uses ultralight materials in every component. These materials are not only light but also durable, stiff and dynamically efficient. The 4C begins with the solid foundation of a Carbon Fiber monocoque chassis- three times stronger and seven times lighter than conventional steel. Front and rear aluminum subframes combine strength with weight-saving technologies. Sheet Molded Compound (SMC) is used for the outer body and is 20% lighter and more stable than steel — and also resists corrosion.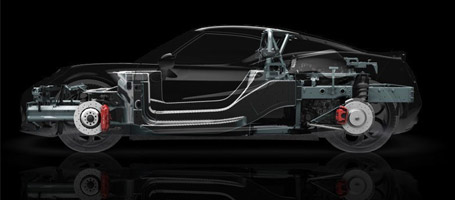 Alfa Romeo Philosophy
Alfa Romeo has a long history of creating racetrack-inspired vehicles for the street. It's why designers incorporated some of the same innovative materials and technology found in Formula One cars and supercars. In the racing world, an efficient balance of power and weight is the key to successful race cars. Alfa Romeo pursues the perfect balance between power and weight. Every component of every vehicle is designed and produced following this balanced philosophy.