2015 Porsche Macan Overview
2015 Porsche Macan For Sale


Porsche Macan For Sale
2015 Porsche Macan Performance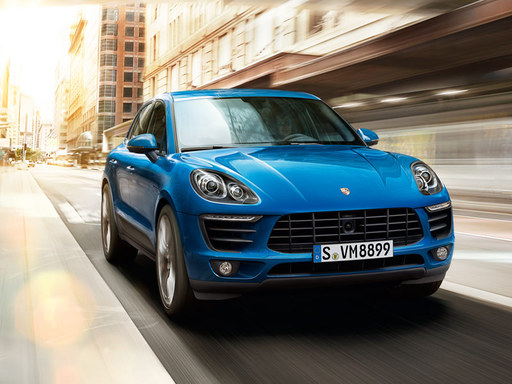 Performance
Drive Concept:
3.0-liter twin-turbo V6 engine
340 hp at 5500—6500 rpm
Maximum torque: 339 lb.-ft. at 1450—5000 rpm
Acceleration from 0 to 100 kph: 5.4 secs (5.2 secs with Sport+)
Top speed: 254 kph
Direct fuel injection (DFI)
VarioCam Plus
Auto Start Stop function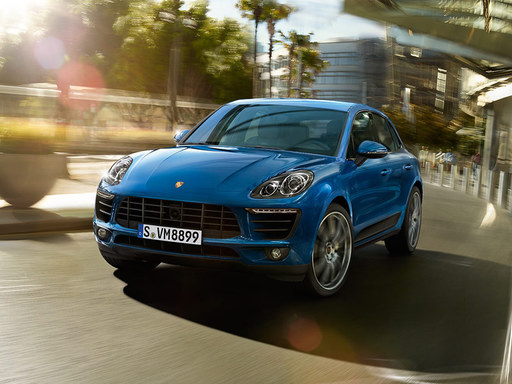 7-Speed Porsche Doppelkupplung (PDK)
The new Macan is equipped with the 7-speed PDK transmission, which changes gear in fractions of a second with no interruption in the flow of power. The advantage is that, whenever a particular gear is engaged, the next gear is already preselected. As the clutch of the engaged gear opens, the clutch of the target gear closes simultaneously. The effect is a sporty, dynamic and agile driving feel. The principle of PDK is that, whenever a particular gear is engaged, the next gear is already preselected. As a result, gear changes take place within milliseconds.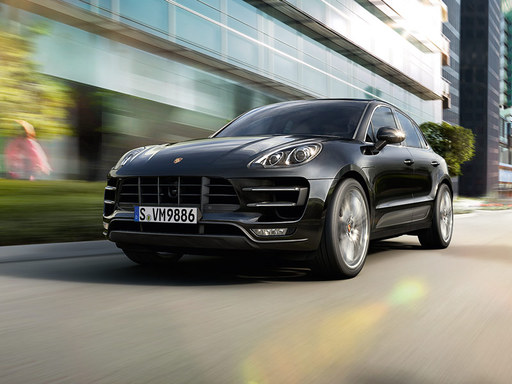 Porsche Traction Management (PTM)
The tremendous dynamic performance of the new Macan is thanks in part to the Porsche Traction Management (PTM) active all-wheel drive system. It comprises an electronic and map-controlled multi-plate clutch, the automatic brake differential (ABD) and anti-slip regulation (ASR). The electronically controlled multiplate clutch regulates the distribution of drive force between the rear axle and the front axle. Driving conditions are constantly monitored to enable a precise and lightning-quick response to a variety of situations. Sensors continuously check, among other variables, the rotation speeds of all four wheels, the longitudinal and lateral acceleration of the vehicle, and the steering angle.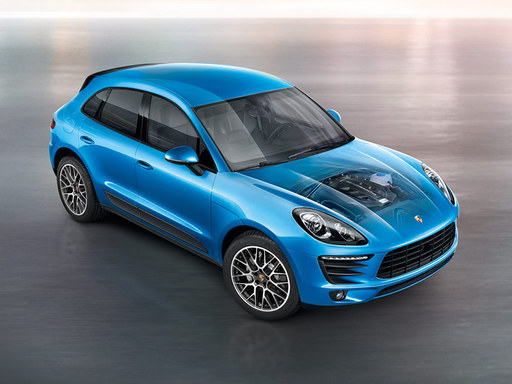 VarioCam System & VarioCam Plus System
In all Macan models the intake and exhaust camshafts are each equipped with a fully variable vanecell controller for stepless timing adjustments. This helps to deliver high specific power and high torque — even at low engine speeds — and, above all, reduced fuel consumption and low emissions.
VarioCam Plus System
With their twin-turbo V6 engine, the Macan Turbo and Macan S are additionally equipped with VarioCam Plus. This system switches the lift of the intake valves, resulting in instant acceleration and smooth engine running performance.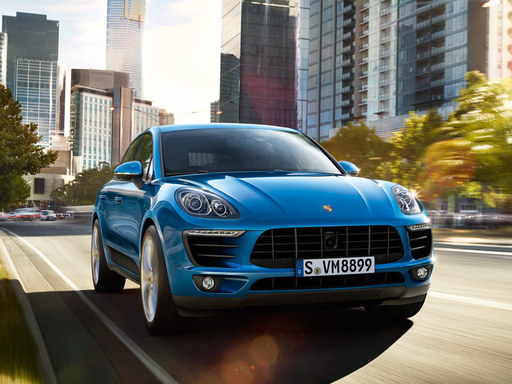 Direct Fuel Injection (DFI)
With millisecond precision, DFI injects fuel at up to 2900 psi directly into the combustion chamber by means of electromagnetically actuated injection valves. The spray and cone angles have been optimized for torque, power output, fuel consumption and emissions by enabling a homogeneous distribution of the air/fuel mixture and, therefore, effective combustion.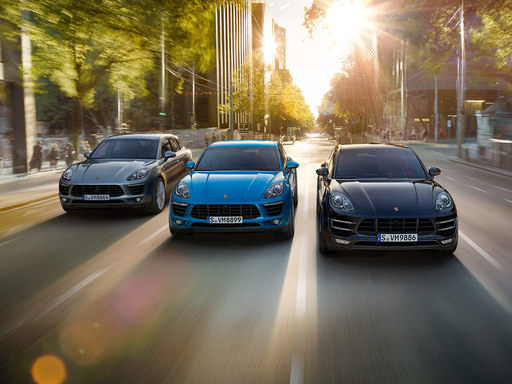 Efficiency-Enhancing Measures
Auto Start Stop: Switches off the engine when you are coming to a stop at traffic lights.
Coasting: The coasting function enables you to save even more fuel where the situation allows.
Thermal management: Engine cooling is prevented during the initial stages of a cold start so that the engine reaches its optimum operating temperature faster.
Active Aerodynamics: The radiator grille shutter opens the cooling air flaps only as needed.
Electrical System Recuperation: To enhance efficiency, the electrical system in the Macan models is recharged on demand during engine overrun phases.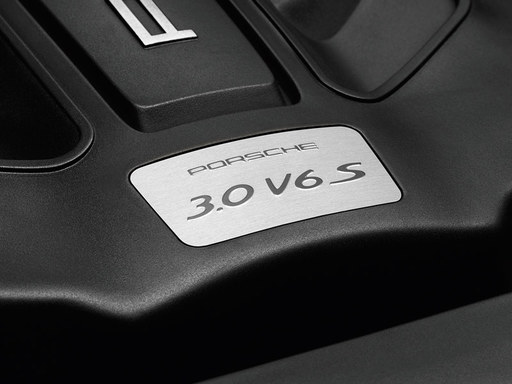 Exhaust Turbocharging
The V6 twin-turbo engines are equipped with two turbochargers arranged in parallel — one for each cylinder bank. Intake air is compressed and then fed to the engine via the respective intercooler. This cooling process achieves two things: high cylinder charge and low component temperatures.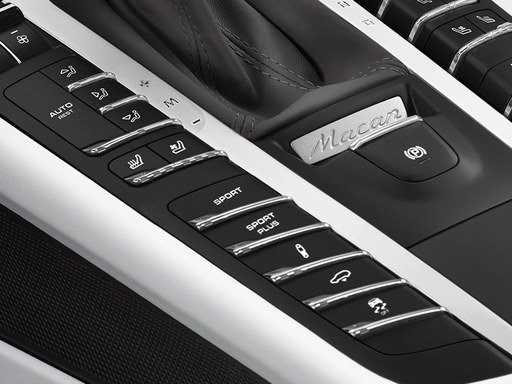 Sport Button
The SPORT button, which is fitted as standard, enables you to select a setup that favors either comfort or sporty performance. At the push of a button, the electronic engine management system switches the engine mapping to offer an even sharper response and engine dynamics that are more direct.
2015 Porsche Macan Appearance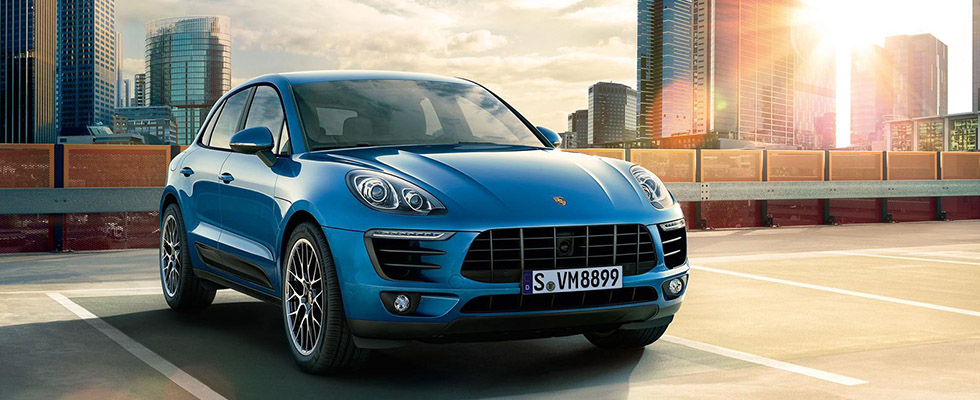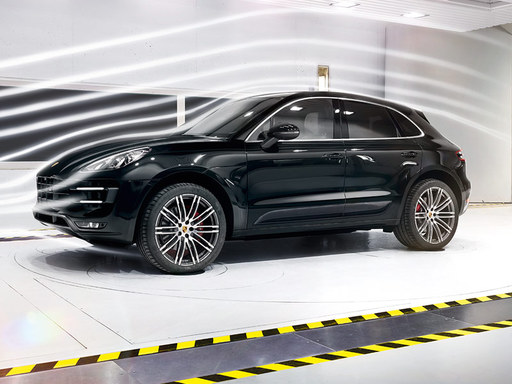 Exterior Design
The face alone of the new Macan lays bare the dominant sporty genes of its hereditary line. The characteristic headlights are integrated in the bonnet. The large, imposing air intakes of the front fascia are just waiting to inhale life. Every single second. The overlapping hood stretches through to the wheel arches. This lends the front a broad and powerful presence and reminds us of the legendary Porsche 917, which won countless victories in the early 1970s — including at 24 Hours of Le Mans, where it held the distance record for 39 years. The side profile is typically Porsche. From this angle, every muscle appears flexed — like a predator ready to pounce. The roof line slopes distinctively down towards the rear, drawing the customary sports car contour that promises excellent aerodynamics. Our designers call it the Porsche flyline.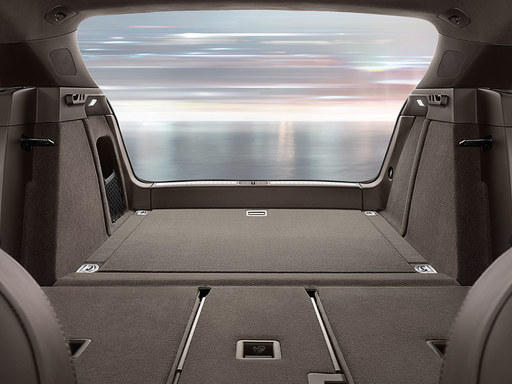 Luggage Space
The large luggage compartment of the new Macan models is prepared for a wide variety of uses and boasts a capacity of 17.7 cu. ft.. A storage compartment to the side offers additional space. The rear bench seat folds down with a ratio of 40 : 20 : 40. With the seats fully folded, the available capacity increases to 53.0 cu. ft. To protect against sunlight and offer additional privacy, the luggage compartment is equipped with a removable luggage compartment cover. The optional ski bag can also be removed. It can be used for carrying ski equipment outside the vehicle or simply taken out for cleaning. Practical and hygienic in equal measure.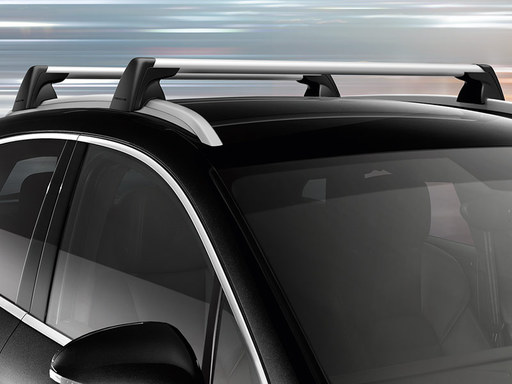 Roof Rails & Roof Transport System
These high-quality roof rails are available in aluminum or with a black painted finish. They blend harmoniously into the vehicle's dynamic design. Roof rails are a prerequisite for installation of the optional roof transport system and are available as a factory-fitted option only.
Roof Transport System
In conjunction with the optional roof rails, this set of lockable roof bars is compatible with all Porsche roof attachment modules. The load-bearing parts in aluminum are designed to carry a maximum load of 220 lbs. A range of aftermarket attachment modules is available from Porsche Tequipment.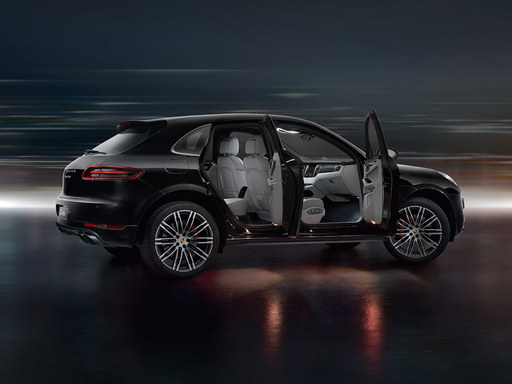 So Much To Offer
Additional Macan features include:
Privacy Glazing
Thermally/noise insulated glass
Comfort lighting package
Roll-up sunblind
Rain sensor
Porsche Entry & Drive
Anti-theft protection
2015 Porsche Macan Comfort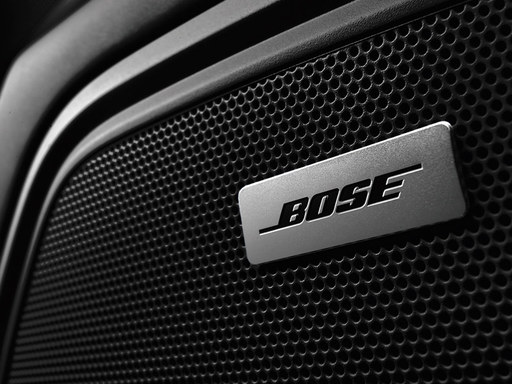 BOSE® Surround Sound System
The system has been optimally tuned for the models in the Macan range. A total of 14 loudspeakers, including an active subwoofer and center speaker, and nine amplifier channels with a total output of 545 watts deliver an impressive sound experience. In combination with Porsche Communication Management (PCM), the BOSE® Surround Sound System enables audio playback of DVDs and is thus able to make full use of the impressive sound spectrum of 5.1 digital recordings. Of course, you can still play other audio sources, such as CDs or MP3 players, in stereo or, at the push of a button, in one of the available virtual surround modes.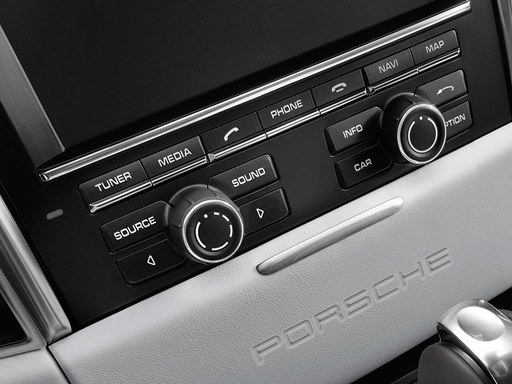 CDR Plus Audio System
The CDR Plus audio system is equipped with a high-resolution 7-inch color touchscreen, giving you quick and easy access to the most important functions and menus. The system has 11 loudspeakers and delivers a total output of 235 watts. An analog twin tuner ensures an extensive selection of radio broadcasts. A CD/DVD drive supports audio playback of MP3 files and audio/video DVDs, while a USB connection enables various iPod® and iPhone® models to be connected. MP3 players and USB memory sticks containing MP3 tracks can also be plugged in and audio played over the in-car system. The touchscreen is capable of displaying album cover art.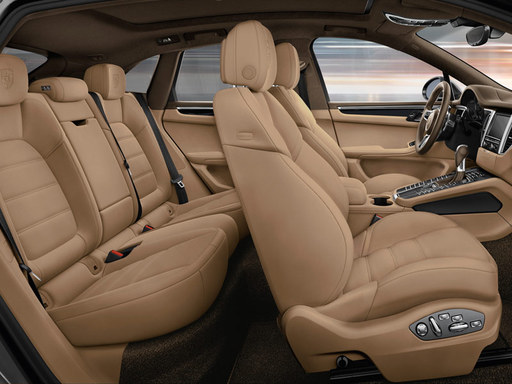 Adaptive Sport Seats With Comfort Memory Package (18-way)
The adaptive Sport seats with comfort memory package combine ultimate seating comfort with racing-style support. Their side bolsters are particularly high and prominently contoured. Offering 18-way electric adjustment, the seats can be optimally adapted to meet your needs in terms of seat height, squab and backrest angle, squab length, fore/aft adjustment and four-way lumbar support. The steering column is also electrically adjustable. The following functions can be memorized: driver and front passenger seat positions, including lumbar support and steering wheel and exterior mirror positions.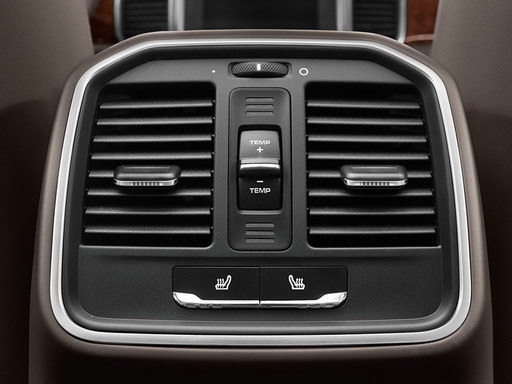 Two-Zone Automatic Climate Control
The Macan models are equipped, as standard, with automatic climate control featuring separate temperature and air flow settings for driver and front passenger as well as an automatic airrecirculation mode including air quality and humidity sensor. Its active carbon filter traps particles, pollen and odours.
2015 Porsche Macan Safety
New Car Limited Warranty & Porsche 24-Hour Roadside Assistance Program for 4-Years / 50,000 Miles (whichever occurs first)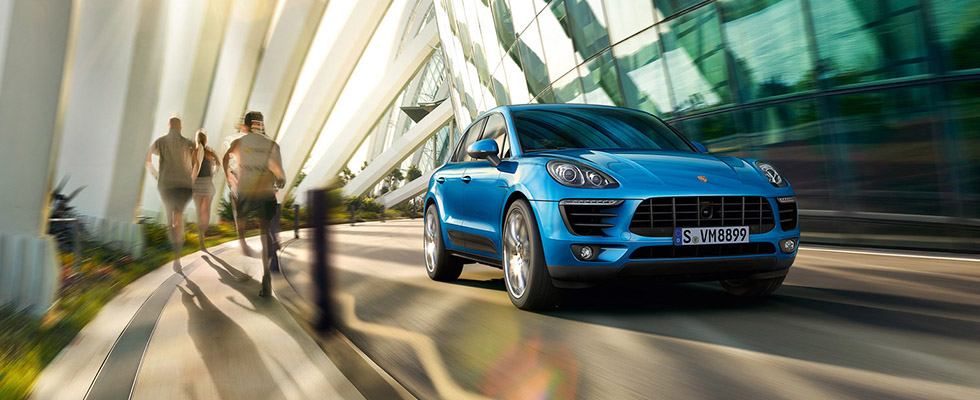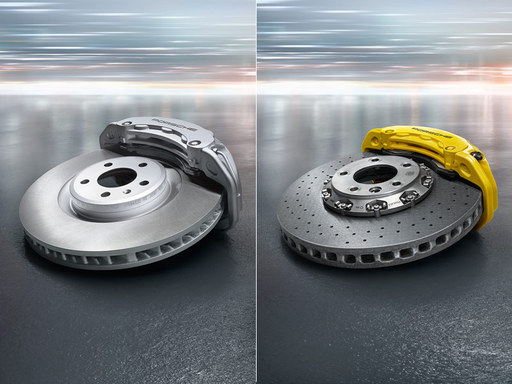 Braking System
At Porsche, we also set ourselves high standards for braking performance. So it goes without saying that our brake systems are super-sized and adapted to the high power output of the engine. At the front, the Macan models are equipped with six-piston aluminum monobloc fixed brake calipers. The brake discs are internally vented for consistently high braking power, even during continuous use. To cope with the performance capability of the Macan models, the brake discs fitted to the front axle are up to 360 mm in diameter. The brake calipers of the Macan S are silver-colored. On the Macan Turbo – red.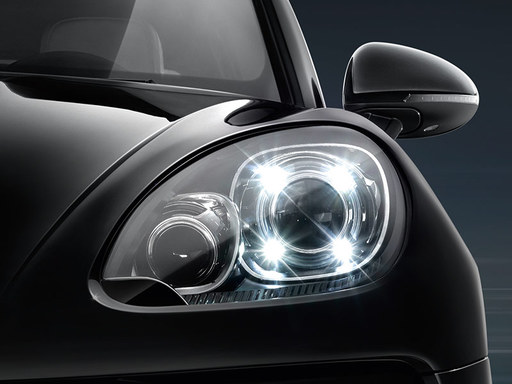 Bi-Xenon™ headlights including Porsche Dynamic Light System (PDLS)
The Bi-Xenon™ headlights feature automatic and dynamic range control, which provides uniform illumination of the road whether low or high beam is selected. The dynamic cornering light function swivels the headlights towards the inside of a bend based on the steering angle and road speed. The static cornering lights activate the auxiliary headlights in order to illuminate more of the road at tight bends and turns. Put simply, a greater part of the road ahead is illuminated the moment you enter a bend.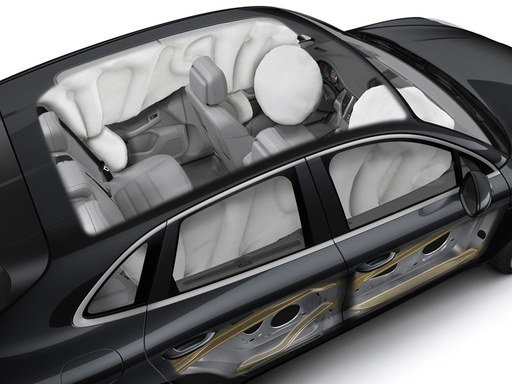 Airbags
All Macan models are equipped, as standard, with full-size airbags for the driver and front passenger. These are supplemented by the Porsche Side Impact Protection System (POSIP). It comprises side airbags in the front seats, curtain airbags along the entire roof frame and the side windows from the A-pillar to the C-pillar, and side impact protection elements in the doors. Side airbags for the rear compartment, along with driver and passenger knee bags, are standard. Two auxiliary sensors in the bumper help to detect frontal collisions. A cluster of acceleration and yaw rate sensors detects a threat of rollover and triggers the curtain airbags and seat belt pretensioners.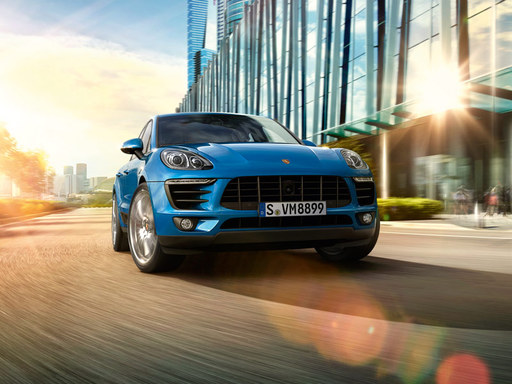 Porsche Stability Management (PSM)
PSM is an electronic control system that maintains stability – and increases driving safety – even at the limits of sporty performance. Sensors continuously monitor driving direction, speed, yaw velocity and lateral acceleration. PSM actively intervenes to stabilize the vehicle when necessary by strategically applying the brakes at individual wheels. That's not all. If the driver suddenly releases the accelerator pedal, PSM primes the brake system for a higher state of readiness. Maximum braking power is therefore achieved much sooner. Integral ABS is optimized for short braking distances.
2015 Porsche Macan Specification

Height: 63.94 in
Width (w/ mirrors folded): 82.6 in
Wheelbase: 110.51 in
Length: 184.29 in
Specs reflect base model unless otherwise noted.
Engine
PDK
Layout / number of cylinders
6
Displacement
3.0 liter
Engine layout/Drive
Front
Power
340 hp @ 5,500 - 6,500 1/min
Max. torque
339 lb.-ft. @ 1,450 - 5,000 1/min
Body
PDK
Length
184.29 in
Width w/ mirrors (inches)
82.6 in
Height
63.35 in
Wheelbase
110.51 in
Curb weight (lbs) min / max
4112 / 4641
Transmission
PDK
7-speed PDK
Performance
PDK
Top track speed
156 mph
Acceleration 0-60
5.2 (5.0 w/ Sport Chrono)
| Fuel consumption | PDK |
| --- | --- |
| City | 17 mpg |
| Highway | 23 mpg |
| | |
| --- | --- |
| Cargo area volume (cu.-ft.) | 17.7 |
| Fuel tank capacity (gal) | 19.8 Gal |