2015 FIAT 500e OVERVIEW
2015 FIAT 500e For Sale
"Because we love design as much as we love the Earth, we created an all-electric FIAT® 500e."
—fiatusa.com
108 MPGe Highway Rating
EPA Estimated Fuel Consumption Rate of 29 Kilowatt Hours (kWh) Per 100 Miles
24-kWh Lithium-Ion High-Voltage Battery
Electronic Vehicle Information Center (EVIC)
147 LB-FT (200 Nm) of Torque and 111-HP (83 kW) Electric-Drive Motor

FIAT 500e For Sale
FIAT 500e PERFORMANCE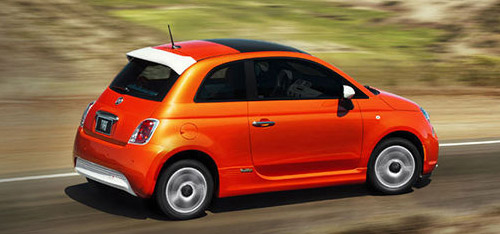 Let the Good Times Roll
Take your fun farther with an EPA estimated annual gasoline equivalent cost of $750 and a manufacturer's-estimated fuel consumption rate of just 29 kilowatt hours (kWh) per 100 miles.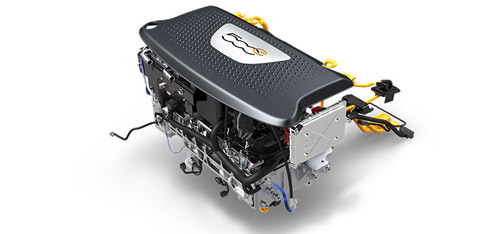 Electronic Powertrain
The FIAT® 500e powertrain is 100% electric and composed of three main components: an advanced high-voltage lithium-ion battery pack, a high-power electric-drive motor and a power inverter module to help manage power flow. Using electricity to fuel the vehicle, you need a piece of technology called an inverter to do the job. It works a bit like a fuel pump in a conventional gas-powered engine, but in this case the fuel is electricity stored in the battery pack of the FIAT 500e.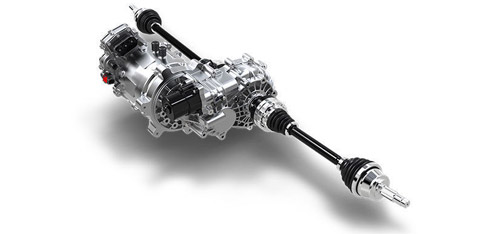 Electric-Drive Motor
Even though this vehicle is electric, it doesn't mean it isn't fun to drive. Just get in and test it for yourself. The electric-drive motor is simply a device that uses electrical energy to produce mechanical energy or movement. Electric motors use electrical energy to spin. The FIAT® 500e uses an 83-kW electric-drive motor that delivers 111 horsepower and 147 lb-ft of torque.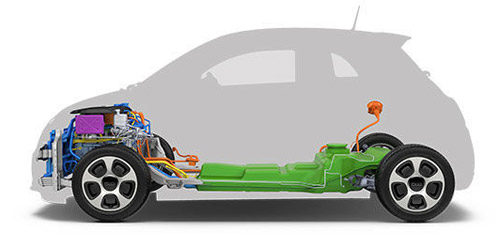 24-kWh Lithium-Ion High-Voltage Battery
This lithium-ion battery is full of benefits. It is good at holding its charge. It has no memory effect, which means that you do not have to completely discharge the battery before recharging, so as not to reduce battery life. And lithium-ion batteries can handle hundreds of charge and discharge cycles. Just as important, the battery includes a system that actively heats and cools the battery to maintain its optimal operating temperature. The high-voltage lithium-ion battery is covered by an 8-Year Limited Warranty.
2015 500e APPEARANCE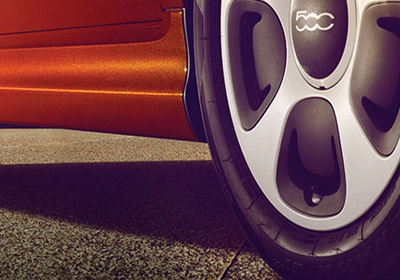 Revolutions are Sexy
The FIAT® 500e flaunts specially designed, lightweight cast-aluminum wheels and features a wider rear wheel stance that allows for better handling. It comes with low-rolling resistance all-season tires that help increase "miles-per-charge" distances. Choose from the following wheels: 15-inch Argento painted aluminum wheels with Nero inserts or 15-inch Nero painted aluminum wheels with Arancio Elettrico inserts, available with the eSport package.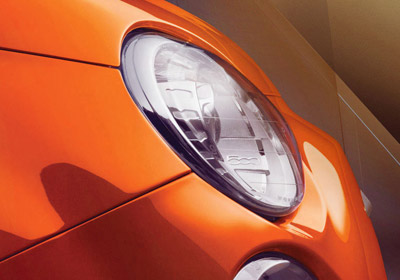 Beacons of Cool
A clearer picture of the world is yours yet again. Lead and light the way with halogen projector headlamps featuring ultraviolet (UV) and abrasion-resistant polycarbonate-coated lenses covering a bright-finish bezel. These hot-looking headlamps are made for sultry nights.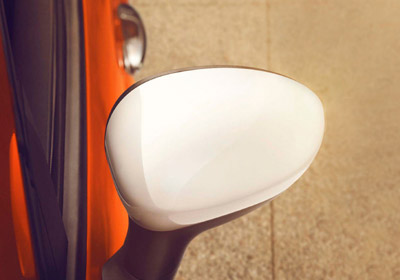 Heated Power Exterior Mirrors
Heated power exterior mirrors are standard on FIAT® 500e offering convenience in poor weather. The FIAT 500e exterior mirror caps are tactfully shaped to help reduce the vehicle's drag coefficient. White mirror caps come on all FIAT 500e models with the steam interior and all orange body color cars. Body-color mirror caps come on FIAT 500e models with the black interior (except orange body color models). Arancio Elettrico (electric orange) mirror caps come on the FIAT 500e models that feature the eSport package.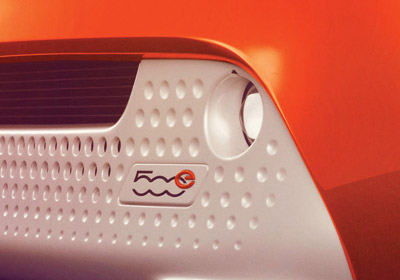 Green at First Sight
The exterior designs of the FIAT® 500e models are not only refreshingly purposeful, they're also aesthetically flattering. The accent-color fascia insert comes when 500e is ordered in Arancio Electrico (Electric Orange) or with available Steam color interior in Bianco (white). It is also available with Nero (Black) interiors, including the eSport Package. The front fascia design has been lowered for increased aerodynamic efficiency and optimized for airflow in wind tunnel testing.
FIAT 500e COMFORT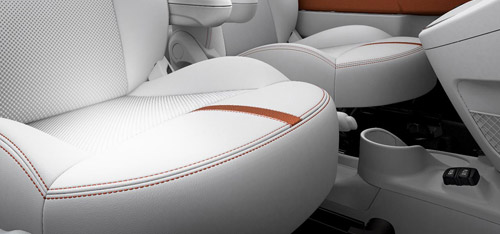 Interior Comfort and Convenience
The FIAT® 500e seating selections are designed with premium materials and attention to detail. Available in leatherette trim with cloth inserts, the reclining front seats feature distinctive headrests and an easy entry pull handle.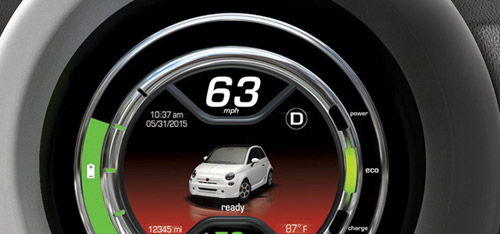 Instrument Cluster
The FIAT® 500e instrument cluster features a contemporary design with an Electronic Vehicle Information Center (EVIC) display for easy location of vehicle data. Benefit from a state-of-charge indicator (with progressive color indication), a driving behavior gauge (with dynamic real-time feedback) and configurable (U.S. or metric) digital speed indicators. You will enjoy these simple, direct and easy-to-use controls.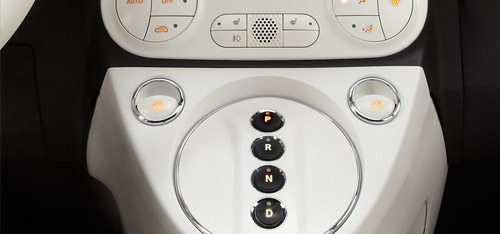 ePRND Electronic Push Button Shifter
The FIAT® 500e shifter is far from the "traditional" automatic transmission shifter. The FIAT 500e uses a convenient electronic push button shifter that incorporates electronics to command the electric-drive motor's direction.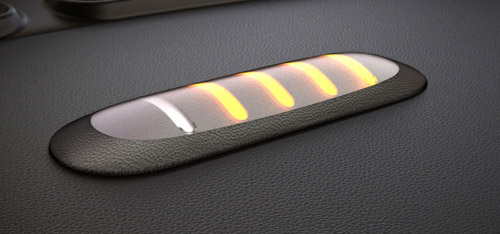 Charge Indicator
The FIAT® 500e is equipped with a visual LED illuminated state-of-charge indicator to show the current charge level during charging. The charge indicator is made up of five lights and is mounted to the center of the instrument panel. The current state of charge is represented by amber light increments in the indicator during charging.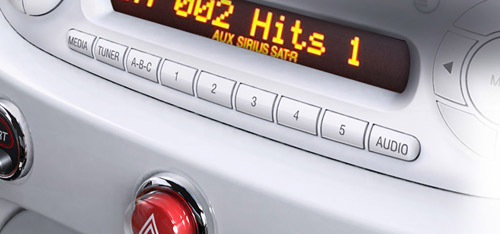 Premium Audio System
Six high-performance speakers, seven-channel custom equalization, a series digital amplifier and SiriusXM® Satellite Radio with one year of service are all included on the FIAT® 500e. Radio features include AM/FM radio station presets, radio seek functions, a CD player, MP3 functionality, an auxiliary input to support external audio sources and a USB port to support media play. Steering wheel-mounted audio controls help to make operation of the system convenient .
2015 FIAT 500e SAFETY & WARRANTY
STANDARD COVERAGE for FIAT 500
Basic Limited Warranty 4 Yrs/50,000 Miles • Anti-Corrosion Perforation Limited Warranty 12 Yrs/Unlimited Miles • Roadside Assistance 4 Yrs/Unlimited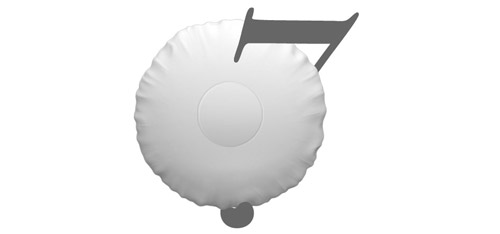 Surrounded by Safety and Security
State-of-the-Art Airbags and Steel Cage Construction Protected by seven airbags, including advanced multistage driver and front-passenger airbags, a driver's knee airbag, full-length side-curtain airbags and front seat-mounted pelvic-thorax airbags, you can rest assured that you and your passengers will stay secure.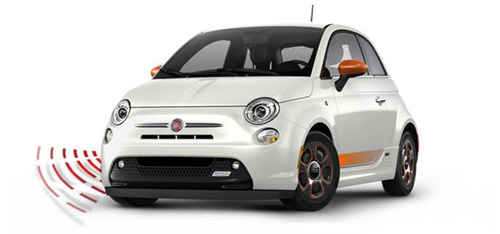 Audible Pedestrian Warning System
The FIAT® 500e has an audible pedestrian warning system that uses distinctive sounds to help ensure the safety and security of other road users. The warning system is automatically activated when selecting drive or reverse. In drive range, at approximately 22 mph, the warning is silenced until the vehicle speed returns to approximately 20 mph. The audible warning system uses an in-car sound synthesizer with a speaker located in the engine compartment.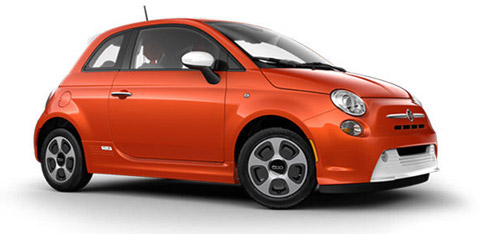 Hill Start Assist
Hill Start Assist is part of the Electronic Stability Control system. Hill Start Assist helps the driver in launching a vehicle on an incline. It helps maintain brake pressure for a short duration once the driver's foot is taken off of the brake pedal. If the driver does not apply the throttle in a few seconds, the system will release brake pressure.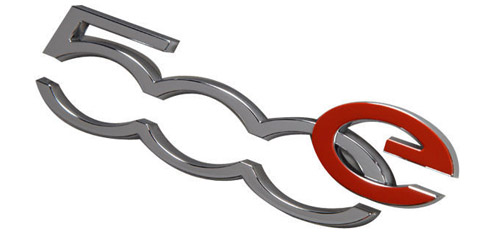 2015 FIAT® 500e Warranty
The Electric Vehicle (EV) components on the FIAT® 500e are covered by a 4-Year Limited Warranty. The EV components include the motor, power inverter module, gearbox, onboard charger and onboard charger connector. The high voltage lithium-ion battery is covered by an 8-Year Limited Warranty.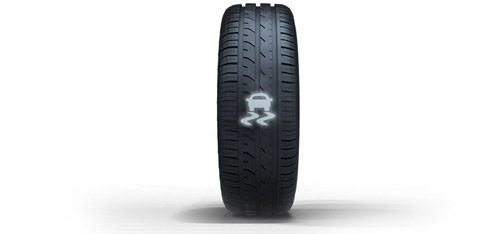 Electronic Stability Control (ESC)
With ESC, it may seem that your FIAT® 500e can read your mind. Using strategically placed sensors throughout the car, ESC helps determine the direction the driver is steering and compares it to the direction the car is actually traveling. If it senses a difference between the two, it applies individual brakes as required to help you maintain directional stability and get you back on your intended path.